G Suite: The Market Leading Office Suite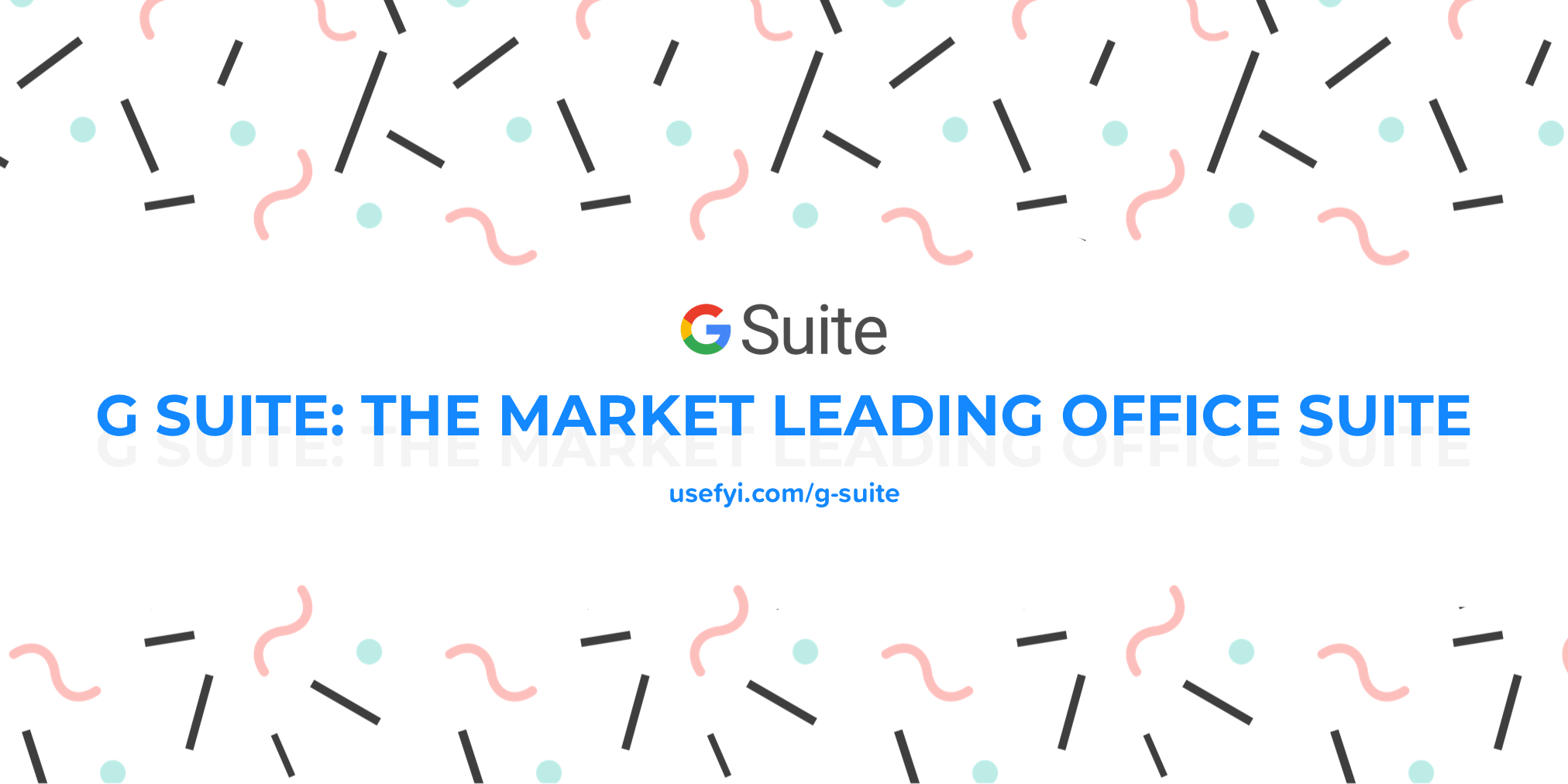 What is G Suite?
And should you get it?
It's an office tool suite with company email built in. We go into tons of detail on what G Suite is and everything that it includes here.
Ready to get started? Signup for G Suite now.
You'll get access to all of G Suite's core tools:

G Suite started initially as just Gmail, then expanded into a free set of document tools called Google Docs. Once it was clear that these tools could compete head-to-head with other document tools, Google bundled them together and began selling them to businesses as G Suite. The complete history of G Suite is here.
For the most part, there's no reason for individuals to sign up for G Suite. You can sign up for a Gmail account and get access to the full product suite for free anyway.
G Suite is really for businesses. And it's a compelling offer. We use G Suite ourselves and couldn't imagine going back.
Best in Class Collaboration and Usability
We've surveyed businesses extensively in order to understand exactly what people think of the major document tools.
We found a few major insights.
First, G Suite has the highest user satisfaction score compared to any other document tool: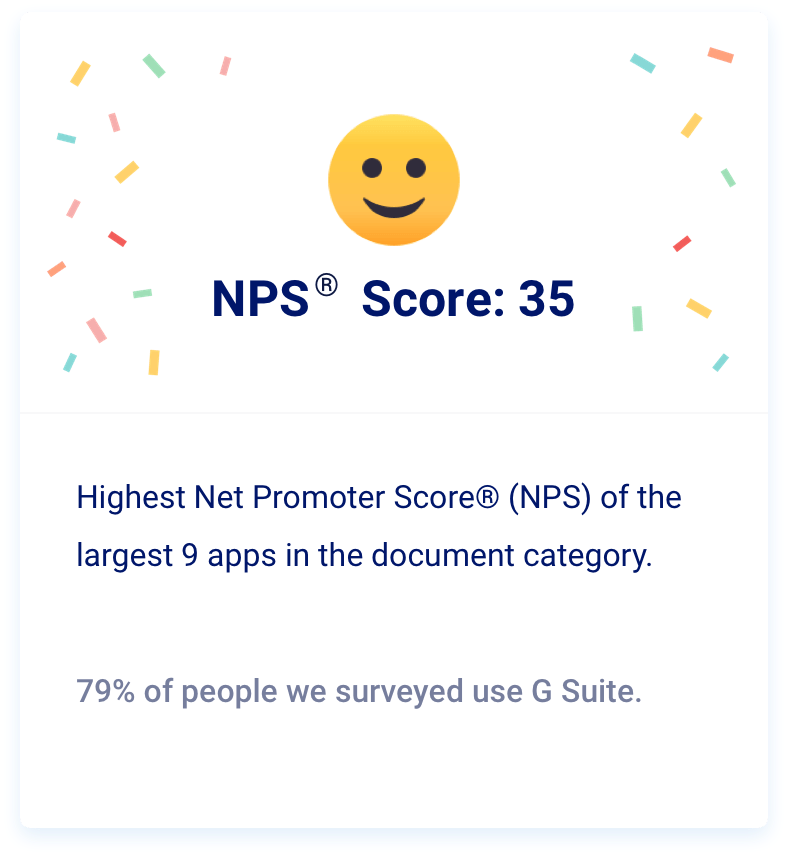 Second, people love the collaboration features that are embedded in all the document apps. While this started with the ability to edit Google Docs in real-time along with other people, it expanded to include comments and document sharing. These sound like small features but they've become a major differentiator compared to other document tools.
When you use G Suite, you're helping your team collaborate.
Third, G Suite has great usability with almost all of the document features that you'd need in a single package. Whether you're sharing, searching or collaborating, G Suite makes the process easy.
Across all of G Suite's features, people point to their ease of use for why they enjoy G Suite more than any other document tool.
G Suite has the highest customer satisfaction score because of how easy it is to use and the collaboration features that are built in.
The Weaknesses of G Suite
G Suite may be the market leader in documents. And with users loving the ease of use along with collaboration, shouldn't the NPS be much higher?
The most loved brands have Net Promoter Scores above 50. Apple has a score of 72 and Tesla has a 96.
What do users complain about with G Suite?
The largest challenge Google has is one faced by all document tools. It's extremely common for companies and teams to get spread across different tools. Which makes sharing, collaborating and finding documents very challenging.
Users often say that G Suite is great as long as everyone is using it. And that's precisely the problem. When people within the same company don't use G Suite, collaborating on documents using G Suite is nearly impossible. Instead, people have to use whatever tool the person they are sharing with uses. Even worse, the person they've shared with might take a Google doc, convert it to a Word document, and then email it back in Word.
The same challenge exists if you're looking to collaborate outside of your company. If customers don't use Google, then in order to collaborate with them or share documents with them, you have to use their tool of choice.
If Office 365 is entrenched in your industry, it doesn't really matter how much you like G Suite. You're practically forced to use Office 365 in order to make document collaboration feasible. If everyone you collaborate with is using Microsoft Office, it's tough to get the collaboration value or ease of use from G Suite.
Document management is also a big weakness. While people love collaborating on Google Docs, Sheets, and Slides, managing all the documents becomes a headache.
What G Suite Costs
The G Suite pricing is straightforward: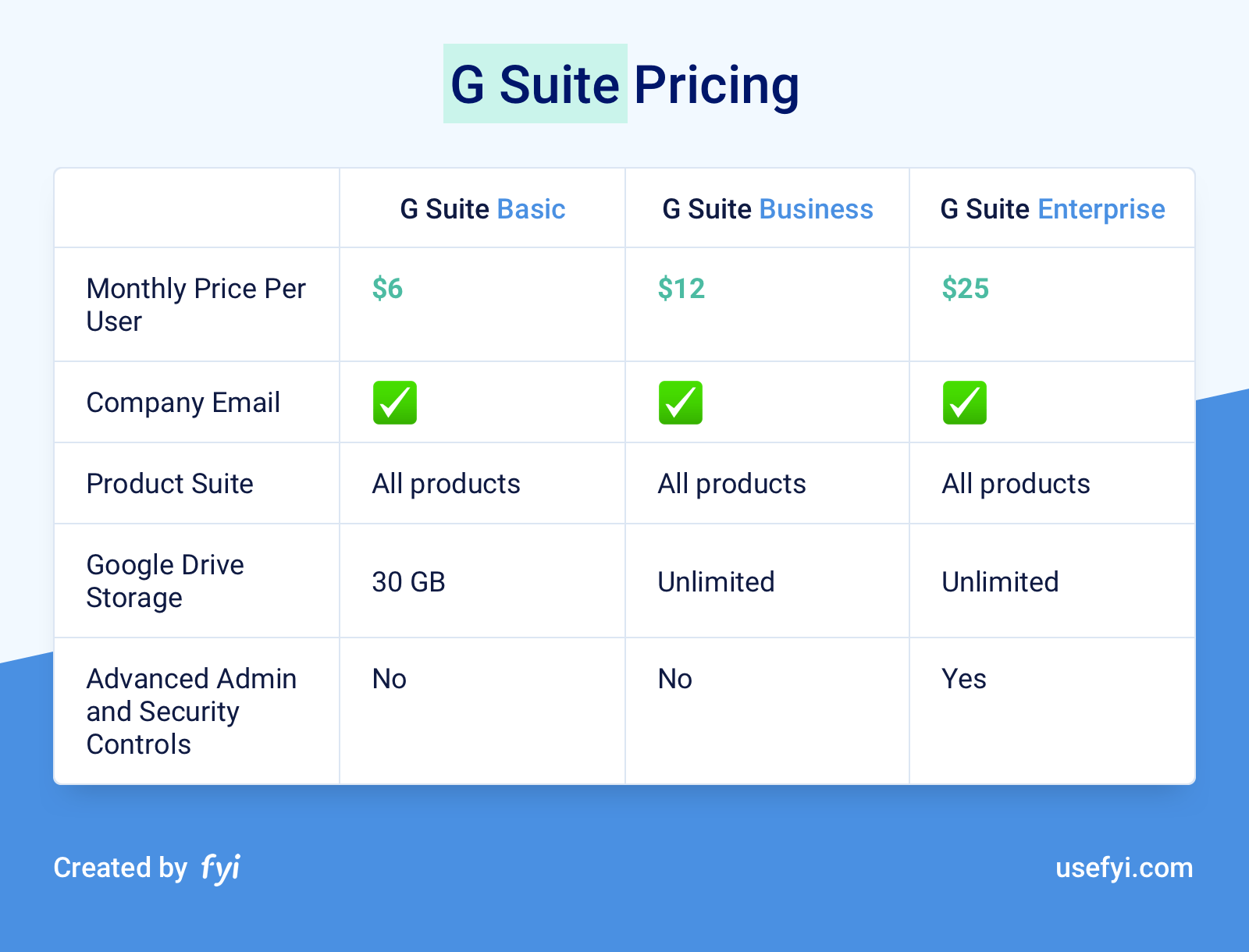 G Suite also has versions available for Nonprofits and Education organizations which include free tiers if your organization meets the qualifications. There are three ways to get G Suite for free.
We also have detailed guides on G Suite Basic.
The Main G Suite Alternative: Office 365
When picking an office tool suite, you have two options: G Suite or Office 365.
We have a detailed guide on G Suite vs Office 365 here.
Here's how we broke down the winner by each tool and feature: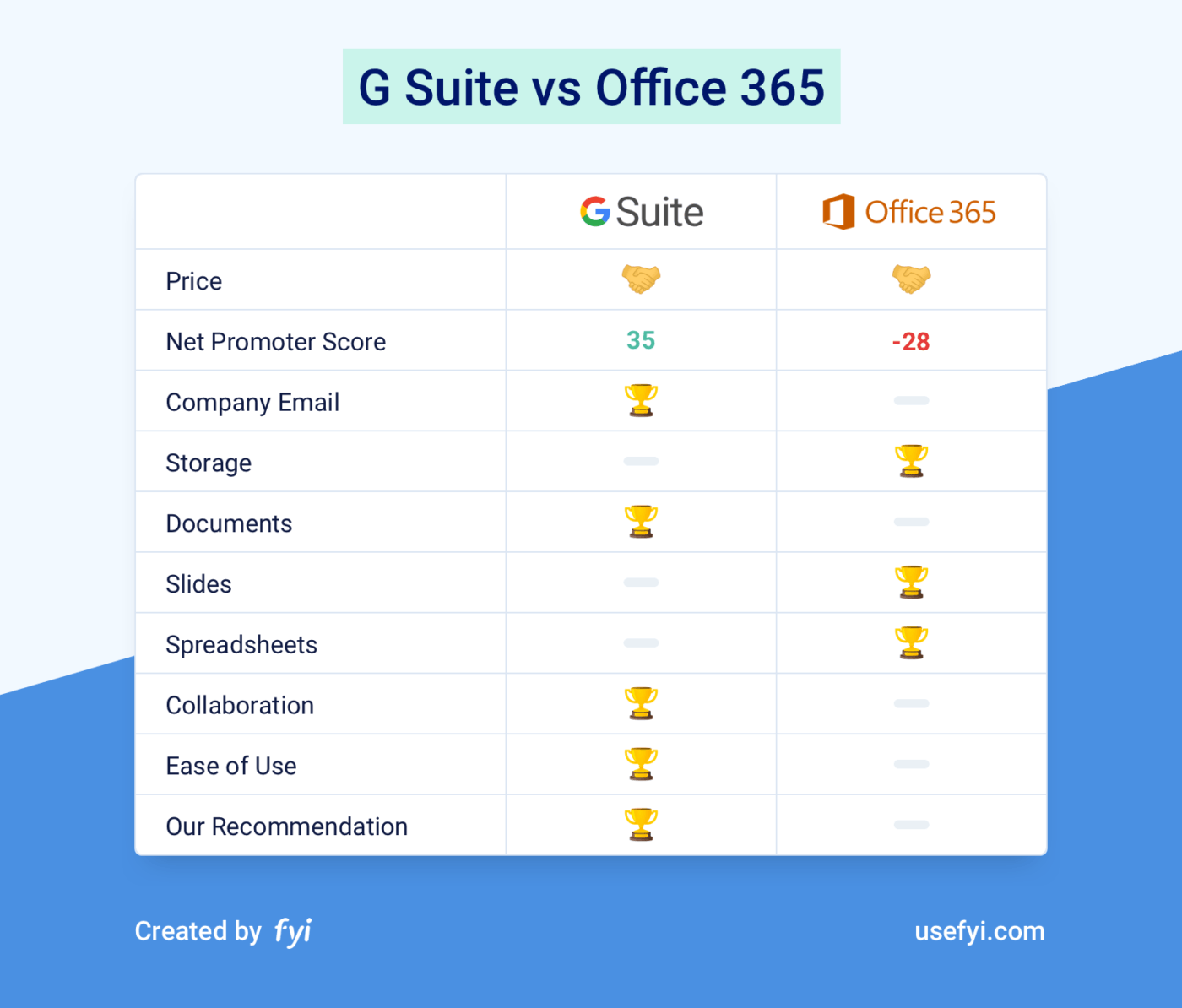 Most people find G Suite a lot easier to use, it also has higher user satisfaction scores. However, the Office 365 toolset is more powerful than the G Suite tools. We also recommend picking the office suite that's most popular in your industry. That will make it easier when collaborating with vendors, customers, or partners.
Overall, we prefer G Suite ourselves.
Advanced User Management Tools
One of the biggest advantages to using G Suite is the advanced set of features to manage users across your organization. The G Suite Admin gives you everything you need.
Here's a small sampling of everything that you'll get:
Quickly create and delete users
Enforce two-factor authentication across your org
Define organization units that limit access
Audit integrations and data across your team
Forward emails to other users
These are enterprise-level features made available in an incredibly easy-to-use UI.
To get better at using G Suite, there are plenty of G Suite training options to get you up to speed.
Upgrading G Suite with Additional Apps
Not only does G Suite have a complete set of office productivity apps, there's also the G Suite Marketplace with thousands of apps that you can install on top of G Suite. Design tools, forms, webinars, and CRMs, and tons of integrations with other apps that you're already using.
All sorted by category and user ratings so you can find exactly what you're looking for.
Also, if you're looking for a way to sync Outlook with G Suite, that's possible. Google released a tool called G Suite Sync With Outlook (GSSMO) to do this for you. While it's not perfect, it does make it possible to sync both tools.