What is G Suite and Why is Everyone Using It?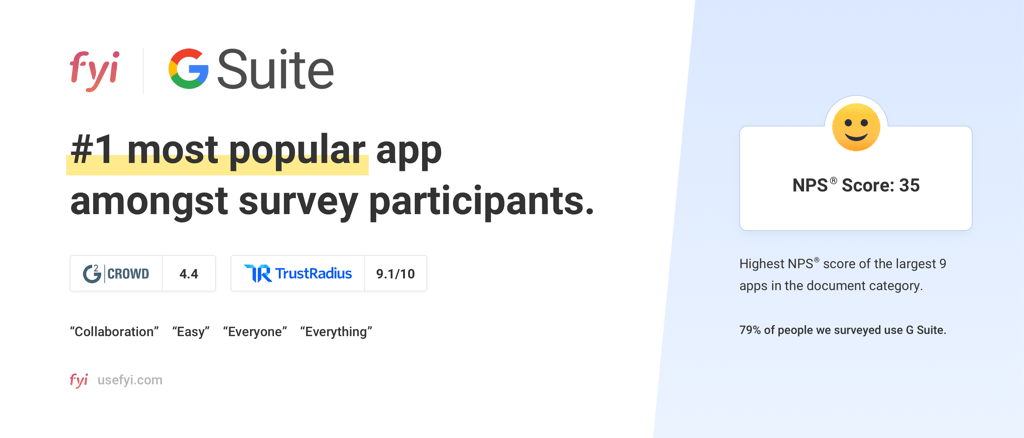 G Suite gives your business two things:
Gmail accounts for everyone at your company
A suite of office software for your company
You'll get these tools with G Suite: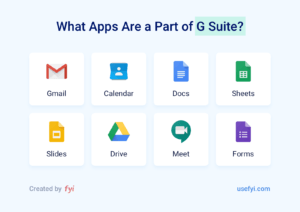 Gmail – email
Google Calendar – calendar tool
Google Docs – cloud word documents
Google Sheets – cloud spreadsheets
Google Slides – cloud presentations
Google Drive – cloud storage for all your documents
Google Meet – video conferencing tool
Google Forms – survey tool
Here's another way to think about it: G Suite is like Microsoft Office with everything in the cloud, plus you get a company Gmail.
What's the Difference Between G Suite and Gmail?
Basically, Gmail is free and for individuals. G Suite is paid and for companies.
With Gmail, you get a personal email account, some storage in Google Drive, and access to apps like Google Docs, Slides, and Sheets. All for free. The storage space is limited and you can't add additional users. You're also stuck with an email address that looks like name@gmail.com.
G Suite gives your entire company access to Gmail accounts and the suite of office products. You'll be able to easily manage users with G Suite Admin, get more storage in Google Drive, and have email addresses that look like name@company.com. But you have to pay a monthly fee for each user at your company.
How Popular is G Suite?
Very popular.
We surveyed 249 people to see which document tools they were using, G Suite was used by 79% of them.
Granted, our audience skews towards younger tech companies so we expect that a smaller percentage of total companies use G Suite compared to some of the other document tools. We know for a fact that Office 365 is more popular with older, larger companies. That makes sense, those companies were established during Microsoft's Office reign.
New companies, however, seem to be adopting G Suite in an overwhelming majority.
Do People Like G Suite?
Yes, it's the highest rated set of document tools.
We've done numerous surveys across the document category to determine how much people like the different document tools.
In our surveys, we used an industry rating tool called Net Promoter Score (NPS). It's a rating of -100 to 100 that allows us to determine how happy people are with a given tool. We have more details on how the survey and NPS methodology works here.
Here's how all the Net Promoter Scores compared across the document tools: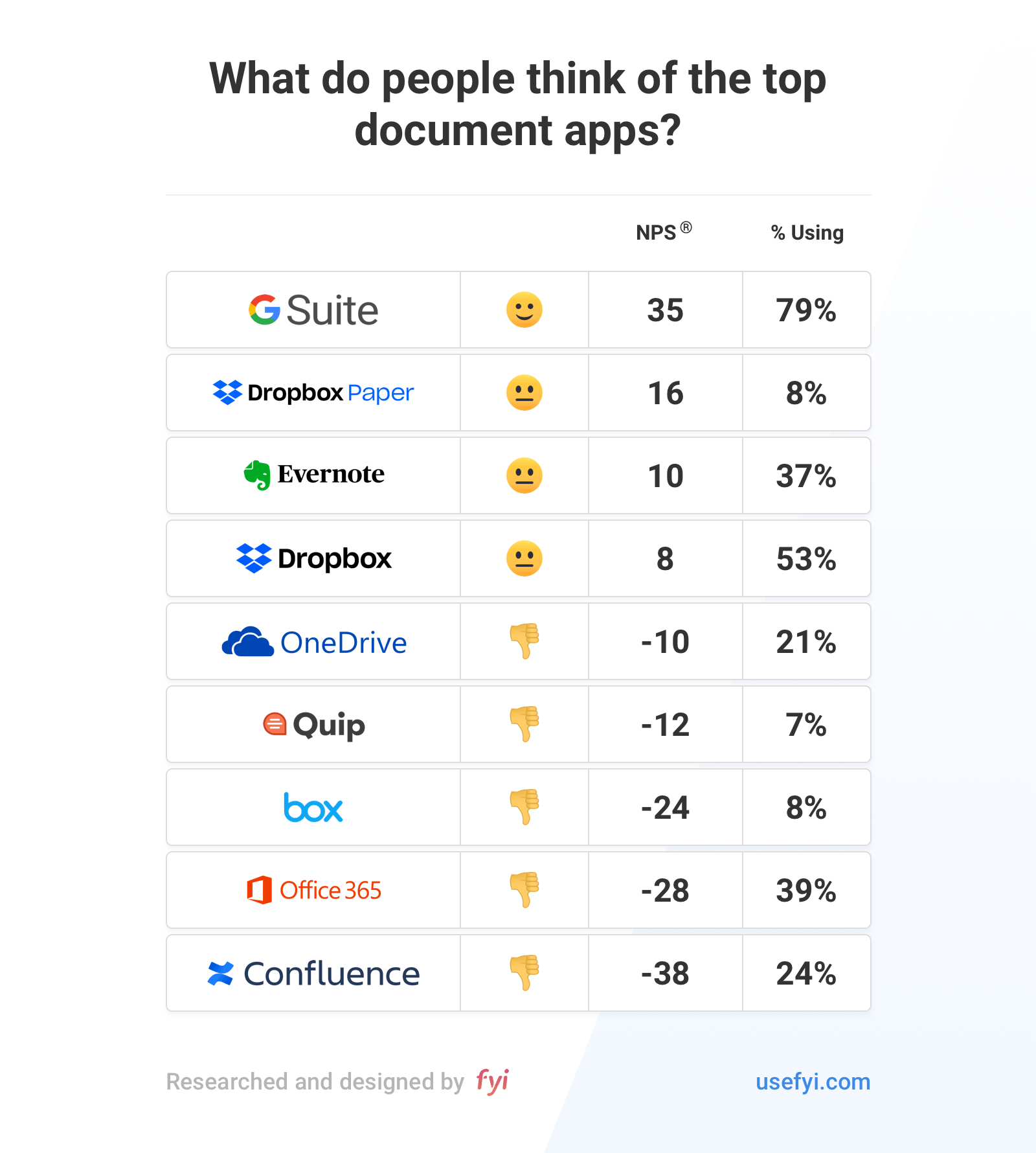 The "% Using" is the percentage of our survey respondents that used that tool, giving us a sense for how popular each tool is.
G Suite had by far the highest NPS at 35. This is pretty good.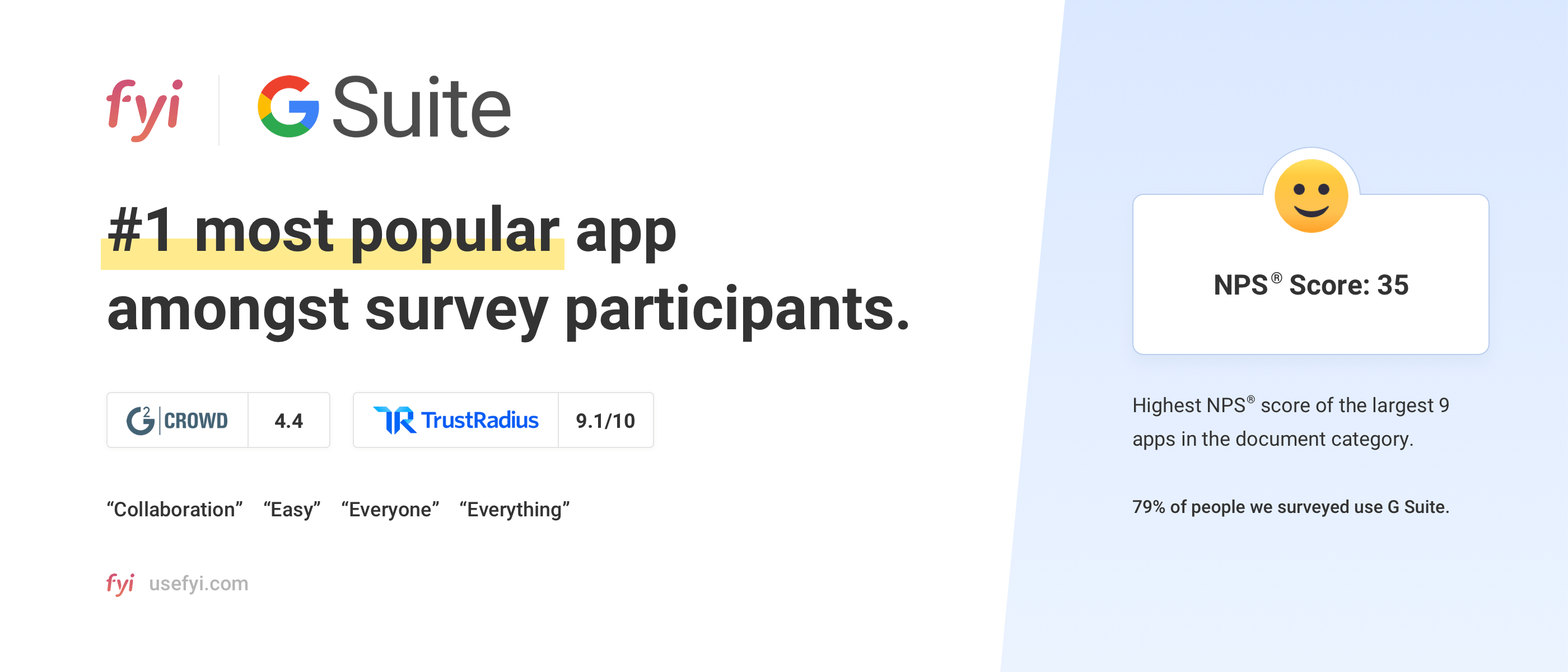 The closest competitor, Microsoft Office 365, has an NPS of -28. That's a huge difference. Based on our survey, users are much happier with G Suite than they are with Office 365.
Many document tools actually have negative scores. This means that they aren't satisfying their users.
What Makes G Suite Different from Other Document Tools?
G Suite customers consistently state that G Suite:
Is one of the easiest tools to use
Has the best collaboration of any tool
The combination of these two items gives G Suite a higher customer rating than any other document tool. Let's go through each.
Ease of Use
Lots of document tools claim to be easy. G Suite truly delivers on this promise. Since the beginning of Google Docs, Google has invested a ton of time and money into making each product within the suite as easy as possible.
Yes, Google Sheets isn't nearly as advanced as Excel. But Google Sheets is a lot easier to use.
While power users might look at other tools, G Suite as a whole gives the vast majority of users everything they need to get their work done while keeping the tools simple and easy to use.
Collaboration
This is what really separates G Suite from all the other document tools.
Google has put a lot of time and resources into refining their document collaboration features.
One of the stand-out features is the ability to add comments and suggested edits in Google Docs. These sound like small features initially. But once you've spent a few months collaborating with your team in Google Docs, you won't be able to imagine getting work done without them. Google perfected this feature which amplifies the value from Google Docs in a major way.
Sharing has also gotten dramatically easier with G Suite. On every document, you have complete control of who can see it: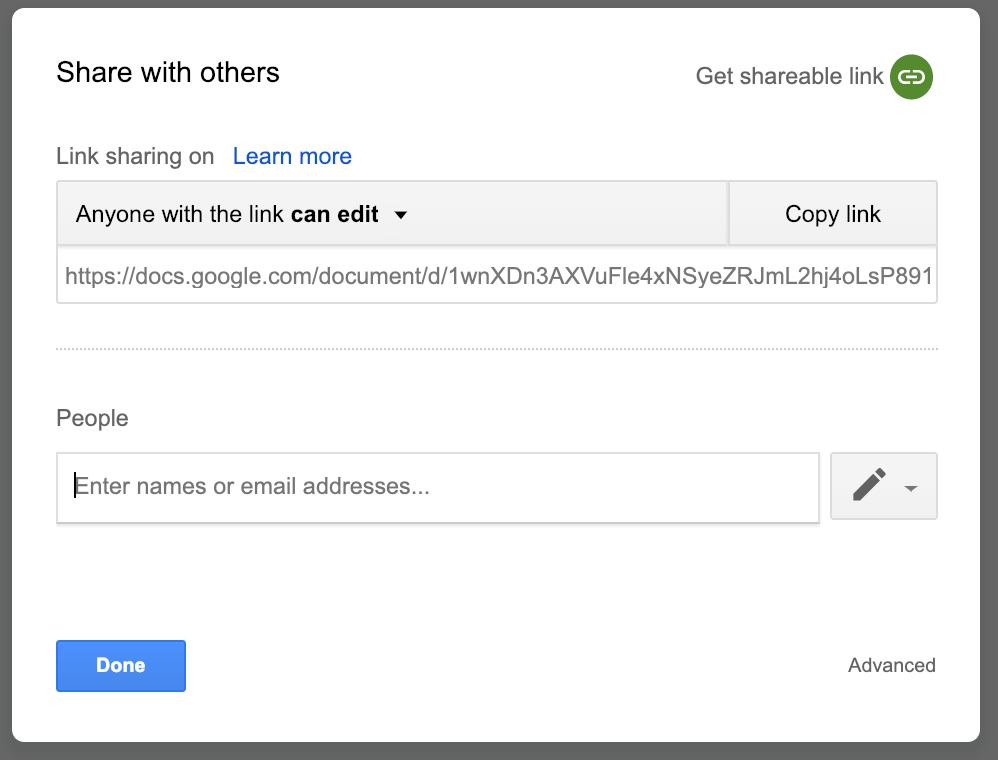 Not only can you share with anyone by entering their email in the sharing settings, you can also share the URL to your document.
Lastly, real-time editing also makes collaboration so much easier. Multiple people can all open the same document and edit it in real-time. You'll instantly see the changes that everyone is making. No one has to save their changes, exit the file, and then send a new version back-and-forth until everything is finished. Everyone can work on the documents at the same time.
Are There Other Options?
Definitely.
The document tool category has gotten pretty competitive over the last few years, there are a lot of choices now.
Here's how we look at the document market landscape: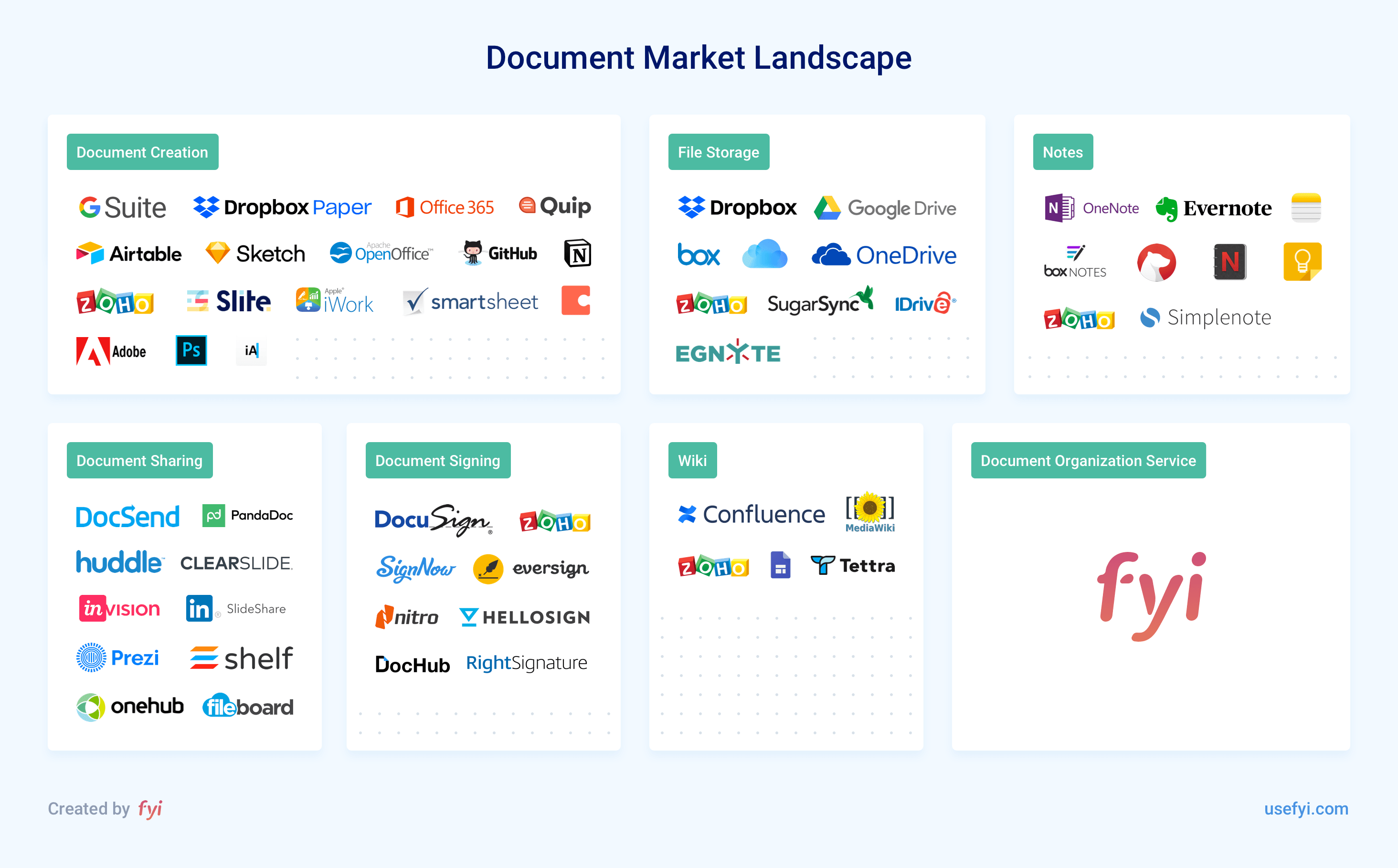 Most of the other tools in the document space compete with one of the individual tools that's part of G Suite. For example, Dropbox competes with Google Drive. The only other competitor that goes head-to-head with G Suite is Office 365. Just like G Suite, Office 365 gives you a suite of document tools along with document storage and email for your business.
When you're setting up the tools for your business, your purchase decisions will usually flow in this order:
Pick G Suite or Office 365 for your email and you basic suite of tools.
Get additional tools to replace any tools in your suite that you're unhappy with. For example, if Google Drive wasn't good enough storage for you, you could get Dropbox or Box instead.
Get tools for gaps that G Suite and Office 365 don't cover. This includes document signing, document creation for design files like Photoshop, wikis, and document organization services like FYI.
What Do People Not Like About G Suite?
The most consistent complaint that we've seen for G Suite is that it's amazing as long as everyone you work with also uses G Suite. These types of comments are pretty typical from G Suite users:
"Not very useful if you work with customers outside of Google's ecosystem."
"Not everyone in the entire org uses G Suite."
One of the biggest sources of friction comes when vendors and customers are using other tools. Especially if the other tools are entrenched in an industry, much of the collaboration value from G Suite will be lost.
Even individual companies have trouble getting everyone at their company to use a single tool for their documents. One team starts storing documents in Dropbox instead of Google Drive, another team uses Excel while everyone else still uses Google Sheets. This is surprisingly common, even with tool "mandates" across entire companies. People have their own preferences and will sign up for other tools on their own.
Collaborating and organizing documents across different tools is why we created FYI, it does an amazing job at bringing documents together no matter how many tools your team, vendors, and customers use.
If you're in an industry that's heavily dominated by Office 365 users, the benefits of G Suite might not be worth it. Especially if vendors or customers expect to collaborate directly with your team on documents. In that case, it might be worth going with Office 365 even though Office 365 isn't as highly rated and is more expensive.
Can I Use G Suite for Personal Use?
Absolutely.
In that case, you'll sign up for a one user G Suite plan. You'll get full access to the document tools and can create an email account for yourself on any domain that you own.
It is possible to use G Suite for free. You'll need to sign up for a personal Gmail account. In other words, your email will be name@gmail.com. Sure, you could create a your.company@gmail email address but it lacks the polish of having an email address on your own domain. If you need to watch every penny though, it is an option.
How Do I Get G Suite?
It's super easy, head over to Google's G Suite site and go through the signup flow.