The Complete Guide to G Suite Pricing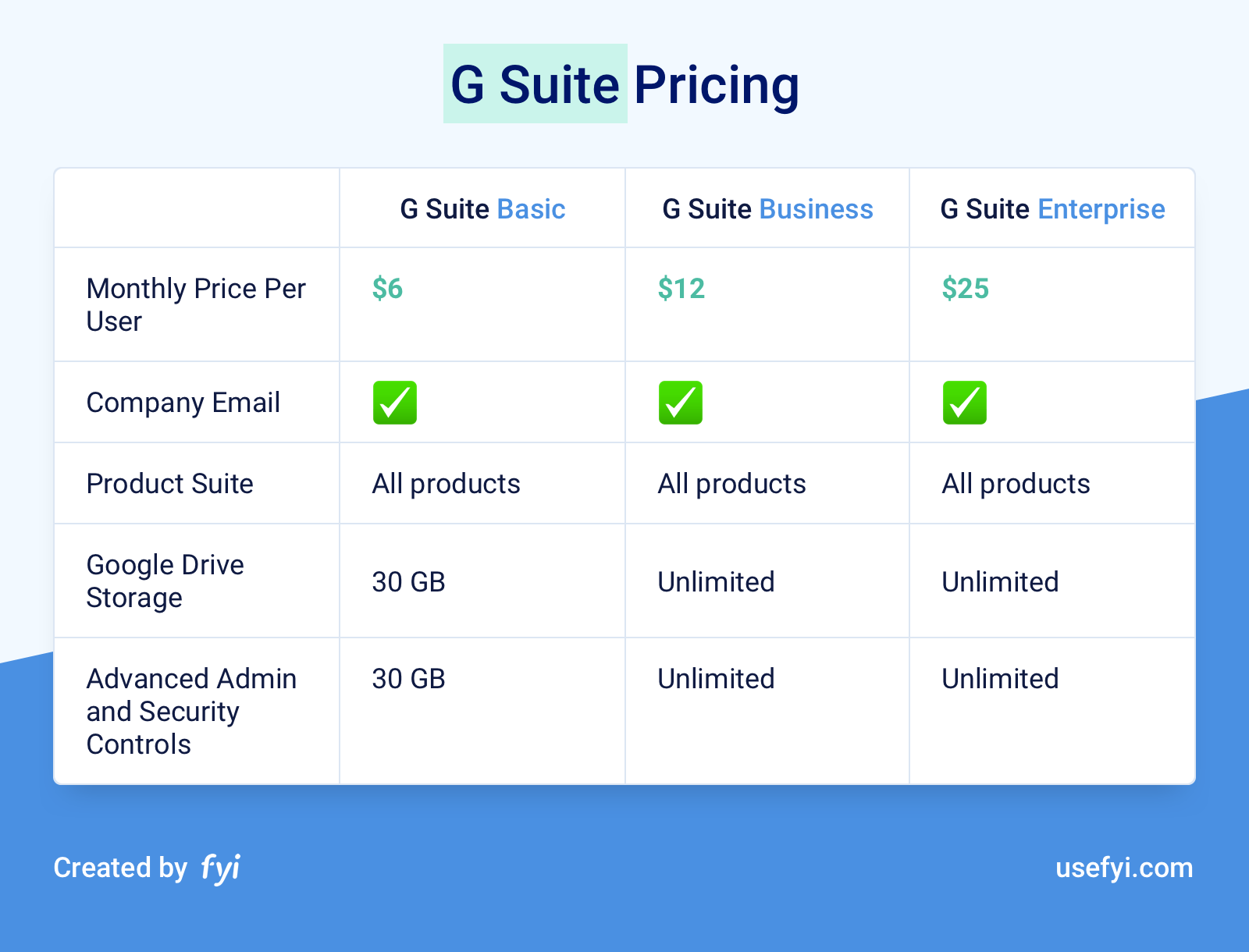 I'm going to break down G Suite Pricing in complete detail.
By the end of the post, you'll know if it's the right choice for your business.
I've also found two sneaky ways to get a discount on G Suite. We'll get into that further down.
First, let's figure out which G Suite plan is right for you.
There's a comprehensive table that breaks down G Suite's pricing here. Let's simplify things a bit. Here's the real difference between all 3 plans: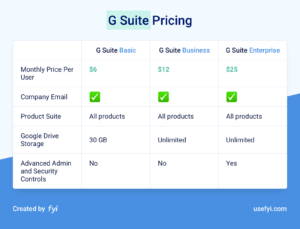 Quick note, these are the most recent prices from G Suite as of April 2019. If you see some lower prices for the G Suite Basic and G Suite Business plans, it's the old pricing.
How the G Suite Pricing Works
G Suite bills you on a per user basis.
The more users that you have, the more expensive that G Suite gets.
Let's say that you want to get G Suite for just yourself and you plan on using G Suite Basic. Since you're the only user, it'll cost $6/month.
Now let's say you have a company of 50 employees that all need G Suite. You're still planning on using the G Suite Basic version. In this case, the total cost would be $300/month.
To figure out the total cost of G Suite, you'll need to answer two questions:
How many G Suite users will you need?
Which version of G Suite would you like
Which G Suite plan is right for me?
If you own a small business that includes yourself and a handful of employees, you can probably get away with the G Suite Basic plan.
You'll still get all the core software like Google Docs, Sheets, Slides, and Gmail.
The main limitation to G Suite Basic is that Google Drive only has 30 GB of storage. For a full team that's creating Google Docs all the time, it's extremely easy to hit this cap.
The G Suite Business plan doesn't have this cap, it comes with unlimited storage on Google Drive.
Unfortunately, most of us will get stuck with the G Suite Business plan in order to get unlimited storage. The G Suite Basic plan would be amazing for small businesses if the Google Drive storage wasn't so restrictive.
If cost is a major concern and you really want to find a way to make the G Suite Basic plan work, look for another way to store your documents like Dropbox so that it's easy to clear up space whenever you need it.
What about G Suite Enterprise?
The core functionality is the same between G Suite Business and G Suite Enterprise. They both include the same apps and storage amount. The majority of the people at your company won't see any difference between the two versions.
G Suite Enterprise does have a lot more advanced admin and security features. A true enterprise company will have an IT, HR, or Legal department advocating to get these features. If your business isn't that big yet, don't worry about it. There's no reason to upgrade from G suite Business to G suite Enterprise.
To recap, here's when to choose each plan:
Most businesses will end up on the G Suite Business plan to get the Google Drive unlimited storage.
If you have a very small team or plan to avoid Google Drive entirely, it is possible to make the G Suite Basic plan work.
If your legal counsel, HR department, or IT department strongly advocate for the G suite Enterprise plan, use it.
How does the pricing compare to Office 365?
The full Office 365 business pricing chart is here.
Again, let's simplify things a bit: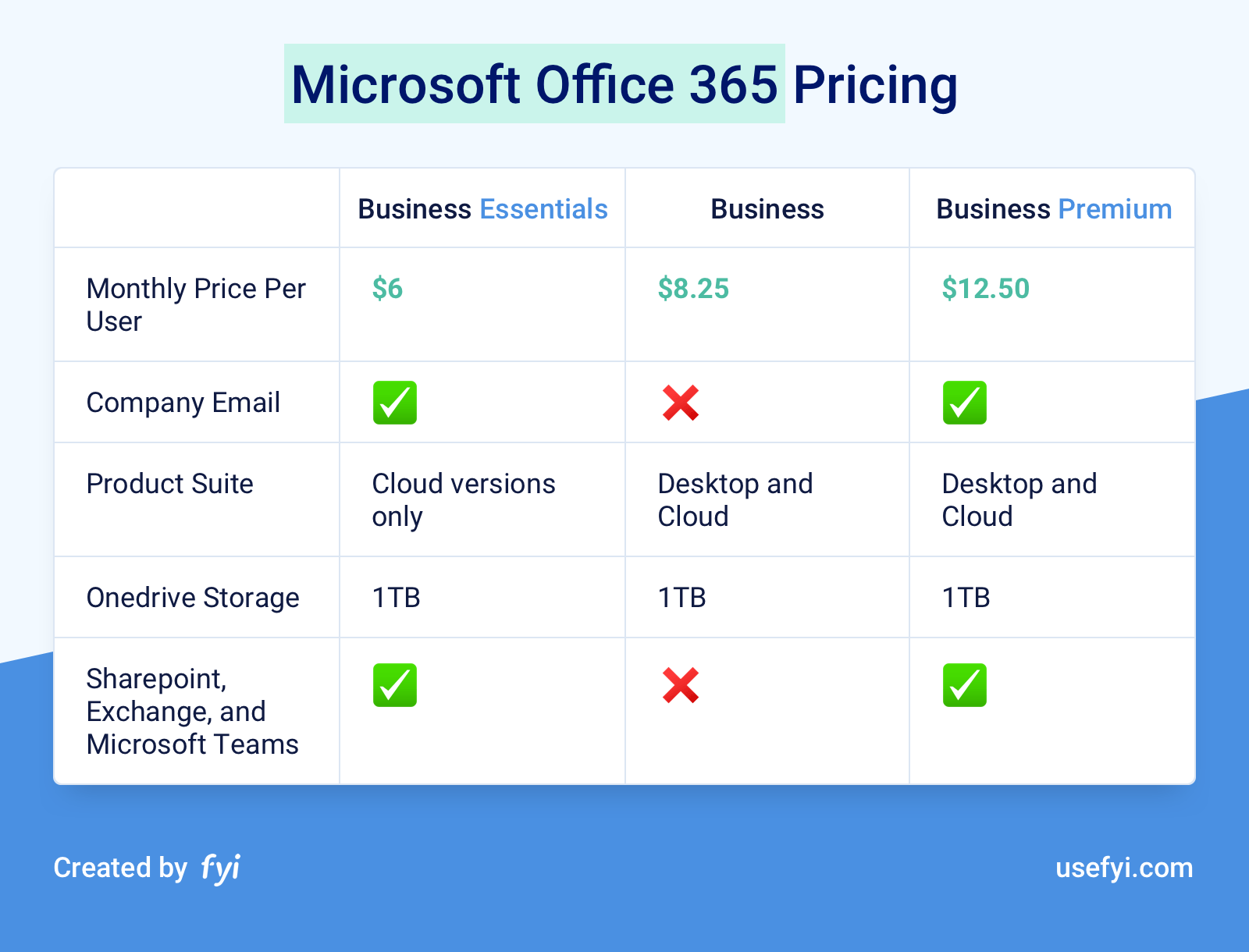 Honestly, the Office 365 pricing doesn't make a ton of sense. The cheapest plan includes company email but the mid-level plan doesn't, even though its more expensive. The cheapest plan also doesn't include installed versions of the product suite for your computer. But it includes cloud versions of products for larger teams like Sharepoint, Exchange, and Microsoft Teams.
For me, part of the appeal of Office 365 is the extra horsepower that comes from having an installed app instead of a cloud app. If I'm willing to stick to cloud apps, why not use G Suite and skip Office 365 entirely? So the cheapest Office 365 plan doesn't have much appeal.
If Microsoft offered company email with their Business plan, it'd be a very compelling offer compared to G Suite. But they don't. So their mid-level plan isn't appealing either.
Since it's not worth considering either of the lowest plans, that leaves the Business Premium Plan at $12/month.
How do I decide between G Suite and Office 365?
First, if cost is a concern, go with the G Suite Basic plan. You get full access to all the G Suite products and company email for $6/month per per month. That's a great deal.
Otherwise, the choice is between G Suite Business at $12/user or Office 365 Business Premium at $12.50 per user.
I recommend making this choice based on the culture of your industry. Some industries are extremely entrenched with Microsoft Office. Conversely, other industries rarely use Microsoft Office anymore and have largely adopted G Suite. Choose the one that's more common in your industry to reduce friction when sharing and collaborating on documents. The G Suite Business and Office 365 Business Premium plans are almost identical in price and features.
If there isn't an industry norm, pick the one product suite that you prefer the most. Typically, people pick G Suite for the ease of use and Office 365 for the more powerful tools, particularly Excel.
Personally, I prefer G Suite.
Are there other competitors that I should consider?
The document tools category has gotten pretty complicated over the last few years. Here's the current landscape: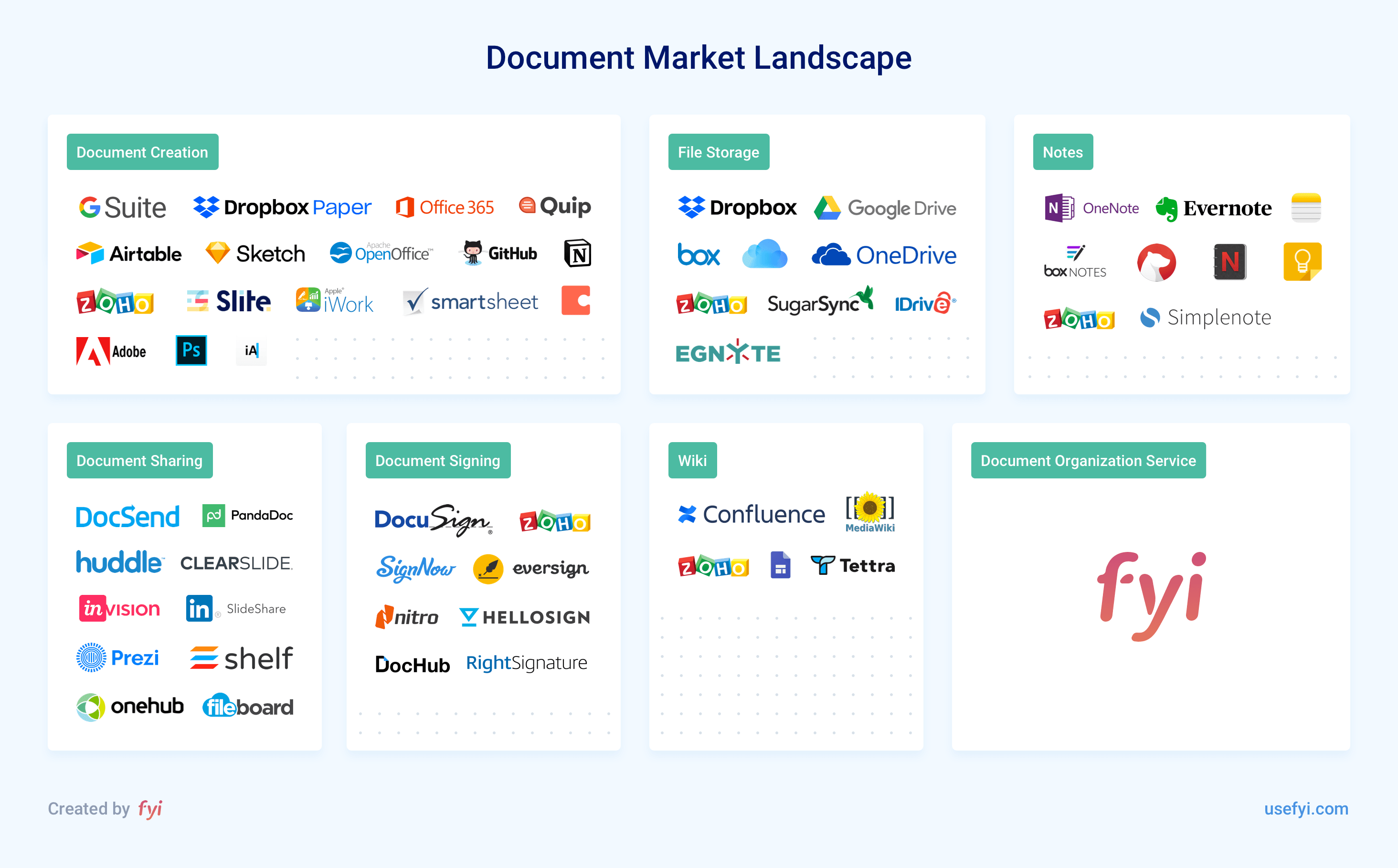 While things definitely get fragmented as your team grows, the first decision is pretty easy.
You'll need email for your company no matter what you do. G Suite and Office 365 are the easiest way to get that set up. And you might as well get a suite of document tools along with your email. For that first email + document tool suite decision, your only real choice is between G Suite and Office 365.
Once you've picked one of them, then it's completely up to you if you want to upgrade your document tools by going with Quip, adding a wiki with Confluence, upgrading document storage with Box, or any of the other options in the space.
And even if you don't choose to add tools, teams tend to go rogue and add a bunch of tools on their own. Before you know it, you'll find your organization spread across a bunch of different document tools anyway. That's the reason we created FYI, it finds any document across all your tools in 3 clicks or less.
In other words:
Choose G Suite or Office 365 to get your company email and a basic suite of document tools.
Add extra document tools when you like.
Use FYI once you're tired of trying to find documents across all of them.
Can I get a discount on G Suite?
Yes, it is possible to get a discount.
Google does have a G Suite reseller program. For partners that make it through all their qualifications (there are a bunch), those partners can resell G Suite accounts at a discount. Technically, the partner gets a discount and can then offer whatever price above that, most end up passing on some of the discount in order to incentivize you to buy through them instead of going directly to Google.
As a small business, it's going to be pretty hard to get access to these resellers for the discount. You'd have to be an enterprise business that's looking at a major IT overhaul or know an agency that bothered to go through all the reseller application hoops. Ask your vendors and agencies if any of them are a G Suite reseller before you make the switch. The larger you are, the greater the chance that you can score yourself a discount.
There is one way to get a small discount as a small business.
Today, G Suite no longer has an annual plan for US customers. They used to have one but got rid of it. If you sign up from the G Suite website, you're stuck with the monthly billing.
However, some web hosts do still offer the annual plan and give a small discount with it. For example, you can get 2 months free on G Suite if you sign up for G Suite through Bluehost: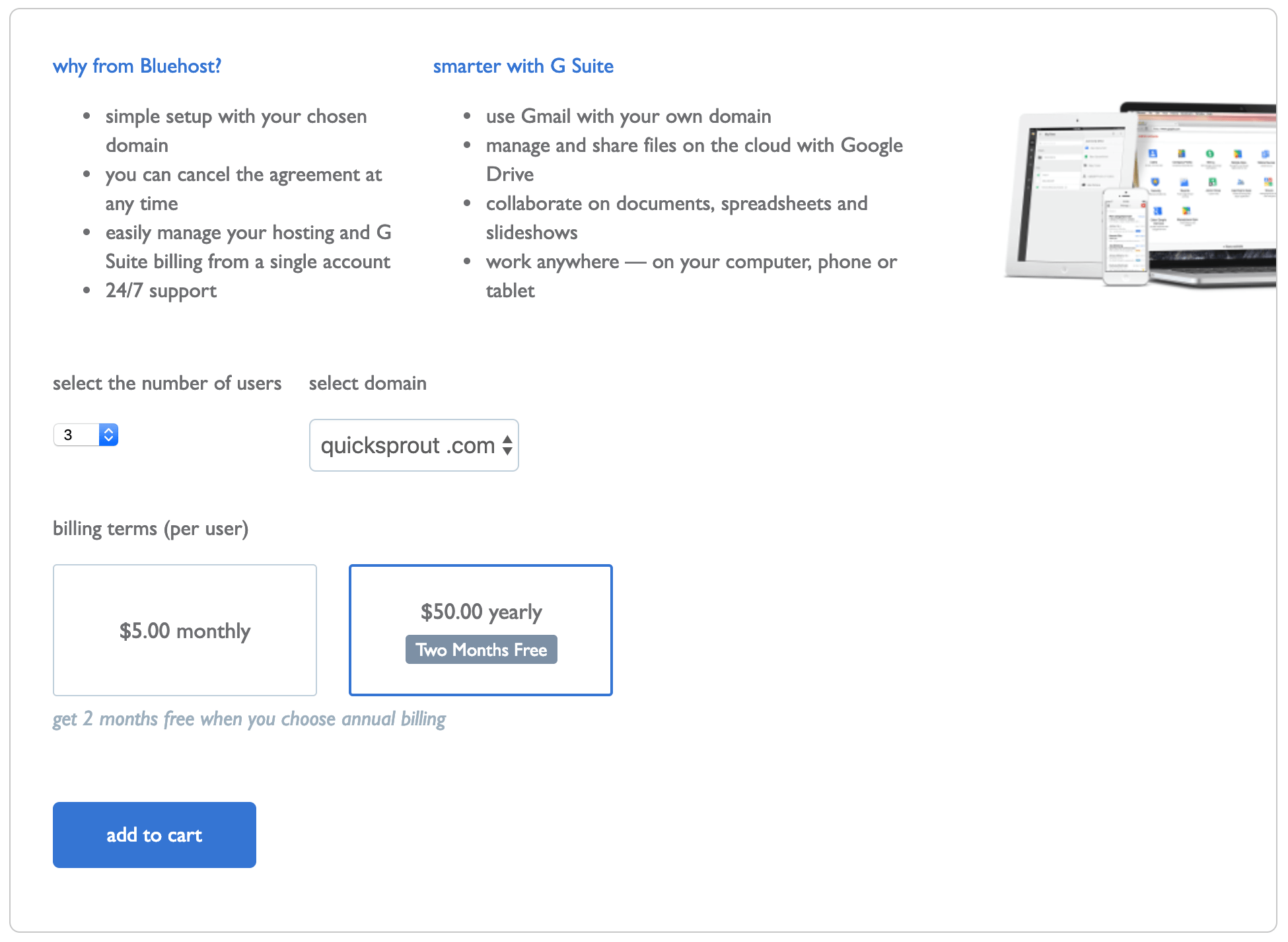 Before you sign up for G Suite directly on Google's website, it's worth checking your web host to see if they offer a small discount. I'd only worry about this if cash is tight. In most cases, it's not worth the extra complication. If it was me, I'd sign my team up for G Suite, forget the discount, and be done with it.
How does G Suite define a user?
The simple rule: every unique G Suite login = 1 user.
Plan to have a G Suite login for every person at your company.
This doesn't include email aliases. Every user can have up to 30 email aliases so you won't have to pay for extra emails like admin@yourcompany.com or support@yourcompany.com unless you want to.
It is standard practice to create a few extra logins on G Suite so that multiple people can use the same account:
accounts@
developers@
founders@
press@
I recommend that you plan for a login for each person at your company and add an extra 3-5 logins depending on your specific needs.
How Do I Lower My G Suite Bill?
When times are good, subscriptions like G Suite have a tendency to get a bit bloated. Users aren't shut down as quickly or some accounts fall through the cracks when someone leaves a company. After all, who really cares about a few extra users when there are bigger things to worry about? Makes perfect sense during good times.
But sometimes things aren't so good. Cash gets tight, business slows down, and it's time to go line-by-line through the operations budget.
Every time this has ever happened to me, there are always savings to be had in the G Suite bill.
When you need to lower your G Suite bill, check for these items in your G Suite account:
Are there any old employees that are still users?
Were any contractors given access when they shouldn't?
Did developers create any one-time users for projects that are no longer needed?
Are there any admin or operations users that could be consolidated into fewer accounts?
Is there a standard process in place to remove G Suite accounts as soon as someone leaves the company?
Does your onboarding process wait until the week before a new employee joins the company before creating an account?
Every time that I've run through this checklist when trying to reduce a G Suite bill, I've always managed to reduce it by 20% at least.
Even if cash isn't tight right now, it's worth the time to audit your G Suite account once per year. That'll keep it from getting too bloated.