Is G Suite Basic the Right Plan for Your Business?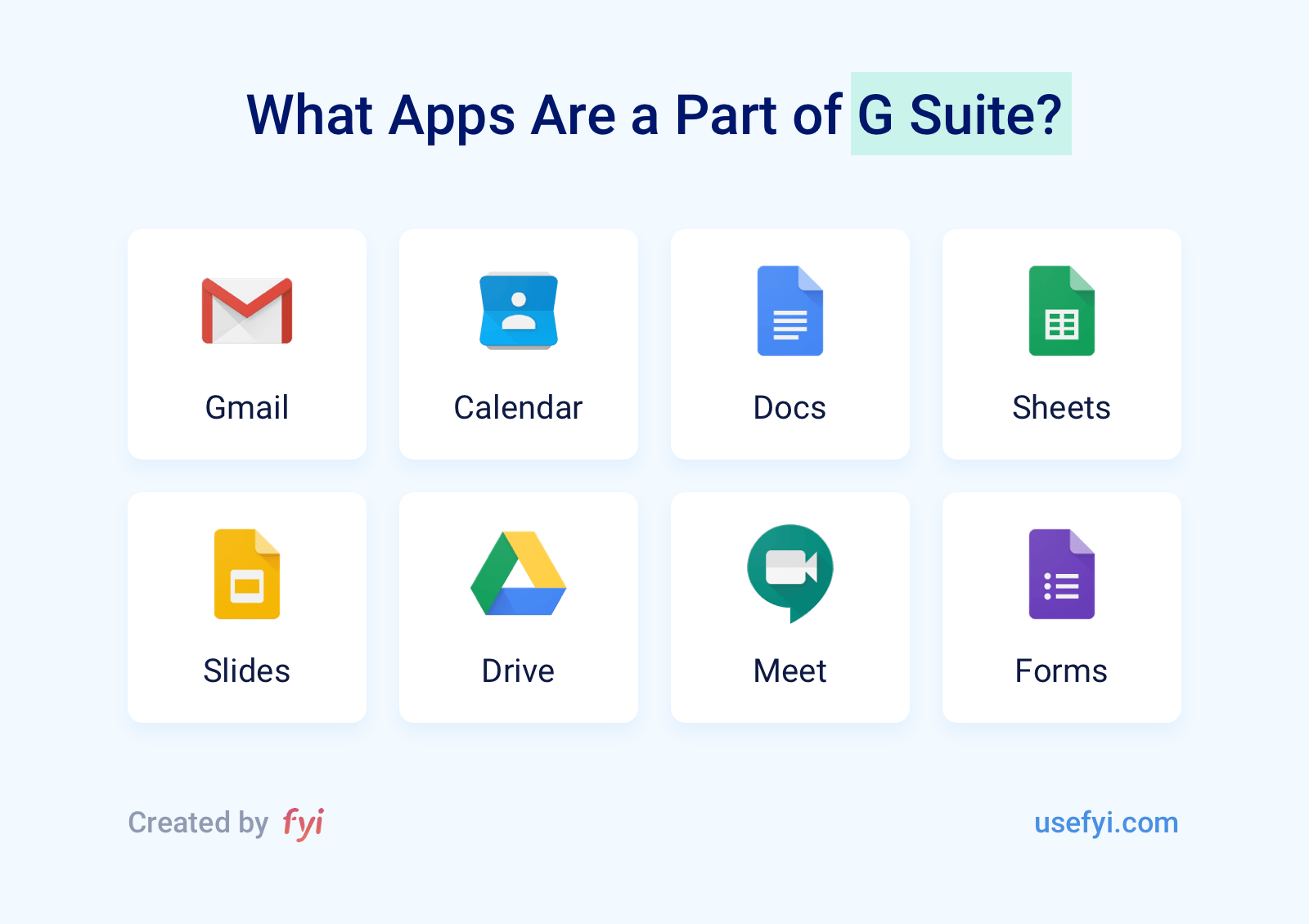 G Suite Basic is Google's entry business productivity package. It's low-cost and offers only limited storage but you get full access to Gmail, Docs, Drive, Calendar and Meet.
Is it the right choice for your business?
What you get with G Suite Basic
When you signup for G Suite Basic, all users in your organization get a package of email, productivity, and collaboration tools.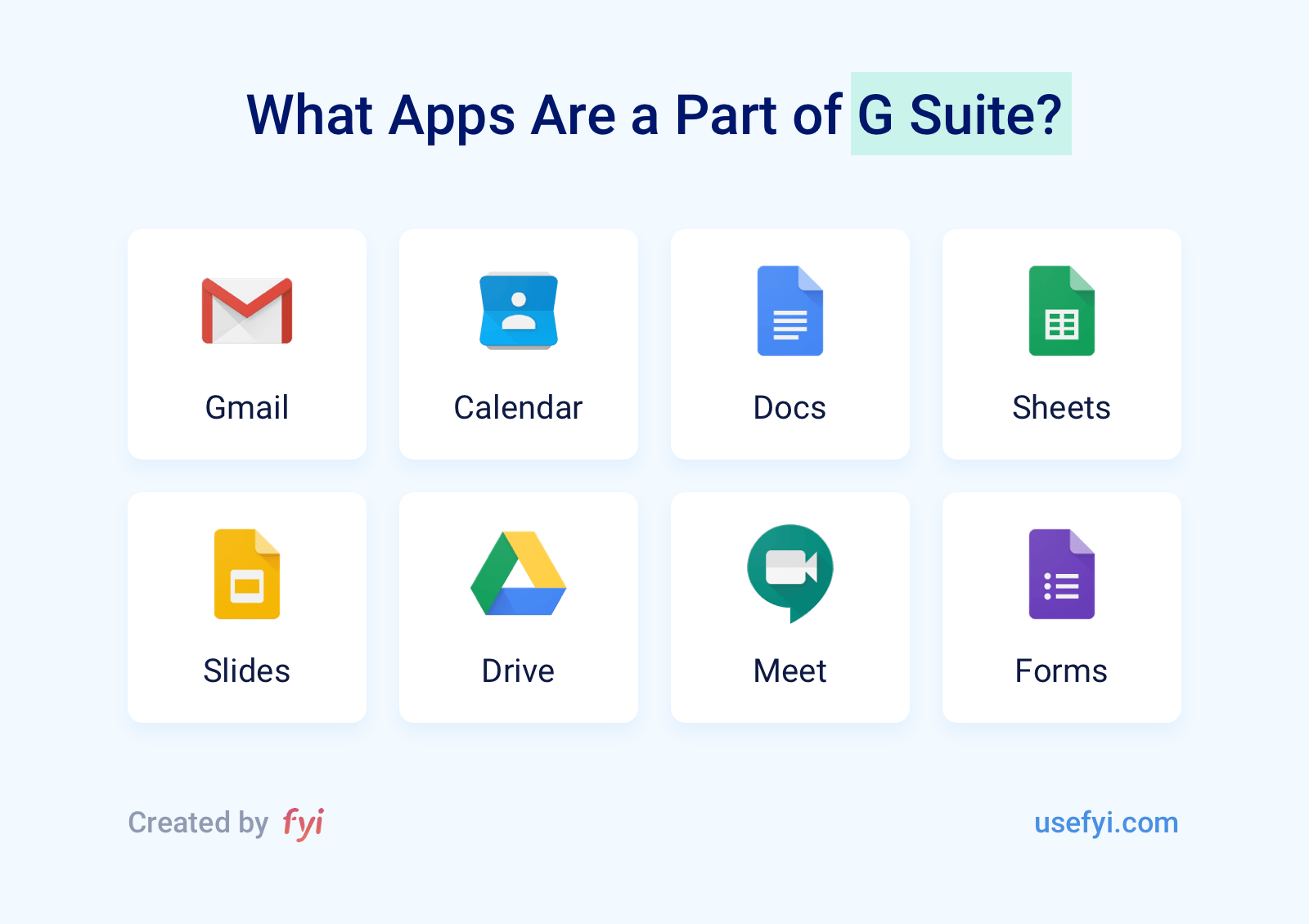 Gmail
It's just like the personal Gmail except you'll be able to send from your own business domain. Send and receive email from name@yourdomain.com rather than from name@gmail.com. There are additional tools built into Gmail plus many third-party integrations such as CRM, email tracking, and more.
Gmail now even helps you draft your emails by predicting the rest of your sentence.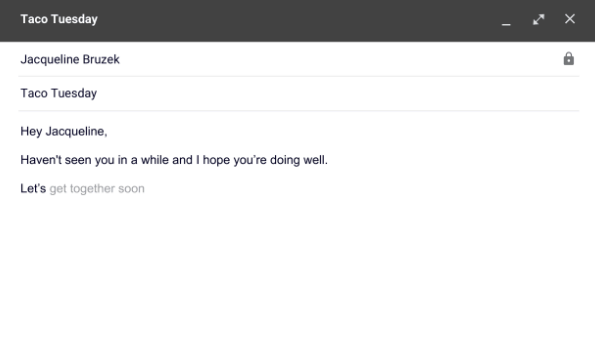 With G Suite Basic, you can also set up multiple email IDs and create mailing groups.
Calendar
Share calendars and schedule meetings across your entire team. It also has deep integrations with Gmail, Google Meet (formally called Hangouts), and other apps from the Google Marketplace.
Google Docs, Sheets, and Slides
Docs, Sheets, and Slides form a cloud-based productivity suite for document work. While they're not quite as powerful as Microsoft Office, they are more than adequate for most people. Users rave about two things that set these tools a part: their ease of use and collaboration. Not only will you find them super easy to use, collaborating on the same document with multiple people is a breeze.
Multiple people can collaborate in real time by making comments, editing the document text, and using a built-in chat feature that allows multiple users to chat inside the document.
Perhaps best of all, there's no need to save since Docs automatically saves to the cloud every few seconds. There's a desktop offline version that also autosaves and automatically syncs with the cloud when you reconnect.
Docs can convert Microsoft's file types to Docs files and back. So you can open a .docx file in Docs, edit it, then download it as a .docx file again. The same thing works with Excel and Powerpoint files. This doesn't work with Apple's file types though. So if you have a Pages file you need to export it as a .docx file or Docs won't be able to work with it.
Docs is also available on mobile.
It's more unwieldy until you're used to it, and you need the mobile apps installed to use it. Each component of the suite — Docs, Slides, Sheets — has its own app, unlike on desktop where you just access them through your browser.
Google Drive
G Suite Basic gives you 30GB per user of cloud-based storage for files. You can store any file types, and use Docs tools straight from Drive like opening an Excel file in Sheets, for instance. PDFs, images, and videos can be viewed directly in Drive.
This storage space is a bit limited on the G Suite Basic plan. If you regularly upload large files, you'll likely hit the storage limit and have to upgrade to G Suite Business which as a 1TB per user storage limit.
If you upgrade from Basics to Business or Enterprise, you get unlimited Drive storage.
Google Meet
Set up and join video meetings with just a link, from any device. Anyone with the link can join the Meet.
It's Hangouts, designed around scheduled meetings for business rather than spontaneous chats. There's chat and filesharing inside, and it works with other platforms like Skype via the Pexip Infinity Platform.
G Suite Admin controls
Admin and IT teams get administrative controls too. Here's a few of the advanced settings that you'll get:
Manage user accounts and settings from a central Admin console
Control user access to features and services
Add and remove users, set up groups, and arrange single sign on (SSO) and 2-step verification.
Manage mobile fleets remotely
Track and analyse usage using audits and reports, monitoring storage usage, file sharing, see security metrics and more.
24/7 support
Google Basic Pricing
G Suite pricing is very simple, with just three plans. G Suite Basic costs $6/month per user.
There are also some ways to get G Suite Basic for free.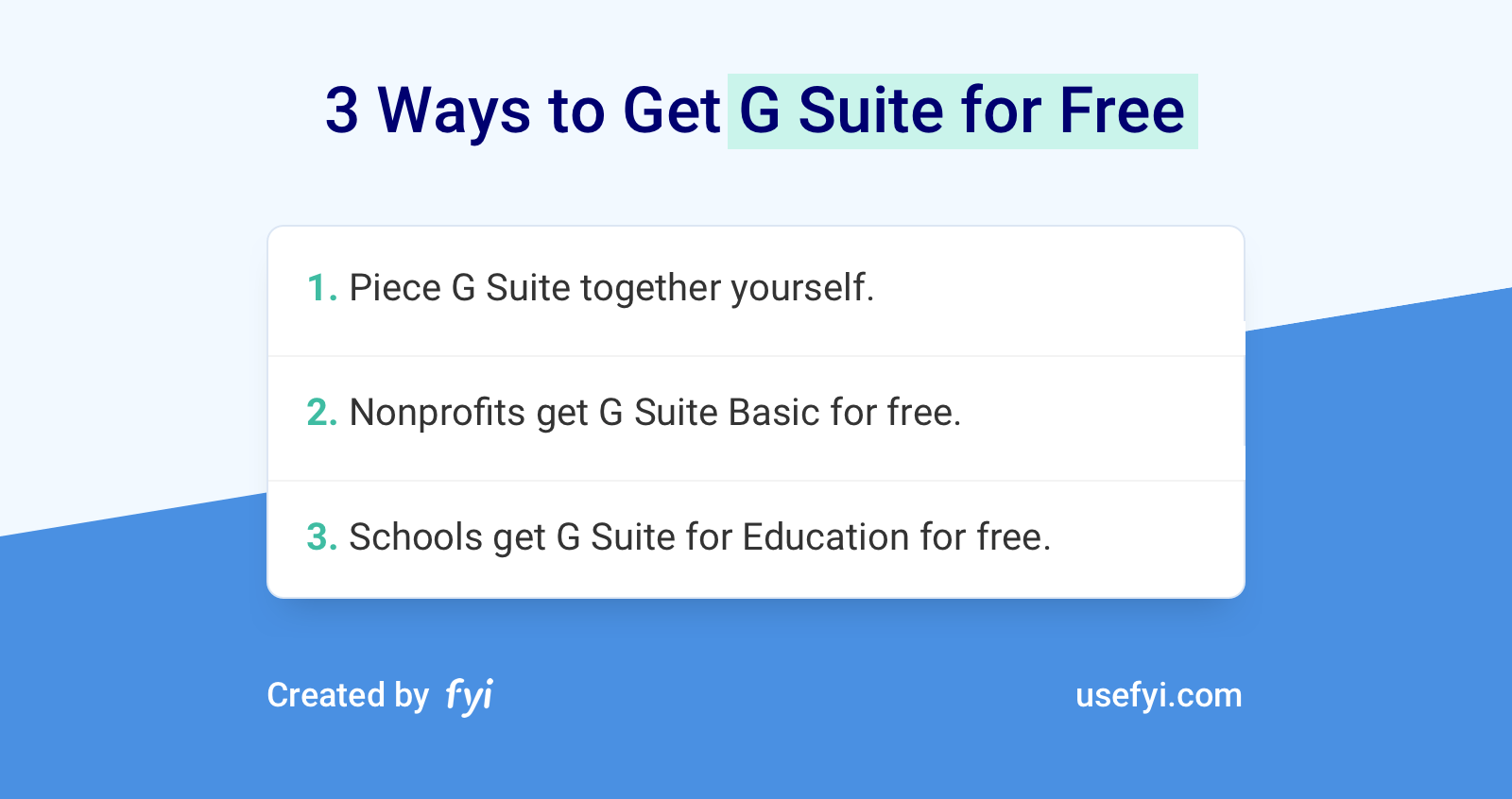 Nonprofits and schools get G Suite Basic and G Suite for Education for free, and you can together an equivalent package of services on a basic, free Gmail account yourself.
The caveat of McGyvering a G Suite of your own is, once you have more than a couple of seats to do it for, you're going to spend a lot more in time than you're going to save in money. Once you're at that point, it makes a lot more sense to just pay for it. For most businesses, I reocommend getting at least G Suite Basic.
If you find the storage limits on G Suite Basic too restrictive, upgrade to G Suite Business. It's a bit more expensive at $12/month per user but has plenty of storage at 1TB per user.
Do you need a business productivity suite at all?
G Suite has great features. But do you need them? After all, these are 'powered-up' versions of the stuff Google gives you for free anyway: Docs, Gmail, Calendar are all free. And there are plenty of alternatives from Apple, Microsoft, and others.
If you already have a productivity tool like Microsoft Office, you might be served well enough with that. G Suite's major advantages over desktop tools are ease of use and collaboration. So the questions to ask yourself would be:
Do I need to collaborate on documents often?
Do I regularly communicate with people in ways that the phone isn't a great fit for, like international clients?
Am I dissatisfied with my current email?
If your answer to any of these questions is 'yes,' you might benefit from G Suite Basic.
Is your business an ideal fit for G Suite Basic?
If you decide you do need a business productivity toolbox like G Suite Basic, what kind of business is G Suite Basic for?
In short, there are three types of business that are perfect for G suite Basic:
The Freelancer
If you're a freelancer or a one-person business, G Suite Basic is a great fit. The pricing (see below) is sufficiently low that you're likely not to notice it. But it will:
Give you a professional email
Enough storage for most freelancers. If you send clients a lot of design or video files, you could hit this limit quickly though and need to upgrade
Meets lets you have more structured conversations with clients.
Yes, you can pull these features together yourself for free but it makes more sense to focus on the bigger picture and just fork over the $6 a month, at least for most folks.
The Small Business
G Suite Basics is a better fit for a small business. It lets you shift your IT requirements mostly onto Google's shoulders, and it's super easy because G Suite is 'agnostic' about operating systems and hardware. If you can use the internet, you have access to G Suite. Small businesses benefit from:
Internal collaboration through Meets and Docs. If several team members need to inspect documents, it's a lot faster on a cloud-based solution like G Suite.
Data security solved. Google manages the security of everything you keep on G Suite apps. Because you have centralized control through the Admin dashboard, devices can be lost or employees can leave and your security isn't compromised.
IT dealt with. Most small businesses don't have specialized IT staff, and when something goes wrong it can take an expensive forever to fix. With G Suite you don't need to worry about setup or updates, Google maintains everything for you. Also, adding or removing users is done through the dashboard in a couple of clicks. Plus their support is really solid.
Integrations. G Suite integrates with sales, marketing, project management, and other tools seamlessly. So you don't have to drop the tools you're already using.
The Start-Up
Start-ups go through everything fast, so they need agile solutions. Unlike a lot of SMBs, start-ups aren't going to stay small, so they need a solution that works now when there are 10 people in the office and later on when there's 1000 people. G Suite Basics is an ideal match for the requirements of a small start-up:
Scalability is built in. When it's time to upgrade, you can move up to Business or Enterprise. In the meantime, you can add new users quickly and easily and — just as important — remove users when they leave the organization.
Integrations mean more when you're looking at using a bigger, more versatile stack. Start-ups face challenges when they start hiring for specific roles beyond the core founding team, but those roles can be facilitated with applications that tightly integrate with the core G Suite Basics toolkit. CRMs that integrate with Calendar and Gmail support the transition to a real sales team taking the place of the founder calling everyone she knows. Trello or Wrike will communicate with Gmail, Calendar, and Docs to support the transition to larger projects with more participants.
Alternatives to G Suite Basic
There are other suites of interlocking tools on the market that do similar jobs. Key G Suite competitors include:
Office 365

This cloud-based, collaborative version of the classic Office productivity suite also comes with Microsoft's email for business, Outlook. It's big, powerful, and does more or less everything that G Suite does. It's the primary competitor to G Suite, most businesses will end up with either G Suite or Office 365.
Zoho Docs, Projects, and Meeting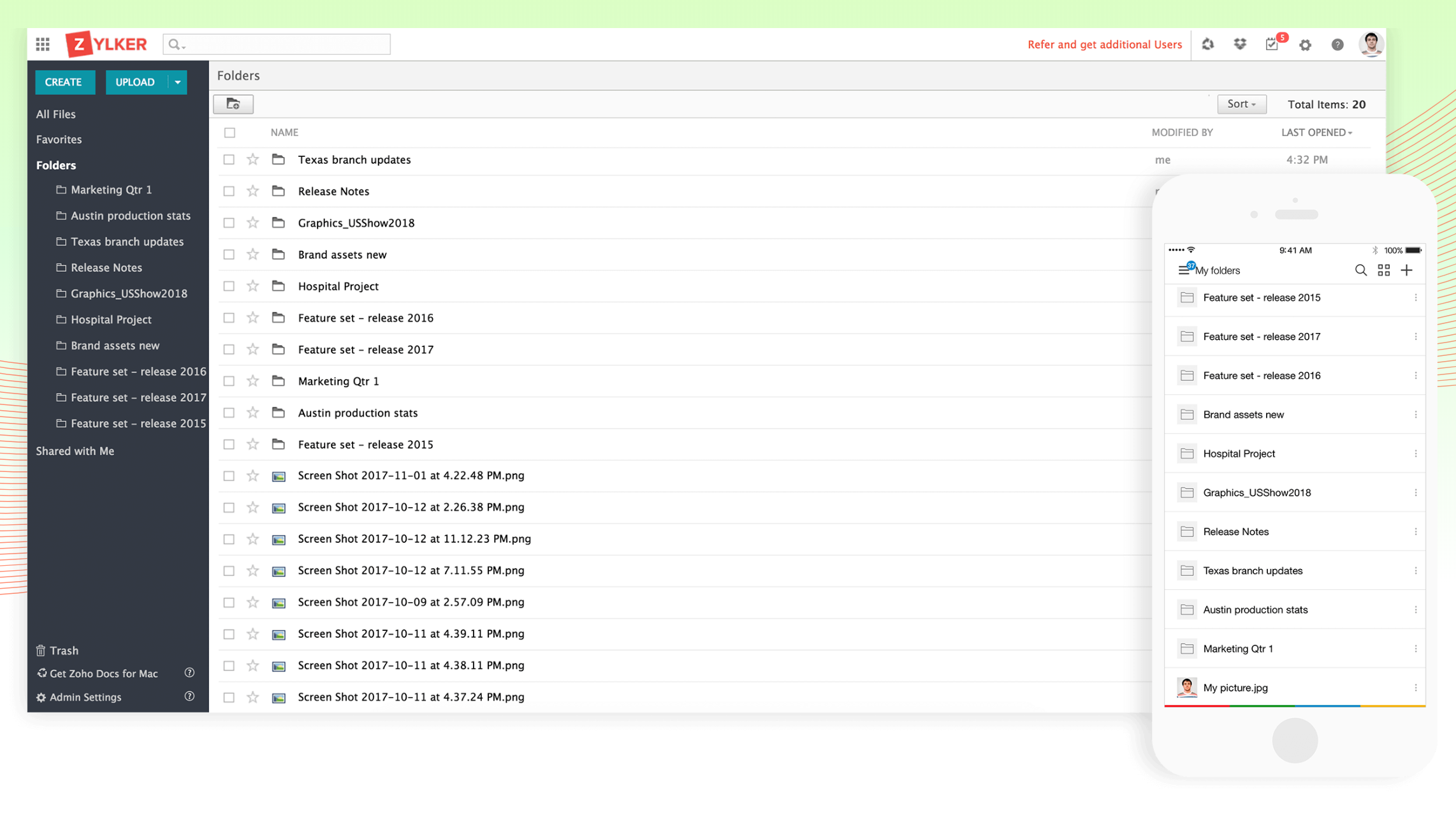 Productivity suite built into Zoho's business software package. Most of the functionality of G Suite is replicated as part of Zoho's end-to-end ecosystem that includes invoicing software, CRM, and even an app builder.
SamePage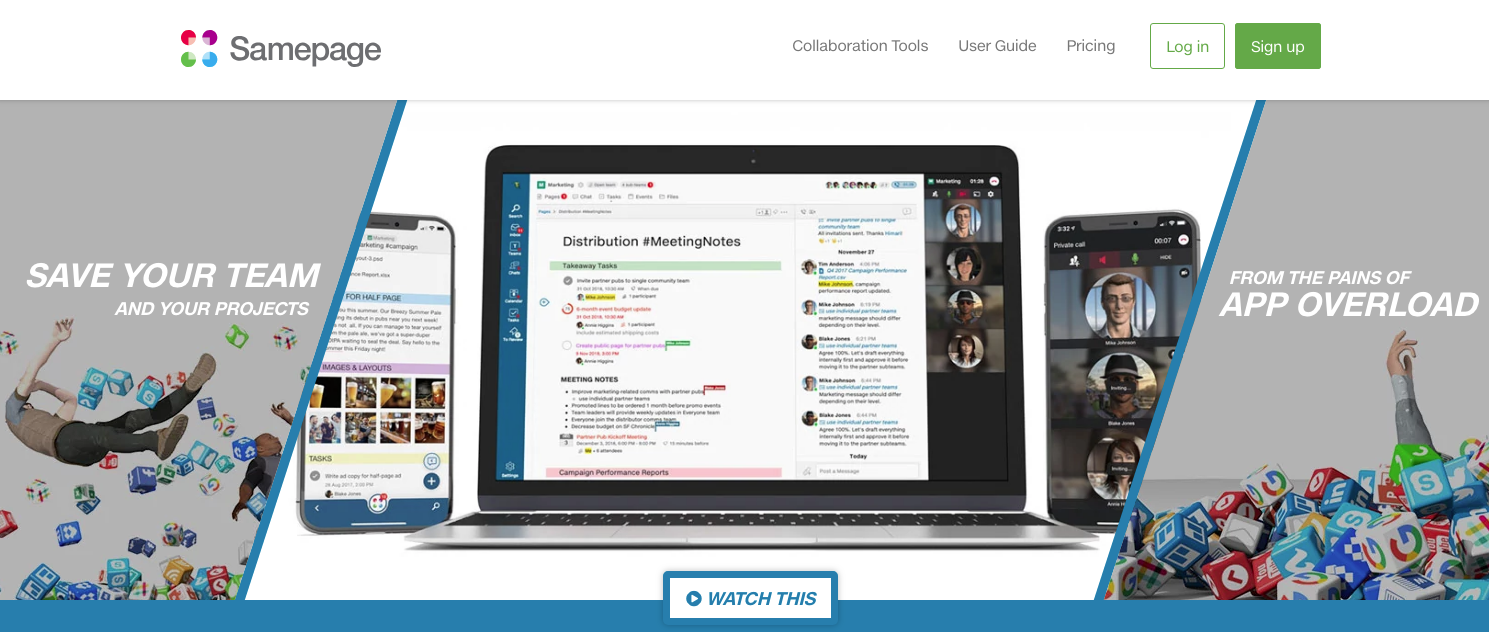 SamePage focuses more on collaboration software than productivity. It lets you build shared calendars, manage tasks, share files, and manage projects. It's priced similarly to G Suite Basic — a free version with plenty of features but limited users and storage, and a pro version with those limitations removed for $7/mo per user.
OnlyOffice

Online office suite and collaboration platform, compatible with Microsoft document formats.
G Suite Basic vs Office 365: Which is right for you?
Google has just three plans: Basic, Business, and Enterprise. By contrast, there's a dizzying array of Microsoft plans including three for small business and four for enterprise. We're going to compare the Business Essentials plan from Microsoft with G Suite Basics.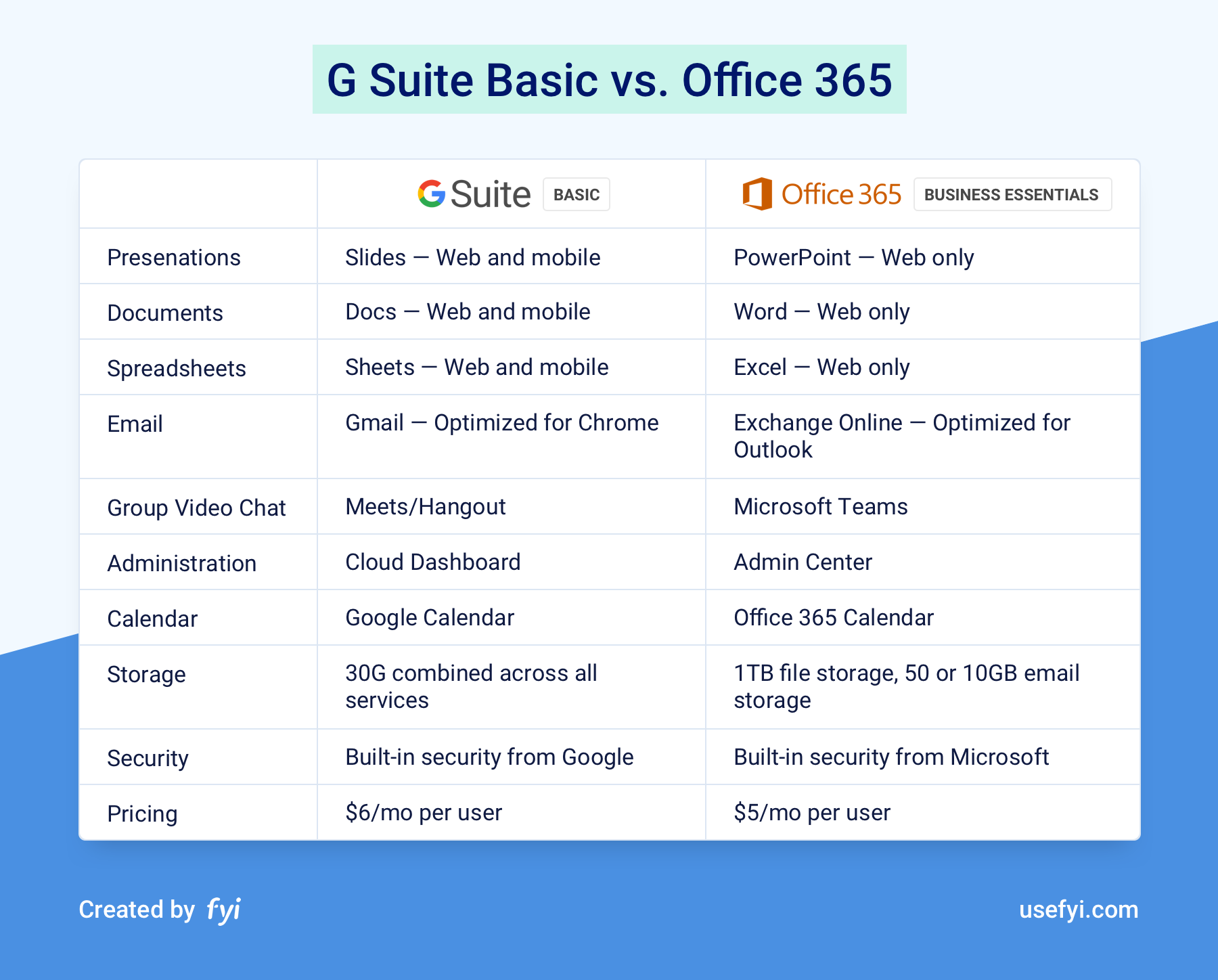 The sharpest difference between the two services isn't price. It's the availability of the Microsoft productivity apps and the amount of storage you get. G Suite Basics gives you significantly less storage per user; Office 365 gives you web versions of Word, Powerpoint, and Excel. Though these aren't as feature-rich as the desktop versions, they're getting better. Be aware, though, that you don't get the desktop apps with 365 Business Essentials. For that, you'll need to upgrade.
Availability of Office apps can be decisive in some situations even if you don't have access to the desktop versions. If you're going to get every document you work on in the Office version, it makes more sense to just use Office yourself. For many in fields like finance and law, that's probably true.
But for more tech-savvy industries — tech, SaaS, start-ups — it makes sense to use G Suite; everyone in those spaces lives and breathes the Google ecosystem anyway.
While the decision to pick one or the other will likely come down to what your clients and team members are most familiar and comfortable with, it's worth remembering that you might end up with an even split: it's surprisingly common that businesses wind up using multiple, overlapping solutions. That's why we created FYI to search and organize all your documents no matter which tool was used to create them.
Conclusion
G Suite Basic is a great choice if you're a small business, working in a space where Google is already the default. It scales simpler than Office 365, and there's a huge ecosystem of third-party integrations.
On the other hand, if you mostly work in an older, more technologically conservative industry, you might find you mostly use Google Docs to open .docx files — in which case you could be better served by Office 365.
Try G Suite today and see if it is the right choice for you.