The 5 Best G Suite Marketplace Apps in 2020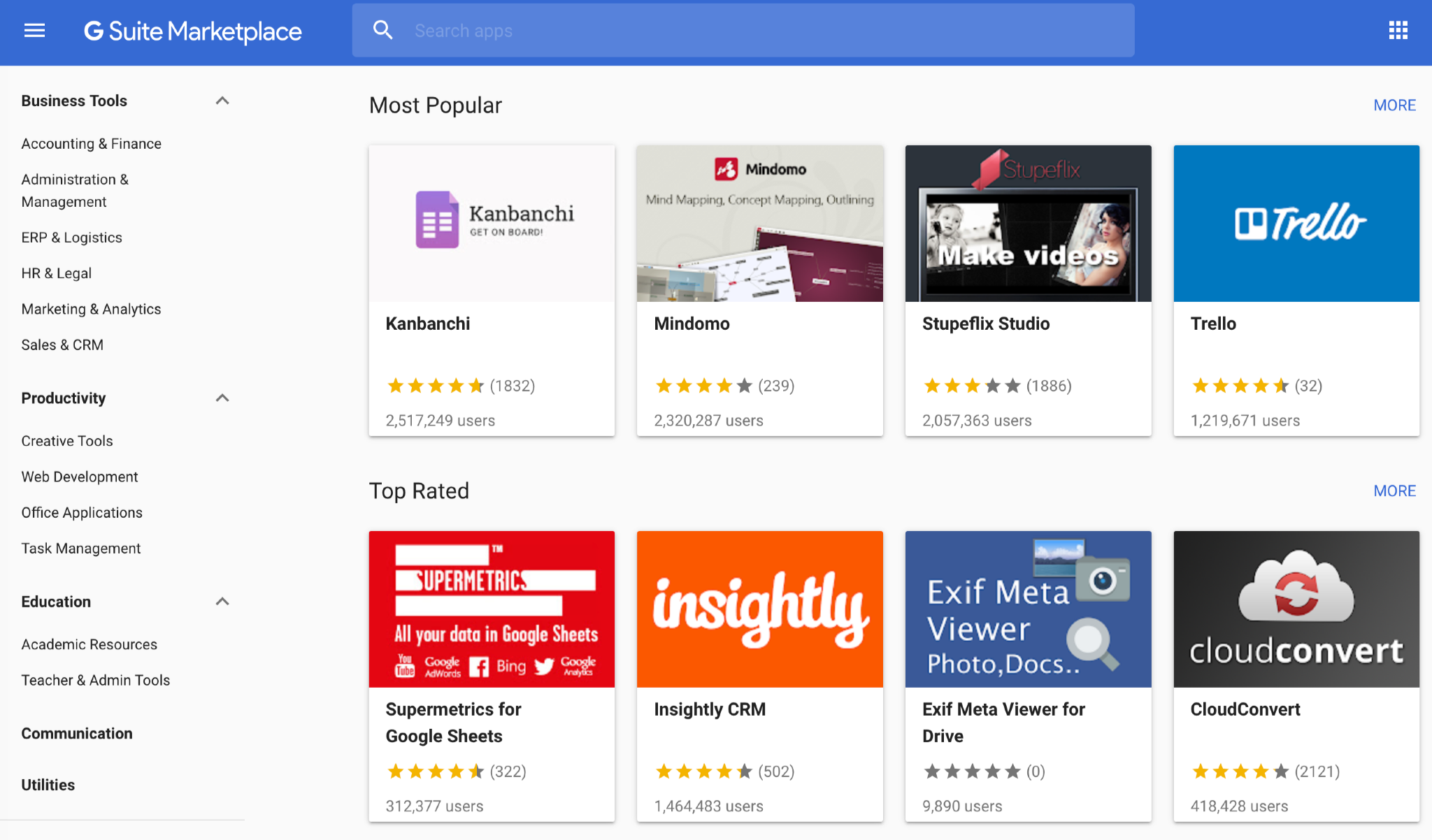 G Suite provides a ton of benefits on its own. That's probably why upward of 3 million businesses are using it. Yet, its third-party apps marketplace can help fill the gaps, give you more functionality that you didn't even know you needed, and even replace some of the functions of Google's core apps with something better.
We've looked at five major areas for businesses: productivity, project management, sales and CRM, administration, and marketing. In each case, we've looked at all the contenders to determine which apps are must-haves.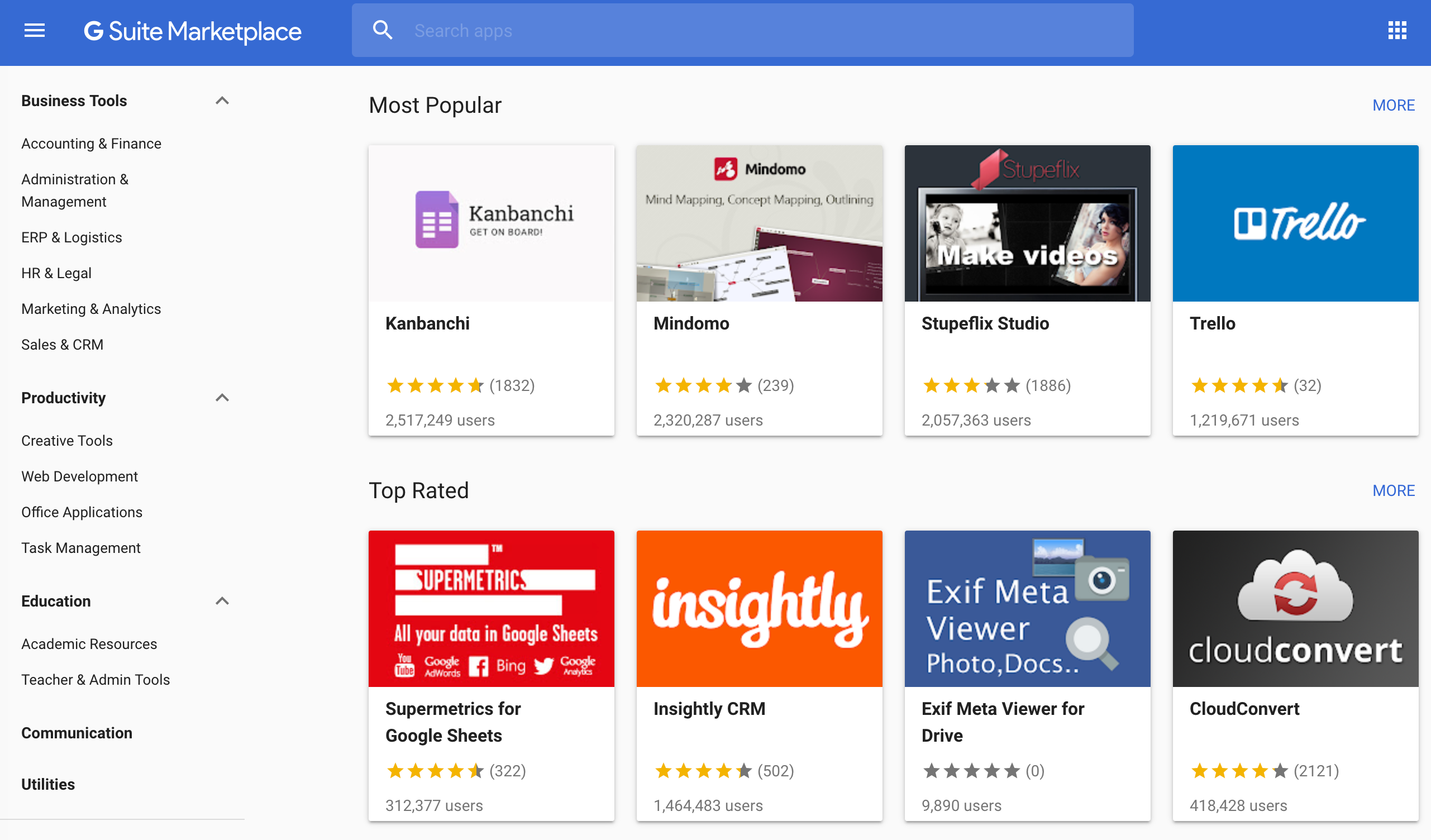 But first, how do we use the G Suite Marketplace?
Find the G Suite Marketplace with your G Suite Admin account. Log into G Suite using the login that has admin access. Then click on on Tools and then G Suite Marketplace.
You'll be able to browse all the different apps available to you.
Some of them will be free, many of them charge a monthly fee on top of what you're already paying for G Suite.
This list includes the top-rated apps that you should consider.
1: Best G Suite Apps for Productivity
Everyone knows about G Suite's core productivity apps. They're easy to use and improving constantly. So there's no need to hunt for a good document tools. Sheets, Docs and Slides has you covered.
Outside of those core productivity functions, the G Suite marketplace still has great offerings that make a business day that much easier.
DocuSign: Add PDFs and Signatures to Google Drive
A lot of documentation is passed on in PDF format. If you're sick of printing, signing, and then scanning PDFs, I strongly recommend Docusign.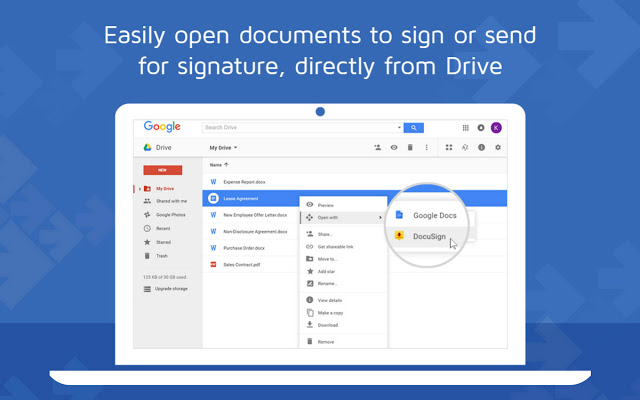 When you get a PDF, you can drag your electronic signature and other data onto it, then return it to the sender. It's free to use the core service, with DocuSign making its money via premium features like branding.
Every business needs a signature tool and Docusign's integration with Google Drive makes it really easy to use.
Lumin: Edit PDFs from Gmail Without Downloading Them
Another tool worth looking at is Lumin which works automatically with Google Drive and Gmail. It allows you to view and edit PDFs without downloading them.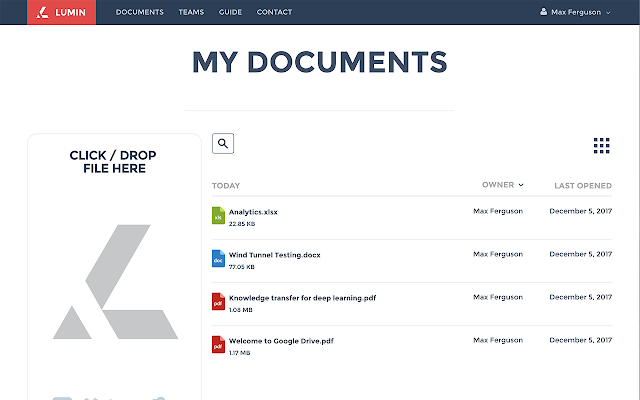 If you work with PDFs a lot, downloading and editing all them quickly gets tedious. Use Lumin to cut out those tedious steps and save yourself a lot of extra time.
The Best G Suite Productivity App: Kami
Our favorite G Suite productivity app is Kami.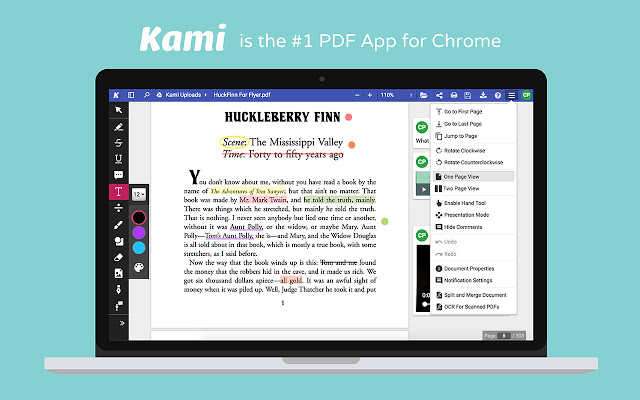 Kami is a PDF markup tool with a difference — it's collaborative. People rave about the collaboration features in Google Docs, that's what sets it apart from Microsoft Word and other document apps. Kami brings that same collaboration to editing PDFs.
You'll be able to easily edit and collaborate on any PDF.
Users can add text boxes and fill in blanks, annotate extant text, draw, and alter imagery.
As you'll notice, Kami focuses its marketing on schools. For businesses, Kami might be the best-kept secret. Ignore Kami's focus on schools and check out their professional plans.
Kami Pricing
Kami features its school pricing but hasn't forgotten about its business customers. Pricing for individuals and businesses is simple and clear: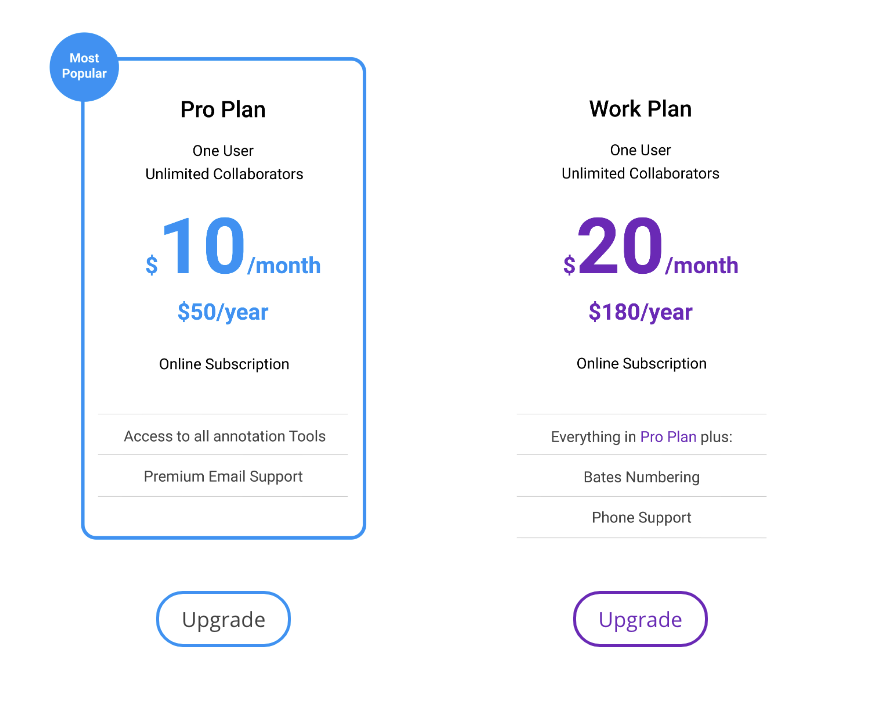 $10/month for each user is a fantastic deal when you get the Pro plan and the ability to edit PDFs with great collaboration features. The version of Adobe Acrobat that lets you edit PDFs starts at $13/month per user and isn't nearly as easy to use. You'll get a better product for less money.
The only downside is that Kami won't have the advanced PDF features that Adobe Acrobat has. If you're a PDF power user, you might want to stick with Adobe Acrobat.
2: The Best G Suite Apps for Project Management
Project management is a crowded space. Super-simple tools like Trello, with its Kanban-plus-whatever-you-like approach, can be integrated directly into G Suite with Trello for G Suite.
Of course, there's Google Keep, which is simpler and provided directly by Google. But it's best for individuals since it's light on collaborative features.
We'd back Trello for teams. It lets you create Trello cards from your inbox, and organize them.
It's also worth mentioning Smartsheets. If you're more familiar storing to-do lists, editorial calendars, and other collaboration tools in a Sheet rather than a dedicated app, this might feel more familiar and intuitive while adding workflow and filesharing.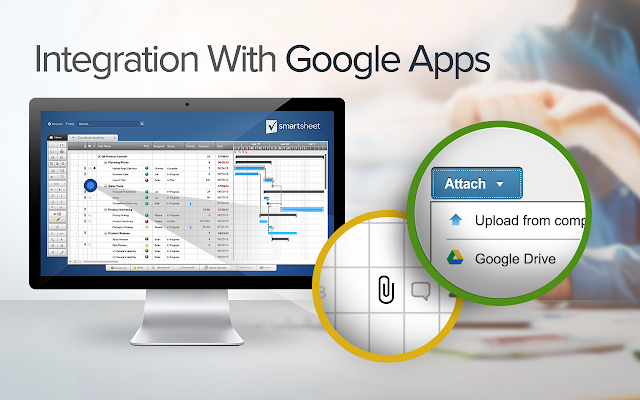 Its G Suite app lets you add new data to Smartsheets directly from your inbox.
Podio: Social collaboration you control
Another solid contender is Podio, billing itself as a social collaboration platform a little like Slack, with a ton of customization features.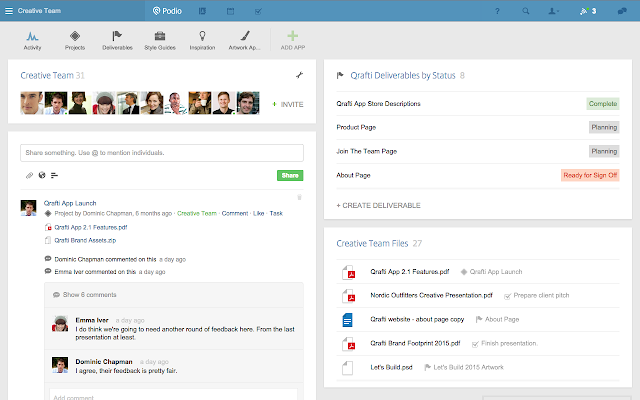 That comes with a price — you actually have to get under the hood and set Podio up, which takes time. But if you want a single place to handle your team's collaboration, Podio's a great choice.
The best G Suite project management app in 2019: Wrike
Wrike is a full power project management tool.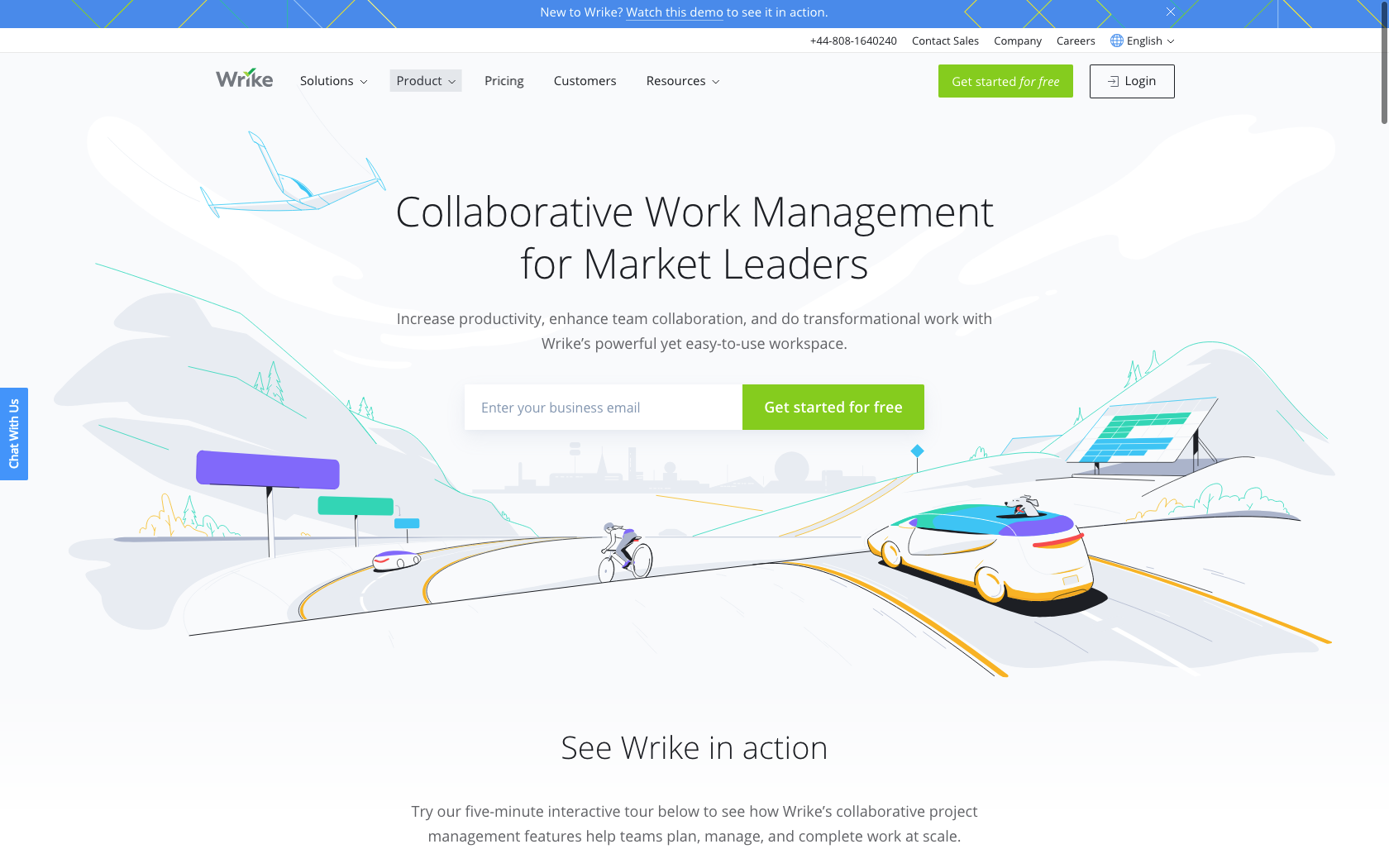 Workflow automation, creative brief management
Full-featured project management tool
Free for up to 5 users
Executive reporting and customization available
Integrates with Gmail, Drive, and Calendar
The tool combines being simple to use with having a ton of functionality — not as sprawling as Basecamp can be, not as restricted as Trello, and requiring less set-up than Podio. It gets bonus points for letting you collaboratively write emails in the app! Plus there's end-to-end workflow automation and tools like creative brief management that solve specific business problems.
Wrike pricing
Wrike is free for up to 5 users, with limited functionality. Pro accounts get the full Wrike experience at $9.80/mo per user, billed annually, and business users get the same plus customization options and executive reporting for $24.80/mo per user.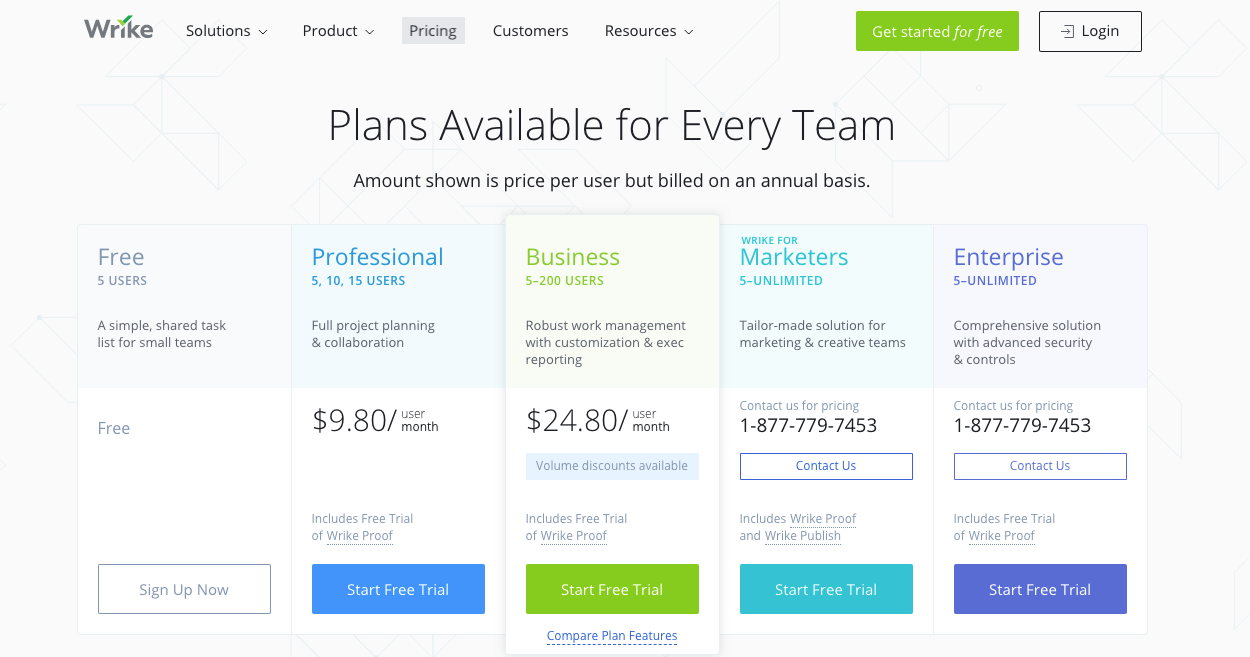 The lowdown
While Wrike is a great tool, it can present challenges for some new users until they've learned the interface. That's true of all project management apps though, and kudos to Wrike for addressing it with free trials and their interactive guided tour of the app.
It's also worth pointing out that it doesn't work particularly well on tablets, either Android or iPad.
3: The Best G Suite Apps for Sales and CRMs
Salespeople live in their CRM. But what if you also need something that integrates perfectly with G Suite?
You have several options.
Insightly: Bring everything into CRM
Insightly, boasting the oldest G Suite integration of any CRM as well as a massive user base, integrates perfectly, syncs well, and is easy to set up.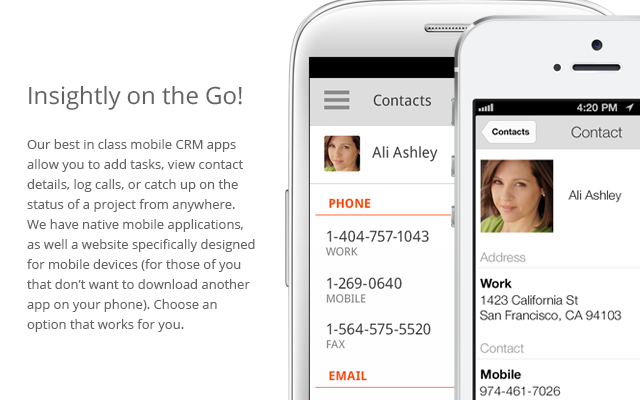 It's also low-cost and comes with the full set of CRM features.
Mixmax: Bring CRM into Gmail
Mixmax puts CRM in your Gmail, making your inbox the control center of your sales process.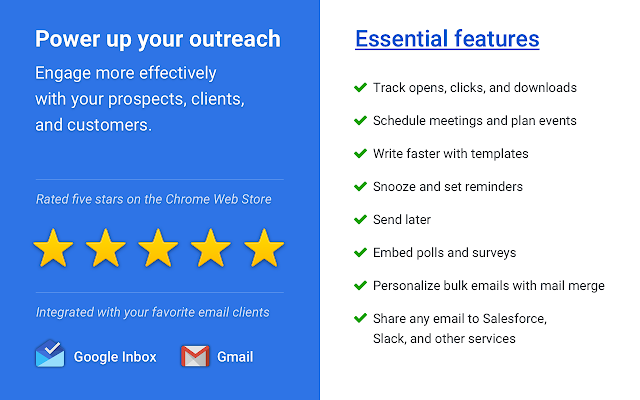 It lets you create emails from templates, track email opens, use Calendar to share availability and schedule meetings, and a lot more.
The best sales tool for G Suite: Copper
Copper was designed from the ground up to work seamlessly with G Suite and especially with Gmail. It's Google's recommended CRM and has a strong emphasis on sales rather than on some other CRM functions.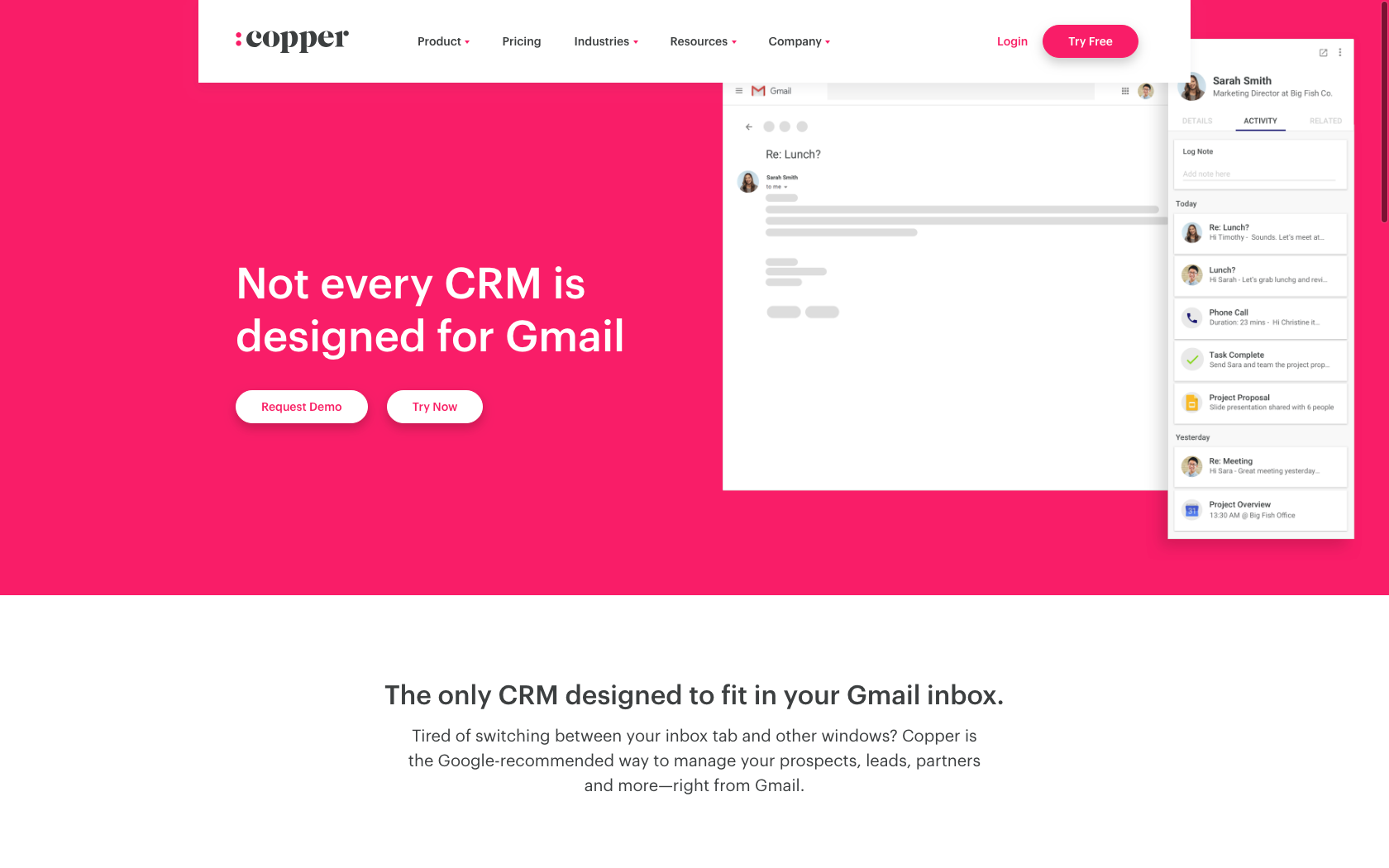 Deep G Suite and Gmail integration
Numerous integrations with project management and productivity tools
Highly intuitive interface, visual pipeline management
Foregrounds collaboration
Copper automatically populates itself from Gmail and is designed along the same lines as G Suite apps. If you've used them Copper will feel familiar and intuitive. Customization is possible but is done quickly in a simple interface.
Copper also lets all users see every customer interaction, which means if someone gets handed off to another rep — like when they get given to an account manager by the SDR who did the prospecting work, or when someone new steps into role — all their data is right there. Obviously, data isn't the same thing as a relationship, but it's a good start!
That openness extends to cross-team collaboration; Copper lets users call other users into activities easily, and has reporting and project management features too.
And its deep G Suite integration lets you easily organize and access the information you need.
Copper CRM pricing
Monthly pricing on Basic and Professional plans is $24/mo and $69/mo respectively, and Business isn't available on a monthly payment plan. The main difference between Basic and Professional plans is the number of users permitted; between Professional and Business, it's access to features like reporting, advanced integrations, and insights.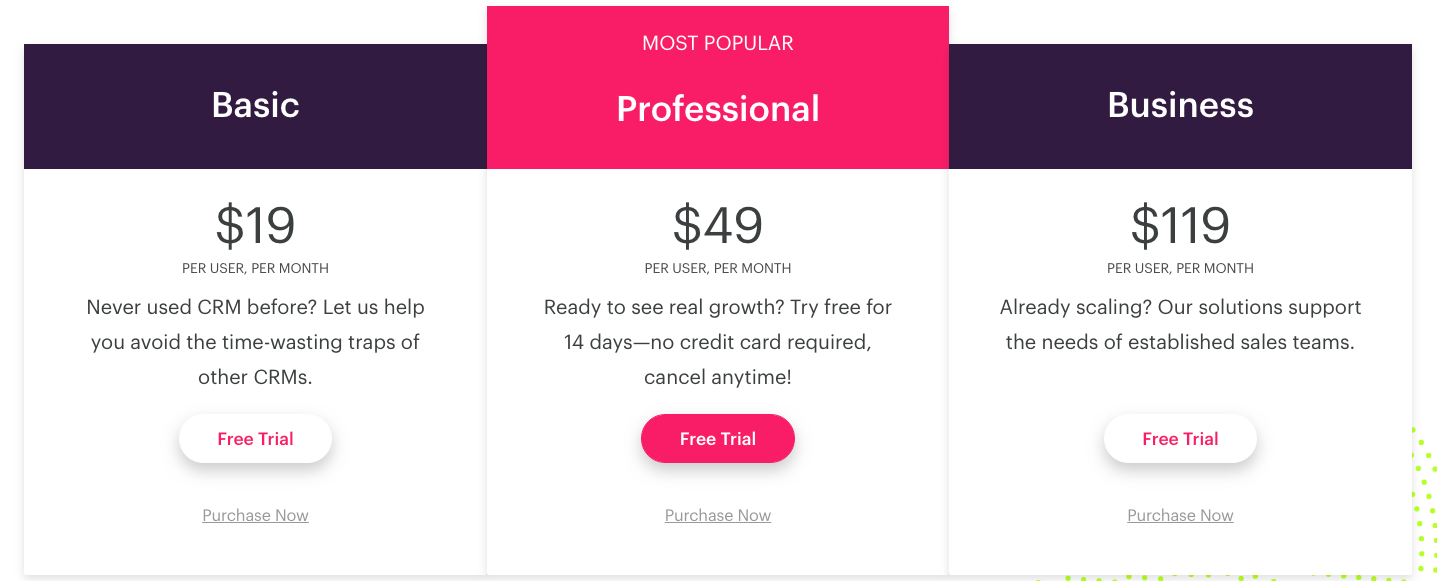 The lowdown
Copper is expensive. You can certainly get a CRM for a lot less than Copper charges. But we don't think you'll find one that works as a CRM layer over your G Suite apps the way Copper does.
4: The Best G Suite Apps for Admins
One of the biggest headaches teams face from their G Suite admin is managing logins. Password storage and retrieval is a huge weak point in security and having to log in to a million different portals, interfaces and apps are one reason people persist in choosing such weak passwords.
Bitium: One-click login for everything
Bitium helps solve that, securely storing passwords, credentials and users.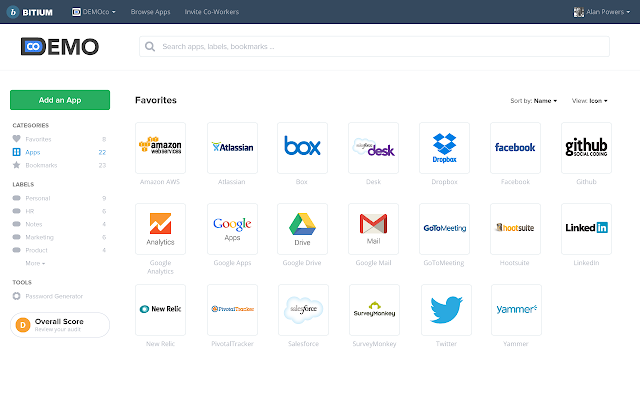 Once you've entered your login details for any app on your Bitium dashboard, you have one-click access.
ClearLogin: monitoring login attempts
ClearLogin does something similar, with one major difference: It also monitors for 'high-risk login attempts,' like multiple logins only hours apart but on different continents.
The best G Suite Administration app: Zapier
Zapier allows you to fill in the gaps between Google's G Suite apps — letting you automatically create Tasks based on input in Forms, for instance.
Automate common actions across apps
Create customized actions (zaps)
Build automated workflows regardless of which apps are used
Workflows, termed 'zaps,' can be built in a simple visual builder with a few clicks: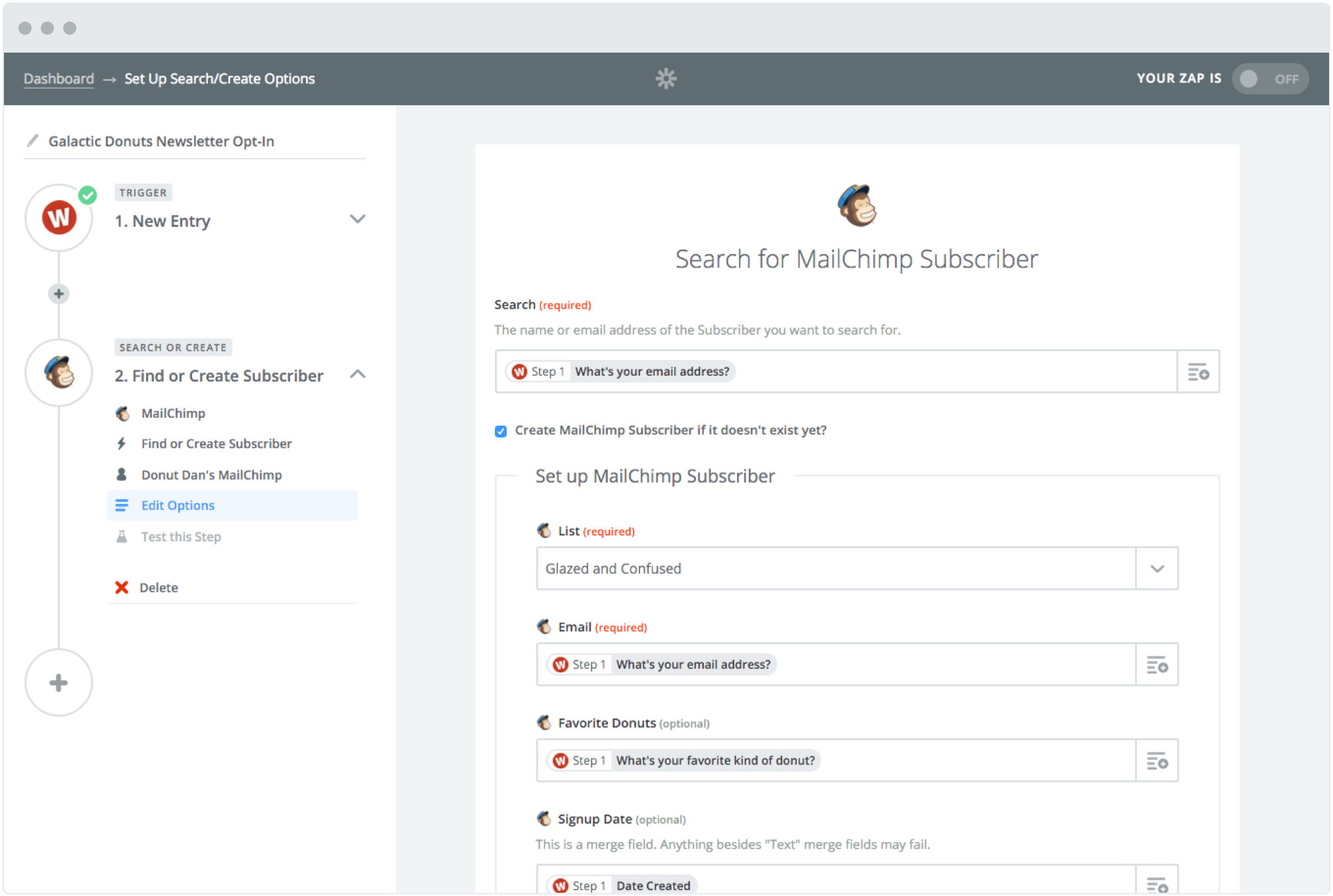 The problem of a bewildering array of apps that you have to jump between to get anything done is helped by Google's well-integrated family of core apps, but not entirely solved — and besides, what if you also use apps from another ecosystem?
Zapier pricing
It's free to use Zapier for a small number of zaps: add a couple more and it's $20 a month. Even the Professional Plus plan isn't particularly expensive at $125/mo, and comes with conditional logic ('if this, then that') and faster automations.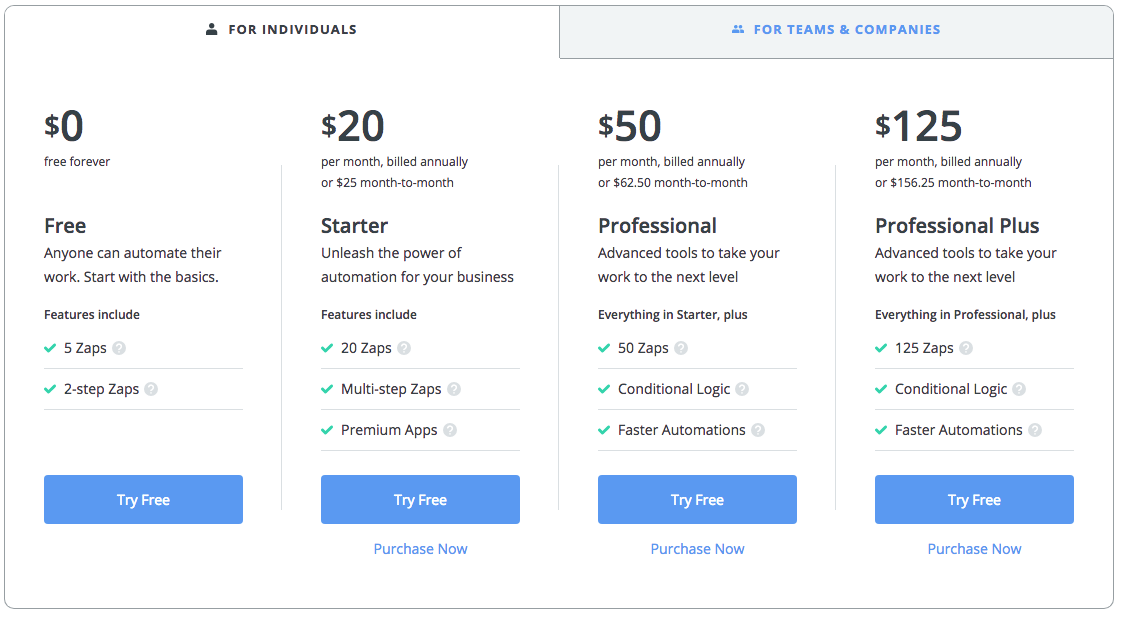 The lowdown
Zapier doesn't just offer a dashboard or a limited API. Instead, think of it as a way to automate all the actions that you commonly take. You can also use it to set up actions that you'd never take, because they'd be too time-consuming. When Zapier takes care of them, you only have to do them once, so it favors larger businesses with more complex app ecosystems.
5: The Best G Suite Apps for Marketing
G Suite has some great applications for marketing.
First up, Google's own Analytics for G Suite. Analytics often feels like it was built for developers — massively powerful and effective in the right hands, it takes significant knowledge to wring the best value from it. Analytics for G Suite lets you see Analytics data in Sheets.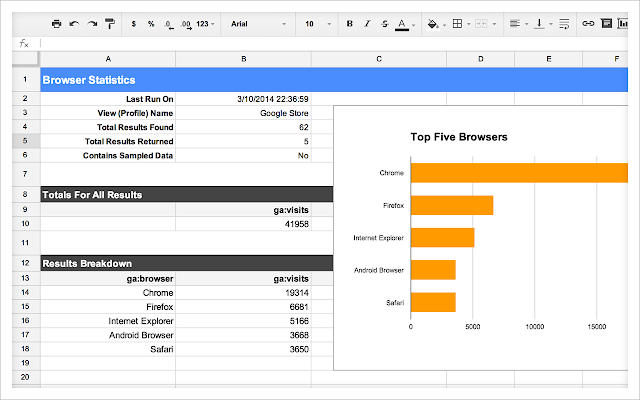 Simplebooklet: Automatically create flip booklets
Moving away from Google's products, there's also Simplebooklet. Rather than being a comprehensive solution to major marketing problems, Simplebooklet is a great little tool that does something you might not have known you wanted. It turns Docs, Slides and other files into web-friendly flip booklets.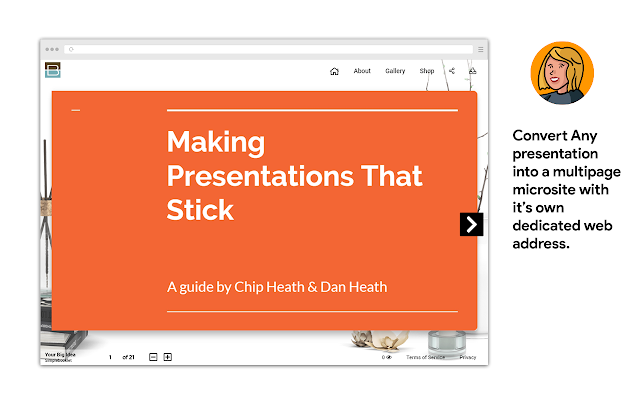 Best marketing G Suite app: Supermetrics
Supermetrics actually is a big, catch-all solution. If you're most comfortable working inside a tool like Sheets, this one's for you: it lets you bring all your marketing data into Sheets, easily and quickly.

Analyze and visualize data from all your apps in Sheets
Massive range of potential data sources
Every platform we use has these great, intuitive dashboards and interfaces — but when you want to crunch a bunch of data from two or more platforms, you wind up doing it in Sheets most of the time. Or not doing it all, because it's too much of a nightmare to get it all into Sheets in the first place.
Supermetrics solves that problem, allowing you to use the tools built into Sheets to arrange and visualize any data from any of your apps however you like.
Supermetrics pricing
Supermetrics' pricing is slightly complex. For individual users, it's free: only Google Analytics is permitted as a data source with this plan, it's firmly limited to a single seat, and you're allowed only 100 rows of data per query and only 100 queries per day.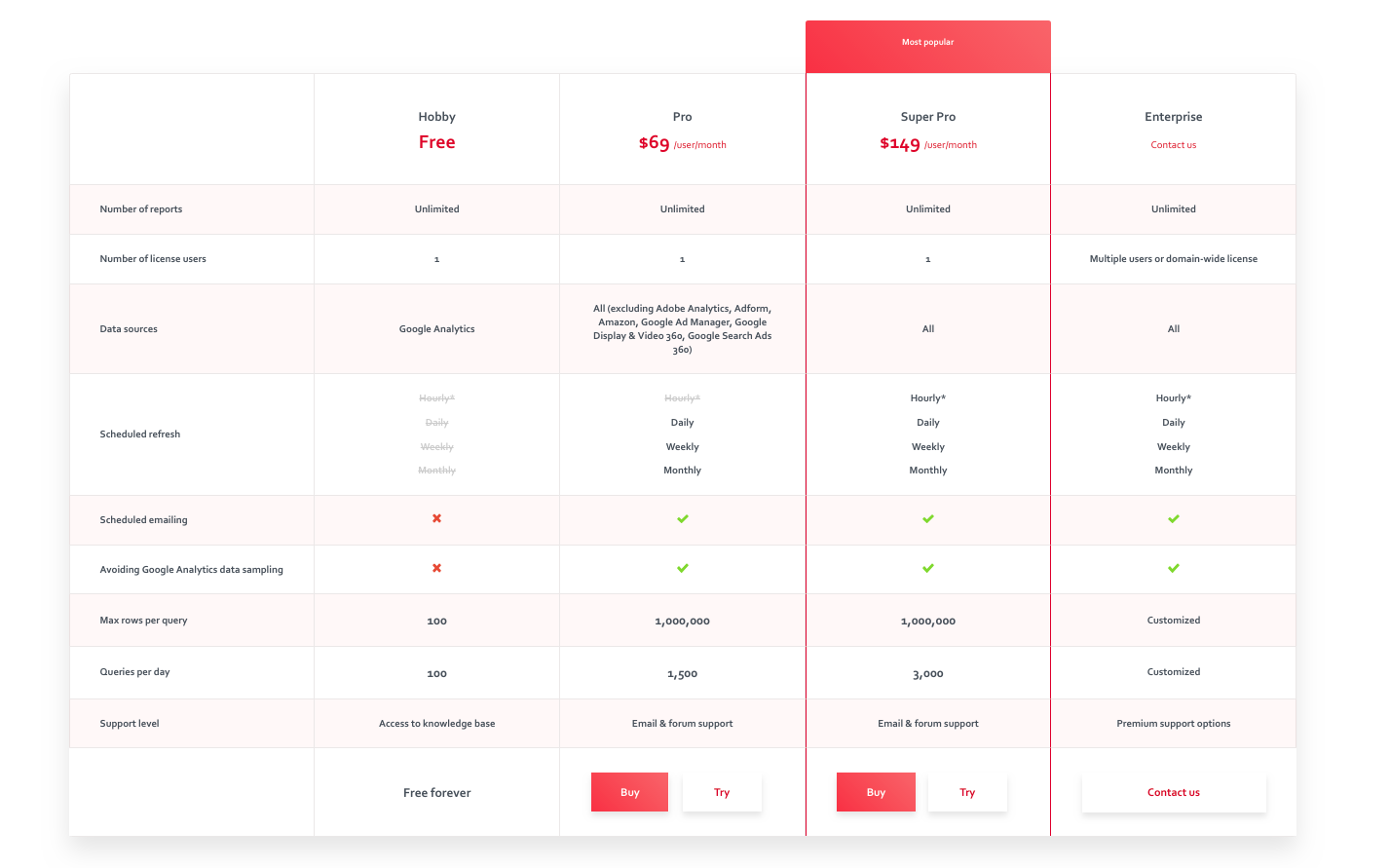 Upgrade to Pro for $69/mo per user (annual billing) and you can use any data source except Adobe Analytics, Adform, Amazon, Google Ad Manager, Google Display & Video 360, and Google Search Ads 360; Super Pro is $149/mo per user and gives you those too, plus hourly scheduled updates and a million rows per query, but you're still limited to a single seat.
To get multiple seats, you'll need custom Enterprise pricing.
The lowdown
Supermetrics is a great way to lay hands on all your marketing data, on your terms. There are versions for Excel and other tools, and you can use every marketing data tool you can think of.
Conclusion
G Suite's tools are fantastic by themselves. But add in our pick of the best marketplace apps and you could skyrocket everything from personal productivity, through marketing data analysis to sales, as well as cutting back on admin bloat, and finally finding a way to manage complex projects that everyone actually uses!