Nira Administrative Platform
Full visibility and control over who has access to company information in cloud applications
Nira lets me monitor files, identify potential access risks, and remediate in a few clicks, saving valuable time and resources.

Nira Admin delivers real-time visibility into who has access to company information, with robust remediation capabilities. No more switching between tools or fumbling around with tedious scripts, it's all available in just a few clicks with Nira.
Data Access Classification
Gain complete visibility into key access risks with zero configuration or setup required.
Out-of-the-box metadata categorization that powers advanced filtering, alerts and automations.
Robust account-level monitoring that ensures comprehensive tracking of changes as they happen.
Learn more
Vendor and Personal Account Access Management
Painless Identification and remediation of external access to company data from vendor domains and personal accounts.
Advanced filtering capabilities and an easy-to-use interface to quickly dive deep into access-risk.
Efficiently make bulk changes to permissions and sharing settings in just a few clicks.
Learn more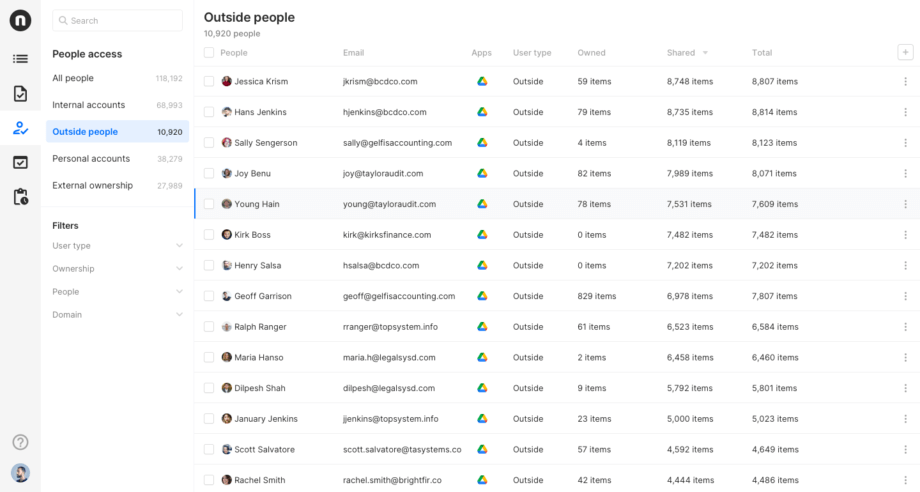 Employee Access Control
Intuitive interface for employees to view and manage access to company information created by them.
Simple and easy to execute individual and bulk permission changes in just a few clicks.
Advanced one-time and recurring automated requests for employees to audit access to their data.
Learn more
Fast Setup and Immediate Time to Value
Get started quickly by connecting Nira to your SaaS applications in two minutes or less.
Complete visibility and control within 48 hours that enables management and automation of access to company information.
Detect and remediate access risks in minutes, without any scripting knowledge or work.
Incredible companies use Nira