The 5 Best G Suite Training Programs in 2020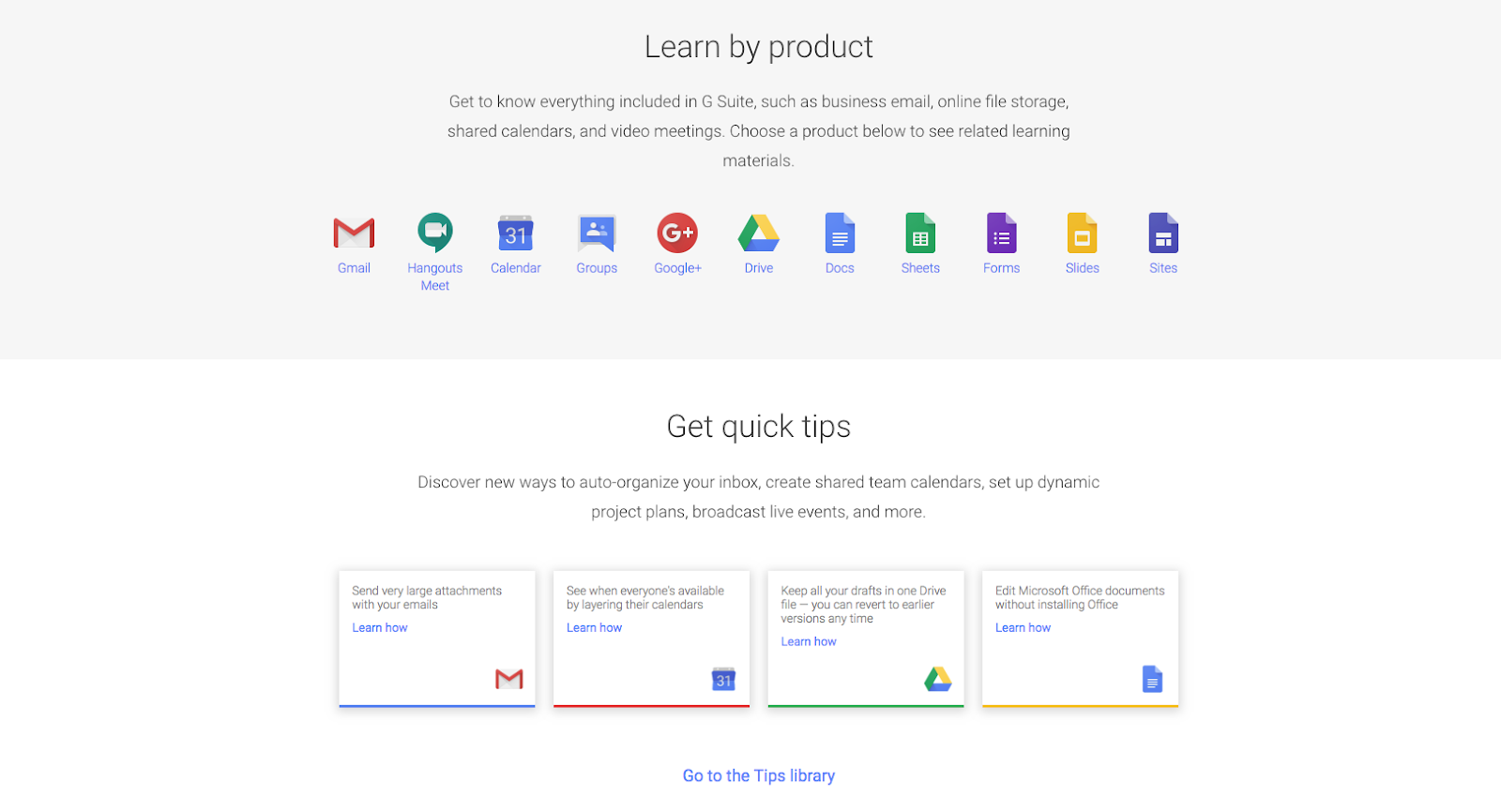 G Suite is designed to be as simple and intuitive as possible. But once you get out of the applications themselves and into the administrative functions, it's far from self-explanatory.
Even the core apps have functionality most users don't know is there.
We're going to break down all the best training options that empower you to be a better G Suite admin and user.
What Makes a Good G Suite Training Course
Different G Suite courses might suit different people and organizations. But we'll be looking at:
the comprehensiveness
how accessible the content is
the pricing
how easy it is to use and understand
how deeply the makers of the course understand G Suite
In addition to the course quality, there are questions to ask about your own needs. If you're a new G Suite admin or user on a small team, that's a very different situation than stepping into role as admin for a big corporation. For example, smaller teams care less about official certifications than larger teams do.
We've arranged these courses starting with the one requiring least investment: the free self-serve training Google provides. While it's a bit unstructured, it does have everything you need. Courses suitable for bigger organizations with more specific needs are lower down the list.
1: Google's Self-serve Training
Content: Complete. It's the source Google uses for its own G Suite courses
Pricing: Free
Expected knowledge: None
Certificate: No
Languages: English
Google provides comprehensive unstructured G Suite training. It's free, in the sense that its cost is bundled with the price of G Suite subscription. From Google's point of view, this makes solid business sense. The more you get out of G Suite, the longer you'll stay subscribed. Because of this, the training is quite good.
There are two options shown right off the bat.
The G Suite Quick Start Guide looks like this:

This is for people coming cold to the G Suite tools. It's really about getting up to speed with the basic applications. 'Learn the Basics' leads to the same page.
You can also go tool by tool which are all listed right on the training homepage: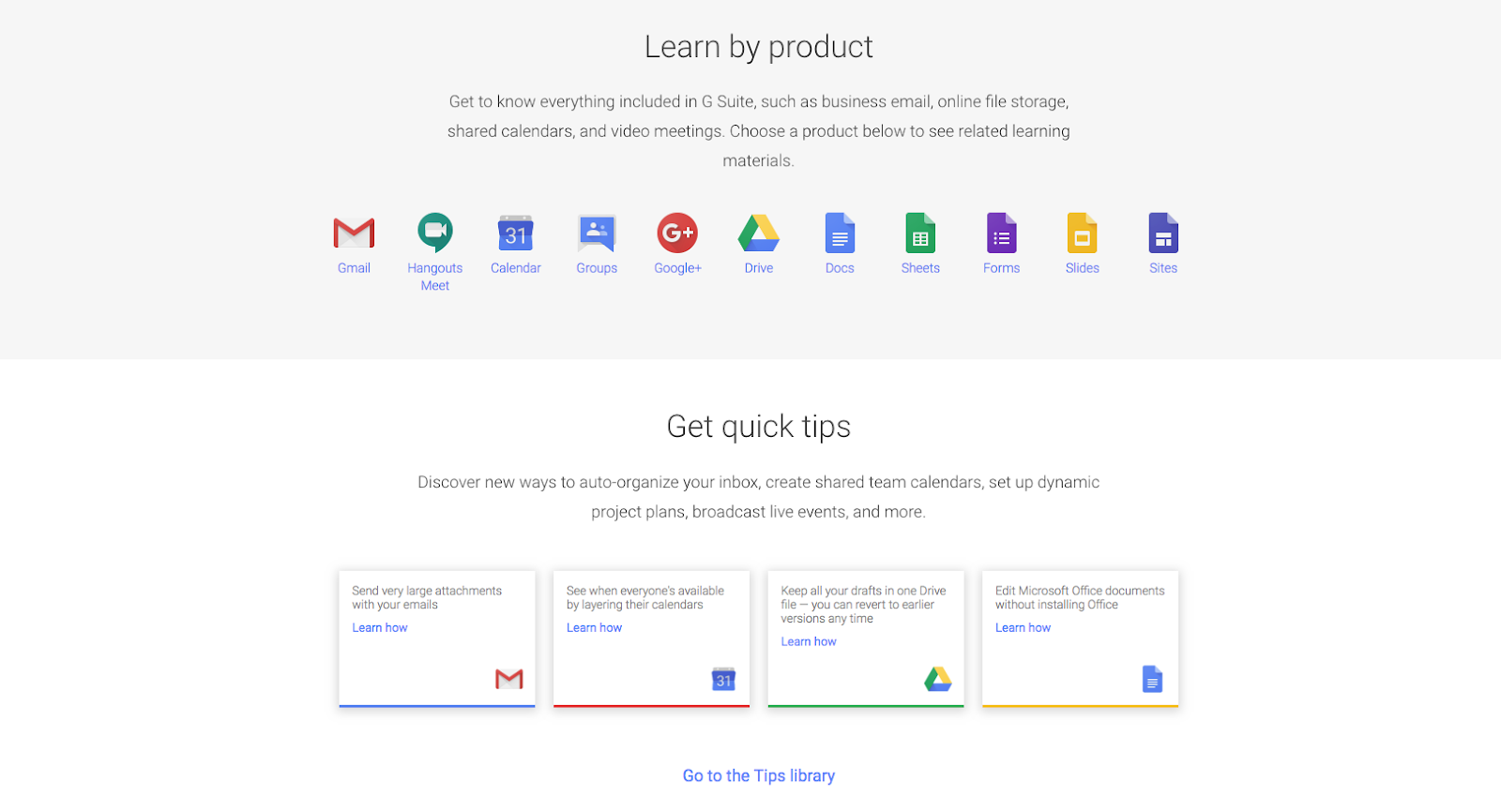 If you'd like tips and tricks across G Suite that you weren't aware of, follow the link to the Tips Library.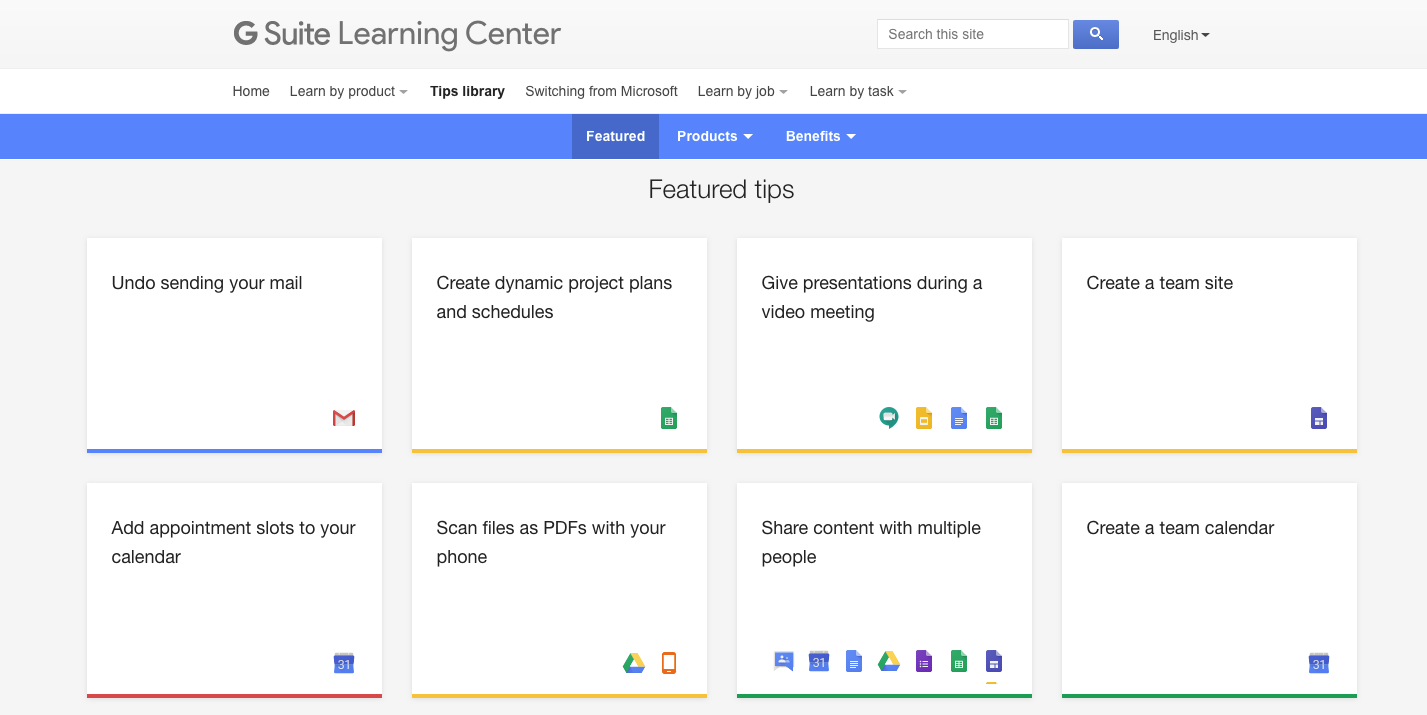 This is how most of Google's training material works, you cherry-pick the topics that matter most to you.
In the top menu on the Tips Library page, there are options to take various paths through Google's training materials.
For instance, you can choose to learn based on the specific task you're trying to get done.
Once you pick a task, you'll find a simple guide like this: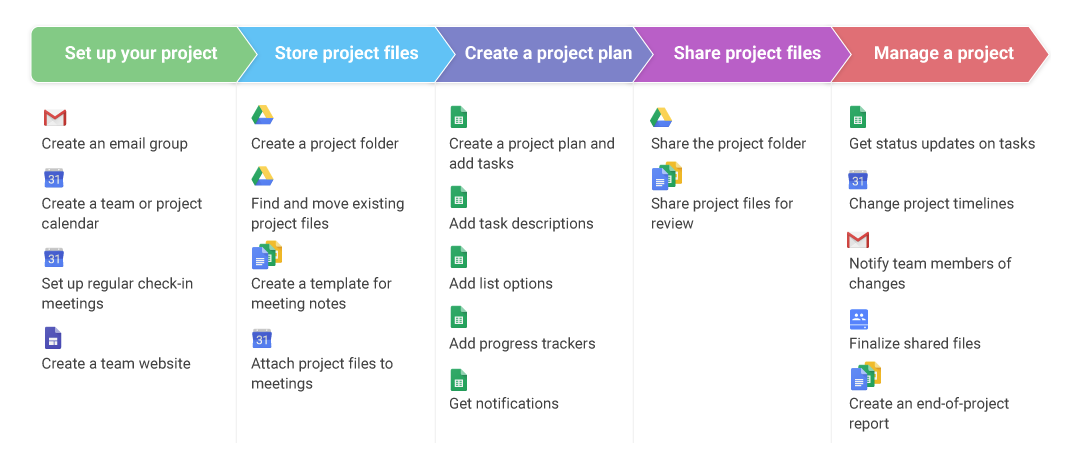 The logos and text on this page are not links, meaning if you're confused by any of these instructions, you'll have to search the training materials for more information. You can download this and all the other guides as a PDF, but the resulting jumble of images might be more confusing than the searchable site where Google is already storing them.
You can also take a more in-depth journey through Google's training with job-based instructions.
If you were to chose "project management," you'd find this page: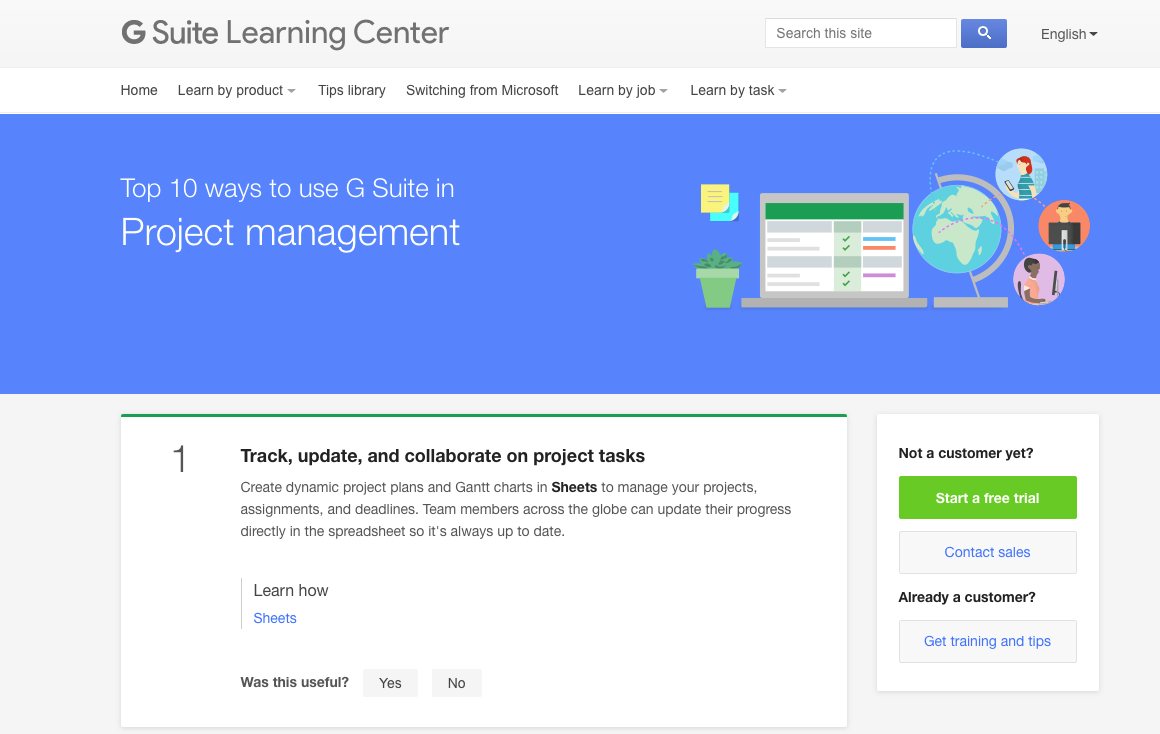 Each modular tip has a link that leads to a step-by-step that's actually part of the G Suite Learning Center we looked at earlier.
G Suite Training Browser Extension
There's also Google's Chrome extension that layers interactive walkthroughs and tutorials over G Suite. Not only can you deploy this extension to your entire organization using G Suite's app management options but the app itself will also teach you how to do it.

This is a great option when you'd like to give a large group of people a brief overview on how G Suite works as they begin using it.
Get the Chrome extension here, if you're not a G Suite customer yet. And if you are a G Suite customer already, use this G Suite apps marketplace link.
Google's free training is extremely comprehensive, but if you want to sit down for a few days and become a power user, it could get pretty confusing. Instead, this is oriented toward solving immediate problems and providing information 'in-the-moment.'
If you're looking for a guided course, this is your best option.
Content: A complete G Suite course produced by Google
Pricing: Free (no certificate) or $29.00 (with certificate)
Expected knowledge: You should be familiar with G Suite's core apps
Certificate: Yes
Languages: English, Spanish subtitles available
Google provides its structured self-study course in G Suite administration through Coursera.

Google estimates that this course should take about 4-5 days to get through all the material which amounts to about 9 hours. It's available in English, with English and Spanish subtitles, and consists of a mix of videos, readings, and quizzes.
If you've never used G Suite before, this course is perfect. It starts by walking you through account setup and introducing you to the Admin console.
How you take the course is up to you: if you're a G Suite customer, you can have everything except the exam and certification for free. To earn the certificate, it will cost you $29.
It starts with an introductory video that assumes little knowledge of G Suites, it walks you through what G Suite is and how the basics work.
As you go through the course, you'll be directed often to the Google Help Center and you'll need to install the Chrome extension too.
So this course is like a guided tour through the material you can view in an unstructured way simply by installing the Chrome extension and using the Help Center.
Here's what the course promises to teach:
Set up your G Suite account and domain, and explore the G Suite Admin console
Begin provisioning and managing users within your G Suite domain
Implement fundamental best management practices behind various G Suite services
Configure common security settings
Manage your domain and add a domain alias
Unlike the self-serve approach, this course packs a lot of information into short, structured, modular sessions. It's accessible, much lower in cost than most competitors, and much more comprehensive.
Anyone looking for a guided course to G Suite should start with this course. Not only is the quality of content very high, it's completely free. Even the certificate is very reasonably priced.
Content: G Suite use and administration including Sites, domain management, Vault
Pricing: $59.99
Expected knowledge: Basic familiarity with the core apps or a similar productivity suite
Certificate: Yes, issued by Udemy
Languages: English
Udemy's best-selling course is $59.99, and promises to be "the only G Suite Course you'll ever need." It includes 12.5 hours of video, 2 articles, 8 downloadable resources, and a certificate of completion. You can see preview videos on the course's homepage.
However, it should be noted that there's nothing in this course that isn't available in Google's own course, which is free. Even with the certificate, Google's course is still half the price of the Udemy one.
Reviews are generally positive of the Udemy course. The common criticisms center around the lack of real-world examples and step-by-step processes:

However, this remains a more expensive alternative to Google's authoritative offering. While it's comprehensive, Google offers its own comprehensive support to its users.
Content: Massive and deep, covering how-tos and full courses
Pricing: Free trial, then custom pricing
Expected knowledge: None — beginner, intermediate, and advanced courses and materials are available
Certificate: Yes
Languages: English
Skillsoft offers a searchable knowledge base including short videos, longer courses, and "micro-learning," letting you search the site for exactly what you need and watch a short video.

That has some advantages over Google's Training Center, where static text-based lessons give you basic walk-throughs.
Skillsoft is an "intelligent learning platform" that doesn't just deliver G Suite materials. Searching the whole site for 'G Suite' gets you a mixed bag of channels, long and short videos, and courses.
The courses are modular and do offer certificates: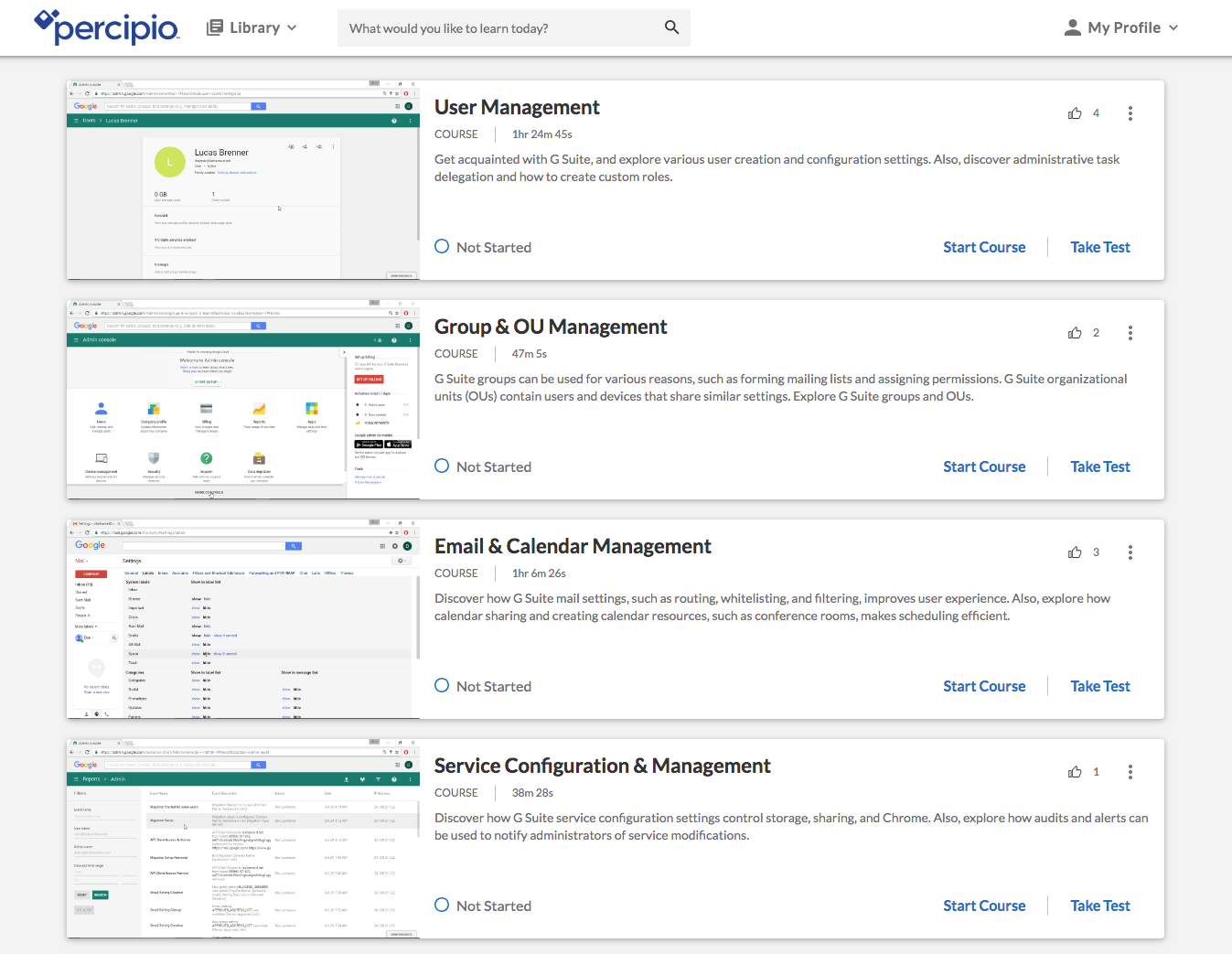 Short videos cover subjects like "Creating G Suite OUs."
The shorter videos can be watched by searching for them and navigating to them. But they also form part of the larger courses offered on the platform. In essence, this is Google's approach in reverse: where Google builds courses on top of a freeform knowledge base, Skillsoft deconstructs its courses to facilitate its microlearning.
The site is available in French as well as English, but the course materials are in English only.
While the short videos have the obvious advantage that you can watch someone doing what you want to do, they can be frustratingly slow. If you're a fast reader and comfortable following instructions, Google's courses will suit you better. However, it is a good choice for teams that would like more hand-holding through specific tasks.
Content: G Suite basics on the full range of apps
Pricing: Starts at $15 per person, with some wiggle room and deals
Expected knowledge: Zero. You can be totally new to cloud productivity suites
Certificate: No certificate
Languages: English
GetBiggerBrains offers a range of courses related to business productivity, including the MS Office applications, Quickbooks, Windows 10, and cybersecurity.

Their G Suite essentials course covers:
Communicating with Gmail
Storing documents in Google Drive
Collaborating using Docs, Slides, Sheets, Drawings, and Forms
Communicating with Hangouts
Manage schedules and tasks with Google Calendar
Create and share webpages in Google Sites
Course materials are delivered in several ways. You can use their web portal, or larger organizations can integrate their content into your own Learning Management System. The course is over two hours and briefly introduces the G Suite core apps under the tutelage of Amy Roberts, Adobe Education Trainer and Google Expert.
Pricing is $15/seat and up. And courses can be accessed from any desktop, laptop, phone or tablet.
The material is pretty similar to the other courses. The main advantage to choosing GetBiggerBrains is the tracking and management features that will help you ensure that your employees complete the G Suite training. If that's not a concern for you, go with one of the other G suite training options.
But it's a fantastic option for folks that need to roll-out G Suite training across larger organizations. It covers all the basics and gives you the tools you need to ensure that the training is completed.