The 3 Ways to Get G Suite for Free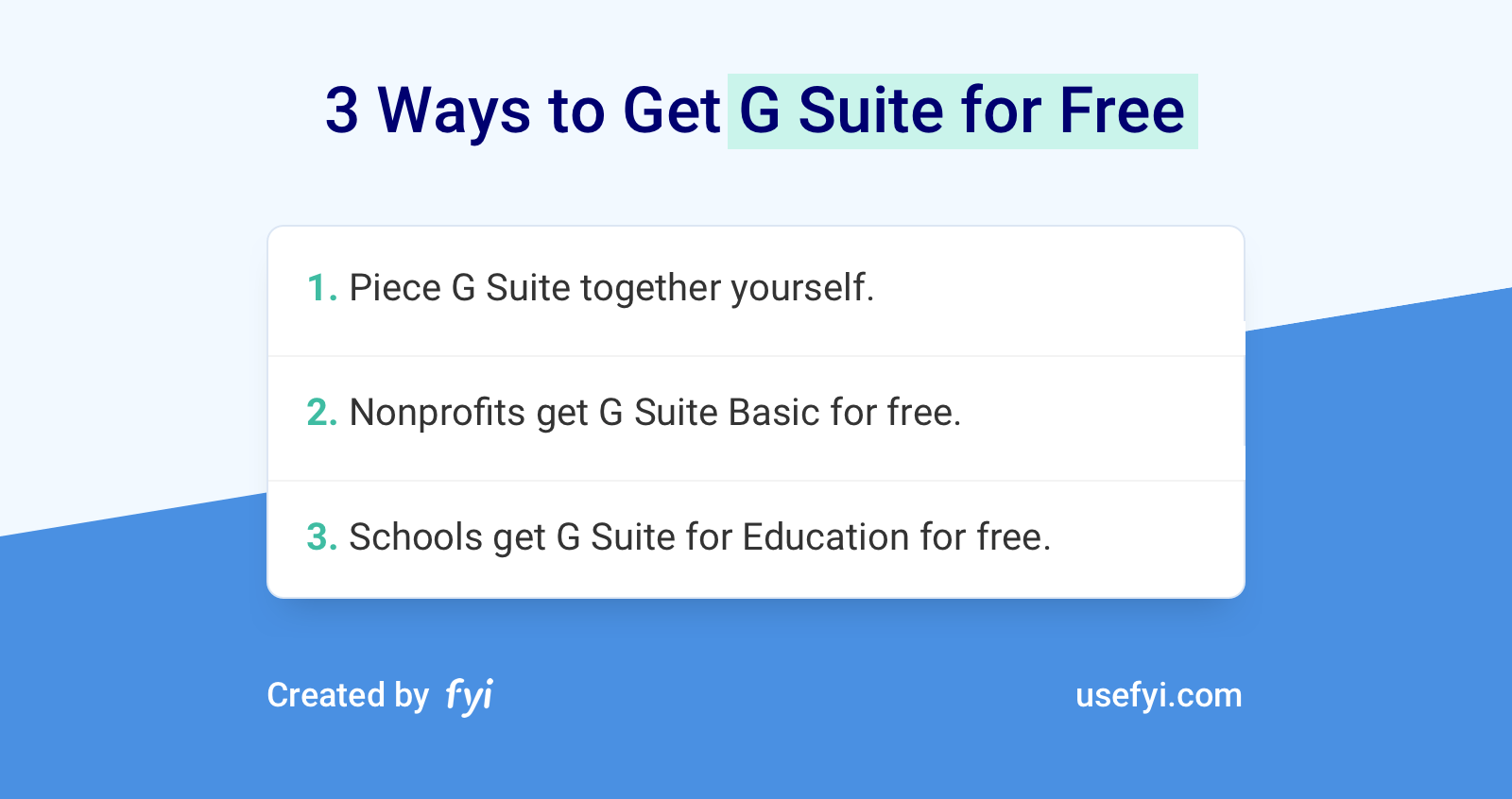 G Suite bundles a lot of great stuff.
Company email, a full product suite, and document storage. It's a good deal.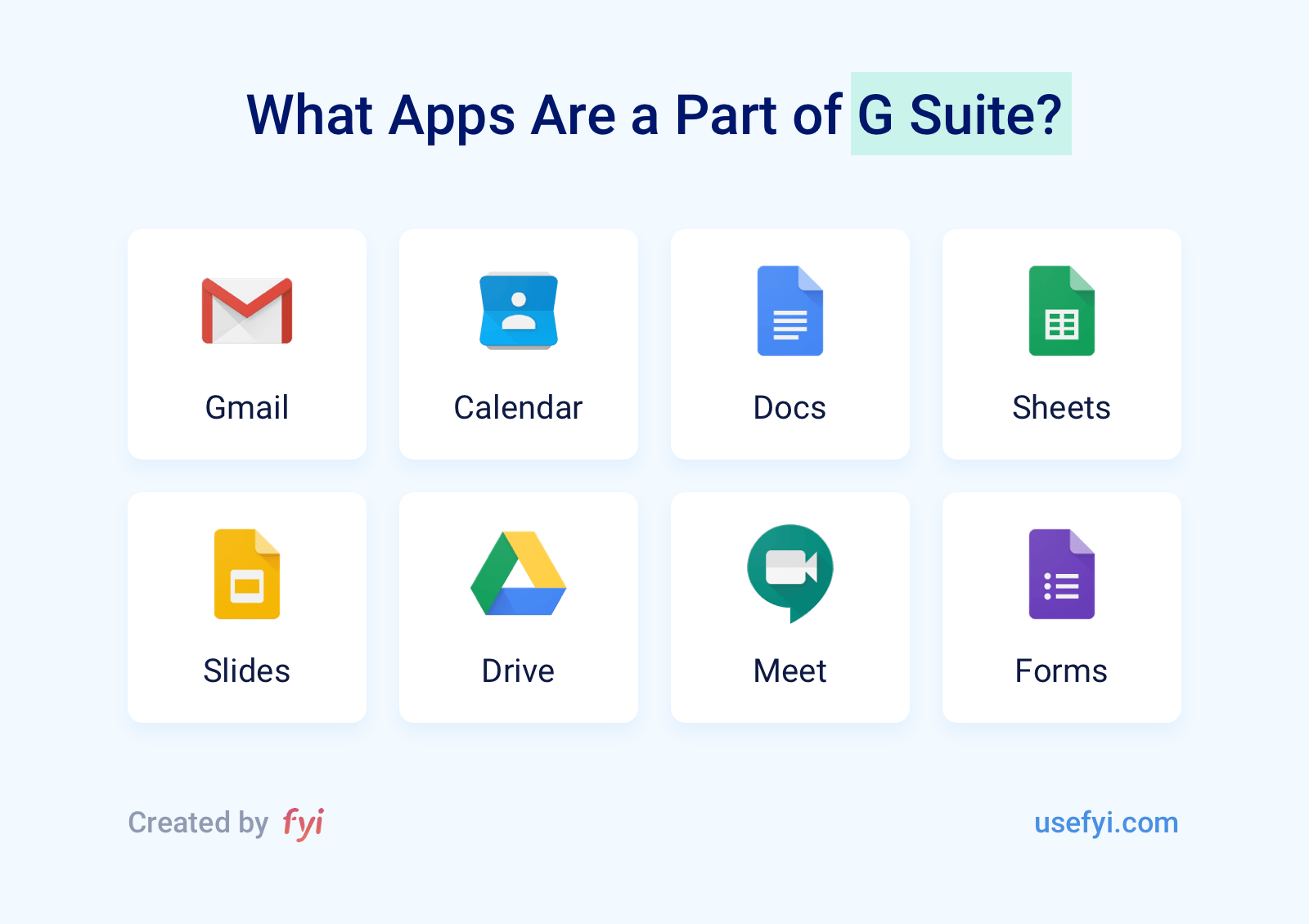 For the value, I do believe it's worth every penny.
But the costs do add up. Let's say you have five people at your company that all need email accounts. On the G Suite Basic plan, that's $360 per year. For a small business that needs to watch every dollar, $360 makes an impact.
What if you had 10 employees on the G Suite Business plan? That's $1,440 per year.
Is there a way to skip these costs entirely and get G Suite for free?
I've got good news for you.
There are three ways to get G Suite for free: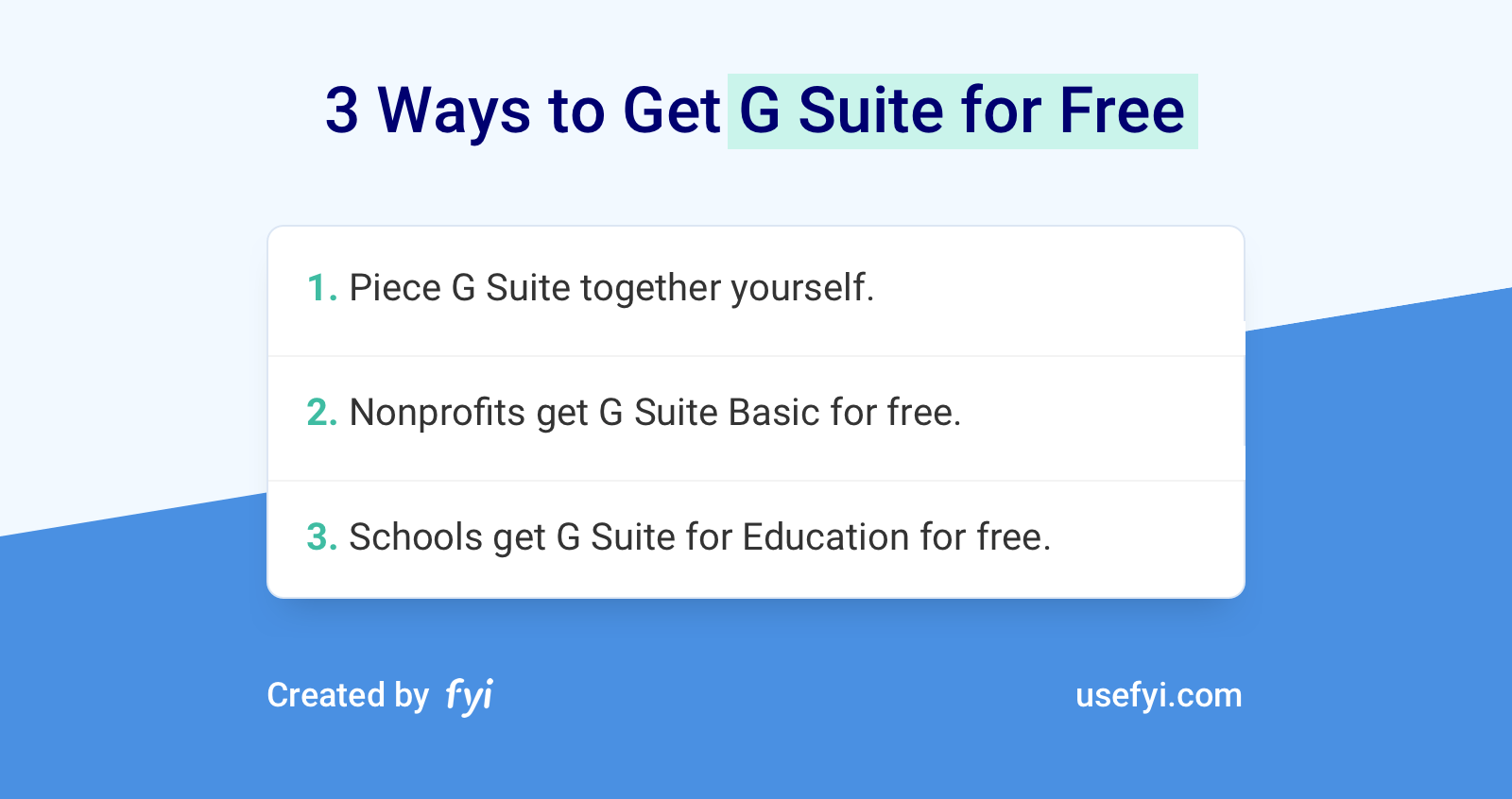 Piece it together yourself using a free Gmail account.
If you're a nonprofit, get G Suite Basic for free.
If you're a school, get G Suite for Education for free.
In other words, the official version of G Suite is not free unless you're a non-profit or educational organization. You'll need to piece it together yourself or pay up.
1. Get G Suite for free by piecing it together yourself
You can get access to all the G Suite products and a company email if you're willing to do some extra work yourself.
This works really well when you're the only person working at your business. Or you have a small business where you don't need to set up email accounts for your employees.
It works like this:
You'll sign up for a free Gmail account.
This also gives you access to the standard G Suite products like Google Docs, Slides, and Sheets.
Then you'll point your company email to your Gmail account so that you can send and receive emails from that address through Gmail.
Let's go through it step-by-step.
First, sign up for a personal Gmail account here. It's completely free.
Try to grab your-company@gmail.com if you can. If it's already taken and you have to modify it slightly, that's okay. This won't be your public-facing email address anyway. You'll primarily use it as a Google Account login.
You'll then get access to Google Apps (Google Docs, Slides, and Sheets) along with 15 GB of storage space.
Right there, you'll have the majority of G Suite for free.
The downside is that your email will be your-company@gmail.com. It works as a small business but doesn't quite have the same professionalism as your-name@your-company.com.
There is a way around this.
Any domain registrar will give you the option to create an email address on a domain that you own. Your domain registrar is the company that you used to purchase the domain of your company website, it might also be the web host you used to set up your company website.
The settings are always slightly different depending on the exact domain registrar or web host. You're looking for the email features once you log in.
A quick warning: you might get charged extra for setting up an email address on your domain. If you've purchased your domain through a web host, it often comes with basic email for free. If you don't have any web hosting and only have a domain registrar, you'll probably have to pay to set up email on your domain. You'll still come out ahead though, it'll be a lot cheaper than paying for G Suite.
Here's an example of email plans from Hover, a domain registrar: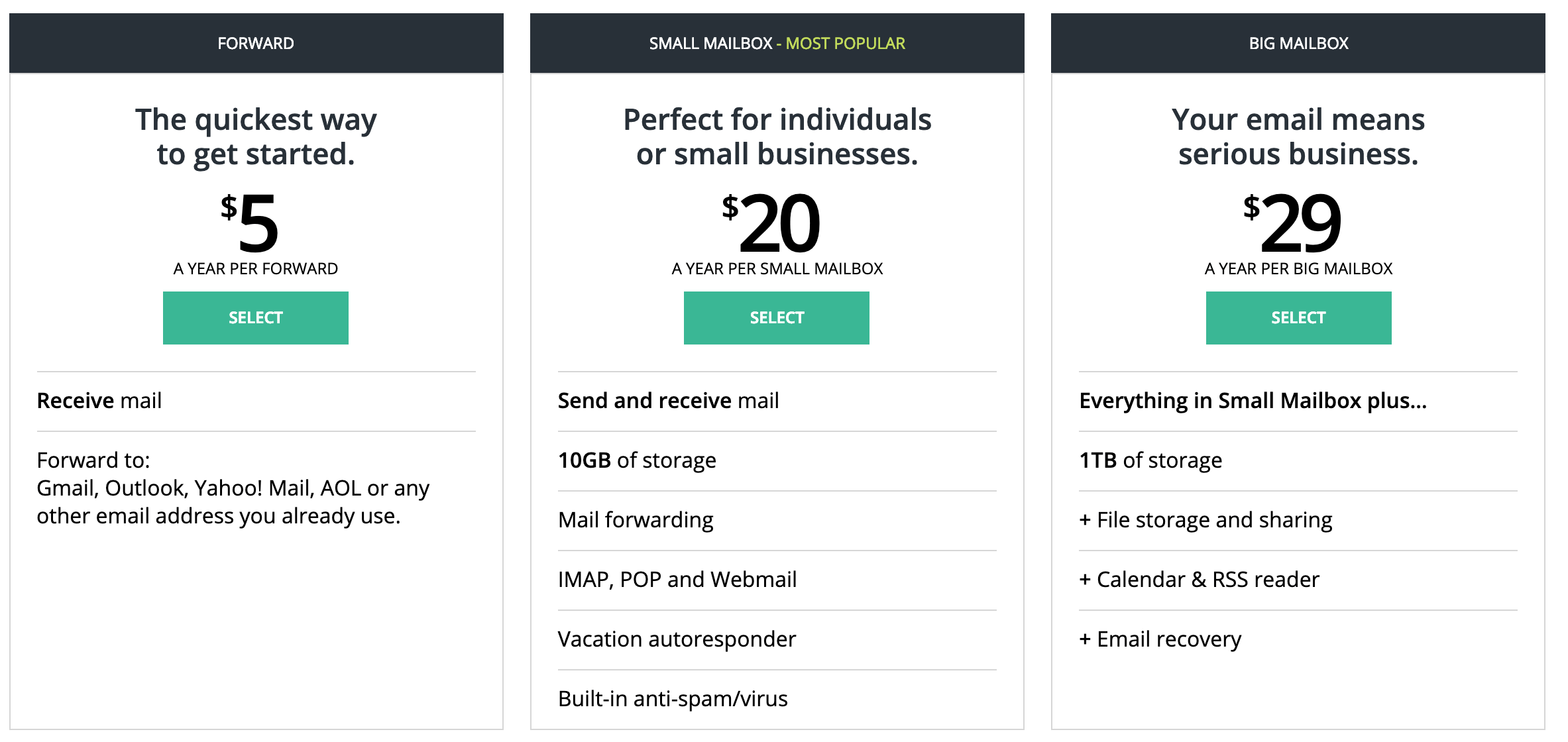 In this example, the $20/year plan gives you what you need. After purchasing it, you'd configure it to direct all your email to your free Gmail account. One user on the G Suite Basic plan costs $72/year so you'd save $52 year by going with this option.
Pricing does vary a bit from one domain registrar to the next. Here's another example from Namecheap: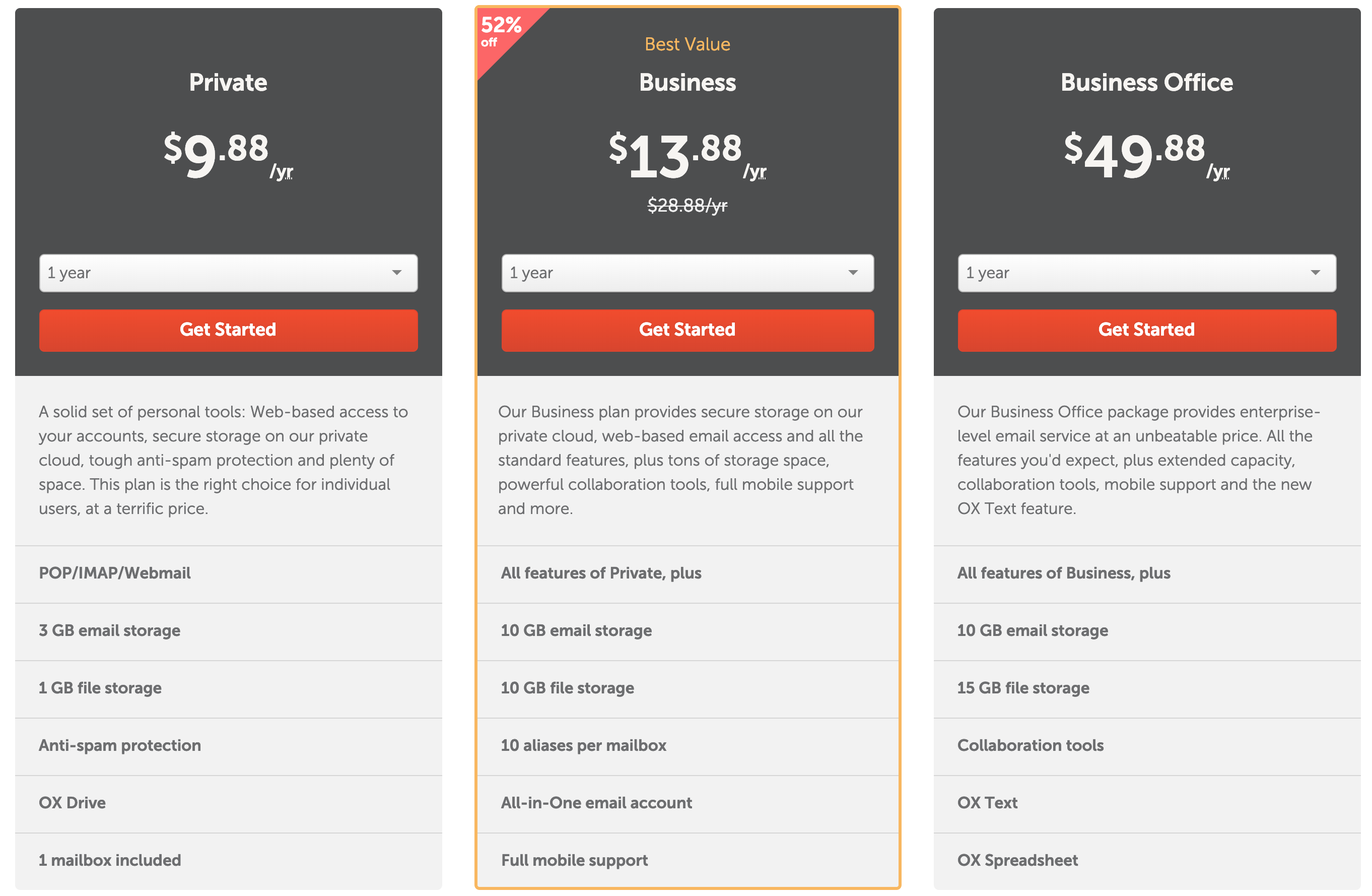 You'd get everything that you need for a single email account at $9.88/year. That saves you $62/year compared with going with G Suite. And Namecheap's $13.88/year plan is pretty good too, allowing you to set up to 10 emails. All of these pricing tiers are much better than Hover.
What about getting G Suite for free completely? Is that an option?
It is possible.
To get a company email configured for free, you'd have to use the email features that are bundled along with your web hosting account. Most hosting plans include a webmail option to access your email. They also have all the settings that you need to connect your email accounts on your host to your Gmail account. The process would work like this:
Log into your web host account.
Set up your email address in your web host.
In the support docs of your web host, look up the settings that you need to connect your company email to Gmail.
Configure your email settings so you can receive and send email from within Gmail.
Start using Gmail for all your email.
For the details on how to send your company emails to your Gmail account, look through the support docs of your domain registrar or web host. They'll have step-by-step instructions on how to set it up. You can also contact their support to get extra help.
2. Get G Suite for free as a nonprofit
If you're a nonprofit, you get to use G Suite for free.
The non-profit signup page is here.
No catch–it really is the full version of G Suite Basic. (We have a breakdown of the G Suite pricing here which compares G Suite Basic to all the other tiers.)
The only limitation that could be a concern is the limited document storage. On G Suite Basic, you'll be limited to 30 GB of storage per user. This is not a lot of storage and if you use Google Drive to store all your files, you'll hit the limit pretty easily.
One option is to supplement your free G Suite Basic plan with a Dropbox plan. That'll give you more storage than you'll ever need at a reasonable price and allow you to keep your free G Suite Basic plan.
If you're a nonprofit, you should absolutely sign up for G Suite. It's a great set of products, has the highest user satisfaction scores in the category, and is completely free for non-profits. We have a complete breakdown of the G Suite nonprofit plan here.
3. Get G Suite Education for free
Google also has a special edition of G Suite for schools called G Suite Education. There are two plans, a standard plan and an enterprise plan.
The standard G Suite for Education plan is completely free. It includes email accounts for your school, the full product suite, unlimited document storage, and video conferencing. It's an amazing deal.
If you have a school and qualify for the free G Suite for Education plan, definitely get it.
The enterprise version of G Suite for Education isn't free and includes extra administration features along with video conferencing for larger audiences. If you're a larger institution, it's worth looking at.
Now you know all the ways you can get G Suite for free, is it worth the trouble?
Who shouldn't try to get G Suite for free?
Personally, I love a good deal. Less money spent on software means more money to invest elsewhere in my business. But one of the lessons that I've had to learn is that it's possible to lose dollars trying to chase cents. It's especially easy to lose sight of the big picture when trying to get a good deal on software.
These days, I'm more inclined to pay for software that completely solves a problem. A simple subscription that handles all my company email, allows me to easily manage user accounts for my company, gives me a complete set of office software, and space to store documents is a pretty good deal. Lots of problems go away instantly by purchasing G Suite. It's cases like these where I make sure not to lose sight of the bigger win.
My rule for buying an office suite is that it's completely worth it as long as I have two or more employees that need company email accounts. Yes, I know how to hack things together in order to get G Suite for free. But once I have a few employees to manage, the convenience easily outweighs the nominal cost of paying for it. Trying to jump through all those extra hoops to save a few dollars every month isn't worth it.
At that point, I always get an office suite.
G Suite isn't the only option out there. Microsoft's Office 365 competes with G Suite directly with an offer that's very similar. We have an entire breakdown of G Suite vs Office 365 here. Personally, I prefer G Suite. It also gets much higher user satisfaction scores than Office 365 does.
The bottom line
If you're a non-profit or a school, you're in luck. You get access to a full version of G Suite without having to pay a dime. That's an incredible deal.
For the rest of us, it is possible to get G Suite for free if we're willing to use a free Gmail account, access Google's product suite through that Gmail account, and then connect our company email to that account. This option does have limited storage and doesn't give us an easy way to manage users. That's why I only recommend going this route if your company is very small. If you only have one or two other people that need company emails, you can get G Suite for free by going this route.
Remember not to lose sight of the big picture. Once any of my businesses get to the point that I have a team of employees, I always subscribe to G Suite to free up my time for growing the business. The cost of G Suite is higher but I easily make that back in time and simplicity.
If you are going to sign up for G Suite, check out our guide on The 7 Best Practices of a World-Class G Suite Admin. That'll help keep your G Suite account secure and your costs under control.