Everything You Need To Know About G Suite for Education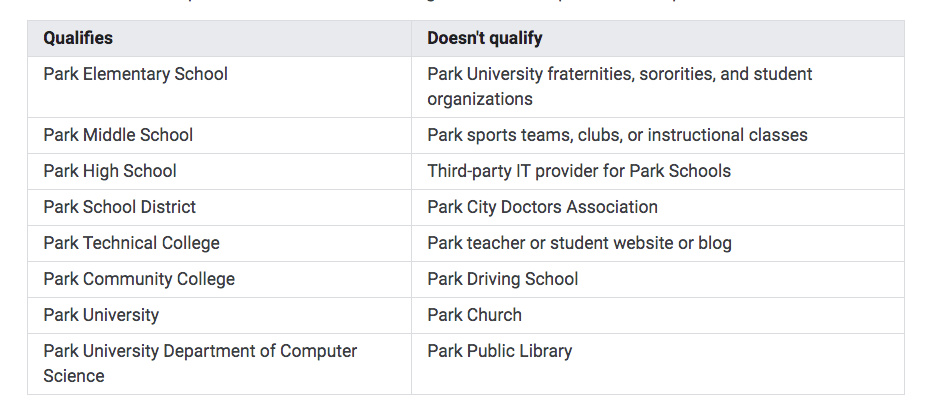 Some types of organization can get access to G Suite for free. This includes educational institutions that get access to the free G Suite for Education plan.
What is G Suite for Education?
G Suite for Education gives you access to all the standard apps from G Suite in addition to some specialized tools for education.
And the standard plan is completely free.
You get the standard productivity suite that includes:
Google Docs: Collaborative document tool, it's a simplified Microsoft Word with much better collaboration features
Google Sheets: Spreadsheets that multiple users can work on at the same time. It's not quite as powerful as Excel but it is much more user-friendly.
Google Slides: Presentation software that is collaborative.
Google Forms: Create forms, share, and automatically record the results in Google Sheets.
All these tools are in widespread use in the business and nonprofit world. They're also all browser-based and can be used from any phone, tablet, laptop or computer.
Email, Calendars, and Video Calls
One of the other standard parts of G Suite is an email address and Gmail access for everyone in your organization. Managing these email accounts is also super easy with the G Suite Admin interface. You won't have to worry about IT problems with email.
Every person also gets a Google Calendar, making it easy to coordinate schedules and meetings.
On top of all that, there's also Hangouts which is a video call tool. While it's not quite as good as other tools like Zoom, it's completely free so it's perfect for organizations that have tight budgets.
Google Classroom
This is where G Suite for Education diverges from the standard G Suite Plans.
Google Classroom is a virtual meeting place for classes. Users can add learning materials Google Docs, and student work all in one place. Teachers can also provide feedback to students directly in Classroom.
These are proprietary tools that follow the same rules as other Google services. They may take a little getting used to, but there are multiple video tutorials available here.
Team Drive
Team Drives are like Google Drive, but you can set up multiple Drives for different teams and projects, or for different courses, classes, and subject areas.
This is a good way to keep all the information required for a specific purpose separate and to control who has access to what information.
There's a tutorial for how to set up a Team Drive here.
Support
Google's support really is second to none. Even if your query is trivial, obvious (to everyone but you) or hardly relevant, they'll do their best to help you, escalating you quickly to subject experts if necessary. This is a real benefit.
Control and administration tools
Google Vault and eDiscovery allow you to retain, search and export your data from Google apps. You can also retain and archive recordings of Hangouts and Gmail records — Hangouts recordings are especially useful if you're doing tutorials or seminars through Hangouts. Audits and reports let you follow user activity.
The security and device management tools let you manage a fleet of mobile devices with Android or iOS operating systems, as well as device management for Chrome OS devices. This is particularly useful if you're distributing devices to students and teachers.
G Suite for Education's Data loss prevention lets you set up policy-based rules that are triggered when sensitive information is detected. Admins can set parameters controlling which types of information team members can transfer from the Team Drive.
Hosted S/MIME is a security protocol that lets you send secure, encrypted emails across Gmail — crucial if you're going to be communicating student data between staff members.
How much storage do you get with G Suite for Education?
G Suite for Education storage is unlimited, unlike G Suite Basic which has a 30GB storage limit.
How much does G suite for Education cost?
G Suite for Education is completely free.
How many users can you have with a G Suite for Education account?
Each G Suite for Education account provides 10,000 user accounts. If you need more, you can contact Google and arrange it.
Does Google collect data from G Suite for Education accounts?
Google collects data from search activity and multiple other sources. So it's sensible to ask whether the corporation has access to information on activity in G Suite for Education.
Google says that they collect personal information and profile photos, as well as other information added to a G Suite for Education account, as well as users' name, email and secondary email, phone, and address 'if the school chooses to provide that information.'
In addition, Google collects device information, log information, location information, unique application numbers, and cookies. Location, device, IP, application version numbers and cookies are all collected routinely.
Google is clear that its G Suite for education core provision will remain ad-free and that the information it does collect is to provide services like Gmail, Docs, Sheets, and Slides.
Who can have G Suite for Education?
G Suite for Education is available if you match specific criteria.
Inside the US:
You're a nonprofit K-12 or higher educational institution, verified by an accepted accreditation body.
You're a homeschool co-op verified by an eligible homeschool association. Google works with HSLDA, the Home School Legal Defense Association, to distribute verification codes to state-level homeschool organizations. You can find yours here.
Outside the US:
Each country has its own legal and regulatory requirements to be considered an educational institution. Typically you'll need to be:
A verified not-for-profit.
Recognized by your government, formally-accredited and delivering nationally or internationally approved certifications at primary, secondary, or tertiary level.
Organizations that provide educational services but aren't schools or universities like public libraries or military academies aren't eligible for G Suite for Education. But they may be eligible for G Suite for Non-profits.
Google has this chart which clarifies eligibility: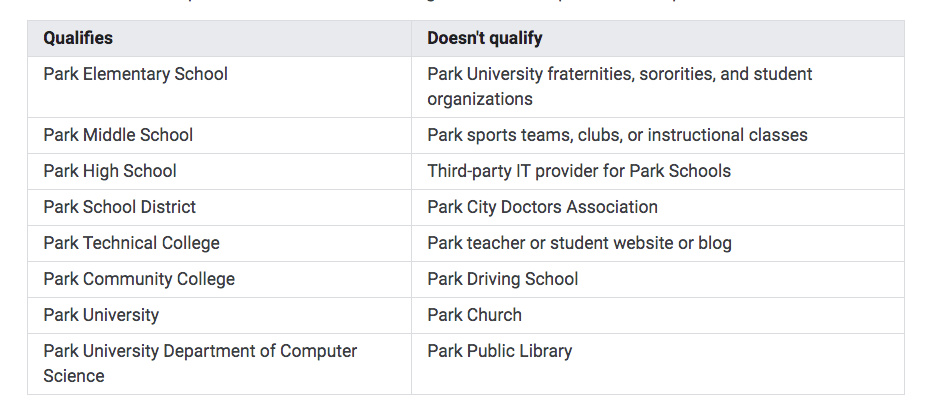 How can I get G suite for education?
When you apply for G Suite for Education, there's a 14-day waiting period while your application is processed.
If you already own a domain, you'll need to verify it. If not, you can apply for G Suite for Education and buy a domain as part of the application process.
How do I verify my domain?
To verify your domain for Google, you'll need to go here and find your domain host, since each host has a different step-by-step process. Whoever your host is, the aim is the same — you'll add some code in the hosting control panel, Google will read that code, and know that the domain is yours.
Applying for G Suite for Education
To set up G Suite for Education, start at the G Suite for Education signup area: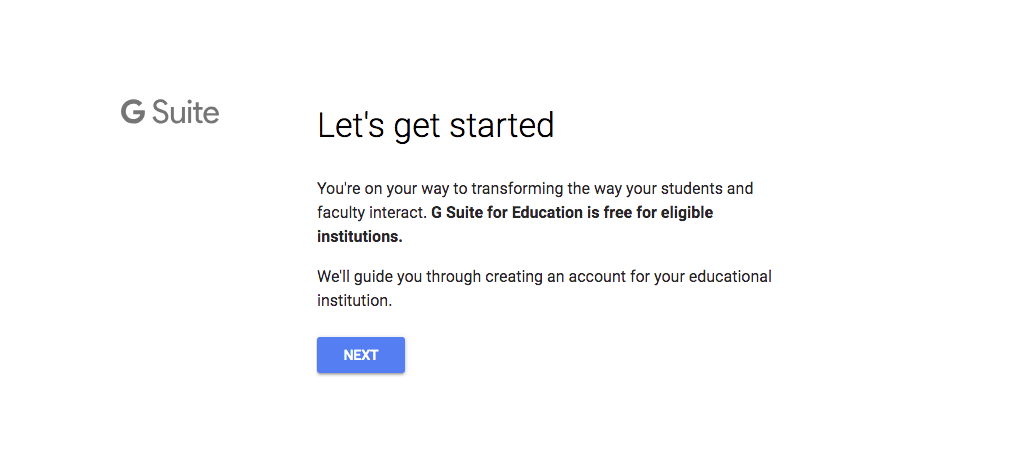 You'll be asked what level of education your institution provides: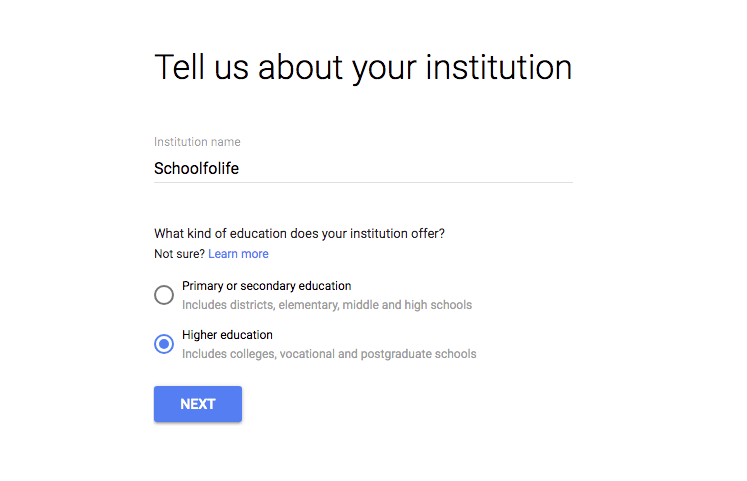 The next step is to ascertain the size of your institution, as well as your website URL: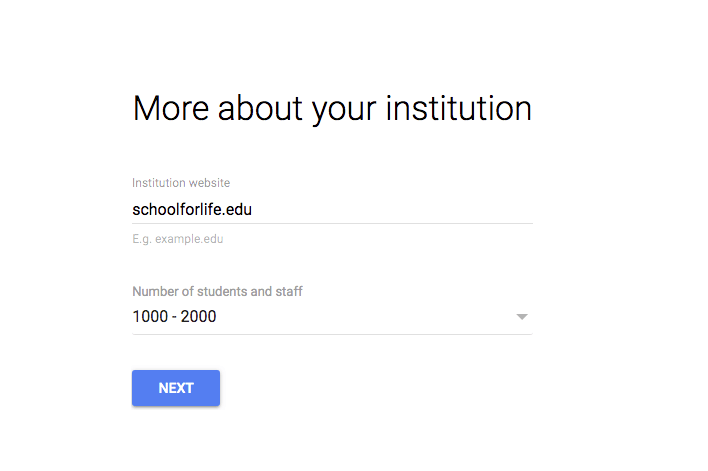 The next step is the country and phone number.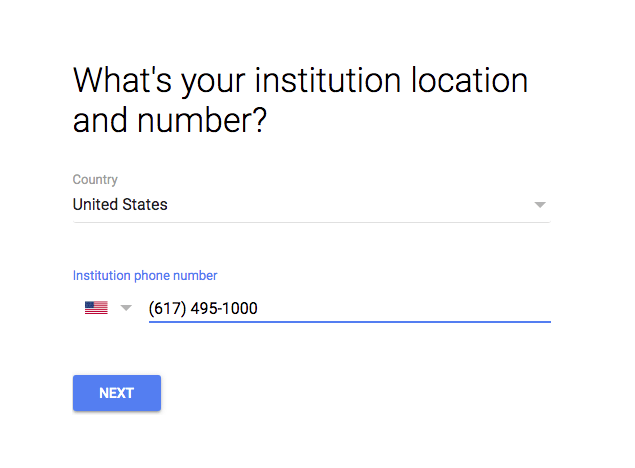 Then they'll ask for your address: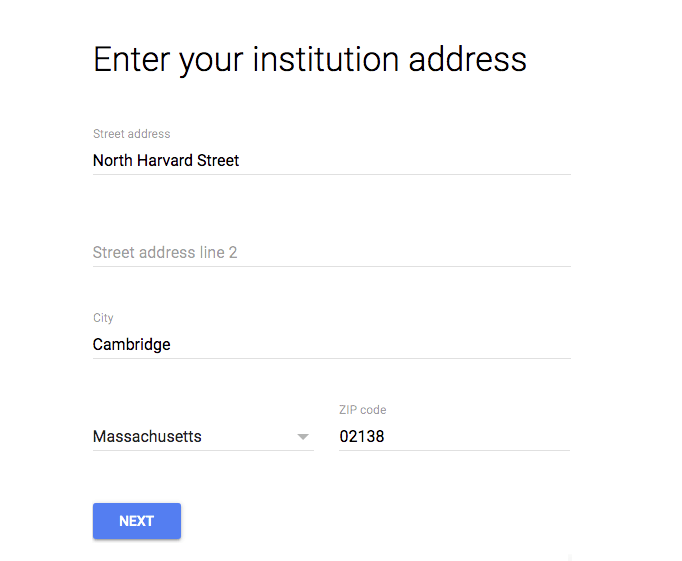 Provide an email address: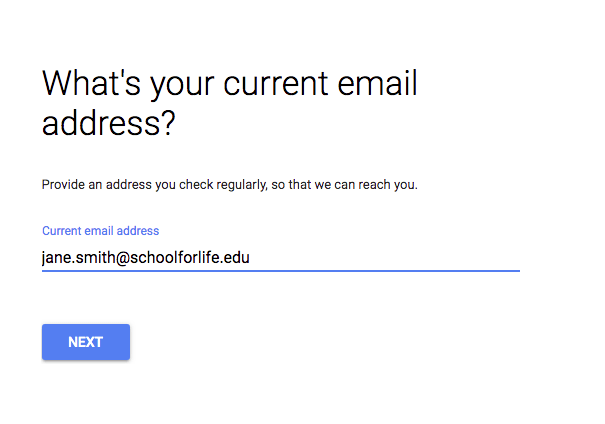 After this, the next step is to pick a domain if you don't already own one. For the sake of giving you a walk-through of the process, we're telling Google we don't own a domain and going through the process of searching for one.
You're asked for your name: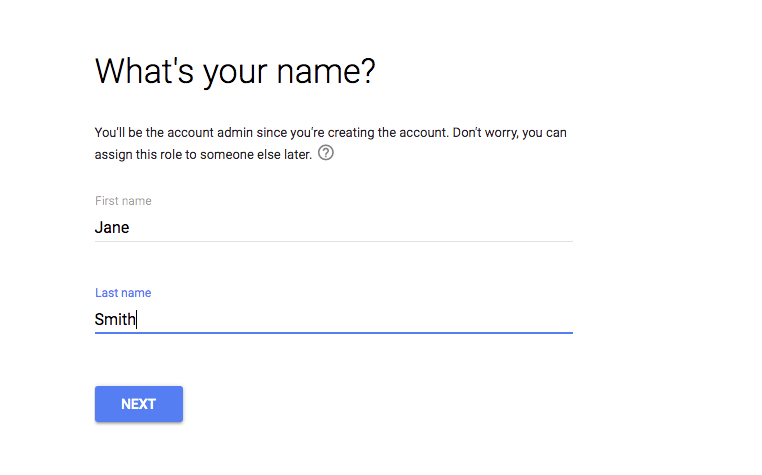 Finally, you'll be asked for the login details you want to use.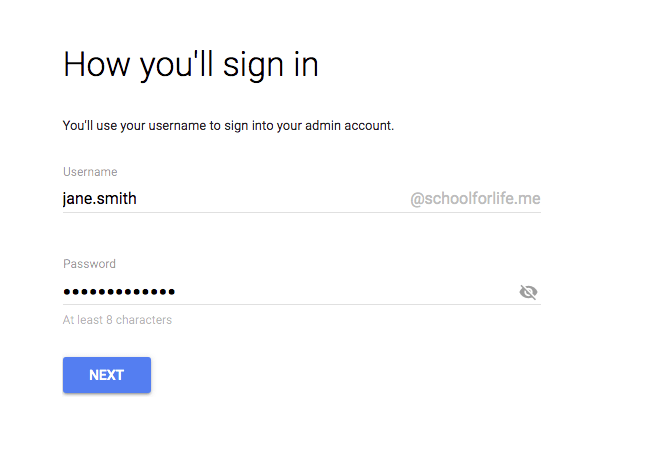 This doesn't necessarily determine the pattern of every future email address — you can have jane.s@schoolforlife.me, jsmith@schoolforlife.me, or whatever you want as the pattern for all your other email addresses. But if you care about establishing that pattern, you may as well start here.
That's the last step. Your G Suite for Education account is set up. All that's left is to wait for the 14-day approval process.