How to Get G Suite for Free As a Nonprofit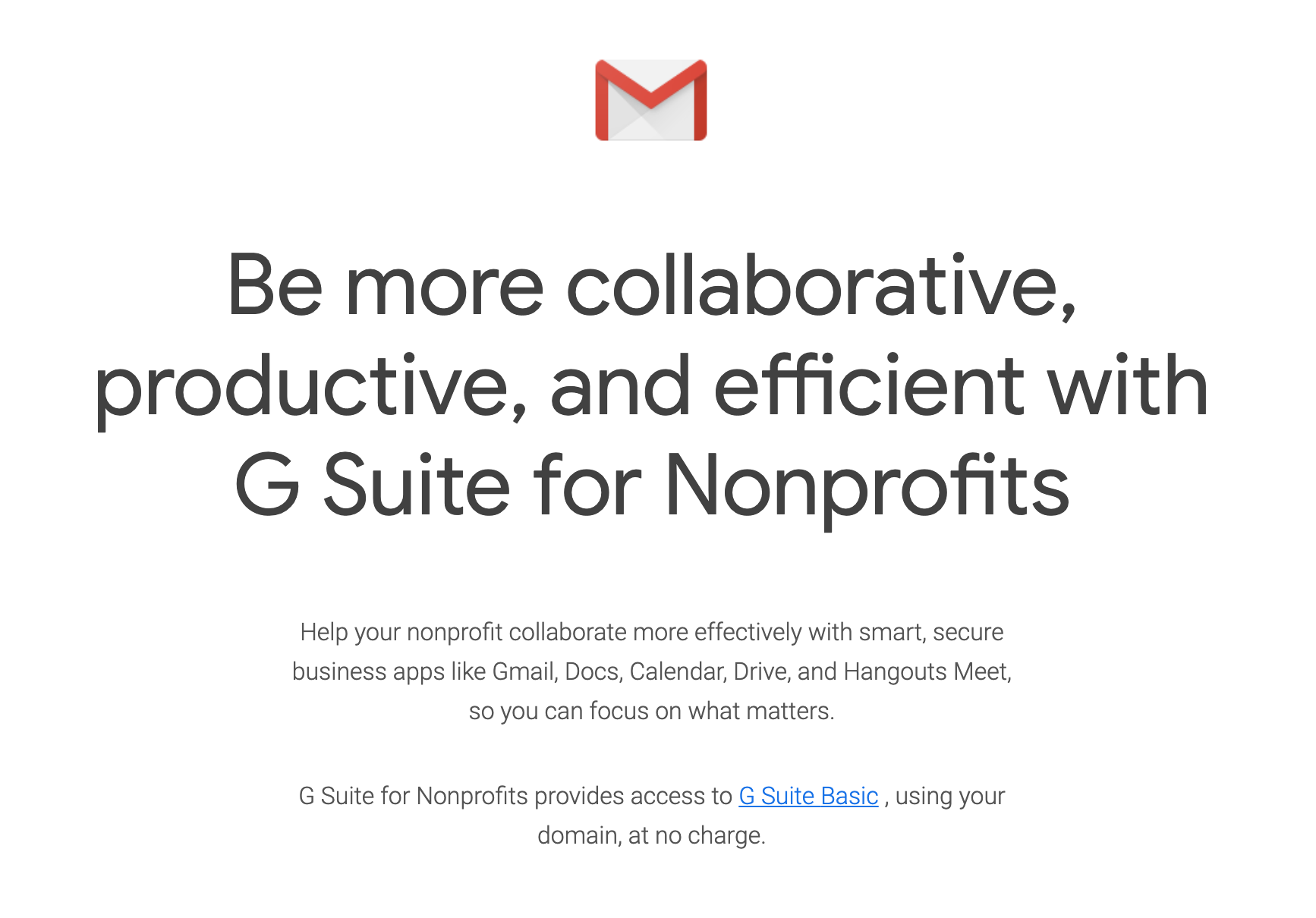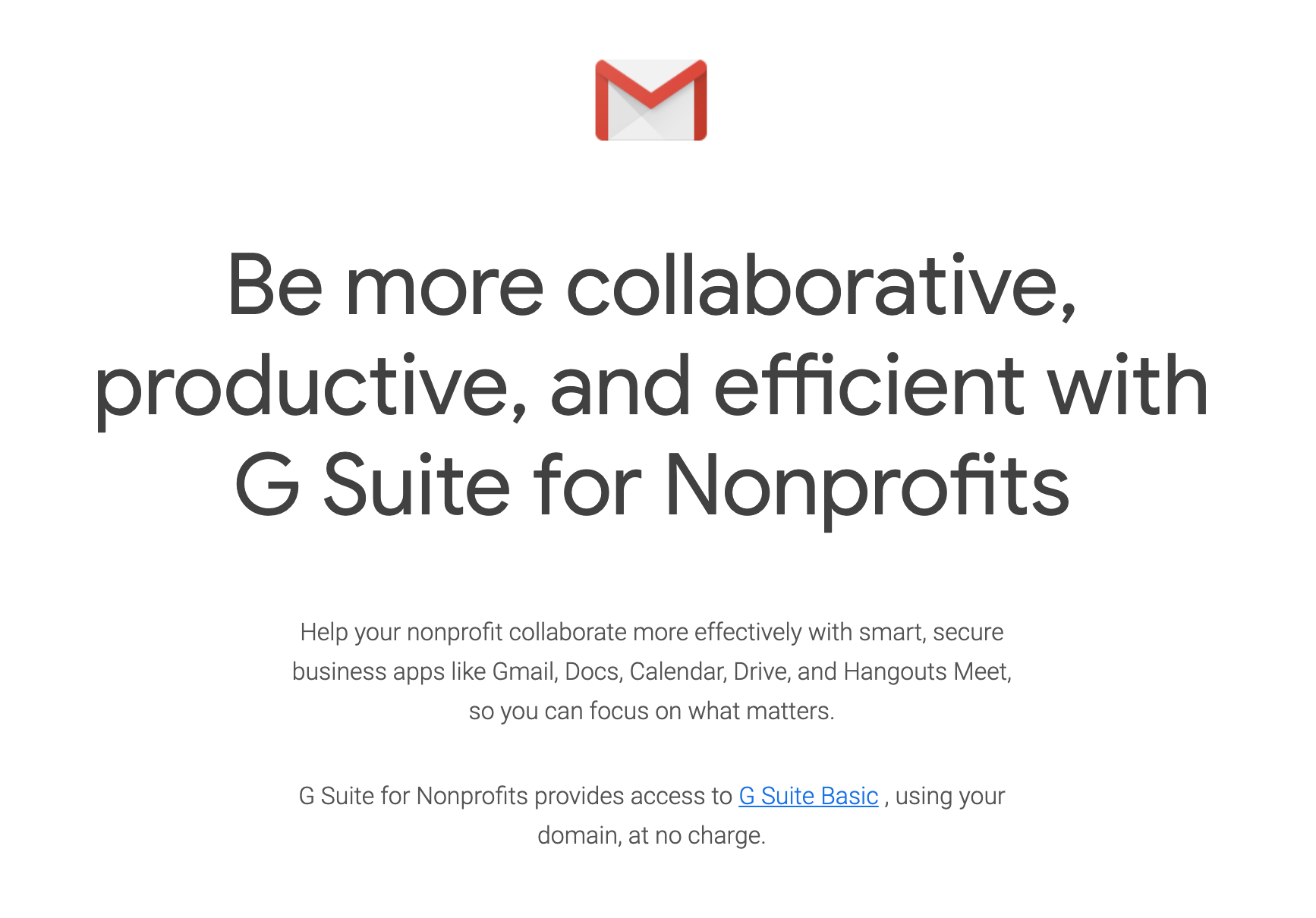 G Suite is available free for educational institutions and nonprofits.
G Suite for Nonprofits is part of the Google for Nonprofits program, which also includes grants for ads and perks for YouTube and Maps.
Only G Suite Basic is available under this program. That means you get G Suite's document apps, email for your nonprofit, and its administration tools but with some limitations.
Side note: business owners and solopreneurs can also piece G Suite together for free. There are a few extra steps to set everything up but that allows for-profit organizations to also get part of G Suite for free.
What Do You Get With G Suite Basic?
It's the entire G Suite Basic plan which includes all the core G Suite office apps.
Gmail in G Suite lets you send and receive mail from the domain of your nonprofit: Jane.Smith@yourdomain.com. Once you're using it for G Suite, Gmail also has plenty of integrations and add-ons. You can pick up these tools from G Suite Marketplace, here's a rundown of the best marketplace apps available.
Calendar lets you coordinate meetings and calls for yourself and your team. Calendars can be overlayed and shared, making Calendar an organization-wide planning and scheduling tool.
Docs, Sheets, Slides replace traditional productivity suites like Microsoft Office and move everything to the cloud. You can collaborate in real time on documents, spreadsheets, and presentations. There are also a few other apps like Sites.
Drive gives you a place to store all your files, including files created on other services. Accessible from anywhere, G Suite Basics users get 30GB of cloud storage on Drive.
Hangouts is G Suite's video meeting tool. You can host or join video meetings. Anyone with the link can join, they don't have to be a Gmail user or G Suite subscriber. Hangouts integrates with Calendar and can be accessed from Gmail inbox.
You also get G Suite Admin tools, based on a central dashboard to control user accounts, security settings, and user access to features and services. You'll be able to remotely manage mobile devices with Android or Chrome OS, track usage trends, and get 24/7 support from G Suite's support team.
Does Google Really Offer G Suite Basic for Free to Nonprofits?
Google's announcement sounds pretty unequivocal: you get access to G Suite Basics, for free. But there are some hoops you'll have to jump through. We ran across at least one article that claimed that G Suite for Nonprofits isn't really free and that the small print means you'll actually wind up paying for it and being recompensed via the Google Grants program.
That wouldn't necessarily be the most awful blow. G Suite Basics is $5 per user per month, making it a relatively affordable expense even for a cash-strapped nonprofit. But we wanted to know for sure.
So we approached Google — via their exemplary support chat — and asked about this, specifically.
Here's how that conversation went.
At first, I asked whether the service was charged for and then recompensed, subsidized, or in some other way "not really free." The customer support person assured me this was not the case, I pressed for clarification: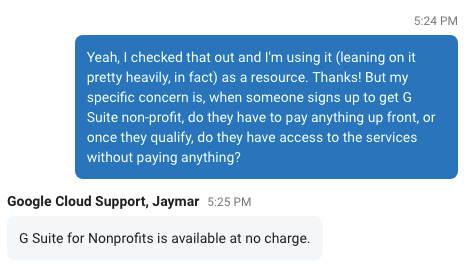 That seems pretty clear.
With that out of the way, let's talk about how to get your G Suite for Nonprofits account.
G Suite for Nonprofits Eligibility Requirements
To join the Nonprofits program, you have to meet some eligibility requirements.
You qualify for G Suite for Nonprofits if you are:
Registered as a charitable institution in an eligible country. G Suite for Nonprofits is available in more than 50 countries: the list is here. Your nonprofit status will have to be verified by TechSoup or a TechSoup partner, and you can see the specific requirements for each country here. In the United States, you'll need to be registered with the IRS as a tax-exempt 501(c)(3) organization formed for charitable, educational, religious, literary, scientific or other tax-exempt purposes. Fiscally-sponsored organizations aren't eligible, and organizations like churches that are automatically considered tax-exempt under group exemption rules still have to obtain verification from the IRS to qualify for G Suite for Non-profits.
Not a governmental organization, hospital or healthcare organization, school, an academic institution, or a university. (Though institutions like these are eligible for Google for Education.) Philanthropic arms of educational organizations are eligible for G Suite for Nonprofits.
If you meet the eligibility criteria, you can set up G Suite for Nonprofits.
What You Need for G Suite for Nonprofits
To get G Suite for Nonprofits, you'll need three things:
A Google for Nonprofits account
A G Suite Basic account
A verified domain
Let's get started by getting a Google for Nonprofits account.
Signing Up for Google for Nonprofits
You'll need to sign up for a Google for Nonprofits account. This account verifies your nonprofit status and will get you access to G Suite Basic for free once you've been approved.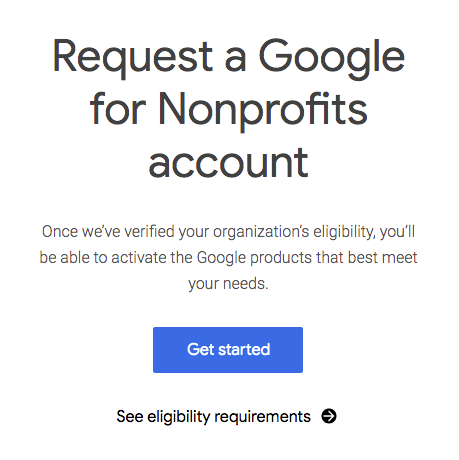 The next step is to check that you fit the eligibility criteria.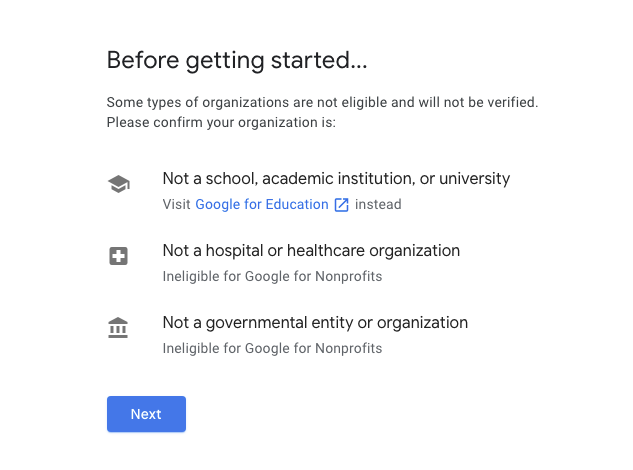 After you check off the eligibility criteria, you'll need to have your nonprofit ID along with your physical and online contact details.
Once you begin, you'll have to wait between two days and two weeks. You can track the status of your application at your Google account page.

Once you get your confirmation, your organization will be able to use Google's services.
Signing Up for G Suite Basic
Signing up for G Suite Basic is a precondition of getting G Suite for Nonprofits. Fortunately, it's a simple process.
You can sign up for a 14-day free trial, but it's $5 per month per person after the trial ends. If you want to keep costs to a minimum, only set up a few users on your account until your G Suite for Nonprofits kicks in. That'll keep your costs down while you wait for your nonprofit account to get approved.
Your journey to G Suite Basic starts here.
You'll start by filling out some basic information about your nonprofit and your contact details.
Then Google will ask you whether you already have a domain or if you want to purchase one: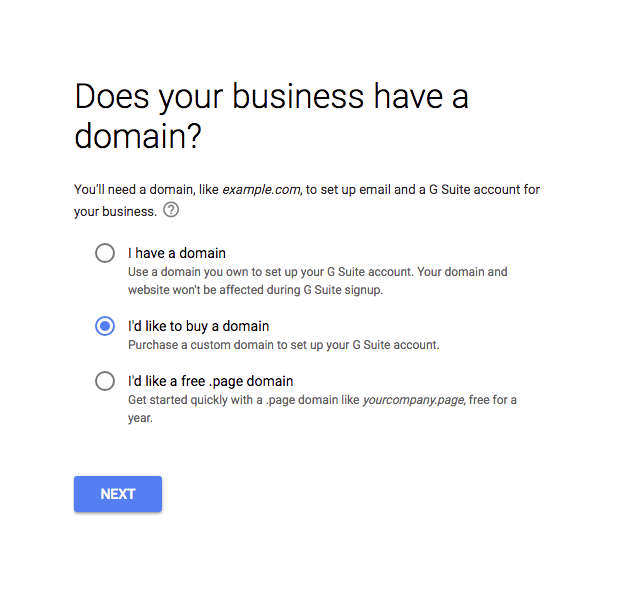 We don't consider a .page domain to be a viable option for nonprofits. Yes, it's free for a year. But it's also not a normal URL so it won't be seen as legitimate as a .com or .org URL. That could impact your fundraising and nonprofit work.
I've gone with "buy a domain" so I can walk through the purchase process. Search for a few options for your domain and Google will tell you what's available:
Domains vary in cost a lot — while the ones in this image top out at $30, you can pay thousands for others.
After picking your domain, you'll have to enter some more contact information before finishing the G Suite Basic signup process.
If you've bought a domain, there's nothing else that you need to do. Simply wait for your Google for Nonprofits account to get approved.
What if you already have a domain?
Confirming a Nonprofit Domain that You Already Own
If you already have a domain, you'll need to verify it. Instead of choosing to buy a domain during the G Suite Basic signup process, select the option for already having a domain. Then follow the verification instructions.
Basically, you'll need to log into the domain registrar that you used to purchase the domain, then edit the domain settings to point to Google and verify everything. Go to your host's site, sign in, and head to the DNS controls. Here are Google's guidelines for hosts.
Each hosting company has a slightly different setup but the basics remain the same.
Wait for Verification
Now you have a G Suite Basic account, a domain, and a Google for Nonprofits account pending. Once your Google for Nonprofits accounts gets confirmed, you need to head back to https://www.google.com/nonprofits/.
Wait at least a few days before checking on your Google for Nonprofits account. Remember which email you used to sign up for the Google Nonprofits account, it usually isn't the new email that you created for your G Suite Basic account.
Once your account has been approved, you'll see an "Activate" option that asks for the domain that you'd like to use for G Suite Basic. To make sure everything works, use the same domain that you verified with your G Suite Basic plan earlier.
That's it, you're set up with G Suite for Nonprofits!