The 5 Best G Suite CRMs to Close More Deals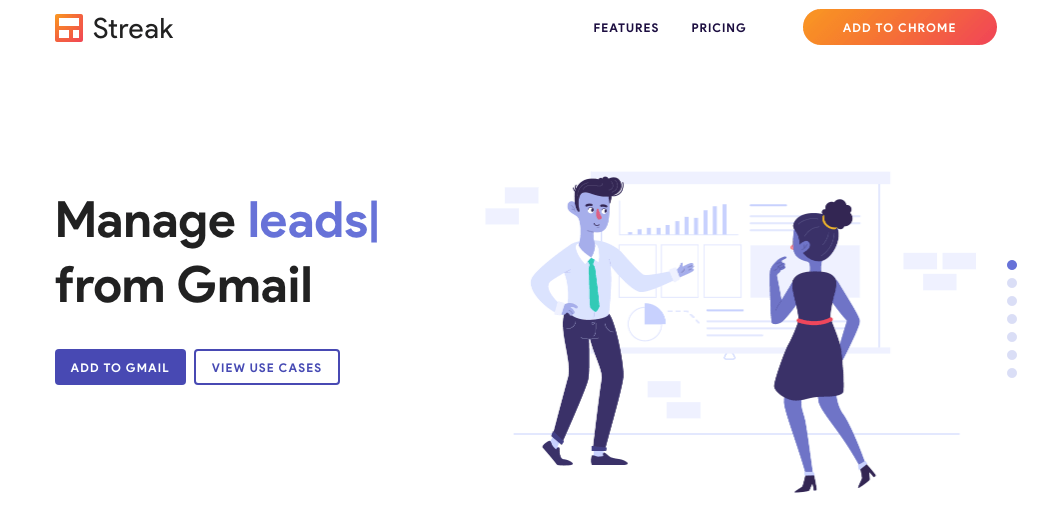 Your CRM should get you more deals, not more trouble.
Most CRMs are built to handle the needs of dozens, even hundreds of sales reps. For a small business, that's overkill. There are way too many features and the CRM ends up being more trouble than it's worth.
It doesn't have to be like that. We've chosen five of the best CRMs that integrate with G Suite and help you sell, rather than adding busy-work to your day. Whether you're a smaller business, a startup or an enterprise looking to conquer new markets, you'll find the tool you need here.
When should you use a G Suite CRM?
You have a choice to make.
You could get a G Suite CRM which means you're getting a CRM through the G Suite Marketplace that has a deep integration with G Suite.
Or you could get an independent CRM to run your business like Salesforce.
Basically, a G Suite CRM is a solid choice for businesses that only need basic CRM functionality. But if you're planning on building a 10 person sales department or larger, get a full CRM like Salesforce.
Here's a few situations where a G Suite CRM makes perfect sense:
Solopreneurs
If it's just you, fully-fledged CRM is actually too much work and the deal flow doesn't make it worth it. But a few extra CRM-like features in G Suite could help you stay organized, manage the deals that you have, and not overburden you with a ton of stuff you'll never use.
Small Teams
If you're a team of five or six, it really doesn't matter whether you're a non-profit accustomed to achieving the impossible with nothing or a startup that's just getting beyond the we-have-a-laptop-and-a-great-idea stage.
Everyone is doing everything, and the CEO is often doing most of it.
An inbox CRM that keeps everyone on the same page is a vital chaos-reduction tool. Having a tool that gives your team reminders on who to follow up and when helps keep deal from falling through the cracks.
You live in your inbox
Believe it or not, some people like email. Gmail is sufficiently features-rich and adaptable that some people use it as a collaborative to-do list; anything unarchived is an unfinished task.
Coupled with Calendar, it can actually be a bare-bones project management tool. Plus with nudges and other additions, you might be using Gmail as a kind of McGyvered CRM-lite already. There's a ton of Youtube videos about how to leverage Google's freebies to replace other tools.
If you've reached the limits of what you're prepared to do — or of how much time you're prepared to spend — on this, G Suite CRM might be your next logical step.
Which should you choose?
The Best G Suite CRMs: Streak and NetHunt
Streak and Nethunt offer sales people and small businesses the key functionality of CRM in an easily-accessible format inside the G Suite tools they're already familiar with. They give you the extra power you need without being burdensome. Start with one of these if you're looking for a G Suite CRM.
Streak: Basic CRM functionality inside Gmail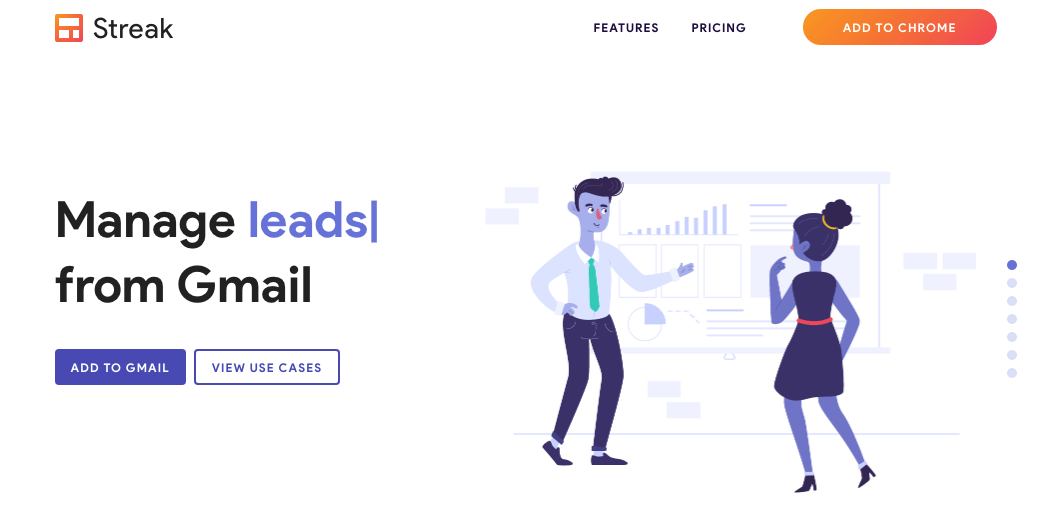 Why use Streak?
Streak is very simple, so you don't need CRM chops to use it. If you can do Sheets, you can do Streak.
Plus it has email tracking so you know if someone's opened your emails.
Reviews indicate its biggest selling point: it assumes you're in Gmail all the time.

Key Features of Streak
Email open tracking. Always know if someone's seen your message and when and where all those opens happened.
Contextual data in inbox. See account information and notes displayed alongside your emails.
Collaborative email. You can see emails if you're on the sale, even if you're not on the thread.
Data visualizations. Charts and graphs that show you the state of your sales process.
There's also mail merges, templates, scheduling, delayed-send emails (super helpful if you live and work in one time zone and your clients and prospects are in others) and contextual reminders.
Streak Pricing
Streak is priced at three levels: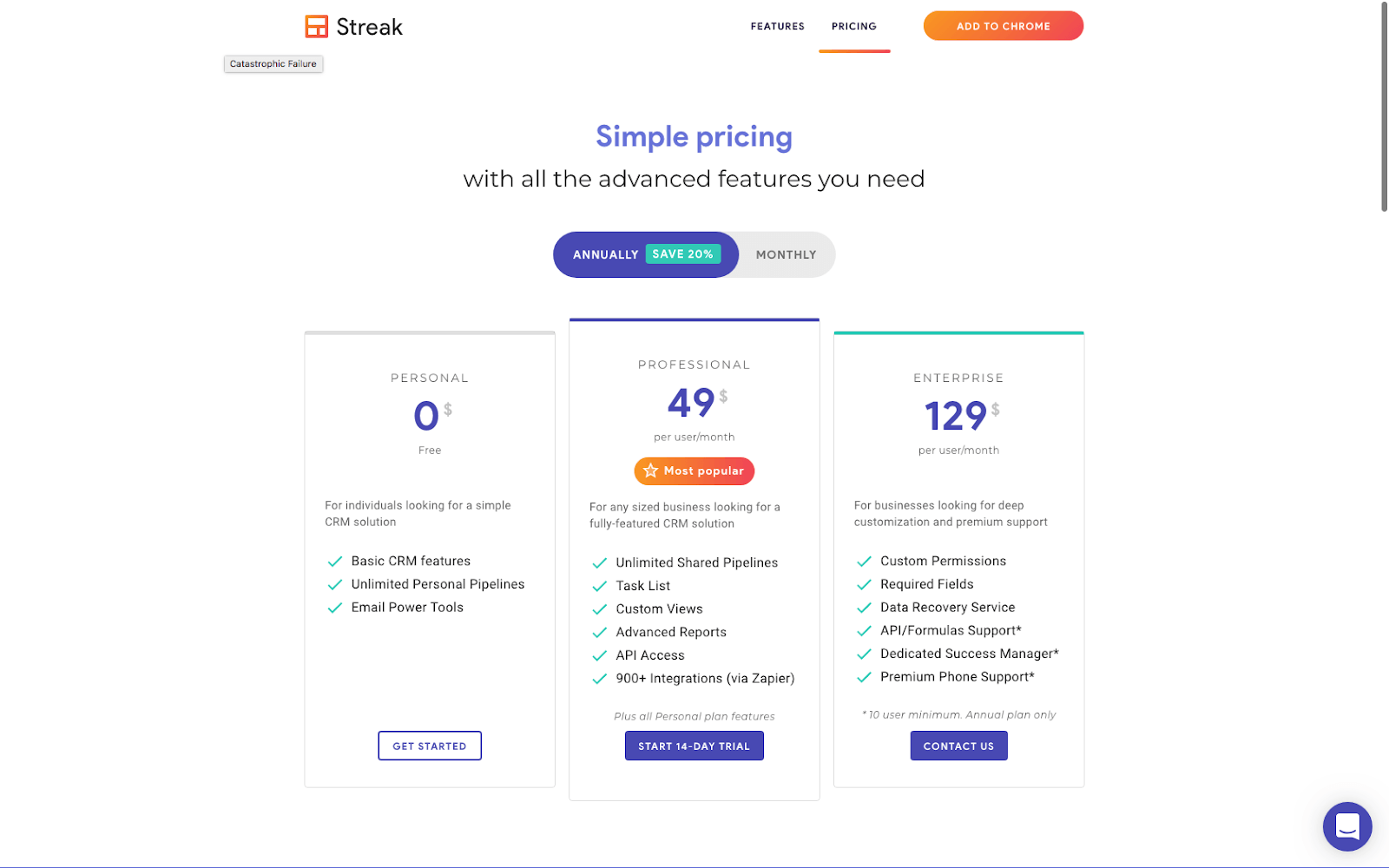 The Personal level is free and includes basic Streak functionality; it's actually worth getting this just for the email tracking and scheduling features, which are limited to 200 a month. Solopreneurs with established businesses will hit this occasionally, even small teams will blow through it.
Professional, at $49 per user per month, is actually a little on the pricy side for CRM software, but it's heavy on features including 900 integrations through Zapier. Here, Streak does something impressive — it becomes a full business management tool that lives inside Gmail. This is the level where advanced reporting and automation kick in.
Enterprise requires more commitment but offers a ton more support, though how 'enterprise' it is when it's floored at 10 users is open to question. Salesforce, it isn't.
Setting up Streak
Streak is simple to get started with: you install it from the Google Chrome Store, then start building pipelines which are flagged in your inbox using color coding.
There's a walkthrough of setup built into the tool as part of their onboarding.
NetHunt: Sales CRM inside G Suite
Why use NetHunt?
NetHunt is fully integrated, not just with Gmail, but also with Google's other tools, Calendar, Drive and even hangouts. It's built around records, which are collections of emails, tasks and files centered on the relevant prospect or deal. Records can be grouped into folders, displayed in custom views, and more.
NetHunt Key Features
NetHunt transforms many of G Suite's products to aid you during the sales process.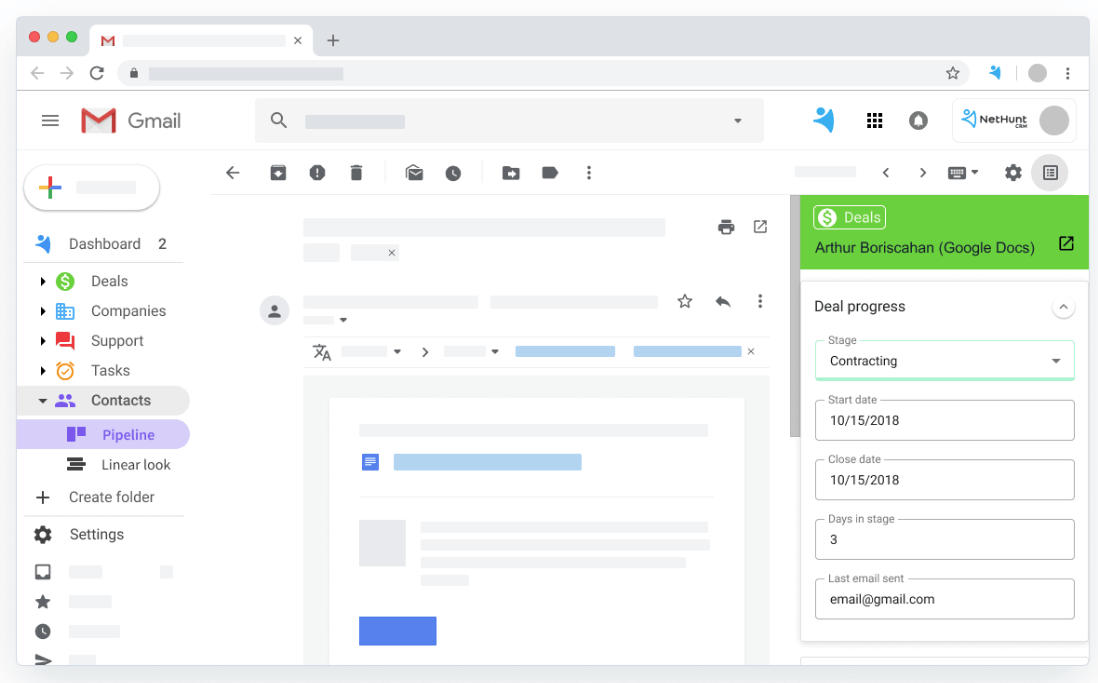 Inbox: It transfigures your inbox into your CRM dashboard.
Calendar: NetHunt automatically schedules activities so Google sends you alerts.
Drive: NetHunt builds your Drive folders around your NetHunt records.
Hangouts: NetHunt takes the standard Hangouts interface and adds contextual information right on the screen.
Follow-up dates and reminders are color-coded and sorted into folders so you know what you're doing next, and why.
One of NetHunt's strongest features is its bulk emails. Sending tons of emails is effective, but time-consuming. Personalizing emails from a bunch of Excels or Sheets is wasting a sales person's time right now. NetHunt eliminates that, keeping your list and all the info you need to personalize messaging in the same place.
Craft emails from templates, personalize from contextual data and send in bulk from inside Gmail. Integrations from Zapier are available too.
NetHunt Pricing
NetHunt is priced in three plans, Free, Professional and Enterprise: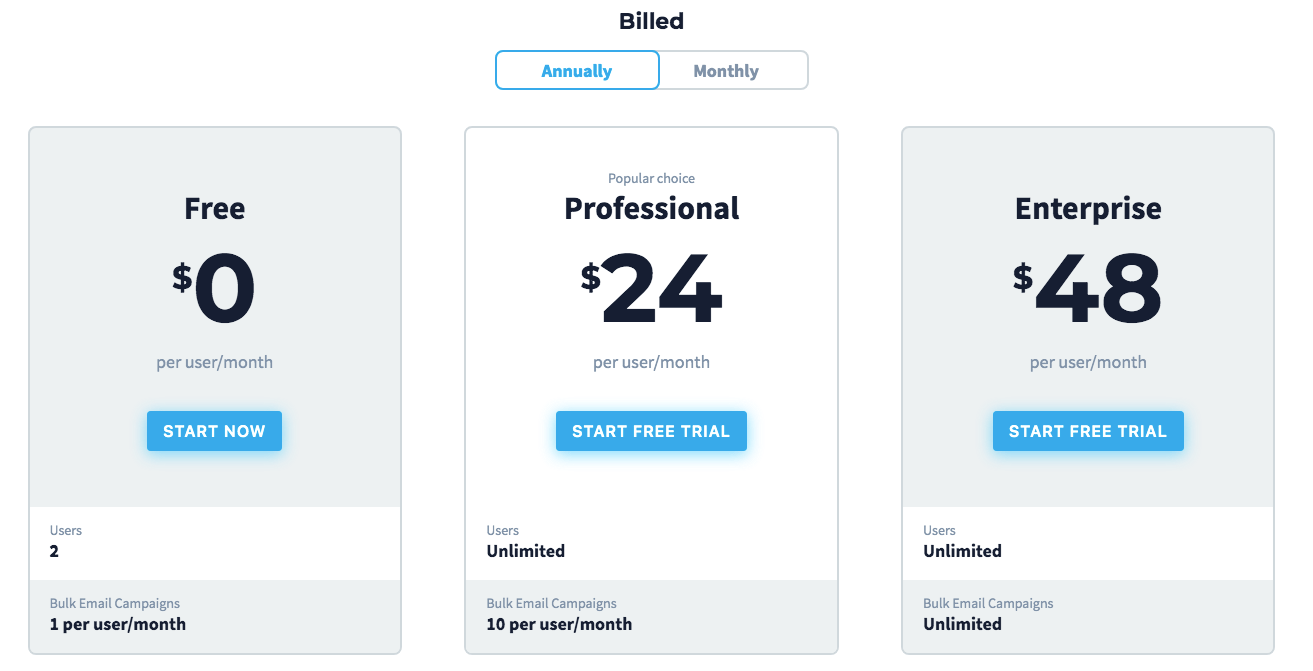 The Free plan will take two users and allows 2 bulk email campaigns a month, one for each user.
Setting up NetHunt
Setting up NetHunt means signing into the service by authenticating with Google.
From here, there's a bunch of videos on the company's Youtube channel to help you access its functionality.
Best integrations for full-size CRMs
Let's look at the best full-size CRMs that integrate with G Suite. First, though: why use one at all?
Why use a full CRM?
Basically, you'll use a full-size CRM if you have a full-fledged sales team. The best and most powerful of the in-inbox CRMs can't replicate the deep, complex functionality of a full CRM.
And specialized sales workflows that can include inbound, outbound, and different sales modalities require full CRM support. If you're looking for call recording, social media integration, marketing automation integration, and other high-level CRM functionality, you should look for a full-fledged CRM.
The Best CRMs that Integrate with G Suite: Propeller and Insightly
For deep G Suite integration from full-fledged sales and relationship management environments, Propeller and Insightly are hard to beat.
Propeller: Lightweight Sales CRM Integrated with G Suite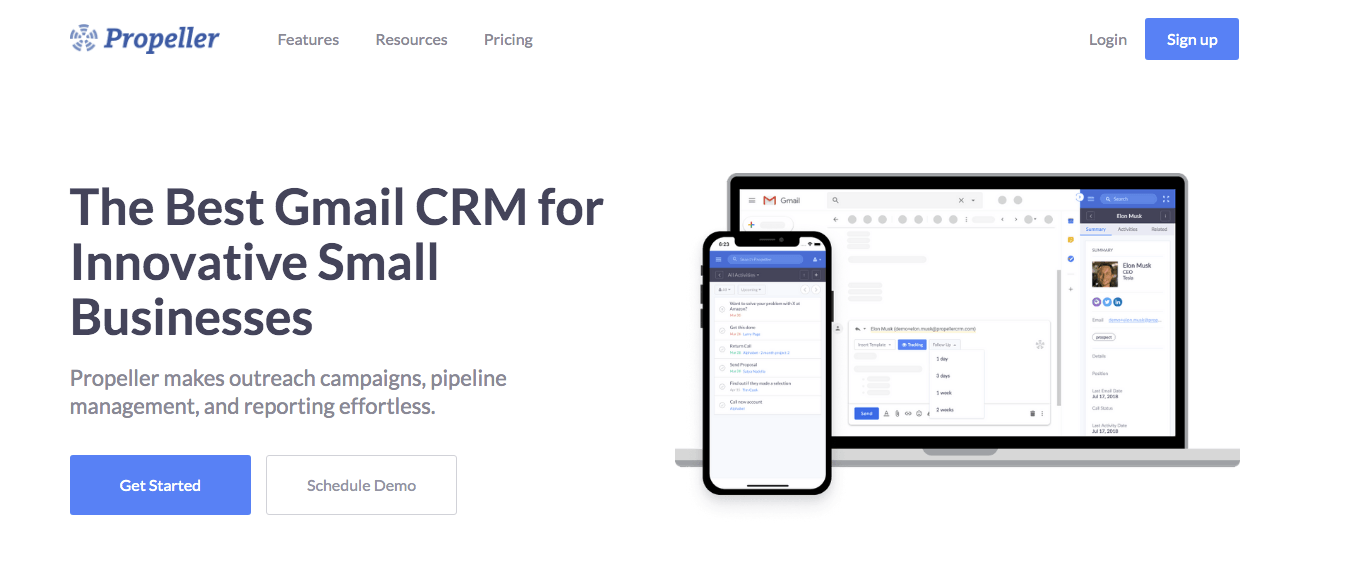 Propeller is a full-powered CRM but still a relatively lightweight one, with deep Gmail integration and its own sales environment.
Propeller and G Suite Integration
Propeller has a Gmail CRM extension that provides some functionality right in your inbox. Unlike the purely G Suite-oriented CRMs we've looked at so far, though, Propeller does have its own web app separate from G Suite and you do need to access that app to get the best from Propeller, including sales data and analysis.
Propeller's Gmail extension is intuitive and gives you greater control, but it works in conjunction with the wider Propeller app.
What's good?
If you want a full power CRM but you've never really used one before, Propeller is for you. It's super simple and intuitive, letting you stay in Gmail while you work your email-based sales flows and providing you with additional control and analysis via a customizable web app. Each new signup gets a free one-hour onboarding session too.
What's bad?
Propeller still doesn't have the range of functionality some big sales CRMs have. Whether it's the range of customizations you get with an industry big-hitter like Salesforce, or the crucial let's-make-it-rain sales functions like built-in VoIP that mark out powerful newcomers in the field, Propeller doesn't have the bells and whistles.
It is effective and easy to use but it is a lightweight tool suited to smaller teams looking to do most of their selling via email.
Propeller Features
Propeller has extensive features that sales teams will love: customized, targeted email campaigns are supported, letting you customize outreach at scale. And intuitive visual pipeline management lets you see what's going on at a glance.
You can build sales flows based on tasks and activities that are automated, prompted and logged, making sure no-one slips through the cracks. Tasks and notes can be added straight from your inbox.
Mobile apps let your team stay productive away from desktop, with easy note-taking and access to full data on every contact and a mobile app that automatically syncs with the desktop tool so everyone stays on the same page.
Propeller Pricing
Propeller has the simplest pricing plan you'll see today: one price per user, no packages or tiers.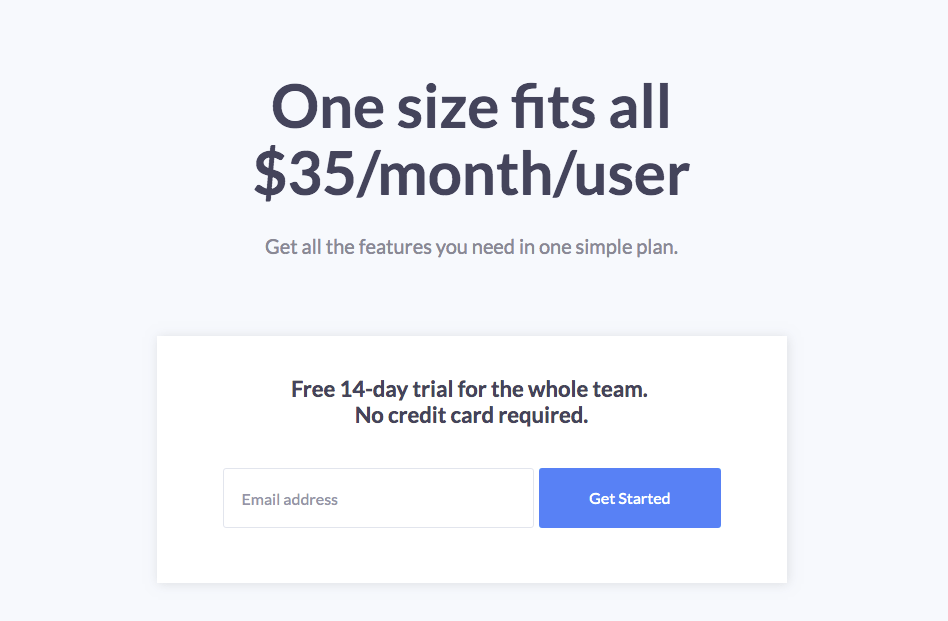 You get full access to Propeller's features with no restrictions.
Setting up Propeller
Propeller lets you setup quickly and easily. The signup process begins with signing up to their free trial — even if you opt to sign up rather than for the trial on the pricing or home page, you'll still be directed to the signup process for the trial.
Once your email address is confirmed, you'll get a walkthrough from the app as they sync up Propeller with your Google account.
Then you'll be prompted to install the Chrome extension that provides Propeller's in-Gmail functionality.
Insightly: Enterprise CRM with Deep G Suite Integration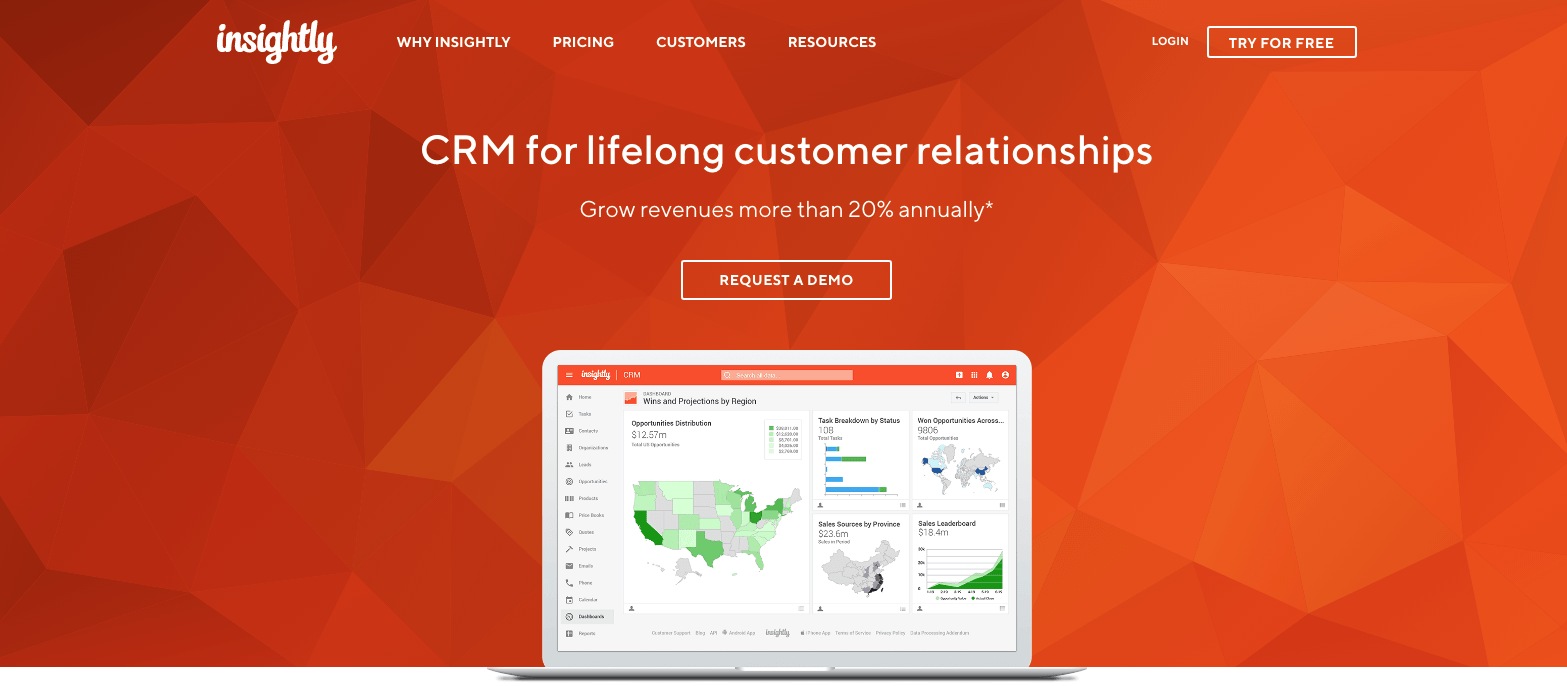 Well-reviewed and established in the space, Insightly is a frontrunner as a midweight CRM. It's clearly oriented at sales teams, though it has a two-person free plan that makes it small business and startup friendly.
Insightly and G Suite Integration
Insightly isn't a 'G Suite CRM,' but the company does say its product was 'built for G Suite users' and it offers solid integrations, including a Gmail sidebar, Gmail integration, email open and clickthrough tracking, Google Docs linking, and constant Insightly-G Suite syncing.
What's good?
Insightly is built for enterprise-level relationship management, not pure sales — but make no mistake, this is a sales tool.
With deep integrations for Office 365 as well as G Suite, Insightly has the kind of functionality you'd expect in a tool built for large sales teams in large organizations, including automatic lead assignment by geography or other rules, pipeline and activity sets and extensive reporting and third-party integrations: Boomerang, Dropbox, Quickbooks, Google Apps and Zapier, among others.
What's not so good?
Insightly is a more complex beast that Propeller or the pure G Suite CRMs we've looked at, so setup is more complex. And with more complex, enterprise-oriented pricing, it's worth asking if the additional customizability and other functionality is actually adding value. But it's won Gartner Peer Insights' Customers' Choice award for sales automation two years running, so it's doing something right.
Insightly Features
Insightly offers extensive customization, including customizable branding, reporting and templates for messages.
You get a central dashboard to manage your business, including analytics and reports.
There's third-party integrations, some already set up as well as through API, as well as automated notifications and task lists, data import/export and custom fields.
Insightly has inbuilt VoIP through Insightly Voice, which also offers autodialling and a range of call recording options including autologging.
Call recordings are critical for sales call coaching, for reps to self-analyse, and for managers and sales ops to build data sets from which they can generate insights to improve the whole department's sales game. Note that it's currently available only in the USA and Canada.
Insightly pricing
Insightly is priced in three tiers, in a fairly standard SaaS pricing structure: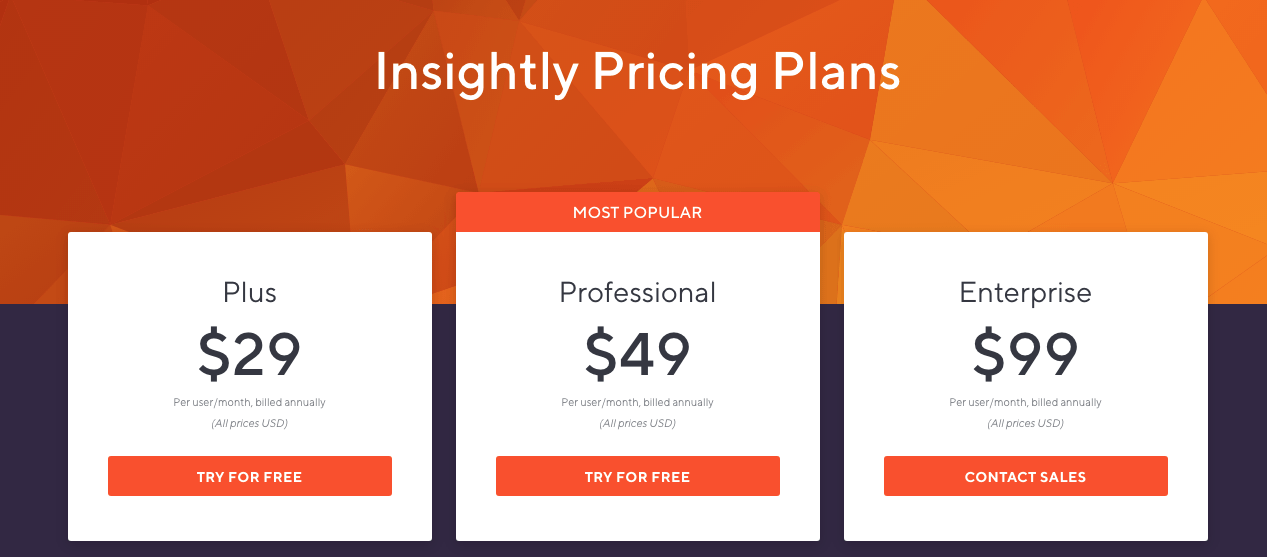 We'd recommend Insightly on the basis of its performance and features and the many, many good reviews it gets. But come with a list of 'need to haves' and check carefully what you really get at the pricing level that fits you.
Setting up Insightly
Insightly necessarily has a longer setup compared to a simpler tool.
But the setup process doesn't have to take forever. Insightly may be a heavier-weight tool than others on this list but it's still aimed at businesses that expect easy setup and usability.
Special Mention: Copper, Recommended by Google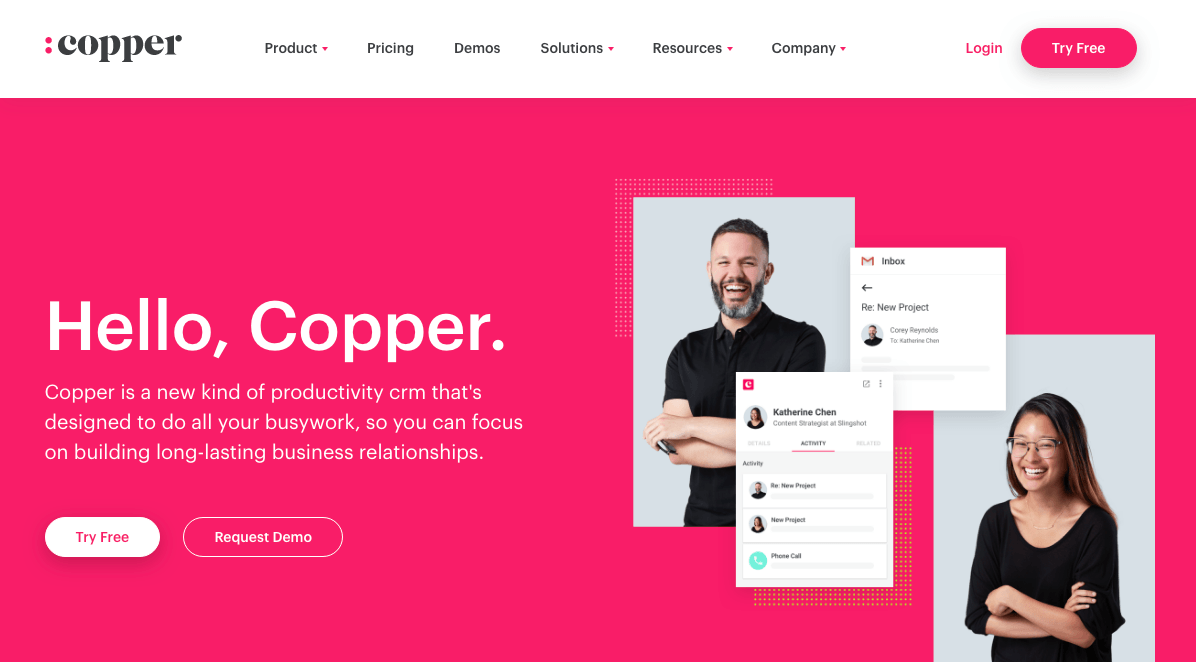 Copper CRM was formerly ProsperWorks. It's a sales-oriented CRM that feels light and lives inside G Suite.
It's the only one that comes with Google's recommendation.
All the other CRMs on this list — even the ones that live inside Google apps — are built to fit Google. But G Suite and Copper are built to fit each other. Copper was built from the ground up specifically for G Suite.
Copper looks and works exactly like G Suite tools, with Google material design throughout.
Copper Features
Copper scrapes, captures, and organizes your data for you automatically, so as soon as it's set up, your contacts are present and populated. It lets you nurture leads right from your inbox, using automated reminders and easy access to previous conversations and contextual data.
There's lead management, contact management, and visual pipeline management that lets you customize multiple pipelines. Email templates save time and can be customized directly in the email from contextual data in Copper.
For sales managers, there's reporting and analytics, pipeline by pipeline, all accessible from a central dashboard.
What distinguishes Copper is its native G Suite integration, though: you'll find Copper in Calendar, Hangouts, and Drive as well as Gmail. It integrates with Google Data Studio too.
Copper Pricing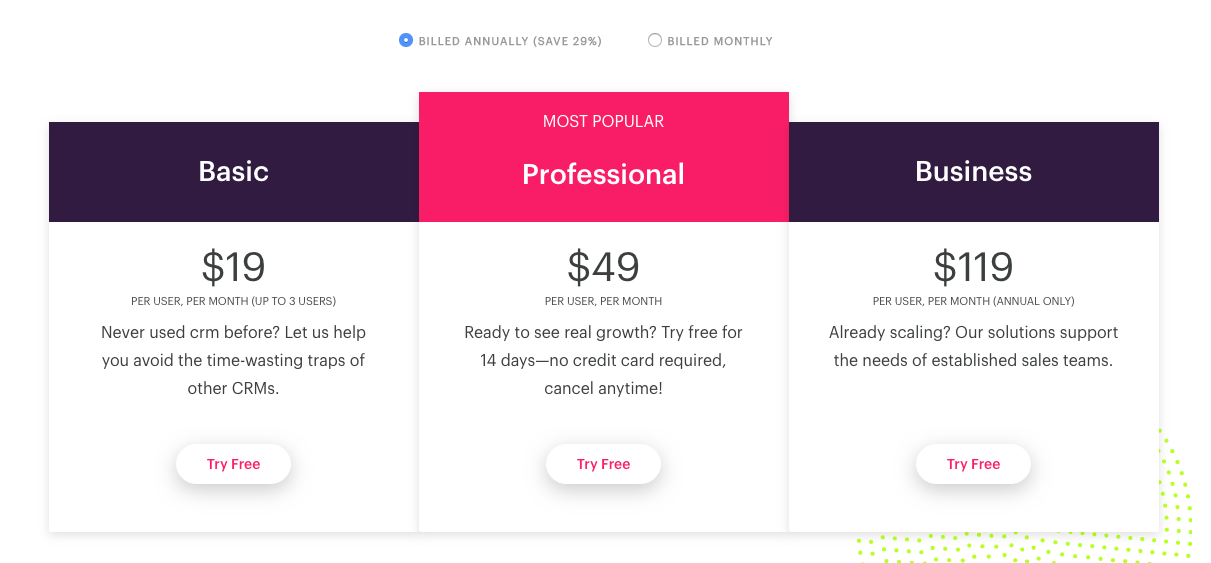 Only Business plans come with sales leaderboards, multiple currencies, embedded integrations, SSO, and user provisioning.
Setting up Copper
Copper setup is quick and simple. There's a setup guide aimed at admins.
Like many CRMs with solid G Suite integration, you'll start by signing up with your Google account.
Then you'll go through the onboarding walkthrough.