The Complete Guide To Evernote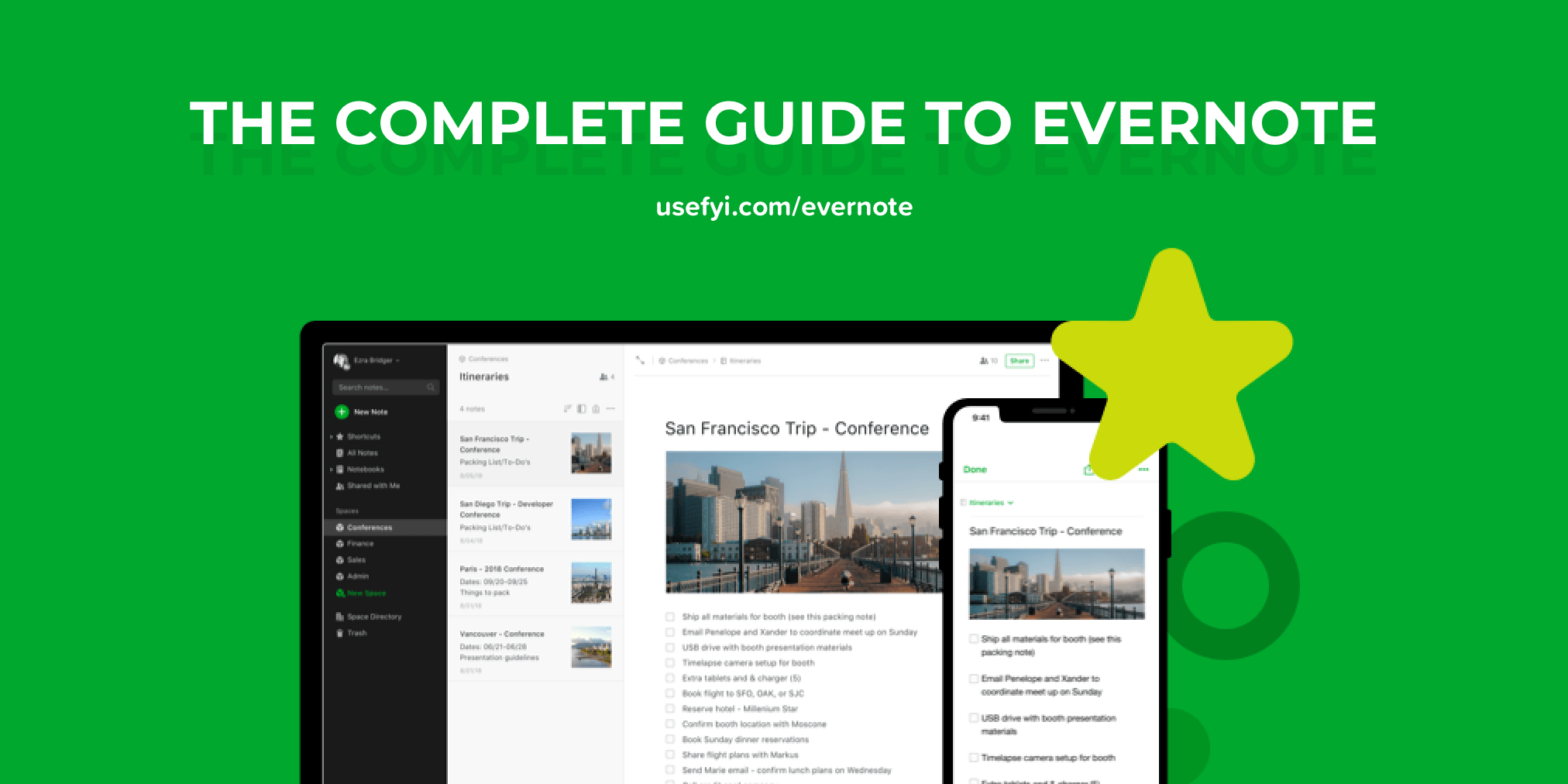 Evernote used to be the king of note-taking apps.
In fact, it was one of the darling freemium apps and became a massive business. For years, it was one of the core success stories in tech.
Now…
Evernote has lost some of its luster.
Why?
A series of management missteps and a bloated catalog of failed products.
One good example of this is the Evernote Food app. The app itself had a convoluted combination of benefits. You could use it for recipe notes, discovering recipes, discovering restaurants, and storying meal memories. That's a lot for any app. Evernote did choose to shut it down a few years ago.
That's on top of the host of products that Evernote released over the years. Notebooks, scanners, pens, backpacks, the list is surprisingly long.
More recently, Evernote has re-focused on its core note-taking app and attempted to push into the B2B market by offering a version for businesses.
We chronicled Evernote's entire history at length here.
Is Evernote Still Any Good?
Yes, it's still a great note-taking app.
It's just not THE note-taking app anymore.
Basically, lots of other apps have now closed the gap so it's mostly down to personal preference. I still enjoy Evernote myself and it's a great note-taking app. If I was picking a new app for my notes today, I'd try all the popular options and pick the one that I enjoyed the most.
To get a sense for what Evernote includes, we do a complete breakdown of all the features in our Evernote Review.
Evernote also has a few different versions that you'll have to pick between. We go through all the Evernote Pricing here.
The free version, Evernote Basic, includes all the core note-taking features. The main downside is that you'll be limited to only installing it on two devices.
As for Evernote Premium, the paid version, get it if you use PDFs heavily and would get a lot of value from being able to search them all from within Evernote. It's also a good option if you want off-line access to Evernote on your phone. The free version only gives you mobile access when you're online.
Otherwise, stick to the free version of Evernote, you can easily get around the 2-device limit by using the Evernote website on your other devices. The device limit only applies to installed versions of Evernote.
There's also an Evernote Business plan. While I use the personal Evernote plans, I can't recommend that any business use Evernote. At best, it's a redundant document tool. At worst, it's completely inferior to every other document tool on the market. There's no reason to get it for your business. I do hope they invest more time into their business plan and make it more valuable.
Evernote Alternatives
Luckily, there are quite a few note-taking apps these days that can easily take the place of Evernote.
We have a complete guide on all the Evernote alternatives here.
Microsoft's OneNote has gained a lot of traction lately, we do a head-to-head comparison in our Evernote vs OneNote guide.
Some folks have started to use Notion for personal note-taking. It's a document, spreadsheet, task-management, and note-taking app all rolled into one. Lots of businesses find it perfect since it reduces the number of apps that they need to manage. Even if you're using it just for yourself, it's a robust note-taking app. This Notion vs Evernote review breaks down all the differences between the two apps.
On the lightweight side, Google Keep is a good option. It's built into Google Docs. While it doesn't have some of the more advanced features, it's as lightweight and simple as it gets. Our Google Keep Vs Evernote breakdown goes through all the details.
Learning Evernote
If you're trying Evernote for the first time, start by reviewing our Evernote Tutorial for Beginners. It walks you through all the core parts of Evernote. You'll get up to speed quickly and get all your notes set up correctly the first time.
We also have a giant list of tips on how to use Evernote.
I recommend installing the Evernote Web Clipper browser extension. This allows you to quickly grab any webpage and send it to your Evernote. It makes saving anything to your Evernote feel like a breeze.
At FYI, we also built an integration with Evernote. This gives you one place to search and organize all your documents across every tool that you happen to use. G Suite, Office 365, Gmail, Slack, Dropbox, Trello, Evernote, all of it. Instead of having to guess where you saved something, simply use FYI and we'll search everything at once for you. It's a great tool to wrangle all your documents.