What is Document Security?
It's 10pm. Do you know where your documents are?
Unless you're buying a car, getting married, or waiving your rights to sue the trampoline park, the most important documents in your life are digital. How well are they protected?
These days, documents are shared between colleagues, customers, and businesses at a breakneck pace in the cloud. They exist on servers and devices well beyond the perimeter of traditional IT security.
The ease of exchanging documents is, unfortunately, matched by the ease of losing, misplacing, or improperly sharing them. With great power comes great responsibility.
Document security can be implemented quickly and effectively by consumers, and by businesses at scale. By finding the right product, you can make it easy for you and your teams to ensure that documents are protected, no matter how far your true IT perimeter extends.
What is document security?
Everyday, organizations and users share valuable documents with sensitive data: financial statements, medical records, sales reports, and so on. If information from these is leaked, internally or externally, it can cause major problems.
Rapid cloud adoption by virtually all companies means that many documents are being shared across SaaS (Slack, Salesforce, Dropbox, etc.), public clouds, private clouds, and on-premises environments.
Between the number of users with potential access to these resources, and the number of ways documents can be shared, it's imperative that companies set policies to keep all of their most sensitive information secure.
There are document management solutions, which come as standalone solutions, or as capabilities built into productivity suites like Microsoft 365, or cloud services like AWS Security.
Common document security features
Document security features work best together. More than just additional layers of protection, enabling several document security features in concert can facilitate the process of safely sharing information for end users.
The exact features you get depend on the service you are using. Below are 7 common document security features you are likely to encounter:
Encryption
Password protection
Restricted access
Watermarking
Document expiry
Information rights management
Document tracking
Knowing how to use these features is a critical step on the way to better document security.
Encryption
When you encrypt a document, folder, or drive, only someone with the corresponding cryptographic key can access the information. Without the key, any information in the document will be rendered as meaningless text. Even if it falls into the wrong hands, there is no way to decrypt the file without the correct key.
You can use encryption to protect documents in storage, or when you send them. Many of the best cloud security companies provide seamless encryption services for anything you store, send, or access in the cloud.
Password protection
Enabling password protection for documents provides an extra layer of security. If, for whatever reason, the document falls into the wrong hands, it can't be opened without the password.
Of course you have to come up with a secure strategy for storing, sharing, and rotating passwords. It may be something you share in a Zoom call with the team, or on a secure server that only the right personnel can access.
Restricted access
Most collaboration tools and cloud services allow administrators some form of access control, which lets them assign permissions to users, roles, groups, and resources. Only users who have been authorized can access sensitive documents. Some may only be allowed to view or comment, with editing privileges reserved for certain users.
Oversight is much easier to maintain if you build out your infrastructure so that documents with sensitive information are always-only stored in locations with restricted access. Individuals and groups that need to view or edit them can do so, and unwanted attempts to access documents will trigger warnings.
Watermarking
Including watermarks on documents is often used to signal ownership, like when a company includes a faded image of their logo behind the text. Watermarking can be employed in document security by using it to encourage safe user behavior.
You might include a watermark warning on especially sensitive documents that reminds readers the content is CONFIDENTIAL or PROPRIETARY. This serves as an extra reminder to be careful about how and where they share the document.
In addition to static watermarks, which have existed since the Middle Ages, companies can use dynamic watermarks. These identify users and leave information about who created, changed, or printed a file.
Document expiry
Deleting old documents is one of the core tenets of good security hygiene. By using document expiry policies, you can ensure that information in and outside your perimeter does not persist for longer than it has to.
It's common for groups to share sensitive information that they don't need on an ongoing basis. Document expiry allows them to access what they need without assets becoming permanently available. The best part is that these processes can be set as default or automated.
These policies can be especially helpful when people leave the company and vendor partnerships change. You may have bid out a job for a potential customer, and you don't want them to have this document if they don't end up choosing you.
You can enable self-destruct, which is essentially one-time access, and you can also revoke documents that have been exfiltrated maliciously or sent out by mistake.
Information rights management (IRM)
Like digital rights management (DRM), which protects copyrighted material, IRM protects sensitive information. With IRM, you can ensure that your documents are handled the way you want, even after sharing them with a third party.
Create documents that are view-only, and control whether users can edit, copy, paste, print, or screenshot the content. Permissions are stored in the document and authenticated by an IRM server, which prevents unauthorized on and off your network.
Document tracking
Enabling tracking allows you to see who has viewed, downloaded, and printed the document. Depending on the document security service you use, you may be able to see the IP addresses, locations, and number of times users access the asset.
Why your documents aren't protected
Companies have always needed to keep sensitive information secure, but with so much of daily work moving to the cloud, the game has changed. Employees and customers expect on-demand access to company resources.
As businesses provide this level of cloud connectivity, documents face threats in 4 areas:
Accidental loss: The vast majority of leaks are caused by employees who share the wrong document, or making it public by mistake.
Hacking and piracy: Attacks on companies have only become more sophisticated. Sensitive documents can be stolen, sold illegally, or held for ransom.
Regulatory exposure: Companies that have to abide by HIPAA, PMI, GDPR, and other regulations have to store and share documents according to security standards.
Copyright and intellectual property abuse: Documents can be duplicated without permission. Sometimes bad actors will acquire the document through legitimate means only to modify, replicate, or use them without authorization.
The attack surface of a company with cloud assets is massive. Even the smallest companies will have dozens of devices distributed among unknown networks.
As remote teams interact, everyone shares documents and links, typically working across several platforms. With so many tools to manage, it's easy to leave links open, email the wrong attachment, or commit some other seemingly minor mistake. Suddenly, a document with sensitive information is available for anyone who wants it.
Whether they are sending a Google Doc in Slack or sharing a link to a whitepaper in Zoom, users have to be extremely careful that access doesn't fall into the wrong hands.
What happens if you don't protect your documents
A few lowlights, so to speak, of what can happen when documents are lost or exposed:
Competitors get sensitive information, like customer data or sales strategies
Employees see information they shouldn't, like salaries or performance reports
Sensitive information falls into the hands of bad actors
Companies face lawsuits for failing to meet regulatory requirements for document security
Teams lose productivity because they can't find a file or the appropriate version
Shareholders lose faith because they can't view important documentation
Security breaches increase because attackers can leverage stolen information
Every year, failures in document security result in millions of dollars of losses for companies and municipalities. To prevent these disastrous scenarios, many organizations employ tools dedicated to keeping documents secure.
Best document security providers
There is quite a range of vendors that provide document security solutions. Some function as standalone products, whereas others integrate with the tools you already use to deliver additional protections.
Here are three of the best on the market today.
Soda PDF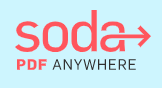 Soda PDF is a simple, cost-effective way for companies to share documents safely. With Pro and Business subscriptions ($10.50/month and $16.75/month, respectively), users get access to Soda PDF's password protection.
Simply drag and drop a document into the Soda PDF online application, and follow the prompts to create a strong password. Once the document is protected, only the password will decrypt the file allowing access. Soda PDF uses 256-bit AES encryption for PDFs, which has never been hacked, so make sure you remember that password.
You can also control document permissions, such editing, printing, and copying in order to restrict access if need be.
Soda PDF is an excellent document security product because it supports electronic signatures and multiple-layer watermarking. You can use it in conjunction with other document management solutions to enhance security, but it is not a standalone document management solution.
Locklizard

Locklizard is a fully-featured document security and DRM solution that works exceptionally well for companies with digital assets like whitepapers, ebooks, courses, and reports.
With Locklizard, it's possible to share and sell documents without fear of misuse, theft, or piracy. You can control permissions so as to prevent users from downloading, emailing, copying, screen-grabbing, printing or otherwise distributing sensitive documents.
Along with dynamic watermarking, document expiry and revocation options, Locklizard has other advanced features like GeoIP locking, which ensures documents are only opened in specific places, like an office location or specific country.
The document tracking capabilities in Locklizard are especially well-developed, which is attractive to companies with regulatory obligations.
You can purchase Safeguard PDF Security from Locklizard, which is a full-bodied document security solution, or Safeguard Enterprise PDF DRM. Both products come with DRM capabilities, but their enterprise offering is better at helping companies that are likely to have multiple tiers of administrators. You can try Locklizard's products free for 15 days.
DocSend

DocSend is an document security service designed for collaboration. It is easy to deploy and integrates with all the major SaaS apps, which means you can adopt DocSend with little disruption to your current work flows.
It comes with the standard passcode and encryption features you need to protect sensitive information, but users also have the option to upload documents to Spaces. Here they can share multiple documents with a secure link.
Space owners can manage permissions and versioning, using the virtual location to centralize work for their team or deliver an on-brand experience to customers.
It's more than just another layer of document security. The link analytics within DocSend allow you to track views and how much time users spend on each page. This can help you identify interested customers and continuously improve the performance of your content.
Some of the document management features are excluded from their Personal plan ($10/month), though it includes many of the key document security capabilities. The Standard plan (45/month) comes with more of the team management tools, such as the ability to host Spaces, but none of the advanced document security features.
Advanced plans ($150/month) come with 3 users and all virtually every DocSend capability, like One-click NDA, viewer whitelisting, and secure viewer verification.
Other document security tools you should be using
Document management systems
Some companies elect to use a DMS, or document management system to ensure security. The best document management software gives companies complete visibility and granular control over document creation, sharing, and storage across their organization.
Although a DMS is focused on management at scale, many products in this category include one or several of the document security features outlined above.
Productivity suite capabilities
If you are using Microsoft 365 or G Suite, you should take advantage of the document security capabilities that are available on those platforms. Some of the protections are built-in, some need to be enabled, and others available via the company's marketplace.
For example, you can password protect a Microsoft Word doc with a few clicks. Additionally, Microsoft 365 subscribers who have compliance features enabled, users can apply sensitivity labels to ensure that the appropriate policies are enforced, no matter where the document travels.
In G Suite, you set expiration dates for file access in Drive, Docs, Sheets, and Slides, and there are multiple password protection options for Google Docs available on the marketplace.
In addition to the document security capabilities included with your productivity suite, be sure to enable all the protections provided by your cloud service provider.
Cloud security services
Whether you use AWS Security, Azure Security, Google Cloud Security, or another platform, you want to be sure that you are leveraging all tools available. Securely configuring your network, monitoring traffic and web applications, and establishing robust DLP policies are essential for document security.
How to protect your documents with real-time access control
Nira is a real-time access control system that provides visibility and management over who has access to company documents in Google Workspace, with more integrations coming soon.
Contact us for a demo, and we'll review your current setup or help you implement a real-time access control system for the data you already have.