The 5 Best Collaboration Tools for Every Team
The market is thick with collaboration tools that promise to help your teams tackle every problem. Should you believe the hype?
Not entirely.
Some of the newer, exciting tools are unproven. Some of the mature products are freighted with unnecessary features.
The truth is that some products are better than others. The best collaboration tools don't ask you to change the way you do business, let alone slow you down.
Each of the five options on our list provides a dependable platform for people to work together across a variety of channels.
Whether your workforce is on-site or distributed, these top collaboration tools have a manageable learning curve, affordable pricing, and the power to start delivering benefits immediately.
The 5 Best Collaboration Tools: Reviews
Our reviews list the base monthly price per user, which almost always entails signing up for an annual commitment.
I recommend getting in touch with sales to walk through the actual cost of getting your company onboard. Plus, now that everyone is working from home and these companies are competing for new users, you may be able to get a deal on many of the best collaborative tools.
After the reviews, I'll lay out a step-by-step process for narrowing the selection down to the best possible product for your needs.
Best document-retrieval tool for collaboration
Pricing:
Free
Standard: $8
Plus: Contact sales
Enterprise: Contact Sales
Pros
Unified search across all connected apps
Powerful predictive search
Cloud Collaboration Platform
Cons
More integrations would be nice (we're working on it!)
Finding the right file is so essential to collaboration that people don't think about it… until they can't locate what they're looking for. Then it's a big issue.
FYI is an app that puts the documents you need within immediate reach. You can install the chrome extension, which replaces your new tab with an intuitive dashboard that brings up the files you need: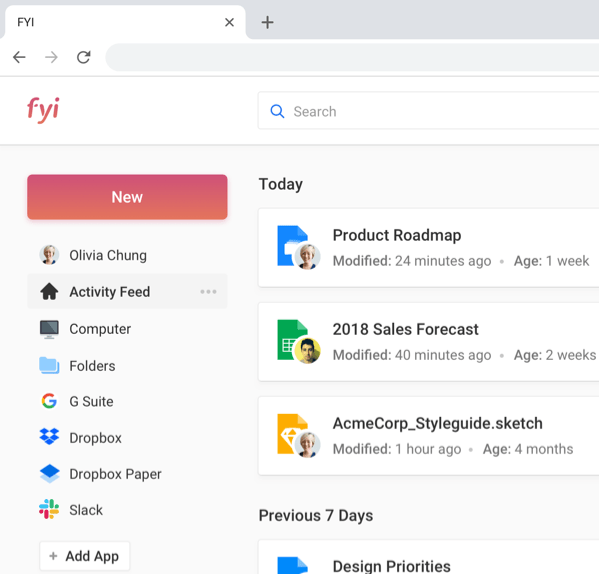 The UI is clean and easy to navigate the first time you use it. Essentially, FYI collates documents from all of the business services you connect to it. Instead of switching between accounts or apps, you can search across platforms from a single location. This includes files FYI discovers automatically on your desktop.
The predictive search is great, often summoning the files you need before you've asked.
Each day, FYI saves users time locating documents, especially if they are working across a number of platforms. The savings makes a noticeable difference at the micro-level, and over the course of a year, adopting FYI may save literal weeks of billable hours.
Losing track of files is always a pain and a waste of time. And if it happens while you're hosting a meeting, or holding a webinar on Zoom, you're going to lose all momentum, to say nothing of the embarrassment and squandered attention.
Slack
Best collaboration tool for communication
Pricing:
Free
Standard: $6.67
Plus: $12.50
Enterprise Grid: Contact sales
Pros
Feature-rich
Extremely customizable
Tons of integrations
Cons
When it comes to digital collaboration, Slack is a longtime leader in the field. Their platform sets trends, and their user loyalty is based on delivering top quality tools that help companies communicate.
Slack is a business chat service that replaces email for internal company communications and helps break down information silos. With email, a person only sees what another person manually sends to their inbox. On Slack, communication is opened up and broken into channels:
Users can customize their channels to capture the specific work of departments, teams, or individual projects. This way, everyone can see the relevant information, keeping interested parties in the loop without managing a listserv.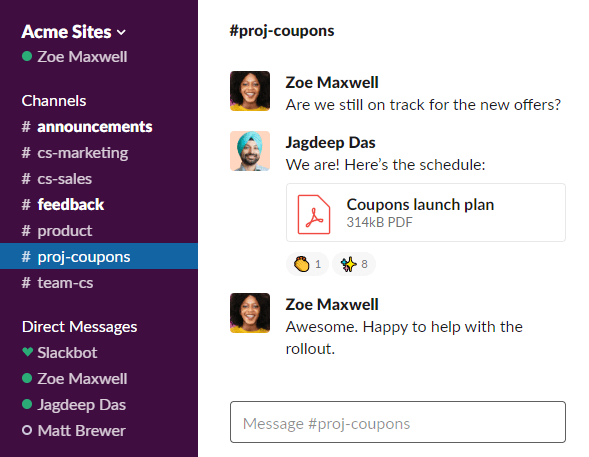 Private chat allows people to stay in touch without cluttering the workspace of others, launching a voice or video call directly from any conversation.
Slack boasts an impressive number of integrations that support developers, finance, HR, healthcare, and dozens of other sectors, though the free version is capped at 10 integrations.
With paid versions, you get more storage, video calls with up to 15 people, customize retention policies for messaging and files, as well as business-grade 24/7 support.
If there's one common knock against Slack, it's that there are so many features that it can take a bit of time for users to optimize their experience. I love Slack for its deep customizability, but if you're looking for something that sets up in a snap, the next option will suit you well.
Trello
Best lightweight collaboration tool
Pricing:
Free
Business Class: $9.99
Enterprise: $20.83
For non-profit and education Trello pricing, go here.
Pros
Virtually no learning curve
Flexible views
Automated workflows
Cons
Some limits on mobile app
Trello is a fun, simple, extraordinarily flexible Kanban-based project management tool. It helps teams organize and prioritize their work by breaking large tasks down into cards on the Trello board: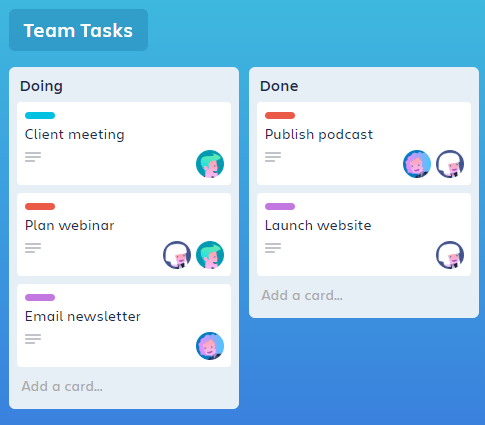 Each card contains all of the information people need to collaborate on a specific task, and each board contains all the tasks associated with a particular project. Track progress by dragging and dropping cards between columns.
Nothing gets lost, and everyone who shares the board gets updates in real time.
One of Trello's handiest features is the ability to switch between views. With one click you can turn your Kanban board into a calendar or timeline.
There's a growing number of apps with a similar feature set, but where Trello rises above is in the ease of building automating workflows. Using Butler, which is included with paid versions of Trello, you can build custom card and board buttons, calendar commands, and rule-based triggers. There are more advanced options available through Power-Ups.
The free version offers a limited version of Butler, so you can get a sense of the time it saves.
Though it's lightweight, there is a ton you can do with Trello. It's hearty enough to work as a sales pipeline, but so intuitive that you can definitely run a successful agile retrospective on Trello with first-time users.
Really, any team can collaborate using Trello for any project. There are certainly more robust products on the market. If you are looking for more tracking and reporting features, you might explore Microsoft Teams, or another more heavyweight project management software.
AirTable
Best spreadsheet/database collaboration tool
Pricing:
Free
Plus: $10
Pro: $20
Enterprise: contact sales
Pros
Customizable field categories
Flexible view
Lots of integrations and easy import/export
Cons
People fall in love with Airtable because it's a spreadsheet with database capabilities that's flexible enough to accommodate a massive range of tasks. Almost any department can start using Airtable to create a visually appealing and powerful collaboration tool that's completely customized to their use case: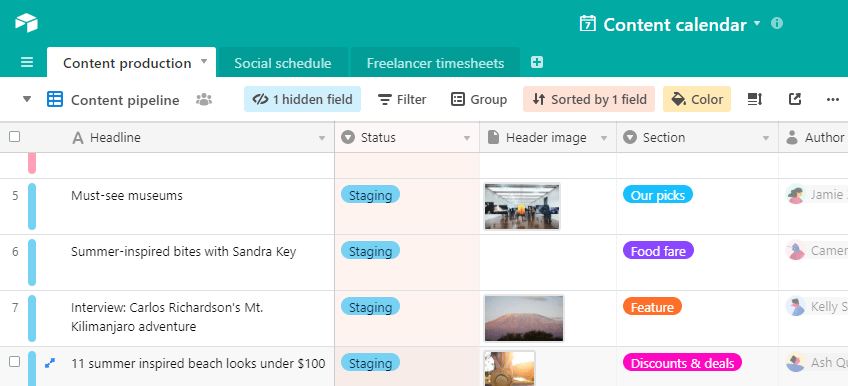 What makes Airtable so effective is that it's easy to pull data from one table into another. Instead of complex formulas, you can customize each field to reference the appropriate information from a dropdown menu.
Each record has an activity feed that logs changes, and allows users to leave comments and @mentions. The length of your revision history depends on your subscription, as do the number of records per base (base = spreadsheet in Airtable).
The bottom line is that it goes well beyond Excel and Sheets in terms of organizing, grouping, and recalling information. One click switches from grid to Kanban, gallery, or calendar: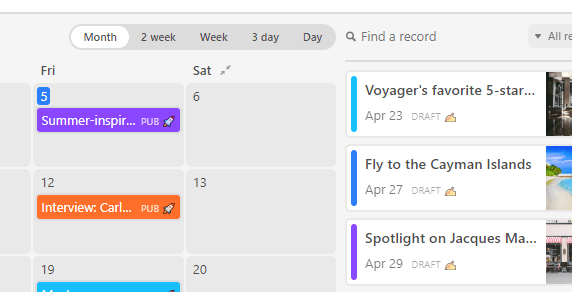 There's no in-house chat feature, but the Slack integration is phenomenal and seems to be what Airtable wants you to use.
It takes some getting used to the set up (did anyone say setting up a relational database was easy?), the app's out-of-the-box function is greatly increased by the ease of importing your files, the pre-loaded templates, and free support resources.
Go here for an in-depth review of Airtable.
Microsoft Teams
Best all-around collaboration tool
Pricing:
Free
Microsoft 365 Business Basic: $5
Microsoft 365 Business Standard: $12.50
Microsoft 365 Business Premium: $20
Microsoft 365 E3: $32
Microsoft 365 E5: $57
Microsoft has laid out its non-profit, education, and government Teams pricing here.
Pros
Bundled with full-featured Microsoft 365 productivity suite
Mix and match licenses increase affordability
Customizable
Cons
Some organizational complexity
If your business is already invested in a Microsoft ecosystem, chances are you already have access to Teams, one of the best collaboration tools that exists. Period. It's persistent chat, voice, video, and file sharing all in one app.
Launching in 2017, it's a relative newcomer to the space, but you won't get that impression from the feature-rich experience. Similar to Slack, Teams divides your conversations into channels, putting everything in a dedicated space.
The organization of Teams takes a little getting used to, but once you learn how to navigate, the system proves capable of storing all your communications within a few clicks.
The biggest selling point with Teams is that it comes as part of Microsoft 365, which is a full-featured productivity suite. With Teams, you get native integration with other Microsoft Office apps and business services, including:
Word
Excel
PowerPoint
SharePoint
Meetings
OneDrive
OneNote
Whiteboard
There is no other collaborative tool with this range of services baked in:
As with any Microsoft product, the constant upgrades to Teams are phenomenal. You can now "raise your hand" at a meeting, edit sent messages, check read receipts, and leverage AI to muffle background noise.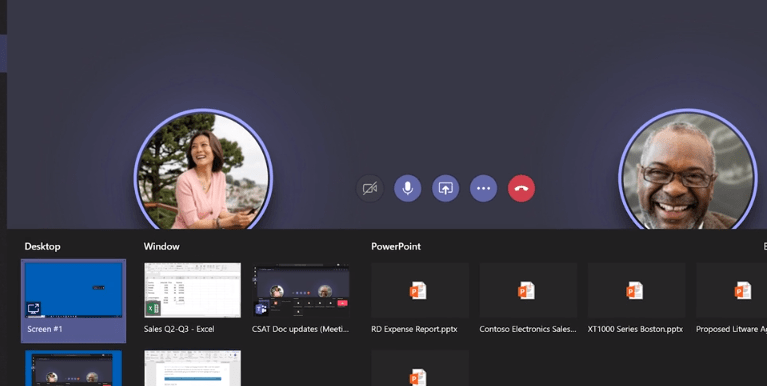 Sure, some collaboration tools had these features before Teams, but Microsoft users didn't have long to wait.
If you are interested, check out the free version of Teams that Microsoft released to compete with Zoom and other video conferencing software. It doesn't come with the advanced IT or compliance tools that come with the paid versions, but you can still get a sense of how powerful the program is.
How to pick the best collaboration tool
You don't just need the best tool, you need one that helps your teams collaborate on their terms.
Here's how to separate the greatest from the great.
1. Set your goals
Different departments in the same company are going to be looking for software to help them work together in different ways. Ideally, the solution you find is going to work for sales, customer service, development, management, etc.
One of the major goals of adopting collaborative software is to break down information silos. That's not going to happen if you pick something that frustrates some users while helping others.
I recommend forming a task force to oversee the transition. They can be in charge of collecting information from various teams and building a collective sense of the features and experience everyone needs. This group might even test drive a free version of one of the promising candidates to get a real-world sense of the platform.
2. Determine the cost
Once you have a shortlist of options that should work based on what you discovered in step one, reach out to sales to get a comprehensive picture of what the total cost is going to be.
The more information you can give sales, the better. Be honest about how much storage individual users are going to use, or the add-ons and Power-Ups you need to buy. Anticipate growth and forecast what the increase looks like.
Sales can also help you figure out how to get the most out of potential integrations, which may enable you to give your team a full experience without having to buy premium tier plans.
You may also be able to mix and match licenses. This lets you give your admins access to advanced security features, for example, without having to buy premium across the board.
3. Find your product
After getting the rundown of the total cost for each of the options on your shortlist, assemble your taskforce and relevant stakeholders to determine which path is the best way forward.
If you can't surface a top choice, some things to consider are:
Ease of transition: how hard will it be to import information to the new platform?
Success in your vertical: which tools are your competitors having luck with?
In-house experience: which tools have people at your company have used before?
Depending on your deliberations, you may just have to make a choice between two great options. And in the end, much of a collaborative platform's success is due to how you roll it out.
4. Launch during a planned adjustment period
You need the company to buy into the tool you choose, regardless of how amazing it is.
The problem is that it's inevitably chaotic to reorganize the familiar lines of communication.
Employees have to keep working at top level, taking the adjustment in stride. Take steps to make the switch as easy as you can on them.
Plan an adjustment period where you make time for people to get oriented. Try to transition during a relatively slow time, when possible, and be transparent. When is the transition happening and why?
Support your employees by making time for training. This isn't free, but neither are the mistakes people make trying to collaborate on an unfamiliar platform.
5. Be intentional about feedback
Once you have your new collaborative platform up and running, it's probably good to have the taskforce get together after a month or two. Encourage feedback from all quarters and try to get a sense of what's working, what's not working, and what people want to change.
You may be able to make some adjustments to improve the user experience or save on costs. Find out, for example, if certain users would benefit from premium features. You might also discover that far more people are fine with a free plan than you thought.
Don't just collect feedback–give it. Get in touch with your vendor and share your experience. They want to hear about your problems (red flag if they don't), and they may be able to provide solutions.
Moving forward, keep an open ear for what people are saying. With subscription services, you have the option to move on if things aren't working.