The 7 Best Project Management Software Tools for 2020
You've got hundreds of project management software tools to choose from, but you just need one. What do the best project managers use? Surely these tools all do pretty much the same thing?
You might be surprised by how much they differ. That's why there's no objective "best" of the bunch. There's only what's best for different kinds of needs.
So, in this post, we've chosen the best project management software products in their category⁠–kanban, spreadsheet, and more–from lightweight options like Trello to more robust behemoths like Asana. Once you know what project management methodology your team needs to work by, your best choice will be much clearer.
Read on for in-depth reviews of each product, followed by how to choose the right one for you.
The 7 best project management software tools
Here's how our top picks rank from lightweight to feature-rich: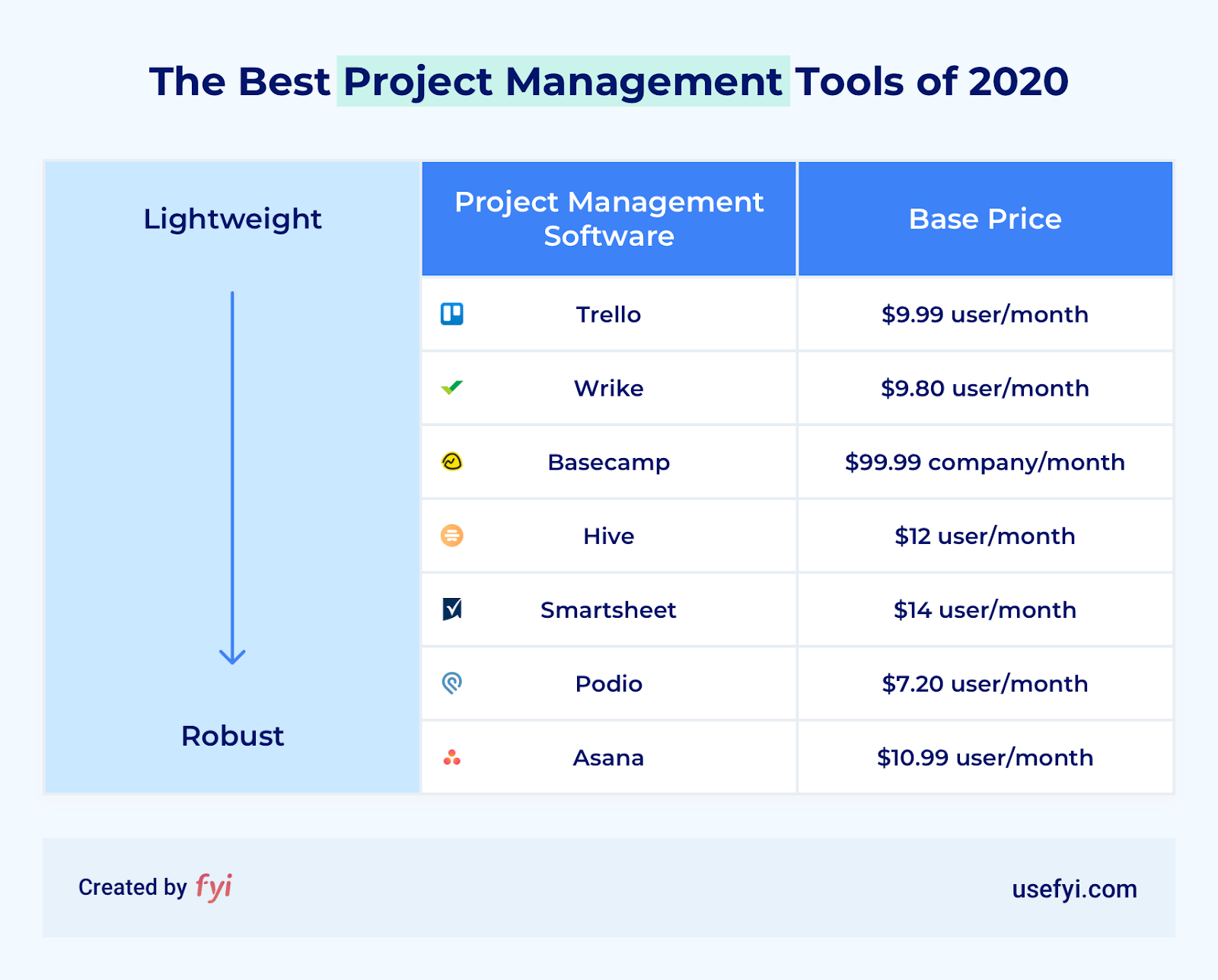 Though there's plenty of overlap, these feature sets allow for markedly different ways of working. Without further ado, let's compare them.
1. Trello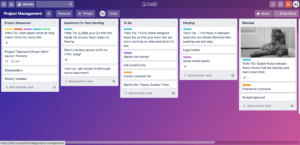 Trello is one of several project management tools offered by Atlassian. It occupies something of a middle ground between Jira, designed for agile software development, and Confluence, a knowledge base for the enterprise.
At its core, Trello is a Kanban-based project management tool that breaks your big rocks into boards, lists, and tasks that update in real time. There are tons of templates built for marketing, engineering, wedding planning, and more specific teams.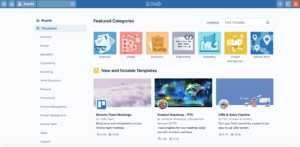 It's easy enough to start using immediately, and what separates Trello from other lightweight whiteboard software is the ability to automate workflows with rule-based triggers, calendar commands, and custom filters for cards and boards.
You can also create cards by sending or forwarding an email to Trello, which is great for email-centric offices.
Anything that Trello lacks, it makes up for through integrations and add-ons (or what Trello calls Power-Ups). Connecting Google Hangouts, for example, creates a video chat button right on your Trello boards, and you can link to Dropbox, Google Drive, OneDrive, and other services for your file management.
Pricing:
Free plan: 10 board limit
Business Class: $9.99/user/month
Enterprise: $20.83/user/month
Pros: Clean, simple, virtually no onboarding required, extensive integration
Cons: Limited capabilities beyond the team level
Wrike's users depend on its minimalist UI. The intuitive set-up organizes work into four basic "building blocks": spaces, folders, projects, and tasks. They're easy to track cross-functionally, which makes this a good choice for distributed teams.
And the integrations empower you to use Wrike across your business⁠—for file storage, content management, CRM, email integration, chat, content management, and more. Add-ons like Wrike Lock and Wrike Resource provide additional solutions for audits, security, HR, and other needs without having to rely on a third party.
Be aware that the professional plan maxes out at 15 users. But it's considerably more robust than the free version. If things like cybersecurity are a concern, you'll want to go for the Professional or Business plan.
Pricing:
Free plan: 5 user limit
Professional: $9.80/user/month
Business: $24.80/user/month
Pros: Free for up to five users, easy to use, interactive Gantt charts and other features, extensive integrations
Cons: Advanced features come only with higher-tier pricing, professional limited to 15 users
3. Basecamp
Basecamp has been in the game since the early 2000s. Their current product is one of the best project management software options for individuals, managers, and owners.
The sleek UI organizes all of your projects, teams, and company-wide communications in a vertical feed. You can clearly see who is part of each team, which can access same set of tools:
To-dos
Message Board
Project Schedule
Docs & Files
Campfire (chat within a project or team)
Forwards (save and reply to emails within Basecamp)
The message board streamlines messy email chains, allowing everyone to communicate in one place. The To-do list isn't a full Kanban board, but it's still easy to see what's done, what's not, and assign tasks.
The Hey! inbox is another nice feature of Basecamp that collects all your assignments, notifications, @mentions, and assignments from different groups in one place.
Basecamp's longevity as a project management software provider is reflected in some of the neat features they've designed to solve real human problems. You can use Automatic Check-ins, for example, to quickly get feedback from the entire company without the need for time-consuming status meetings.
That said, some reviews of Basecamp suggest that not everyone finds the UI intuitive, which is something to be aware of.
Price: $99.99/company/month
Pros: Flat-rate pricing is attractive for scaling users, unlimited number of plans
Cons: Integrations for time tracking, interactive Gantt charts
4. Hive
As simple as Hive looks, it's deceptively powerful. Your email inbox and chat are fully integrated, and if you need third-party apps, Hive supports more than 1,000 integrations in total. You can also import tasks from other tools like Trello and Asana if you're switching over.
You'll have to spend extra per-user to get advanced tools for resourcing, time-tracking, timesheet reporting, and analytics, but what you get out of the box with the base package is impressive.
For streamlining workflows, even the basic Hive Automation is easy to use and monitor. It lets you move actions between projects, change assignees, and more in just a few clicks. And there are more time-saving features built in. For example, you can convert meeting notes into actionable tasks that update your schedule automatically.
At the project level, you can switch between several views: table, Kanban board, Gantt chart, or calendar. Summary View sorts information across multiple projects by status, team member, or department.
Every morning, Hive curates a personal My Action List that brings tasks from all of your projects into a single list. Hive Analytics takes it a step further, leveraging AI and machine learning to give you real-time insight into your team's productivity.
A word of caution: Unlike some of the other products on this list, Hive's mobile app is not nearly as feature-rich and easy to use as the desktop version. Rumor is it's getting better, but be sure to test-drive it before you assure your team they can work from anywhere.
Pricing:
Base Package: $12/user/month (annual) or $16 month-to-month
Workspace Add-ons $3-$6 per user, per month, plus base price
Pros: Strong out of the box functionality, email and chat within the dashboard
Cons: Some of the best features cost extra
5. Smartsheet
If you love spreadsheets, you'll appreciate Smartsheet. It's not dissimilar to Excel in terms of UI and navigation.
On the other hand, if you're looking for usability right out the gate, it might not be for you. The more complex the task, the more Smartsheet will help you untangle it. But for that level of control, you sacrifice the ease-of-use you'd get with something like Wrike or Basecamp that people tend to run with immediately.
Think about it like a grid (Smartsheet's term for spreadsheet) where you can assign tasks, track progress, capture data, and generate high-level reports. Smartsheet breaks out data from your grid into calendars, cards, and Gantts if you need them.
But where Smartsheet differs is that it's easier to build out in grid view, as opposed to tools like Hive, where the views are meant to be interchangeable. From grid view, you can easily do a whole lot of things that would be time-consuming or impossible in other apps.
You can enable dependencies, for instance, to add information about durations and predecessors. That way, as you make adjustments to the schedule, Smartsheet will automatically adjust the dates and durations of any dependents.
Pricing:
Individual: $14 per month
Business: $25/user/month
Pros: Unfettered internal/external collaboration, excellent mobile function, support included
Cons: Overly complex for basic tasks, reports only available at business level
6. Podio
Podio allows for some impressive customization. Rather than fitting your needs into a template for projects, you decide the important parameters within customizable apps.
It sounds complicated, but the structure of Podio—Items, Apps, Workspaces, and Organizations—is accommodating and flexible. Using the app builder to customize projects further is a boon for working across different departments.
As well as for projects, there are apps for CRM, team and enterprise collaboration, and of course a slew of useful features designed specifically for project management.
The drawback is that it takes users some time to get acclimated, which makes the configurability a potential minus. All the bells and whistles can be too much for the typical project and frustrating for new users.
That said, if one of the pre-set templates is enough to get you started, it doesn't take much to tweak it to your needs. Support is available when you need it.
Pricing:
Free plan: 5 user limit
Basic: $7.20/user/month annually ($9 month-to-month)
Plus: $11.20/user/month annually ($14 month-to-month)
Premium: $19.20 user/month annually ($24 month-to-month)
Pros: Affordable, multifaceted, incredibly customizable
Cons: Complex setup, slight learning curve, some history of platform outages
7. Asana
Asana is a project management platform used by the likes of Salesforce, Deloitte, NASA and other global organizations. It's packed with features that have helped these industry leaders save time and streamline highly distributed teams.
It appears much like the other tools in this list and comes with virtually everything we've seen thus far, but you get comparatively more control over each feature. Within tasks, for example, you can create subtasks for different team members.
You can also cross-index tasks to multiple projects instead of creating duplicate tasks for different teams to save time and cut back on clutter. When it comes to finding specific subtasks or tags you've created, the search function looks up keywords anywhere in the task.
To visualize your work at the project level, Asana lets you toggle between List, Board, Timeline, and Calendar. Within each of these views, you can add detail to projects, assign tasks, adjust deadlines, and group tasks however you need to.
Project Conversations give the team a dedicated space to communicate, and you can set notifications to keep everyone in the loop about important comments or updates.
The mobile functionality is great on iOS and Android. There's not much you can't do on Asana from a phone, and if you have to work offline, Asana lets you know how many items are pending sync to avoid confusion.
Asana can serve any use case, large-scale or small. On the other hand, this product isn't known for user-friendliness. It can feel a little too powerful for basic projects.
To ensure company-wide buy-in, we suggest dedicating time and resources to onboarding and training in Asana and anticipating that new hires will need the support as well.
Pricing:
Free plan: 15 user limit
Premium: $10.99/user/month annually ($13.49 month-to-month)
Business: $24.99/user/month annually ($30.49 month-to-month)
Pros: Built-in chat, deep integration with top tools
Cons: Moderate learning curve, robust feature set
How to choose the best project management software for you
Good project management requires a few must-have capabilities. Whatever your specific needs, you'll want to assess the software's strengths in these three key areas:
Integrations
Project management software centralizes your work and, ideally, reduces the number of other programs you rely on to get organized. But you likely get work done across a multitude of apps. Does the product come with quality integrations with programs you depend on already?
The second question you'll want to ask is, what do you need to get to the next level of project management maturity? Check out what add ons, power ups, etc. are on the menu.
Do they give you enough room to grow? How much is that going to cost?
Collaboration
The biggest thing that will make or break the success of project management software are the people who use it. And if they don't want to use the software, it's dead on arrival.
One way to empower users is to make sure they can easily collaborate. Bear in mind that different tools and their settings allow for different levels of visibility. The more control, the bigger the incentive for folks to centralize communication, helping to break down information silos and keep teams informed.
Support and training
The products above include extensive customer support and training resources. Additionally, they're widely used enough that reddits, blogs, and other forums are full of guidance and troubleshooting tips.
As you consider your options, be sure to check out what kind of help is available. Even if you are the project management wizard of the company, you'll want to be able to point colleagues to support pages when you don't have the bandwidth to help.
It's a huge plus if your team feels like they can figure things out on their own. Even better when they can take advantage of features you didn't even know could be helpful.
Final thought: Free versions aren't totally free
Most project management software vendors⁠—including all on this list⁠—offer free trials and free-forever versions. Free-forever versions can seem enticing, even if you plan to upgrade, because there's no time limit to your "trial."
Just remember that the free version is probably missing a few key features. Be sure to get an accurate picture of what it includes ahead of time so you know the trial will actually be useful.
You can always contact sales if you want to test drive any premium features⁠—as you should if they're make-or-break.