Zoom Review: Is it Worth the Hype?
Why is Zoom popular? Because it just works, whether you're a computer wizard or not.
I could end the review there. But given the recent problems with Zoom-bombing and other technical issues, you'd be right to wonder: is Zoom a security risk?
Zoom has heard the criticism and responded well. With the release of Zoom 5.0, many issues were resolved, and Zoom even announced support for AES 256-bit GCM encryption. Plus, they acquired Keybase with the goal of building an end-to-end encrypted meeting mode.
With that, there's little reason not to choose Zoom. If you need convincing, read on about its pros, cons, and why we recommend it for most users.
What do you get with Zoom? A quick overview
Pricing and plans
Is Zoom really free?
Yep. The Basic version is free forever, and you only need an account if you want to host meetings. But there are some limits to this plan, which we'll cover below.
Beyond that, Zoom offers four tiers of pricing, with a significant price increase to Pro, the next tier up for individuals and small businesses. For larger businesses, Zoom offers Business and Enterprise plans that come with advanced admin features, extra security, and managed domains that enable safe and seamless video communication for thousands of people each day.
Here's a breakdown of the major differences between plans: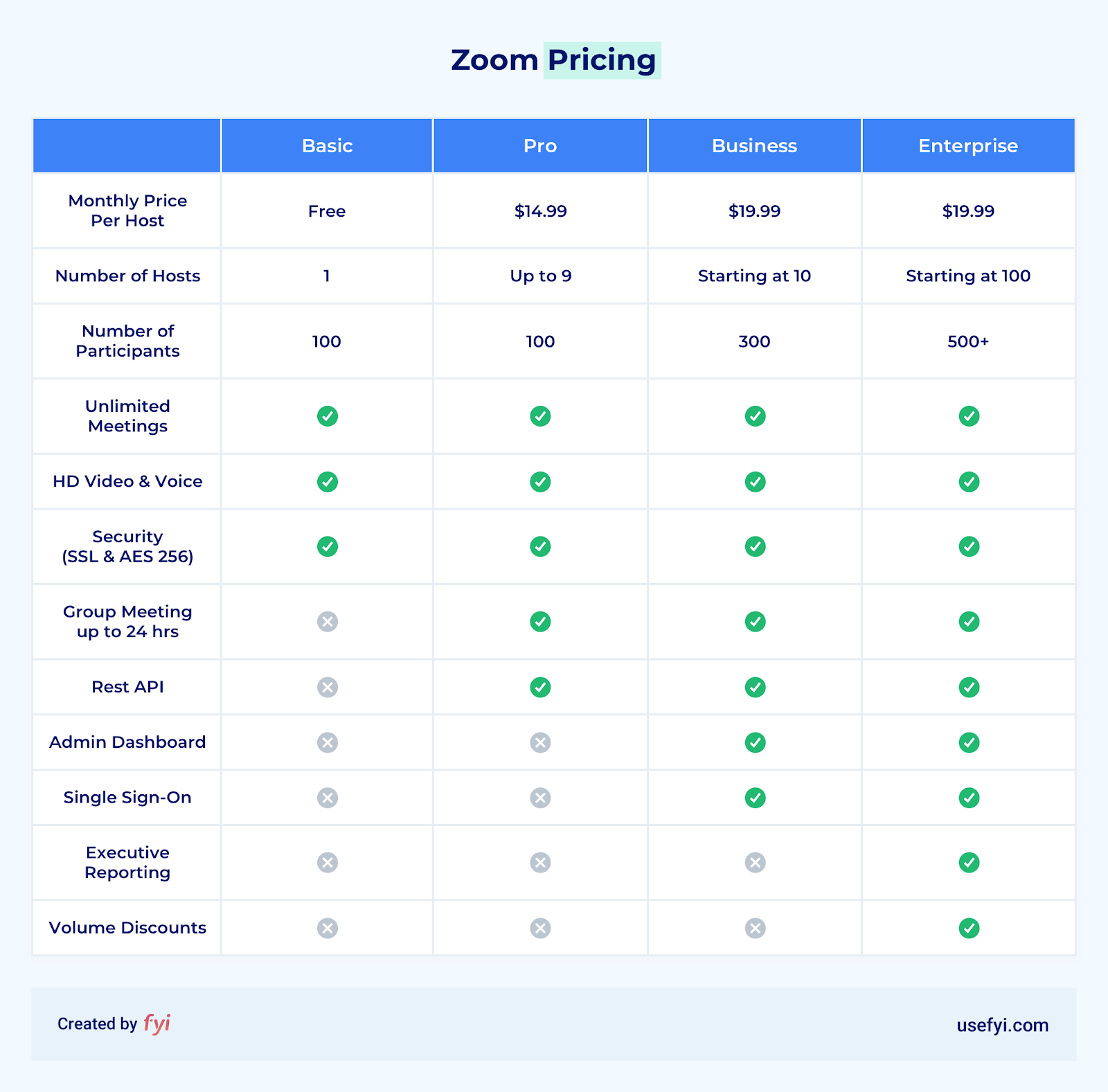 The pricing for Zoom is largely based on the number of host licenses you purchase.
One key thing to remember is that you can mix and match. Get Pro licenses for the few people in your company who need the extra features, and the rest can use Basic for free.
Zoom also offers add-ons that help you customize your plan. The Large Meeting add-on, for example, gives small teams the ability to field thousand-person web events without having to bump up to a subscription that's intended for much larger companies.
Key features
Regardless of the subscription level you choose, Zoom is feature-rich and hands down one of the best video conference software tools on the market.
Here are some of the key features that lead folks to choose Zoom for reliable communication:
Unlimited meetings: There's no cap on the number of meetings you can host.
Unlimited video feeds: Hosts don't have to decide who's visible and who's not.
Flexible views: Toggle between active speaker and gallery views. Pin a single view. Show up to 25 video feeds on a single screen.
Simultaneous Screen Share: Multiple participants can share their screens at the same time.
Host control: Manage participants' video, audio, and screen sharing capabilities. You can also assign a co-host who gets control features.
Group Chat: Participants can send messages and files to the whole group or privately.
Raise Hand: Muted participants can signal the host.
Waiting Rooms: This lets hosts control when a participant can join a meeting.
Cloud recording: Save video, audio, and text from your meetings.
Breakout Rooms: Separate your meeting into separate sessions for individual discussions, then bring everyone back together seamlessly.
Whiteboard: Share a visual workspace and co-annotate with other participants.
Remote Control: Request and give permission to take control of another participants' keyboard and mouse during a meeting.
The in-session features included with Zoom outclass most of the competition, including paid plans in some cases. This isn't even an exhaustive list of what you can do.
Want Zoom to touch up your appearance? No problem.
They're releasing new features all the time, but somehow Zoom has kept the UI clean and simple. Even your grandma can use it.
What makes Zoom different?
Beyond the generous freemium plan, what makes Zoom different is the ease of adoption and use.
This isn't the only intuitive video conference product on the market, but Zoom has flattened the learning curve to near zero so that the vast majority of users are Zoom-literate by the end of the first call.
At base, it's incredibly easy for people to teach each other how to use Zoom. There aren't that many buttons and tabs to master, but you can do a lot.
Let's take a closer look at Zoom's pros and cons.
Pros
Collaborative tools
This is the area where I think Zoom is attracting the most business users.
You get HD audio/video for crisp calls, flexible view-settings to enable various meeting types, and a suite of collaborative tools that empower teams to work together from wherever they are.
The screen sharing, group messaging, and whiteboarding capabilities that come standard with Zoom make it easy to share information of multiple media types.
You've also got breakout rooms, which let you separate a large video conference into smaller groups that can have private chats. You can create up to 50 breakout rooms during a single call, and participants can easily join whether they are on a desktop or mobile device: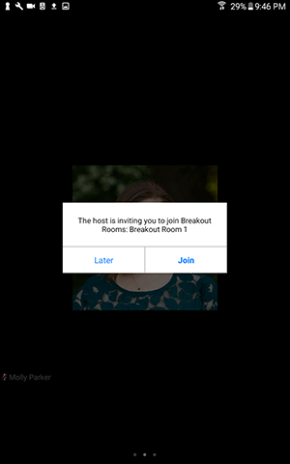 This is a great tool to mix up your meetings and webinars. For teachers, it's a godsend for group work. Hosts can see who's working, change participants, or allow Zoom to randomly assign everyone.
After individual meetings wrap up, the host can bring everyone back together to collaborate in those specific groups.
Flexible scheduling
Zoom makes it easy to organize meetings, no matter where you are. You can schedule from:
The Zoom Web Portal
The Zoom App (desktop or mobile)
Plugins for Chrome, Outlook, and Firefox
The range of options lets you streamline the process and stay on top of your schedule. If you're a G Suite user, for example, you can download the Zoom Scheduler extension from the Chrome Web Store and start scheduling meetings directly in Google Calendar.
It's also really easy for people to join meetings, which means you don't have to worry about the other end. With a few clicks, you can send an invitation with a link to your meeting that spells out exactly how to join.
Attendees can download the app without having to create an account, or they can hop on the call through Zoom's web client, which is a breeze for first-time users.
Integrations and App Marketplace
Part of the allure of Zoom is the balance between a lightweight, easy-to-master UI and a powerful feature set. Integration with more than 350 other apps allows you to further extend your video conference capabilities without losing the frictionless experience.
For example, with MailChimp and Salesforce, you can automate the process of following up with leads after a successful Zoom webinar. Sync attendee information directly to your contacts.
With Zapier, you can create automated workflows with Zoom. More than 1500 app integrations for Zoom are available. No need to write code to build integrations for repetitive tasks.
Call recording and transcription
Zoom makes it easy to record calls on your computer or mobile device. You need to be on the desktop client to record calls locally, but cloud storage for mobile is available with the paid versions.
Recording begins with a single click and you can control whether or not other participants will be able to record the meeting.
If you have a Business, Education, or Enterprise plan, the recording options are even more robust. You can change your settings to record, audio, video, chat text, and even transcribe the conversation into English.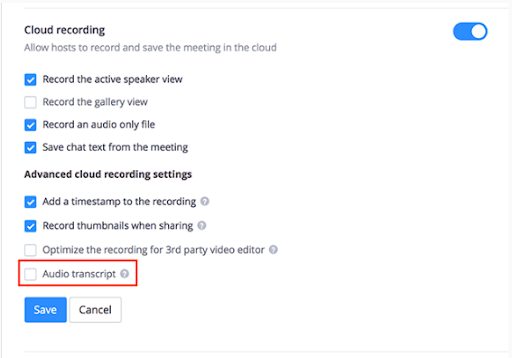 When you process an audio transcription, you can view it as a separate text file, or you can display the text within the video like a closed caption display.
Cons
Security issues with Zoom
As I mentioned, Zoom has had a public reckoning for its potential security issues. That said, they've taken steps to let you do things like remove participants, lock meetings, and report users. For the vast majority of users, the security problems are not a big deal.
But, as more companies turn to Zoom for telehealth or to discuss sensitive business information, the need for 100% secure communication becomes a must. Keep in mind that Zoom is still working out a few kinks.
40-minute limit on group conferences with the free plan
This is the biggest complaint about Zoom. Part of me feels like it's a stretch to include this as a downside to the generous Basic plan, but it is an important limit to know about.
To some folks, the downside is the significant jump in price from Basic ($0) to Pro ($14.99 host/month).
But it's important not to get stuck paying for more users than you need to. With Zoom, you only need Pro subscriptions for people who need to host longer meetings, or to take advantage of other advanced features. There are handy ways like this to save costs.
Call-in access costs extra
Although Zoom has tried to make the costs of dialing into calls as transparent as possible, I've heard complaints about these charges.
The prices depend on the countries involved, your Zoom plan, whether the call is landline or mobile, and whether or not it is a Toll, Toll-Free, or Call Out.
This isn't going to affect all users, but here's an overview about how Zoom charges for using dial-in numbers and a breakdown of their rates based on country.
Our recommendation
Should you choose Zoom? It depends what you need it for.
If you need a standalone, full-featured conferencing tool that anyone and their grandma can set up and use, no matter their device, OS, or technology ecosystem, we definitely recommend Zoom.
For internal business communication, there might be a better option for you.
If you already work in the Microsoft ecosystem, Teams is a fully functional option that won't cost you extra to get started. Teams is a chat-based persistent workspace with a lot more customizability than a Zoom chat. Because it's replacing Skype for Business as Microsoft's video conference platform, you'll still get great call quality, as well as Microsoft's robust security features.
Similarly, if you're already using G Suite, see if Meet will get the job done.
But for more integrations⁠—therefore, more versatility and scalability—Zoom is an excellent choice. 200 million users can't be wrong.