The 6 Best Document Management Software Tools for 2020
As office work migrates to the cloud, document management software⁠—also known as document management systems or DMS⁠—have become a requisite for good business.
Even if you're not totally paperless, you can bet on needing to accommodate vendors, partners, and customers who are.
So which document management software is best for most people?
There's no shortage of powerful document management tools out there, but for this roundup, we picked the six that offer the most complete solutions for every size business.
The 6 best document management software tools
PaperTracer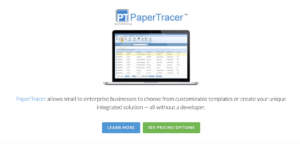 Pricing:
Free version: Contact sales for free trial of any plan
Small: Up to 10 users, contact sales
Medium: Up to 100 users, contact sales
Enterprise: Unlimited, contact sales
Pros: Timely support, flexible e-signature tools come free
Cons: Limited collaborative features
Mobile app? No
Deployment options: Cloud
PaperTracer is a straight-forward SaaS document management system⁠—not as feature-rich as some of its competitors, but quick and easy to set up and use.
There are options for SMBs and enterprise, with custom workflows, single sign-on, and other premium features only available at the higher tiers. Still, the base setup offers plenty for essential document management needs, and at any level, PaperTracer particularly excels at tracking and reporting.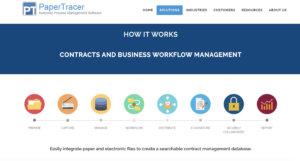 Another of the software's big selling points is HIPAA compliance. If you work in or with healthcare, you'll find a ton of value in the added security, audit, privacy, permissions, and retention features that come standard as part of this tool.
Important to note: PaperTracer's collaboration and sharing features are pretty thin. It's the comprehensive security features and storage and tracking capabilities that make this tool worth considering. Be sure to use the free trial to test the collaborative features for yourself.
FileHold
>> Compare Quotes
Pricing:
Free version: Two-week free trial
FileHold Express: $15 month/user, 20 user limit
FileHold Enterprise: Contact sales
Pros: Express version includes all features, complete DMS package
Cons: Opaque pricing structure, limited deployment options for Mac
Mobile app? Yes
Deployment options: On-premises or cloud
FileHold makes the cut because it's a clean product that gets the job done. Don't be fooled by its somewhat outdated UI⁠—it's tremendously functional.
Your everyday view is pared down to the essential tools, and where other tools overcomplicate things like version control, document tagging, document linking, audit logging, FileHold keeps things simple.⁠
FileHold Express works for up to 20 users and comes with the same features as the Enterprise version, which is amazing given the price point. If you need more users, FileHold Enterprise works great, especially if you rely on a Microsoft ecosystem and especially if you're considering on-premises deployment. Installation takes less than two hours from start to finish.
DocuWare
>> Compare Quotes
Pricing:
Free version: 30-day trial
Subscription pricing: Contact sales
Pros: Powerful automation features
Cons: Quality implementation can take time
Mobile app? Yes
Going paperless? DocuWare allows you to digitize business documents with built-in workflow automation that all but eliminates manual data entry.
This is a huge perk for companies that can't hire people specifically for data entry or administration. The idea is to be able to go paperless quickly while keeping everything secure and allowing better control over your data.
Sure enough, DocuWare's dedicated Support Portal gives users access to good quality training tools and guidance. Onboarding shouldn't be a problem and can be done digitally.
The out-of-the-box functionality for things like employee management, finance, and accounting will also help you hit the ground running. And it's mobile-ready, so useful for remote work.
Just bear in mind that though you can design your own processes and workflows, any additional configuration can take time, according to some user reports.
eFileCabinet
>> Compare Quotes
Pricing:
Free version: First-time customers get a single license free for one year
Basic: Starts at $15/ user/month, 25 GB storage
Advantage: Starts at $55/ user/month, 1 TB storage
Business: Starts at $99/ user/month, 5 TB storage
Unlimited: Starts at $199/ user/month, unlimited storage
Pros: Low-cost options, easy to import/export files
Cons: Advanced features only available at a considerably higher cost
With an affordable starting price and so many tiers, eFileCabinet is a safe choice for accommodating your business as it grows. Everything it does, it does well⁠, down to the intelligent automation that lets "files file themselves": set up templates, naming conventions, and workflows, and eFileCabinet will organize, name, and store your files automatically.
It also supports seamless external collaboration. You can share and request files externally from within the software and have external stakeholders and customers upload their docs to eFileCabinet themselves.
The basic version does lack many of the best features eFileCabinet has to offer. But you still get unlimited guest users, the mobile app, and integrations with Microsoft 365, DocuSign, and other popular apps. It may be that the basic version perfectly complements your existing toolset.
That said, once you bump up to the Advantage level or higher, you have everything you need in one tool. It's definitely one to consider if you're consolidating.
Templafy
>> Compare Quotes
Pricing:
Free version: Custom trial
Subscription pricing: Contact sales
Pros: All-in-one branding and compliance tool, tight security
Cons: Medium learning curve, vendor lock-in
Mobile app? Yes
Deployment options: Cloud
If you're a small business, Templafy might be overkill. We'd recommend this one to larger or enterprise businesses.
It's designed to streamline a problem larger businesses know all too well: brand consistency.
As a cloud-native PaaS, Templafy is built to integrate whatever document ecosystem your company is currently using. But the best part is that users can create new documents within Templafy, which is fast becoming a staple of good document management software. Not only can end-users access company assets, fonts, and templates right from the Admin Center, but they can reference them from a task pane integrated with whatever app they're working in.
And as you build documents, intelligent automation loads templates with information from the user profile and branding guidelines to minimize busy work and ensure compliance.
Important to note: you will have to contact Templafy directly for pricing or a free demo.
M-Files
>> Compare Quotes
Pricing:
Free version: 30-day free trial
License and subscription pricing: Contact sales
Pros: Robust, easy workflow design and implementation, scalability
Cons: Expensive and complicated licensing, mixed customer support reviews
Mobile app? Yes
Deployment options: Cloud, on-premises, hybrid
M-Files is feature-packed, user-friendly, and highly customizable on the backend.
The beauty of M-Files is that it connects to the business systems and network folders you already use while making the content easier to organize and search by adding metadata, version control, and workflows. Anyone can find what they're looking for, regardless of where the file lives.
Even the mobile app is solid. Its powerful metadata tagging means you can simply take a photo of a document, upload it to M-files, and a workflow will initiate immediately.
You get excellent integration with anything Microsoft (Office apps, Windows, IIS server, MS SQL), as well as with G Suite, Salesforce, DocuSign, ChronoScan, and more.
Of course, all this functionality involves extensive configuration and maintenance. We'd recommend dedicating expert resources to deploying of any of the advanced solutions M-Files users rave about.
Also, be sure you understand your licensing arrangement because there are a lot of options.
Don't let the high price points deter you, though. M-Files is one of the more expensive solutions, but customers report seeing the value straight away.
How to choose the best document management software
To make this list, as well as offering end-to-end document solutions for any size business, our picks for the best document management software had to excel in a few specific areas. These are the factors you'll want to pay attention to as you narrow down your options:
Customizability
Every DMS product on this list boasts a rich feature set, but putting those tools to work for your company's needs is the key to seeing real ROI.
Are the preconfigured templates and workflows going to empower your users right out of the gate, or will you need to spend some time configuring? Do you have (or get from your vendor) the resources to do that? Or, a commonly overlooked question: do you really need those additional tools?
In general, the more powerful the software, the higher the upfront for investment in terms of time and resources. But the opposite isn't necessarily true: greater functionality doesn't mean greater usability. Aim to strike a balance that empowers rather than overwhelms your team, and only buy the functionality you need.
Industry-specific needs
Make sure your chosen DMS is built to support any requirements specific to your industry⁠—for example, if you have proprietary or line-of-business (LOB) file types. Some of the tools in this list serve specialized industries better than others⁠.
Ask the vendor about their experience in your industry. Look for case studies on the problems you're trying to solve. The more experienced your vendor in your specific use cases, the better the support.
Implementation
Last but certainly not least, how you want to deploy your document management software is a huge consideration. Make sure you understand the limits of each vendor and what it'll cost you. For example, for on-premises and hybrid DMS systems, you may have to retool your IT infrastructure as part of implementation⁠—something you'll want to factor into your budget.