Office 2016 vs Office 365: Which is Best?
When Microsoft began its push toward subscription-based services, customers got a choice. Do you join the Office 365 revolution, or do you stick with traditional services like Office 2016?
In this post, I'll go through your options. We'll look at exactly what you get with the one-time purchase of Office 2016, versus Office 365, which you have to pay for every year.
First:
Here's what we'd recommend
For almost all users, we recommend purchasing a subscription to Office 365 instead of buying Office 2016 outright.
(There are some edge cases where Office 2016 might better support users. I'll get into those later.)
Office 365 has tons of features that are constantly being upgraded. Microsoft pays attention to what's working for Google and Apple and where users see room for improvement, then brings those functions into their productivity suite.
With Office 2016, the world of file-sharing and collaboration is going to continue to evolve—with or without you.
Before we take a quick look at the comparative costs of Office 2016 vs Office 365, I want to point out how affordable Office 365 is as a stand-alone service: less than $10 a month.
Yes, it's a subscription for a product that used to be a one-time purchase, but times are changing. For businesses especially, ongoing updates to the product are vital for data security, ease of collaboration, scalability, and staying ahead of the curve with the latest features automatically available for your entire company's use.
What about Office 2019?
Since releasing Office 2019, the successor to Office 2016, Microsoft has been trying to get people to migrate there or to Office 365. So, they don't offer Office 2016 anymore, though it's still available through distributors like Amazon and Walmart.
Note that Microsoft is retiring Office 2016 in October of this year. For non-Mac users, there will be at least five years of extended service that includes security updates. For Mac users, the retirement will be full, which means there will be no further support from Microsoft.
Because it's being phased out, the price of Office 2016 could go down later this year. Even so, I don't think it will tilt the scales for the majority of users.
Office 2016 vs Office 365: The cost over three years
Comparing the costs over three years, you'll see it's possible to save some money by purchasing Office 2016 instead of subscribing yearly: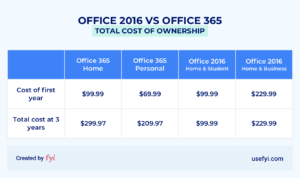 Note: Monthly subscriptions are also an option for Office 365. Here's more on Office 365 pricing.
For the first year, Office 365 is the less expensive option. That starts to change as time goes on.
At two years, the cost of an Office 365 subscription overtakes Office 2016 Home & Student.
At three years, the cost overtakes Office 2016 Home & Business. From there, the savings you see from choosing Office 2016 only increase with time.
But focusing on cost alone means missing the forest for the trees. Is your productivity suite giving you all the functions you could benefit from? Or are you spending time or money on third-party services that are actually baked into Office 365? Much of the "savings" start to disappear once you start factoring in programs like Access or Publisher, which come free with Office 365.
Let's take a closer look at what its counterpart does and does not include.
Office 2016 overview
Office 2016 comes with a license that allows you to install several apps from Microsoft's hallmark productivity suite onto one computer. This is different from Office 365, which is tied to a Microsoft account instead of a piece of hardware.
Some important things to think about when buying Office 2016:
You get Office 2016 versions of all the apps rather than constantly updating versions, so you'll need to buy new versions of Office if you want an upgrade.
You do not get mobile versions of the apps.
You get 5MB of storage when you sign up for OneDrive. You can purchase 100MB for $1.99/month, but it doesn't come with the premium OneDrive features that Office 365 users get.
There are two retail editions of Office 2016 you can still find today:
Office 2016 Home & Student
Office 2016 Home & Business
Both editions come with the core Microsoft apps. The main difference between them is that Home & Business comes with Outlook.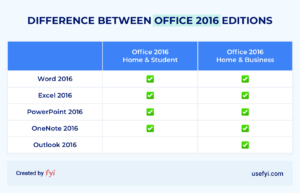 Think about Office 2016 as a traditional, one-time payment for a fixed set of apps. You would be purchasing a product key and downloading the suite of apps to your device instead of from a CD. But other than that, Office 2016 functions like software used to: these apps are yours forever, never to expire or cost more money.
Office 365 overview
Office 365 is a cloud-based productivity suite of Microsoft's core Office apps and services. Since it's tied to your Microsoft account instead of a specific computer, you can install your subscription of Office 365 on multiple devices.
Some things to think about here:
Your Office 365 apps and services are always up-to-date. As long as you keep your subscription current, you never have to worry about upgrading.
You get mobile versions of the Office 365 apps, which are synced across all of your devices.
You get a minimum of 1TB OneDrive storage (up to 6TB with Office 365 Home).
You can cancel the subscription at any time.
There are several different editions of Office 365 to choose from for home or business. For the comparison below, I'll be looking at the two best-value offerings for most individuals:
Office 365 Personal
Office 365 Home
Either one of these subscriptions includes everything and more that you get with Office 2016. The difference is that Office 365 Home lets you share your subscription with up to five other users. That's essentially six subscriptions for the price of one.
Office 2016 vs Office 365 comparison
Keeping in mind that you're comparing 2016 versions of apps with the latest Office 365 has to offer, here's how the four most popular products match up:
Need larger-scale or enterprise solutions? There are four more tiers of Office 365, starting with Business Essentials.
If you choose Office 2016, you have the option to buy Outlook, Publisher, Access, and OneDrive storage separately. Depending on where you can find them, these products typically range from $50 to $100 each.
If you opt for an Office 365 subscription, all these apps are included. And don't forget: they're constantly updated. If you stick with Office 2016, you may be inviting unforeseen security or compatibility issues.
Who should use Office 2016?
If you're someone who doesn't use Office for work or only occasionally needs business applications, then you can probably get by with Office 2016 until they drop support altogether⁠—or with Office 2019 beyond that.
Some folks get comfortable working in a certain framework of applications and don't want features to change. Office 2016 is done changing, and for some, that's reassuring.
Lastly, Office for the web does require internet access to use the apps, so Office 2016 will work better for users who are without the internet regularly.
However…
Don't worry about offline access for Office 365
Full offline access to your apps is the main reason I hear people opt for Office 2016. Once the software is installed on your computer, it's good to go. If you think this is a deal breaker, I have one more question for you.
Do you go online at least once a month? If yes, then your Office 365 subscription will give you virtually the same offline access as Office 2016.
One of the biggest misconceptions about Office 365 is that it's "all in the cloud." In fact, Office 365 includes desktop versions of the latest Office apps. All you have to do is connect to the internet every 30 days to maintain your subscription. You can work offline for the rest of the time as you would with Office 2016, only with more apps.
For educators, there's an obvious benefit to purchasing licenses for Office that are tied to machines rather than per-user subscriptions tied to individuals who graduate, change schools, and know how to max out their cloud storage.
In that case, though, we'd recommend Office 2019 over Office 2016. It's going to give students access to the interface they're more likely to see through the 2020s. It also feels a little risky to invest any amount of time, money, and IT support in an office suite Microsoft is leaving behind.
Alternatively, Microsoft is trying to bring students and teachers over to Office 365 Education, which comes with a host of cloud-based collaborative tools designed for the classroom.
Are you a student, educator, or alumni? You may be able to get Office 365 Education for free.
Still unsure? Try it first
In the end, there will be a subset of users who are going to want to pay for Office 2016 once and see how long they can make it last. But now that Microsoft is pouring all its resources into Office 2019, 2016 users will doubtlessly start seeing problems over time.
To compare the desktop and cloud-based versions for yourself, use the free Office 365 trial. You'll have 30 days of full access to the premium versions of all the apps.
If you're not sold on either Office products, you could take a look at G Suite, Google's solution for business needs. Check out our comparison between G Suite and Office 365.