What Is Office 365 and Should You Get It?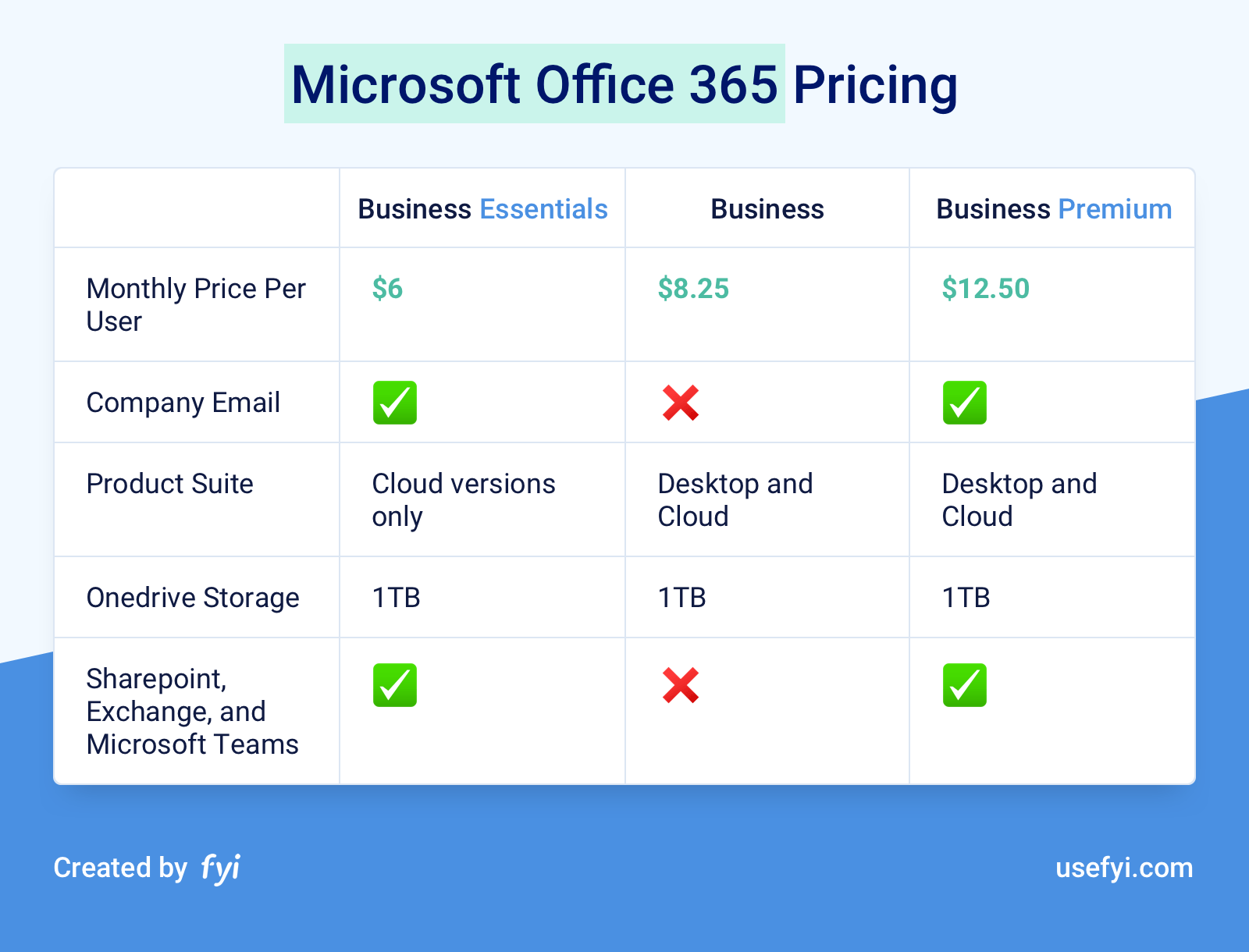 Office 365 is a cloud-based suite of apps for productivity, collaboration, and communication, hosted on the cloud and accessible anywhere.
Essentially it's a web-based version of the classic Microsoft desktop office setup: productivity apps like PowerPoint, Word and Excel, Outlook for email, and an increasing number of add-ons for more expensive packages that help you run your whole organization. It integrates with desktop and mobile apps and is updated monthly with features and security updates.
What's included with Office 365?
Office 365 comes with a wide range of plans. At its core is the Office suite of productivity apps, surrounded by an ever-expanding range of tools for collaboration, communication, admin and more.
Every Office 365 plan includes web-based versions of the core Microsoft productivity apps:
Word
MS Word needs no introduction. The Office 365 version offers integration with other 365 apps, letting you embed material from Excel, PowerPoint and more. Documents can be co-authored, shared and collaborated on in real time. Word for 365 also comes with spelling, grammar and stylistic checking built in.
Excel
Excel similarly needs little explanation; from basic spreadsheets to the kind of charts-and-pivot-tables functionality that lets power users leverage it to maximal advantage, it's familiar to an army of business, scholastic and personal users. Office 365's Excel comes with AI-enabled assists and a feature called Data Types that lets users enrich data sets easily and rapidly.
Powerpoint
PowerPoint is another familiar sight: if you've never made one, you've sat through a few. Office 365's take on the veteran presentation software includes animation, design and a library of 3d models and icons.
OneNote
OneNote is Microsoft's note-taking application. Organizable into sections and pages, it allows you to use type, highlighting and handwritten annotations via stylus. OneNote can also be shared and collaborated on in Office 365.
Outlook Web App
Microsoft's email client, Outlook, is available to Office 365 clients as Outlook Web App. With similar performance and functionality to the familiar desktop email client, it comes with email templates, integration with other MS tools and a familiar interface.
Cloud Company Email
Some of the Office 365 plans come with company email too. You'll be able to easily add, edit, and remove email users across your company. This makes it much easier than having to create email users with your web host and connect that email account to Outlook for each person at your company.
The Extras
Depending on the plan you opt for, there's a range of more advanced business tools, including:
Microsoft Flow: Lets you create automated workflows that flow between Microsoft and other apps and services.
Microsoft Forms: Lets you easily create surveys, quizzes, and polls.
Microsoft Sharepoint: Lets you build an intranet for projects or teams and share files, resources, and applications.
Microsoft PowerApps: Gives users the ability to build their own apps on the 365 ecosystem.
Microsoft Teams: Offers users group chat, online meetings, calls, and web conferencing — all the tools you need to collaborate.
Microsoft Graph API: Lets you deeply integrate third-party apps with Microsoft services.
Microsoft Yammer: A tool for collaboration and communication, giving users an internal business social network.
Why use a subscription service?
Using a subscription service can work out cheaper than buying software outright. And it can give you more control.
For instance, purchasing Office 2019 — the most recent desktop version of Microsoft's seminal productivity suite — gives you access to the basic functionality of the core Office apps. But buying from Office 365's seemingly more complex menu can give you far more control.
Updates
Instead of running a version that could be increasingly insecure, Office 365 lets users concentrate on their tasks; whether you're an admin or an entry-level employee, you don't need to worry about security or functionality updates. They happen automatically without you needing to do anything.
Cloud Storage
One of the major selling points of Office 365 is large amounts of cloud storage. All the standard plans come with 1 TB of online storage. That's more than enough for most folks.
What's the difference between Office 365 and Office for desktop?
Desktop versions of Office are a one-time purchase. You buy a license and can install the office suite on a single computer.
Desktop version do get some ongoing updates but these are mainly bug fixes and security updates. The core features don't improve after you purchase the product. So you'll need to plan on purchasing the office suite again in 2-3 years in order to take advantage of all the product improvements.
Office 365, on the other hand, gets updated continuously as you pay for it every month or every year.
When you choose an Office 365 plan, you get all the products from Office 2019 plus regular updates and all the cloud services like OneDrive storage.
Office 365 Pricing
Here's how Microsoft displays the pricing for the Office 365 Business plans: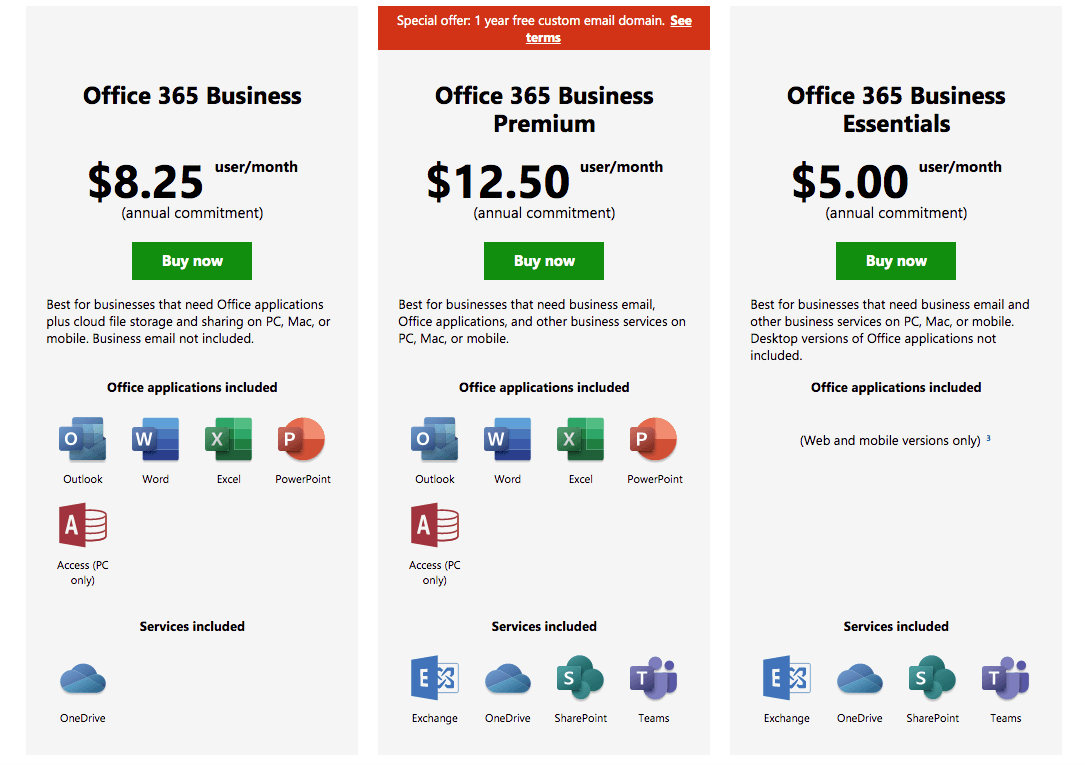 There are a few key items missing from this chart. The order of plans also makes things a bit confusing. Here's a clearer chart on the differences between plans: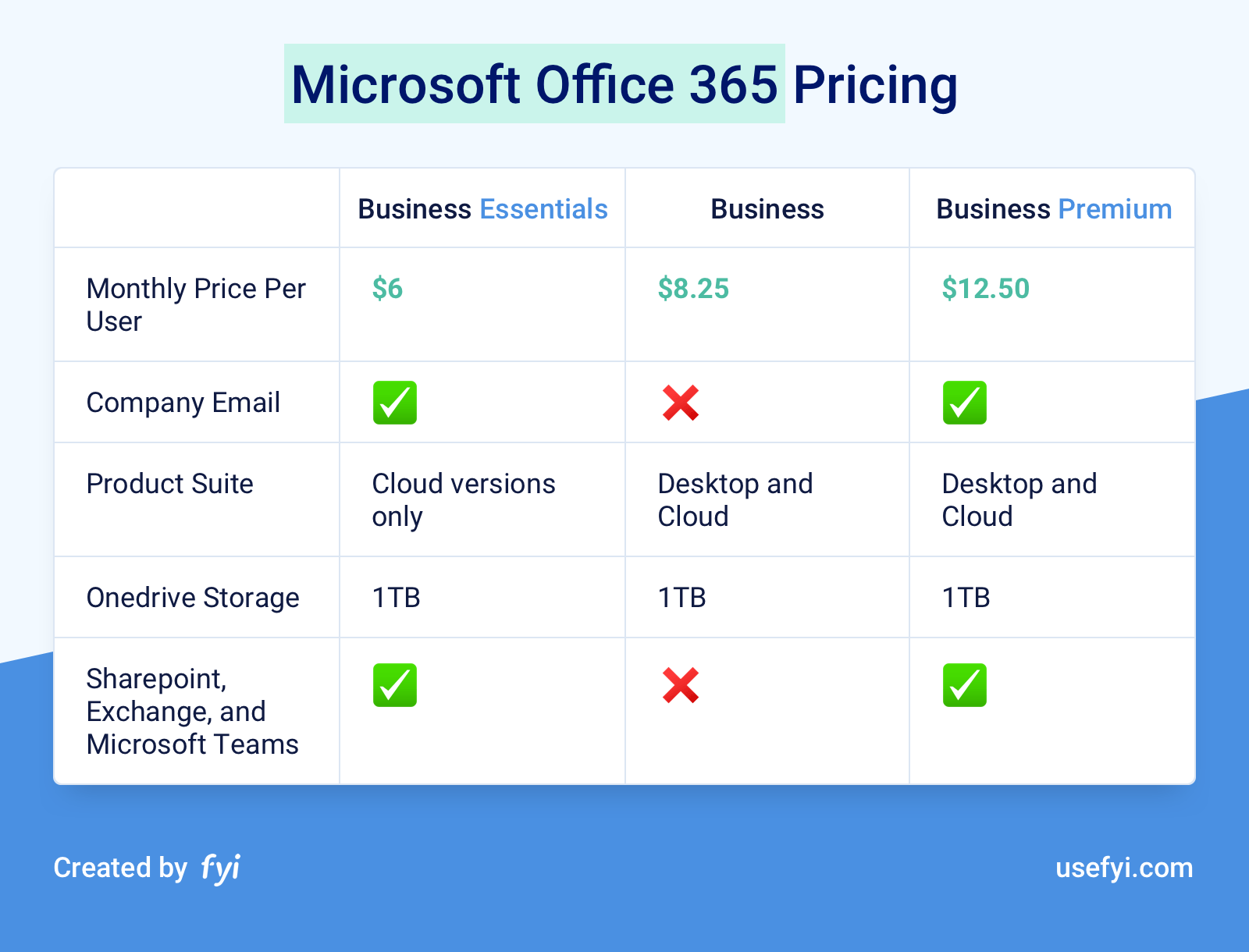 Watch out of the lack of company email on the Business plan. You'll either have to plan on setting up your own email or upgrading to Business Premium sooner than you would have liked to in order to easily manage your email accounts.
Office 365's Main Competitor: G Suite
Office has several competitors: Apple's iWork suite, free options like Office Libre. And the main competitor is G Suite.
We have a detailed breakdown between G Suite and Office 365 here.
As a quick overview, this chart shows the key differences: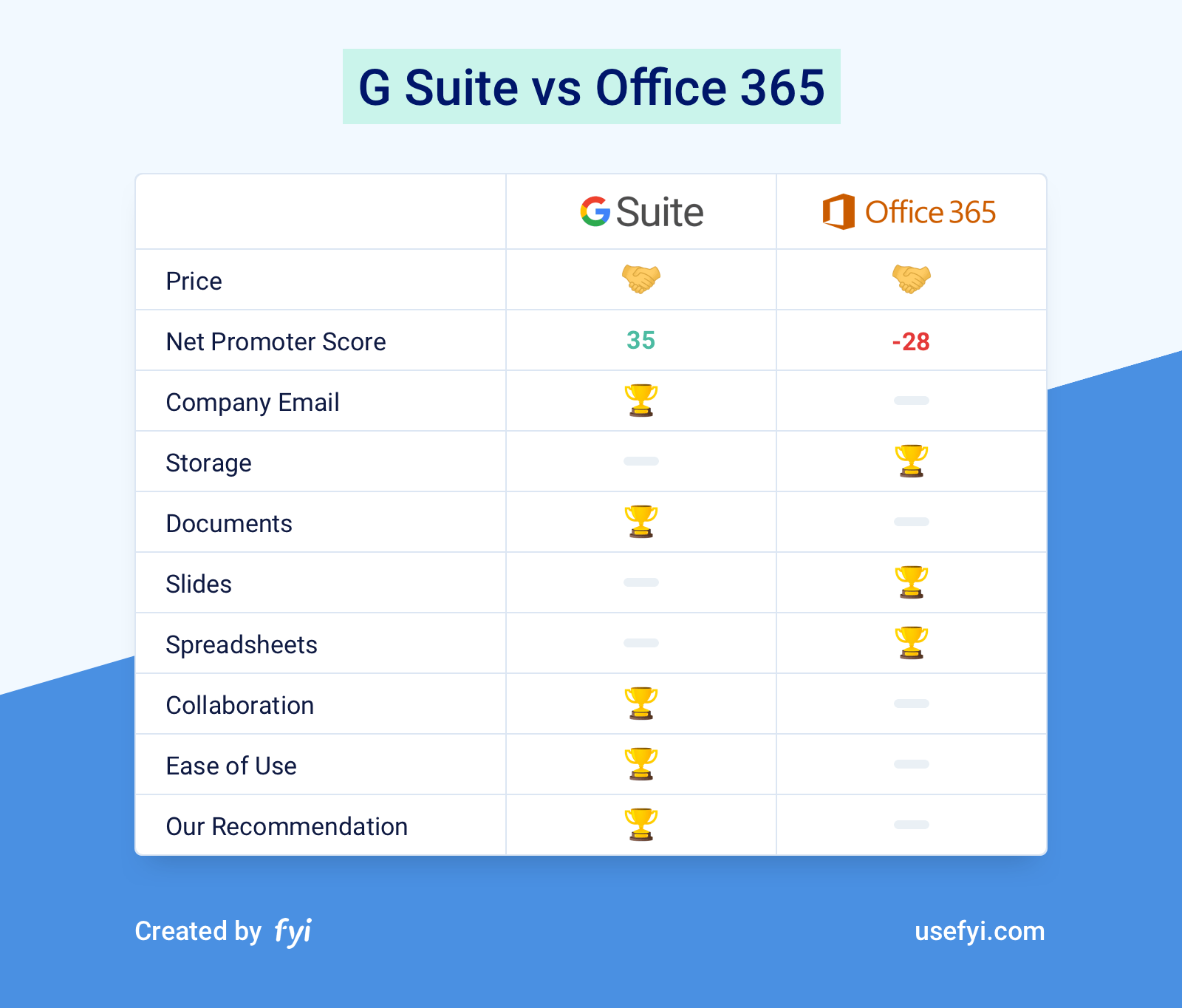 G Suite and Office 365 are about equal on price, they cost about the same.
And Office 365 does clearly win on storage (more space at all plans) and with PowerPoint and Excel. Both these products are much more powerful than Google's versions: Slides and Sheets.
Overall, G Suite is easier to use and has much better collaboration features in its products. The Net Promoter Score (a measure of user satisfaction) is much higher on G Suite than Office 365. Office 365, on the other hand, has much more powerful features. For example, anyone that uses spreadsheets heavily greatly prefers Excel over Google Sheets.
While we recommend G Suite overall, Office 365 is a great choice if you need that extra power.
Should You Get Office 365?
First, Office 365 is clearly superior to the one-time purchase for desktop versions of Office. If you haven't moved to an Office 365 subscription yet, now's the time. The cost is about the same, the updates add plenty of value, and you get tons of extra services you won't get from a one-time purchase.
Whether you choose G Suite or Office 365 for your office suite will depend on if you need products with advanced features. If you do, get Office 365. If not, go with G Suite.
And if you're not sure, we recommend G Suite. The user satisfaction score is much higher.