Is Microsoft 365 Really Free for Students and Teachers?
Microsoft (formerly Office) 365 for Education looks like a great deal. It comes with Microsoft's productivity suite with additional communication and collaboration applications. It's also advertised as free. In this post we'll be asking:
Is it really free?
What do you get?
How does it compare with G Suite?
First things first. Is it really free?
Bottom line up front: Microsoft 365 Education is totally free.
There are three Microsoft 365 Education plans. The basic plan, A1, is entirely free for an unlimited number of individual users. The other plans do charge per user if you want to upgrade your educational organization to those plans to get the extra features. This is entirely optional, the fee education plan has a ton of great stuff.
What do you need to get access to Microsoft 365 Education?
All you need to get started with Microsoft 365 Education is a valid school email address. You can enter it right on the Office Education homepage.
What's included in the plan?
Microsoft 365 brings all of Microsoft's core productivity and collaboration tools to the cloud. Email, group chat, and group collaboration within projects across multiple applications are all supported.
With the exception of Publisher, these apps are device-agnostic and can be accessed from anywhere, with storage on the Cloud in OneDrive.
The basic, free version of Microsoft 365 Education brings together the core apps in their online-only forms, meaning there's no desktop app. Users do get the desktop version of OneNote.
There's no limit to the number of users, and the plan includes Class and Staff notebooks, Professional Learning Community (PLC) groups, compliance solutions with a unified eDiscovery center, rights management, data loss prevention, and encryption.
Microsoft calls this their 'A1' plan: entirely free for faculty and students, it includes: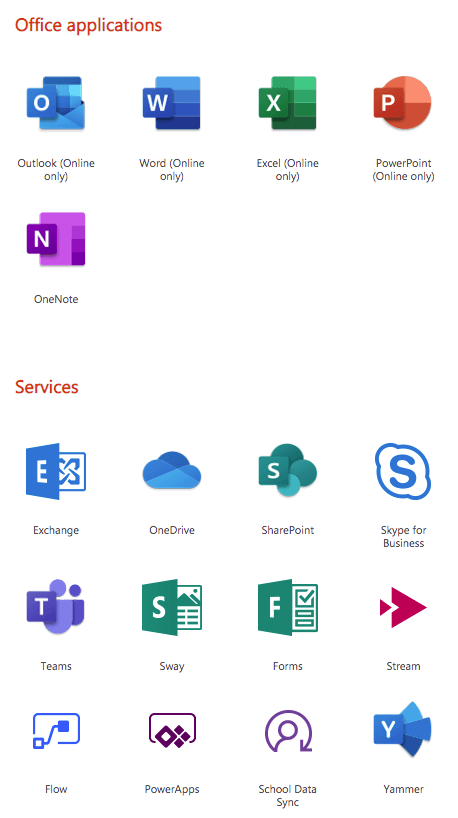 Outlook
Outlook is Microsoft's business and organizational email, the equivalent of Gmail. Outlook Web Access (OWA) is free to anyone, and like Gmail is to G Suite, it's your ID for the rest of the Office ecosystem. For A1 plan users in Microsoft 365 Education, there's a 50GB inbox limit. There's unlimited email storage with In-Place archiving and legal hold.
If you already have a standard Outlook account you can connect it to OWA by enabling Outlook Anywhere in File>Account Settings>Exchange>More Settings>Connection.
Word
Microsoft's flagship word processing and desktop publishing application. The Microsoft 365 version offers instant simultaneous collaboration. A1 plan users get the web version.
Excel
Collaborate, create spreadsheets, get visualizations and use AI to get additional insights. On the A1 plan, you get the web version only.
Powerpoint
Create, edit, and collaborate on presentations and slideshows with animations, cinematic motion, 3D models, and a library of graphics and templates. Web version only.
OneNote
A note-taking app that allows hand drawing and annotation using a stylus, collaboration, and organization. The A1 plan gives you access to the desktop app.
Teams
Teams is a collaboration hub for Microsoft 365 users, with meetings and group chat, admin functions, and third-party apps.
OneDrive
Microsoft's cloud storage tool, OneDrive lets users set time limits on links, scan documents, whiteboard with their phones, and save the results as documents. There's also data loss management and encryption. Microsoft 365 Education users get unlimited OneDrive storage.
Stream
Microsoft's take on YouTube, Stream lets users make, share, and interact with videos across the Microsoft 365 ecosystem.
Flow
Flow lets users automate tasks quickly and easily across applications without writing any code.
Skype
We've all met Skype. It's the most familiar video calling and conferencing tool out there. Office A1 users get Skype for Business which gives you additional features including call recording and up to 250 attendees on conference calls.
Sway
Sway lets you create visual, interactive stories, offering ready-made design packages and web and device integrations to make design and production easier and faster.
Forms
Forms lets you collect data, post self-marking quizzes, and quickly ask groups questions to gather responses. It integrates tightly with Excel to deliver data and insights.
Yammer
Yammer is Microsoft's internal social network for organizations. It's aimed at filling the same niche as something like Slack or doing the same job as a Facebook page but with better functionality and security.
Other Microsoft 365 Plans
So far we've talked about the A1 plan, Microsoft's basic, free Microsoft 365 Education plan. There are two other plans come with more features but they aren't free.
The A3 Plan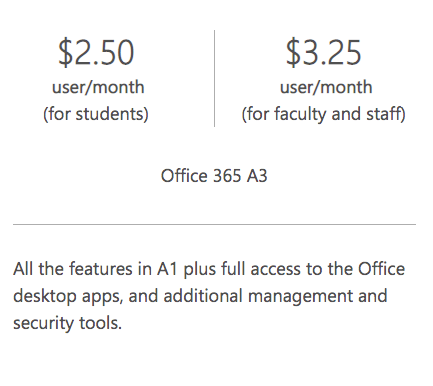 A3 comes with the desktop versions of all the core Microsoft productivity apps, available for up to five Macs and/or PCs per user and up to five mobile devices per user.
You also get the full desktop version of Outlook. Inboxes are capped at 100GB, and there's unlimited personal OneDrive storage, video meetings with up to 10,000 people on Skype Meeting Broadcast and Microsoft 365 Cloud App Security to deliver risk assessment and insight into threat potential.
The additional tools include:
Access
Microsoft's Access lets Microsoft 365 users create their own business applications.
Publisher
Publisher lets you build image-plus-text materials including ads, newsletters, and brochures. But it's only available on PC.
Bookings
Users visit the Bookings page for a faculty member and book the service and time they need. That information is forwarded to the faculty member's inbox and calendar.
A5 Plan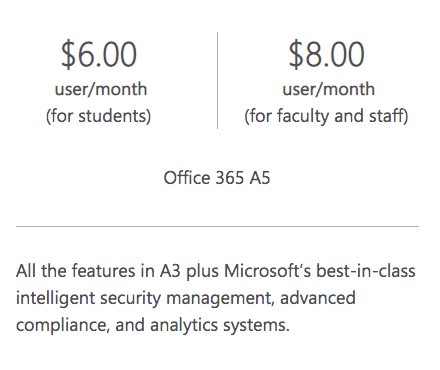 The A5 plan comes with enhanced versions of the tools and functionality on the A3 plan, plus a new tool, Microsoft BI. Users can control how support accesses their inbox with Customer Lockbox, and there's enhanced visibility and control over your Microsoft 365 environment using personal and organizational analytics, post-breach cyberthreat investigation, and remediation.
Users can also create meetings with a dial-in number that attendees can join by telephone with Audio Conferencing.
Power BI
Power BI is a business analytics tool that delivers insights, data visualizations, and lets multiple users share and collaborate on reports.
Calling Plans
A5 plan users can also use Calling Plans that let you tie domestic and international telephony into your Microsoft Microsoft 365.
Should students use Microsoft 365 instead of G Suite?
This posts does a complete breakdown on G Suite for Education.
For students, Microsoft 365 has one clear advantage: individuals can sign up immediately.
Whether you're a student or a teacher, if you want G Suite, the whole school has to sign up, and there's a 14-day waiting period before you get access. Microsoft 365 doesn't have any such restriction, you can sign up right now as long as you have a valid email address from an educational institution.
Let's look at how the two offerings break down once you do sign up.
Productivity
Historically, G Suite made online versions of Microsoft's ubiquitous business, school, and personal productivity apps, then Microsoft moved its apps online and matched Google's collaboration features. Now, Microsoft 365 and G Suite are similar in many ways.
The major difference is what kind of user they're best for. Microsoft apps are best for power users. G Suite apps are best for beginners. It's worth noting that the more advanced functionality that once distinguished Excel, such as conditional formatting, is being rolled out gradually in Sheets. As that happens, though, Microsoft isn't sitting still: they're adding more functionality to their own tools.
Similarly, Microsoft Word has more advanced bibliography features and spelling and grammar checking — all things likely to be useful to students. But Docs is simpler and it's easier to find the main tools.
Microsoft 365 Online applications (the ones you get with the free version, A1) don't allow you to edit offline. You must be connected to the internet. G Suite's apps are online by default; offline editing can be enabled by an admin.
There's not much you can do with one that you can't do with the other. Office will probably give you a more polished product, Google will probably deliver faster and have a shorter learning curve. But both are supported by extensive how-tos and huge support libraries and third-party videos.
Communication
G Suite has Google Hangouts, which allows anyone with a link to join a video call. Hangouts has a chat window inside it where you can share text and links and send files — much like Skype.
By comparison, Microsoft offers both Skype and Teams, which has better file-sharing and instant messaging and also incorporates project management features. Skype is familiar to most users, while Teams can be a base of operations in a way that you'd need to use several Google apps to equal. You also get Yammer, for which there is no G Suite equivalent. It's possible that some users will find these communications apps overlap or are already using best-in-class competitors like Slack.
Email
Office has the standard business email tool, Google has the standard webmail tool. Gmail is simpler, more intuitive, but has fewer native features. It's easier to search for emails in Gmail, but Outlook's integration with the rest of Microsoft 365 is tighter. Ultimately, neither ecosystem has a decisive edge here.
Storage
There's no competition: every Microsoft 365 Education user gets unlimited personal cloud storage. So does every G Suite for Education user.
Administration
Admins control the settings for all the G Suite accounts in their organization. Office's permissions are a little more nebulous. G Suite requires that admins sign up their whole organization; Microsoft 365 lets you sign up by yourself.
Security and privacy
Microsoft 365 has impeccably secure data centers, and everything inside the Microsoft 365 ecosystem is encrypted at rest and in transit through SSL/TLS. Office Advanced Threat protection offers defense against spam, malware and other kinds of attack. File-and-volume encryption is achieved through  IPsec and TLS, with 2FA as an additional bulwark.
G Suite also has impeccably secure data centers. While it uses solid security throughout, it's less compliant than Office in some areas: Google Contacts and Groups aren't HIPPA compliant, for instance.
Microsoft 365 has a slight edge here and is likely to retain it since Microsoft doesn't have a business model based on advertising and hence on user data.
Pricing
G Suite has a free option, G Suite for Education, and an option that costs a few dollars a month. Microsoft has the same.
Here's how the pricing between G Suite and Microsoft 365 educational plans compare.
G Suite education plans:
G Suite for Education = Free
G Suite Enterprise for Education = $4 per user per month
And the Microsoft 365 education plans:
A1 = Free
A3 = $2.50 per month for students, $3.25 per month for faculty
A5 = $6 per month for students, $8 per month for faculty
G Suite has a price advantage — one that adds up rapidly in larger educational institutions. On the other hand, Office delivers a more enterprise-friendly, cohesive package.