What Office 365 Business Essentials Includes
Office 365 Business Essentials is the most budget-friendly version of Microsoft Office for new and small businesses.
It's not going to work for everyone, and some of the offline limitations make the upgrade to Business Premium look pretty enticing.
At the same time, Office 365 Business Essentials provides an entire suite of apps and services that work together beautifully. Microsoft is always updating its products, adding features and functions to match its competitors. A lot of those tools and advantages have worked their way into Business Essentials.
So while you don't get the full boat of MS Office services and apps, what you do get for $5 a month per user is phenomenal. If all you need are the basic apps and business email, then Office 365 Business Essentials will take care of you.
Overview of Office 365 Business Essentials
Office 365 Business Essentials runs on PC, Mac, Android, and iOS, and is licensed on a subscription basis. If your subscription is up to date, the latest version will be installed every time you log in.
Office 365 Business Essentials is part of the Office 365 Business service family, which also includes Office 365 Business and Office 365 Business Premium. Each of these products supports 300 or fewer users. Larger companies can choose from the Office 365 Enterprise service family, which supports unlimited users.
That is the first thing to notice. If you need more than 300 users, or will in the near future, none of the Office 365 Business platforms will support you.
Office 365 Business Essentials vs other Office 365 Business plans
So you have fewer than 300 people in your business, and you are trying to choose the right plan. Don't just look at the price.
Of the three offerings in their business service family, Office 365 Business essentials is the least expensive. Saying it's feature-poor is unhelpful, though. Depending on what you need, the tradeoffs that come with the lower price of Business Essentials can be worth it.
For example, Office 365 Business is the next step up in price from Essentials. It comes with desktop versions of the Office apps, which Essentials doesn't have. This may be valuable to teams that want quick access to their applications. However, Office 365 Business does not come with the collaborative tools, like SharePoint, Yammer, and Teams, or a managed email.
Office 365 Business Essentials comes with all of that, even though it costs markedly less per user per month than Office 365 Business. So you need to think about what's more important: desktop function or cloud-based coordination.
Here's a simplified chart that shows the price and basic elements that come with each subscription level of the Office 365 business service family: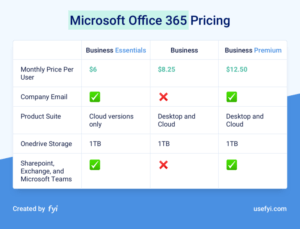 Desktop apps vs online apps in Office 365 Business Essentials
Similar to the free Office 365, all apps in Office 365 Business Essentials are web and mobile only. Desktop versions of the apps are only installed in Business and Business Premium.
If you are always online, this may not be a huge issue. Plus, OneDrive is included with Business Essentials, so all of your files are backed up and available anywhere through your Microsoft account.
But if a reliable connection is not guaranteed, you might want to think about Business Premium to ensure you have the access you need to your Office files.
The online apps tend to be a little pared down from their on-premises counterparts, but not much. The core functions are all there, and the UI is pretty much unchanged, though the apps run through your browser. Additionally, Microsoft Support offers a ton of help to guide you through functions that are still available via web and mobile, just managed slightly differently.
In short, you get a very capable suite with Office 365 Business Essentials. The apps work in concert and all of your users will have clear, real-time means to share, edit, and track large projects as they grow.
Quite a lot is included, so let's go through the apps and services one by one. After that, we'll consider the potential benefits and downsides of using Office 365 Business Essentials.
Looking for more info about Office 365 pricing plans?
Apps included with Microsoft Office 365 Business Essentials

Outlook: Email client
Between Outlook and Exchange, which I'll detail later, Office 365 Business Essentials provides a business-class email and calendaring service you can depend on. This includes your own domain name and an intuitive admin center to handle all your user needs. Each user has a 50GB mailbox, which is synced across all of their devices.
Word for the web: Word processing
This is a great version of Microsoft's hallmark word processing app. Adjust practically every feature of the text and layout. Easily create and share a range of file types. Include images and tables within text and choose from a host of design features to manage everything from a bulletin to an ebook. The collaboration features in Word Online enable real-time editing so multiple people can work on the same paragraph, leaving comments and tracking changes.
Excel for the web: Spreadsheets
Excel for the web looks and feels like the desktop app, though some file formats are not supported. It has all the core Excel functions (more than 400) for tables and charts, as well as a built-in survey tool. It's easy to collaborate by sharing view or edit links to your Excel online spreadsheets with anyone directly.
PowerPoint for the web: Presentations
Almost everything you know of desktop PowerPoint is included in the online version. You can create slides, add and edit text, images, photos, and SmartArt graphics. Similar to Word for the web, you will find that collaboration is streamlined in the online version.
One thing you will notice is that PowerPoint for the web only includes eight transitions and 18 fonts. If you build your presentation with the desktop version, make sure you've used the fonts and transitions supported by PowerPoint Online to keep things smooth.
OneNote for the web: Notebook
This is Microsoft's easy way to save and sync notes across all your devices. In terms of the freedom you have to save ideas, images, diagrams, OneNote holds its own with Evernote—and some of the features even outclass it. You can record voice or videos and add them to notes. And you can also convert freehand notes off a whiteboard or page directly into computer font.
Apps included with Microsoft Office 365 Business Essentials (for PC ONLY)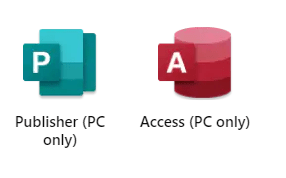 Access: Database management
Microsoft's powerful tool for analyzing your data picks up where Excel leaves off. Access allows you create and share tables, queries, forms, and reports. You don't have to be a developer to work from the templates that come with Access to quickly generate the forms you need to start tracking customer and order data.
This is a full-bodied database management system. For some small businesses, it may be more than you need, but others will find that by using a few of Access' many tools, they are able to generate rich insights from their data.
Publisher: Design and publishing
As a desktop publishing app, Microsoft Publisher is easy to use for anyone who is familiar with Word. The emphasis in Publisher is on layout, design, and visual appeal rather than text creation or proofing. Shape and style most aspects of your documents, and everything stays exactly the way you set it in print, online, or in an email.
That's it for apps—all of which work together seamlessly, along with the services detailed below.
Services included with Microsoft Office 365 Business Essentials

Exchange: Mail server
Exchange is the server app that hosts emails and manages organization-wide contacts and calendaring for Office 365. Exchange makes sure that the backend of all of your communications and date-setting is synced and stored safely.
Along with Outlook, which was built to work with Exchange, people can access their mail from anywhere and any device. Exchange will connect to email clients besides Outlook, like Gmail, but it won't be quite as fluid.
OneDrive: Cloud-based storage
Office 365 Business Essentials comes with 1TB of secure and synchronized cloud storage on OneDrive. With this subscription, likely everything you do on Essentials will be stored on or funneled through OneDrive.
All files and folders uploaded are private, but can be shared with anyone else on the company's OneDrive. Or those outside the company depending on how you set it up.
Teams: Unified communications
Teams is the chat-based persistent workspace for the Office 365 service family. It's only been around a few years, but Teams already has a lot of the same function you get with Slack and other competitors.
As a project management tool, Teams organizes your messages, meetings, and calls on an intuitive dashboard. Channels and customizable filters help you visualize your work and figure out what's important.
With your Office 365 Business Essentials subscription, you'll be able to host online video conferencing and meetings for as many as 250 users. All Office 365 apps and services enjoy native integration with Teams and it leverages SharePoint for file storage. You can also connect Teams with third-party services, like GitHub or Twitter.
Note that Teams is replacing Skype for Business, Microsoft's previous group chat service, which is still supported but being phased out.
Sharepoint: Team sites
SharePoint is a browser-based collaboration and document management system. Groups create sites for ongoing or ad hoc projects, and then add whatever content or widgets they want. You have a lot of control over how files are stored and versioned, and the Check In/Check Out feature allows you to track and control changes made to files.
It's a great tool to promote transparency and coherent standards among teams, and SharePoint is simple to scale. Once you have the site set up, you can enable outside stakeholders and customers to share information with you through SharePoint as well.
Yammer: Social-networking for co-workers
Yammer is a social network for your company that is integrated with all other Office 365 apps.
In a Yammer conversation, you can set an appointment that syncs in Outlook or work on a PowerPoint with someone else. It takes the best parts of social networking—chat, easy filesharing, tagging, liking—and makes them available for intracompany communication.
The feel is like Twitter or Facebook, and if this is what employees are comfortable with, Yammer can be a really powerful collaboration tool. The newsfeed and easy group formation allows distributed workforces to stay in touch between offices or countries.
Planner: Project management
Right now, Planner is a fairly lightweight workflow management tool that comes with Office 365 Business Essentials. You can make groups, assign tasks, and track progress on boards. Planner is regularly updated, often with new features, so I wonder how long it will remain as unencumbered as it is now.
Think Asana, Trello, and so on. The biggest advantage of Planner is that it's designed specifically to complement the apps in the Office 365 ecosystem. Notifications, emails, document sharing—it's all seamless and easy to control.
Sway: Online presentation
Sway is a cloud-based storytelling app. To differentiate it from PowerPoint, Sway is perfect for conveying information without a presenter. Interactive presentations, such as webinars, tutorials, and topic introductions are easy to build in Sway.
The interface is simple, but still fairly limited, though Microsoft continues to add capability. If you have to stick to tight branding guidelines, Sway may not support what you need. If you want to make a quick, informal presentation, it could be perfect. The upshot to the relatively few options in Sway is that the final product is optimized across all devices and platforms.
Who should (and should not) buy Office 365 Business Essentials?
Now that you have a solid idea of what comes with Office 365 Business Essentials, it's time to assess whether that includes what you need.
If 1TB of storage or a cap of 300 users is going to be a problem, then this is not the solution for you. Microsoft's enterprise-level offerings will be more your speed. And if you don't want to have Microsoft host your email, you'll want Office 365 Business, not Business Essentials.
But if you are a small company, and you want to support team-wide communication and collaboration, Office 365 Business Essentials can work really well.
And if you fall into the category of folks who are not sure exactly what they want, Office 365 Business Essentials is not going to break the bank. It will give you everything you need to figure out what you want down the line.
As you probably noticed, there is a ton of overlap in the apps and services that come with Office 365. For example, for some companies, Yammer is going to be a really important service that connects everyone in real-time. Other companies may use Teams almost exclusively, only relying on Yammer for informal aspects of company life.
With Office 365 Business Essentials, at least you get the ability to select from the apps you want, to customize a seamless user experience that allows your employees to work easily across multiple programs and devices. All for $5 a user per month. Not too shabby.
And if you are a student or an educator, you may be able to get Office for free.