The 8 Best Note-Taking Apps for 2020
Looking for a better system for taking and finding notes? Look no further.
These apps made our list of the best note-taking apps out there because they greatly simplify the lost art of note-taking. Rather than limit you to pen and paper or your phone's native notes app, a specialized note-taking app equips you with extra tools you need to sort, store, and retrieve notes more efficiently⁠—along with any supporting content.
You can't go wrong with any of the apps we researched for this post. Let's go over their main features, pros, and cons so you can compare them.
The 8 best note-taking apps
We found eight that we would recommend for the majority of users:
Zoho Notebook sets itself apart by allowing you to incorporate graphics, colors, and photos into your notes. If you're a visual person, using these features to store your notes will help simplify the organization of your data⁠.
You can also add multiple types of media to your notes, including audio, checklists, and files.
Compatibility: All devices
Pros
Very easy to group your notes
Designate colors and photos to groups of notes
Completely free to use
Password protected
Cons
Organizational features may be more than you want in a note-taking app
Pricing: Free
Agenda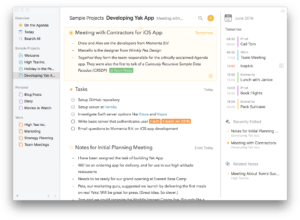 If you're the kind of person who prefers sorting your notes by date or event, you'll find Agenda useful.
It calls itself "date-focused": by organizing your notes into a timeline, Agenda was designed to help drive your projects forward from start to finish. It's great for taking detailed notes in a clean, minimalist environment with a styled-text editor–styles including headings, lists, blocks, and pre-formatted text. Add notes to your calendar, set reminders, attach media, and more.
Compatibility: iOS/MacOS
Pros
Track notes for a project
Organize notes by date
Free version includes everything most people will need
You can attach quite a bit of data to each note
Cons
Only available for Apple devices
Interface and features may be overkill for some users
Pricing: Free (but you can purchase extra features from inside the app)
Bear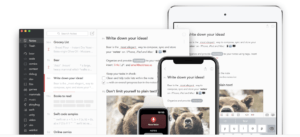 If you use Slack, you may find yourself drawn to Bear's UI. It uses Slack's classic triple-pane design for organizing your notes in a sharp-looking interface that's really well organized.
For example, you can use hashtags and keywords to easily find specific items.
Unfortunately, Bear only works for Apple devices.
It does offer a Pro version that includes a few extra themes and features, but the free version should work for the majority of users.
Compatibility: iOS/MacOS
Pros
Clean interface
Color-code notes
Add images directly into notes
Sync notes across multiple devices
Cons
Only available for Apple devices
Pricing
Free version
Pro version: $1.49 per month
Full disclosure: Bear is my personal favorite⁠—read why here. I compared it to Evernote, which also holds a firm place among the best note-taking apps:
Evernote
Evernote has dominated this space for a while. However, some users recently moved on after Evernote increased pricing for the more advanced paid versions of the app.
But for those who only need to take notes, the basic version remains free to use and should give you more than enough functionality.
Compatibility: All devices
Pros
A multitude of features beyond note-taking
Organize your notes into groups
Strong search function, so you can find the exact note you need quickly
Paid versions sync your notes across devices
Cons
Free version works best with wifi access
Frustrating recent price increases
Pricing
Basic version: Free
Premium version: $7.99 per month
Business version: $14.99 per month
[Read our detailed breakdown of Evernote pricing]
Google Keep
Fans of the Google ecosystem will have an easy time picking up the features found in Google Keep.
It's also completely free for anyone.
And Keep has some impressive features for a free app, including automatic transcribing of audio notes into text. Additionally, you can color-code notes, making it easier to organize them and find what you need in a snap.
Compatibility: All devices
Pros
Very easy to use
Multiple color-coding options
Includes advanced features you might not expect in a free app
Feels similar to other Google apps
Cons
You may notice some problems with syncing data between devices
Pricing: Free
[Read our Google Keep vs Evernote comparison]
Microsoft OneNote
For those of you who already use Microsoft 365, it makes sense to use OneNote. It'll complement the rest of your productivity apps nicely.
If you don't use Microsoft 365, you still can use the free version of OneNote to create and organize your notes. However, the interface might be confusing if you're not familiar with Microsoft products.
Compatibility: All devices
Pros
Works seamlessly with Microsoft 365 apps
Insert audio clips or web pages in your notes
Accessible online or offline
Cons
UI may be a little confusing for those who don't use Microsoft 365
Free version only includes 5 GB of storage
Pricing: Free
[Read our OneNote vs Evernote comparison]
Notion
Notion is for fans of spreadsheets and databases. It's turned this well-known format into an extremely powerful note-taking tool. For maximum organization, Notion is tough to beat.
You can set up multiple layers of topics and subtopics to keep ideas organized. You can also attach all types of files, photos, videos, and other media to each note.
I will say that the free version is too simplistic, so you'll almost certainly want to pay for this app.
Compatibility: All devices
Pros
Unique spreadsheet organization
Extremely easy to create hierarchical lists of notes
Works on any platform
Embed multiple types of media within each note
Cons
Weak free version
Entering notes can be a little tricky at first
Pricing
Free version
Personal version: $4 per month
Team version: $8 per month
[Read our Notion vs Evernote comparison]
Simplenote
If the other products on our list of the best note-taking apps sound too frilly for you, you'll like Simplenote. It lives up to its name by giving you the ability to take notes without a lot of extra features that may just get in the way.
Because of the simple interface and organizational features, searches done in Simplenote are extremely fast and efficient. As you might expect, the app is completely free.
Compatibility: All devices
Pros
One of the easiest-to-use note-taking apps available
Fast search function
Works well on almost any platform
Includes some basic collaboration features
Cons
No advanced features⁠—a pro or a con depending on where you stand
Text only
Pricing: Free
How to choose the best note-taking app for you
It might sound obvious, but finding the best note-taking app for your needs means thinking about how you plan to use it. If the app doesn't make it easy for you to enter and find notes, it's not doing its job properly.
As you narrow down your options, keep in mind these criteria:
The interface
The interface is a huge aspect of any note-taking app. If you don't like the interface of the app, you probably won't use it as often. Basic interfaces tend to be easier to get used to; on the other hand, more complex interfaces might allow for more advanced functionality. Which is more important to you?
The features included
Most note-taking apps are completely free or at least have a free version. But that doesn't mean you should ignore pay versions, as they may unlock specific features you'd find useful. Do your due diligence and consider all the options and add-ons before settling with the free version.
Compatibility
Some apps are designed specially to run on a specific OS. Which is good news for target consumers, since that likely means the app is optimized perfectly for your use⁠—or bad news, of course, if you don't use that OS. You'll want to make sure your chosen app supports all the devices you use⁠.
Note-taking methods
From text-only to multimedia, note-taking apps support adding notes in a variety of ways:
Keyboard entry
Voice entry
Handwritten entry
Web page links
Graphics, photos, and videos
Some apps will even transcribe your written or spoken notes to text for you. Think about how you best get your thoughts onto paper and how you'll find it easiest to retrieve them.
Syncing
Some apps do a better job than others at allowing you to sync your notes across multiple devices. For those who want to take notes on different devices, having those notes synced automatically is definitely something to consider.
Summary: Putting your note-taking app to work
Note that this list of the best note-taking apps focuses on products designed primarily for note-taking. If the app's focus is creating word processing documents or journal entries, we chose not to include those apps. Although they will work for taking notes, they're not ideal for this task.
The point is for note-taking to be as quick and easy as possible⁠—even quicker and easier than good old fashioned pen and paper. Look for ease of use first and foremost.