How to Get a Real Person on G Suite Support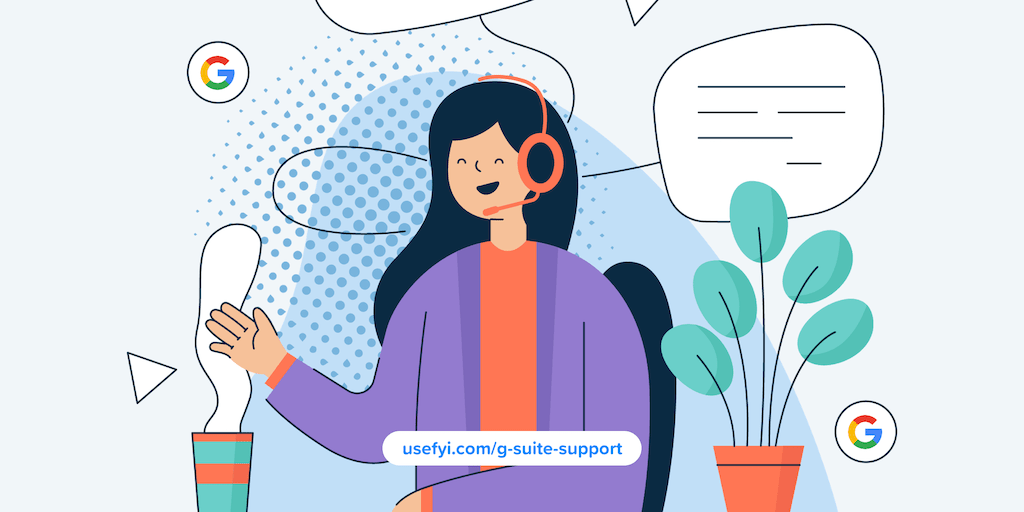 Sometimes you just need to talk to G Suite support.
If you're a G Suite Administrator, I've got good news. You can contact Google and and get help on the phone, live chat, or email. What if you're not a G Suite admin and just a normal G Suite user? You'll have fewer options. Your best bet is to have your G Suite admin reach out to G Suite support for you.
And if you find yourself using support a lot, you might benefit from using a G Suite training course instead.
Getting in Touch with G Suite Support
Start on your Google Admin dashboard and head over to Support: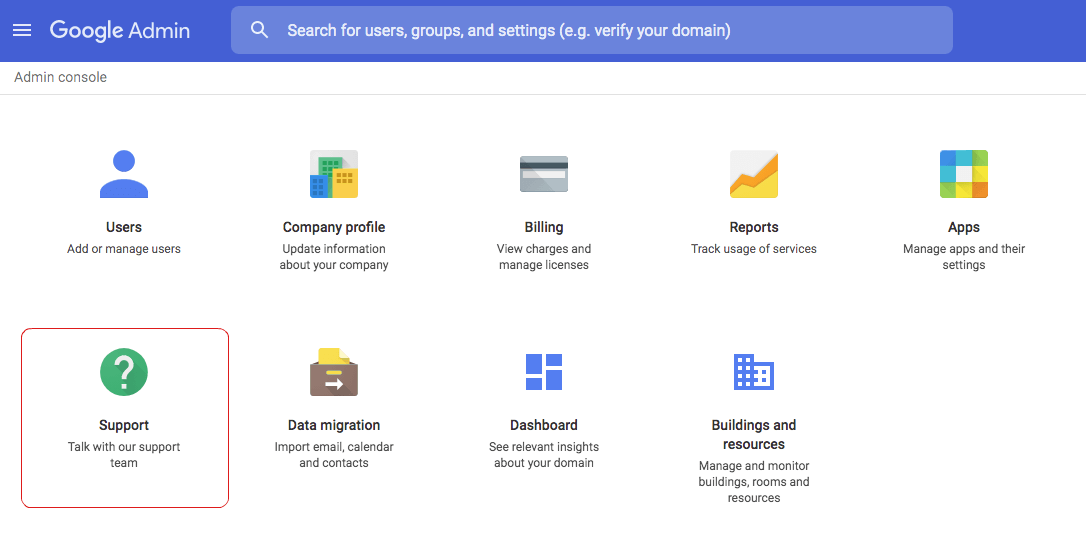 Click it and you'll see this: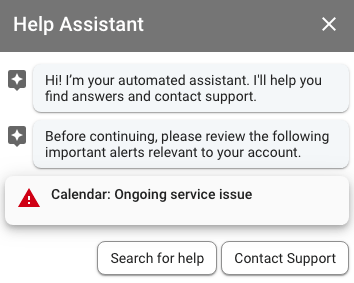 You'll get any alerts Google wants you to see, and at the bottom, two buttons: Search for help and Contact Support.
Search for help and you get this: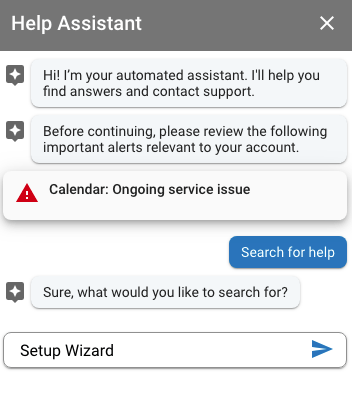 It's a standard search bar for the G Suite Setup Wizard. If you are looking for advice on Google's G Suite Setup Wizard, we have a guide for you here.
But if you've already tried Google's knowledge base and you don't want to hunt through their articles, click Contact Support instead to get this list of options: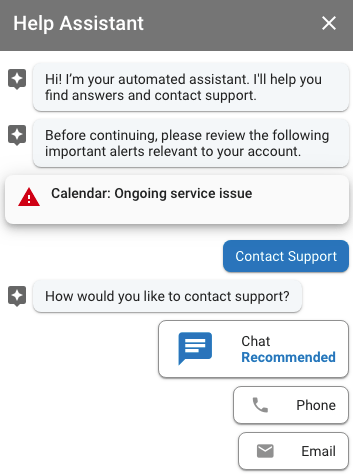 Do you get different support options at each G Suite plan tier?
Most businesses offer different support options at different pricing tiers, with their top-level tiers offering the gold standard 24/7 phone support. And G Suite offers three pricing tiers, as well as some free options for education and nonprofits.
But everyone with an active G Suite Admin account can access Google Support on the phone, 24/7, wherever they are and regardless of pricing tier. There's also chat and email if you prefer those.
The difference with Google isn't pricing but whether you're an administrator or not. Only Admins can access Google phone, chat, and email support.
Get Chat Support
Google recommends chat support, presumably because it's less difficult and expensive to provide. You can access it from the Support window. Select Chat from the Contact Support options, and fill in the "briefly describe what your problem is" field.
You'll be offered some help and support documentation that matches what you're searching for. If you still want to talk to someone on chat, select "This didn't help, continue to support."
You'll be offered a choice of languages, but be aware that chat is available 24/7 only in English, with limited availability in other languages.
Here's that availability:
| | |
| --- | --- |
| Language | Chat availability |
| English | 24/7 |
| Spanish | 9:00-6:00 (M-F) UTC+1 |
| Portuguese | 9:00-00:00 (M-F) UTC+1 |
| French | 9:00-18:00 (M-F) UTC+1 |
| German | 9:00-18:00 (M-F) UTC+1 |
| Italian | 9:00-18:00 (M-F) UTC+1 |
| Japanese | 9:00-18:00 (M-F) JST |
| Dutch | 9:00-18:00 (M-F) UTC+1 |
| Russian | 9:00-18:00 (M-F) UTC+3 |
Join chat and you're placed in a queue. Whenever I've done it, I've been #1 in the queue and gotten a response in around a minute, sometimes less.
Where to Find Telephone Support
Google's phone support is listed in the support window. Click "Phone," and you have to fill in a quick support window telling the person on the other end what your issue is.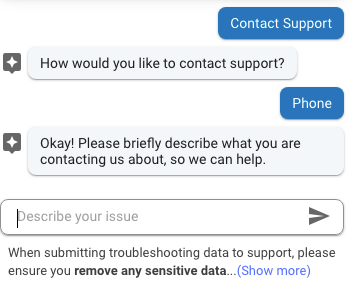 You can't leave this blank. If you try to, and click the "send" arrow to move on to the next step, nothing happens.
Once you do fill it in, Google points you in the way of some of their support content in case that does the trick.
Click "This didn't help, continue to Support."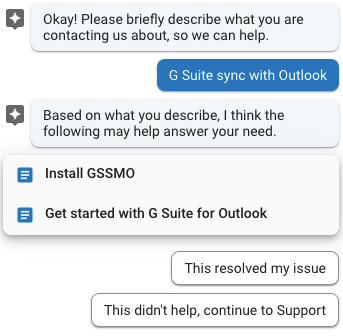 They'll ask you for your phone number, automatically detecting your location from your IP address, and set up a call with a support rep. When you enter your phone number, estimated wait time is listed below the phone number box. In my case, it was about a minute, and my call came through less than a minute later. An automated voice asked me for permission to use my data, and I was talking to a rep before two minutes were out.
That's the process. It's pretty simple and straightforward.
Is there a more direct way to contact Google Support on the phone?
At first glance, there appears to be. Google does publish a list of numbers you can call directly, rather than waiting for the call to be set up at the other end by a customer service rep. Again, these are only for G Suite Admins.
The numbers are country-specific and most are toll-free. You'll find the full list here. The page that shows the list warns that you need a PIN, but if you follow Google's own instructions to generate one, you'll see this message:

It's a diversion to put you in their click-to-call queue. You still need a PIN to call Google direct. Click "call us" and you'll be told that you still need a PIN to confirm you're an Admin on the account.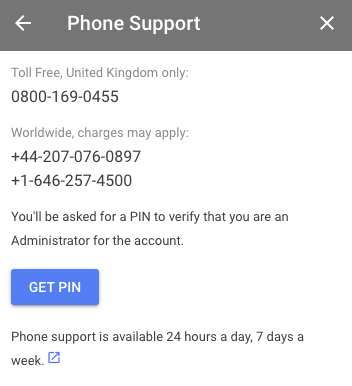 Click the Get PIN button, call the toll-free number, and you're good to go.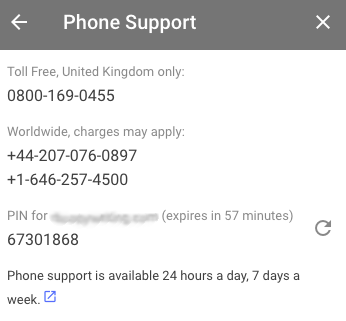 More direct ways to get G Suite support end up being more complex. You can call Google's central switchboard and make your way through their automated system, but it will definitely take you more than a minute, and you might end up not getting to talk to anyone after all.
Help Documentation When Looking for Solutions Yourself
Google's help documentation is massive and well laid-out. It's easily searchable from inside the Admin console by going to support and choosing Search for help. You can also search Google's main Help page.
Search for something right in that chat window and you can pick from the pages Google thinks are most likely to be helpful to you: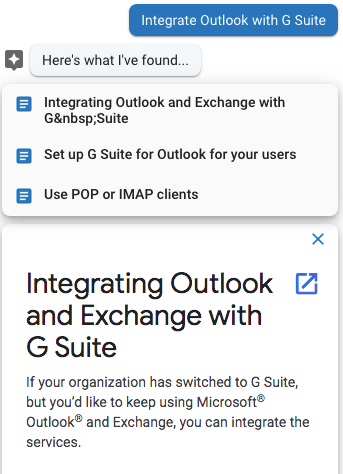 If you want a better view of your options, you can click the "new window" icon in the top right-hand corner and see it as a normal web page.
Alternatively, you can search from https://support.google.com/
The result are more comprehensive. They're also less targeted. This means that the answer is more likely to be here, you'll just need to wade through more irrelevant results to get there.
Here's something else to be aware of: you'll get different search results for the same query, depending on where you search.
I searched for "Integrating G Suite with Outlook."
On Google's main Help page, here are the top three search results:
In the Admin support panel, here are the top three results: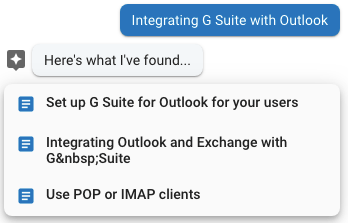 Two of the same, one different.
But, when I asked to be connected to chat in support and gave my search term as my reason for contacting support, I got these results: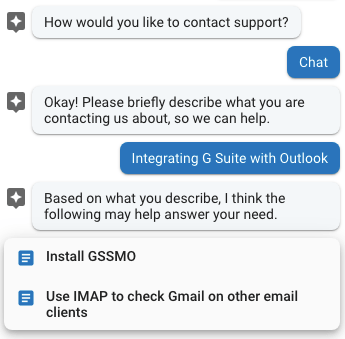 Again: exactly the same search terms, different results. So it makes sense to search both the Help site and the Admin panel. And consider choosing support and getting this far along the process without connecting, just to see the recommended content.
Like a lot of the support Google offers for G Suite, this only works if you're an Administrator. If you're not a G Suite account Admin, you can access the Help site but obviously the Admin dashboard won't be available.
Using Support and Google's Resources Together
Often Google support reps will forward you some information from their knowledge base to help. Other times, you might be using Google's knowledge base when you need assistance.
For instance, G Suite has great guides to doing most things you'll need to do. But there's a lot of information there with a little over 1.5 million pages. And much of it is about third-party businesses like hosting companies who change their offerings without necessarily alerting Google. This means that Google doesn't always have accurate, up-to-date information.
For example, in the guide to setting up MX records on HostGator, G Suite shows the Hostgator email panel looking like this: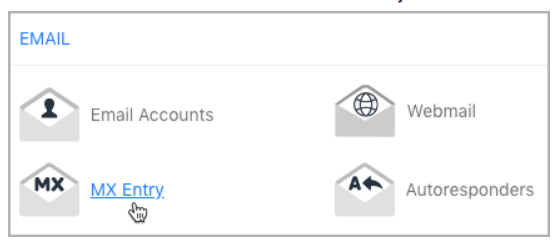 When in fact, it looks more like this: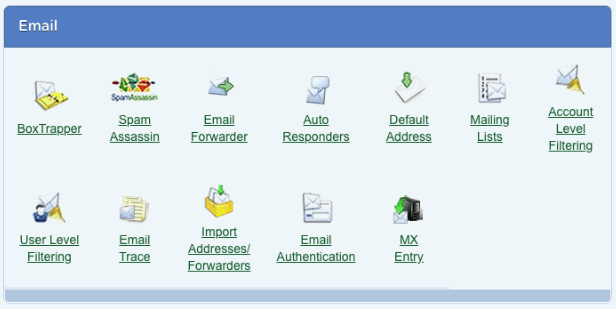 That's not the end of the world. But there are plenty of other circumstances where you might see one thing in the guide, and another on your screen. Trying to call Google direct is a good example of that. The process the guidance document gives you doesn't actually work even though it's by Google, about Google.
There's no direct link to contact support from knowledge base pages, so it makes sense to leave your Admin page open just in case.
Bottom Line: You Get Amazing Support if You're a G Suite Admin
If you're a user but not an Admin, you have fewer options. But if you're a G Suite administrator, you get exemplary support from Google and can easily talk to a real person. Friendly, competent staff answer any query within a minute or two and walk you through time-consuming processes. There's also a huge knowledge base when looking for solutions yourself.