How to Buy, Change, and Manage G Suite Domains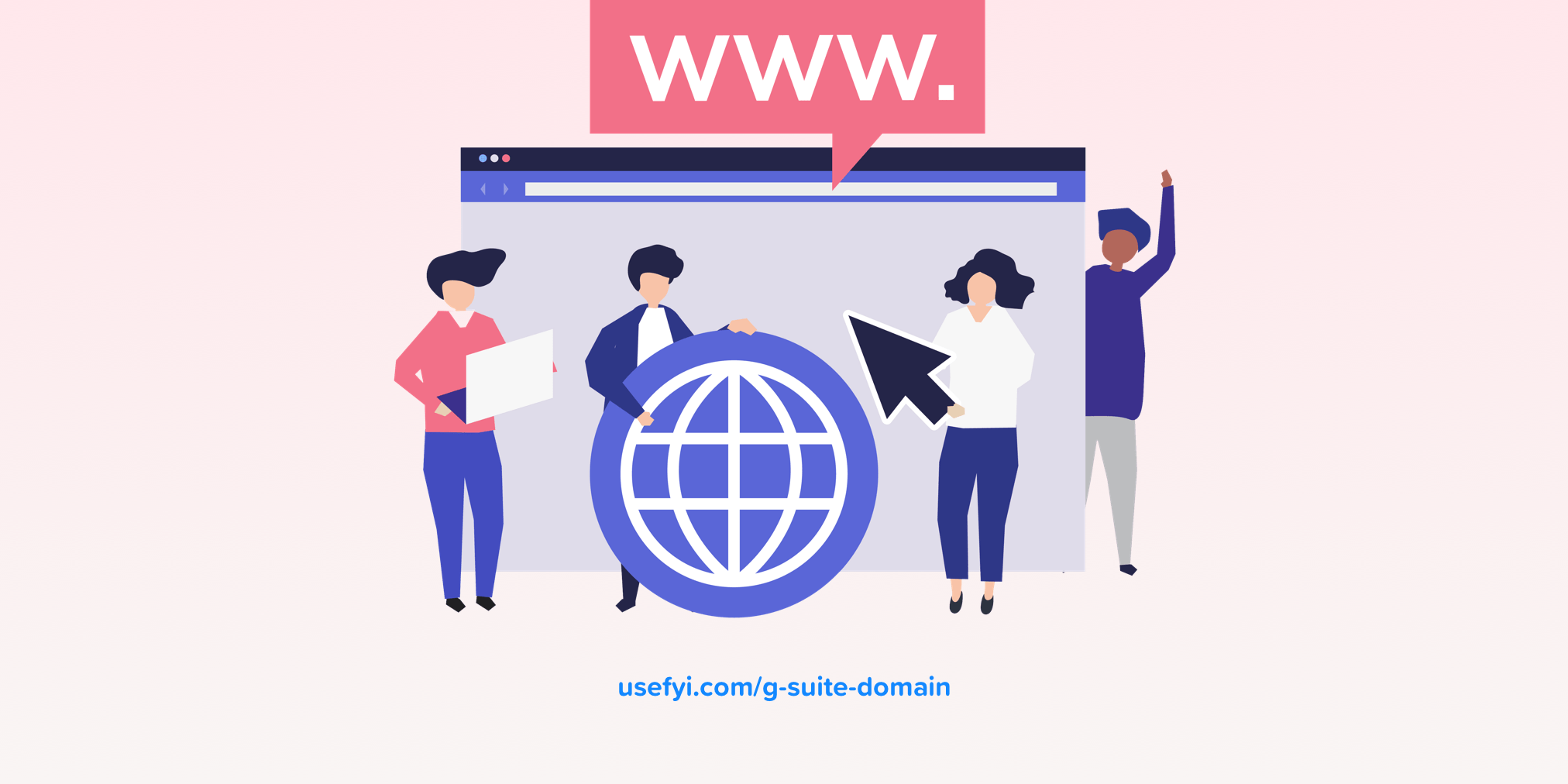 For most people, getting started with G Suite means using Gmail, Google Docs, and other free tools. You may be familiar with these.
But when you're trying to enhance your small business profile or side hustle, you may want more⁠—including the ability to set up a G Suite domain that's associated with your G Suite account. This gives your customer-facing communications a professional look at an impressively low price.
We're going to help you set up your domain in G Suite so that it fully represents you. And don't worry: If you previously set up a domain name, but you don't like it, we can show you how to change it.
How to buy a G Suite domain at signup
You must have a domain name to be able to use G Suite. The domain name is the portion of a URL address or an email address that's unique to you. It's the name that comes after the "www" in the web address or after the @ symbol in the email address. (For example, ours is "usefyi.com.")
When you sign up with G Suite through the step-by-step wizard, you'll be setting up or creating your domain name at the same time. So you'll want to give some thought as to what domain name you want to use before you start the wizard.
It's probably best to have the person who will be administering your G Suite handle the setup process. (Don't worry; the administration process is easier than you think.)
After entering some basic information about your business, including business name and administration information, you'll reach the domain screen. G Suite will ask whether you have a domain or whether you need one.
Finding a new domain
If you don't own a domain name and would like to purchase one, you can do that through the wizard. Just enter the domain name you want to try to use. Don't get your hopes up⁠—chances are the first choice will not be available.
If your choice is not available, the G Suite Domain wizard will make some suggestions of domain names that are similar to what you've entered. You can just click on one of them to claim it, or keep trying to find your own.
Cost of a new domain
At this point, you'll also see the cost of using the suggested domain name, which typically can run from $12 to $30 per year (sometimes more). With this process, Google is helping you purchase a domain through one of its domain host partners.
Remember, this is just the cost of obtaining the domain. This cost is separate from any costs you incur for a G Suite subscription.
After you enter all your signup information in the G Suite wizard, it will walk you through the process of purchasing the domain name. By purchasing your new domain name through G Suite, all of the administrative work, such as setting up MX records and verification, happens automatically. This significantly simplifies the process of setting up a domain name.
Entering an existing domain
If you already have a domain through another provider or through Google Domains, you can merge it with G Suite.
Start by entering the name in the wizard when requested. The G Suite wizard then will verify that you own the domain and have the right to use it. You may have to enter some information about your domain to complete the verification process.
G Suite may attempt to figure out who hosts your existing domain, opening your login page for your domain management. Otherwise, you may have to edit your DNS settings on your domain management page to allow it to mesh with G Suite.
How to add or change a domain with an existing G Suite account
If you want to change the domain name on your account, it can be a bit of an involved process, but it can be done.
First, though, you'll want to be certain you actually need a new domain. The most common reasons for changing the domain name include:
Losing the right to your original domain name
Wanting consistent branding
Needing to sign in users on the new domain name
Wanting to change your organization's name for use in all of Google
Steps to change a domain name
If you decide you need to change your domain name with your G Suite account, you'll have to follow several steps.
Preparation. Before doing the switch, you need to notify your users that the changeover is about to take place. You'll also want to be certain you can sign into your new domain host administration screen, so you can set it up to start handling your email as soon as the switch takes place.
Start the process. Sign into your Google Admin console as an administrator. Click on "Domains." (If you don't see Domains, you may need to click the "More Controls" button toward the bottom of the screen.) Then click "Manage Domains" > "Add a Domain" > "Add Another Domain."
Enter your domain name. Now enter the new domain name that you want to use. You'll need to verify that you have control and ownership of this domain name. Then follow the directions to update the MX records for the new domain, which prepares it to begin accepting email.
Prepare for G Suite. Make sure your MX records are set up to fully use G Suite. Additionally, you'll want to edit the DKIM and SPF records for G Suite use. (DKIM and SPF will prevent spoofing.)
Make the switch. From your Google Admin console, click "Domains" followed by "Manage Domains." Your new domain name should appear. Click "Make Primary" to make the switch to the new domain name.
Final steps. To finish the switchover, change each of the users' email addresses to reflect the new domain name. When you change your administrator email name, the tool immediately will sign you out, so you'll have to sign in again with your new name. Update all of the settings for G Suite, including for Calendar or Marketplace. Then make sure that your users know how to sign in to their accounts using their new email addresses.
Once you make the change, by default, your old domain name will become an alias to the new domain name. This means users can receive email messages at either domain.
You also have the option of removing the old domain name from your account completely.
Adding a domain name
Because changing your domain name can be difficult, some people try adding another domain name that's linked to the primary name. They can then use both names.
Create an alias. You can have a second domain name linked to your original domain name, and you'll manage all of it through the original domain name. The two will stay connected. This makes receiving email messages at both domains an easy process.
Adding another domain. If you add another domain, one will be the primary domain name and one will be the subsidiary. The two (or more) will remain connected to each other, but you have the ability to specify that certain users link primarily to one domain over the others for their email addresses.
Either way, adding multiple domains to a primary domain is a popular choice. It doesn't cost any extra to have multiple domains linked to one G Suite account. Users then can have their own identities at each domain, but they can be part of the larger group for things like document sharing or using Google Calendar. The administrator can run all of the features for all of the domains from a single console.
Other domain management features in G Suite
You have the ability to manage a few other domain settings through G Suite.
Through Google Admin
If you purchased your domain name through the G Suite setup wizard, you can manage it through the Google Admin console. Select the Domain menu, followed by "Manage Domains" to see all of the options, which include editing the DNS records for the domain.
You also may be able to use the Google Admin console if you purchased a domain through your Gmail account before starting to use G Suite.
If you cannot use Google Admin to manage your domain name features for G Suite, but you believe you should be able to do this, it's possible your account is suspended. If you have missed a monthly payment or if you were using a free trial period that has expired, your account may be in suspended mode. You also may not be able to access your domain settings if your domain registration annual renewal becomes lapsed.
Turning off Google domains access
As the G Suite administrator, you may not want others in your organization to be able to purchase new domains.
You can turn off this feature for all people in the organization, or you can assign it to only certain people. Sign in to the Google Admin console as an administrator to start the process. Click "Apps" > "Additional Google Services" > "Google Domains" to access your options for turning off domain access.
Other options
If you purchased a domain and migrated it into G Suite, you'll have to go to the administration tool your domain host offers, rather than managing it through G Suite.
Using your G Suite domain
Beyond using G Suite to manage your domain name, you also have access to all the other G Suite tools for the same subscription price. It's amazing how much more efficiently your people can communicate when you're all employing G Suite together.
And because G Suite requires a domain name, you'll automatically be set up to have a professional way of receiving email and presenting your business. This is a big step forward for your small business or side hustle. Beyond all the great G Suite tools you can use, customers are sure to have an easier time remembering joe@usefyi.com as your email address versus joe987123xyz@gmail.com.