The Best Scrum Software of 2020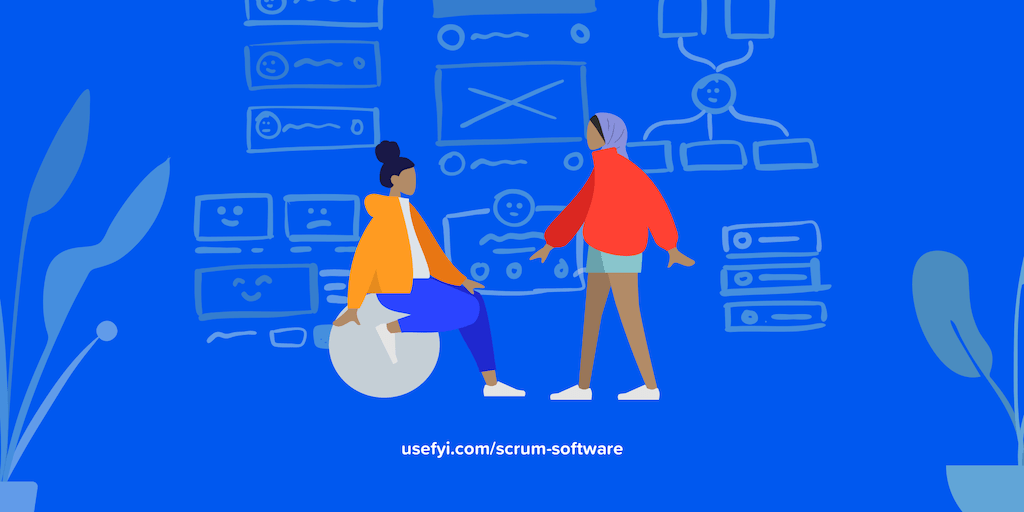 The first thing you'll notice from a cursory search for Scrum software is the hundreds of options available. How do you know what you really need among all these bells, whistles, and customizations?
Testing. And lots of it.
Luckily most subscription software tools these days come with free trials, so you can test them obligation-free. But if like most people in urgent need of Scrum software you want to narrow the field, you can just read on to find out which tools we tried and vouch for.
These are the six Scrum software tools that impressed us most this year because they're so, well, Scrum: flexible enough to bend to changing priorities, intuitive enough for all users to quickly get the hang of, and efficient enough to get you from soup to nuts in gratifyingly few clicks.
Let's start with the more specialized and lightweight tools and work our way down to comprehensive and general project management tools that work well for Scrum.
The top Scrum software of 2019
Scrumwise
Pricing:
Monthly: $9/user/month
Yearly: $7.50/user/month
Scrumwise is a tool designed for quick implementation. "Life is too short for complex tools!" they say. True to form, Scrumwise is clean, orderly, and built to simplify all of the data you feed it.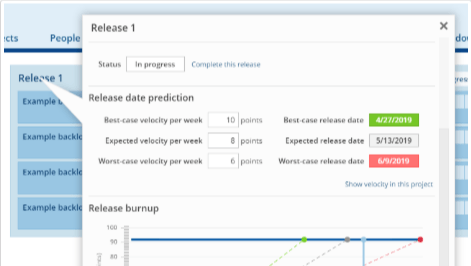 Designed specifically for Scrum, its minimal design allows for easy navigation. The right-click menus mean that a lot of what you need to do is only a couple of clicks away.
On the other hand, organization can be as granular as you want it to be. For backlog management, you can create action items within backlog lists and break those items into tasks, then input the finer details of your sprints—people, time estimates, deadlines.
You can even nest epics multiple levels deep (yes, epics within epics). This can help stakeholders understand the team's progress with a big-ticket, multi-sprint feature.
Multi-team sprints are also well-suited to this tool because all of its sprint management features update automatically for all users. What you see is up to date. This includes burndown and release burnup data, so everyone knows how changes are going to impact the timeline and budget.
Trello
Pricing:
Basic: Free forever
Business Class: $9.99/user/month
Enterprise: $20.83/user/month
No best-of-Scrum-software list is complete without Trello. Scrum is about breaking down and organizing large tasks into manageable steps—Trello is that idea turned into a program. If you're looking for a lightweight tool to manage the basics, prepare to drag and drop your way to effortless workflow management.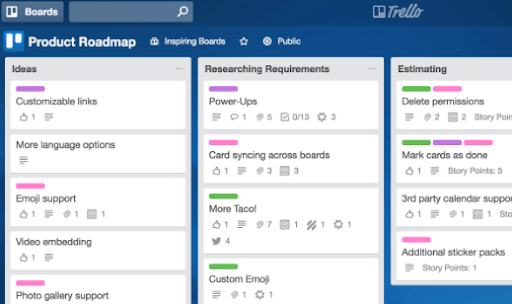 Trello shares a snapshot of the workflow at every level. And it comes ready to go with task boards for everything, whether you need to create a backlog, plan a roadmap, or run a retrospective.
You can set up an inbox so folks in sales or marketing can make feature requests. You can create, add, categorize, comment, and set due dates and owners on cards. Enable card voting to get a temperature reading on new ideas or make quick collective decisions. (A great way to dot-vote during retrospective brainstorming.)
That should be all the functionality you need to plan sprints and manage the backlog. If you're looking for Gantt charts and other visuals, though, you'll want to factor integrations like Power-Ups into your budget.
Otherwise, Trello's freemium version is solid. Combine that with how easy it is for any team to adopt, and you have a sensible option for Scrum beginners. It's fully-equipped to get your team started quickly. And if you like it, upgrading isn't going to break the bank.
Yodiz
Pricing:
Startups: 1-3 users free
Cloud Hosting: $3/user/month
Enterprise: $10/user/month
Yodiz is another good option with a short learning curve. It's comprehensive but easy to scale and extremely flexible to user needs.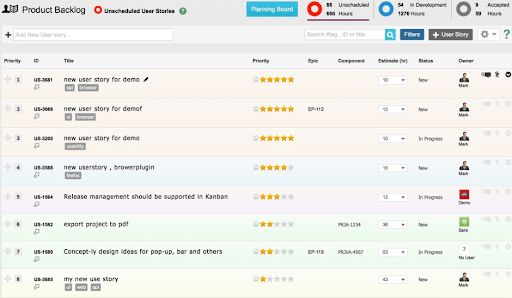 Yodiz comes with boards specifically designed for both Scrum and Kanban, if you're into Kanban too. That said, the boards are versatile. You should have no trouble using them with Lean, SAFe, XP, or other agile methodologies.
Backlog management is super easy. Give yourself as many or as few columns as you need to monitor what's important. Give user stories time estimates. As requirements change, you can quickly re-prioritize using the tool's star and number system.
One of its biggest selling points is the ease with which you can render raw data into charts and other visualizations. So Scrum masters can quickly identify and diagnose problems, then communicate them to the team in a visually compelling way.
Take time and expense tracking and resource management, for example—you can break down user stories by allocated time, so it's clear when the team is becoming overloaded long before it becomes a problem.
Also cool: nonprofits, universities, and other NGOs get free upgrades. A message that all you non-software teams can realize the benefits of going agile too. Even if your company doesn't fit this mold, you can't argue with the low monthly cost.
Monday.com
Pricing:
Basic: $17/month for 2 users
Standard: $26/month for 2 users
Pro: $39/month for 2 users
Monday.com is a customizable agile/collaboration tool that can support the many different workflow styles of different teams. The clean interface and plethora of templates let you set up boards the way you want.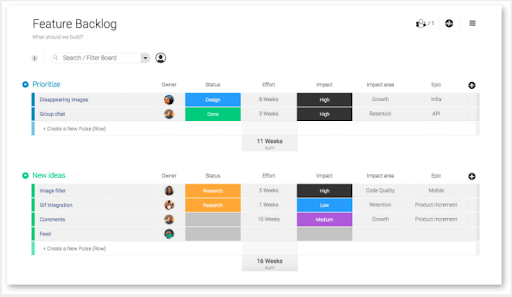 It comes with all the standard features you need for Scrum. Add columns, deadlines, and tags for a detailed summary of who is responsible for what and when. Break down backlog items into specific tasks and time estimations to get a fine-tuned sense of progress. Assign team members to specific tasks and find them easily by filtering the calendar or backlog.
What's different—and for some Monday.com users I know, indispensable—is the Time Tracking widget. If you're billing clients by the hour, you can grab timer information, even from multiple boards (selecting individual columns from those boards, if you like), and export billable hours to Excel in seconds.
Monday.com also works great on mobile, so it's a solid choice for those who need to manage the workflow across devices or on the go.
Jira Software
Pricing:
Standard flat-rate: $10/month or $100/year for 1-10 users
Standard: $7/month for up to 5,000 users
Premium: $14/month for up to 5,000 users
Jira is the industry's go-to solution for teams that are already experts in Scrum. It's also designed for enterprises first and foremost. But the software feels flexible and intuitive enough for small teams as well. When you're ready to scale, Jira will scale with you.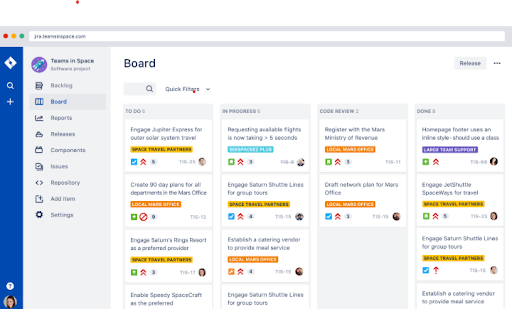 Consider this a fully loaded toolkit for any agile methodology. If you can name it, Jira supports it.
And it's built for transparency. Backlogs, Scrum boards, Kanban boards, and hands-down the most advanced reporting features you can get from Scrum software are all manageable in real time and available out of the box.
At the same time, it's completely customizable. With over 3,000 apps to extend to, Jira certainly pushes the limits of what agile teams can achieve through software.
Basically, for companies that want full-service Scrum software with a focus on analytics, Jira is not going to disappoint.
Bonus: as well as in analytics, Jira has invested considerably in GDPR compliance to help global companies avoid privacy issues with European offices and clients.
Asana
Pricing:
Basic: Free forever, up to 15 seats
Premium: $34.95/month for 5 seats
Business: $124.95/month for 5 seats
Have you noticed all the hype around Asana right now? It's not unfounded. If not the most, Asana is one of the most feature-rich and intuitive project management apps out there.
Unlike Jira and other tools designed specifically to support software development, Asana doesn't discriminate. It does a lot, and might require some user training, but it's generally friendly to all teams—even those that haven't fully integrated agile processes.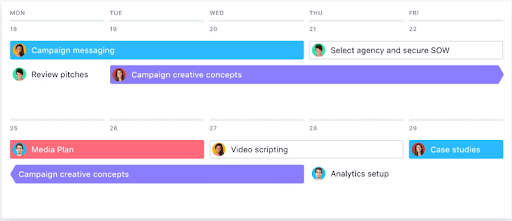 Asana lets you create tasks with similar functions as above, but the Timeline, Workload, and Calendar Views automatically translate these into clear, colorful visuals. Bandwidth issues or overlap are easier to identify when you can see how all the pieces fit together.
And it comes with more than 100 integrations including G Suite, Salesforce, Dropbox, Office 365, Adobe, Slack, and Litmus.
As I said, Asana is not agile-specific. If you're looking for agile-specific, you can't get better than Scrumwise, Yodiz or Jira. Asana is the option for you if you're looking to invest in a single project management platform that works across all business units and systems.
It might include more features than you need, but you can easily pare it down to avoid introducing unnecessary complexity. The free version is pretty lightweight anyway. Keep in mind that some of the best team-tracking features, like Timeline, are only available at Premium, Business, and Enterprise levels.
Finding the Right Scrum Software
Any one of these top Scrum software tools can support agile releases—whether those releases are software-related or not—to some degree. How much functionality you need just depends on how experienced or interested you are in the principles of Scrum.
Even if you're new to Scrum, you might be surprised at what you find useful now and should also keep in mind future needs. This roundup should help kickstart your evaluation, but remember: you'll still want to take a test drive.