Everything You Need to Know About Visio for Office 365
Want to make a professional diagram or flowchart in Office 365? You'll want to check out the paid app Visio.
Sure, Paint 3D is free from Microsoft. This 3D modeling tool is far more advanced than Paint for making art. And doesn't Word have shapes and arrows?
Let's be honest—you're putting a low ceiling on the quality of your diagrams and setting yourself up for frustration with these tools. Paint 3D and Word are great for basic visuals, but they're not really meant for sophisticated diagram creation.
That's what Visio is built for: things like mapping out seating arrangements, diagramming IT systems, or creating visuals that need to meet industry standards. In short, Visio makes it easy to convey complex flows visually.
What is Visio?
Visio is a diagramming and process-mapping application that integrates with other Office apps. Whichever Visio Plan you buy, you can quickly create industry-grade flowcharts, timelines, and SDL diagrams.
The modern UI will be familiar to anyone who has worked with Word or Publisher—the only difference is that the toolkit and options are specifically tailored to diagramming. And it's super simple. Visio projects combine just three types of objects.
Shapes represent topics, components, and other relevant entities. If you're building an organizational chart, for example, these can be simple rectangles that stand in for teams. But you can choose from a huge library of shapes for different use cases.

Connectors represent relationships between the shapes. In Visio, you can use straight, right angle, and curved connectors to join shapes together clearly at each node.

Text allows you to label shapes and relationships and add details and notes to your diagrams.

Full disclosure: I created this diagram in no more than five minutes. Visio works great for quickly getting your ideas onto paper. Org charts are just one example.
But in my experience, the real reason most people use Visio is to help make sense of much larger, more intricate concepts. To help you get started, Microsoft offers a wide range of templates for business and IT use cases.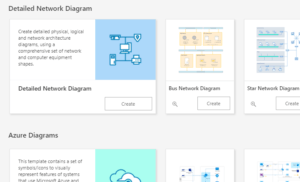 Let's dive a little deeper into why you might want to use it.
Here are the major benefits of Visio
The UI is simple and intuitive. All the headaches you remember from trying to diagram in other apps have been solved for. You don't need a graphic design background to distill complex information into neat, clear models.
The templates and shapes are versatile and easy to customize.
They're also easy to resize, whether you're fitting a diagram to a PDF or developing a larger floor plan.
It's collaborative. Users can edit Visio projects online simultaneously and share files with clients and external stakeholders through OneDrive.
Visio is fully integrated with your Office 365 apps, like SharePoint and Teams. You can also import information from Excel to better visualize your data.
Is Visio included with Office 365?
Microsoft Visio Online is included with Office 365 for viewing and sharing capabilities. But it doesn't include create/edit rights. So even though the tool is part of the Office 365 family, you'll have to buy Visio to create original diagrams.
Like many Microsoft products, you can buy a subscription, which you'll have to renew—or you can make a one-time purchase, which means that a version of Visio is yours forever, but it comes with some significant limitations.
The subscription-based Visio Plans work best for Office 365 users. Like your other Office 365 apps, Visio through these plans will always be up-to-date and the integrated features will continue to work seamlessly as Office 365 evolves.
Note: Visio natively integrates with MS apps like Teams and SharePoint, but only if your Office 365 subscription includes those apps. Here's a breakdown of Office 365 pricing that tells you which apps are included with each edition.
Overview of Office 365 Visio pricing plans
For Office 365 users, there are two Visio Plans designed for different levels of use:
Visio Plan 1: For users who want to create and edit simple diagrams.
Visio Plan 2: For users who need diagrams that meet industry standards.
I'm oversimplifying the distinction, but it's a good starting point for comparing plans. Both enable you to make professional diagrams, but Visio Plan 2 comes with a content ecology pre-stocked with shapes that meet industry standards like BPMN 2.0, UML 2.5, and IEEE.
Microsoft isn't giving away that content for free, so Visio Plan 2 is considerably more expensive than its counterpart. Looking at the two offers side by side, it's easy to see which plan might meet your needs and budget.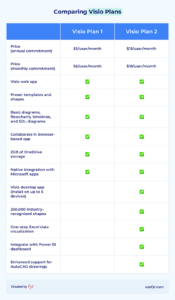 If you need the advanced features, Plan 2 is the obvious choice. If you're not worried about diagramming to industry standards beyond SDL, then Plan 1 probably has everything you need.
Tip: Because Visio Plan 1 is geared toward cloud-based collaboration, it works best for teams that use Office 365 Business Essentials.
Other ways to get Visio
Not sure about the subscription-based version of Visio? You have two options, each the licensed version of the above:
Visio Standard 2019: For users who want to create and edit simple diagrams. Cost: $280
Visio Professional 2019: For users who need diagrams that meet industry standards. Cost: $530
These are one-time purchases that include desktop versions of the Visio app.
Visio Standard 2019 comes with dozens of templates, thousands of shapes, and the ability to translate these into clear diagrams and narratives. Though it's the basic offering, you get AutoCad support and data-driven diagramming⁠—great for automatically generating charts from Azure AD, Exchange, and Excel.
Visio Professional 2019 comes with an expanded set of offerings designed for businesses who need more from their diagrams. This includes a massive shape library, which supports industry standards and additional collaborative features, like simultaneous team editing and real-time presence indicators.
Try before you buy
If you're still on the fence about which features you'll need, we suggest trying them for free. On the Visio options product page, you find links near the bottom to "Try for free" either version of Visio: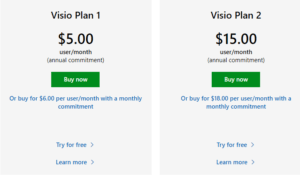 Then you'll be asked to register with Microsoft (one trial per Microsoft Account) to get free access to Visio for 30 days. That includes the ability to share your trial license with other users, so you can test-drive the collaborative functions with your team.
Don't have Office 365? There's a free trial for that, too.
One last thing to remember, as with any Microsoft free trial: you'll be billed automatically once your 30 days is up unless you switch off automatic billing in your settings.