Are the Free Office 365 Nonprofit Plans Worth It?
Nonprofits and other NGOs have to be able to coordinate with employees, partners, and volunteers from all around the globe at a moment's notice. To help these companies follow through on their mission, Microsoft makes its Office 365 productivity suite considerably more affordable to qualified nonprofits.
Here's everything you need to know about the various Office 365 Nonprofit plans available, and how to get one for your organization.
What organizations are eligible for Office 365 Nonprofit?
To qualify for any of the Office 365 Nonprofit plans, your organization needs to meet all five of these criteria:
Legal status: Must be legally recognized as a nonprofit or non-governmental organization in your respective country.
Mission eligibility: Must operate on a not-for-profit basis and have a mission to benefit your community.
User licensing: Only paid employees and certain non-paid executive staff can use donated Office 365 Nonprofit offers. Unpaid staff and volunteers can use discounted plans. (More on those account types below.)
License restrictions: Organizations can't share their license with others, and umbrella organizations with a centralized IT system are only eligible for a single donation account.
Non-discrimination: Organizations that allow discrimination based on race, color, sex, and other identity markers (listed here) are not eligible. Religious organizations, which are exempt from non-discrimination laws, are the exception to this rule.
Checked all five boxes? Great—you have a few lucrative Office 365 Nonprofit offers to choose from.
Is there a real free nonprofit plan?
Yep. There are actually two free Office 365 Nonprofit plans—one for small to mid-sized nonprofits, and one for larger organizations. These are known as donation plans:
Office 365 Nonprofit Business Essentials (up to 300 users)
Office 365 Nonprofit E1 (up to 2,000 users)
These plans are free forever, and grant nonprofits access to some of the same Microsoft tools used by Fortune 500 companies.
There are some limits to the free Office 365 offerings, but you still get a superb cloud-based productivity suite with guaranteed 99.9% uptime. All Office 365 apps are always up-to-date and compliant with HIPAA, FISMA, and EU regulations.
What comes with the donation Office 365 Nonprofit plan?
Office 365 Nonprofit plans include exactly the same features as the corresponding business plans. For example, Office 365 Nonprofit Enterprise E1 includes the same features as Office 365 Enterprise E1. The only difference is that eligible nonprofits don't have to pay.
A few key features included with both free Office 365 plans are:
Office for the Web: Browser-based versions of Microsoft Office apps. This includes familiar programs like Outlook, Word, Excel, PowerPoint, and OneNote, as well as Sway and Forms. These are integrated seamlessly with the other MS services, so it's easy for staff to share and co-edit files from anywhere on the planet. All they need is an internet connection.  
Exchange: Hosted business-class email, calendar, contacts, and a 50GB inbox to ensure your staff can communicate securely. For organizations large enough to need Office 365 Nonprofit E1, the suite comes with Active Directory integration, so you can manage user credentials and permissions.
Cloud storage: Each user gets 1TB of OneDrive cloud storage they can use to safely share information with colleagues, volunteers, and external stakeholders.
Collaborative tools: Schedule unlimited online meetings (IM, audio, HD video, web conferencing) and broadcast meetings up to 10,000 people. Access to Planner, SharePoint, Teams, and Yammer means that your teams can work together in a platform that suits them.
Groups: This memberships service lets anyone create teams and instantly provisions them with all of the tools they need to work together. For nonprofits with a global reach, Office 365 Groups lets folks on the ground control their ability to collaborate without having to check in with an admin every step of the way.
Sway: Use this drag-and-drop storytelling tool to turn your content into a slick presentation or interactive report. Sway is included as part of Office for the Web, but important to highlight because nonprofits can use it to share their message without having to spend a ton of time in the editing room.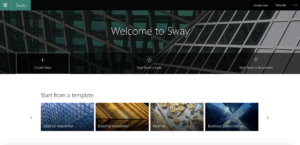 All of that, for qualified nonprofits, is totally free. For some organizations, this will be all the help they need to focus on what matters: accomplishing their mission.
Other groups need additional functionality, and that's when you'll want to look at Microsoft's  premium apps—accessible to nonprofits at lower price points.
Discounted Office 365 Nonprofit plans
There are three paid options of Office 365 Nonprofit that Microsoft makes available at a considerable price break. One is for small businesses and the other two can accommodate larger orgs. These are known as the discounted plans:
Office 365 Nonprofit Business Premium (up to 300 users)
Office 365 Nonprofit E3 (unlimited users)
Office 365 Nonprofit E5 (unlimited users)
The key features included with discounted nonprofit plans only:
Desktop versions of the Office apps: Users have access to premium versions of all apps with full offline access.
Office for tablets and smartphones: Users can edit Office documents with Apple, Android, and Windows mobile devices. Up to five tablets and five phones per user.
Discounted plans have more robust service offerings than come with the donation plans. Just how much more depends on which plan you pick.
How to choose the right nonprofit plan for you
Start with what you need and work backward. If you're in the beginning stages of launching your nonprofit, see how far you can get with the donation version. Office 365 Nonprofit E1 supports up to 2000 users, which is big enough for most organizations to get off the ground.
At the same time, some small nonprofits, charities, and NGOs are never going to have a large user base, but they still need some of the function or security they can only get through a discounted plan.
To give you a quick snapshot of how these plans compare, we've stacked them below with their prices and features included.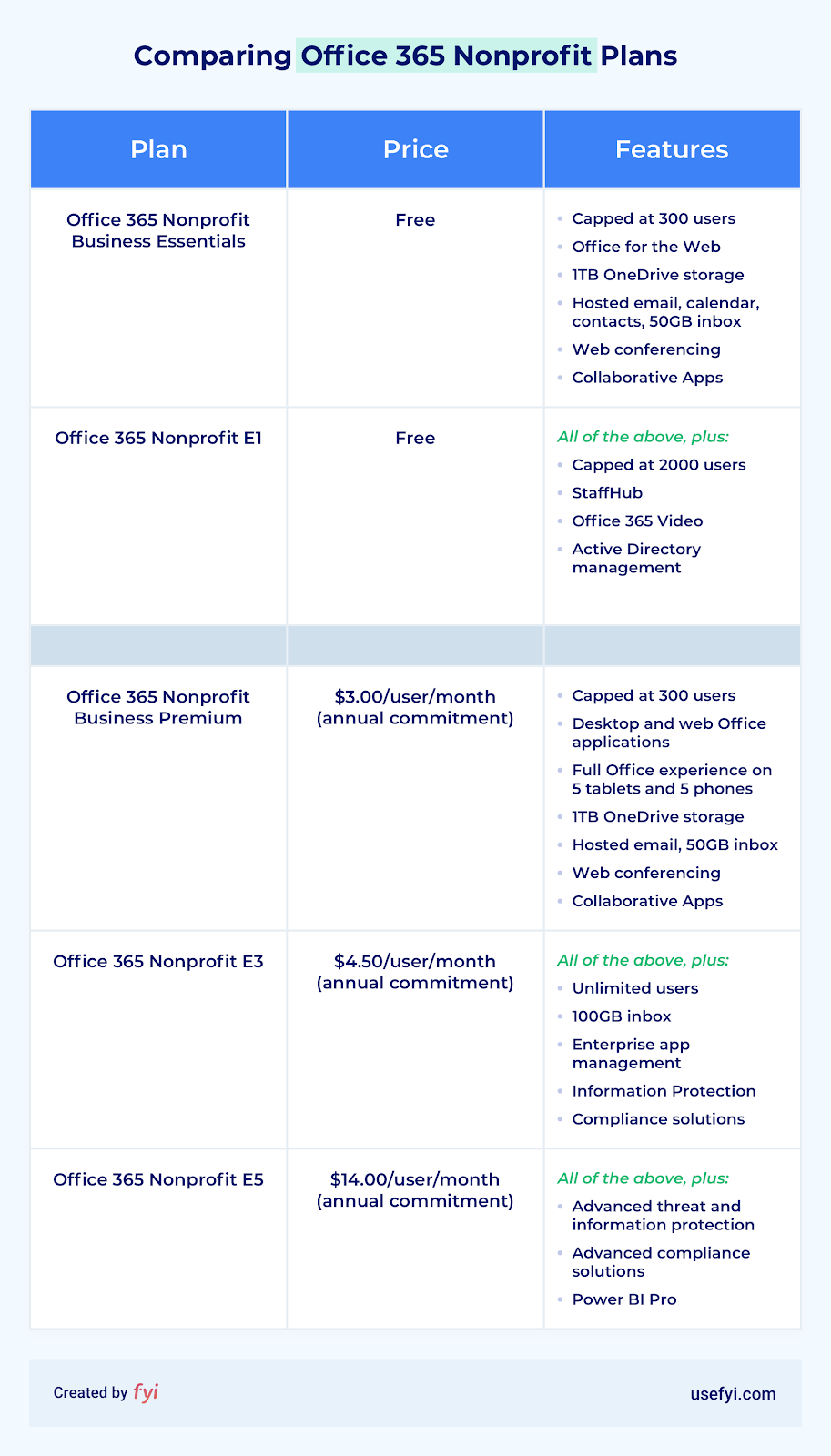 Need more info on any of these features to make your decision? Here's the complete feature availability across all Office 365 Nonprofit plans.
How to get Office 365 Nonprofit for your organization
To take advantage of a nonprofit offer, you need to register your organization through Microsoft.
On the registration page, review the information and click "Register" at the bottom.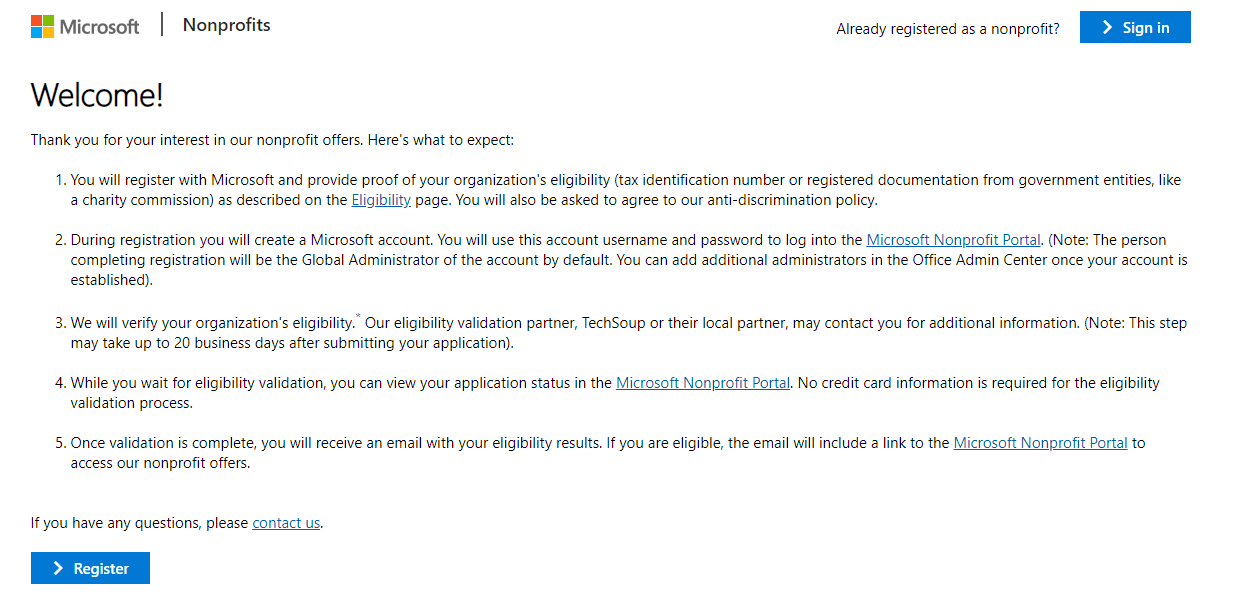 From there, you give Microsoft basic information about your nonprofit.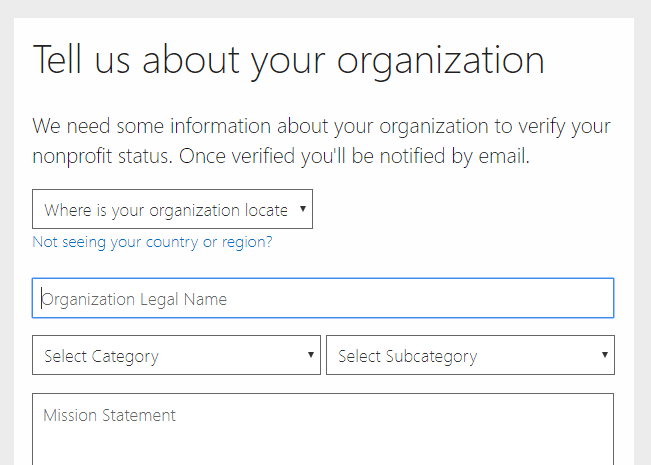 Expect to need to prove your legal status as a nonprofit—for US companies, this would be a copy of your IRS 501(c)(3) determination letter.
Typically, it takes Microsoft up to 20 business days to determine a nonprofit's eligibility, and you may be asked for more information to prove it.
Once you're all confirmed, your offer will be available through the Office 365 admin portal.
Note that if you're approved for nonprofit offers, you can still buy commercial offers too whenever needed.
What about a G Suite nonprofit plan?
G Suite for Nonprofits is free in much the same way as Office 365 Nonprofit. Register with Google, and once confirmed, you get access to G Suite Basic.
Google also makes advertising grants available to nonprofits to help them raise awareness and drive traffic to their site. And they leverage YouTube and Google Maps to help organizations spread their message and be found by local resources in their community.
G Suite Basic can't do everything that Office 365 Nonprofit can, but the opposite is also true. G Suite Basic provides offline access across all your devices, for example, whereas the donation versions of Office 365 Nonprofit don't.
Another thing to remember about G Suite Basic is that it's fully extensible and there are always new and useful additional functions available through Google Play.
But, if we're talking about out-of-the-box functionality, right now Office 365 Nonprofit is a bit more full-bodied. Teams, especially when combined with SharePoint, offers a lot more functionality than Google Hangouts.
Still—whether you end up going with Office 365 Nonprofit or G Suite, I wouldn't leave those free Google Ad bucks lying around. Here's everything you need to know about how to get G Suite for free as a nonprofit.