The Free Evernote Plan: What You Get and What You Don't
Before you sign up for the free version of Evernote, make sure it has all of the features you need.
You may not be spending money, but you are spending time. Evernote might have once cornered the note-taking market, but it's no longer alone. Depending on the features you need, Evernote might not be the best option.
Let's first take a look at what the free Evernote plan will get you, and just what you'll be missing out on.
What do you get in the free Evernote plan?
First off, the basics of Evernote are free.
Creating notes on your phone, tablet, or computer and then syncing them to the cloud are givens.
Your notes are also available anywhere, on the app or in the browser. With the free version of Evernote (also called "Evernote Basic"), you can tag these notes, separate them into Notebooks, include images, and attach files.
Your notes can also handle tables, audio recordings, to-do lists, and all standard text formatting.
Now let's get into some of the specific features that come with a free Evernote Basic plan.
Evernote Web Clipper
The free version of Evernote does come with Evernote Web Clipper.
Web Clipper is a browser extension that can grab screenshots, images, and whole pages to download into the Evernote Notebook. Web pages can be downloaded as-is into a note, or they can be simplified down to just the text. It's useful for organizing research and also for decluttering useful-but-busy websites.
Web Clipper is one of the most useful Evernote features, especially for researchers, students, and writers.
Data
Evernote Basic comes with a maximum note size of 25 megabytes per note, and a monthly upload cap of 60 megabytes. If most of your notes are text, or you're an infrequent user, you might not run into those caps often.
If a Microsoft document is around 8 kilobytes on the high end of average, it's going to take a lot of text to reach 25 megabytes on a single note.
However, audio recordings, music, video, images, and other attached files are going to balloon that number quickly. Which will then add up to hit the monthly upload cap.
Devices
Evernote Basic allows syncing between devices, but only for two devices. This will cover something like a phone and a laptop, which, again, might be all right for certain users.
But this limit doesn't apply to accessing the browser version. You can log into your Evernote account in the browser of any device and access your files.
Sharing and syncing
Sharing is possible with Evernote's free plan. You can invite one or more people to either view or edit a Notebook and the notes inside, based on the permissions you give them.
If you need to access your notes offline, the free version of Evernote allows syncing to the desktop app. No mobile devices. So a laptop would work, but a tablet or phone wouldn't, which is something to consider if you work and travel at the same time or your internet connection is spotty.
Community support
You're not going to get one-on-one customer service on a free Evernote plan.
Instead, you're given "community support," which basically means the Evernote forum. That might be sufficient for the tech-savvy, but if there's a problem with your account, you could run into trouble.
What don't you get in the free Evernote plan?
Now we come to the tools you don't get without spending a little money on a more advanced Evernote plan, like Premium or Business.
The big features you won't have access to with the Basic plan are expanded data caps, company sharing features, AI-suggested content, app integration, and customer support.
Let's explain what these features are, and whether you'll find them useful.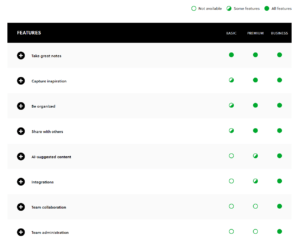 Large data allowances
The first concern will be the data cap, which, as we mentioned, is 25 MB for individual notes and 60 MB for monthly uploads.
Users who plan on folding Evernote into their everyday workflow may find the free version's data limits wanting. Users with multimedia files will hit the cap. If you plan on using Evernote for recording lectures or interviews—long chunks of audio notes—the free version won't cut it.
If you are using Evernote for shopping lists and reminders and are occasionally saving fun or useful information, Evernote Basic is probably fine. If you're a full-time student, teacher, researcher, journalist, interviewer, author, or scientist, you'll become intimately familiar with those data caps on a regular basis.
Premium and Business both expand the data cap significantly. For Premium, the per-note cap jumps to 200 MB (from 25 MB), and the monthly cap goes from 60 MB to 10 GB. Business keeps the per-note size the same as Premium but bumps the monthly upload limit to a 20 GB base, with an additional 2 GB per user on the plan.
Company-wide sharing
The free plan also doesn't come with many sharing or collaboration options, just the option to share individual Notebooks.
When it comes to sharing, the Premium plan is identical to the Evernote basic plan, with one notable exception. That is, the Premium plan lets you turn a note into a PowerPoint-style presentation with one click. Turning notes verbatim into a presentation may only have a few limited applications, though. Usually, notes are for before a project is finished, and a presentation is for after everything is polished.
More advanced team-sharing and collaboration features are available at the Business level.
The Business level adds the ability to make shared Notebooks available to anyone in your company. It also adds the administration tools necessary to integrate and manage the company-wide Notebook sharing feature.
AI-suggested content
Evernote has added some AI features to their software. You won't get any of these features in the free version, though.
The Premium version of Evernote will suggest (and point to) other notes in your Notebook that might relate to what you're writing now. It does this by analyzing keywords and overall content and matching it with previous notes. Ideally, this could help you gather like-minded notes together and could perhaps help you tag them all with the same keywords yourself to make them easier to find in the future.
For the Premium version, you'll also get suggestions for research or follow-up from websites like Inc. Magazine and the Wall Street Journal. If you're taking a note on the health effects of vaping, for example, the AI will point you toward news articles conveying the same information.
Evernote's Business version adds one more AI feature, and it follows logically from its sharing features. Instead of recommending related notes in your own Notebook, it recommends related notes from others in your company.
If these AI features grab your attention, the free version of Evernote might not be for you.
Integrating with other apps
The free version of Evernote doesn't include any integration features, other than with its own Web Clipper Chrome extension.
Are you a Google Drive user? Whether for backups or as a primary workspace? Moving files easily between Drive and Evernote can be useful. You can link your Evernote Notebook with Google Drive to transfer documents, but only with the Premium or Business editions.
Are you one of the 10 million people who use Slack daily? Evernote can clip, save, and sort Slack messages into your Notebook. And, conversely, you can make and share new notes without leaving Slack, a feature that could be useful for maintaining transparency, protecting yourself, or just preventing important data from being lost.
Integration with Slack, the chat app, is also only available with the Premium and Business versions, though.
Email integration is reserved for the paid versions. If you want to sync with Outlook or forward emails to your Evernote account, the free version won't do.
Customer support
If you're looking for more support than a forum, the paid versions of Evernote expand the features. They give you an asynchronous or synchronous support option. Both Premium and Business users get access to email customer support at any time. They'll also get access to Evernote's live chat support for more immediate concerns.
Offline access and device limits
What you won't get with the free Evernote plan is anything beyond two synced devices, with offline files available on only the desktop version.
Both Premium and Business allow your Evernote files and Notebooks to be synced offline on desktop or mobile devices. Again, travelers might take comfort in having their notes available on their phone or tablet, no matter the Wi-Fi situation.
Evernote Basic lets you install the Evernote app, on the same account, on only two devices. The two paid offerings expand that to unlimited devices. Not everyone has more than two devices they'd want to install Evernote on, but if you do, you're going to have to pay.
What do the other versions of Evernote cost?
We'll keep this part brief, but we figure knowing the price might add some context.
The Premium plan, which expands the sharing options, the data cap, the number of synced devices, and the customer support, will run you $7.99 per month.
Evernote Business is $14.99 a month per user, with a two-user minimum. This means upgrading it only to expand features for your account alone isn't an option. Then again, most of its features apply to other accounts anyway. The Evernote Business plan mostly adds team-sharing and collaboration options. It's best suited for entire teams that consistently use Evernote.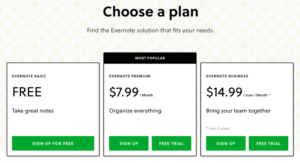 Neither subscription price is too hefty but is still more than a casual user is going to need to spend.
Whether or not the features outlined above are worth $8 to $15 a month is going to depend on your workflow and your needs—and, of course, on whether a free note-taking app from another company outshines Evernote Basic.
Is the free Evernote plan robust enough for you?
Let's do one last breakdown to sum up what you get with the free Evernote plan, what you don't, and whether it's right for you.
Taking audio or text notes, tagging them, organizing them into Notebooks, and syncing to the cloud all work fine with Evernote Basic. The data cap is fine for text notes and the occasional picture or short audio recording. You can install the app on two devices. And you can sync offline files on one desktop device, though the browser version is available anywhere on any device. You also get the Web Clipper, which can be handy for people who need to access a web page offline later.
The paid versions add more sharing, more customer support, and a larger data cap. It also tacks on AI features, more devices, and outside app integration.
Note-taking is a very personal thing; we all have different methods. Only you know what's right for you, but now you at least know what you get for the price.