The 5 Best Office 365 Training Programs in 2020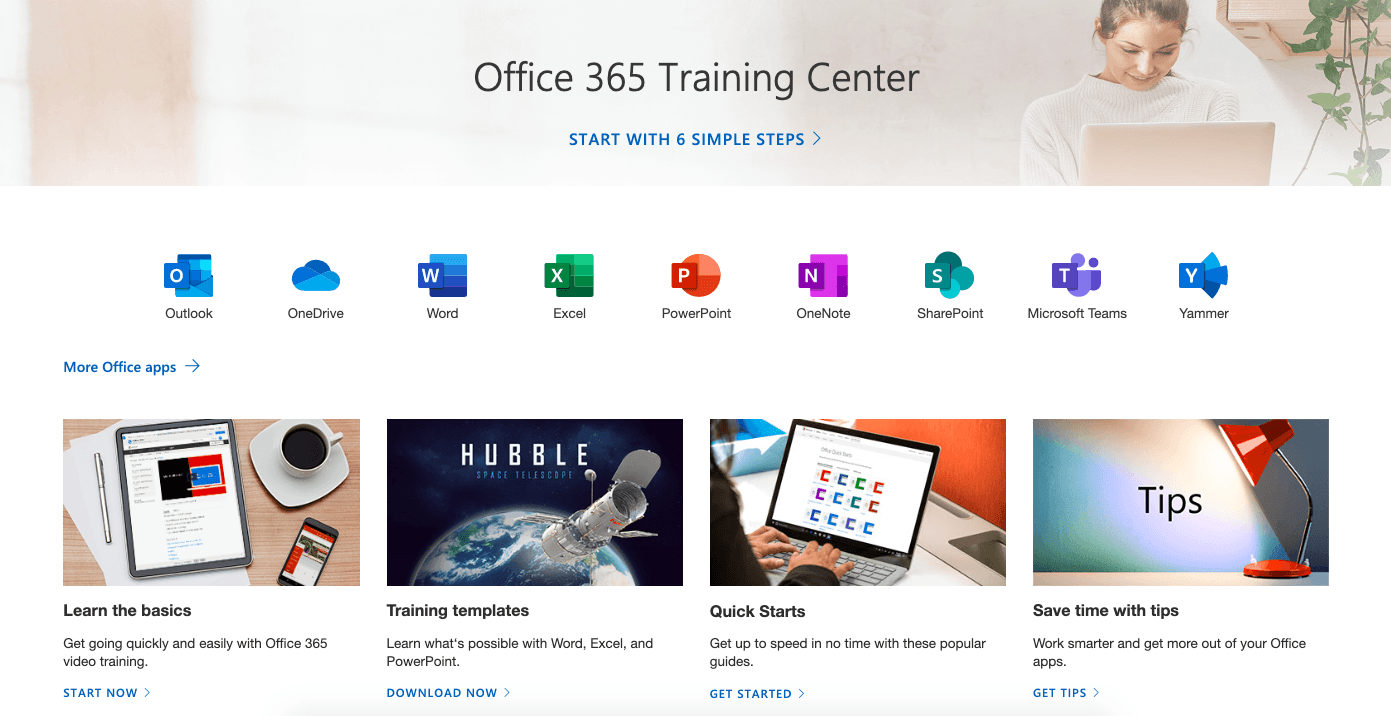 Maybe you use Microsoft Office 365 just to create Word documents. Maybe you depend on it to run a multinational business.
However you use the platform, what's the best way to learn how to navigate your way through its constantly updating features and functions?
From one of these five Office 365 training courses, you should find what you need to help you, your team, or your company develop Office 365 mastery.
What makes a good Office 365 training course?
When it comes to making the most of the collaborative features Office 365 is famous for, you might be better off investing in training upfront than wasting time and resources muddling through it. A good training course gets people oriented quickly and provides just enough preliminary direction for them to make the most of the platform for years to come.
As we assessed Office 365 training courses available on the market today, we asked ourselves:
How complete is the training?
Is it accessible?
How in-depth is the content⁠—just enough for the target learner?
Is it worth the cost?
In case you're interested in advanced topics your ideal training course excludes, I've also included any further development the course creators offer.
We've ranked our top five from least to most intensive, starting with a zero-investment but fairly rewarding Office 365 tutorial best for students and beginners.
Pricing: Free forever
Prerequisites: None
Certificate: Not included
Languages: English, Spanish, German, French, and more
Microsoft offers a range of resources in its Office 365 Training Center, each breaking down the basic information you need to get started. It's not a guided tour, but all fundamentals of Office 365 come with videos and walk-throughs.
Here's the suite of options you see when you log in: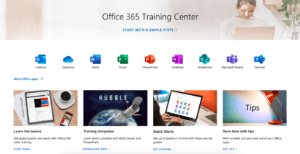 Below the list of Office apps, you'll see four different tracks to begin your training. Choose what works best for you from:
Learn the basics
Great for folks who have never used Office or as a refresher. Detailed step-by-step guides escort you through the essentials.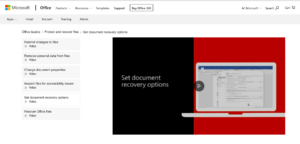 Training templates
Like to learn by doing? You can download training templates onto your desktop and learn as you work within the program you are looking to master.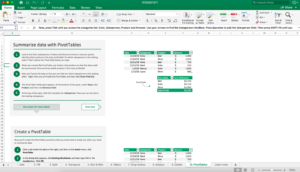 Quick Starts
If you have experience with Office but want to try an app you are not familiar with, try a Quick Start. You'll learn the key functions for desktop and mobile and how to collaborate with others.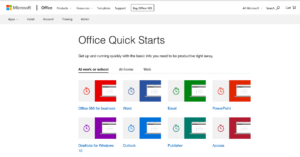 Save time with tips
Experienced with Office but looking to use it more efficiently? You'll find powerful tools you could be getting more out of in the Tips section. You can filter tips by app or, if you want to stay up to date, by the latest functions.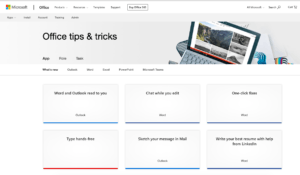 Below these four main tracks you'll see more options for advanced training. For example, modern workplace training is more specifically geared toward boosting productivity across teams and the wider business.
Can't find what you need? Go to Support to search through dozens of functions Office is capable of performing.
Pricing: $29.99/month (first month free)
Prerequisites: A LinkedIn Learning subscription
Certificate: Not included, but you can add completed courses to your LinkedIn profile
Languages: English
To get this course, you need a LinkedIn Learning subscription, but you'll gain access to a ton of other content. So while Learning Office 365 is a beginners-only course, you'll have the opportunity to build further business, creative, and technology skills if needed.
Learning Office 365 is the top Office 365 training course on LinkedIn Learning, but not because it's comprehensive. It's just under 60 minutes long⁠—under ten of them dedicated to SharePoint and Teams. So why is it so popular?
It's great for onboarding, especially for remote workers. The host, David Rivers, is a straight-forward thinker and brings decades of IT and educational experience to his lessons.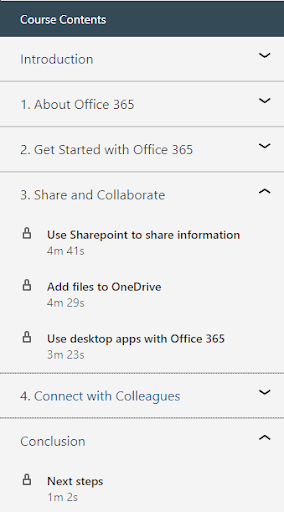 The course lacks the walk-throughs and detailed instruction of others on this list. Which might be fine if you don't want to invest a ton of time. This is the quick, minimum-viable intro you need to understand the basics.
From there, you can dive into program-specific courses for more depth: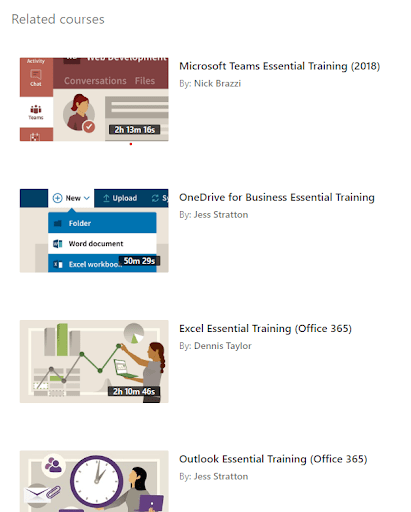 Pricing: $39.99
Prerequisites: None
Certificate: Yes
Languages: English, French, German, Italian, Polish
As the only course here that offers a certificate, this is a good one for resume building.
Udemy boasts an extensive library of courses. Should you need more support in a specific app like SharePoint, or a crash course in ethical hacking, they have it. They also offer Udemy for Business for training more than five people. But Mastering Office 365 is a good starting point.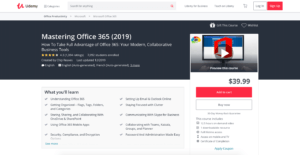 Mastering Office 365 is a video-based course hosted by software veteran and Bigger Brains founder, Chip Reeves. We liked how he starts high-level, then works through every app, service, and customization available for Office 365.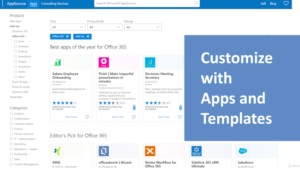 Even better, Reeves is joined by a real-life learner who asks questions and gives the course a human dynamic some users will find really helpful. Reeves draws on his own working knowledge to help you through common problems and tasks. And along with instruction on how to use the apps, he talks about the successful kinds of behaviors you need to maximize them.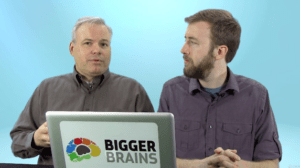 There are 12.5 hours of video, broken down into segments that focus on specific apps. This is a huge plus. It's easy to skip what you might not need and dip into relevant sections as challenges arise.
Mastering Office 365 has just been updated for 2020 with new content on Microsoft Kaizala, Teams, and Delve.
Pricing: $295
Prerequisites: Basic Windows experience
Certificate: Not included
Languages: English, French
Unlike the more common self-paced format, this is a one-day, seven-hour course that covers Office 365 from cover to cover. As long as you have some experience with Windows, you'll find this helpful as an intensive on-ramp to Office 365 specifically.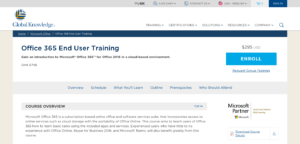 Via the Virtual Classroom, you get expert-led training anywhere with internet. Classes are not on-demand, but they're scheduled frequently.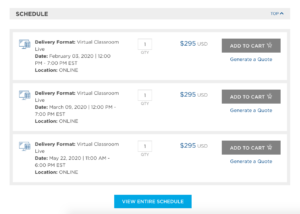 One knock against the design is that it's a lot to learn in one sitting. That's not going to work for everyone. On the other hand, the course comes with a year of access to Microsoft Office Training Exclusives, GK's hub for ongoing education.
Additionally, you can retake the course within one year of signup.
Think of this Office 365 training as onboarding-plus. You don't need to invest more than one day to learn everything you need as well as a ton of useful and continually updating resources. The price tag is higher, but this is turnkey.
Pricing: Starting at $135/month
Prerequisites: None
Certificate: Not included
Languages: English
If you're looking for enterprise-level training, this is the course for you. Knowledge Wave offers subscription-based ongoing training for teams ranging from five to 10,000 users.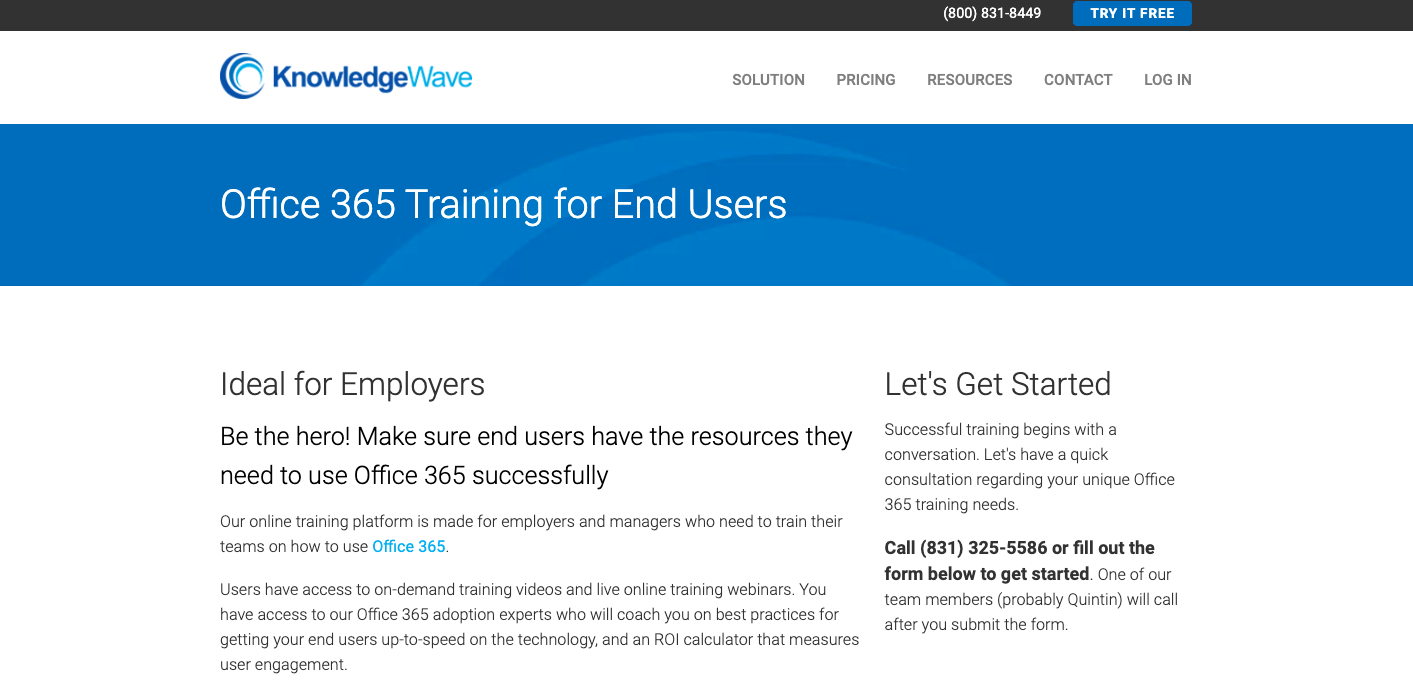 It's best for employers who depend on Microsoft products to run their business or those who are switching to Office 365. It offers on-demand training videos, live virtual classes, coaching, and even onsite training.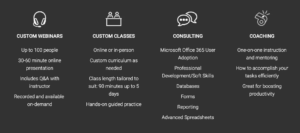 The idea is to be able to support your team's continuous development as Office 365 updates. In other words, it empowers your workforce by keeping everyone onboard and fully productive. If someone falls behind, they know where to turn for support.
The price varies depending on how many subscriptions you need: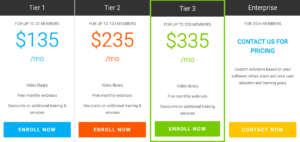 As a guarantee, Knowledge Wave includes an ROI calculator you can use to make sure you're getting a return on your monthly investment.
To note before you get started
Depending on which Office 365 subscription you use, you may not have access to all the apps your course covers. If you have Office 365 Business Essentials, for example, you won't have Teams or SharePoint.
So the training may have more than you need. My advice: check what's there before you sign up. Or use the course as an opportunity to see the full extent of what Office can do.