Does Office 365 Have SharePoint?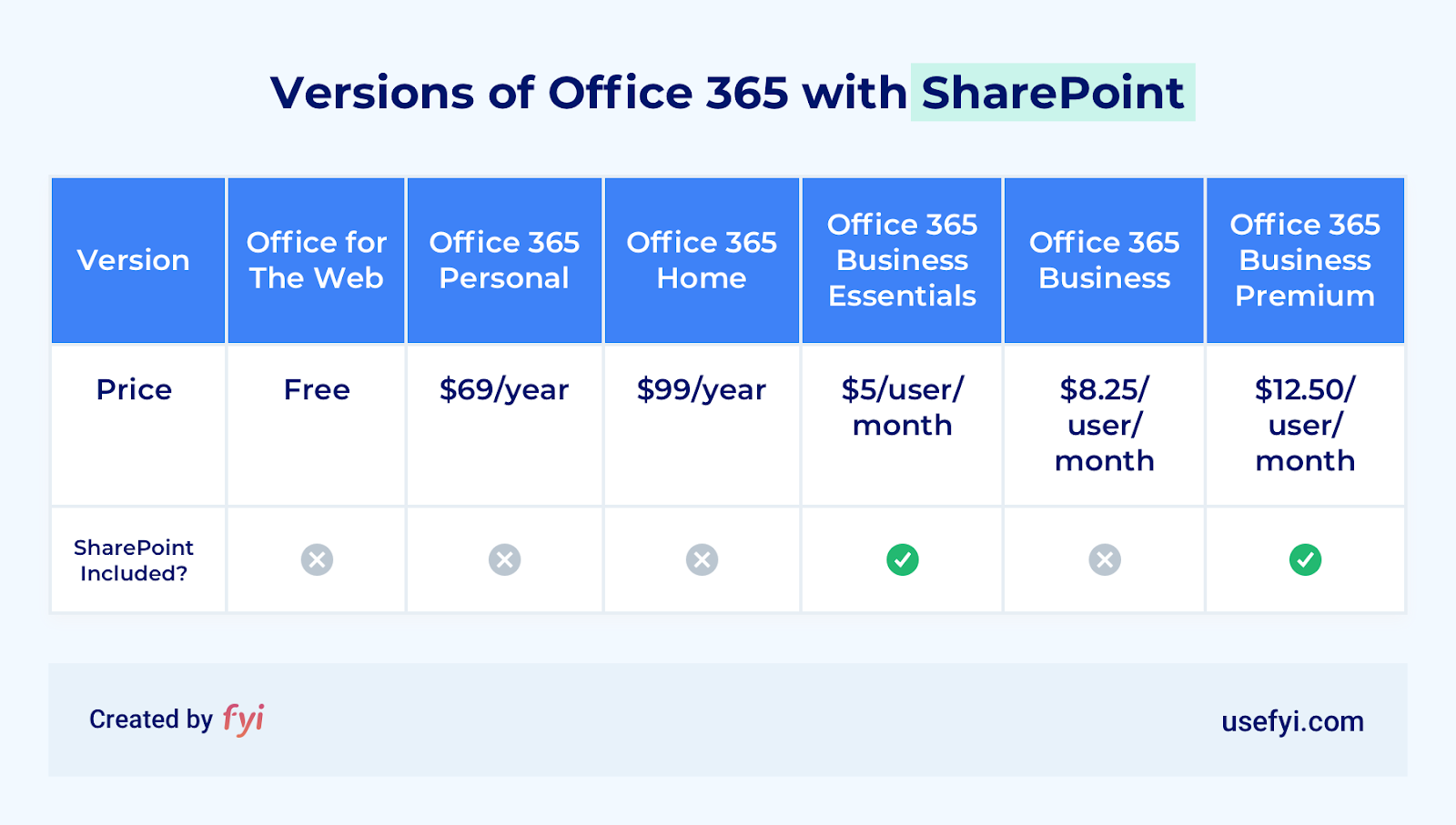 Why do the majority of Fortune 500 companies rely on SharePoint for document management and intranet? The same reasons smaller companies do: SharePoint is easy to learn, easy to use, and very dependable.
Combined with Office 365, SharePoint is even better.
Currently, SharePoint Online is bundled with some versions of Office 365, or it can be purchased as a standalone service. Office 365 SharePoint is fully integrated with your other apps. You can build secure sites to store, share, and co-edit different types of files with others across the company.
If you have a standalone SharePoint without Office 365, or Office 365 without SharePoint, you'll still be able to carry out some document storage and intranet functions using other Office apps⁠—it's just not going to be as sleek, centralized, or controllable as setting up your content management with SharePoint.
Let's go through the SharePoint basics, your plan options with and without Office 365, and what it's all going to cost.
What is SharePoint?
SharePoint Online is a cloud-based platform that brings together several important aspects of business that were formerly independent, such as intranet, document storage, and permissions sharing.
The end result is that users can work within SharePoint to edit and comment on different versions of files, as well as coordinate big-picture tasks, all from the same dashboard.
SharePoint is a lot more than a place to build sites, but it's a good place to start. There are three main types of SharePoint sites you can create.
Communication sites are good for broadcasting company-wide news or interfacing with external stakeholders and clients. Site Owners control the information its Members can post and Visitors can view.
Team sites are great for particular projects, products, clients, or working groups. Store and share files in a document library with a versioning history and other controls to keep your files safe. SharePoint team sites are built on top of Office 365 groups, so anyone you invite will have access to a shared calendar, inbox, and cloud storage.
Hub sites tie together various autonomous team and communication sites under a single navigation umbrella.
From there, you invite other users, assigning varying levels of permissions as needed.
Check out this chart from Microsoft to get a sense of how these three site types fit together and form the building blocks of your company's intranet: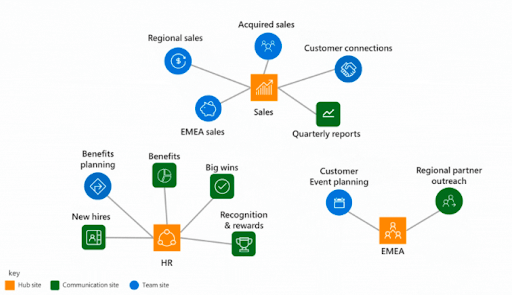 As different teams need to connect (or separate) for different projects, SharePoint admins can quickly make sure everyone has access to the information they need.
Key benefits of SharePoint
Usage varies considerably among organizations, but companies typically employ SharePoint to address the following needs:
Enterprise Content Management (ECM)
SharePoint sites serve as secure document libraries that allow users to store, search, track, and retrieve files associated with a specific project or team. Many of the features in SharePoint (versioning, check in/out) are built specifically for companies to meet regulatory or process requirements.
Collaboration
SharePoint enjoys tight integration with all of the core Office apps, which makes for a rich collaboration environment. Co-edit documents, spreadsheets, and presentations, and quickly see who made the last edit. Security and compliance features make it easy to set up a safe guest sharing environment as well.
Intranet
Businesses use SharePoint to create and maintain a modern and intelligent intranet. Though Yammer is quickly supplanting SharePoint's role as a company-wide social network, SharePoint communication sites are an easy way to share information with a large number of users across departments.
Business intelligence
SharePoint leverages Graph and OneDrive for Business in order for you to generate insights about the data stored in reports, documents, and records.
Business process management (BPM)
SharePoint helps companies automate workflows, which can decrease costs while increasing productivity.
Is SharePoint included in Office 365?
Only certain versions of Office 365 include SharePoint Online: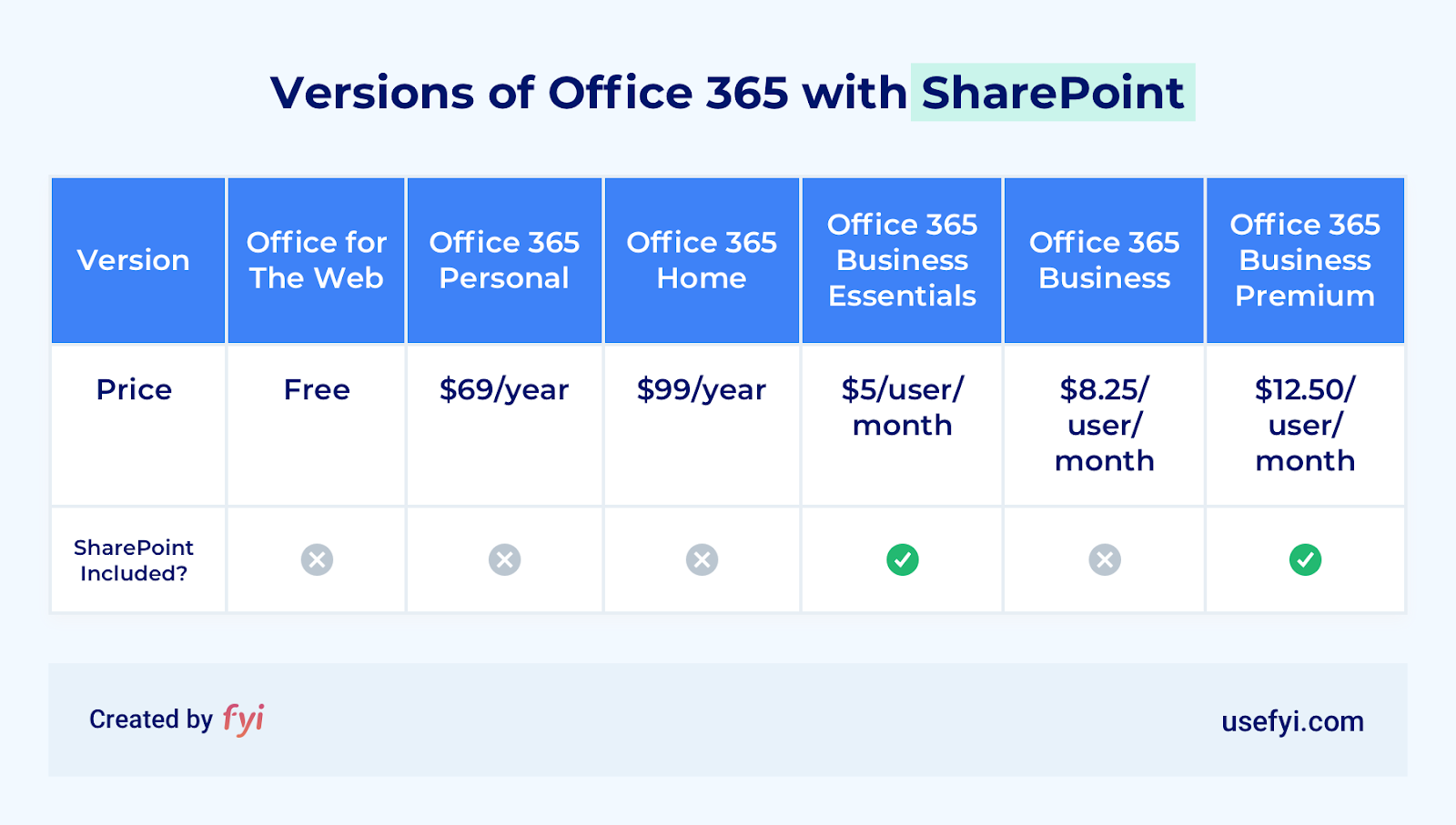 Although SharePoint is a key app for many businesses, it's not counted among the core apps for Microsoft. Of the subscription plans that include SharePoint, Office 365 Business Essentials is the most affordable.
Side note: All Enterprise Office 365 options come with SharePoint Online.
What's the difference with SharePoint Online?
If you have Office 365 SharePoint, odds are you're using SharePoint Online. Like Office 365, SharePoint Online is entirely cloud-based and located on Microsoft's servers.
Not that it matters much from an end-user POV. SharePoint behaves exactly the same way, it's just that your files aren't taking up local space. The same is true for your tablets and phones: SharePoint Online works across all your devices, as long as you download the SharePoint Mobile app.
Alternatively, SharePoint can be deployed on-premises. This is known as a SharePoint Server plan. Companies may deploy completely online, completely on-premises, or a hybrid setup.
Those that install SharePoint on their own farms tend to have specific needs or compliance requirements that make it easier for them to manage their data themselves. They don't benefit from the incremental improvements that come with SharePoint Online, but they have more control over their platform's architecture and behavior.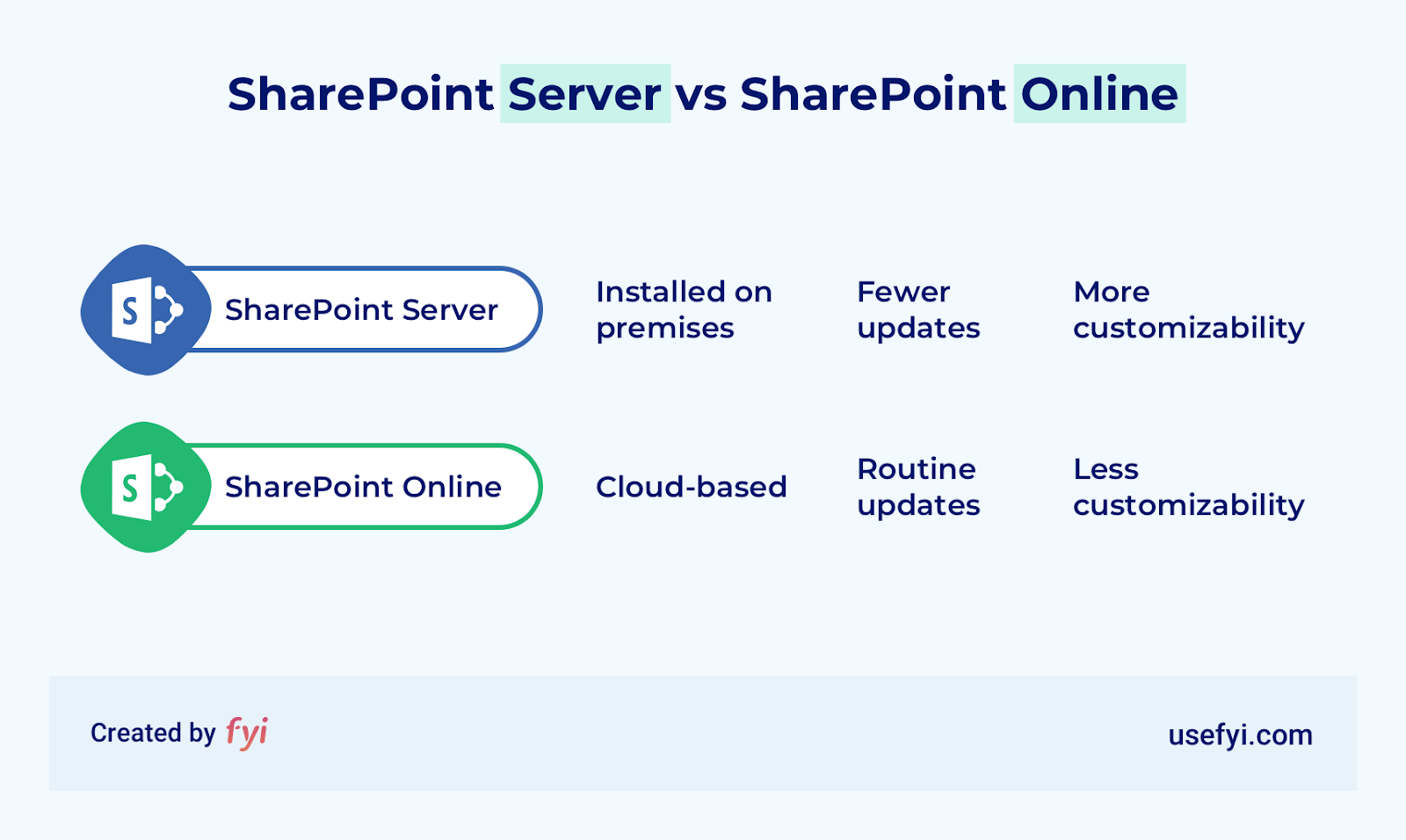 That said, SharePoint Online users enjoy a considerable degree of customizability, and those who have Office 365 can access nifty add-ons to tackle tasks or hurdles that didn't exist a month ago.
What are the other ways to get SharePoint?
If you want to purchase SharePoint separately from Office 365, there are two plans to choose from: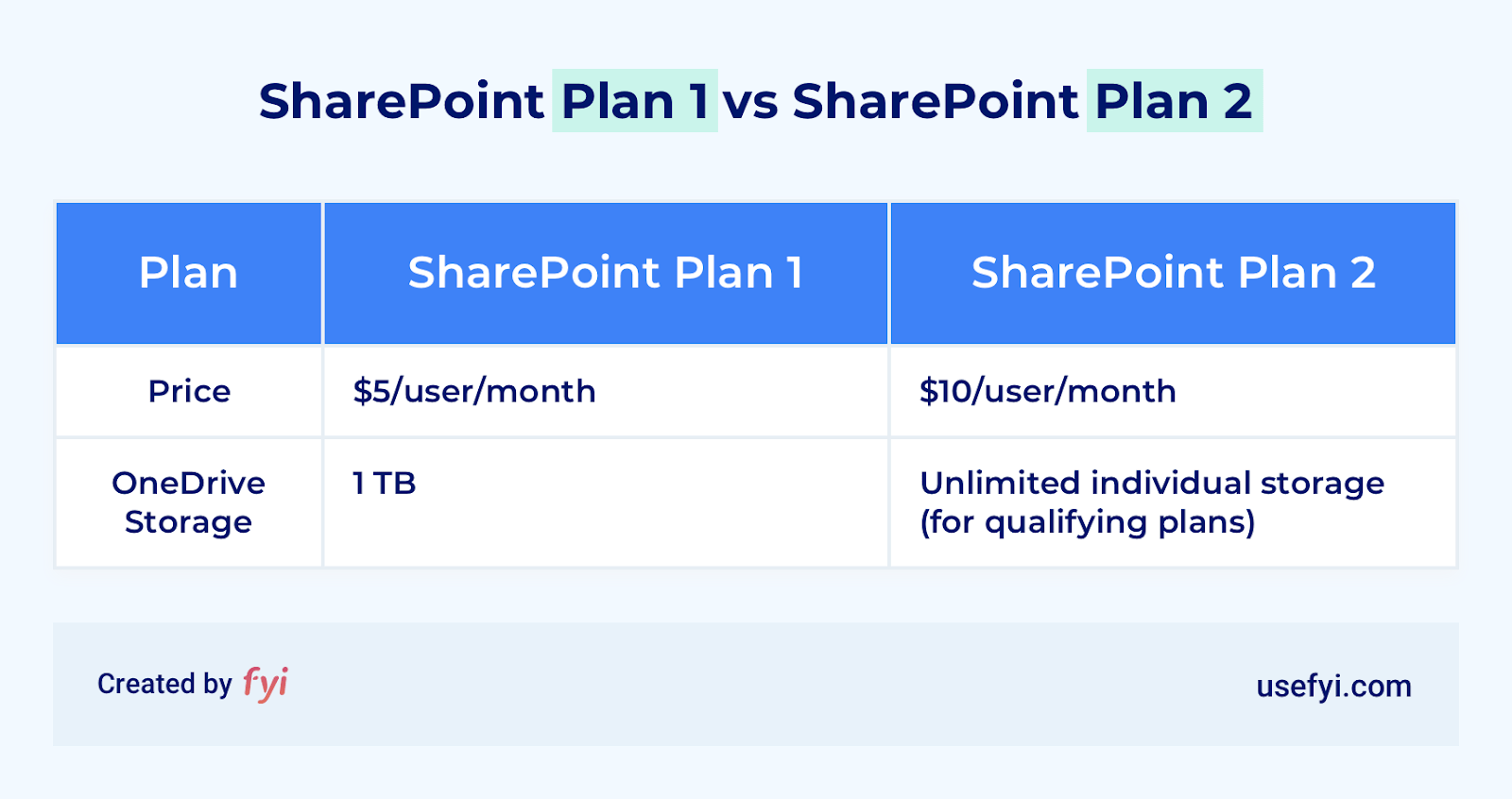 SharePoint Plan 1 works well for small to midsize businesses. It comes with everything included with SharePoint Online, including mobile access and 24/7 support.
SharePoint Plan 2 is designed for enterprise. There's lots more storage per user, advanced DLP capabilities, and enhanced search and administrative features.
SharePoint migrations
Moving to SharePoint Online?
Much will hinge on the size and nature of the files you need to move, but even a small-scale SharePoint migration will benefit from planning. Taking time to inventory and assess your content will save you a ton of effort later on.
You also want to make sure you take advantage of tools designed specifically for SharePoint migrations. Depending on where your content lives now, you have a few options:
SharePoint Migration Tool: Best for migrating SharePoint Server 2010 and 2013 environments or smaller file shares. Microsoft also provides the SharePoint Migration Assessment Tool to help you assess your SharePoint Server 2010 and 2013 content before migrating.
Mover: Best for cloud-to-cloud migration from other service providers, including Box, Dropbox, Egnyte, and Google Drive. You can also use Mover to migrate one SharePoint tenant to another.
Migration Manager: Best for migrating large file shares. Migration Manager gives you a centralized way to connect servers, create tasks, and monitor progress.
There are other methods and tools out there for SharePoint migrations and plenty of companies that will do it for you (for a price).
When is SharePoint with Office 365 a good fit?
If enterprise content management is a concern, you're going to want to get SharePoint sooner rather than later. OneDrive is not built for ECM, and though you can spend time customizing it to securely store and index your files, it will be an uphill battle.
This is to say nothing of the top-notch collaborative environment provided by SharePoint that you and your coworkers will miss out on. Yes, the Office 365 apps have a lot of collaborative features baked in, but a centralized SharePoint dashboard is going to help people manage work across all of their teams, committees, and groups.
If you're thinking about SharePoint, it's probably time to get it. You'll grow to a point where you have to budget in a SharePoint migration eventually. And that will only climb in costs as you put it off.
A final thing: If you already have Office 365, the bump in per-user subscription costs to get SharePoint doesn't have to break the bank. Get complete information on Office 365 pricing and plans here.