How to Tell If the Office 365 E1 Plan Is Right for You
At only $8 a month per user, Office 365 E1 sets your company up with an enterprise-class productivity suite. Each user gets access to email, secure storage, collaborative platforms, and a host of tools designed specifically for large-scale businesses to thrive. It's entirely cloud-based.
Of course, there are some drawbacks along with the affordability. We'll cover the highs and the lows, as well as how E1 stacks up against the more bare-bones Office 365 Business Essentials and the other Enterprise plans, E3 and E5.
Overview of Office 365 E1
Depending on what you're looking for, the lightweight nature of Office 365 E1 might be good enough. You get access to web-based versions of the core office apps, which include:

The web-based apps aren't as feature-rich as their desktop counterparts, and without wifi, they limit you to read-only access to Office files. In terms of the core apps, what you're essentially getting with E1 is the free Office 365 plan known as Office for the Web.
So you can see why the Office 365 E1 plan is less than half of the cost E3, the next level up in Microsoft's Office 365 Enterprise productivity suites.
But, if you're not worried about advanced functions in Word or Excel, or needing constant internet access, then these tradeoffs aren't terrible. After all, you do also get access to Microsoft's core collaborative services:

That's a good deal for less than $10 per user per month. You will get more robust versions of these products with E3 and E5 plans, but Office 365 E1 provides more than enough business-critical functions.
Here are some of the chief reasons people depend on it:
Unlimited users: E1 lets you add as many users as you need, whereas all Office 365 Business plans are capped at 300.
Integrated OneDrive storage: Each user gets 1 TB of cloud storage through Office 365 OneDrive, which has tight, intuitive integration with all your other Office apps. Save all your work in a single, searchable, secure location that you can safely share with co-workers or external stakeholders.
Business-class email with Exchange: Users get a 50 MB inbox and can send messages up to 150 MB. There's also anti-malware and anti-spam filtering. The browser-based experience in Outlook is supported by Exchange, giving users anywhere access to their calendar, contacts, and email.
Power Automate: Without writing a line of code, users can build secure and time-saving workflows with built-in AI capabilities.
Collaborative platforms: Users can co-edit files directly within apps like Word and PowerPoint, and coordinate via Teams, Yammer, Planner, and SharePoint.
Supported by OneDrive, Exchange, and Office 365 Groups, your employees can collaborate safely and securely with whoever they need to, wherever they are.
What about tablets and mobile devices for Office 365 E1?
An Office 365 E1 license lets a single user install Office mobile apps on up to five phones and five tablets⁠ (with a screen size of 10.1" or less). The Office desktop apps aren't included.
How does E1 differ from other Office 365 plans?
E1 is part of the Enterprise family of Office 365 plans, which are built for larger businesses with concerns about security and compliance.
Considering the switch from an Office 365 Business plan? As a general rule, that makes sense if you need to accommodate more than 300 users. If not, Office 365 Business might meet your needs for now.
Here's how they compare in terms of price and whether desktop apps and collaborative platforms (like Teams and SharePoint) are included: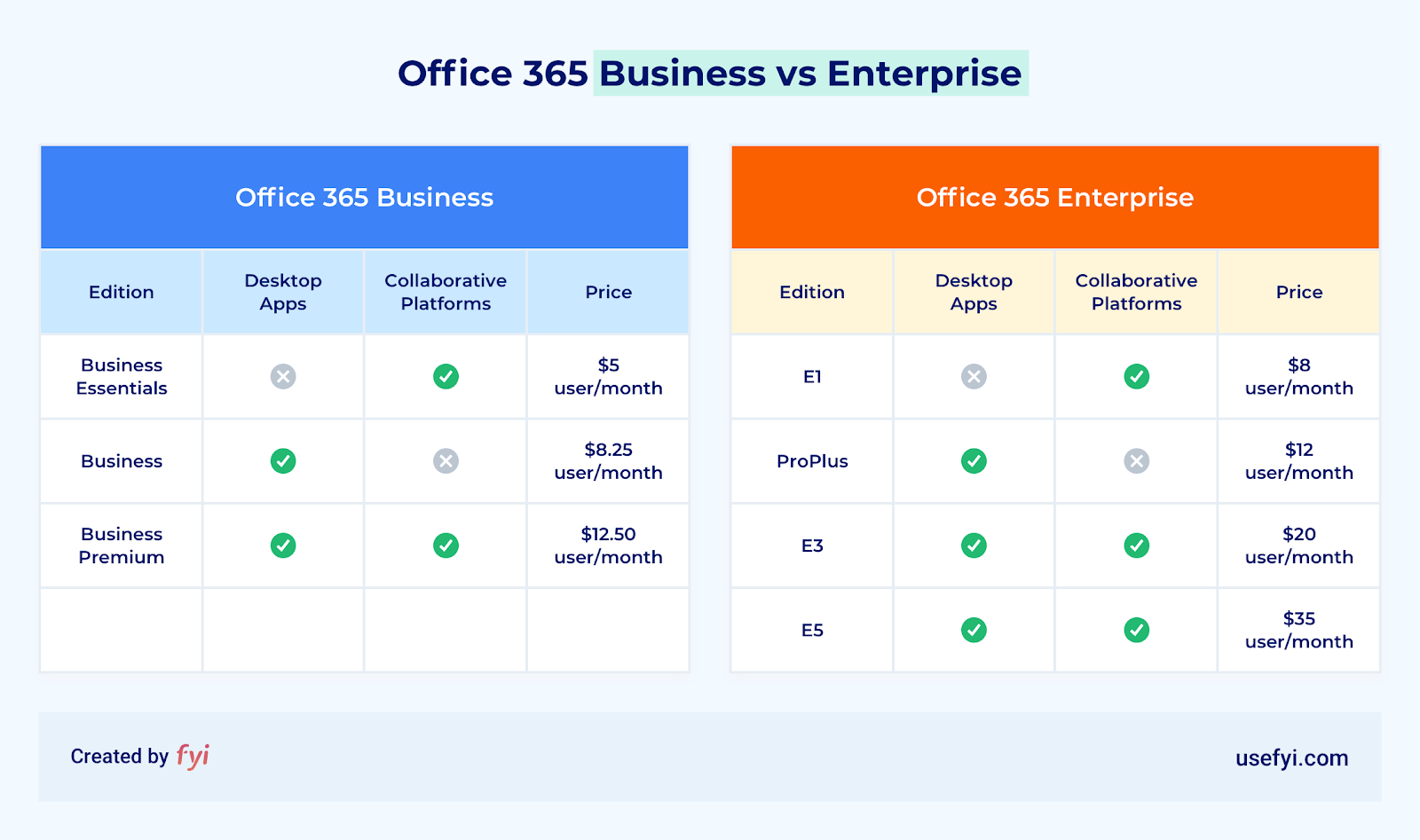 Note that Office 365 ProPlus technically falls under the Enterprise family of plans⁠—you can compare it to the others here⁠—but we don't generally recommend it. You don't get the collaborative platforms⁠, which are arguably essential.
I mention it because it's the enterprise equivalent (not an exact match) of Office 365 Business. Similarly, you can think of E3 as the analog of Office 365 Business Premium, and of E5 in its own league with features that aren't available with any Business subscription.
For Office 365 E1, its "matching" plan is Business Essentials—no desktop apps, but all the collaborative platforms.
Office 365 E1 vs Office 365 Business Essentials
It's not uncommon for growing businesses on a budget to choose between Business Essentials and E1. Here's how those compare: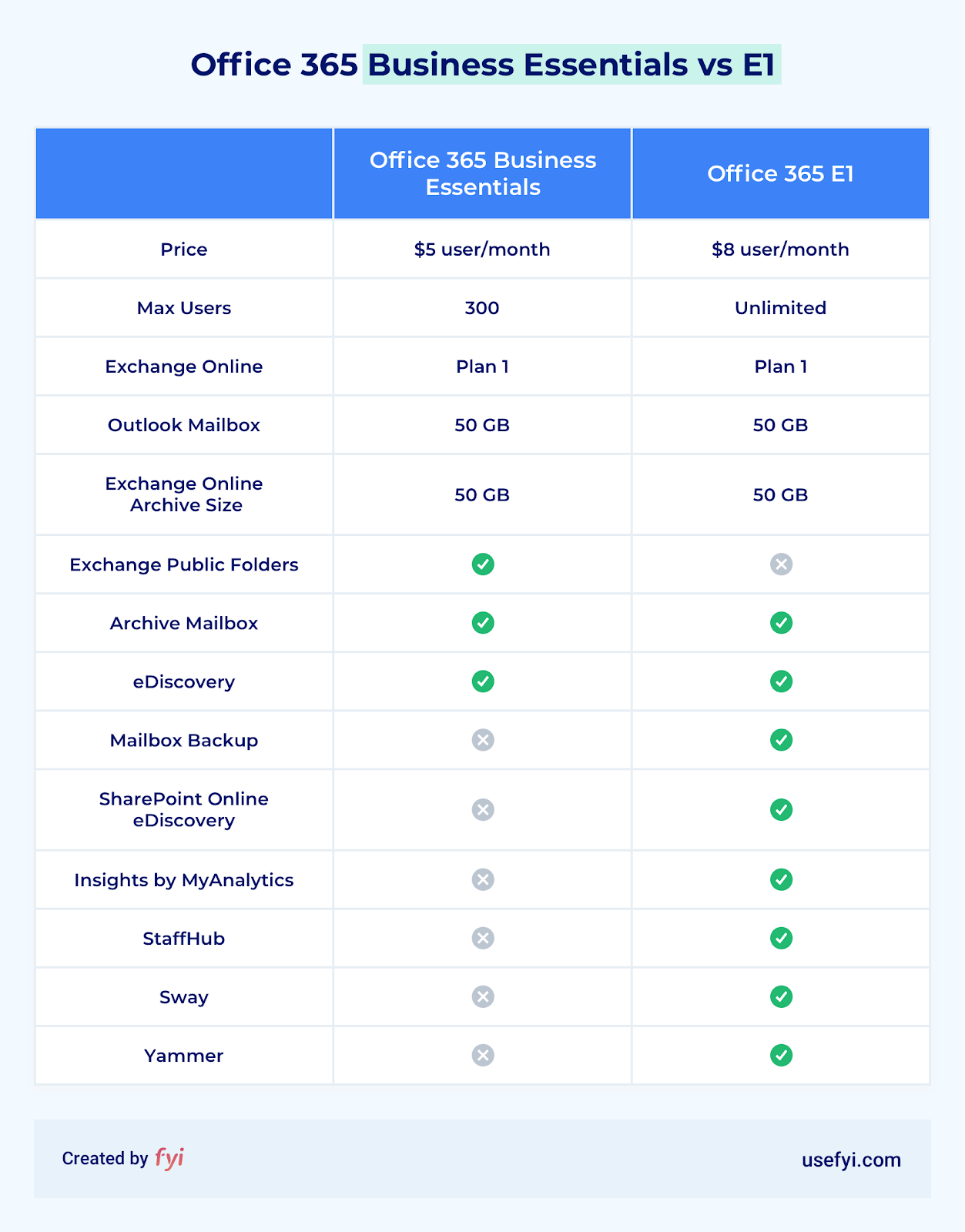 As you can see, there are only a few features that separate Office 365 E1 from Business Essentials. You can save a little cash per user each month if you're not worried about the user limit. Here's more on the total feature availability for each plan.
E1 vs E3 and E5: Which should you get?
Office 365 E1 is the lightest version in the Enterprise family. It's an affordable, scalable option that you might as well stick with for as long as it meets your business needs.
As you choose between the three levels, know that you have some flexibility in purchasing licenses.
Your admins might need E5 for the advanced security and administrative features, whereas your typical end user might be fine with an E1. The key to choosing the right plan is to accurately forecast your user needs. How much OneDrive storage will they need this year? What level of control at the admin level?
Here's a quick breakdown on the tradeoffs that come with the affordability of Office 365 E1: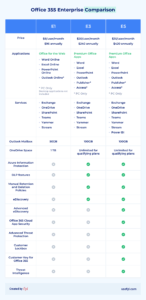 More detail here on all the features included, and note the available add-ons.
It's important to keep the cost of add-ons in mind. Are you having to rely on third-party apps or outsourcing for security, compliance, or business analytics? Are people worried about their inbox size or the amount of large files they have saved to OneDrive?
If you're trying to save money per user with an Office 365 E1 subscription, but budgeting separately for options included with E3 or E5, you might want to take a second look.
On the other hand, you might also want to adjust your licensing if you're paying for the upper-level enterprise subscriptions but only a fraction of your users are using the advanced features. Could most people get by on E1?
Of course, what works for you now might not be the right fit forever. But that's the beauty of Office 365. You can always think about upgrading as your business needs evolve. If in doubt, never compromise on this: your team should feel empowered by the tools you use.