Are the Notion Pricing Plans Good Enough to Make the Switch?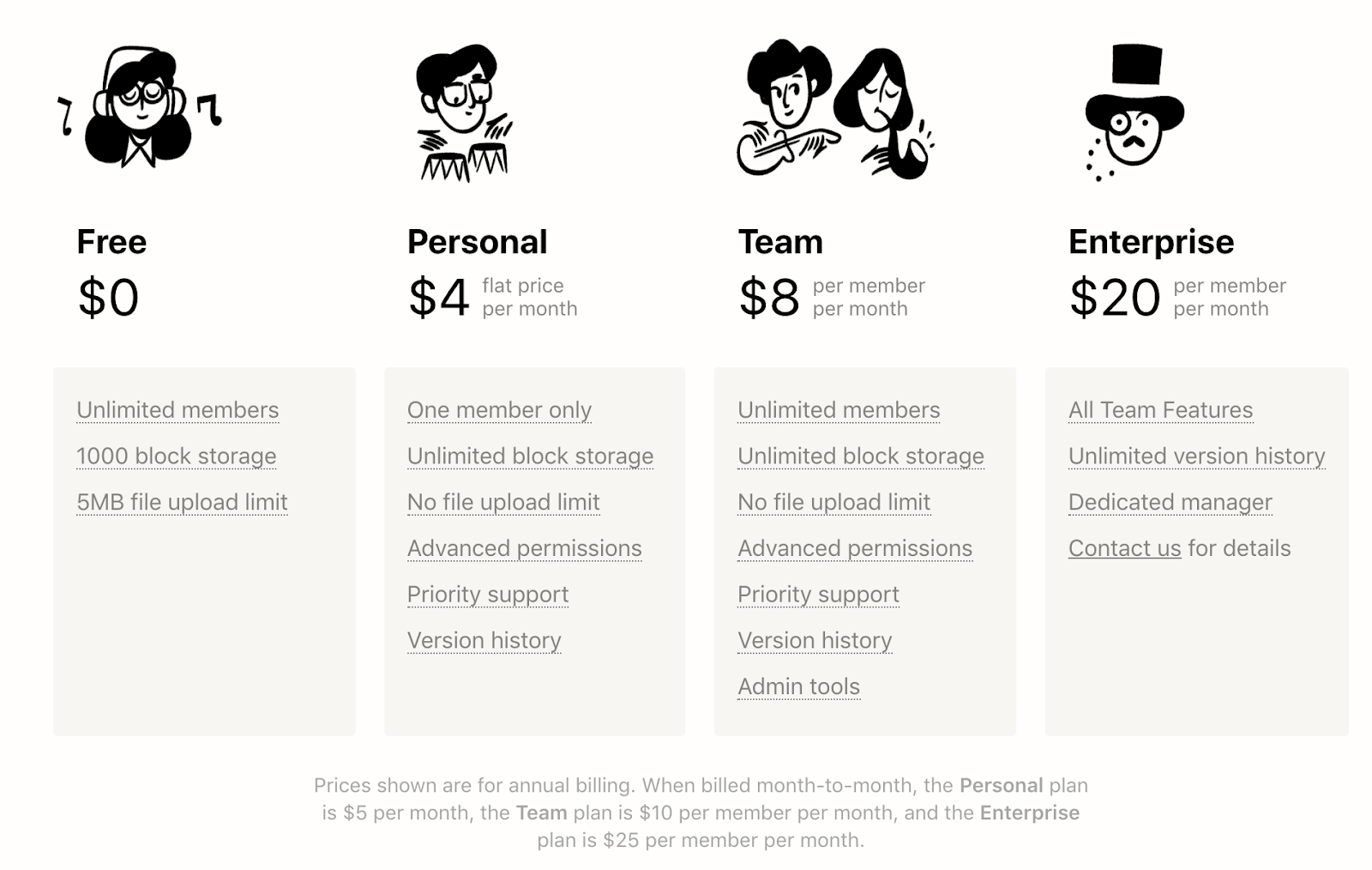 Notion has been making a lot of noise recently, lots of folks have been switching to it. With a lot of people singing Notion's praises, it's one of the most popular new document apps right now.
What is Notion anyway?
Notion is a document app. It combines note-taking, documents, wiki-like functions for a knowledge base, to-do lists, task boards, and spreadsheets.
Think of it as Google Docs, Trello, Confluence, and Evernote all rolled into one. With an incredibly elegant design. It helps your team be more productive by bringing all your document tools into a single place.
The Notion Pricing Plans
I always love seeing a nice, simple pricing chart that makes plan selection easy to understand: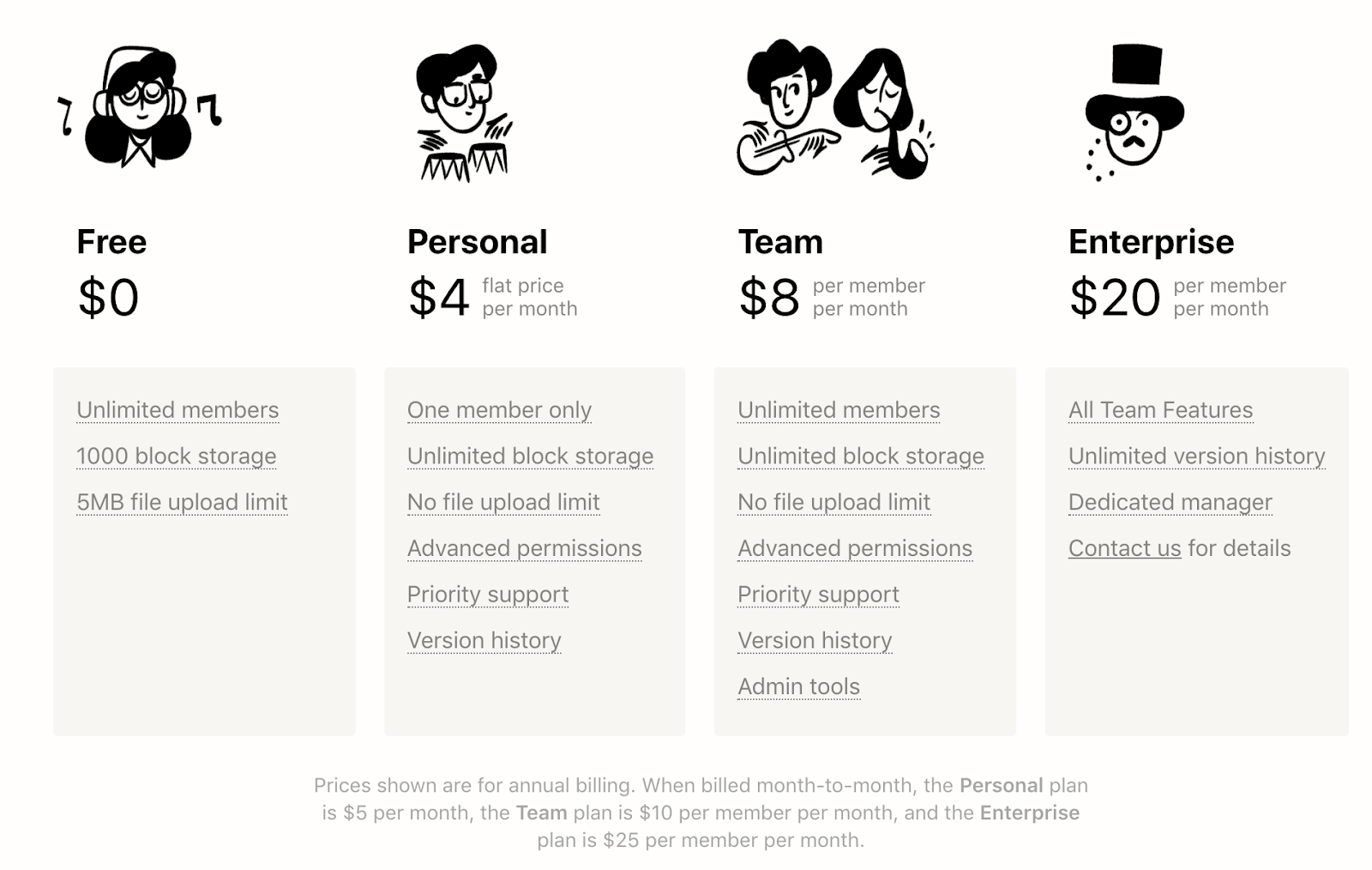 To put things even simpler:
Free: good trial plan to see if Notion is the right toolset for you. Don't plan on using it for the long term though, the plan restrictions are too limiting.
Personal: Everything you need to use Notion yourself, $4/month and no restrictions.
Team: Get your whole team using Notion for $8/user per month, same toolset as the personal plan.
Enterprise: A huge price jump to $20/user per month. The dedicated manager isn't that valuable, the tools are really easy to use as it is. And while unlimited version history is nice, it's not "an extra $12/user per month" nice. I assume they'll add more features to this plan over time.
How good is the Notion freemium plan?
Honestly, it's more of a trial than a true freemium plan.
Notion uses "blocks" to set a limit on how heavily freemium users can use the product before being forced to upgrade. A block is an image, an embed, a to-do item, or a paragraph.
In other words, once you hit 1000 paragraphs worth of notes, you'll be forced to upgrade unless you want to go back through your notes and delete stuff. For anyone that takes notes even somewhat regularly, you'll hit the 1000 block limit before you know it. I have a book wish list in my old Evernote account that hits this limit by itself.
If we were comparing just freemium plans for note-taking apps, Evernote would be the better option. While it's entirely possible to use Evernote's freemium plan forever (as long as you don't mind the device or upload limits), don't plan on using Notion as a freemium note-taking app.
Are the Notion plans good enough for just note-taking?
The $4/month Personal plan for note-taking is a great choice under two conditions:
You're fine with paying $4/month, getting a freemium note-taking app isn't a requirement for you.
You prefer Notion's UI over the other note-taking apps.
I consider $4/month is a very reasonable price for Notion. Particularly if it means getting the note-taking app that you prefer the most.
With note-taking apps, it usually comes down to personal preference on the UI. Which one feels best to you?
Some folks swear that OneNote has changed their lives. There are also plenty of Evernote diehards still around. Whatever your preference, go with that and don't worry about switching once you've found one that you like.
One other consideration: if you know that you will be using a paid version, Notion has one of the lowest-priced personal plans on the market. Here's how they all stack up:
Notion = $4/month
Evernote = $8/month
OneNote = Free
Evernote is by far the most expensive. Not only is Notion cheaper, it also comes with a host of tools in addition to note-taking. And OneNote is completely free.
But the pricing is all close enough that it really comes down to personal taste. I'd try all three products and pick the one that feels best to you.
Are the Notion pricing plans a good value for teams?
It'll come down to your personal preference on which set of tools you like more. Price-wise, it's about the same.
Let's say that I had a team of 7 people at my company, including myself. What would it cost for me to get a standard set of document tools for my team?
Here's how much all of the standard document and workflow tools cost per user:
Trello = $0/user (their freemium plan can easily support a team of 7)
Confluence = a flat $10/month for teams up to 10 people
I didn't include a note-taking app like Evernote in the example above because it's really rare for small teams to sign up for a document suite, a wiki, and a note-taking app. There's too much overlap between them all. If you did want Evernote on top of everything else, that's another $15/user per month.
For Trello, G Suite, and Confluence, the total price comes to $52/month.
If I replaced all of those with Notion, it's $56/month.
There's one other thing to watch out for. With Notion, I'd still have to find a way to set up all my email accounts. Most web hosts have the option to add this to your hosting plan but that will cost a little extra. If I went with G Suite, Gmail and email management are included so I wouldn't have to worry about it. The same goes with Microsoft Office 365 which has Outlook and company emails bundled on some of its plans.
Ultimately, there's no real difference in price.
Instead, I'd make this decision depending on which set of apps you're more comfortable with.
Isn't Notion a CRM? Wouldn't that save more money by not having to sign up for Salesforce?
Notion isn't really CRM, it does have spreadsheets which are ridiculously user-friendly. And it's possible to use any spreadsheet as a basic CRM. Notion isn't really a replacement for Salesforce though, it's a replacement for Google Sheets or Excel. So I wouldn't factor this into the budget decision.
Notion is Wonderful for Small Teams as Long as They Stay Small
One of the biggest advantages of Notion is getting all your document-type apps into one place. There are fewer logins, fewer tools to switch between, and less chance that anything falls through the cracks.
But this is also its biggest weakness.
If you have a growing team, there's a huge advantage to having a modular structure for your tools.
Take task management tools as an example. Most teams start out on tools like Trello or Basecamp. They're very user-friendly, have low prices, and include all the core features that you need. If the team keeps growing, there is a point where your task-management needs outstrip the functionality of these tools. You'll be forced to switch to Jira or Asana, the more feature-rich products.
As teams grow, this happens across every type of tool: task-management, document storage, communication tools, all of them. It's rare to have a tool that can scale all the way to true enterprise. Salesforce is one of the exceptions, it can go all the way. That's part of what makes it such a compelling product even if the UI isn't great.
By having a modular toolset, these upgrades get a lot easier.
Upgrading Trello to Jira is a lot easier than upgrading Notion to Jira which also forces you to re-evaluate your whole toolset. At the very least, it weakens one of the main selling points of Notion: having all your tools in one place.
If you plan to stay on the smaller side, Notion can be an amazing fit. But if you plan from day one to grow past that, I'd consider using a toolset that's more modular so upgrades and tool swaps are easier later on. I've been through enough of these tool swaps myself that I now plan for them from the beginning.
That said, give Notion and try and see how the UI feels to you. Some folks absolutely love it. The extra design polish makes it a joy to use Notion. If you get that same feeling when using Notion, choosing a less modular toolset could be the ideal choice that you've been looking for.
There's another major disadvantage for choosing Notion on a growing team: no email.
One of the biggest advantages to G Suite is the fact that it gives your team access to a company Gmail account along with all the features you'll need to manage your users. While it's not a massive hurdle to manage email through your web host when you're small, it'll become a huge pain as you grow. On a growing team, the cost of $6/user for G Suite is worth it just for Gmail itself. I consider all the Google Docs apps a bonus at that point. And if I'm already paying for a full document product suite, why double up and pay for Notion on top of that?
Again, the lack of email isn't a deal-breaker for small teams but it is a major hurdle for growing teams.
4 Steps to Decide if Notion is Right for You
I'd follow these steps when making my decision:
How important is freemium? If it's critical to avoid paying anything for a note-taking tool, go use Evernote or OneNote.
Is this for personal use? If so, plan on paying up to $5/month. Then go try Notion, Evernote, and OneNote. Pick the one that feels best.
Is this for a small team? If you love Notion and plan to keep your team small, it'll be a great fit for your whole team.
Do you really love the Notion UI? Even if you're a growing team, Notion is still viable as long as you find the UI amazing. This is the main differentiator from other document tools and could outweigh Notion's few disadvantages.