How 51 Leading Companies Define the IT Manager Role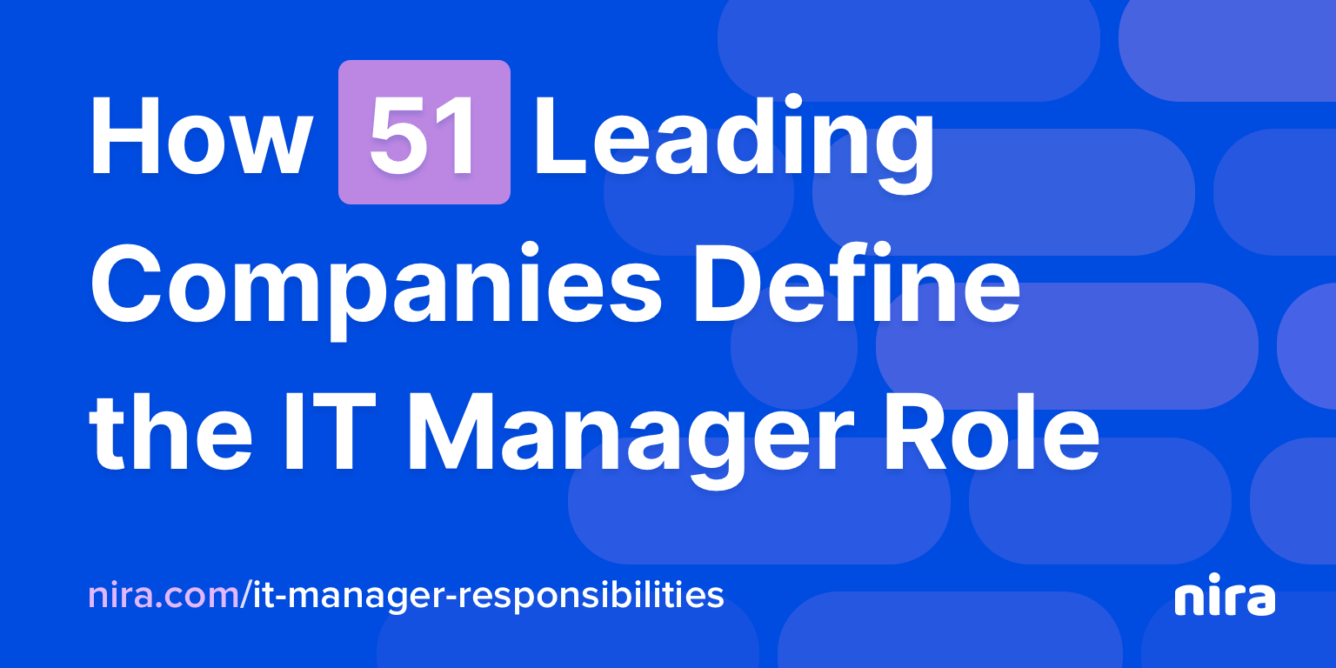 As the world of work transforms, IT professionals are looking to level up their careers by changing roles. And the opportunity has never been better for IT job seekers. There's a shortage of tech workers across the IT sector as businesses look to adopt new technologies faster than ever before.
If you're looking for a new role as an IT Manager or want to hire one, what should you expect?
What salary is the market rate?
What skills do companies actually want from an IT Manager?
What responsibilities will they own?
To find out, we analyzed 51 IT Manager job postings on LinkedIn from companies across 26 diverse industries. We focused on tech, but everything from healthcare to aerospace was represented. Companies ranged from small businesses of 11 to 50 employees to massive multinational corporations like Amazon and Delta Airlines.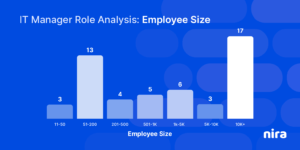 Salary and Benefits for IT Job Seekers
It's more challenging than ever to hire IT Managers, which is exactly why salaries are so important. According to a Pulse survey, IT and security executives prioritized salary and overall income the most in a job. Salary netted out higher than even work/life balance, flexible hours and location, as well as benefits such as healthcare and paid time off. The Society for Human Resource Management backs these results up, claiming that "salary is the most important part of a job ad" and can put employers at an advantage when hiring qualified candidates.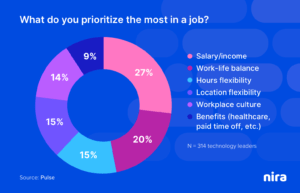 Insight 1: Salary Expectations
The average IT Manager salary depends on who you ask. Indeed puts the average base at around $86,000 per year. Glassdoor assesses it higher at $109,444, and Salary.com has it still higher at $127,137. 
Our analysis put the average IT Manager salary right in the middle. Fewer than 20% of the job postings we analyzed on LinkedIn listed their salary ranges, and the average of those postings was roughly $107,000 per year.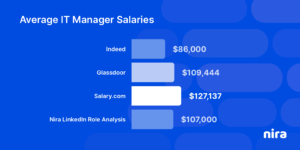 Examples:
"The base salary compensation range for this role in Colorado is $85-$125k+ with an annual target bonus of 5-8% of base salary."

"$77,100.00/Yr. – $101,700.00/Yr."

"$110,000/yr – $140,000/yr"
Note: The base salaries are for IT Manager jobs based on information from November 2021.
Insight 2: Remote and Hybrid Options
Despite the rise of remote work, we were surprised to find that only 18% of job listings mentioned hybrid or remote work options. One company specifically said it would not allow remote work and another said it would make WFH allowances for the duration of the pandemic. The rest of the listings either didn't cover the topic or mentioned working from an office. 
This data contradicts a recent Pulse survey showing that only 26% of tech leaders are planning for an in-person workplace after the pandemic. Forty-six percent say their teams will be hybrid, and 29% will be fully remote. Although tech leaders may aspire to offer remote or hybrid options for their teams, this often doesn't translate for IT Managers.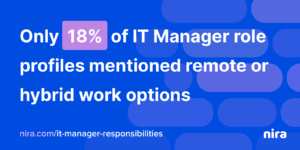 With so many jobs and companies migrating to WFH and hybrid work, why are most IT Manager roles not fully remote? In addition to making remote work possible, IT teams are responsible for setting up and keeping physical offices in operation. They also often help employees, including executive teams, in person. So it's only natural that not all companies are offering remote and hybrid work options for IT Managers.
Examples:
"Work from home stipend to help you succeed in a remote environment."

"

Hands-on manager role. Ideal setup is for a hybrid onsite working model but would be open if someone wants to be remote."

"We're currently working from home due to Covid-19, and the following will apply once we're safely back in the office:
Catered Lunch & Breakfast

Dog-Friendly Offices

Collaborative Office Space

Stocked Kitchen"
The IT Manager Basics
What do you need to know?
When it comes to education, 40% of job listings didn't require a degree. Companies were more concerned with the skills candidates had than where they went to school. Nearly 10% of companies preferred a degree but didn't require it, and 31% never mentioned a level of education at all. 
However, almost 53% of companies did require at least a bachelor's degree. The majority of these wanted a bachelor's in a technology-related discipline, and 26% asked for a Bachelor of Science specifically.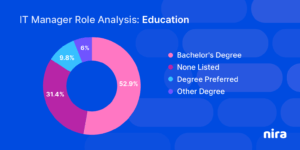 Examples:
"Degree in Engineering, Computer Science and/or equivalent experience"

"An Associate's Degree in Information Technology, or related field"

"A BS/MS degree in a technical, scientific, or related field"
How much experience is required?
The average years of experience was 5.6 for the 74% of companies that listed desired years of experience. This experience level makes sense, considering that most IT Managers are managing teams. A quarter of companies (26%) didn't specify the number of years. 
Types of experience listed included leading IT teams as well as having a proven understanding of IT infrastructure and services.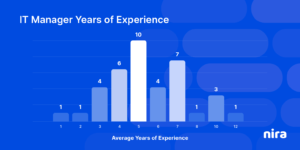 Examples:
"At least 3 years of experience in IT Management, including developing a team of technical professionals across multiple locations."

"Minimum of 10 years relevant direct technical support experience. Minimum of 5 years relevant direct supervisory experience overseeing a team of 5 or more subordinates."

"12 + years IT or combination of IT & Business-related work experience. 3+ years developing and implementing information technology systems."
What skills should IT Managers have?
Based on the job descriptions, IT Managers should have a good mix of business and systems knowledge. They are able to manage their time efficiently and stay organized. They can research and adapt quickly to new information, and they are comfortable problem solving and analyzing data as well as managing people, projects, and programs. 
We ran a survey of leading IT, Security, and Engineering executives to see which skills were most valued for IT Managers to have. 
We found that "knowledge of the business and systems" was the top skill for the majority of respondents across the board. However, "time management and organizational skills" won out when we looked at answers from just the Information Security and Engineering departments. 
What was considered the top skill also depended on the role of respondents. VPs and Directors favored "knowledge of the business and systems" while CxOs were more likely to list "time management and organizational skills" first.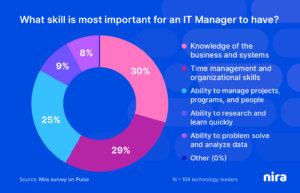 We talked to hundreds of IT professionals as we built Nira, and there's one clear thing we learned: IT Managers are swamped. They've got loads of competing priorities and are handling tons of important initiatives and tasks for their organizations. It's no wonder, then, that they are expected to have a wide range of skills and knowledge.
Examples:
"Excellent knowledge of technical management, information analysis and of computer hardware/software systems"

"Demonstrated experience with time management and prioritization and ability to balance multiple priorities in a high-pressure environment."

"Exceptional ability and initiative to learn and research new concepts, ideas, and technologies quickly."

"Must have excellent problem solving and analytical skills, with the ability to define problems, collect data, establish facts and draw valid conclusions."

"Strong experience in project management and system architecture methodologies."
Who do IT Managers work with?
Although the ability to work independently was valued, IT Managers are expected to be extremely team-oriented, with 92% of listings mentioning the words "team" or "teams." Numerous companies expected IT Managers not only to mentor and manage employees, but to do the same for third-party IT vendors, suppliers, and service providers. 
Examples:
"You will mentor and manage supervisors and employees in a fast-paced and changing environment."

Effectively manage Internal and External IT support, contractors, and vendors.

"Lead, mentor and develop IT staff, ensuring company goals are met. Manage and direct IT staff workload".
If you want to be an IT Manager, you're going to collaborate with a combination of internal teams and external partners. And the same goes with companies looking to hire IT Managers—these folks will be collaborating with much of the organization.
Specific team members listed in job descriptions included: department leaders and directors, product and security managers, IT senior management, and a variety of cross-functional teams across the company. 
Teams mentioned included finance, engineering, operations, and security, although we noted that some IT Manager positions fell under the engineering department. External parties included business partners, business leads, and operational stakeholders. 
Successful IT Managers are able to effectively collaborate across the entire organization, whether they're working with department leads, collaborating with their security team counterparts, or assisting employees in other departments. 
Examples:
"Collaborate with operational stakeholders, including defining requirements, suggesting alternatives, and setting priorities with the team."

"Ability to work with all levels in the Organization and present and lead meetings with Director/VPs/C-suite."

"Collaborate with the security officer to implement security controls at the network, data, storage and communication levels."
Who do IT Managers report to? 
IT Managers may report to various higher management roles, including a senior manager such as the Process Control Manager or Market Manager; a senior director such as the IT Director or Director of Operations, or C-suite leadership including the Chief Information Officer or Chief Technology Officer. One position listed the IT Manager as part of the executive leadership team, while others noted that the IT Manager would collaborate extensively with C-suite executives. 
"The IT Manager reports to the Process Control Manager."

"This is a full-time position that reports to the Market Manager

."

"This role reports to the IT Director – User Services."
What do IT Managers actually do?
​​Responsibilities 
We found that a typical day for an IT Manager can look very different depending on their workplace. However, throughout the listings, we found that IT Managers are responsible for management, support, and development. 
Eighty-two percent of job listings mentioned a type of management with 15 unique forms highlighted. As an IT Manager, you might oversee everything from projects to business relationships to virtual systems. 
Here are a few examples of the types of management IT Managers are expected to do:
Project Management

Security Management 

Document Management

Virtual Systems & Management

Active Directory Management

Asset/Inventory Management

Strategic Vendor Management

Ticket Management 

Service Desk Management

Business Management

Resource Management

Lifecycle Management

SaaS Management

Problem Management

BRM: Business Relationship Management
Support, Development, and Tools
Support and development were also key functions to the IT Manager role. Eighty percent of listings mentioned support, whether it be support for end-users, day-to-day technical support activities, or program support for safety programs and compliance. 
Development was mentioned in 53% of job listings. This included training employees as well as developing team strategies, national programs, IT systems and budgets, software solutions, enterprise technology standards, and performance metrics, among others. 
Expert knowledge of software, hardware, and various tools was also required. That's because IT is responsible for helping people in the organization get their work done through the use of technology. This requires IT Managers to have experience with a variety of tools and systems, like MacOS and IOS or Windows, as well as applications like Microsoft and Google.
Microsoft products took priority as 47% of job descriptions mentioned their tools, systems and applications by name. This included Microsoft tools like OneDrive, Sharepoint, Outlook, Teams, as well as Word, Powerpoint and Excel. Meanwhile, only 10% of job postings mentioned Google Workspace or other Google tools specifically. 
According to Gartner, Microsoft had nearly 90% share of the productivity suites market in 2020, while Google grew its share to 10.3% by taking a 2% share from Microsoft. This tracks with the 10% of job postings we analyzed that mentioned Google.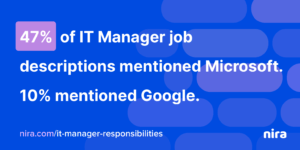 IT Managers are typically Microsoft and/or Google administrators within a company, so having experience with one or both is absolutely essential. IT Managers are often expected to administer a variety of other tools too, like Slack, Dropbox, Zoom, Box, and more.
Example: 
"Knowledge of Microsoft Office365 application suite (Word, Excel, Outlook, Powerpoint, Access, Teams, Sharepoint, OneDrive, etc.)"

"Vast knowledge of the following operating systems: Google Workspace, Zoom, Windows Server, Apple Mac OS and IOS & MS Office Systems."

"Knowledge of current MacOSX, Windows 10, Google G-Suite, Windows Active Directory, iOS, Android, MS Office."
Strategic Vendor Management
Among the types of management, we found that 59% of jobs mentioned finding, analyzing, and supporting external vendors. As more companies move to remote and distributed workplaces, the reliance on external suppliers has grown, and IT Managers are expected to maintain these relationships and keep company networks secure. 
Since IT teams are often responsible for vetting software vendors and making sure that their security practices and processes are up to par, IT Managers are expected to own and execute on assessing an individual vendor's risk.
Examples: 
"Manages and monitors vendor risk, ensuring third-party products, IT vendors and service providers do not result in business disruption or financial and reputational damage." 

"Provide holistic insights into IT vendor performance and spend to establish and implement a streamlined vendor management framework."

"The IT Manager will also be responsible for managing vendor relationships, contracts and department financials relating to the systems supported by the teams as well as personnel costs."
Five IT Manager Insights 
Throughout the 51 listings, we found five unexpected insights that helped us better define the IT Manager role: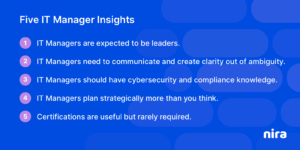 1. IT Managers are expected to be leaders. 
IT Managers are increasingly called upon to be leaders; in fact, 31 job descriptions (61%) required them to lead a team or teams. 
Examples:
"Strong leader able to organize and manage workloads for a team of IT professionals at a site with 1000+ users."

"Must have strong leadership qualities, with the ability to establish and maintain solid working relationships with subordinates, peers, management, and teams/departments within the IT organization."

"Excellent leadership skills with experience leading teams and direct reports distributed geographically."
2. IT Managers need to communicate and create clarity out of ambiguity.
We found the old trope of IT professionals being too technical to explain their ideas and vision to be absolutely untrue. The terms "communicate" and "communication" were found in 69% of listings, and IT Managers were required to share information with both technical and non-technical audiences, including leadership. 
Examples: 
"You're a strong communicator, both to technical and non-technical partners across the organization, and both in-person and in distributed meetings."

"Ability to present information effectively to all levels of staff and leadership."

"Ability to communicate highly specialized and technical information to a variety of audiences, in writing and verbally."
3. IT Managers should have cybersecurity and compliance knowledge.
Companies are looking for IT Managers who have a solid understanding of IT security, controls, and compliance. In fact, cybersecurity was the number one responsibility that tech leaders said they had taken on in 2021, according to Pulse. IT Managers often collaborate closely with security team members but are also responsible for owning certain company security measures, such as overseeing access privileges and privacy policies or protecting company information from unauthorized access.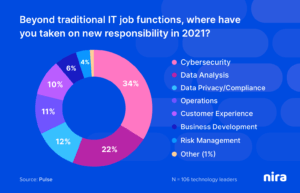 Examples: 
"In-depth knowledge regarding cybersecurity and data privacy concepts"

"Monitoring system security & taking appropriate steps to resolve security breaches & prevent future attacks"

"Experience working in a HITRUST, HIPAA, ISO 27001, or similar privacy and security regulated environment"

"IT Manager is responsible for the strategy, design, build, test and implementation of security solutions which enable the business community to achieve their goals and objectives, while providing proper control. The role will partner closely with ERP program teams to ensure all access controls and data security standards are met across all architectural layers."
 4. IT Managers plan strategically more than you think.
IT Managers are required to be strategic leaders as well as offer technical support, with 55% of companies mentioning "strategy" or "strategic" in their postings. IT Managers need to understand the overarching business strategy as well as develop IT strategies to complement larger company initiatives. 
Examples:
"This role is ideal for someone who enjoys working in technology and wants a blend of both strategic and technical work, as the role will require both planning technology initiatives and doing day-to-day work to maintain a stable technology environment."

"Develop, maintain, and communicate Information Technology Strategy and ensure strategy is consistent with strategic business objectives"

"Understands the overarching company strategy, as well as communicates and models the core values of the organization to create a sense of teamwork and membership among employees. Consults with leadership on the development of their team's strategy."
5. Certifications are useful but rarely required. 
A recent survey found that 25% of technology leaders had received a CISSP certification in the past five years, while another showed that 19% were currently pursuing one. However, on LinkedIn, only one posting mentioned CISSP/ CISM, while 12% listed project management certifications such as PMP and PMI. 
In our analysis, we learned that certifications can be useful, but fewer than 20% of job listings preferred them. Most companies were more concerned with their level of experience and never mentioned certifications at all.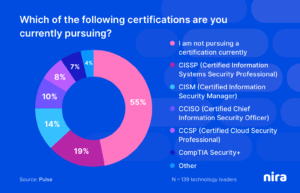 Preferred IT Manager Certifications on LinkedIn
"PMP certification"

"PMP, CSM, ITIL certifications a plus"

"Preferred: ITIL Foundation certification."

"CISM/CISSP or equivalent certification preferred"

"CompTIA certifications and/or HPE certifications"

"BRMP, PMP, Six Sigma, ITIL certifications preferred."

"Project Management Certification. Product or system certification."

"PMI Certifications. Scrum Master and/or Product Owner certifications."

"ITIL Foundation Certification or higher is a major plus. Project Management knowledge and/or certification; practice in agile methods is a plus." 
Key Learnings
So, what did we learn after analyzing 51 LinkedIn postings? Here are the highlights of what IT Managers need to know for their role:
The average salary for an IT Manager is around $107,000 per year.

A true 100% work-from-home IT Manager role is still rare. 

Forty percent of companies don't require formal education. 

IT Managers need a good mix of business and systems knowledge. 

Autonomous work is valued, but team collaboration is crucial. IT Managers must be comfortable managing people, projects, and programs. 

IT Managers maintain and secure vendor relationships.

They have expert knowledge of hardware, software, and tools. And experience with the Microsoft ecosystem is more in demand than Google Workspace experience. 

IT Managers are team leaders and clear communicators. They can communicate with anyone in the organization, from executives to team members.

Cybersecurity and compliance responsibilities are vital to the role. 

Strategic planning is a requisite of the job and happens more often than you think.
What is Nira?
Nira is a real-time access control system that proactively secures company documents to prevent unauthorized access.
Nira currently works with Google Workspace, with more integrations coming soon.