The Future of Work is Happening Now. Is IT Ready?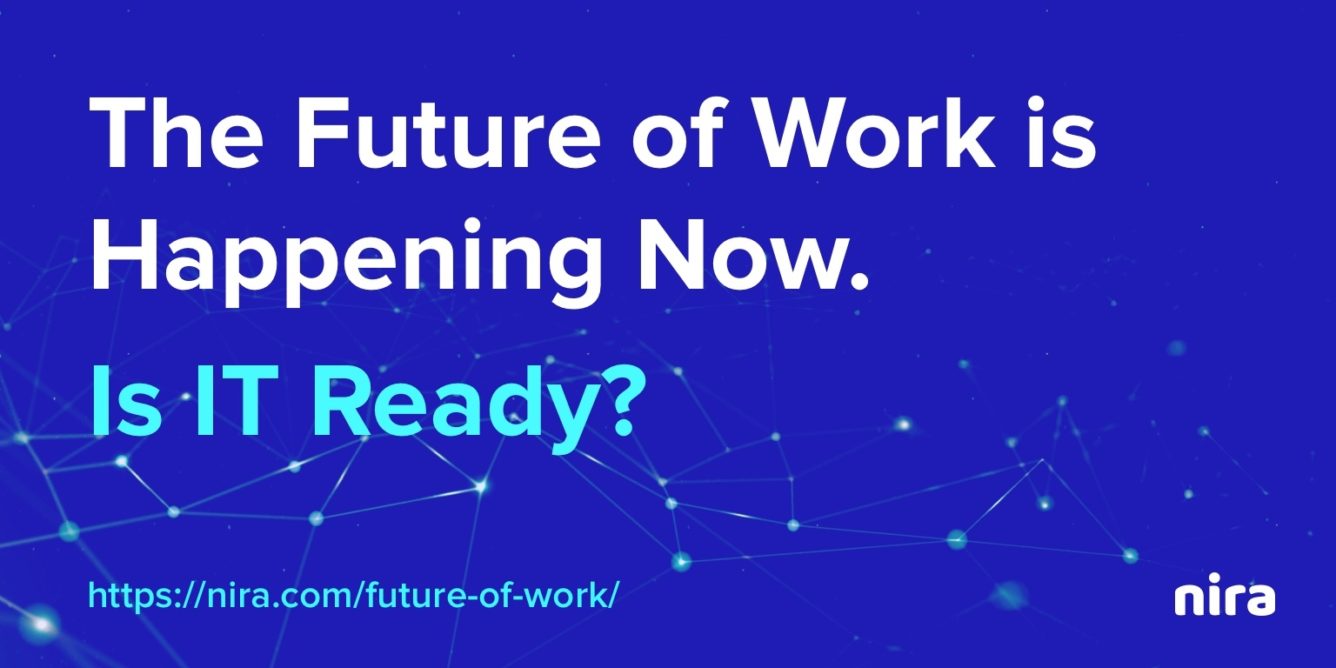 Conversations about the "future of work" have historically tended to overlook Information Technology (IT) teams.
But with the Covid-19 pandemic, all of that changed.
As shelter-in-place orders went into effect, almost every company, from schools to retailers to enterprise organizations, had to figure out how to operate remotely. IT was suddenly front and center, and their role in keeping organizations up and running became impossible to ignore.
The pandemic suddenly became the future of work pilot that nobody wanted.
Analysts and experts agree that the changes necessitated by the pandemic weren't an anomaly. They were an acceleration of the transformations that pundits had been talking about for years under the banner of "the future of work." Except now those changes were happening over the course of weeks and months, instead of years and decades.
Just as the transformations themselves aren't an anomaly, IT's role in making them happen isn't either. Toyota Financial Services CIO Vipin Gupta gets it exactly right: "IT leaders are designing the future version of the organization."
How well organizations empower their IT leaders to do that will spell the difference between who thrives in the future of work — and who gets left behind.
IT is going from supporting player to center stage
A few years ago, a statement like Gupta's above would have prompted a question along the lines of "Sounds good — but are IT leaders actually going to have the resources, the power, and the executive support to make it happen?"
For the first time, it looks like the answer is yes.
The Covid-19 pandemic has drastically changed how executives perceive the role of IT. And as a result, IT's influence — and responsibilities — have grown.
As recently as 2018, a Deloitte survey found that CIOs and other technology leaders "still struggle with a lingering perception of IT as order-taker rather than business-driver." According to the survey, only 29 percent of business leaders agreed at the time that the "technology organization and its leaders should be deeply involved in developing strategy."
Just two years later, business leaders were singing a very different tune. A 2020 survey — also by Deloitte — found that CEOs "see technology leaders as their primary business partner, more than all other C-Suite roles combined."
IT leaders are feeling the impact of this shift in expectations.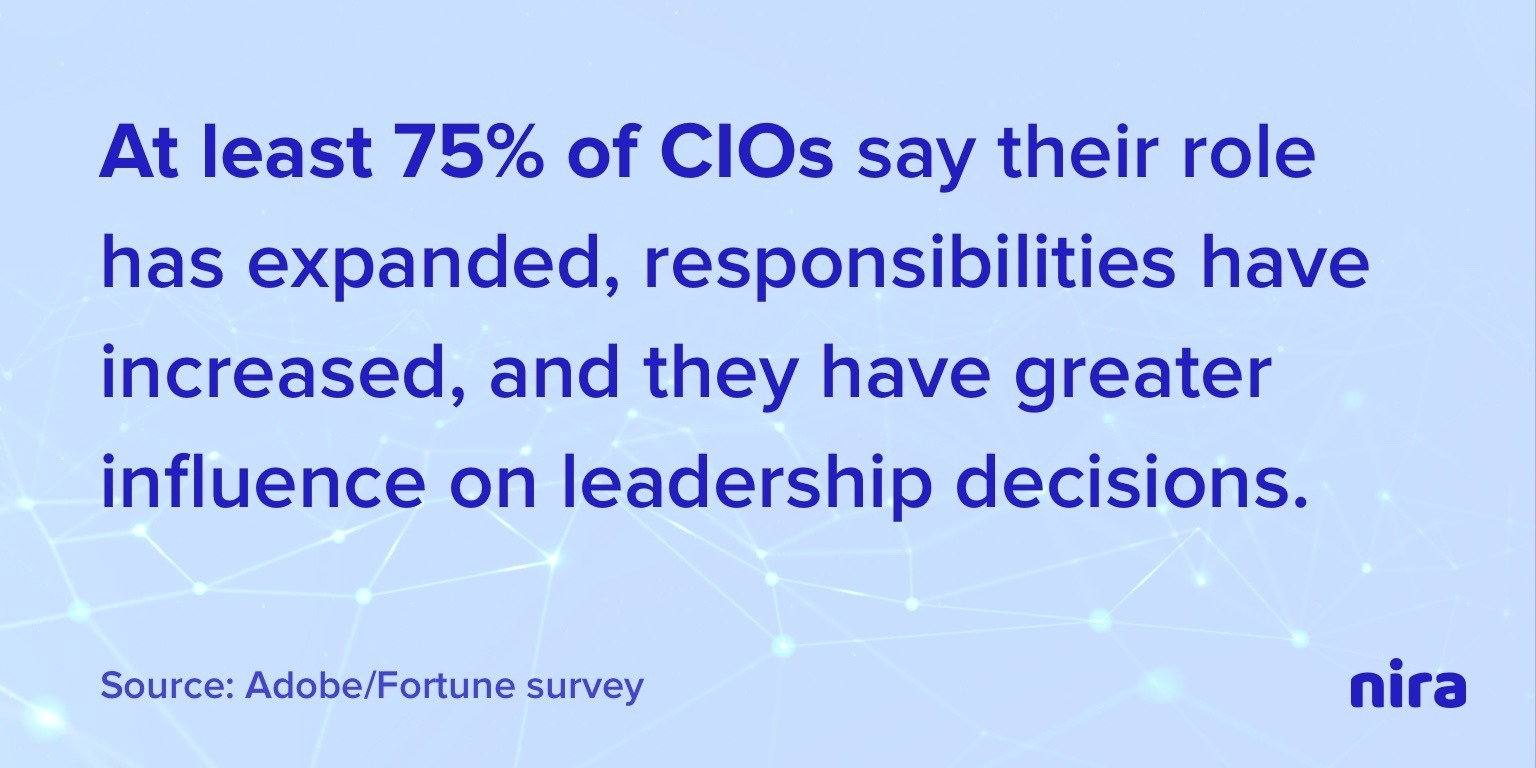 At least 75% of CIOs "say their role has expanded, that their responsibilities have increased, and that they have greater influence on leadership decisions within their organization," according to an Adobe/Fortune survey.
And of course, IT leaders need to be ready to articulate how their department's efforts contribute to the overall growth of the business.
Joann Olsovsky, CIO of Salesforce, sums it up perfectly: "IT needs to demonstrate an innovation agenda," she says. "A company has to feel that IT is a change agent that's positioning the business for the future."
Roadblocks on the path to the future of work
The pandemic set the stage for IT to step into an elevated, strategic role inside the business. But it also laid bare some challenges IT teams face in being able to step into that new role.
IT teams were forced to jam years' worth of digital transformation and organizational change into a matter of weeks. In the process, they had to make some trade-offs, sacrificing the ideal-world solution for the good-enough-for-now solution that would keep the lights on.
According to Johna Till Johnson, CEO and founder of research advisory firm Nemertes, "Across the board, people were doing the bare minimum to keep the wheels on, and that's typically an environment where technical debt arises."
To the extent that IT teams were doing the minimum as the pandemic set in, it was because getting even the basics of their jobs done was harder than it used to be. Over 50% of enterprise IT leaders said in one survey that key IT functions like hiring, logistics, and hardware and software sourcing are "much more difficult than they were a year ago." Like so many departments, IT teams are scrambling — and often struggling — to hire team members in today's challenging job market.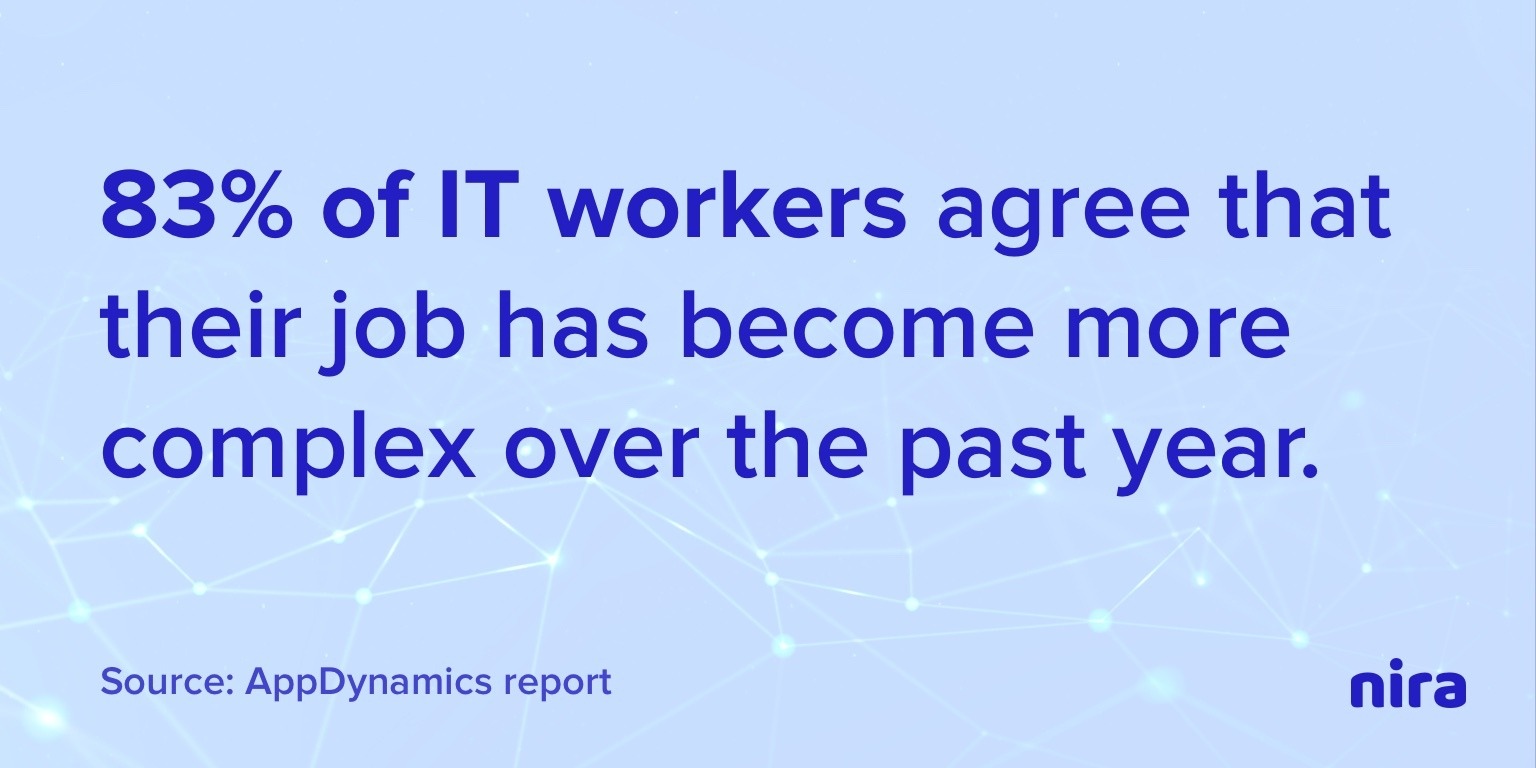 Still, as things shake out into a "new normal", IT teams are feeling the consequences of those trade-offs. 83% of IT workers agree that their job "has become more complex" over the past year, according to a report by AppDynamics. Among the culprits for that complexity: technology sprawl, and the mishmash of legacy and cloud technologies (78%); the sudden acceleration to cloud computing (77%); and too many different, disconnected monitoring solutions (74%).
These types of dynamics don't lend themselves well to fostering a culture of innovation. Before IT can step into its new role as a strategic function within the organization, they still need to ensure that the everyday functions of the business run smoothly.
So the question then is: Where do they start?
3 Priorities for IT Teams Building the Future of Work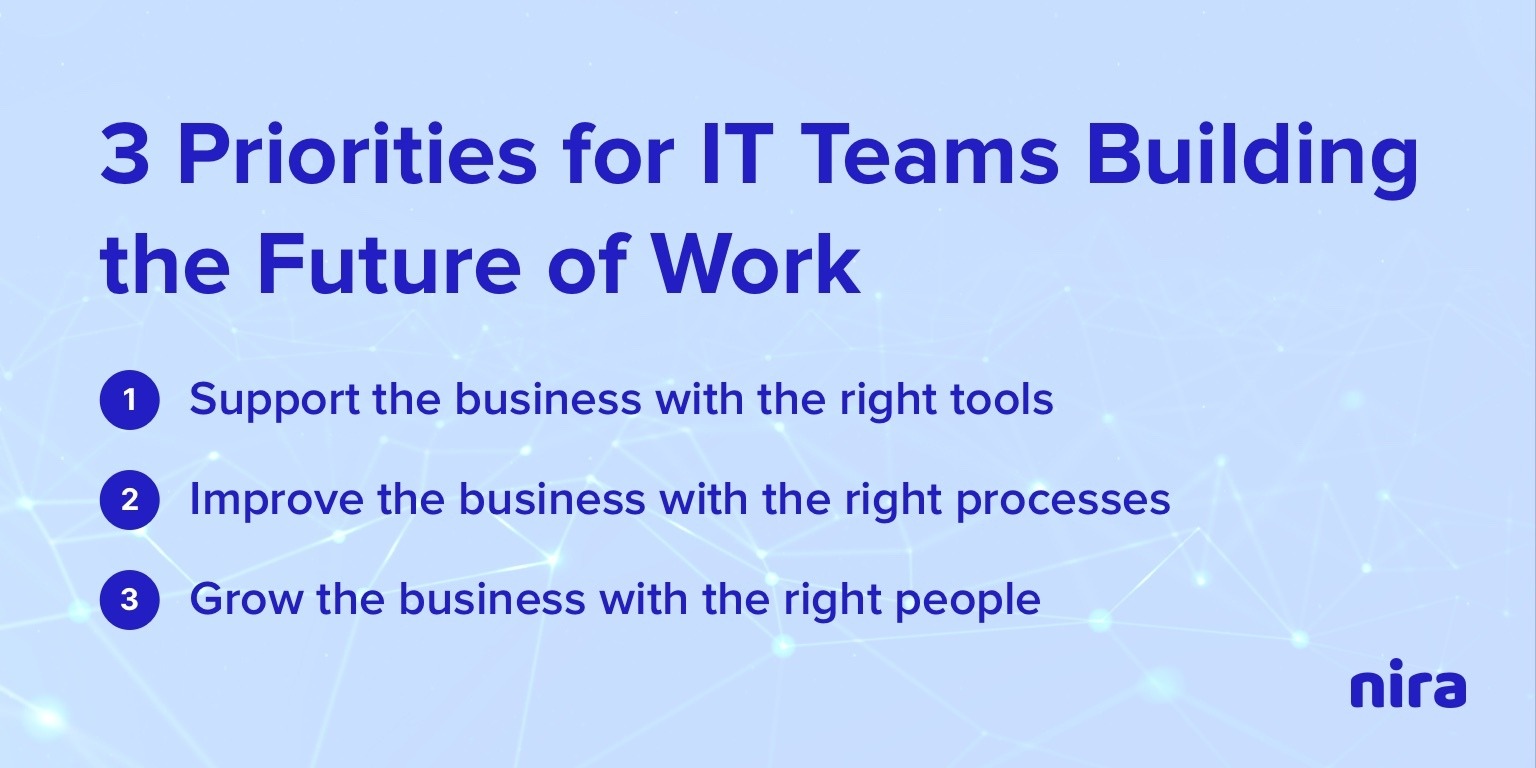 If we imagine IT teams on a modified Maslow's hierarchy of needs of sorts, with "innovation agenda" located up top at "self-actualization" and "just keep the lights on" down at the bottom by "physiological needs," today, most IT teams sit toward the bottom end of the hierarchy.
In order to work their way up to the innovation stage, they need to start by making sure those lower-level needs are being met. That means going back over the "good enough" systems put in place during the pandemic and replacing them with best-fit solutions that can carry their organization into the next era of work.
Accenture Chief Technology Officer Paul Daugherty has a great framework for understanding the three priorities of the IT function: First, they need to support the business; then, they need to improve the business; and finally, they need to grow the business.
These priorities correspond to the three areas where IT teams should put their focus:
First, they need to support the business with the right tools that enable communication and collaboration for employees, and access and oversight for IT teams.
Then, they need to improve the business with the right processes to empower people to make informed choices without IT needing to be involved in every individual task.
Finally, they can grow the business with the right people to identify opportunities to innovate — and then make it happen.
Support the business with the right tools
When the pandemic set in, and millions of office workers were suddenly working from home, one of the most obvious changes was to the way they used software — and how much they used it.
Huddles around the conference room table have been replaced by video conferencing tools like Zoom and Google Meet. Teams that were used to brainstorming via whiteboard had to seek out software alternatives. As Craig Roth, Vice President of Research at Gartner put it, "Social and collaboration tools went from a 'nice to have' to a 'must have' within a matter of weeks."
The focus on tools that enable communication and collaboration will carry on into the future of work, particularly as hybrid working models become the new normal and more teams are collaborating with a combination of on-site and remote co-workers.
In other words: the future of work is going to involve a lot of software — and IT teams need to be ready to manage it all.
To do that, they're going to need their own set of tools — specifically, tools that allow them to effectively monitor and administer this new proliferation of applications. Because while ease of collaboration is important, it shouldn't come at the cost of visibility, security, and access control for the business.
IT teams need to be able to see who has access to potentially sensitive company information, and they need tools that empower them to monitor and take action in real-time.
Of course, there's also such a thing as too many tools. After all, IT teams cited technology sprawl as one of the top causes of added work complexity in the AppDynamics survey.
Not only do more tools add more complexity; they also present security risks. More tools and more users on those tools mean more points of exposure where sensitive company data could be at risk.
So while IT departments should absolutely do their part to ensure their organization has the resources they need to be successful, they also shouldn't be afraid to act as a voice of reason and point out when application sprawl is reaching unmanageable levels and a tools audit may be called for.
Improve the business with the right processes
IT teams building the future of work should develop processes that enable the business to move with greater agility. Somewhat intuitively, these processes may involve asking less from IT teams, rather than more.
IT experts have been excited about the time saving potential of more self-serve IT models' for years. But in the new, hybrid future of work, self-serve models may be more valuable than ever. Now that work is happening in more places, on more devices, and on more networks than ever before, it's even harder for IT to do its job.
What IT leaders need to do is build processes that empower employees to make the right technology decisions 90% of the time — and loop the IT team in for that 10% that really needs their attention.
ForgeRock CIO David Burden sums this up nicely: "Whether it's educating employees on how to better engage with IT or empowering employees to adopt more digital skills, we have found that teams and our workforce are stronger when they are less reliant on IT for things that employees can address on their own."
Of course, there are risks associated with giving end-users greater autonomy in IT decisions, particularly when it comes to security. After all, Gartner projects that 99% of cloud security failures through 2025 will be the customer's fault. With more non-IT employees making technology-related decisions without IT oversight, it's reasonable to worry that security incidents might increase.
This is where employee education on information security risks best practices come into play. The better employees understand the risks of, for example, accessing company data through unsecured networks, or granting unauthorized parties access to company information, the more likely they are to make the right choice.
"Most humans are people who want to do good," notes GitLab CIO Brian Wise. "And if you empower them with the tools and visibility, they can do good on their own."
One big advantage of shifting to more self-serve-friendly IT processes is that it frees up valuable time and energy that the IT team can then direct toward those higher-level, "Innovation agenda" tasks. This brings us to our final point:
Grow the business with the right people
The final step for IT teams in taking their place at the heart of the future of work is to build solutions that go beyond supporting and improving the business to actively helping the business grow. For that, IT teams will need to invest in hiring and growing talent with the skills and vision that make that possible.
IT teams have been notoriously short-staffed, and the industry has long lamented the shortage of qualified talent with the skills IT teams need. There are new, pandemic-related challenges to confront as well: burnout has been noted as a problem in the tech sector, and IT hasn't been exempt from the Great Resignation, either. According to a Robert Half survey, one-third of IT professionals are looking for another job.
Overcoming these challenges, and enabling IT teams to hire, train, and retain employees with the skills needed to take organizations into the future of work will require buy-in at the executive level. Fortunately, that buy-in appears to be there: Two-thirds of companies are planning to hire more IT roles in 2021, according to data from CompTIA.
And while the pandemic has introduced new challenges on the hiring and retention front, it has also introduced new opportunities. Companies that embrace hybrid work gain access to larger fields of talent as they hire remotely.
As for the skill sets that IT leaders should prioritize as they work to build out a team capable of building the future of work, they overlap sharply with the emerging trends that are shaping the future of work: cloud infrastructure; automation; data storage and integrity; database design and management; and security.
But more important than any individual skill set is knowing how to learn. Because if there's one constant in the future of work, it's change.
"Technology is changing rapidly. As a result, some skills that are critical today can be obsolete in 18 months," notes Rachel Parent, head of enterprise change at T. Rowe Price. "If my team is well rounded, we can help spot trends, know what to capitalize on (and when to pass), know when to hire a person (and when to contract for the skills), and more."
IT is the backbone of the future of work
When you look at the sheer volume of work confronting IT teams as they rebuild their organizations for the "new normal," it's easy to be intimidated. But the fact is, there's never been a more exciting time to work in IT.
For the first time, business leaders are waking up to just how crucial the right technology and infrastructure are going to be to staying competitive as they step into the future of work, and they're giving IT leaders a seat at the table as a result.
But empowering IT means more than giving them a blank check to invest in whatever flashy, futuristic technology is "next." It also means giving them the space to do the tough, necessary work of ensuring that the business's infrastructure is built to withstand the future of work's demands.
Bottom line: businesses will never again be able to ignore the crucial role IT plays in keeping their engines up and running. IT is the foundation of the future of work. Support it, and it will support you.
Support your IT security strategy with real-time access control
Nira is a real-time access control system that provides visibility and management over who has access to company documents in Google Workspace, with more integrations coming soon.
Need help reviewing your current setup or implementing new access controls for the data you already have? Contact us for a demo.