How to Pass the G Suite Certification Exam on Your First Try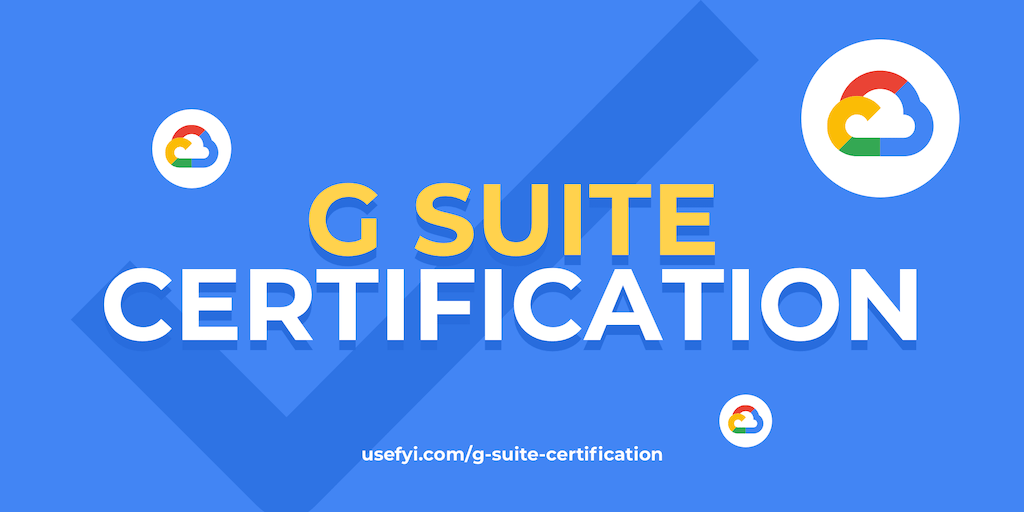 Here's everything you need to ace the G Suite Certification exam on your first try.
First, what is G suite certification?
G Suite certification is part of the Google Cloud certification program. It verifies your expertise using G Suite's productivity and collaboration tools.
What does the exam cover?
The Certification exam takes the form of a single comprehensive exam and covers these parts of the G Suite apps:
Drive
Managing files
Creating and managing folders
Locating files
Changing display settings
Sharing files and folders
Hangouts Meet
Scheduling
Launching
Presenting
Managing bandwidth
Dialing in, inviting users, communicating in Hangouts chat, muting, and ejecting users
Gmail
Personalizing settings
Managing your inbox
Managing and communicating with contacts
Sharing files
Inserting images
Locating messages
Using Gmail offline
Docs
Setting up pages,
Inserting non-text elements
Changing text attributes
Formatting text blocks
Using the spelling checker and personal dictionary
Inserting and editing tables
Collaborating and sharing in Docs
Using the Download function
Sheets
Managing values, rows, cells or columns
Formatting sheets and cells
Inserting non-text elements
Using functions like SUM, AVERAGE, MIN, MAX and COUNT
Managing and transforming data using conditional formatting
Collaborating and sharing in Sheets
Importing and converting from other file types like .csv and .xls
Slides
Building a presentation in Slides
Working with text
Working with non-text elements
Arranging objects using actions
Sharing a presentation
Google Forms is also covered.
Official Google Resources for Studying
Google provides these materials to help you study:
While other G Suite training programs will go into a lot more depth than you'll need for the exam, they're a great resource if you're planning on learning every aspect of G Suite for your job. You'll pass the test easily with them.
Why should you get G Suite Certification?
G Suite certification demonstrates to employers and clients that you're competent with the G Suite tools. If you're working as part of a distributed team, the ability to use a cloud-based productivity suite is key. The G Suite certification serves two functions.
First, it familiarizes you with all the features of G Suite the way they were meant to be used. If you've worked with enough people who learned Excel on the job, you'll know that being able to get through a day where you have to use it is not the same thing as actually knowing how to use it properly. Get G Suite certified and you'll know what you're doing inside all of G Suite's main applications.
Second, it demonstrates that familiarity to employers and colleagues. You don't have to describe your own level of familiarity and efficacy with G Suite, you can simply point to the certification.
How much does the G Suite Certification exam cost?
The exam costs $75 and the preparation materials from Google are available free of charge including unlimited practice exams.
There's a 50% discount for students and educators, including school and academic institution administrators. The discount is automatically applied when you register for G Suite certification using your academic domain.
Who should get G Suite Certification?
Getting a G Suite certification makes sense for a lot of people, it's one of the most popular office suites on the market.
But there are some roles where it's particularly important.
IT Professionals
IT professionals making the move from Office or other legacy document systems to a more modern company will often find that G Suite is central to the way the company does things. The IT job market is competitive, and the G Suite certification program is a good way to stand out. It's also a good way to make sure that you're comfortable with the company's productivity suite so you can focus on actual problem-solving. IT staff get hit will all sorts of help requests, knowing the productivity suite of your company will help you find solutions a lot faster when those requests come in.
Obviously, this is especially applicable if you're going to be expected to manage the company's productivity suite as part of your duties.
Operations Professionals
If you're tasked with ensuring that your organization runs smoothly, you'll be heavily involved in managing the workflow across the company. Since the document suite is where a huge portion of work happens, knowing G Suite gives you a much better advantage in solving company-wide problems. The G Suite certification demonstrates that you know what you're doing. Not to mention the fact that you'll likely be involved with the G Suite admin and have to manage user and tool access.
Systems Administrators
If you're a relatively junior sysadmin, getting a G Suite certification can help you build your resume. If you've been in the job a while, it can be a way of demonstrating that you've remained engaged with trends in the industry and recognize that you need to know more than desktop Word to get the job done. And the process of preparing for the exam walks you through a lot of everyday tasks that you can then troubleshoot for others at work.
Educators
If you use G Suite in your educational institution, G suite certification might be required by your institution. Even more so if you're an administrator. As well as making you a more desirable future hire, the actual content of the course can make navigating G Suite easier.
Students
Getting G Suite certified might be a school requirement. It's definitely a good way to boost your resume and show prospective employers and colleges that you're ready to get to grips with the productivity tools they use.
How to Sign up and Take the G Suite Certification Exam
There are two ways you can take the G Suite certification exam. You can:
Take the exam remotely
Take the exam in a public testing center
The test center based exams are remote-proctored, though they take place in ProctorU testing facilities.
You'll need to be over 18 to take the exam remotely or at a public testing center. If you're under 18, you can take the exam at your school. You'll need a government-issued photo ID like a passport or driver's license.
To register for the G Suite certification exam, you can follow the link on Google's G Suite certification introduction page. However, that leads to a ProctorU login page that requires you to create a ProctorU account.
This ProctorU account creation page is easier to use.
Once you've entered your details, you can choose a testing method:

If you select a public testing center, you can search within a specified distance of any location you choose:

There are around 8 within 50 miles of New York, but none within 50 miles of Helsinki, so this option depends heavily on where you're located.
If you prefer to test remotely, you'll be offered a list of testing times and locations. You choose dates, then select from a page of time slots: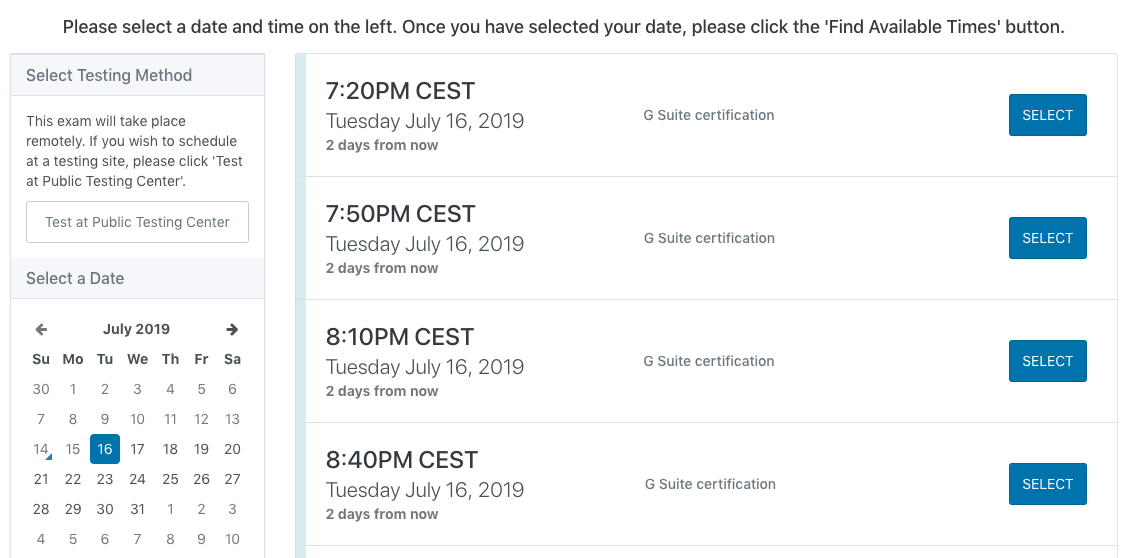 Taking the G Suite Certification Exam
The exam takes 120 minutes.
You're not permitted any learning or reference materials, it's not an open-book exam. The ProctorU site will detect if you open other windows or tabs and discontinue the session, effectively kicking you out of the exam.
You can use Chrome's built-in translation service for questions, but the exam is only available in English and your answers will only be counted if they're entered in English.
The exam isn't a question-and-answer exam. Instead, you'll be given a G Suite work environment and asked to complete tasks. You won't be allowed to use the phone, scratch paper, pens and pencils, or notes if you sit the exam at a public testing center.
After you finish the exam, you will receive a pass or a fail. There's no other feedback. No percentage, numerical score, or verbal response. Google says the exam is designed to see whether or not you meet a certain minimum standard.
If you take the G Suite certification exam and fail it, you can retake it 14 days later, but you have to pay again. Miss the mark a second time and the wait is 60 days.
If you pass, you're certified, and Google will email you a digital certificate.
If you have to reschedule your exam less than 48 hours before it's due to start, you'll be charged a cancellation fee but it's much less than the full exam cost. If you just don't show up you'll be charged full price with no option for a refund.
How do I know if I'm ready to take the G Suite Certification exam?
Go through the full list of topics that are tested at the top of this page and ask yourself if there's anything on there that you don't know how to do. If you feel comfortable with everything on that list, you're ready. If not, go here.
Select specific skills to practice and improve so you can make sure you have the best chance of success.
Just to be safe, you should pick a few skills at random and see if they surprise you with anything that you didn't already know.
Also do a a practice test here.
After an introductory video, you can take as many practice exams as you like. It makes sense to do the practice exam in the same time-frame as the real thing and see if you pass. This is the best way to guarantee that you'll pass the real exam on the first try. If the practice test feels easy and you pass, you're definitely ready.