How Coronavirus Has Impacted Remote Work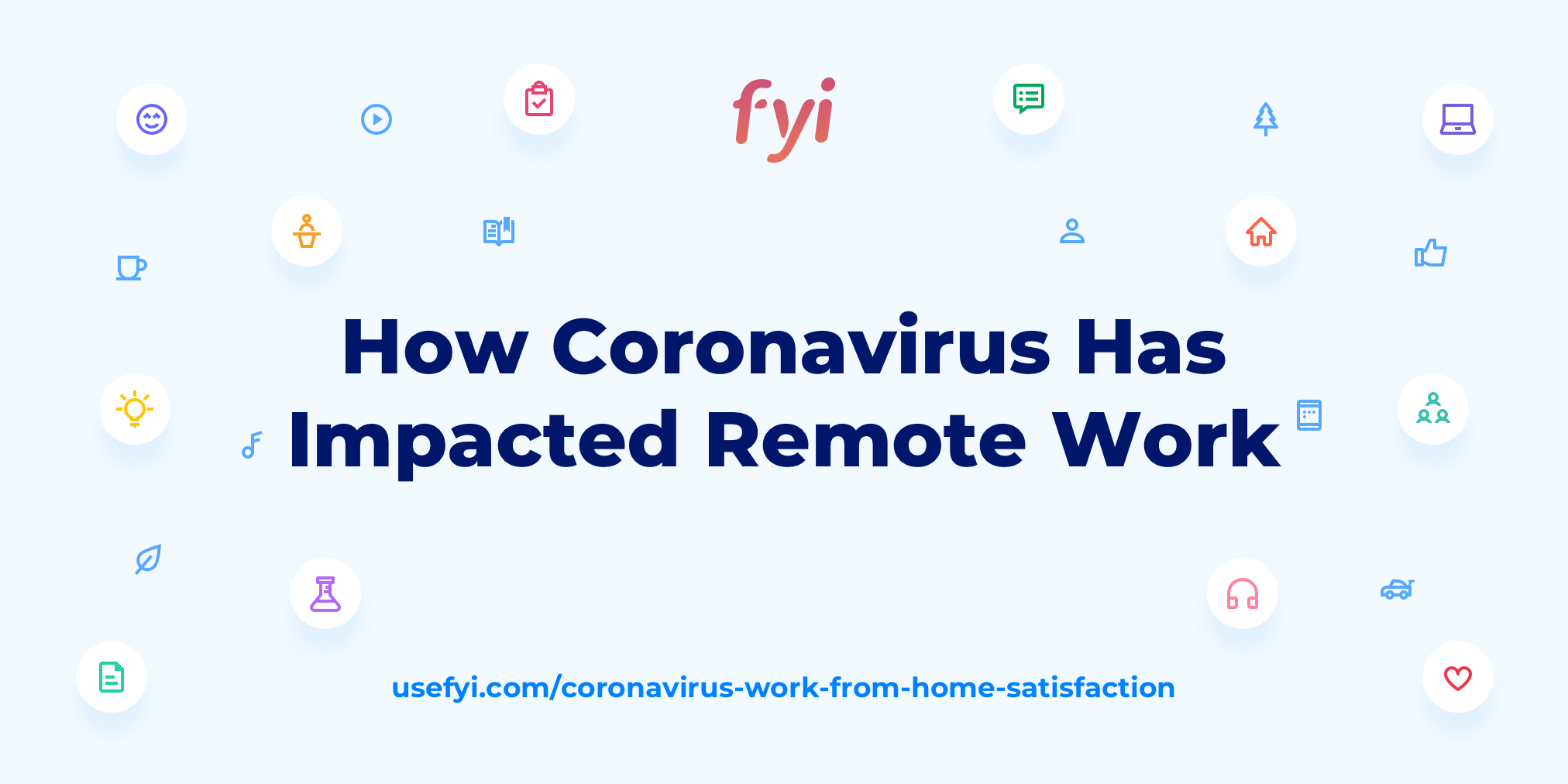 Almost everyone loves working remotely, 96% of people would recommend it to a friend.
But it's not perfect, communication is the #1 challenge people have working remotely.
This was the state of remote work. People loved it but communication was a legitimate problem.
Then the coronavirus pandemic changed everything.
People and companies were forced into remote work out of nowhere, with no preparation. Most companies had few – if any – processes to go from in-person work to 100% remote.
No one was prepared for remote work to become the new normal.
Do people still love remote work? Are companies working through the transition? Will anyone want to go back to the office?
To understand how people feel about remote work in the age of COVID-19, we decided to survey 180 people about their satisfaction with remote work in the new environment, and how companies can help make working remotely a better experience for employees.
Here's what we learned.
Right now, remote work isn't going to live up to its promise
How do people really feel about remote work?
We know that the veterans of remote work love it. And almost all remote workers feel that remote work is right for them, with 91% saying it's a good fit.
But what about the people who are new to remote work? The people who, up until a few weeks ago, had never or had rarely worked remotely.
To find out, we calculated the employee Net Promoter Score (eNPS) of different segments of remote workers to understand their satisfaction with remote work at their companies.
Employee Net Promoter Scores allow you to quickly get a baseline of how satisfied people are with just about anything you want to assess at a company.
We asked survey participants "How likely are you to recommend working remotely at your company to a friend of family?" and gave them a 0 to 10 scale, with 0 being not likely, and 10 being very likely.

We expected the results to be bad, but not this bad.
Overall, people aren't that satisfied with remote work at their companies. Across all the people we surveyed, the eNPS was a 27, indicating that employees aren't that satisfied with remote work.
And that score includes everyone, even the folks that have been working remotely for a long time already and love it.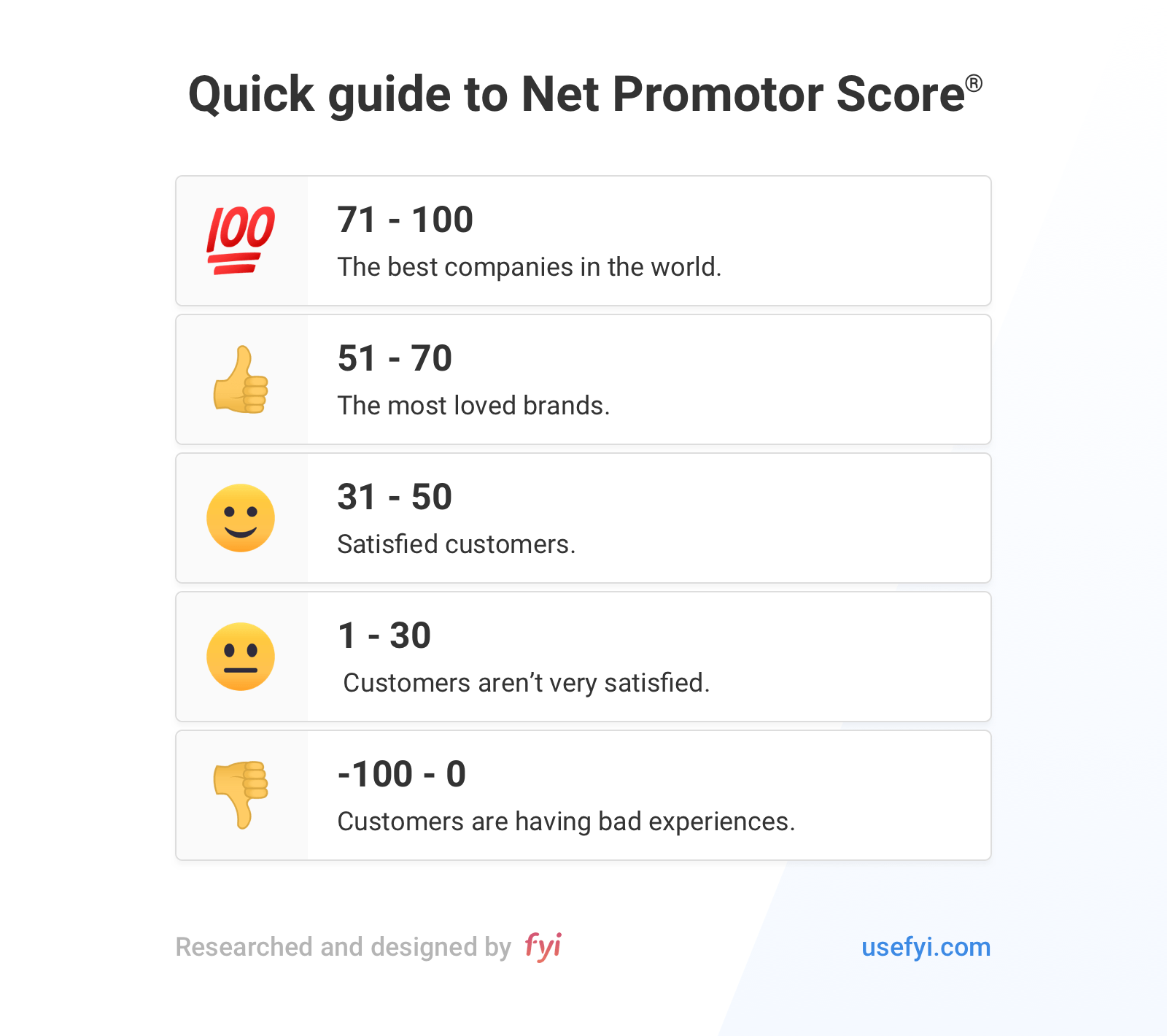 Once we segmented the scores based on how often people normally worked remotely, we saw a clear (and troubling) divide emerge.
People who normally work remotely all the time or a few days a week still love it. No surprise here.
Those working remotely full-time gave it the highest NPS of a 58, while those working remotely a few days a week gave it a 51. These are the scores that the most loved brands and companies tend to get.
These people were prepared for remote work – they had already been doing it, so they had the process in place already and were used to working remotely.
The story is very different, however, for those who don't normally work remotely.
For those who rarely work remotely, their NPS was an 8. That means they aren't really satisfied with remote work at their companies.
Those who never worked remotely had an Employee Net Promoter Score of -19. Ouch. That means this segment of people are actively having bad experiences working from home.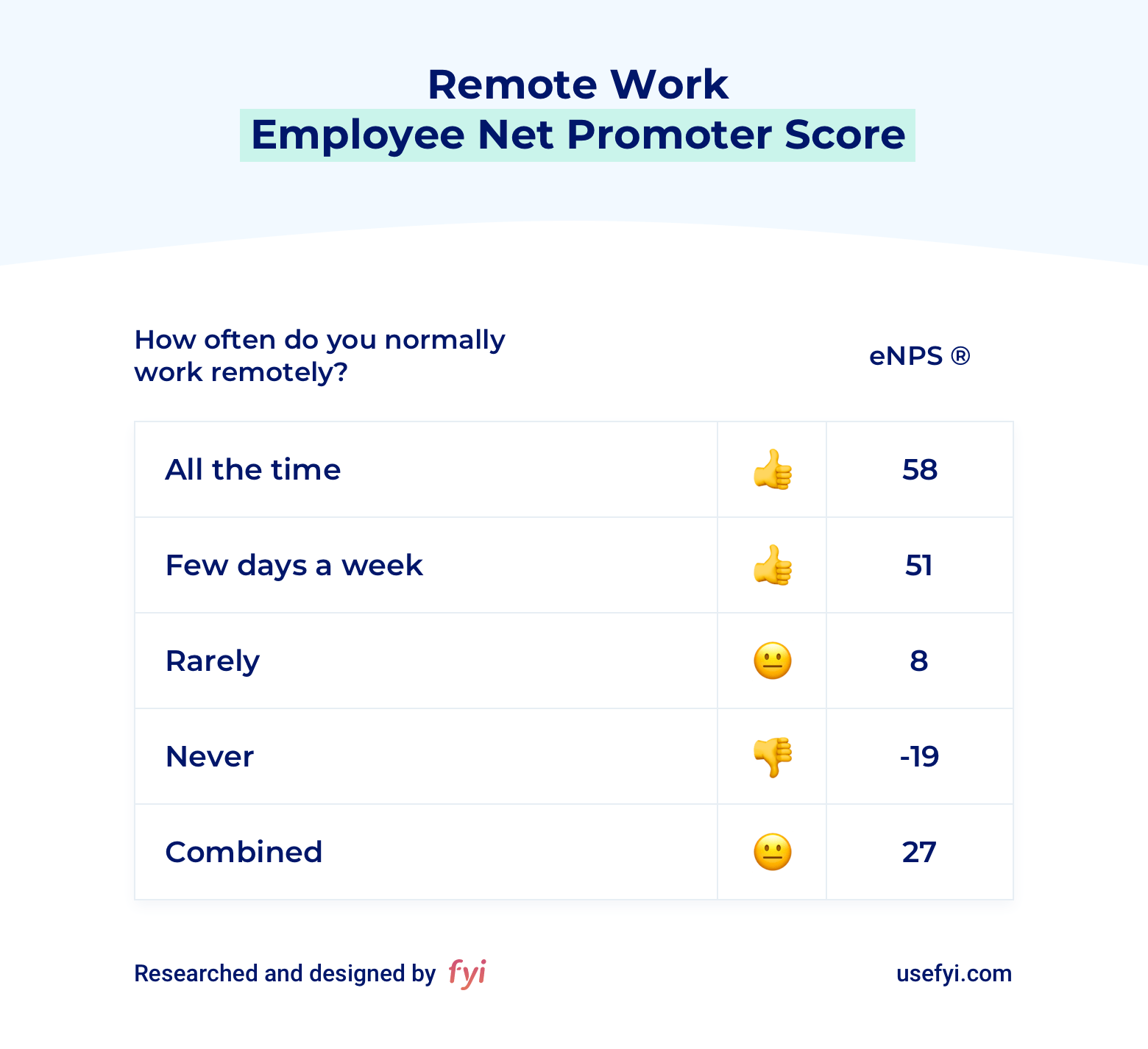 They've been forced into remote work suddenly. They're not used to it. And they don't have the tools and processes to be successful.
For companies with employees who used to be in the office, this has a lot of implications.
If people are unhappy, they're likely to be less productive and engaged. Some are likely starting to resent their companies, executives, teams and managers. They might even be fantasizing about their next career move. They might even feel abandoned, as if no one is giving them what they need to be successful and happy.
So how can companies help their employees?
We asked survey participants: What's the #1 thing your company can do to help you work remotely?
We thought there'd be a clear one or two things that people wanted, but instead, responses were split evenly across three segments: More communication, approved tools and resources, and improved culture.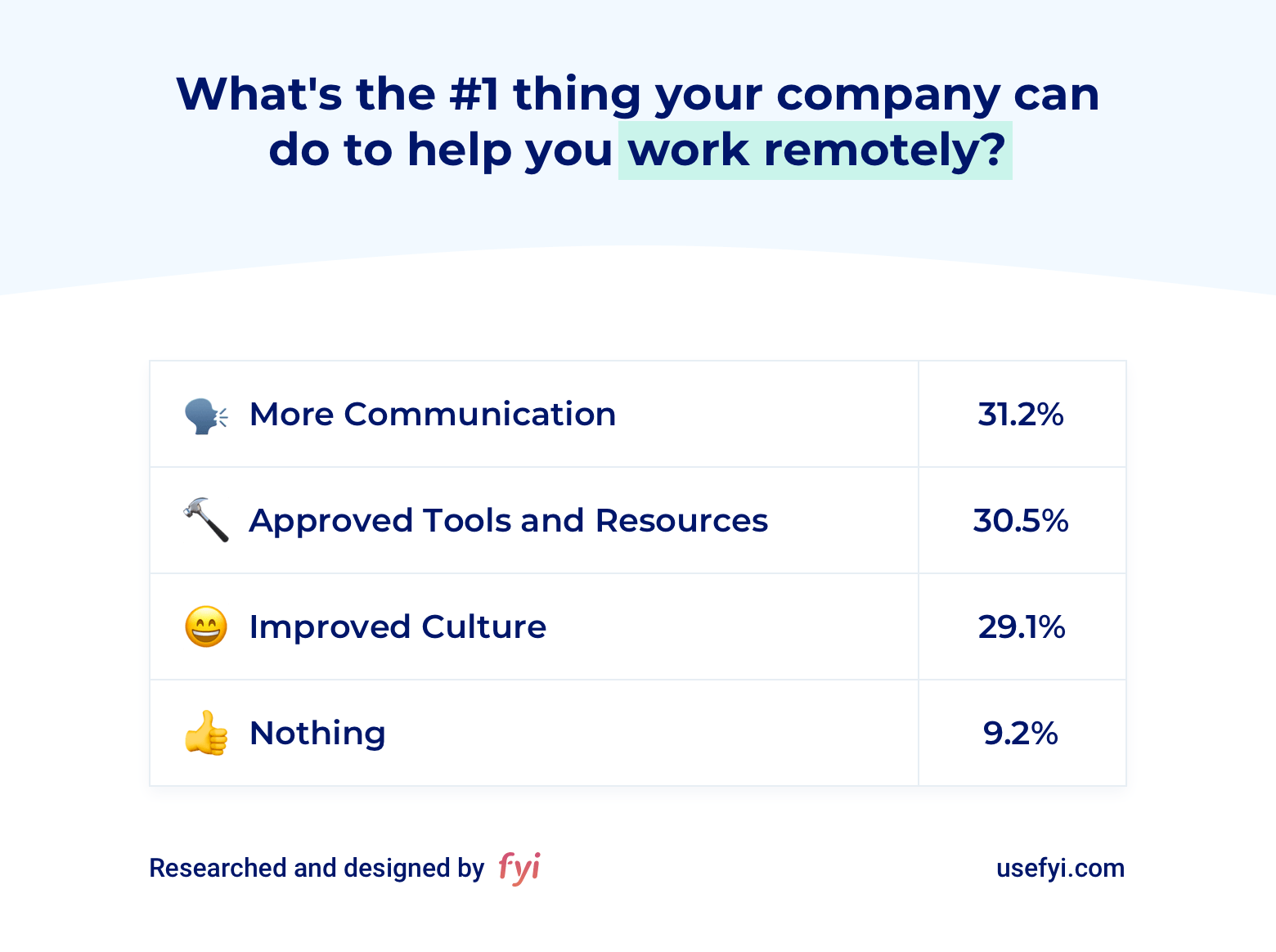 More communication: 31%
Since communication is the #1 challenge with remote work, it made sense that so many people asked for better, more consistent, and clearer communication from companies.
When it comes to communication and remote work, people want more of it.
They asked for "More teamwide communication/engagement," and "constant and consistent communication."
Others asked for "more active use of video vs email/chat," while some sought fewer communication channels: "be clear with communication in as few channels as possible."
Since remote work is new, people also wanted to know the new rules and ways of working: "Set and hold people to norms around remote work, like communication channels and availability."
Another request was for companies to have fewer meetings.
Overall, people feel that there are too many meetings, which cuts down on how much time they have to get their work done. Many of these meetings are being held by nervous managers and companies who are themselves unfamiliar with remote work, hoping to get some control of the situation by getting more face time in.
"Some people are new to remote working… that's not a good reason to spin up lots of new status update meetings."
But people need to be productive, too. And meetings can take away from that.
"Add block hours for no meetings to allow people to adjust to the new setup."
Additionally, since those with children have their kids home from school, they wanted more flexible meeting times.
"Flexibility regarding meeting times is currently the most difficult part as many of us have kids at home that also need our attention."
The solution to remote work communication challenges is not holding more meetings. It's creating more visibility and clarity.
For visibility, managers can do weekly one-on-one meetings via Zoom. They can also have their team try sending daily updates in Slack or Microsoft Teams so that everyone knows what's being worked on and what was done.
For example, here's what we do for daily updates in Slack at FYI: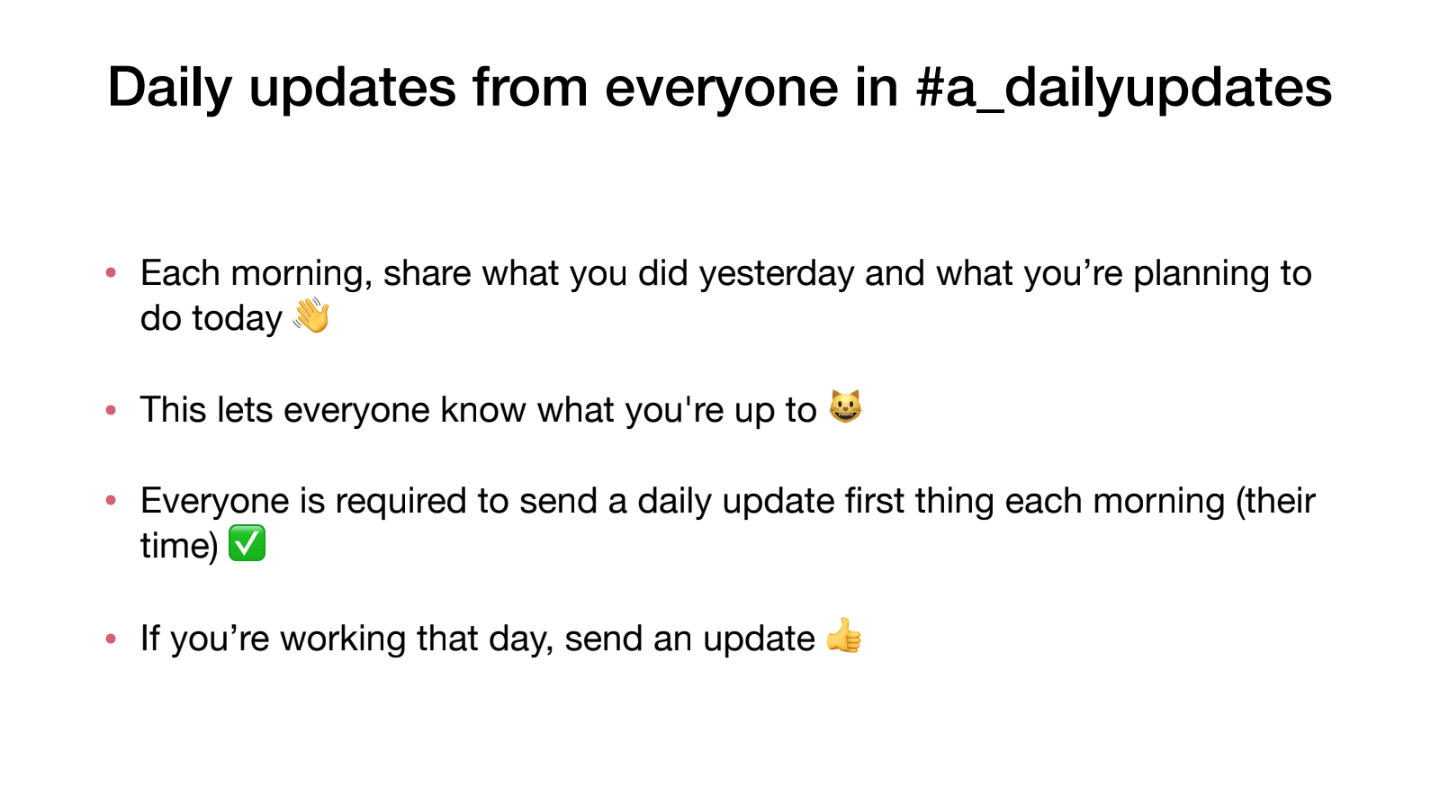 Clarity comes in the form of more communication.
Document more than ever – whether it's documenting notes from meetings, agendas and action items, or just writing down expectations and processes. The more that gets documented, the less confusion there will be, and the more people will adjust to working from home.
And when there are meetings, make sure the video is turned on so everyone can see each other. Less gets lost in translation, and people have to stay alert since they are on camera for all to see.
Approved tools and resources: 31%
Collaboration tools are what make remote work a possibility.
Software like Zoom, Slack, Microsoft Teams, G Suite, Office 365, Notion, Confluence, Trello, and many more tools help people collaborate in the cloud.
With the rush to remote work because of COVID-19, every company had to figure out a way to collaborate remotely. But based on our survey, not everyone has cracked it yet.
A third of participants wanted their companies to invest in better tools and choose which tools the team should use when working remotely.
In some cases, people mentioned that their companies were using multiple tools for the same job:
"Decide on a set of tools (using both Webex & Zoom, Miro & Google Draw, Office & G Suite, etc)"
"We have multiple tools for collaboration (Skype, Slack, Teams) but not everyone is on them and some people are on Skype while others are on Slack. Getting uniformity and having people on one common platform would help tremendously."
If there are no official company tools that have been chosen and communicated out to the team, then everyone will use whatever tools they like best. Suddenly everyone on the team is juggling way too many tools.
Having the infrastructure to get work done was another area where people wanted help from their companies.
Because almost everyone is home – including kids – Internet connections can be slower and spottier than usual. Which is why a few people asked for better wifi:
"Ensure the rest of colleagues have stable wifi (maybe subsidize at home Internet connection upgrades)."
Others asked for their company to be clear about what they would pay for. In the new world of remote work, what is covered?
"A clearer contract on who pays for what from my homeworking resources – eg Internet, equipment, heating, electric."
There are so many incredibly helpful tools that companies can and should embrace when it comes to facilitating remote work. Not all apps are the same, and some work better for certain departments than others. The key is to choose the tools that are right for the team, department or organization, and then let the rest of the team and company know about those choices. And of course, use FYI to keep documents from all the different cloud apps discoverable in one place.
And when it comes to helping subsidize people's home office expenses, it's best to choose a company policy and stick to it. Since it's unclear how long and how often many of us will need to work from home, companies should decide what – if any – benefits they'd like to offer while their offices are closed.
Improved culture: 29%
Culture evolves naturally in an office setting. But in a remote company, it's the outcome of work, clear expectations, values and process.
Based on our survey, expectations of remote work were not set when many companies moved to have their employees work from home.
The people we surveyed, again and again, asked for clear expectations from their company.
How focused is everyone expected to be in the midst of the pandemic? Are employees expected to be just as productive as they were in the office under normal circumstances?
How often should there be status updates?
"Provide some guidance on how and at which frequency to do greater status updates to the team."
What are the expectations for those who are working while their kids are at home?
How quickly should questions be answered?
When are people expected to be available versus the time when they are not working?
"It feels like everyone wants to have their questions answered immediately as they cannot physically see what you are doing."
People also wanted better socialization in the absence of seeing each other in-person. Whether on group chats or on video calls.
Going from coffees and lunches with coworkers to absolutely zero in-person communication has been jarring for many.
That's why they asked for encouragement and support of "non-work-related collaboration and hangouts," or to simply "have a video call to just chit chat."
People want their companies to "encourage socialisation and water cooler chat" so that everyone can feel more connected and less lonely.
Another trend we saw was people asking that their companies have more trust in them.
Remote companies are built on trust – people are given tasks and they get them done without all being in an office together. They do this across time zones, with clear communication and check in milestones.
With the sudden move to remote, many companies that used to rely on the office environment for visibility are now rushing to figure out what to do. They aren't used to remote work and the trust may not be there. So they increase how often they check up people to make sure they are doing their work. Some have daily check-ins, even full team and company check-ins multiple times a day, which can feel like micromanagement and lack of trust.
Employees are noticing, and they want these behaviors to change.
"Embrace ownership and work at my own pace as opposed to overemphasis on control and daily check-ins."
"Trust that remote workers are getting the job done," and "that they will be productive working remotely."
Building a remote culture takes work, but it's more than worth it.
Set clear expectations about everything – from communication, to response times and working hours. Communicate those expectations with the company and team in documentation that's shared with everyone, and explained on a call if needed. Managers should be available to answer any questions teams have about expectations during this uncertain time.
A great remote team builds in social time, so companies that are working remotely right now should do the same. Dedicated social meetings are a great way to help everyone feel connected. But even just devoting part of each meeting to non-work conversations can help.
We're all limited to how much in-person contact we can have right now with others, which means we're much more lonely than usual. The more genuine human connection we can get, the happier many of us will be.
Managers should also reach out and check in to see how people are doing. The more we know, the more it will help companies make remote work during COVID-19 that much better for employees.
And of course, trust your team. If they are given clear expectations and clear communications, the best thing to do is trust that the output will match what's been aligned upon. If there's an issue, treat it as you would normally, through conversations to understand what's going on. Remember: the more extra meetings a company puts into place, the less actual work is getting done.
Who we surveyed
To understand how often people worked remotely, and to be able to segment employee satisfaction responses, we asked people how often they worked remotely.
Forty-four percent of respondents said they rarely worked remotely, 23% worked remotely all the time, 23% said they work remotely a few days a week, and 9% said they never worked remotely.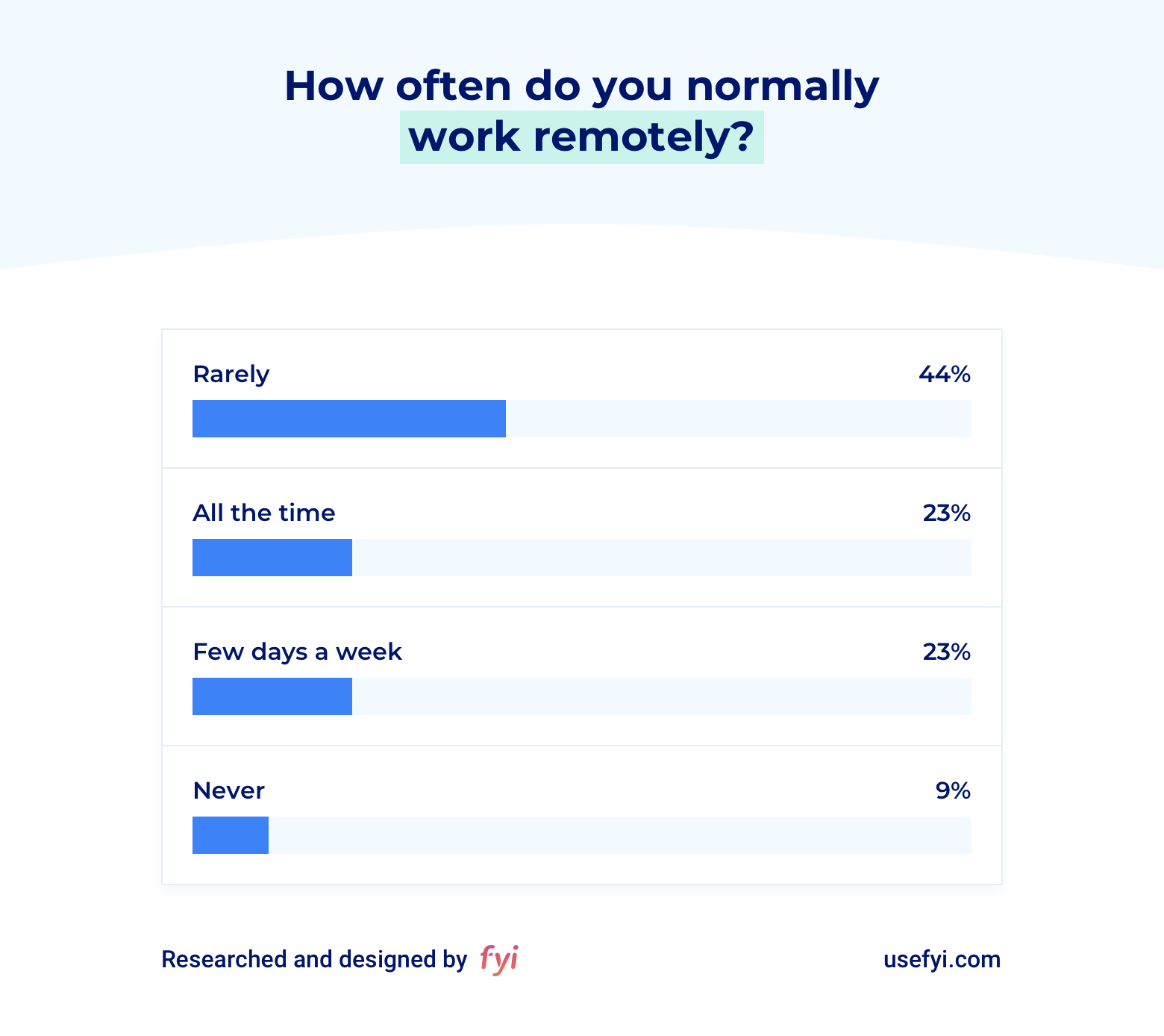 Given the work from home orders as part of the coronavirus pandemic, almost everyone started working from home.
When asked "How long have you been working remotely?" sixty-one percent said they were working remotely less than a month, with 18% working remotely for more than 3 years.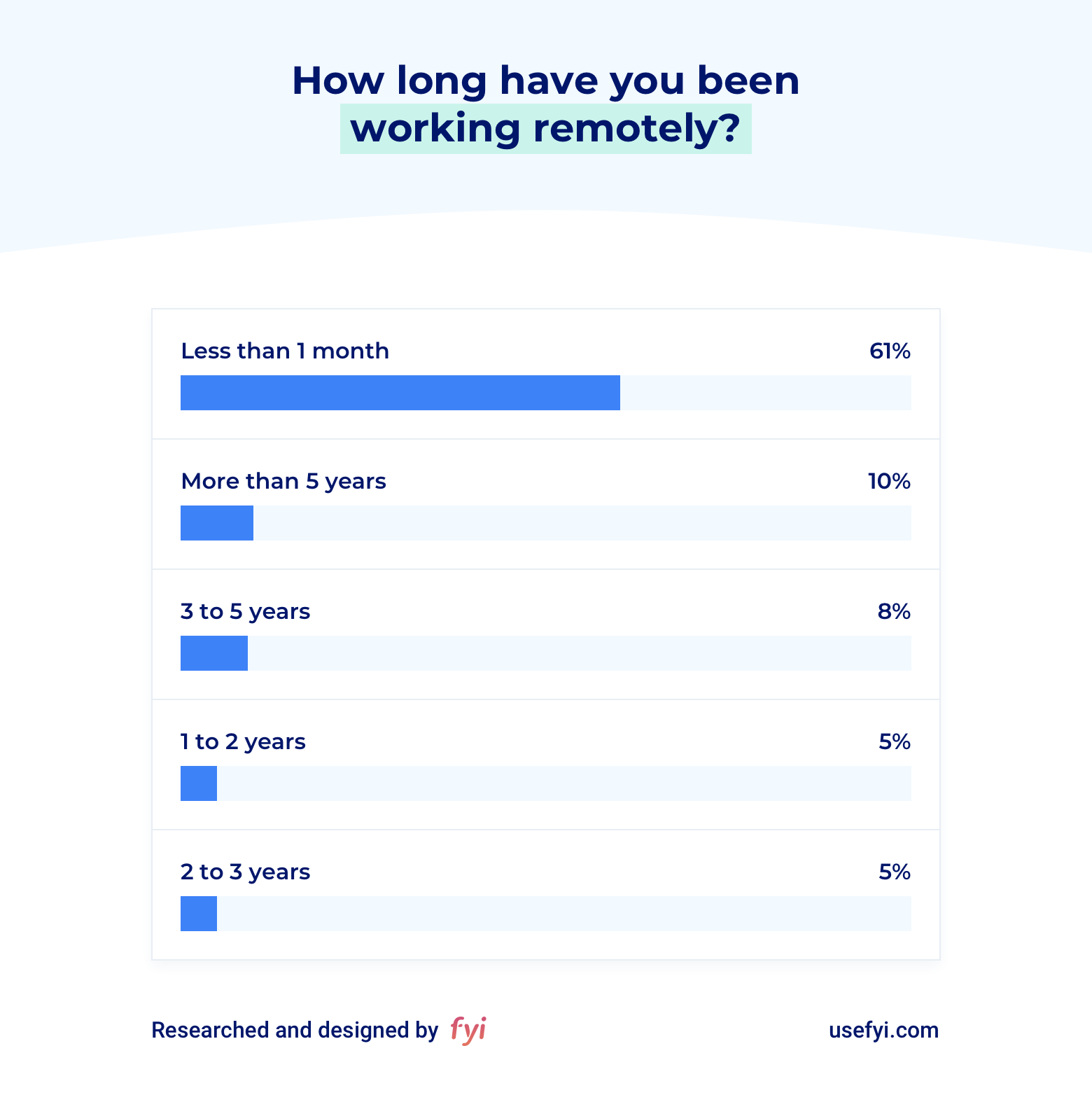 At the time of our survey, 91% of people said they were working from home because of COVID-19.
Most of the respondents – 61% – were based in North America, with 21% coming from Europe, 7% from Asia and 5% from Australia.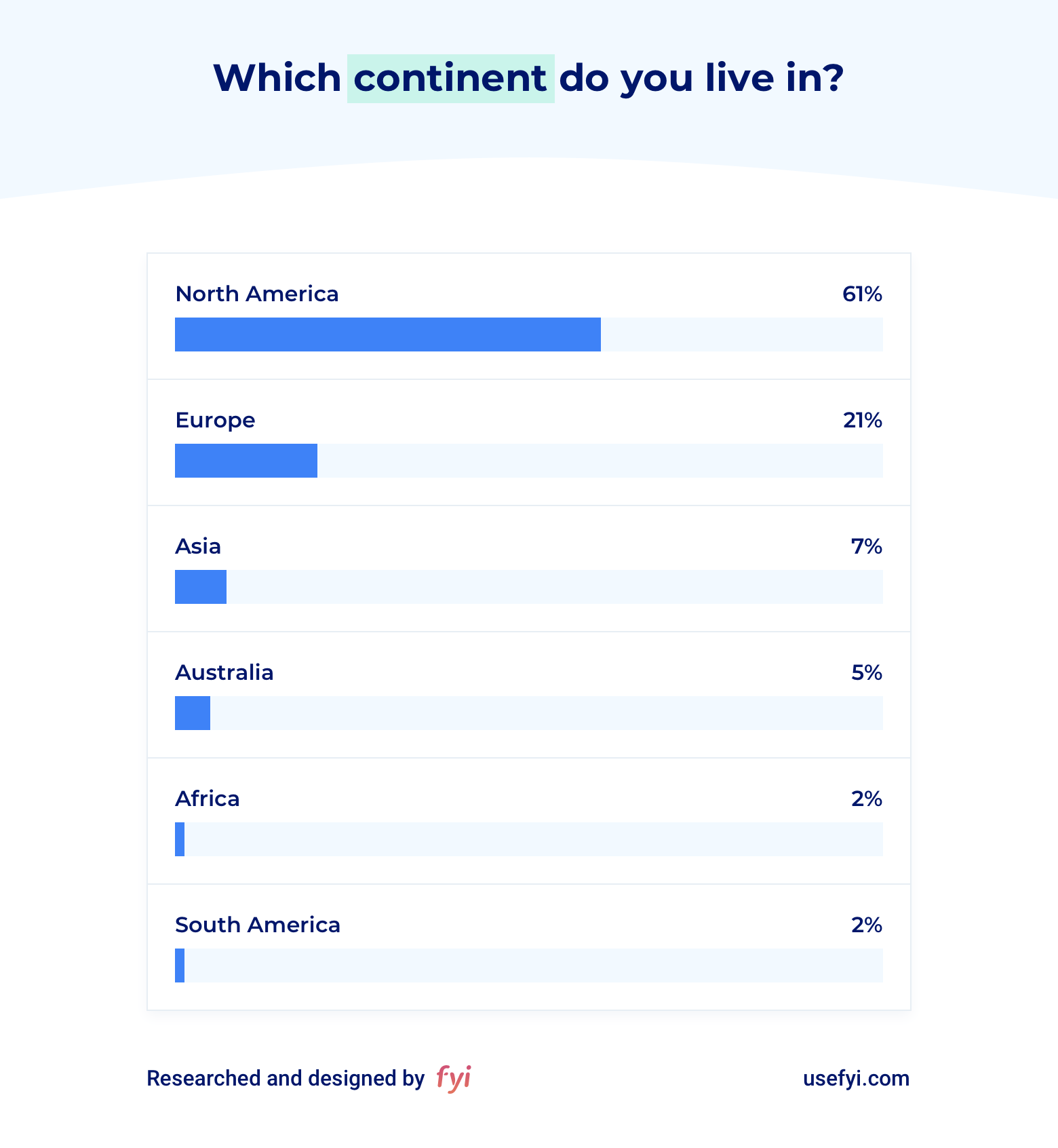 When it came to company size, participants came from companies of all sizes.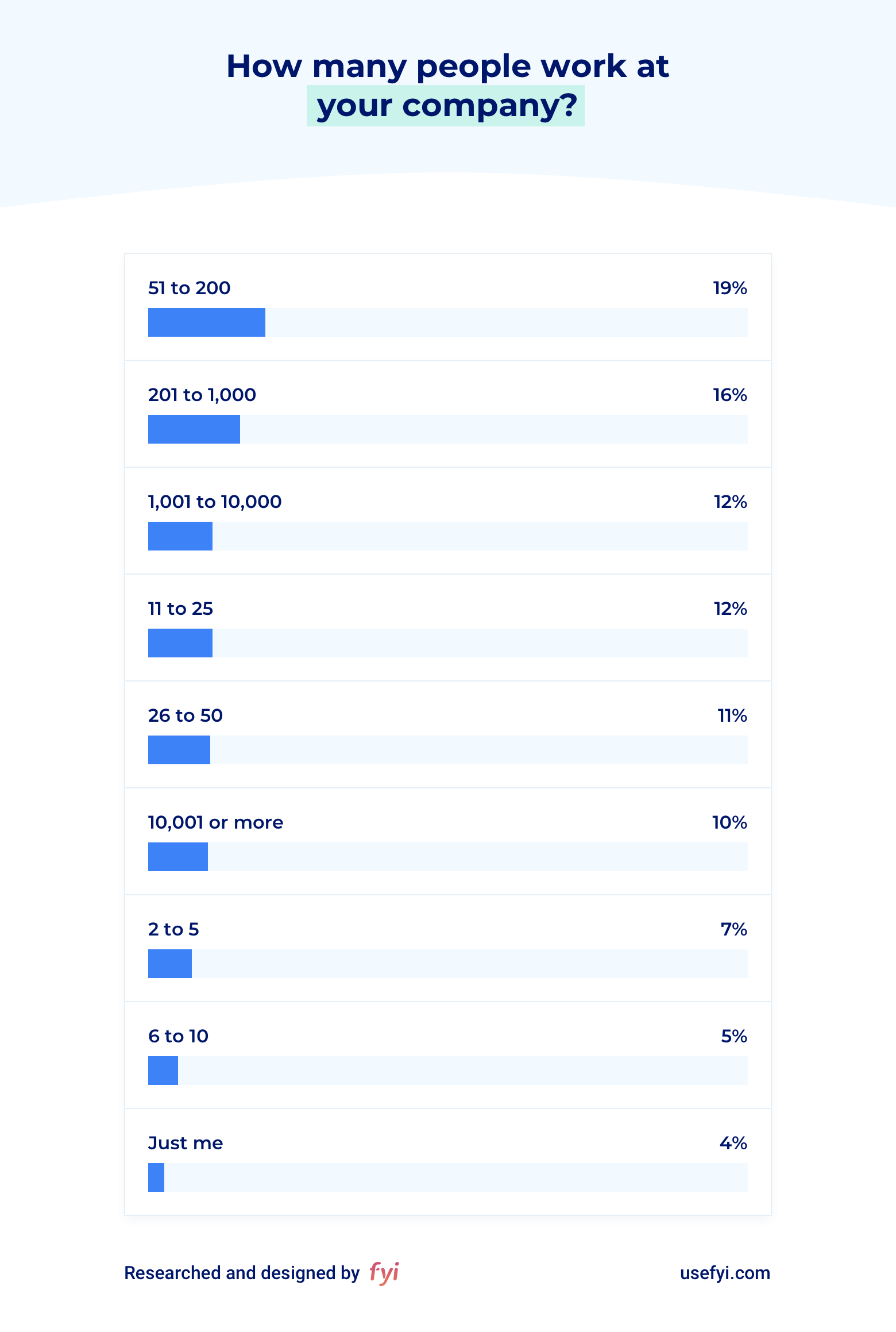 What happens next?
Employees who are new to remote work are struggling.
It's as if we're all in this giant remote work experiment but nothing is normal. And it's not pretty.
But there's hope. Our survey results shed light on what employees want from their employers to help them deal with the current situation.
People want consistent communication, fewer meetings, clarity around tools, faster Internet, reimbursement for work from home expenses and clear expectations being set by their companies.
Provide what your employees need and their satisfaction with remote work will go up. Similar to how when you improve your product based on customer needs, their satisfaction increases.
As an employee, this is the time to speak up and let your manager know what you need to improve your current situation while working from home. It's likely other people in your company are having a similar experience as you too.
Managers and executives, if your employees are new to working from home, this isn't normal so proceed appropriately. Ask your team what they need to do the best work possible under current conditions. And then deliver on their needs as best as you can.