What 40 Top Companies Want in a CIO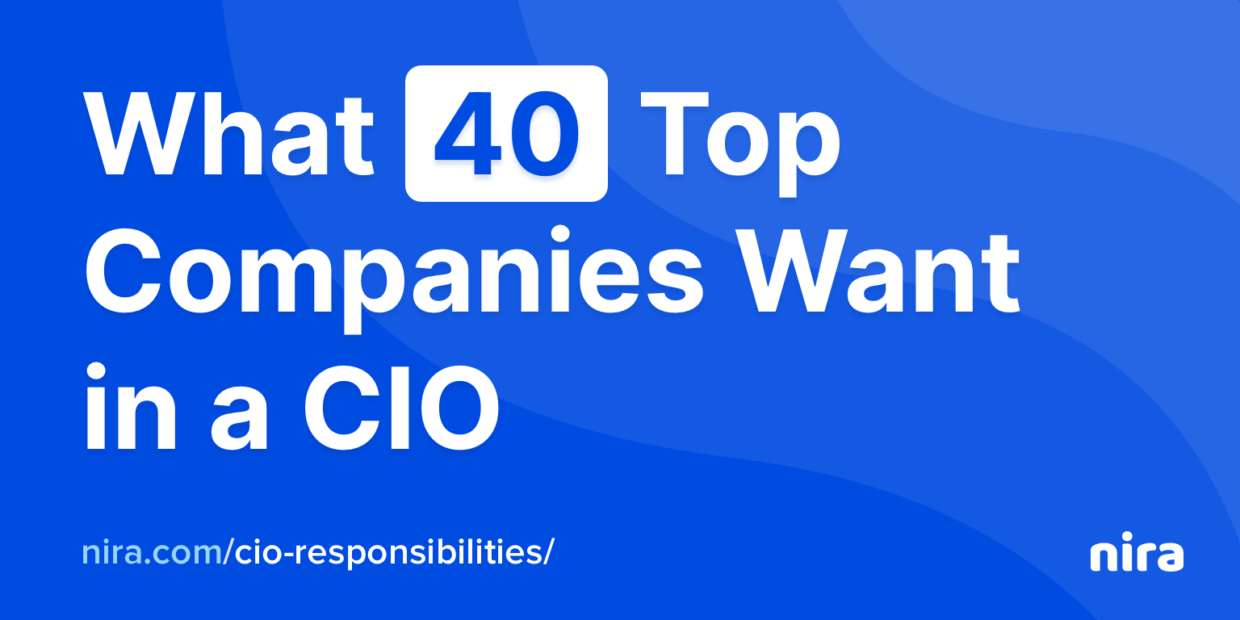 It's an exciting time to be a CIO. Gone are the days when IT was simply a facilities team for technology, depending solely on heavy hardware and back-room infrastructure. Today, IT has a more vocal role in company strategy, and CIOs are guiding the way. 
But as the world of work transforms, what separates the CIOs who fail from those who get ahead? Today, the most successful CIOs bring IT out of the back office and take a seat at the executive table.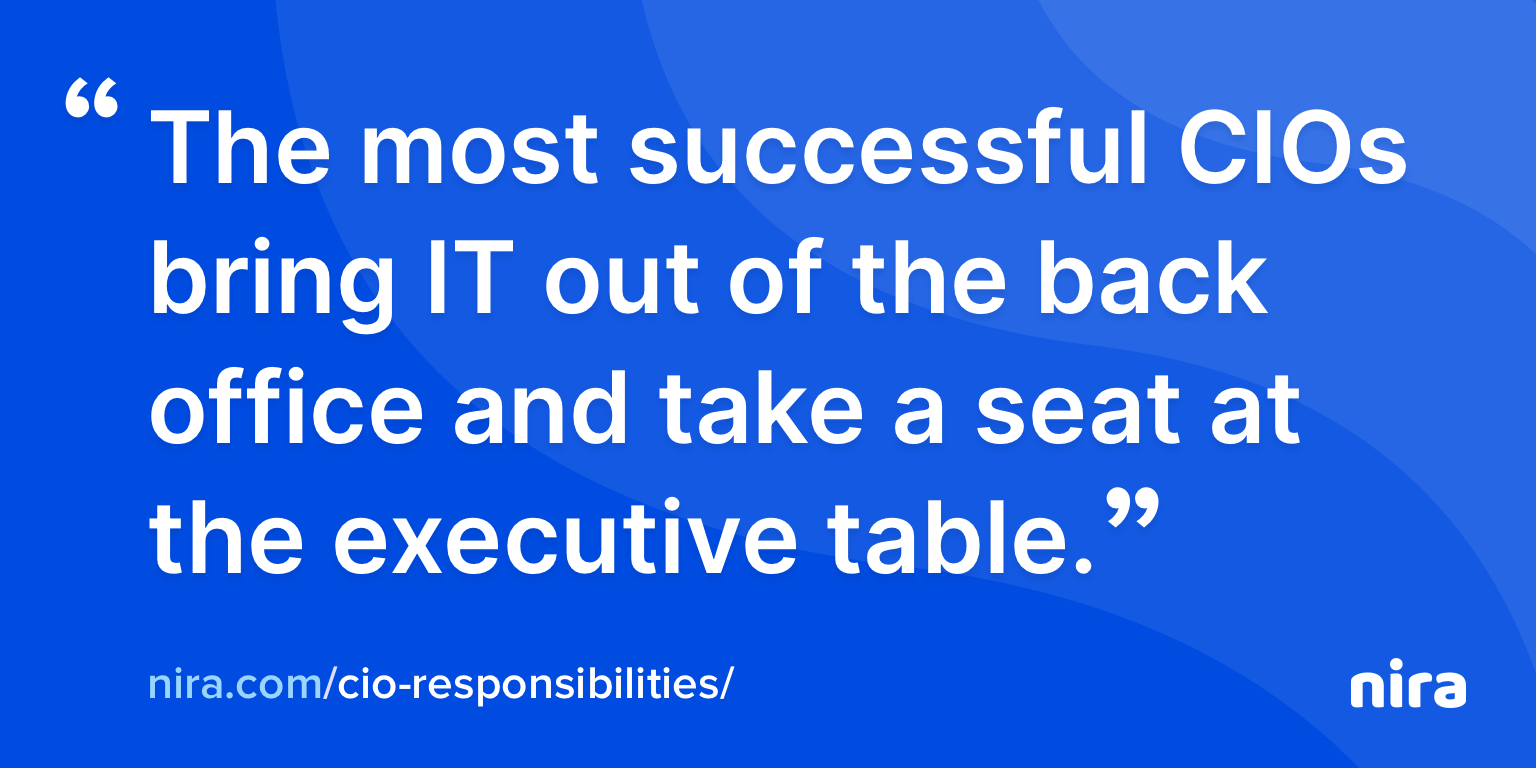 At Nira, we surveyed 40 CIO LinkedIn job listings from 24 diverse industries: everything from aerospace manufacturing to IT consulting was represented. We found that having an effective CIO is a top priority for organizations across company sizes and backgrounds. But what do hiring companies actually want in a CIO? 
We dug into the current job market to learn what aspiring executives need to know.
What's Needed for the CIO Role 
CIOs first and foremost view themselves as technical experts. When surveyed, 78% said they identified as technologists with computer science skills rather than leaders with business backgrounds in sales or consulting.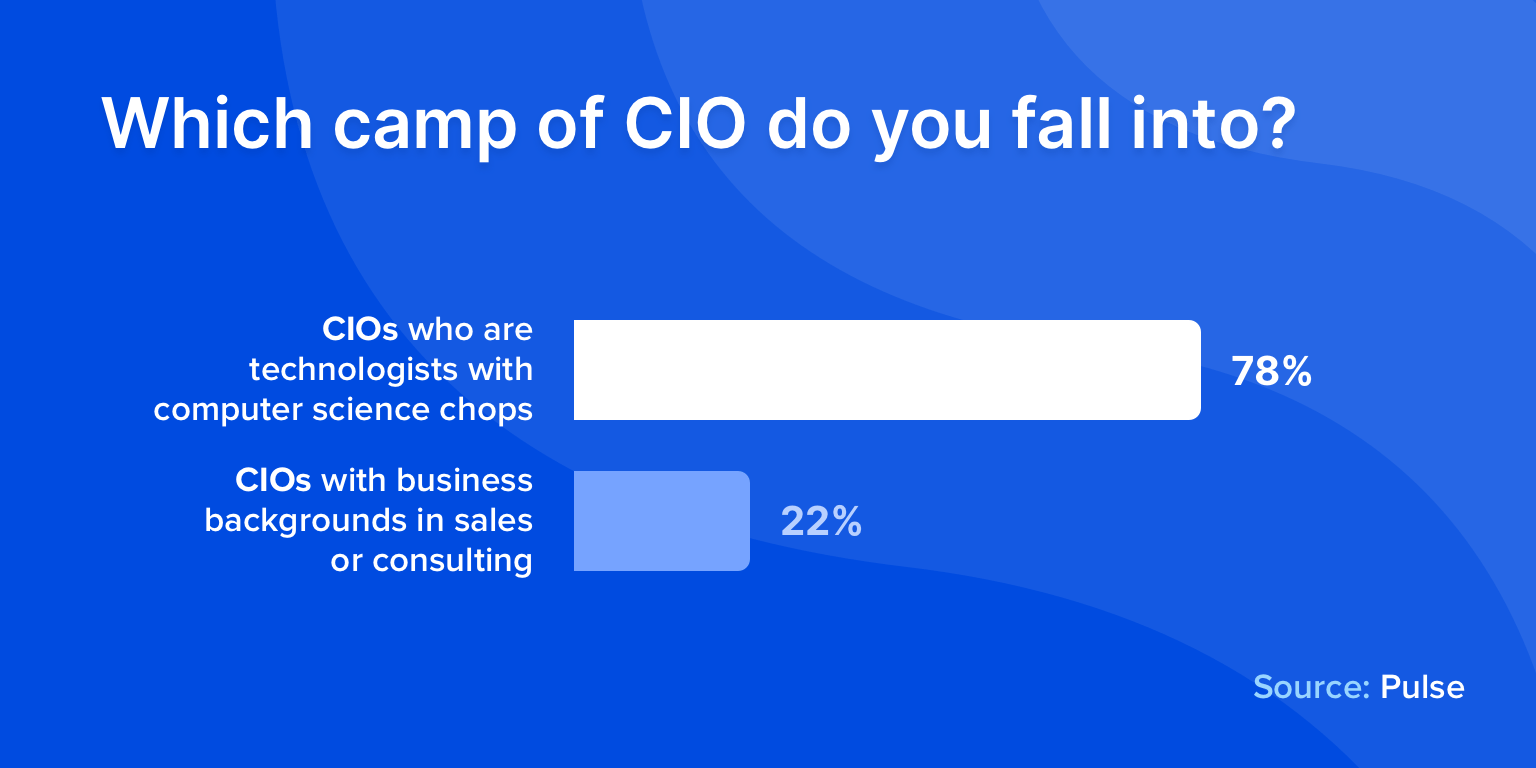 However, to make a true impact in their organizations, CIOs must be strategic and speak the language of the business.
As a guest on Nira's podcast The Future of Modern IT, Eric Johnson, CIO of Momentive.ai, said that: "To take on the role of a CIO in this day and age, you have to be able to articulate, understand, and have conversations with your business partners."
Companies valued both technical and business skills and needed top candidates to merge the worlds of IT and business together. Sixty percent of the listings mentioned specific business-related responsibilities, while 65% required specific technical knowledge. The majority highlighted a combination of both. 
IT and security experts seem to agree with this analysis. When surveyed, a whopping 98% said that IT leaders need a strong understanding of the business.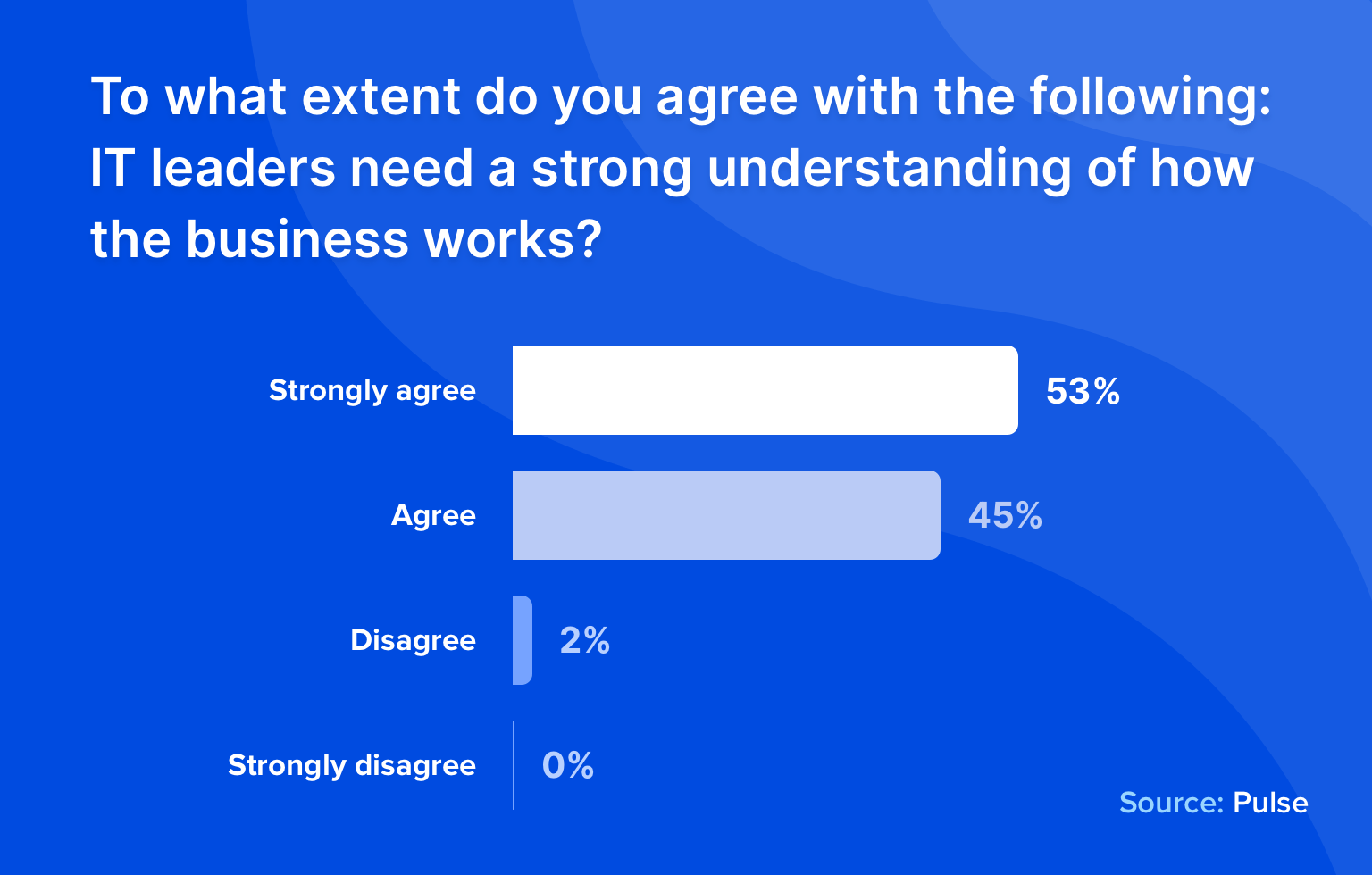 The key is to understand when and how to use technology to have a solid influence across the organization. 
"You need to have a passion for technology. But you also need to understand when and how to use it, to make the biggest business impact," Johnson confirmed.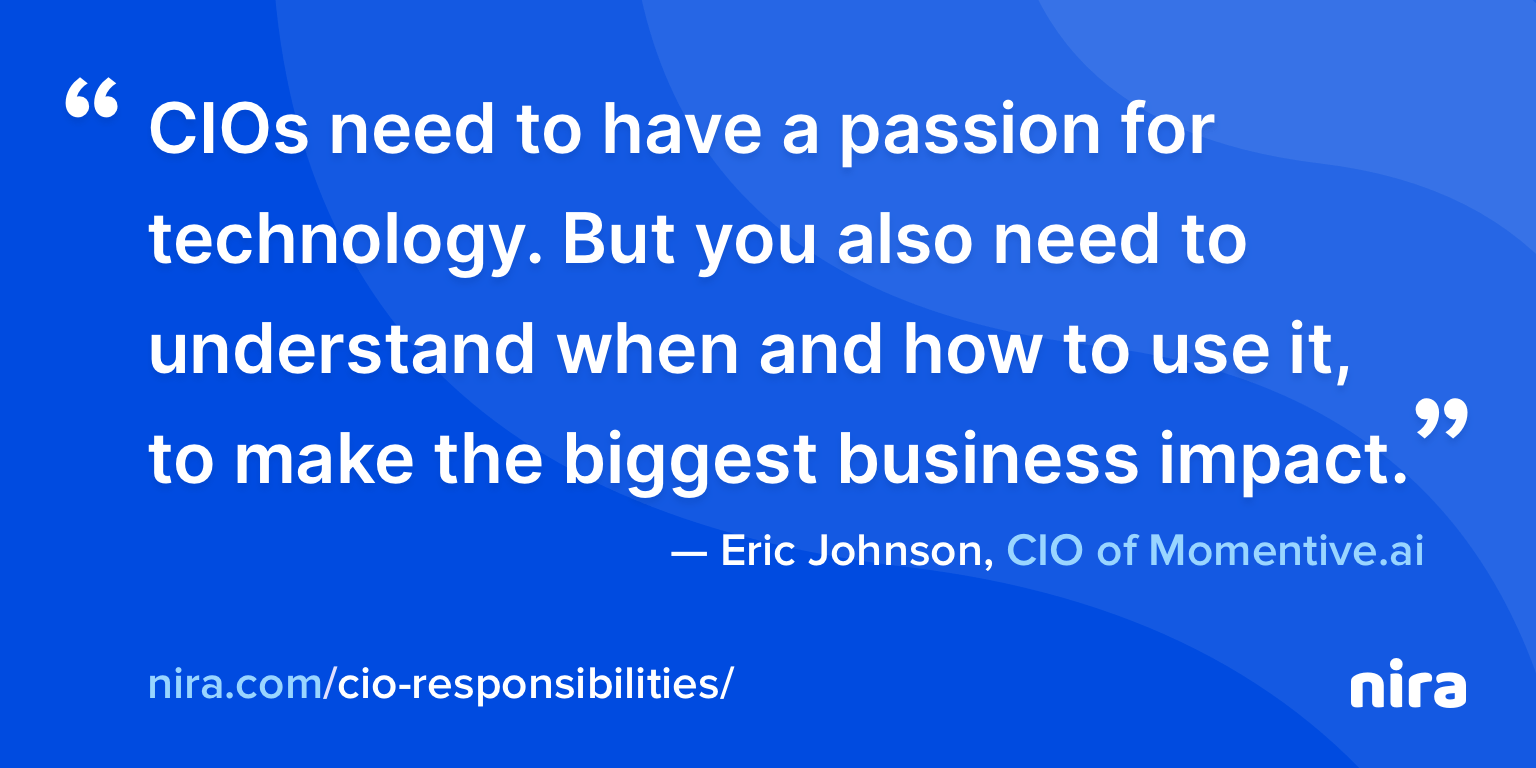 This is easier said than done, as CIOs may be going against their natural instincts to focus solely on the technical aspects of their role. We wanted to delve deeper to learn how combining IT and business strategies might be manifested in CIO workflows. 
What Skills, Abilities, and Qualities do CIOs Possess?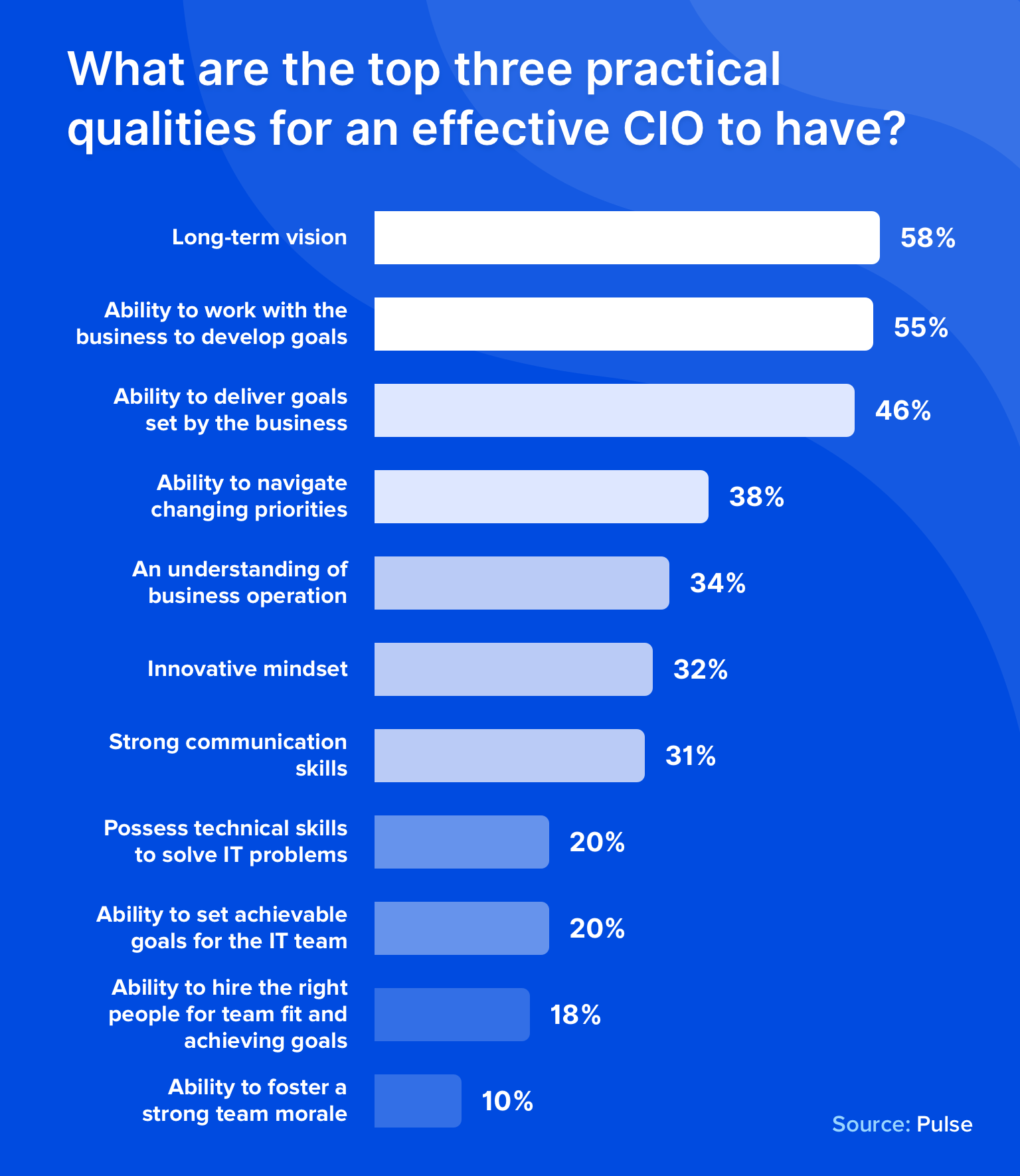 Strategy is key, and business needs seemed to take priority over technical skills, according to a survey of top IT, security, and engineering leaders. Our findings seemed to reiterate this survey: 93% of the Linkedin listings mentioned strategy and being strategic.
According to IT and security executives, CIOs should possess certain practical qualities, some of the most popular revolving around developing and delivering business goals. An understanding of business operations was also highly valued. 
In the job listings, sought-after skills also focused on merging the worlds of IT and business. One company said they wanted a CIO who had demonstrated the "ability to apply IT in solving business problems." 
Another wrote they needed someone who could "conceptualize long-term business goals and develop orderly processes to accomplish those goals." 
Other abilities included excellent interpersonal and communication skills (37% of companies) and change management expertise (20%). CIOs need to be able to effectively communicate and navigate rapid changes across the organization. 
Experience, Education, and Certifications 
We speak with a large number of CIOs in our work with Nira, but we wanted to delve deeper to see what data could tell us about their levels of experience, education, and the certifications they actually needed. 
We knew that CIOs require experience in strategy, planning, and managing IT teams at an executive level, but just how much? 
On average, CIOs needed nearly 10 years of experience (9.5 to be exact). "Twenty years of progressive IT experience" was the longest time period listed while "three to five years in a senior-level IT role" was the shortest.
Types of experience included everything from enterprise-level experience to project management and planning. CIOs also needed to know about business/ IT analysis and strategy as well as financial and vendor negotiations. 
Types of CIO Experience Listed in LinkedIn Job Postings
Executive and enterprise

Business/ IT strategy and analysis

Financial and vendor negotiations 

Planning and project management

Infrastructure, software development, and networks
CIOs increasingly need to negotiate vendor relationships and contracts. In fact, 60% of the companies required CIOs to select and manage vendors and IT providers. Several companies also mentioned having a background in mergers and acquisitions as well as experience in infrastructure management and ERP implementation. 
Level of Education and Types of Certifications
To be a CIO, how much education do you really need, and are certifications truly important? 
We learned that having a university education was actually pretty vital: 86% of companies wanted one. Sixty-eight percent of the listings required at least a bachelor's degree, while 18% needed a master's degree. 
As far as certifications go, only 13% of the listings even mentioned them, which complements a prior article we wrote showing that 55% of IT and security leaders are not currently pursuing certifications. 
However, if you want to get a certificate to level up, the types listed in LinkedIn job postings were: 
CISSIP, CISA, MCSE, or equivalent designations

Project management certification or security certification is also a plus.

Certifications or university coursework or documentable experience in project management, business process improvement, technology lifecycles, data/network security, or other industry-level certifications.

Requires Level III certification in the Information Technology Career Field. Certification is required within 24 months of appointment. A 3-year tenure agreement is required.

Preferred Certifications:
ITIL Foundation or Higher

Certified Information Systems Security Professional (CISSP)

Certified Information Security Manager (CISM)

Certified Risk and Information Systems Control (CRISC)

Security+ certification

Network+ certification
Industry and Salary Information 
The current job market is ripe for CIOs who are academically minded; higher education had the largest number of roles posted with 18%. Banking and financial services came next with 13%, and government administration rounded out the top three with a solid 10%. 
However, we found that although 24 niche industries were highlighted, IT and executive management knowledge far outweighed experience in the specific industry.
For example, one university in New York noted that experience in higher education was preferred but not required for the role. 
Meanwhile, the listing mandated a minimum of 10 years of increasing management responsibilities in a dynamic IT organization as well as a master's degree in management, computer science, or engineering. 
How Much Do CIOs Earn? 
As usual, when we do this type of job analysis, the majority of listings (65%) did not reveal their salary information. However, of the salaries that were posted, our analysis of average CIO salaries fell right in the middle at approximately $211,000 per year. LinkedIn had the lowest with $195,000, per year; Glassdoor was slightly higher with $207,445 and Salary.com highlighted the highest average at $292,073.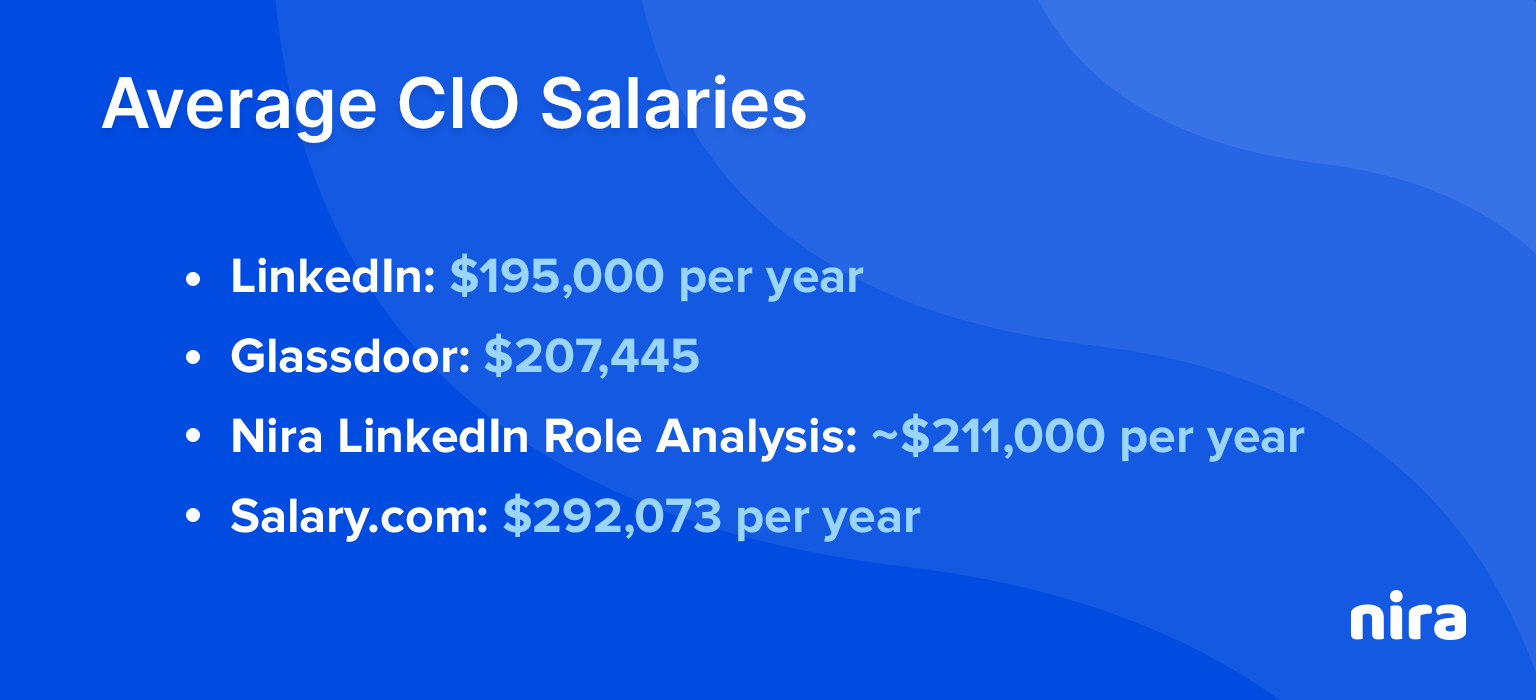 Please note this salary information is based on data from March 2022.
What Do CIOs Actually Do? 
A typical day looks very different for CIOs depending on their company, but they do have some overarching responsibilities in common. Above all, CIOs are responsible for leading, directing, planning, and managing IT strategy, development, and implementation. 
They need to ensure that they are meeting the company's business needs, delivering an optimal return on investment, and maintaining utmost security. 
CIOs also often take on financial responsibilities; they were in charge of overseeing and managing the IT budget in 68% of postings. When surveyed, 74% of IT and security experts said they were more and more focused on driving new revenue opportunities.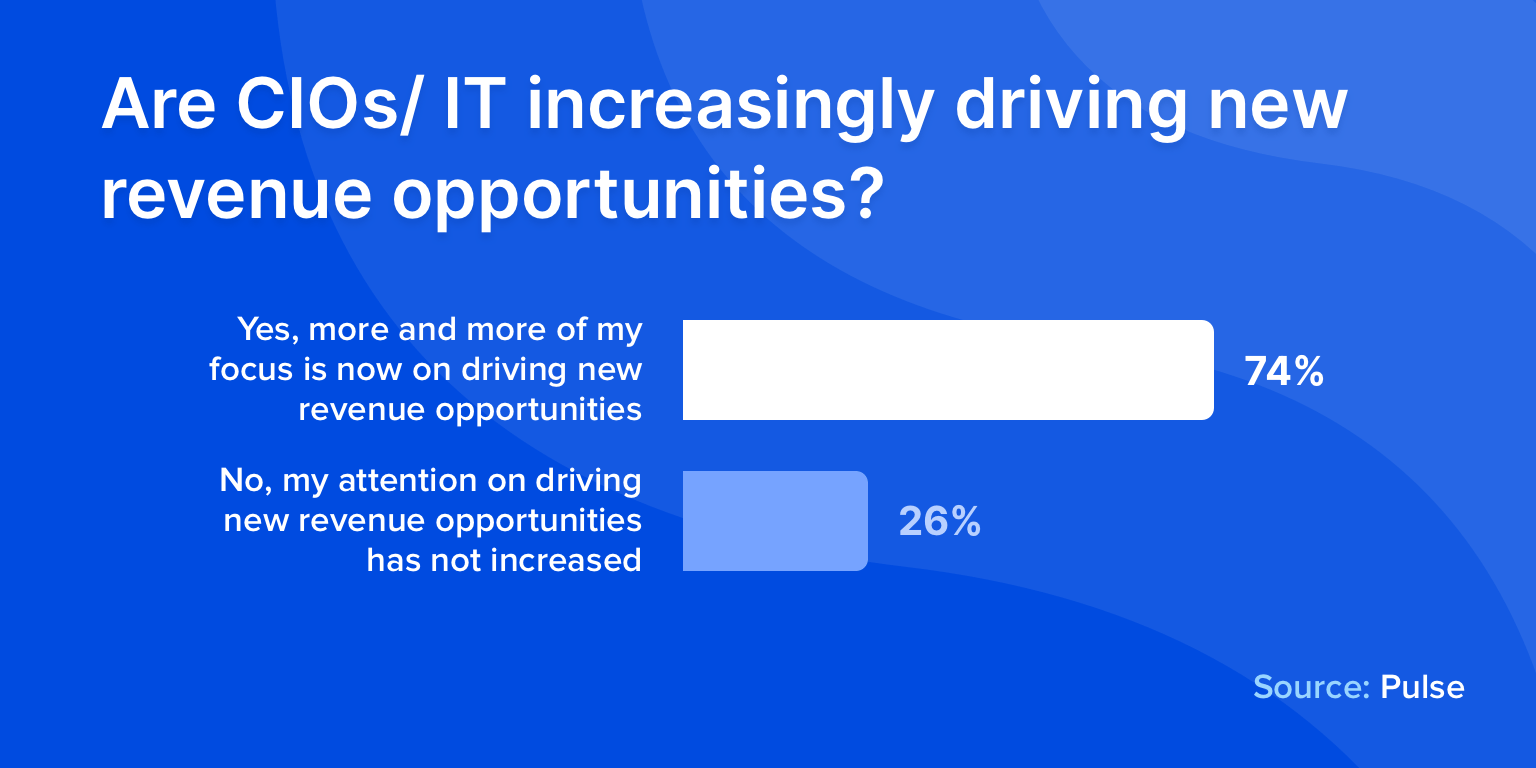 Who Do CIOs Report To?
According to our analysis, CIOs report to a senior leader such as the CEO, CRO, or the President of the organization. CIOs have become valued members of the C-Suite, as they collaborate closely with and regularly update executive leadership.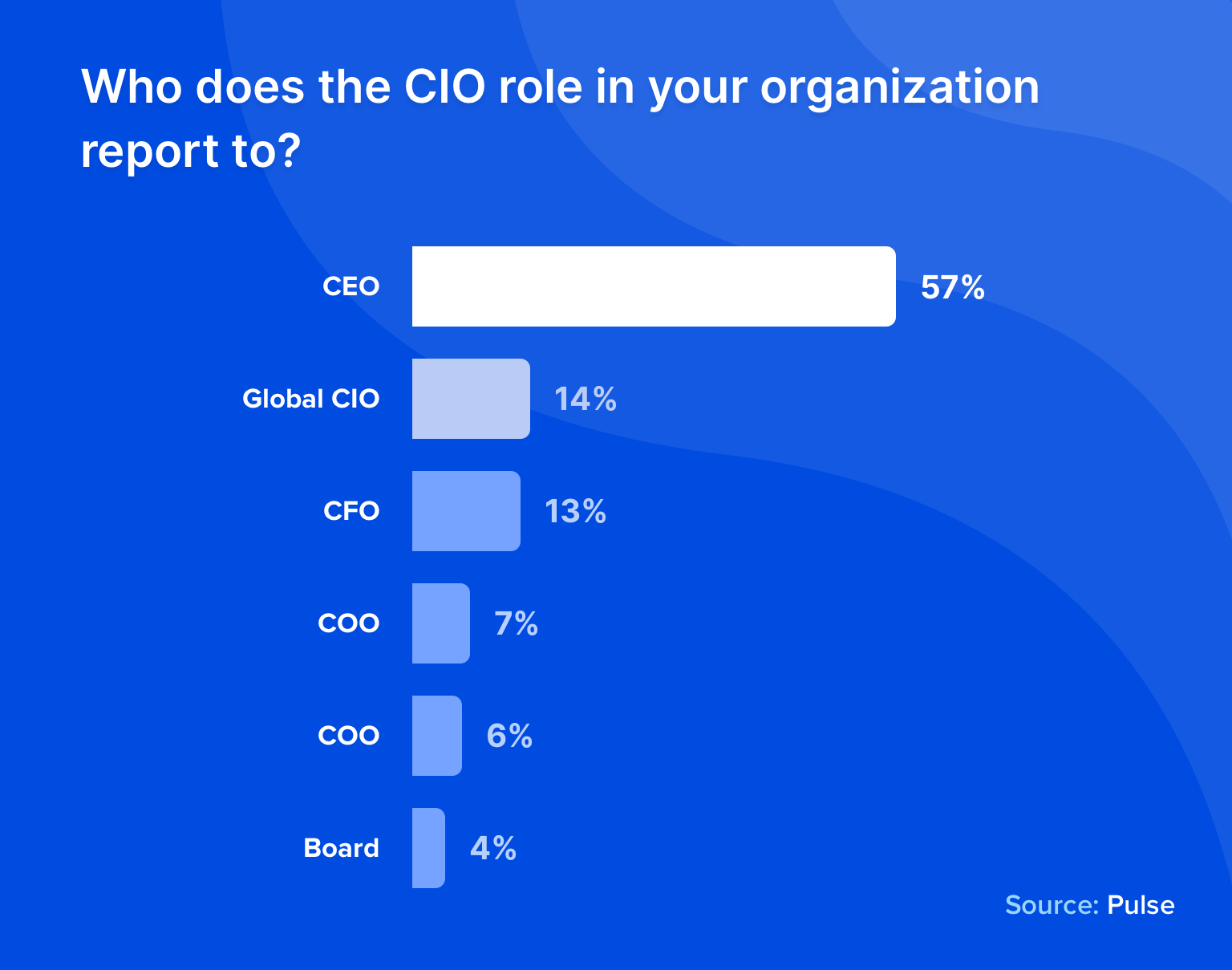 Who Do CIOs Work With?
CIOs own anything falling under the IT function and work with a wide range of groups. Many CIOs establish partnerships with business departments and external stakeholders; lead, manage, and supervise IT staff and teams; and even serve customers and end-users. 
Often, CIOs mentor, develop, and coach IT professionals and teams. They can take a more personal approach, occasionally providing training for staff and support to customers. 
For example, they directly led and supervised IT teams and staff in 65% of listings, and 35% of listings mentioned providing more hands-on instruction by coaching, mentoring, and providing guidance to IT professionals. 
CIOs also coordinated and planned training for staff and clients in 18% of the listings, and 15% mentioned directly supporting end-users and customers. 
CIO or CISO?
The line between CIO and CISO can sometimes be blurry, and only one job listing mentioned the relationship between the two roles. 
However, multiple organizations had CIOs taking care of security needs that may fall under the role of a CISO in other organizations. We think the reason for this is not all organizations have both a CISO and CIO, causing either the CIO or CISO to take up much of the slack. 
In fact, 75% of job listings required CIOs to have security skills and be in charge of cybersecurity strategies. A recent survey also showed that CIOs generally hold purchasing power when it comes to security in their organizations.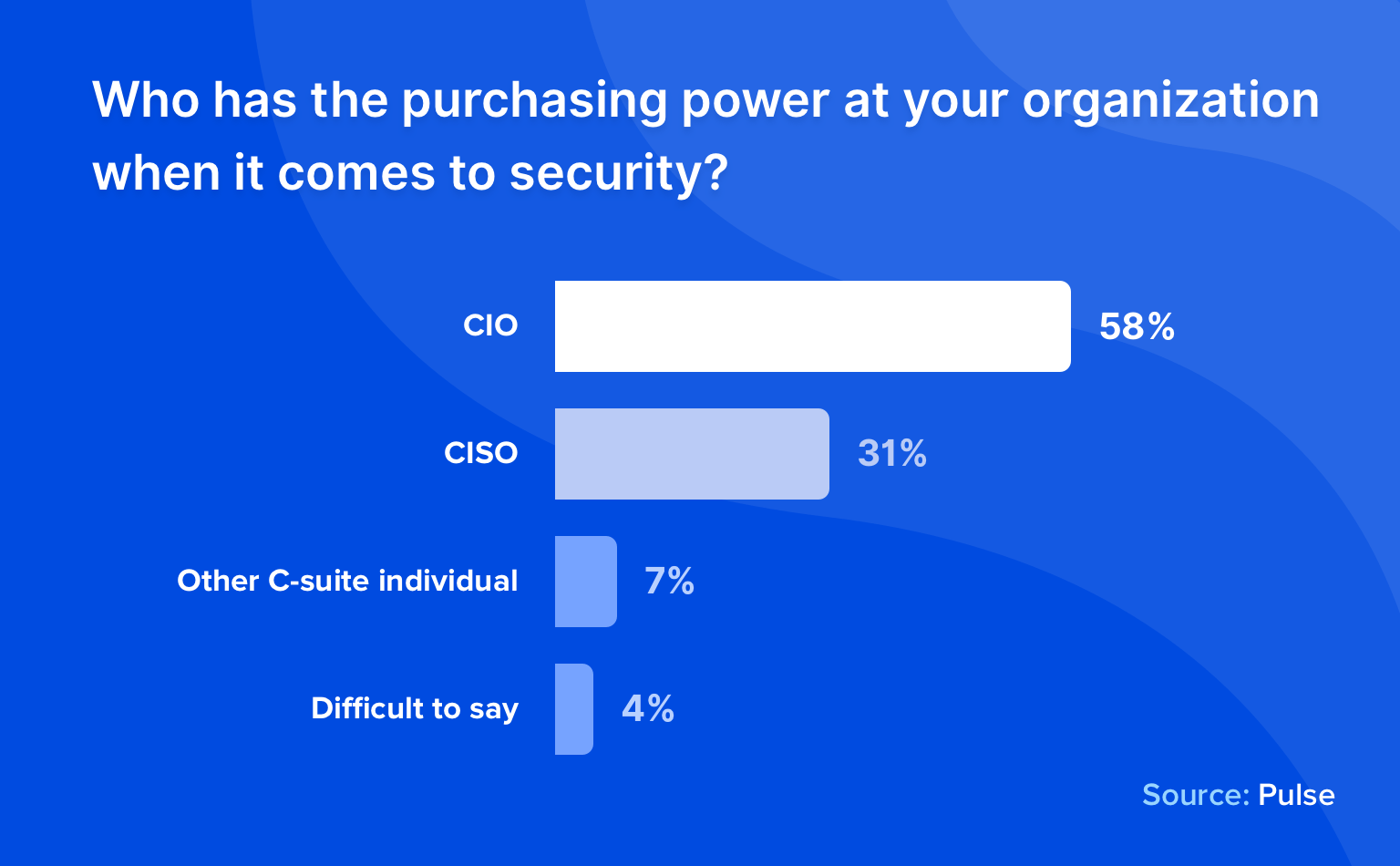 What's the CIO's Relationship with External Stakeholders?
CIOs are increasingly partnering with outside parties as their roles expand. They were expected to establish partnerships with business departments and external stakeholders in 25% of the listings. And when surveyed, 75% of IT and security experts said CIOs have the ability to influence business and stakeholders' decisions.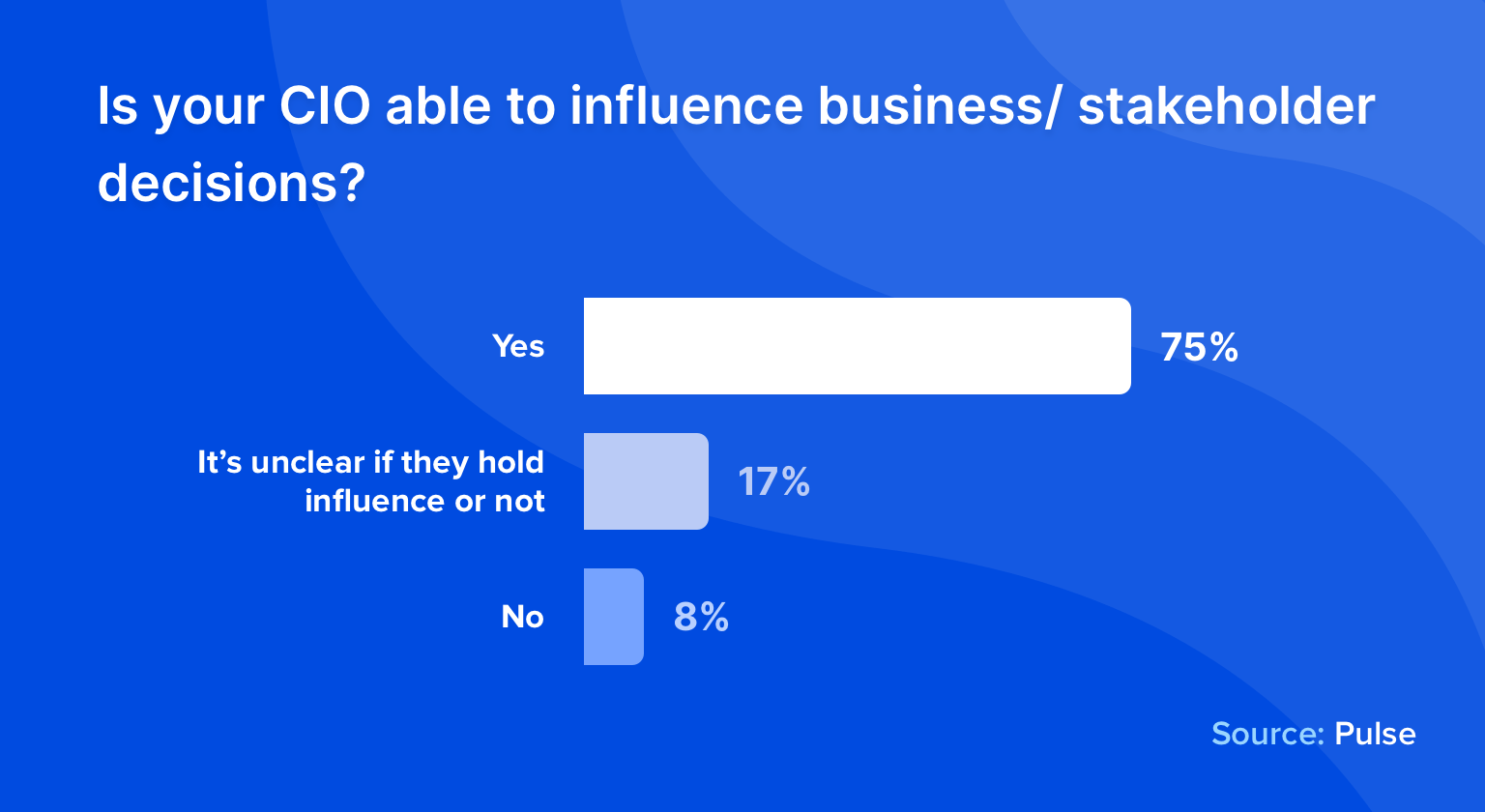 Key Insights and Conclusion
So how can CIOs stay successful and what do companies want in the role? Based on our analysis, as well as surveys of CIOs themselves, we found five key insights: 
Business strategy and skills are mandatory to get ahead, although CIOs view themselves as technologists first.

CIOs were in charge of overseeing and managing the IT budget in 68% of postings.

Selecting and managing external vendors was essential in 60% of the listings.

The line between CIO and CISO can be blurry, and 75% of companies required security skills.

CIOs spend loads of time collaborating with senior executives, but they can still take a hands-on approach with mentoring teams and assisting customers. 
CIOs wear a lot of hats in their organizations today. They are supposed to be technical experts in legacy and emerging tools, as well as have financial acumen and cybersecurity skills. 
However, the most effective CIOs—the ones who will have staying power—are able to take their deep love for technology and translate it into business strategies that even their most non-technical partners can understand. 
Today, facilitating technology is no longer a CIO's sole concern. They are searching for creative opportunities that really impact the overall company and business. They're driving revenue, thinking about cost efficiencies, and implementing automation. 
To put their passion for technology to good use, CIOs have come out of the back office and taken a seat at the executive table. 
"The opportunities in front of a CIO today are so much more impactful to the business and directly tied to the business than ever before," concluded Johnson. "I think it's actually an incredibly exciting time to be a CIO."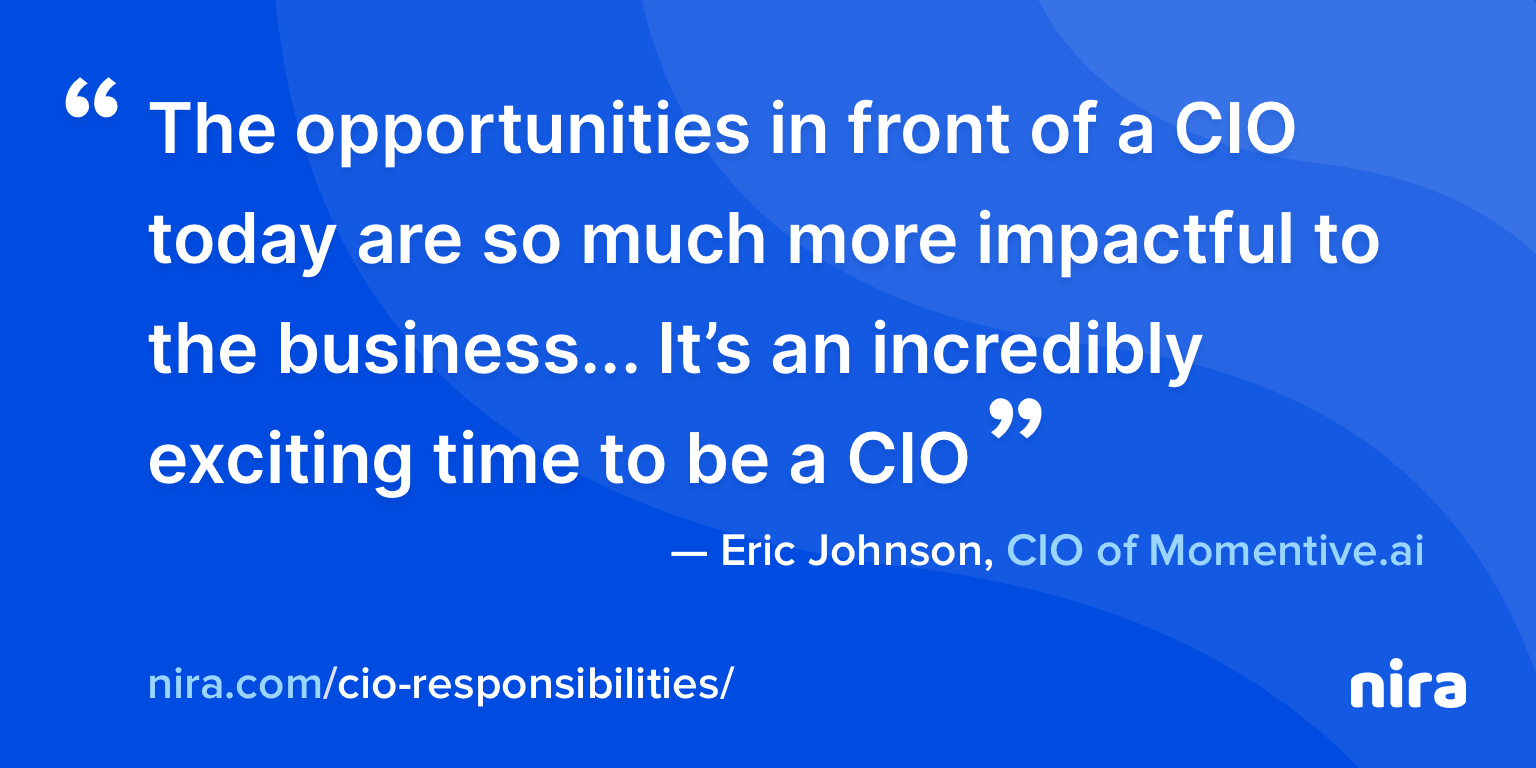 What is Nira?
Nira is a real-time access control system that proactively secures company documents to prevent unauthorized access.
Nira currently works with Google Workspace, with more integrations coming soon.