The 7 Best Task Management Apps for 2020
Life can get a little crazy at times. Keeping up with day-to-day tasks requires a robust system.
For our parents, that may have been a big family calendar or a to-do list on the refrigerator. Those worked to a point.
But these days, with so much vying for our attention, nothing but the most powerful of task management apps will do. So, it's time to ditch the paper⁠. The best task management apps will keep life's chaos from overwhelming you in any format you like, from to-do list to kanban calendar.
The 7 best task management apps
Any.do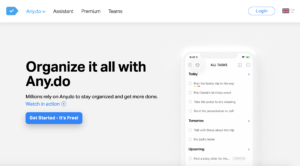 We love the Any.do app.
First of all, it has a beautiful interface that's also easy to use. It will sync with your Google or Outlook calendars, which is helpful for tracking your task due dates. Beyond being able to create lists of tasks and subtasks, you can add due dates to keep you on track.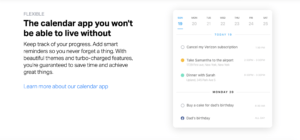 Any.do also has a scheduling feature that lets you set up your tasks for the day, so you have a quick-glance view at your daily schedule and when to complete each task.
Compatibility: All devices
Pros
Beautiful interface
Reasonable pricing
A clear view of your daily schedule
Strong mobile app
Cons
Not quite sophisticated enough for complex tasks
Pricey premium plan
Pricing
Free version
Premium version for individuals: $59.99 per year
For teams: $4.99 per person per month
Easynote
Both businesses and individuals can use Easynote efficiently.
It's advanced enough for businesses to track multiple tasks and subtasks as well as set deadlines. You can even have multiple end-users collaborate on tasks and hold each other accountable for completing everything on time. However, you will need the Extended version to get the most features, and that's expensive.
For personal use, you're good sticking with the Easynote's free version. It's great at helping you organize your daily tasks, whether they take the form of simple lists or projects that involve multiple levels.
Compatibility: All devices
Pros
Tons of advanced features for business users
Multi-user collaboration
Includes 1 GB of free storage
Subtasks within tasks
Cons
May be too sophisticated for the average individual user
The Extended version is a little pricey
Pricing
Free version
Business version: $5 per month
Extended version: $10 per month
Evernote
If you like to add notes to your tasks, Evernote is a strong task management option for you. You can add voice memos, text memos, Word documents, PDFs, videos, and images to any task or list.
Also, Evernote syncs these across all your devices. This is a cloud-based service, so you won't have access to your information unless you have access to the Internet (or unless you pay for Evernote Premium, which gives you offline access).
Compatibility: All devices
Pros
Easy to add notes or files to your tasks
Syncs your tasks across all your devices
Strong free version
Also a Business plan well-built for collaboration
Cons
Free plan does not support offline access
Expensive Premium and Business plans
Pricing
Free version
Premium version: $7.99 per month
Business version: $14.99 per month
Go here for more details on Evernote pricing and how to pick the right plan.
Google Tasks
Sometimes, simpler is best. That's why Google Tasks ranks among the best task management apps for most people. Google Tasks allows you to create tasks and add subtasks as needed. You can include due dates for any task. And if you use the Google or G Suite ecosystem, it's handy to have your Tasks sync with other apps like Calendar and Gmail.
One downside is there aren't any advanced organizational features. But it's completely free to use on both mobile and desktop.
Compatibility: All devices (use the desktop version through Gmail)
Pros
Free
Integrates with other Google apps
Very easy to use
Subtasks within tasks
Cons
No advanced features
No voice input
Things 3
For those who like to organize their lives in a hierarchical format, Things 3 is an excellent choice. It works almost like the outline you had to create before writing a term paper in school. And it allows multiple levels of subcategories within each category for even more granular organization.
It's only available for Apple devices, which might be disappointing—but by optimizing for Apple devices, its designers have been able to create a really efficient and sharp-looking interface.
Compatibility: iOS/MacOS
Pros
Can keep up with those who love extreme detail in task management
Multiple levels of tasks within each primary level
Beautiful interface
Easy to set repeating tasks
Cons
Only made for Apple devices
Not easy to create voice tasks
Pricing
TickTick
TickTick merges the best features of a visual calendar with a to-do list, simplifying your view of what's coming up. For those who like to build lists of projects with subtasks associated with them, the app works beautifully. It also has a strong filtering feature, so you can see only the tasks you've marked as a priority. It even has a few fun animations to keep you entertained.
Compatibility: All devices
Pros
Easy-to-understand interface
Reasonable cost
Strong business options
Supports voice input of task lists
Con
Interface can be a bit overwhelming on especially busy days
Pricing
Free version
Premium version: $28 per year
Todoist
Todoist has become a popular app, in large part because you can get started so quickly. Sign up with your Google or Facebook account, and you're directed straight to "Add a new task."
The interface is easy to use and understand. Add tasks and set deadlines for each one. You can also assign tasks to a larger group or category and prioritize them. With the premium version, you can create reminders for tasks or add comments.
Compatibility: All devices
Pros
Get started quickly
Easy-to-understand interface
Powerful free version
Advanced version allows for adding notes to tasks
Cons
Not great for those with advanced needs
Does not support voice notes
Pricing
Free version
Premium version: $29 per year
How to choose the best task management app for you
Overwhelmed by your options? These are the most important criteria to pay attention to when deciding which app to go for.
Adding files
Some people like to link files to certain tasks to keep everything together. This is a handy feature, but typically only available at paid tiers, so factor that into your budget.
Calendar integration
If you already use calendar software to track appointments and meetings, having an app that can sync with your calendar and add these items to your list of daily tasks will help boost your efficiency. Some task management apps display your appointments alongside the tasks, while others merge the whole thing together.
Location reminders
Some of these apps take the process of tracking to-do tasks one more step by using your location to trigger reminders. Say you've listed a particular store to visit in your tasks—the app will remind you when you're within a certain distance of that store. Again, though, location reminders are only available with paid plans.
Outline
The most popular format for to-do apps is to be able to create primary tasks with subtasks nested underneath. Some apps go even further, allowing for multiple levels of tasks. Think about how you want to structure your work to guide your decision.
Prioritization
Having the ability to set deadlines, reminders, alarms, or priority levels for each task might be important to you. You might also want to look for an app that give you the option to view high-priority tasks only.
Input options
Perhaps most importantly, a task management app must simplify the process of adding your tasks and subtasks. If it's too cumbersome, you might not end up using the app as often you planned to. (I can speak from experience.)
Look for an app that lets you add tasks by voice, if that's easier for you.
Conclusion
No matter what level of sophistication you need in your task management app, I'm confident you'll find a strong product in any of the above. I'd suggest trying the free version first, if available, to see if the interface suits you. Once you can say it's an app you actually enjoy using to manage your tasks, then consider whether you could benefit from any premium features.