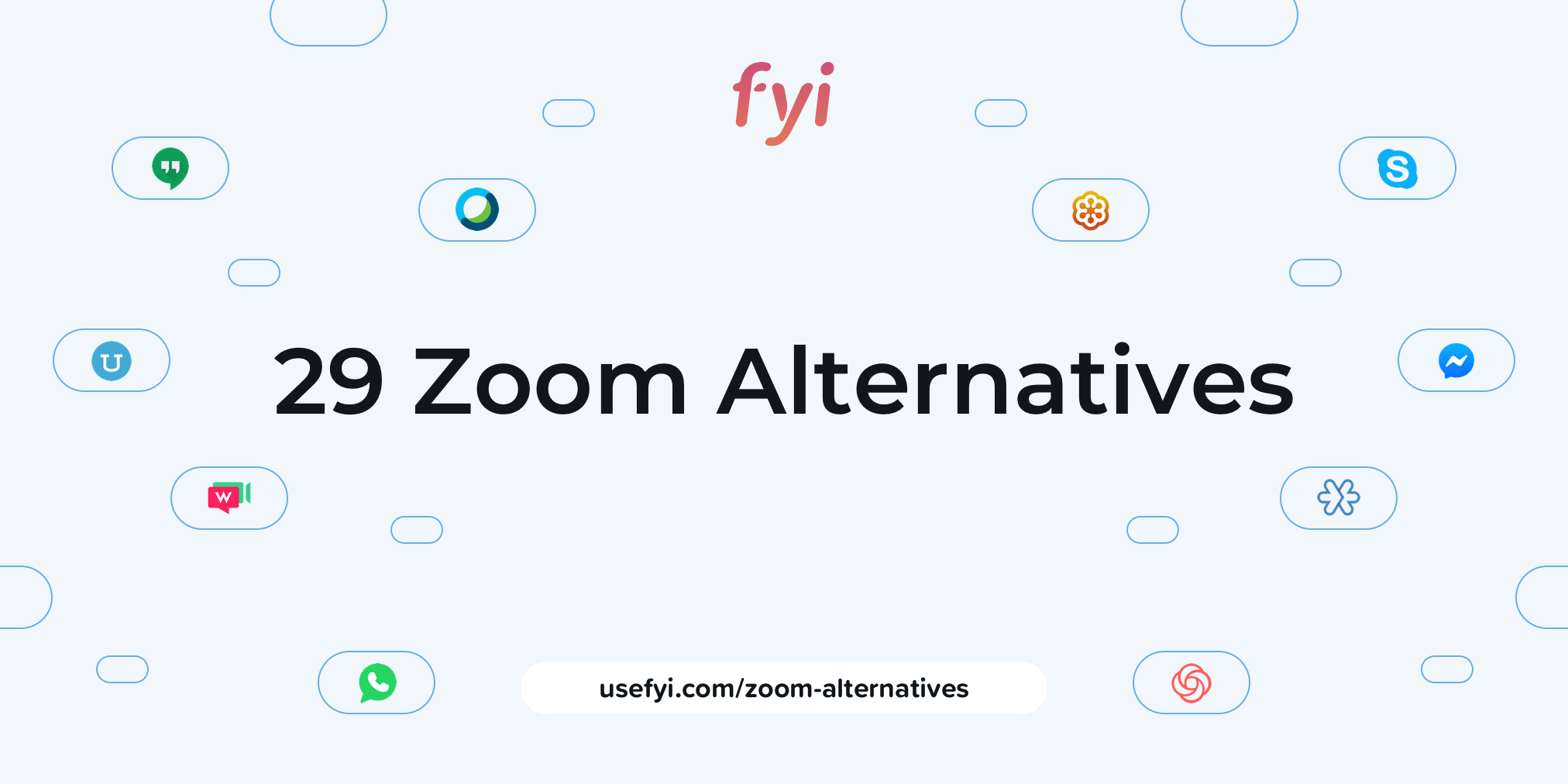 Of all the remote communication and collaboration tools, Zoom leads the pack.
In April 2020, about a month into the pandemic, Zoom hit a record 300 million daily meeting participants. That's insane growth considering Zoom only had 10 million meeting participants a few months earlier in December 2019.
And it wasn't just companies that adopted Zoom. It became the gold standard for education too, used by 90,000 schools across 20 countries.
Practically overnight, people were using Zoom for everything.
I never thought I'd see the day when both my six year old and my ten year old were using Zoom daily.
It's not just Zoom, the entire cloud collaboration category is exploding.
Alternatives to Zoom have risen to meet this major increase in demand.
New video chat services have launched, like Around, a quick non-intrusive video call product for teams.
Companies that already had video and voice features built-in started to market them more. One such example, Miro, launched live chat and video conferencing in 2018, but the features didn't make it to their homepage until recently.
Even companies that have nothing to do with video have been asking themselves: should video capabilities be added into our product?
I'm going to categorize and break down all of the alternatives to Zoom using a framework my co-founder Marie and I created. You'll understand more about Zoom's competitors, plus why to do competitive research in the first place.
Are Zoom competitors having an impact on Zoom?
We conducted a survey of over 1,000 Zoom users to understand how satisfied they were with Zoom.
So why do people love Zoom?
It's the video connection quality, first and foremost. Zoom has by far the best experience in terms of a smooth video experience. There's less skipping out and lost video and audio on Zoom than on other popular services.
That's why the quality of Zoom's video connection was the number one thing people mentioned when we asked them what the primary benefit they got from Zoom was.
The second most-popular benefit was Zoom's ease of use. Almost anyone can figure out how to use Zoom in minutes, if not seconds.
But we quickly realized that even though Zoom's growth is astounding and it is the clear leader in terms of connection quality, customers aren't that satisfied with it.
Based on our survey, Zoom's Net Promoter Score – a popular measure of customer satisfaction, was a 21. That means that customers just aren't that satisfied with the product.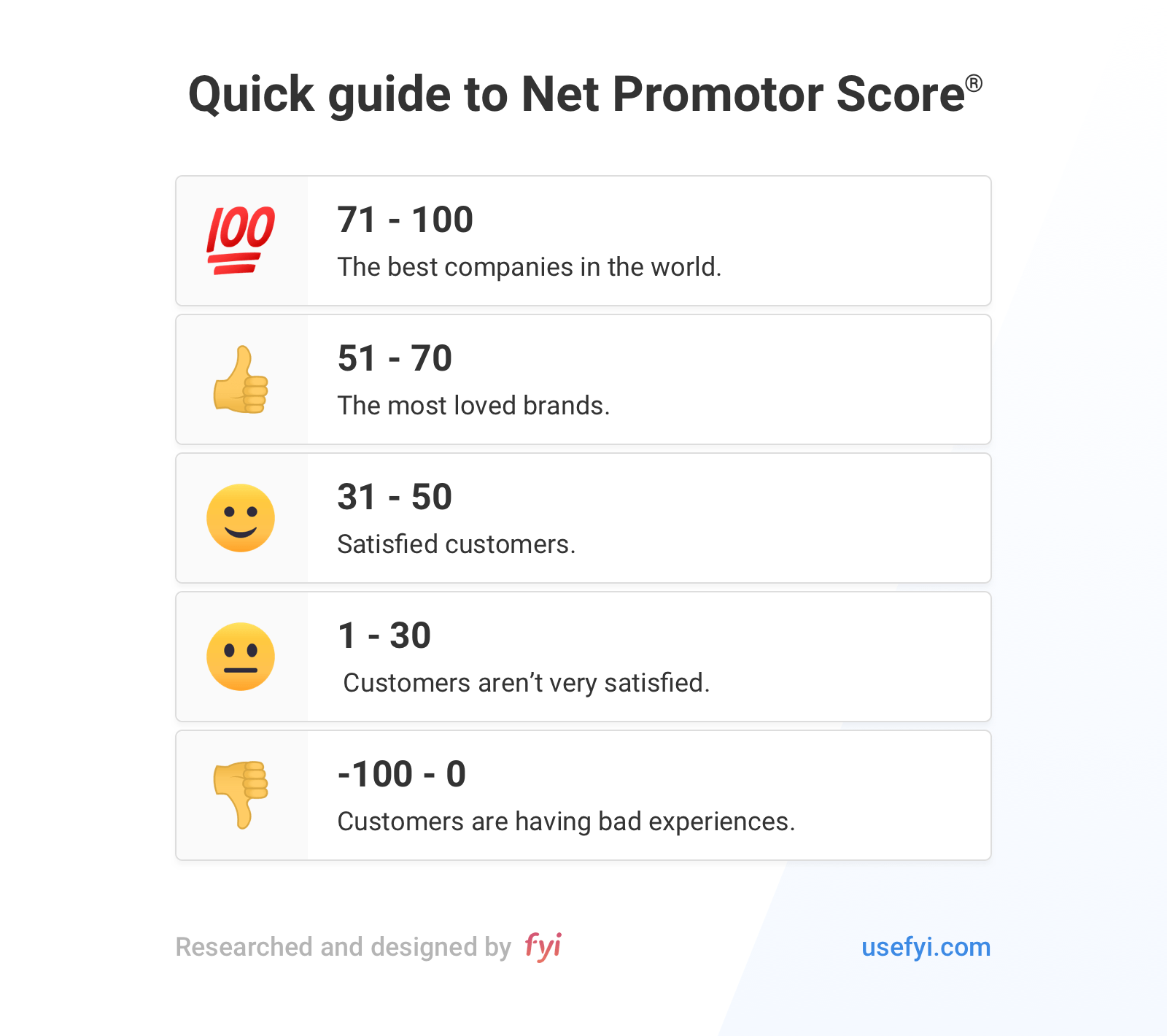 We also asked people "How would you feel if you could no longer use Zoom?" This question has become a popular way to measure product/market fit quantitatively.
When 40% or more people answer "Very disappointed" to that question, a product is said to have product/market fit, meaning that it is in a good market and can satisfy that market.
It's an important framework for startups, but also for companies as they grow.
Products don't just hit product/market fit and then never lose it again. This measurement allows companies to understand how their customers feel and what specific things they can change to improve the customer experience.
To our surprise, Zoom did not have product/market fit. Only 30% of people said they'd be "Very disappointed" if they could no longer use Zoom. That's 10% below the 40% threshold.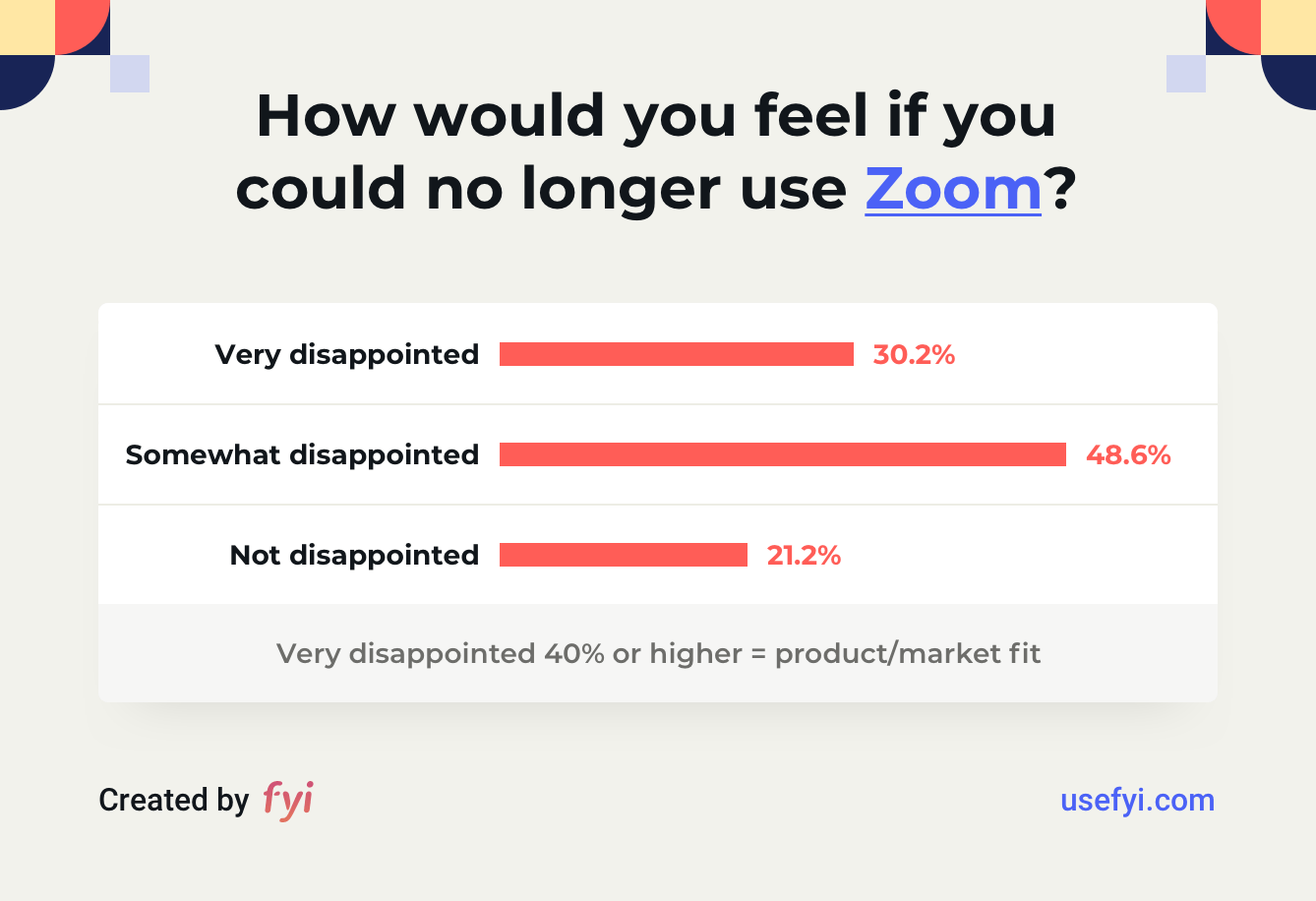 Why?
Because of the proliferation of alternatives.
"There are a dozen alternatives to Zoom."
"Video conferencing is a commodity. There are so many available options. Sure, Zoom is reliable, but many other products—other conferencing, phone—solve my job to be done, which is to communicate and connect with my team."
For the people we surveyed who said they'd be "Somewhat Disappointed" or "Not Disappointed" if they could no longer use Zoom, most of them mentioned alternatives as the reason why. If Zoom simply ceased to exist, these people would switch to another product and be just about as happy as they were with Zoom.
The videoconferencing category itself makes it challenging for products to have product/market fit.
It's inevitable that people get exposed to alternatives.
That's not only because people get exposed to other products when they're invited to meetings. It's also because many companies and teams use more than one video conferencing and chat service at work for different use cases.
This only amplifies the exposure to alternatives. For example, quick conversations with just a few people might happen over Slack video. It's quick and easy to hop on, plus the team already uses Slack, so why not?
Asynchronous conversations can happen over screen recording apps like Loom or QuickTime.
All hands company conversations and customer webinars might get done on Zoom. Meanwhile, specific teams might use Google Hangouts for daily stand ups and meetings because they prefer it. This is how it works at my company FYI, and it was a common theme in the survey responses too.
"At work we bounce between multiple services (e.g., Zoom, WebEx, Google Meet, Slack Video), so if there was no Zoom, that'd be okay."
We also asked people who took the survey what products they'd use instead if they couldn't use Zoom anymore. Google Hangouts was the clear winner. Half of the over 1000 people we surveyed said they'd use it instead of Zoom.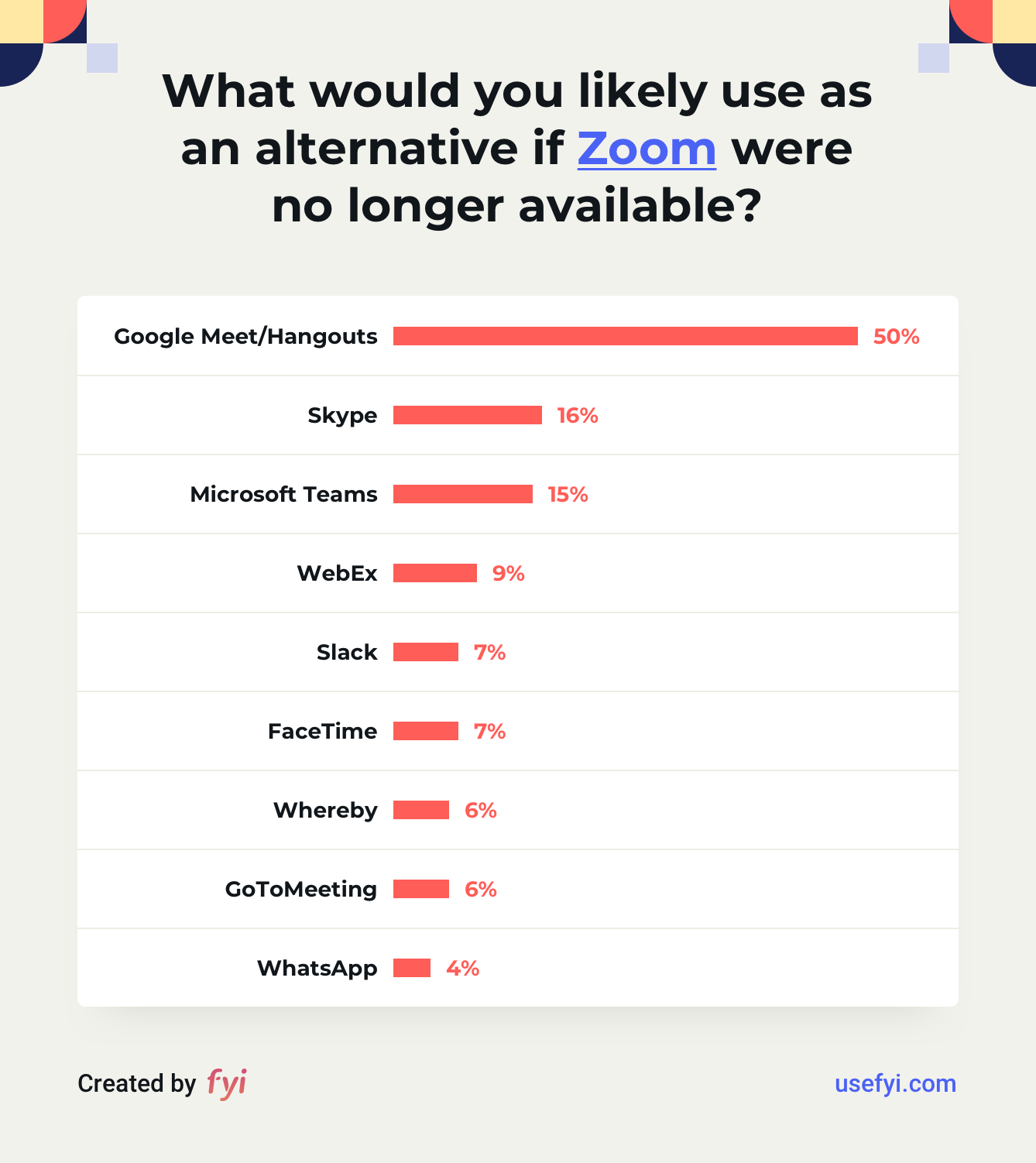 Alternatives are the reason customers aren't that satisfied with Zoom, and the reason why it doesn't have product/market fit.
These customers just aren't that loyal. They just don't see a big enough difference between Zoom and other products.
That makes them more likely to switch to another product, or at the very least to shop around.
That's in part because video products are utilities that help people get a straightforward job done. And there are many many ways to get that job done that go beyond video conferencing. Like phone calls, online voice calls, in-person meetings, video on chat services, and screen sharing.
The Four Types of Zoom Competitors
We took our competitor framework and applied it to Zoom. It demonstrates how different types of competitors impact the mindset of customers. There has been an explosion in use cases that Zoom is being used for which in turn has led to a rapid increase in new product and feature launches in the category.
There are four types of competitor categories that we used to analyze Zoom's alternatives:
Direct Competitors: These are competitors that solve the same exact problem. They're the closest to your product and your customers are most likely to switch to them of all the different types of competition.
Indirect Competitors: Competitors that offer a solution that's similar, but not exactly the same are indirect competitors. For example, maybe your service is only a feature for the competitor. Or maybe they offer a few of the services you offer. Or they focus on a very specific set of customers with a service while you sell to more types of customers.
Alternative Solutions: Alternative solutions are manual solutions to the same problem your product solves. Often these look like spreadsheets, pen and paper solutions, checklists, books, and contractors.
Multiple Tool Solutions: This category covers when multiple tools get stitched together to solve the same problem. For example, using both Zapier and Airtable to automate manual processes.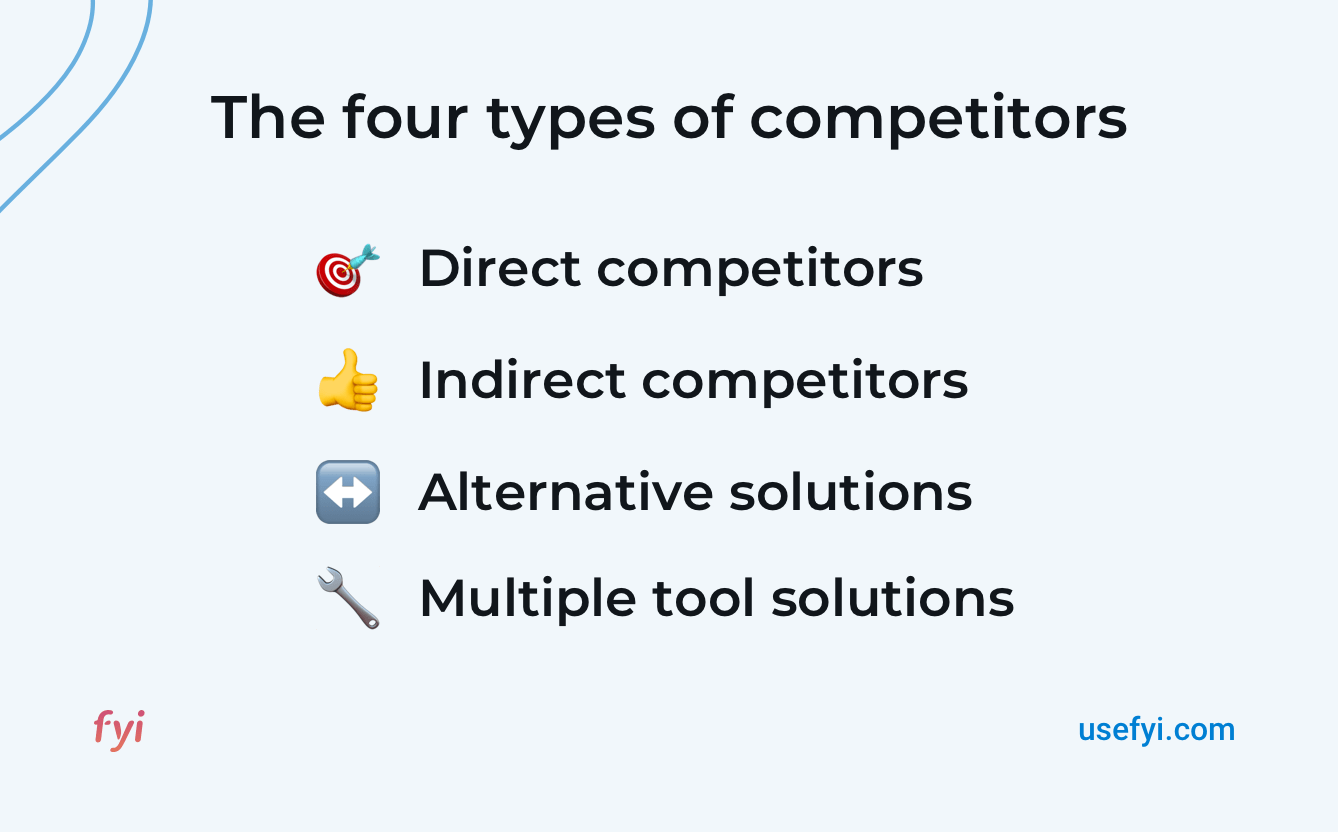 Direct
Since the differences between direct videoconferencing competitors aren't that massive, customers are prone to switch.
"I find Zoom is perhaps the best of the bunch, but there are very close 2nds, and given the job these products have to perform it's not like I'd be replacing a Ferrari with a Camry, It's more like replacing a Ferrari with a high-performance BMW."
Google Meet/Hangout
Based on our survey, Google Meet / Google Hangouts is the most popular direct competitor to Zoom.
Since Google Meet is part of a larger suite of products, it's much easier for companies that already use G Suite to adopt.
"At the office we are using Zoom and Google Hangouts. At our company we use GSuite and to talk to someone quickly we can instantly call someone from the chat option – which takes less than 15-20 secs to invite someone to video or audio call."
"Google Hangouts plus gridview extension matches Zoom and we already pay for Google for Business so don't want to spend more on Zoom."
Others prefer it because they think it's just as good as Zoom and is simpler to use.
"Hangouts/Meet is just as good and integrates with Slack/Gmail better."
"Hangouts is way simpler. No need for an additional software to be installed, does the basics right – good audio/video quality, recording function too."
Cisco WebEx
WebEx is one of the incumbents in this space. Eric Yuan, the CEO & founder of Zoom was one of the founding engineers of WebEx. That was before WebEx was acquired by Cisco in 2007.
Fast forward to today and many of the folks we heard from who use WebEx are happy with it, and said that it's on par with Zoom.
"We rely on Webex."
"I can, and do, use Webex to much the same effect. Zoom is nice, but it's not critical."
"Our org normally uses Hangouts or WebEx – we only use Zoom when a vendor sets it up."
One person whose company moved from WebEx to Zoom said that the quality was about on par with Zoom, especially since they started having more technical glitches with Zoom.
"We moved from Webex to Zoom a few months ago. Although I prefer Zoom, I would be fine with Webex. I originally preferred Zoom because I wasn't experiencing the many technical issues I was with Zoom, but now I find myself having those same technical issues and have even since reverted to audio over phone and laptop for video due to audio issues. I also get the popup "Zoom detects an issue with your audio" at least daily. Not sure if it has gotten buggier as it's grown or it's bandwidth from increase in usage, but now I find it about the same as the more recent Webex updates."
GoToMeeting
GoToMeeting was first released in 2004 and most recently merged with LogMeIn. Just like WebEx, it's an incumbent that people mention in the video conferencing space.
"Zoom is very good. So is GoToMeeting, Webex and several others."
"There are other options that I would likely migrate to, GoToMeeting, Webex, et al."
A few people said they preferred GoToMeeting over Zoom.
"I'd use Google Meet or GoToMeeting instead. (Both of which I prefer [over Zoom].)"
"There are other options I like better. GoToMeeting is more solid and intuitive…and secure."
Whereby
Whereby started life as appear.in back in 2013 before losing a trademark dispute and having to rebrand. Whereby is focused on providing a web-based video conferencing experience. With Whereby, an app or downloadable software is not required to host or participate in a meeting.
"There are many great alternatives. Zoom is the most stable when it comes to the video, but our main video conferencing system is Whereby."
"We use Whereby for video conferences, but sometimes use Zoom for certain customers."
"I prefer Whereby, but I am forced to use Zoom to attend some events."
BlueJeans
BlueJeans started in 2009 and was acquired by Verizon in 2020. In the early days, Stu Aaron, their Chief Commercial Officer said that their goal was to "make video conferencing as comfortable and as casual as your pair of jeans." That description explains the company's name and initial objective.
Zoho Meeting
Zoho's video conferencing app is called Zoho Meeting. It was released publicly in 2008. In true Zoho style, it's got all the features you'd expect including integrations with other Zoho apps.
FreeConferenceCall.com
FreeConferenceCall.com is an independent private company that was started in 2001 with a focus on voice calls. The team launched free video conferencing in 2015.
Jitsi
Jitsi is an open-source video conferencing tool. The company behind it was bought by Atlassian in 2015 and then sold in 2018 to 8×8. Jitsi Meet is an online hosted version of Jitsi that lets anyone start an online meeting for free making it an alternative to Zoom.
"There's good alternatives out there (free: meet.jit.si, paid: Google Meet, Whereby)"
Join.me
Join.me is part of the LogMeIn suite of products. With a simple and direct brand name including personalized links for anyone to create, join.me reached over 300 million devices and 15 million hosts. In 2019, Join.me's free plan was discontinued.
UberConference
UberConference launched in 2012 at TechCrunch Disrupt as an audio conferencing tool. Since then the company has added video conferencing and AI powered features including a searchable transcription for every meeting.
Skype
Skype started as a voice and text messaging service in 2003. eBay acquired it in 2005. In 2006 video calling was added. And then Skype was acquired by Microsoft in 2012. It started as a voice-first product that was the first one I remember using to call people across the globe via the Internet.
Amazon Chime
Amazon Chime was released in 2017 as part of Amazon Web Services' (AWS) suite of tools. It can be used by anyone to host and participate in meetings. Being part of AWS, its primary purpose seems to be as a reference example for the Chime SDK that enables developers to embed real-time communication into any application.
Daily.co
Similar to Amazon Chime, Daily.co can be used for free to host meetings but the primary purpose is to show off what's possible with the product's APIs. In addition, Daily.co also has an integration with Intercom Messenger that enables 1-click video calls within the Intercom Messenger interface. Agora is a direct competitor to Daily.co and had its IPO debut on June 25th, 2020.
Around
Around was first unveiled to the world in March of 2020. The team focused on making the video experience more engaging and less distracting for everyone on the conference call. Around has built technology to isolate and focus on a face so you don't have to clean up what's in your background or use a virtual background to hide your mess. People only see your face and Around makes sure of that. Around also uses artificial intelligence to reduce echos and other sounds even if multiple people are in the same room and on the same call from their own laptops. They've made a bet on using AI designed to solve pain points that people experience with Zoom-like video chat.
Team.video
Team.video is a newer entrant in the space that is focused on delivering the best collaboration experience for team meetings. Unique collaboration features include agendas, notes, non-verbal reactions and word games too.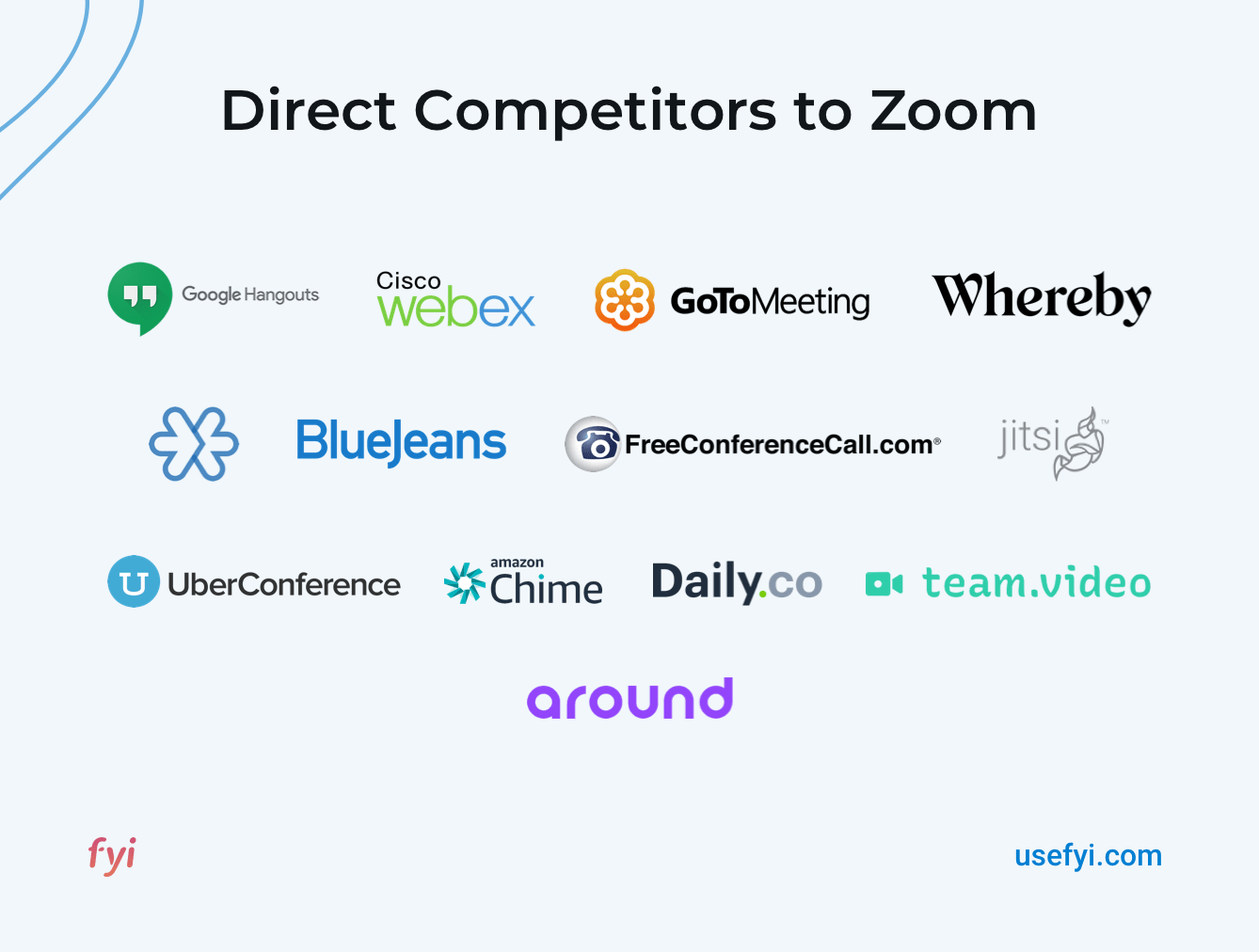 Indirect
Most of Zoom's competitors sit in the indirect competitor segment. They have a solution that's similar, but their products aren't simply video conferencing products. Video is only a feature for these alternatives.
Since there are so many different types of indirect alternatives to Zoom, we split them up into five segments: Messaging, Asynchronous, Presence, Voice-first and Whiteboard.
Messaging
Video is a natural extension to add for any text messaging app. People are in these messaging apps communicating back and forth with friends and colleagues on a daily basis. This high frequency of usage has led to product teams releasing video functionality in order to provide their users with more ways to communicate beyond plain old text.
Slack
When I ran a product/market fit survey on Slack in 2015, the number one thing customers said that they wanted was video conferencing. Slack introduced its video conferencing feature in 2016 after it's acquisition of Screenhero in 2015. Slack's video conferencing features are a convenient way to do a quick voice or video chat with your coworkers, right from Slack in a single click.
Of the people who mentioned Slack in our Zoom survey, most said it wasn't as good as Zoom.
Microsoft Teams
Microsoft Teams messaging app was announced in 2016 and rolled out to all customers in 2017. Growth of the product has been incredibly rapid. As of April 2020, it had 75 million daily active users.
Similar to Slack, Microsoft Teams includes the ability to quickly start an online meeting. What makes Microsoft Teams unique is the deep integrations with the rest of Microsoft 365. It's become part of Microsoft's initiatives to build "The hub for teamwork."
"We use Microsoft Teams as a business. Zoom is very much a secondary tool for us primarily used by external partners to set up meetings from their end."
Discord
Discord started as a voice-first real-time messaging tool for gamers. Over time it has evolved into a place where any community can go to create a space to talk. Companies can use Discord for meetings and work collaboration.
Consumer Messaging Apps
In addition, Apple's FaceTime, Telegram, Whatsapp and Facebook Messenger were mentioned as alternatives to Zoom. These products tend to be used in people's personal lives on a daily basis. These messaging products are easy to use and their ubiquitous adoption leads to usage at work. Especially when work focused tools such as Zoom, Slack and Microsoft Teams have reliability issues.
Asynchronous
Thanks to YouTube's meteoric rise, just about everyone has the ability to create a video, upload it via the Internet and share it with others using a link. It's no surprise that we have similar options to share information asynchronously at work now.
Loom pioneered a new category of video collaboration. It provides quick videos that can be recorded and shared any time with your face and screen-sharing in the same video. Other companies including Vidyard and Wistia followed Loom's lead and launched direct competitors. The team at Drift added asynchronous video collaboration to their offering. Drift customers can now record, send and track personalized videos.
This sub-category of asynchronous indirect competitors to Zoom is growing and similar to Drift, I anticipate more companies integrating the ability to create and share videos from within their products.
Presence
Especially with more companies considering going remote or hybrid with their workforce, the idea of having an online status indicator has gone well beyond our days with AOL Instant Messenger. One startup in particular is taking this opportunity to create a new real-time collaboration experience based on voice and video chat.
Tandem
Tandem calls their product "A virtual office for remote teams." Core features include an ability to know which app someone is working in and one click screen-sharing. Tandem is like a real-time version of Loom where you can not only see someone's screen and their face at the same time but also use both of your cursors at the same time.
Voice-first
With the rise of remote work and more video conferencing, people are starting to have Zoom fatigue. As a result, new alternatives to Zoom that don't include video as part of the offering are on the rise.
Yac
Yac has built a messaging app that is voice-first and enables teams, freelancers and agencies to collaborate using voice, asynchronously. They pitch themselves as a way to cut down on meetings.
Walkie
Walkie is a real time voice chat application for teams. People on teams can quickly send voice messages to each other with Walkie. It's marketed as a replacement to text chat with the ability to know who is available right now and who isn't.
Whiteboard
A new class of tools best described as digital whiteboard replacements have emerged and the need for them seems to be increasing along with the rise of remote work. These products provide the ability to collaborate in real-time similar to how people do in-person while in front of a whiteboard. Products in this sub-category of alternatives have very similar basic functionality.
Miro
Miro started life as a product called RealtimeBoard in 2011. As of 2020, Miro has over 5 million users and a large marketplace of apps too. The product also has the ability to video chat right within the interface. Which makes it much easier than firing up Zoom to video chat with colleagues in real-time.
Mural
Mural describes themselves as "A digital workspace for visual collaboration." Notable customers include Automattic, GitHub and Zapier amongst others.
Freehand by Invision
Freehand was first released in 2017 and has the same basic online whiteboarding features and templates as Miro and Mural.
RemoteHQ
RemoteHQ is quite a powerful alternative to Zoom focused on internal use at a company. Whiteboarding is available in an app called Witeboard within RemoteHQ. The unique part of video conferencing with RemoteHQ is the ability to add apps that enhance the collaboration experience. A shared browser, notes, reactions and transcriptions are amongst the available apps.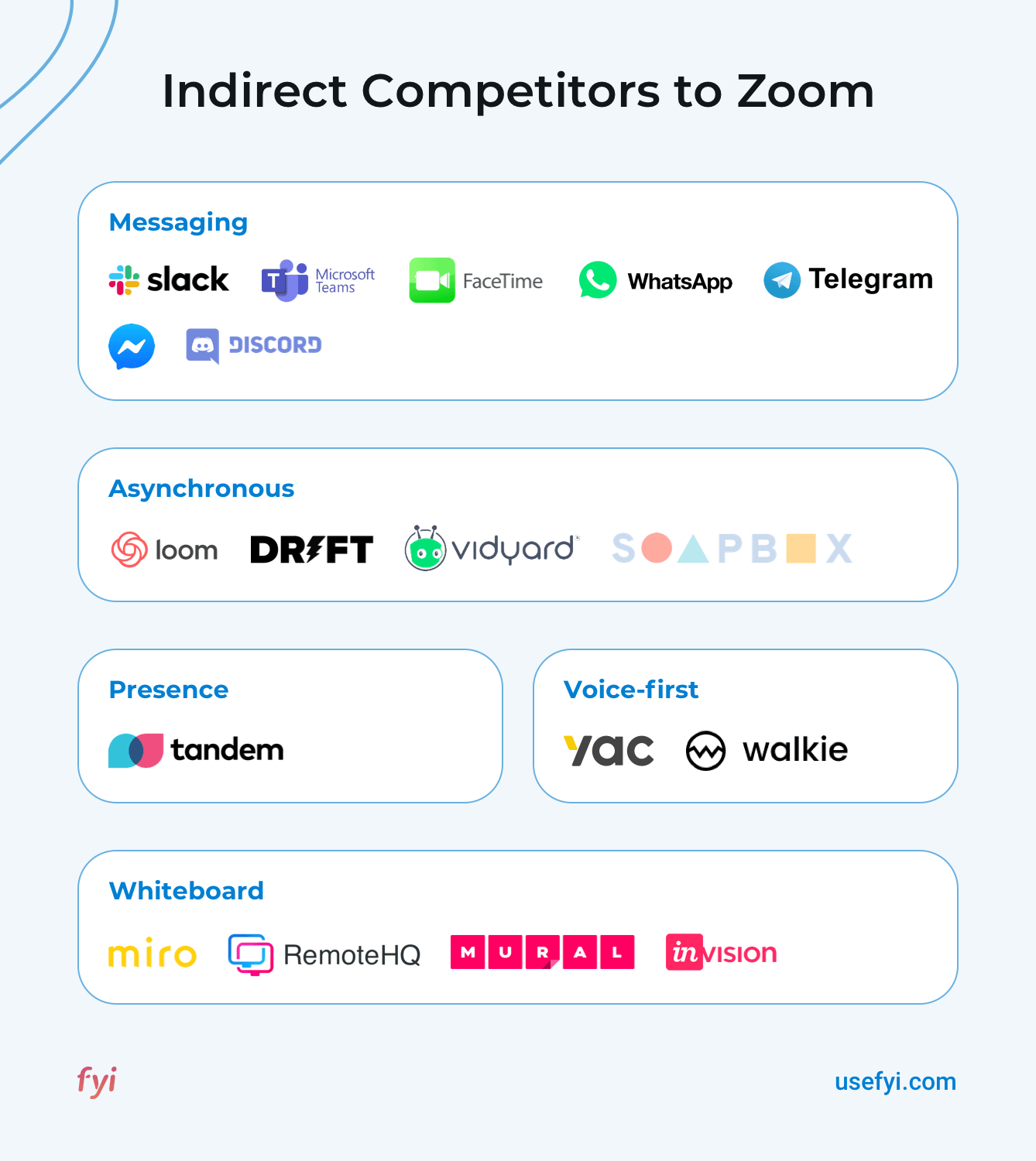 Alternative Solutions
These solutions help customers with the same problem Zoom solves, but they're typically manual and don't involve software.
For Zoom, alternative solutions come in the form of conference calls. The old school ones where you have a conference number and dial in using a code. Some folks still and companies still love these.
Telephone calls are another alternative solution to Zoom. For two person conversations or a few person conversations it's incredibly easy to just hop on a call and means no one has to deal with connectivity issues. Unless of course they're in an area that gets bad cellular reception.
In-person meetings are another alternative solution to Zoom. If everyone is in the same room, there really is no need for Zoom. As people begin to return to work in offices, they'll no doubt scale down the amount of Zoom calls in favor of face-to-face meetings.
Multiple tool solutions
Multiple tool solutions means there are a few tools that get used together to solve the same problem.
The core video conferencing experience requires a single tool to start, join and participate in a meeting. Multiple tools get utilized when a person shares their screen and navigates a tool's website or desktop app.
For example, my co-founder had to stop talking to make a screen capture video for others on the team that weren't on the call.
What's next in video conferencing?
During the first half of 2020, video conferencing software became a utility that just about everyone needed to use on a daily basis.
What was once used as software by mostly B2B sales and marketing people suddenly became ubiquitous at work and used by pretty much anyone with an Internet connection.
Video conferencing software quickly became adopted as an essential tool for interacting with other people in an increasing number of work and personal life situations.
What comes next is innovation. And plenty of it.
Solutions in every niche that can use remote collaboration will show up.
As a consumer of these tools, you're only going to get more options. For the builders out there, it's time to get creative. Find the right ways to incorporate more cloud collaboration features into your products to solve customer problems in new and improved ways.