The 6 Best Scrum Training Courses for 2020
As more companies make the switch from traditional management to agile, we've seen an explosion of Scrum training courses designed to enable this complex transition. But they're not all created equal, and the last thing anyone wants to do is pour money into something they could have just as well learned on their own.
By the end of this post, you'll know what to look for in a Scrum training course, why it matters, and our top picks.
What makes a good Scrum training course?
Call me picky about what I want my teams to get from a Scrum training course, but it has to go beyond the surface-level fundamentals of the Scrum Guide. That means lessons should come with real-world examples or exercises that capture the practical side of doing Scrum. I also look for course materials that will help Scrum masters coach their teams.
The list below offers this and more. Finding the one best course for you just depends on your team's needs.
But let's start with the course that is best for most people—then the best for large-scale teams—followed by four solid runners up in order of cost.
Best for: Anyone who needs training in Scrum basics
Prerequisites: None
Pricing: $1,000-$1,500
Duration: 2 days
Format: Live
Certification attempts included? Yes. Two attempts to earn Professional Scrum Master I (PSM I) from Scrum.org
Topics: Fundamentals of Scrum, The Scrum Framework, Mastering Scrum, Planning with Scrum, Getting started, Keeping Scrum healthy

This is one of a few industry-standard courses offered by Scrum.org and the best for beginners. Professional Scrum Foundations (PSF) is a two-day course that gives people a solid grasp of the essential elements of Scrum. Each PSF is led by Professional Scrum Trainers and emphasizes collecting feedback for continuous improvement.
The PSF is available as a public course or privately for organizations, with case studies and activities geared toward the specific needs of the class. Great for teams with distributed workforces that each face unique challenges.
It's a blend of instruction and team-based exercises where students work together over a series of sprints to build a product. This experiential format complements the foundational knowledge you'll learn about Scrum so you know how to apply it to real-world situations.
Trainers vary (as does pricing) and bring to their courses unique experiences and styles. But because Scrum.org invests in regularly updating their course material, you know you're learning the latest software development best practices.
#1 Scrum Training Course for Scalability: Scrum Startup for Teams from Scrum Inc.
Best for: Organizations looking to rapidly scale their ability to adopt Scrum
Prerequisites: None
Pricing: $499/person (discounts available)
Duration: 8+ hours
Format: Video-on-demand (1-year access to all training materials)
Certification attempts included? No, but course completion comes with a Licensed Scrum Team Member certificate
Topics: Scrum theory, Scrum framework, Scrum roles, Product backlog, Scrum events and artifacts, Scaling Scrum

As the title suggests, the focus of this Scrum training is on how to manage Scrum team-wide.
Like other Scrum courses, it teaches you how to begin working in (or coordinating with) Scrum teams. But two major aspects set this course apart.
One, it's easily scalable, built to connect even thousands of team members if needed. The structure and price (roughly half of others on the market) make this an excellent option for companies looking to scale quickly. Discounts for large numbers of licenses make it even more affordable.
Two, the course was designed by the great Jeff Sutherland. As the author of several books on agile and co-author of the Scrum Guide, Jeff brings a wealth of experience and real-world expertise that can't be overstated. He's trained thousands of people in Scrum and Scrum values, including business leaders in a range of industries outside development.
Jeff and other experts from Scrum Inc. walk you through Scrum fundamentals in a series of videos. The quick-reference visuals are handy for sharing what you learn with others and provide a good first step toward large-scale agile transformation. If you have already adopted Scrum, the course can help you accelerate transformation and ensure everyone is working from the same blueprint.
In Jeff's words, "It'll help you do better Scrum."
Best for: Scrum beginners
Prerequisites: None
Pricing: $19.99
Duration: 1 hour
Format: Video
Certification attempts included? No
Topics: Solving problems with agile and Scrum, Scrum teams, User stories and story point estimation, Scrum ceremonies, Definition of done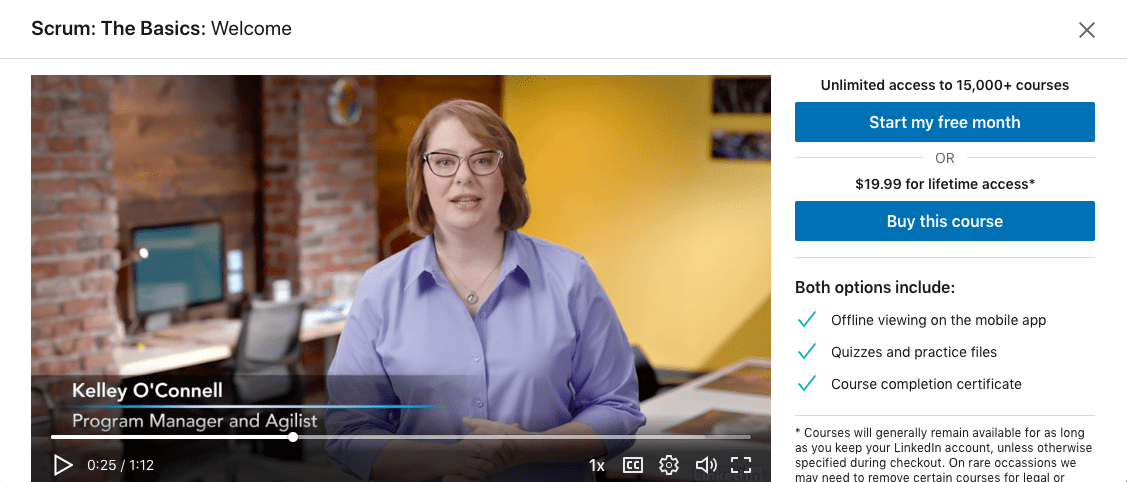 If you're looking for an intro to Scrum and agile with a low price tag, this is the course for you. It's not nearly as in-depth as others on this list, but still packs a ton of useful information for beginners, be they entire startups or just new hires that need a primer.
The course is taught by Kelly O'Connell, who has two decades of project management experience under her belt. Throughout her career—working with the likes of Accenture, IBM, the US Army, and Walmart—she's moved from helping to pioneer waterfall to practising and coaching agile. Her hard-won knowledge comes across throughout the course.
Kelly walks you through the basics of Scrum, how teams are organized, how they complete their work and measure what they have done. She's attuned to the diversity of organizations that use Scrum and does a good job conveying information everyone can understand. Regardless of your industry, you'll get something out of it.
Best for: Scrum masters studying for certification
Prerequisites: None
Pricing: $995
Duration: 16 hours
Format: Video-on-demand (6 month access to all training materials)
Certification attempts included? No, but the course does count as 16 PDU hours, which count toward a Project Management Institute certification requirements
Topics: Key Scrum concepts and framework basics, Ideology behind the foundation of Scrum, The different roles within a Scrum team, as well as the importance of each, Production estimating techniques, Product testing techniques

This course is designed for new Scrum masters looking to fine-tune their knowledge of Scrum methodology. The course materials are available on-demand for six months, making it an ideal study aid for folks earning their Scrum master certification.
The big selling point for this course is its comprehensiveness. It covers all the fundamentals you'd expect—Scrum ceremonies, roles, artifacts—but goes much deeper than other courses into things like testing, estimation techniques, and Scrum team communication styles.
A veteran Scrum master should have covered most of this ground, so I'd recommend one of PMA's more advanced offerings to anyone looking to deepen their knowledge of a specific area.
At the same time, if you really like how PMA lays this course out and are hiring a Scrum master with experience in another environment, tapping them for Scrum Methodology Training will help onboard them to Scrum practices you can trust.
Best for: Individuals and organizations looking to enhance Scrum knowledge
Prerequisites: None
Pricing: $1,200 (discounts available)
Duration: 2 days
Format: Live
Certification attempts included? Yes. One attempt to take the Certified Scrum Master (CSM) exam from Scrum Alliance. It also counts as 15 PDUs for PMI or 16 SEU credits for Scrum Alliance
Topics: Overview of Scrum, Sprints and Sprint Planning, Product Backlog, Scrum Roles, Long-term planning, Tracking Progress, Meetings, Scaling and distributed teams

The obvious draw to this Scrum training course: it's led by Mike Cohn. Mike is one of the most sought after Scrum trainers on the planet, author and advisor of several best-selling Scrum books, and a true industry veteran who knows when to break the rules. Testimonials from his students rave about the value his experience and humor bring to his lessons.
Anyone who works with a Scrum team—Scrum masters, product owners, developers, testers, analysts, managers, and other stakeholders—can benefit from taking this course. Folks from non-software fields who are interested in product development can benefit as well, no prior software experience required.
Through hilarious anecdotes and clear explanations, Mike brings Scrum theory to life and helps you understand how it plays out in the real world. Across any company, collaboration is a messy mix of egos and competing agendas. Mike's training takes this into account and provides ways to nip conflict in the bud, keep team morale high, and stay focused on delivering quality.
And it goes well beyond the basics. For example, you'll learn about backlog refinement and sprint planning, but also how to get it done when the product owner doesn't show up.
And the pricing is friendly to companies trying to keep pace with rapid growth. Register three or more people, and you can save $100 per person (or $200 per person for 10 or more).
Best for: Project managers and developers who are new to agile and Scrum environments
Prerequisites: Global Knowledge recommends familiarity with IT and IT service management
Pricing: $1,595
Duration: 2 days
Format: Live or virtual classroom
Certification attempts included? Yes, one voucher to take the EXIN Agile Scrum Foundation Certification
Topics: Agile Way of Thinking, Scrum Practices, Scrum Events, The Importance of the Backlog, Definition of Done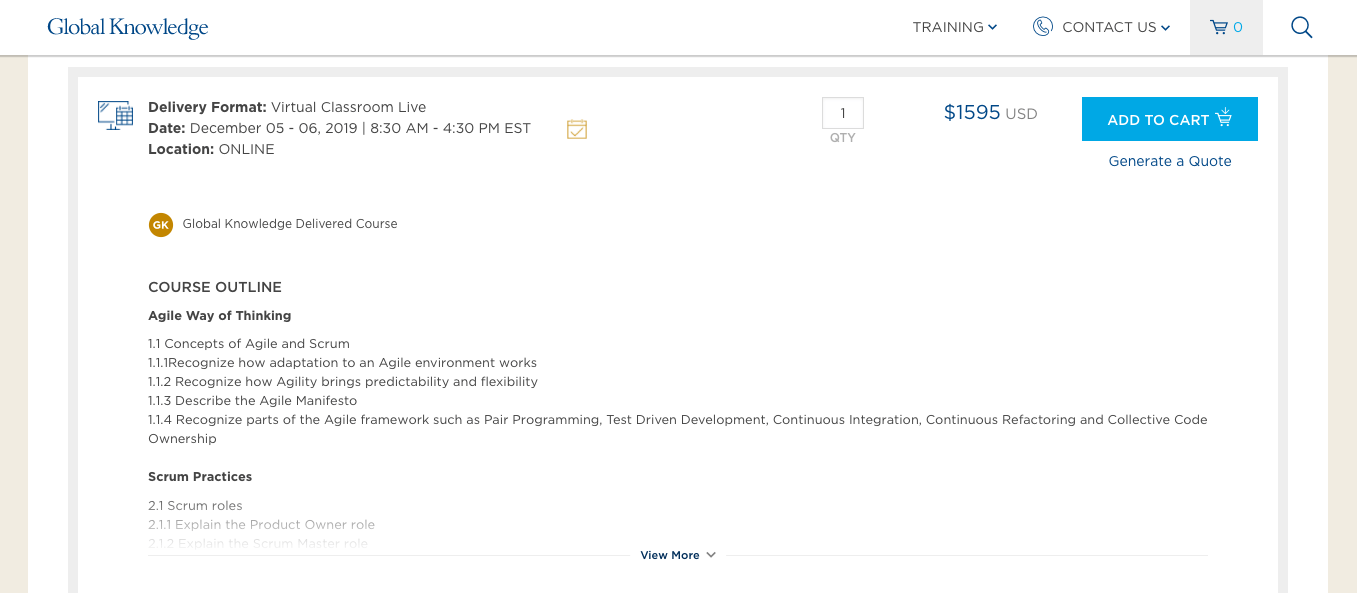 This is an introduction to Scrum and agile that puts management and self-management front and center. For folks managing Scrum projects, cross-functional self-organization is essential. But how do you get there?
The course does a great job of paring Scrum and agile down to their basic components, so you can quickly apply what you learned to building teams strong enough to face the unpredictable challenges of today's fast-paced development world. You'll learn how agile methodologies allow for more predictability and flexibility.
After covering the what, how, and why of agile frameworks, you move on to Scrum practices and events. By the end, you'll have a working understanding of how to start building successful Scrum teams and product increments.
It's a course I'd recommend to anyone new to agile, but not necessarily new to the world of IT or software development. Folks who have experience in the traditional approaches of command-and-control management and rigorous planning may find the core concepts of agility bewildering. Not after this course.
Looking for another (less spendy) way to brush up on Scrum? Check out this list of the best Scrum books of 2019.