How to Create a Project Management Plan
Effective project planning will determine whether your project is successful or not.
Regardless of your experience, having the right plan in place, where everything is clearly outlined and neatly organized, will give you a much better chance of managing a project that runs smoothly from start to finish.
But the main question is how to create a project management plan that sets you and your team up for success? We're here to help.
Follow the steps below to create a project management plan that results in quality deliverables on time and within budget.
Step 1: Identify the Goal of the Project
To start, define the project's boundaries. These define the project's success and provide focus and direction for the project and the entire team.
Use the "Ws" to understand the project goals:
What is the objective? (result)
Why is it being done? (context and rationale)
Who is involved? (stakeholders, team members, clients, users)
When must the project start and be completed? (expected completion)
Where are the team and stakeholders located? (where will the work be done?)
How will the project be planned and executed? (methodology)
Finding the answers to the above questions will lay the groundwork for your project. Figure out the real problem at hand, and understand the current mechanics before you work on improving them.
This is also where you should set up meetings with everyone involved in the project, especially the stakeholders.
For those of you who aren't aware, a stakeholder is someone affected by the results of your project plan. Customers, a company and its leaders, the end-users of the product, and even the team working directly on the project are all project stakeholders. Project managers are in charge of communicating the project's progress with all stakeholders.
Next, identify and consider your priorities. What are the more important aspects of the project? What aspects can take a backseat?
After tackling this, you can establish specific, measurable goals that will serve as the foundation of your project management plan. Think about what you are hoping to achieve from the project, how you will measure it, and what kind of deliverable is required to be considered successful.
Don't rush into setting your project goals. Instead, spend plenty of time figuring them out and planning for contingencies.
Step 2: Define the Project Scope
With the foundation set, the next step is to map out a blueprint of your project.
Here, you have to outline your budget, project scope, deliverables, and schedule.
Create a budget where you clearly outline the total financial investment, time, and resources required. Follow this up by creating a crystal-clear project scope that mentions every small and big detail regarding your project, including your milestones, deliverables, and the deliverable schedule.
In terms of deliverables, everyone on your team should know what needs to be delivered and when. The Project Management Institute (PMI) defines a deliverable as "any unique and verifiable product, result, or capability to perform a service that is produced to complete a process, phase, or project."
Create a workflow for everyone to follow and ensure everything is right on track. Your stakeholders or clients may ask to see the project scope to understand better how things are proceeding, which naturally builds accountability into your project management plan.
When working on your deliverable schedule, make sure you don't overpromise.
A much better approach is to remain realistic and manage expectations, giving your team enough time to deliver quality deliverables. If your stakeholders are concerned about the amount of time needed, reassure them the important thing is to do the job right instead of reworking it (and spending more money) for months to come.
When defining the project scope, you'll also be deciding your approach to the project. Your methodology is essential, as is how you present your methodology and visualize it. Gantt charts are a widely used tool for project management schedules and milestones.
Project managers around the world use project management software to track and visualize all elements of projects. We recommend Wrike, which is reasonably priced, has robust features, and even has a free forever plan for up to five users.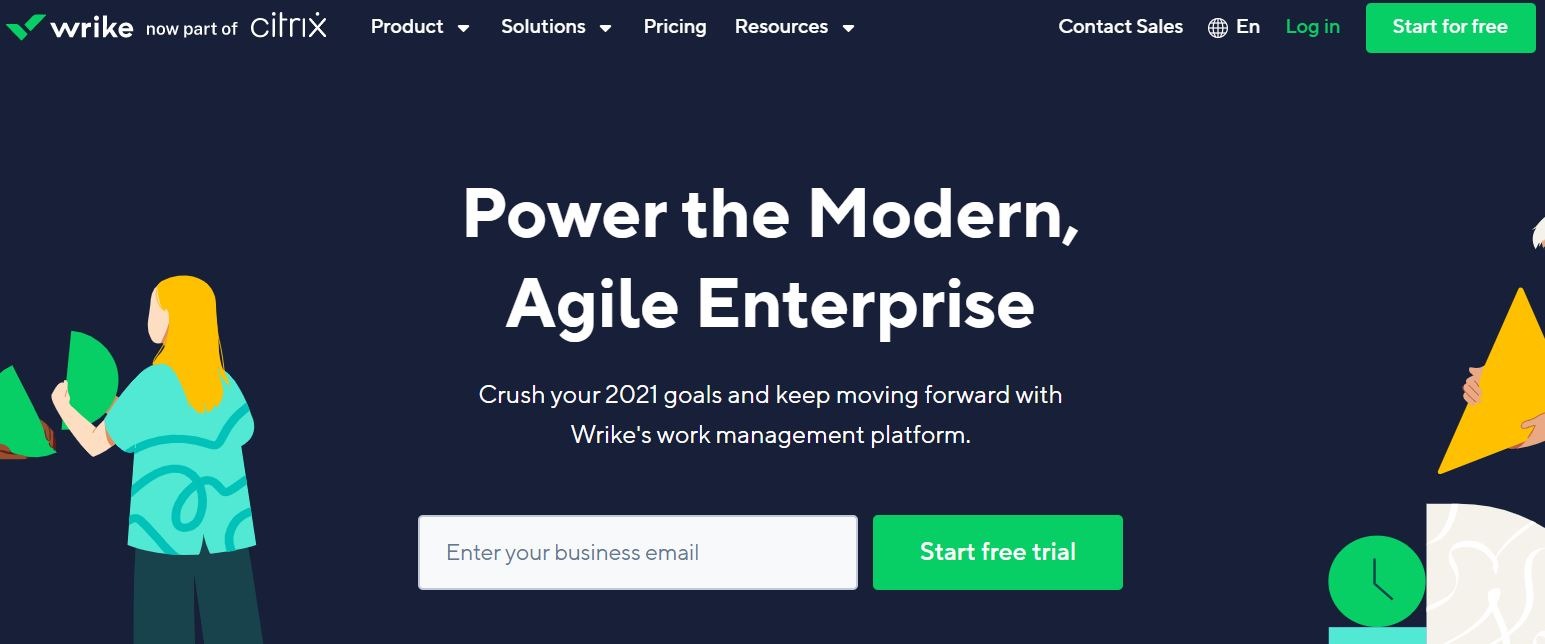 Step 3: Create Your Plan of Action
At this stage, you should have a project draft ready. However, you should finalize it as much as possible to avoid multiple rounds of revisions and mistakes.
A good project management plan outline should include the following:
The "why"
Goals
Stakeholders
Budget
Scope
Deliverable
Deliverable schedule
In addition to the above, you should also include a page about your research to highlight crucial findings and discuss how they inspired your project management plan. Be sure to polish up your document, add some branding elements, and then share it with your team.
Step 4: Hold a Kickoff Meeting
The purpose of a kick-off meeting is to bring all stakeholders together and to cast a vision for the project for everyone to get behind. It also allows you to make introductions and establish a good working relationship between the involved parties.
In turn, this will set the tone for the working relationship among stakeholders throughout the project.
Discuss the project scope, budget, timeline, milestones, and goals in the meeting. You can also do a risk assessment to identify project risks and develop a risk response strategy to ensure you're prepared to mitigate them.
To reiterate, here's what you can do in your kick-off meeting:
Explain the ins and outs of the project
Tell your team what's expected of them and when
Identify and eliminate any potential bottlenecks or hiccups
Follow this up by announcing everybody's role in the project and establishing a continuous communication plan to ensure everyone is in the loop regarding the project.
Step 5: Finalize and Present your Project Management Plan
After getting team feedback from the kick-off meeting, you're now ready to finalize your project management plan.
Your finalized plan is the official plan you'll present to stakeholders. It's why you should be extra careful to avoid making mistakes.
Consider adding a section about potential hiccups or bottlenecks that may pop up, including how you plan to handle them. Stakeholders will appreciate your foresight and seeing your proactive approach. Be sure to communicate clearly, ensuring they know what's expected of them and what actions they need to take.
Stakeholders should also know how to get in touch with your points of contact.
Make your project plan clear and accessible to all stakeholders. You can store project-related information in a single location or software, which will make it easier to track progress, share updates, and make edits.
Step 6: Distribute Your Project Management Plan
Everyone involved in the project should have a copy of your project management plan. Encourage people to get in touch if they have any queries, and once everything looks good, start putting your plan into motion.
To set yourself up for success, plot out the bigger milestones, and then use smaller targets, such as daily, weekly, or monthly goals, to achieve them. After that, all that is left is to manage the deliverables and your team.
If you're using project management software, keeping everything in one place and accessible is even easier.
Common Problems When Creating a Project Management Plan
You have a project, and now you have a project management plan. Congratulations!
But getting to this stage isn't easy. A study published in the Harvard Business Review claims that one in every six projects costs more than 200% of the estimated budget and almost 70% of IT projects experience project delays.
As a project manager, it's your job to prevent these mishaps. You must be prepared for the challenges you may face when developing the plan. This will save you from getting caught off guard and take immediate action to ensure your project runs smoothly.
Problem 1: Not Identifying Clear Goals and Success Criteria
Having clear-cut goals is one of the most crucial requirements for the successful completion of the project. Naturally, when you don't have them, you'll face several project management issues. About 29% of projects fail due to poor project planning, inaccurate cost estimates, and a lack of clearly defined goals.
Devise a way of quantifying project progress by creating milestones and quality tests. This will ensure all stakeholders and members have a clear set of objectives. We highly recommend using popular goal-setting approaches like SMART and CLEAR to overcome common project management barriers.
Additionally, when creating goals for your project team, make sure it's evident to everyone. Just because it's obvious to you doesn't mean it's the same for them.
Problem 2: Difficulty Creating a Realistic Project Budget
Dealing with financial issues is one of the biggest hurdles project managers face. Case in point: 50% of manufacturing managers report managing project costs as their biggest project management challenge.
Luckily, thanks to efficient cost management, you can avoid budget-related complications during the project planning stage. Adopt a proper budgeting procedure, and make sure your assumptions are as realistic as possible to avoid cost overruns.
Documentation is particularly important when you plan your project scope with regard to your budget. Otherwise, you'll find yourself dealing with budget limitations, which could threaten your project's success.
Problem 3: Keeping Teams on the Same Page
Managing a team where everyone is aware of their expectations and ensuring they do it timely is one of the more obvious project management challenges.
To make sure things happen interactively, every team member should know exactly what's going on, what they need to do, and what goal they are working toward. Understanding their impact on the overall project helps keep team members on track and engaged.
Try to bring your team and plan conversations on a single page to avoid digging through long email threads. Make sure every milestone and goal has a schedule, and everyone stays on top of that schedule.
You should also have a system where you know who works on what part and receive notifications whenever tasks move forward from one stage to another.
Problem 4: Dealing With Unrealistic Deadlines
Project managers often impose unrealistic deadlines on project members, leaving them scrambling to complete tasks. This, in turn, significantly reduces deliverable quality, leading to unsatisfied stakeholders. On top of this, you might also have to deal with unrealistic client and stakeholder expectations.
To avoid this problem, you must manage the project schedule, plan events, and keep track of important dates diligently with the help of a project calendar. Proper communication of real-time progress to other project members and key decision-makers is equally important. It is crucial to communicate realistic expectations and deadlines to all stakeholders in the planning phase and explain any potential delays.
Problem 5: Poor Risk Management
Evaluating and managing risk is another important aspect of creating a project management plan. However, project managers aren't psychic.
Thinking of and outlining potential risks during the lifetime of a project involves tons of research and time. The ability to oversee it is largely dependent on how seasoned the project manager is. But even then, uncovering hidden flaws or protecting unknown factors that may impact the success of a project can get tricky.
In all honesty, predicting every potential risk with strategic planning and collecting information beforehand is nearly impossible. But project managers can anticipate which part of the project is likely to fail and have some resources in reserve to deal with the unexpected.
A good tip is to use reliable project management software, preferably one with a project risk register, to help you identify, evaluate, and plan for possible incidents.