Office 365 OneDrive: Everything You Need to Know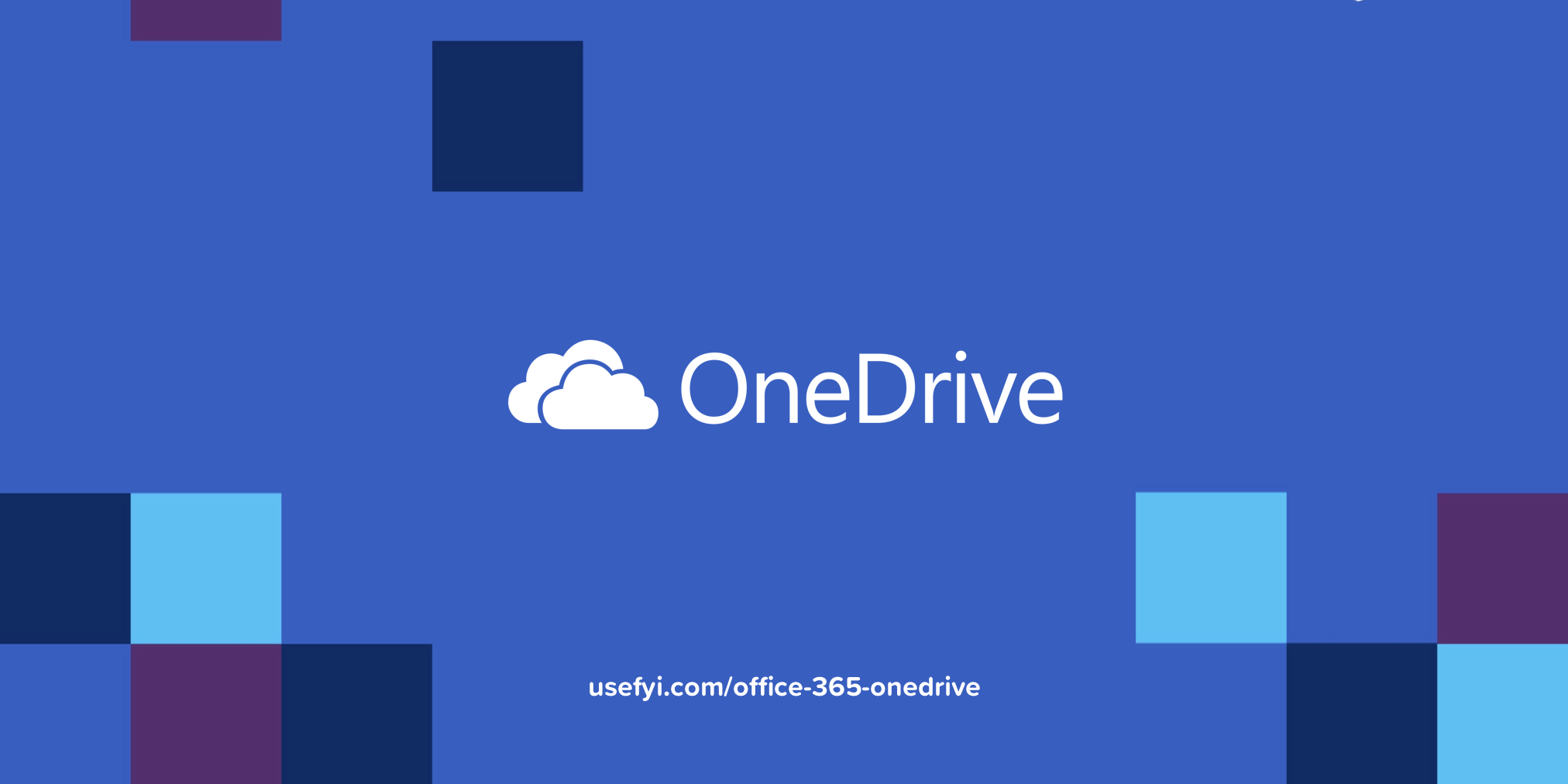 Are you taking full advantage of everything Office 365 OneDrive can do?
Whether or not you have access to premium OneDrive features depends on your version of Office 365, but even the basic versions give you secure storage and enable teams to collaborate across desktops and mobile devices.
Let's demystify this powerful tool and make sure you are maxing out its ability to help you succeed.
Worth noting: there are standalone OneDrive plans separate from Office 365, too. We'll go through those options and how they differ.
What is OneDrive?
OneDrive is a cloud-based file hosting and synchronization service. It provides space in the cloud for individuals and businesses to store files, and the ability to share them with ease.
Each person who has an Office 365 license gets OneDrive storage. How much storage depends on which Office 365 plan you have.
OneDrive appears like another folder in File Explorer or Finder, but files in OneDrive are automatically backed up in the cloud. Anything you add or edit is synced across all your devices. If you share a file with someone on OneDrive, that will be synced and up-to-date as well.
You can get OneDrive on all of your devices, including iOS and Android. Upload your documents, data, and photos to OneDrive so they don't take up space on your phone or tablet. If you don't have your desktop or device, but you do have internet, you can login to OneDrive.com for browser-based access to your files.
By default, you are the only person who can access the files you store on OneDrive. If you want to make files public or share them with specific people, it's easy. In fact, the connectivity afforded by OneDrive underpins many of the collaborative tools included with Office 365.
Benefits of OneDrive
There are many ways individuals and businesses employ OneDrive—and Microsoft is always releasing new features—but almost everyone can benefit from a few key aspects:
Cloud storage frees up space and backs up your files at the same time.
Access your files from anywhere, anytime, from any device through your Microsoft Account. Offline access to OneDrive is available with certain plans.
Synchronization occurs automatically across all of your devices. Files are always up-to-date, no matter where you worked on them last.
Collaboration is as easy as sharing a link to a OneDrive file or folder. Instead of massive attachments, you can send links with email, text, iMessage, or Facebook.
Security features in OneDrive include SSL encryption and a Personal Vault to store sensitive files with additional layers of protection.
OneDrive Office 365: What comes with each version?
All Office 365 plans come with the same OneDrive features, including:
Password protected links: You can set and require a password for the files and folders you share.
Set link expiration: Limit the time people can access shared files by setting expiration dates for the links you send.
Ransomware detection & recovery: Microsoft will alert you to potential threats and help you restore OneDrive files after an attack.
Restore entire OneDrive: After a catastrophic event, you can restore your OneDrive to a previous date within the last 30 days.
Expandable storage: You can buy extra storage up to 2 TB per user.
Files on-demand: You can decide which files and folders you want to store locally for offline access, and which should live in the cloud to save space.
Obviously, though, Office 365 plans differ in price. You'll get the same OneDrive experience, but the lack of other apps or services with your plan might be a deal-breaker. (Check out our Office 365 pricing post to compare them.)
The one place you won't get the same OneDrive experience is Office for the Web. Though it's free, you get significantly less storage (5 GB to Office 365's 1 TB), a three-file limit with Personal Vault (unlimited with Office 365), and none of the features listed above.
Can you get OneDrive without Office 365?
You can purchase standalone versions of OneDrive, as well as additional OneDrive storage, without having to buy Office 365. There are also several free Office 365 options, if you're interested in trying out the productivity suite without paying.
If all you're looking for is the extra space, you can buy just that. You'll still be able to share files easily and securely, no matter what productivity suite you're using.
Should you need the same robust security features that come with Office 365 OneDrive, there are two plans that might work well. These are known as the OneDrive for Business Plans 1 and 2.
Neither OneDrive for Business plan comes with premium versions of the desktop apps, but they are well complemented by Office for the Web, Microsoft's free productivity suite, which includes browser-based versions of the core Office apps.
Even though they aren't integrated with Office 365, OneDrive for Business plans come with a number of helpful security features designed to protect your company's information. Here's a breakdown of every non-Office 365 OneDrive option and the features included: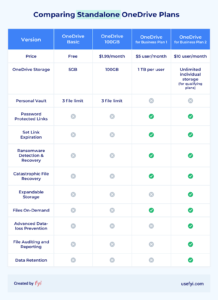 As you can see, OneDrive Business Plan 1 is fairly lightweight, but could still meet your filesharing and storage needs. OneDrive for Business Plan 2 is aimed at companies that need a lot of cloud storage and more robust security and compliance features.
Using an Office 365 Business plan? You probably have most of the advanced features included with OneDrive for Business Plan 2. Office 365 Business Premium, for example, includes them all.
Here's a complete service description of every Office 365 OneDrive and standalone OneDrive plan.
How to access OneDrive within Office 365?
To get started using OneDrive in Windows (get Mac instructions here), make sure you're signed in with the Microsoft Account you used to buy Office 365.
Open Start and find OneDrive: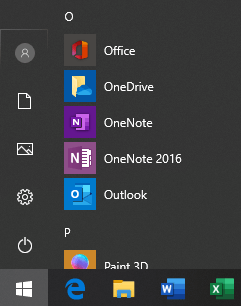 This will open your OneDrive folder in File Explorer. From there, you can drag and drop files directly into OneDrive.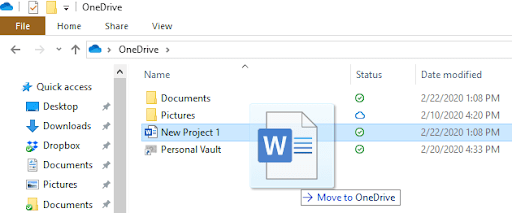 The "Status" column lets you know which files are on your computer (giving you full offline access) and which are stored in the cloud. As long as you've enabled the Files On-Demand feature, you can control whether or not to save files locally and change their status as needed. The status icons help you keep track: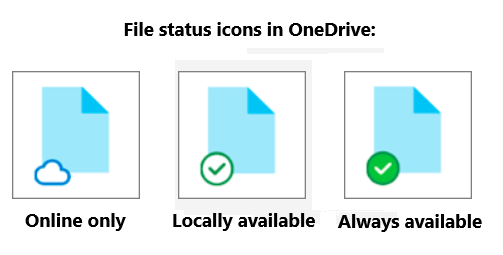 Alternatively, you can always sign in to OneDrive.com to access your files, or click the OneDrive icon on your taskbar (the cloud icon may be blue or white):

Don't forget OneDrive for mobile devices
Download OneDrive to your Android or iOS device, and you can take advantage of some of the service's best features. It comes preinstalled on virtually all Windows devices.
You can scan receipts, business cards, and notes with your phone and upload them directly to specific OneDrive folders. Those with Office 365 Home or Office 365 Personal can scan images directly into their Personal Vault. This ensures that sensitive documents and photos are stored in a secure location.
And, once your files are in OneDrive, your search will be powered by Microsoft Graph, which uses machine learning to categorize and index the images you save.
For me, the on-the-go ability to digitize and search files is a huge time-saver. What's your favorite part of Office 365 OneDrive?