Confluence Review – Is it Good Enough?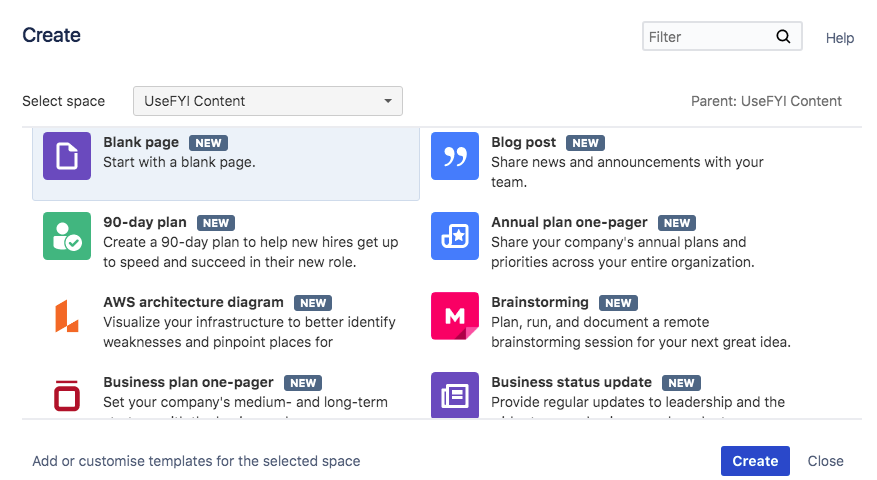 Confluence is a wiki and collaboration tool, designed to make working together easier. Users can create, share, and collaborate on content, attach notes and chat conversations to pieces of content, and do project and task management through the application.
Created in 2004 to support software engineers, many of whom were already using parent company Atlassian's Jira bug-tracking tool, Confluence provides a single location of documentation and multiple workspaces for teams.
Entering a market of wiki and bug-tracking tools designed for small teams, Confluence made document-sharing and collaborative work possible for enterprises that are constrained by compliance requirements and that need structured options for multiple teams.
Confluence overview
Confluence's key features include a simple, intuitive workspace and integrations with key productivity and tracking tools. It's also designed to play well with the tools you're already using for some of those tasks, meaning it comes with a large number of plug-ins and integrations. You can plug in Trello, for instance, as well as your digital calendars and other applications.
There's also the bedrock of Confluence's functionality — deep integration with Jira and the rest of the Atlassian ecosystem.
Let's take a closer look at Confluence's features. But first: should you use a browser or the app?
Browser or app?
Confluence is browser-based and can be accessed by a mobile browser, as well as through the mobile app. You can get Confluence on a desktop but it requires some workarounds using tools like ConfluenceFX. For now, we'll treat Confluence as browser-based.
Here, we're accessing it via Google Chrome. The signup flow goes like this:
You'll start with the choice of Confluence, or Confluence plus one of its sister Atlassian offerings.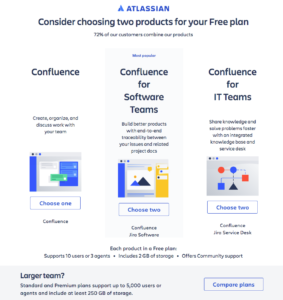 It's easy to see where Confluence has focused its efforts. Jira was the main driving force for Confluence's early adoption, and the integration between the two is still a major selling point for engineering-oriented users today.
Pick an option and you'll be asked to name your Confluence instance.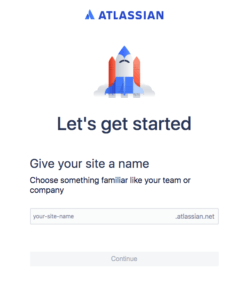 You'll also be asked what your business does and what your role is within it.
That and your contact details is the whole flow. You're in. There's an inbuilt tutorial that helps you learn how to use Confluence, but it's inside the tool, not part of the signup process.
On to the features you should know about.
Pages
Confluence is made of Spaces, and Spaces are made of Pages. Users can create both spaces and pages. Here's how it works.
Open a new page and you'll be met with this:

Pages can also be created from templates that are tailored to the business and role you declared during signup.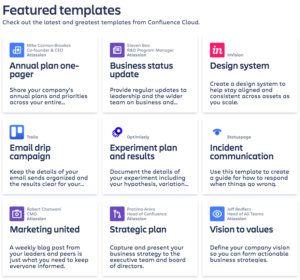 The range of templates is impressive, and features templates — like "Email drip campaign" above — that only work with specific integrations. The requirement to use integrations and plug-ins with Confluence is something we'll be returning to.
Sections
Confluence Pages are made of Sections. Using the slash (/) key brings up a list of types of content you can insert, including text, highlights, comments, emojis, tables, code snippets, calendars, and color-coded panels for errors, warnings, successes, and notes.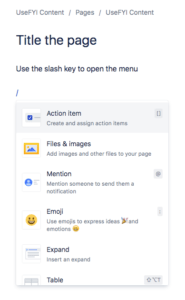 There are also ready-made column layouts that you can drop straight in.

You can tell how Confluence is expected to be used. Though text formatting options exist, they're far down the list. At the top of the list is Action item — a to-do list. You can assign other users an item from the list, and either you or they can check it off the list.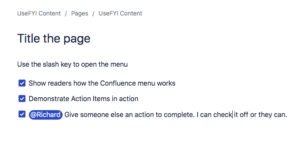 I've published that page to a Space. Spaces can be specific to a team, a topic, or an audience. There's a page tree menu for each space, and you can designate any page as "Watched" and get notifications whenever it's changed.
Spaces
By default, each Space comes with an Overview page that details the core team, the goal of the Space, and a roadmap, as well as collecting useful links.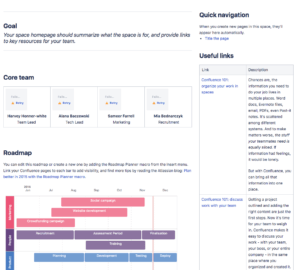 To open a new Page, hit "Create." The template menu you get speaks volumes about what Confluence is for.
I told Confluence I'm a Content Marketing Manager, so I'm getting templates tailored to that requirement. Rather than being open-ended, endlessly customizable hunks of functionality, these are tightly-focused marketer-friendly templates powered by Confluence's impressive array of integrations.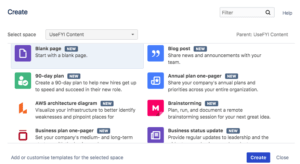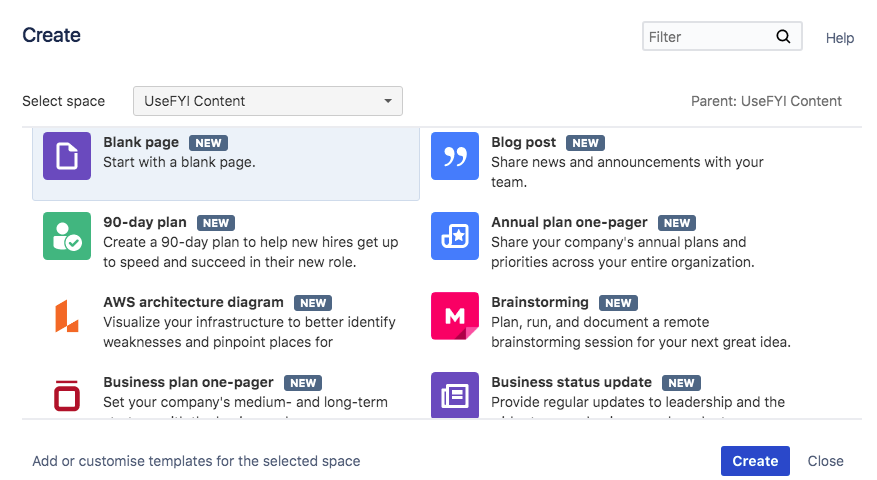 Integrations
Confluence stands out for the number and quality of its integrations. These include:
GitHub
Google Drive
Jira
GitLab
BitBucket
Notion
Bamboo
RocketChat
Zendesk
Office 365
The Confluence Marketplace offers a huge number of apps that power integrations and provide additional functionality. If there's a tool that's commonly used in business or software engineering for communication, productivity, or for task and project management, the chances are good that Confluence offers an integration or a plug-in for it. There's an active process whereby Confluence users ask for more plug-ins, voting on the most important or urgent as a community.
What makes Confluence different?
Confluence's greatest strength is to combine near-limitless customization with sufficient structure to get the job done, and to orient that functionality towards supporting software development teams.
There are tools that offer the customization but not the support. Others offer ready-made templates and tailored functionality, but force your work and business processes into predetermined channels. Confluence avoids both drawbacks, giving users both support and flexibility.
Confluence pricing and plans
Confluence has two paid plans, Standard and Premium, as well as an unusually full-featured free option and custom pricing for 5,000+ seats.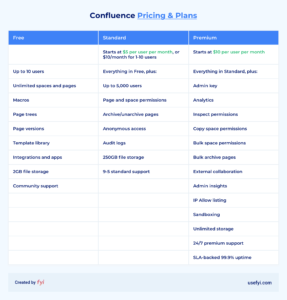 Confluence pricing isn't clear-cut. There's a sliding scale that reduces prices per seat as the number of seats rises. For example, the Standard plan is $4.68/user/month if you have 126 users, while Premium is $5.91/user/month if you have 1,600 users.
Confluence's pricing is complicated, and it's complicated further by the fact that many of the integrations required to make it work as you need it to are also priced, meaning your specific Confluence instance might cost significantly more than the sticker price.
What's great about Confluence
Confluence does some things amazingly well. Here are some of its core strengths.
Page hierarchy and Spaces
The structured nature of Confluence Spaces and Pages lets you create hierarchical structures and manage teams. Permissions let administrators manage access, mirroring business structure.
Ease of use
Confluence is extremely easy to get started with. It's not as intuitive as some project management tools, and if your main experience is with Basecamp or Trello you'll find a lot of new functionality to get to grips with. But there's an assistant built-in and the structure is logical. You can quickly start creating useful content using templates designed for your business type.
Integrations
If there's a single key benefit to using Confluence, it's the huge library of add-ons and integrations that let you pull everything from Google and Office to Trello and GitHub — and even competitors like Notion — inside your Confluence. Confluence is highly customizable in that you can do a lot with the basic toolkit the application provides, but the really important customizability for businesses comes with the ability to plug all the other tools you already use into Confluence.
Collaboration
According to Sven Peters of K15t, 80% of people using Confluence are consuming content, not producing it. In other words, it's the ability to create a robust and reliable source of truth where anyone in the organization can quickly and easily access the content they need that matters. As much as you can create great content easily with Confluence, that's actually of secondary importance.
Where is Confluence weak?
No tool is perfect. Confluence was created largely to give Jira users a space to collaborate — that's how its founders built Atlassian into a $10bn business — and it still heavily favors software engineers' needs. As powerful and useful as it is, there are some clear shortcomings too.
Pricing
Confluence pricing is already complicated. But there's an issue with the pricing of plugins that can exacerbate this.
Some plugins are free, whether they're supported or not. For instance, Confluence's Trello Power-Up is unsupported and free; Jira's Trello Power-up is supported… and also free.
But other plugins, like ScrollView, which lets you publish your Confluence documentation as a help center, is $2.25 per user per month (once you have more than 10 users). That's 1.5X your initial Confluence pricing on that one add-on, and they add up.
No SSO/Oauth
A relatively minor issue for users who spend all day in Confluence, it's still a problem: There's no Single Sign-On system and you have to sign in using your Google account (which may not always match your work accounts) or with email-and-password sign-on. It's less secure than it could be, as well as less convenient.
Pages don't update in real time
More crucial for a collaboration tool is the common complaint that when multiple people are editing the same page, the page doesn't update in real time; this may be merely frustrating, or it may reduce the page to an unmanageable mess.
Relies on user uptake
Confluence relies on user uptake. To get the best from it, the whole organization has to use it — which means users have to actually use it, not just have an account and send everything by email or Slack.
Incomplete PDF download functionality
Downloading Confluence documents as PDFs doesn't always function correctly. In particular, Gadgets — Jira functionality embedded in Confluence pages — download as links.
Who should use Confluence?
Any team can use Confluence to make sure that their important knowledge doesn't get buried in Slack channels or forgotten in an endless email thread. But that's true of any knowledge sharing tool. Who should specifically use Confluence?
Confluence is set up for software engineers and development teams.
While it offers support for other professionals, including sales, marketing, and product design, it's really focused on engineering — as shown by its deep integration with Jira. If you're a business that's built around software development, or you're a dev or engineering team, Confluence is a solid choice — especially if you're already using Jira to track bugs.
If you're not already using Jira, other tools like Slite or Notion give you access to similar functionality to the core of Confluence. Notion is more flexible internally, though it lacks robust API and integrations, while Slite is more intuitive and, being less structured, also less rigid.