The Step-by-Step Guide to Using Grammarly with Chrome
Grammarly is, by far, my favorite Chrome extension for improving my writing.
I get all the power of Grammarly built right into Chrome. It works with all the apps that I normally use like Gmail, Google Docs, WordPress, LinkedIn, Twitter, Microsoft 365, and everything else.
Any time I'm creating or editing text in my browser, Grammarly catches my mistakes. There's a good reason why it's one of the most popular Chrome extensions in the world.
Grammarly has a free forever version. There's also a Premium plan costing $139 per year or $29.95 per month. If you have a Premium Grammarly account, you get access to enhanced functionality through the Chrome extension too.
Here's how to install it and how to get the best out of it.
How to install Grammarly for Chrome
Grammarly is available for Chrome as an extension from the Chrome Web Store. Click "Add to "Chrome."
Once the extension is downloaded, Grammarly drops you straight into its onboarding flow, taking you to a welcome page where you can click through to Gmail and start composing an email.
You'll see the Grammarly logo in the bottom right of the new message you're composing. As you write, the number of errors you're making will be displayed next to the Grammarly logo, with each underlined in the text. You can get suggestions for how to fix them by hovering the mouse over them.
What does Grammarly for Chrome do?
Using artificial intelligence, Grammarly detects errors in your writing and offers solutions. These include:
Spelling, grammar, and punctuation: like any spellchecker, it catches all the basic mistakes.
Wordy or unclear sentences: Grammarly flags long, complicated sentences to help make them clearer and more concise.
Tone: In Gmail, an automatic tone detector that supports over 40 different tones kicks in once your email hits 121 characters
Paragraphing: You'll get suggestions on how to break up your text to make it more readable
Plagiarism: Grammarly checks your content against the ProQuest database and over 16 billion web pages to look for plagiarism, so you know your work's original
Citations If Grammarly does detect that you've gotten some of your text from elsewhere, it generates citations in MLA, APA, and Chicago styles.
How to use Grammarly for Chrome
Grammarly's main app is available through browsers. You type or copy and paste your text into the app and get feedback in the same window.
The Chrome extension brings that experience onto the whole web. It catches your errors as you type, wherever you are on the web (as long as you're in Chrome, of course).
Once you've installed the extension you can click on the Grammarly "G" favicon in the extensions bar of Chrome to open its options. You should see this: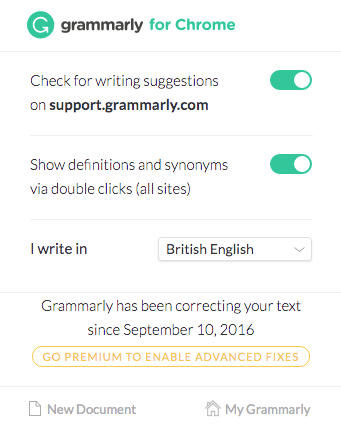 If you don't see it, you may need to sign in. Follow the link in the extension window to sign in using your email address, Google, or Facebook. You'll be asked to set up a password. To secure it, use Chrome's password manager if you're not using a more powerful, third-party tool.
Once you're set, you can just start writing into any website.
When Grammarly detects flaws in your writing, it will underline them in red. Hover over them to see an explanation of what's wrong with what you've written, and a suggestion for how to fix it. Grammarly keeps its colors the same across websites and whatever theme you're using, so if you're planning to get a lot of use out of it, consider choosing a theme that keeps those colors visible.
Spelling and grammar errors are usually simple to fix: click on the proposed solution in the popup under the word or phrase and the substitution is made for you automatically.

Grammarly also shows you synonyms (words of the same meaning) to improve your writing. You can see a list of alternatives for any word by double-clicking on it.
The same functionality is also available in reverse: when you're browsing the web with Grammarly enabled, you can double-click on any word to see its definition.
Grammarly works this way across the web, and on Gmail there's an additional tool, currently in beta. Next to the other Grammarly icons, you'll see a yellow emoji denoting emotional tone. Click on it to see how Grammarly thinks your message comes across to readers.
Using Grammarly for Chrome in Google Docs
Grammarly introduced beta support for Docs in October 2018. It's available through the Chrome browser extension so you can only use it in Chrome.
Once you have installed and enabled the Chrome extension, just open a Doc and you'll have access to Grammarly. It works the same way in Docs as it does on the rest of the web: words and phrases that Grammarly thinks look wrong are underlined in red. Click on them to see suggested fixes. You can also double-click on any word to see a list of synonyms.
Grammarly for Chrome isn't fully stable yet and many users report problems getting it to work. It can interact negatively with the spellchecker that's already built into Docs, so the best solution for now might be to write in Docs and check your text in the Grammarly web app.
Using Grammarly for Chrome on Medium
Grammarly has supported Medium since September 2018. Access to Grammarly for Medium is through the Chrome extension, and it works just the same way as Grammarly does everywhere else. Premium features are also accessible, including paragraphing and advanced tone checking.
Where Grammarly for Chrome struggles
Grammarly for Chrome is a great tool. But it's not perfect⁠—sometimes it falls short.
For example, the Chrome extension is available only for English, and it doesn't always cope well with non-standard English vocabulary. For instance, it will often fumble common acronyms, tech company names, and ordinary technical terms like ebook (which is underlined in red right now in the draft of this post). Where Grammarly does flag these false positives, it won't let you insert hyperlinks unless you address the Grammarly alert and tell the tool to ignore the word, resulting in hyperlinks that include everything but the actual relevant word.
It's also difficult to manually correct errors. Grammarly isn't built to facilitate users who like to retype their own error-strewn words, and sometimes it will glitch and move the cursor mid-delete, making it more rather than less difficult to tidy up a page.
One thing to be aware of is that Grammarly's recommendations are not totally reliable, especially through its Chrome extension. And it doesn't catch every error either. This sentence passed with flying colors:

Grammarly detected "weak or uncertain language," but not the ridiculously funky grammar. We ran the same sentence through Grammarly's web app and it still came back approved. The Chrome extension rated this as "very clear."
Where Grammarly does excel is as a kind of spellchecker-plus. It caught this typo:

And the solution proposed was accurate. However, this "you're/your" mix-up got flagged, but the proposed solution isn't really any better: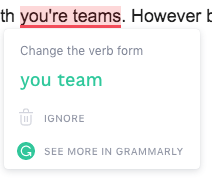 You'll also see some hyphenation issues. Grammarly treats any phrase like "ten years old" as if it ought to be hyphenated, which isn't always the case. It's also a little comma-happy, so if you're not a fan of the Oxford comma, or you'd rather use fewer commas than more, you might find it cramping your style.
Troubleshooting Grammarly for Chrome
If you're not seeing the Grammarly logo or corrections in your text online, even after you've installed the extension, try these fixes.
First, try closing and reopening Chrome. This fixes a lot of issues with extensions. If you've just installed or enabled Grammarly and you're not seeing the logo, this will usually solve the problem.
Sometimes the problem is that the extension is installed but not enabled. Head over to chrome://extensions, find Grammarly, and check that it's enabled.
If it is, you might need to log in to get the full set of features—including to make the extension work on all websites.
You can log in to Grammarly by clicking on the "G" favicon in your extension bar and selecting "log in."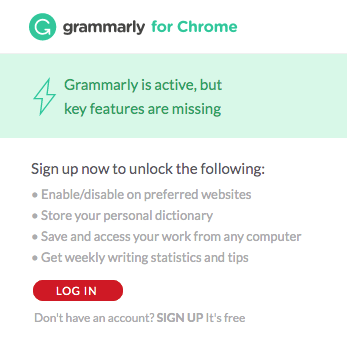 Signing up for a Grammarly account also gives you access to a persistent space in the Grammarly web app where you can enter and edit longer texts. So it might be worth it for the best experience.