9 Best Chrome Extensions You Need to Install Right Now
Which chrome extensions are so good that you should drop what you're doing and install them right now? We've got the full list here.
1: Honey
Want to save money? Get Honey!
Say goodbye to the days of having to Google "(store name) coupon" and endlessly trying different junk coupon codes until you finally get a hit.
Honey site in Chrome waiting for you to hit a store website. When you do, click on Honey and it looks for all the active coupons for you.

It also:
Track price drops on items you want to buy
Find the best price on Amazon
Has a rewards program that you can redeem for gift cards
And it's all 100% free.
Seriously, get Honey. It's like getting free money.
2: OneTab
Having a ton of Chrome tabs open sucks up memory and slows your computer down,
Chrome treats each open tab as its own little program. Plus, once you reach the stage of 'Tablerone' where you can't even see which tabs are which anymore, it becomes impossible to navigate your tabs.
You could open a new window. Or you could OneTab everything.
OneTab opens from the extensions bar. When you open it, it turns all your open tabs into a list on a web page.

You can open the tab you want in a new tab by clicking on it, and you can turn a session's open tabs into a separate web page which you can then share with others, bookmark, or drop the link into whatever you're working on so you can easily find it all when you come back to it. Individual tabs can be deleted and they can be dragged and dropped to reorder the list.
Meantime, all those open tabs aren't slowing down your computer.
It's worth remembering that while your tabs are saved, their metadata isn't. When you reopen them, the back button won't take you anywhere. You'll also have to log back into sites.
3: Start.me
New tab extensions for Chrome are really common. You can get comics, inspirational quotes, beautiful scenery, sports and news, anything you want. What's cool about Start.me is that you can turn it into your own personal dashboard. If you find you're always going to the same tools, just drag them into Start.me. You can have a list of links and favicons: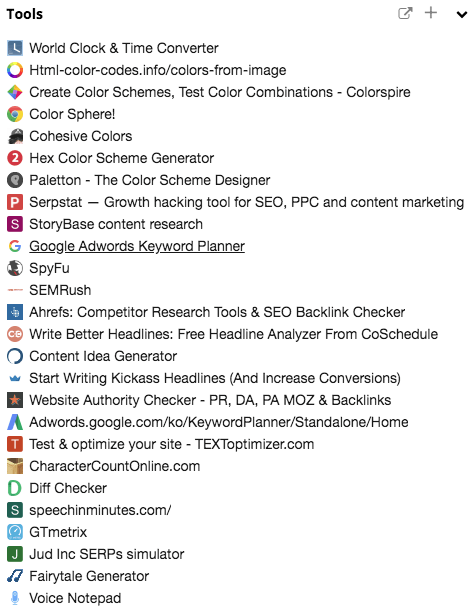 Or you can embed web pages right into your Start.me new tab page. Put tools in by category, workflow stage, client, or any other structure that suits you.
It's this simple: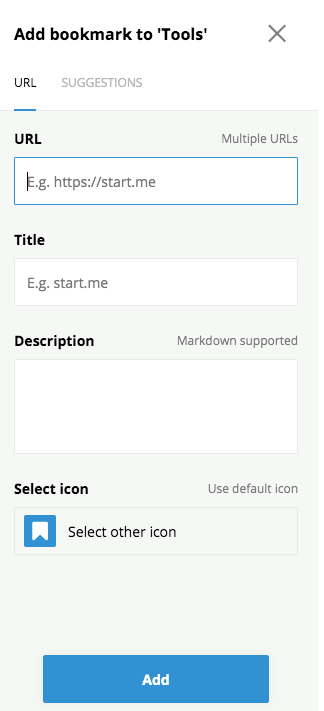 Pick up the URL of the tool or site you want to add, click the little + symbol at the top of the list you want to add it to, and fill in the fields. If you just add the URL, most sites will auto-populate the other fields. All you have to do is click 'Add.'
Start.me does show a single banner ad at the bottom of the page. It slows Chrome's new tab down and you have to be signed in and have the extension installed which easy to forget until you open Chrome on a new machine and wonder where all your work stuff's gone!
Start.me is free for the basic functionality.
If you want it to automatically check if any of your links are broken, archive pages, get better support, and not show ads, you need Pro which is $20 a year.
4: Ghostery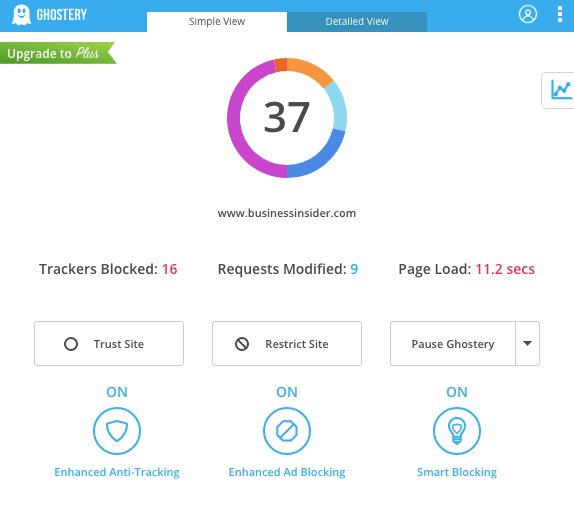 Ghostery is an anti-tracking, ad-blocking software that blocks attempts to track you as you browse. If you'd like a faster browsing experience or you just want to open a cleaner, less cluttered web page without ads, Ghostery will get the job done for you.
Without doing any more setup than installing the extension, Ghostery sits in your extensions bar and fields modified requests, trackers, and ads, leaving you with faster load times and less clutter.
Click on the favicon in the extensions bar and you'll see the control screen, which gives you details about the web page you're on and offers you the option to whitelist or blacklist the site, pause Ghostery, and an optional detailed view that shows you exactly what it's deflecting:
What difference does it make? In our extremely unscientific test, featuring an incognito tab and Google stopwatch, opening the same Business Insider page looked like this:
Without Ghostery: 16 seconds to fully render
With Ghostery: 4 seconds to fully render
Ghostery does block ReCaptcha! If you want to prove you're not a robot, you might have to disable the extension, though the dev team says they're working on it.
Ghostery is free. Get the Ghostery Chrome extension.
5: Dark Reader
Dark Reader makes night-time versions of websites as you browse them, muting bright colors and adjusting contrast so they're still easy to see. You can switch between dark and light modes, easily toggle the extension on and off, and manually control the brightness.
It's open-source, doesn't send your data anywhere or use ads, and you can whitelist sites that have their own dark modes like Reddit or Youtube.
Install it and it runs. It's that simple.

You can access the controls by clicking the favicon in the extensions bar.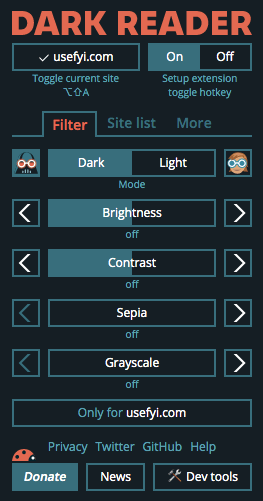 Sepia mode is particularly easy on the eyes.
It does slow pages down. And when you flick between tabs, it can take a second or so for the content to reappear. It's also possible to break the extension if you whitelist a site that conflicts with it somehow, though you can fix it just as easily by deleting cache in most cases.
Dark Reader is free. Get the Dark Reader extension for Google Chrome.
6: FYI
How much time do you spend looking for the right document? For me, it's too much. It seems like I have to dig around several times every day.
After installing FYI, that problem went away completely. FYI magically finds the exact document you're looking for across all your document tools.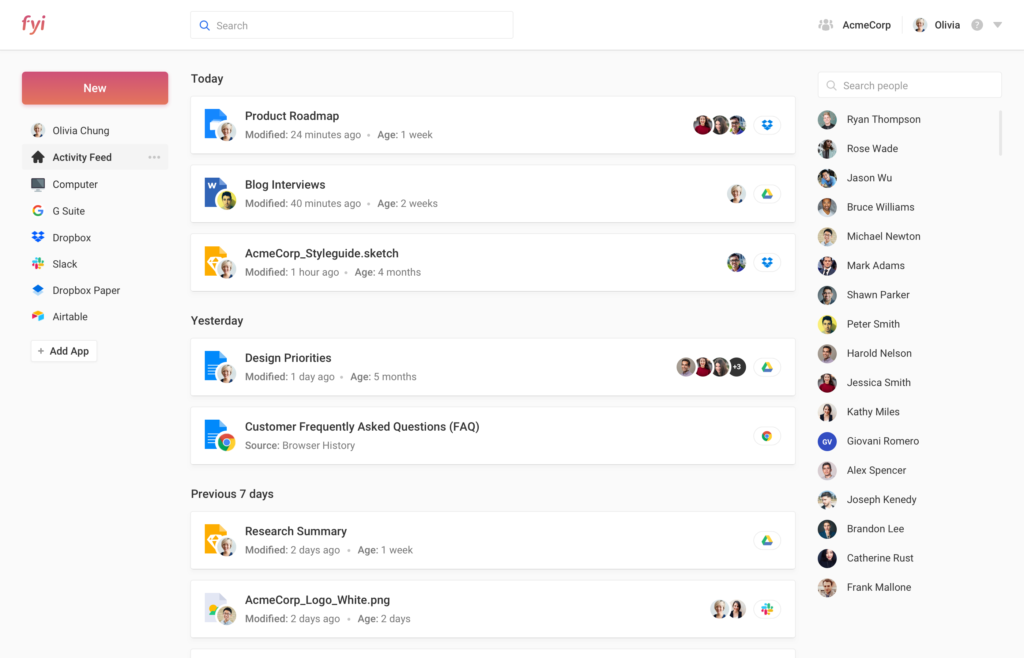 The search bar is a huge improvement. Instead of having to check every tool I have, one-by-one, until I find the document, one search in FYI instantly pulls up.
FYI will get added to your new tab in Chrome so it gets pulled up instantly. I've found that I can pull up most documents in 3 clicks:
Click to open up a new tab.
Click the search bar and type a few words of what I'm looking for
Click on one of the suggested documents
7: Add to Trello
Add to Trello lets you add web pages to your Trello account as cards.
Once it's installed and set up, just click the favicon and you'll see the title of the website you're on as a Trello card title, together with the list and board it's being saved to: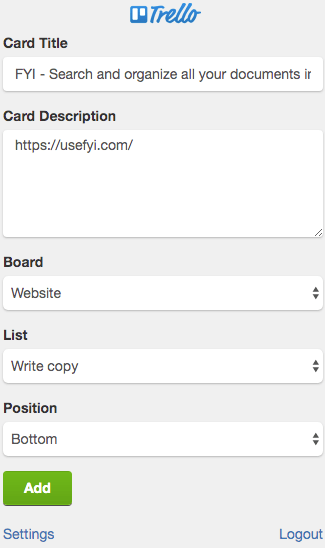 Open Trello and it's there. What's cool about this is, it lets you turn the entire internet into your to-do list; especially useful if you need something to earmark research or great content to emulate.
You can't add due dates, and you can't @ people in the extension; you have to do those things directly in Trello itself.
Add to Trello is free. Get the Add to Trello extension for Chrome.
8: Extensity
Adding a bunch of Chrome extensions can get burdensome. Extensity lets you quickly enable and disable Chrome extensions from a list, and launch Chrome apps from the same list.
Click on the Extensity favicon in the Chrome bookmarks bar and you'll see: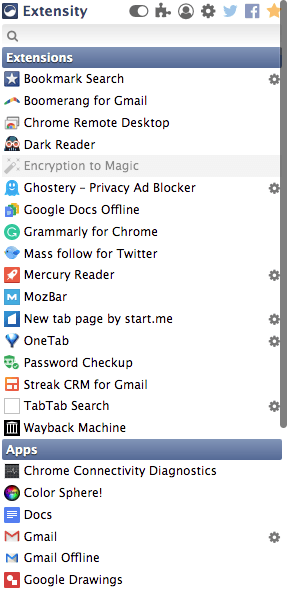 To turn extensions on or off, just click them in the list. The gear icon gives you more advanced options.
You can also use profiles to quickly toggle between suites of enabled and disabled extensions.
Extensity is free. Get Extensity for Chrome
9: Screencastify
Screencastify lets you quickly and easily create screencasts, capture, edit, and share video. You can embed your webcam into screencasts so you're visible in the cast or fullscreen and share them.
Install and sign up. Sign up with Google and Screencastify will save every video you make to Google Drive automatically. You'll also have to grant permissions to access your Google account in order for this to work.
The free version watermarks your videos, the premium version costs $24 per year. It works best for short videos around 10 minutes in length which is the length limit on the free version. And the editing suite isn't as intuitive as it could be.
It's freemium, with quite restrictive limits on the free version. If you do a lot of short-ish screencasts, though, it's worth getting the Premium version at $24 per year.