The 5 Best Network Monitoring Tools and How to Decide
Some of the best network monitoring software are free, others come with a cost each month. How do you decide what's right?
Keeping your entire digital infrastructure running and efficient requires software that continuously watches your network and the data that flows through it. You want something that provides reliable information to administrators, empowering them to surface and solve problems before they take the system down.
Here are 5 of the best network monitoring tools that can be used to observe and report on a range of IT environments. Let's go through what makes them helpful, how they are different, and what it's going to cost.
After reviewing each product, we'll conclude with a 3-step process to help you decide on the best network monitoring software for your organization.
1. Datadog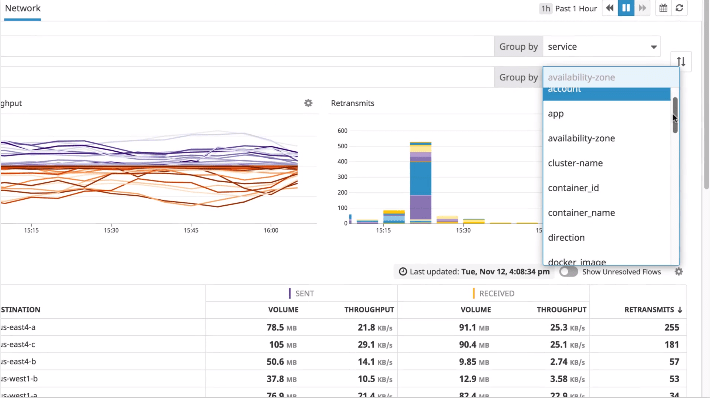 Pricing:
Network Performance Monitoring: Starting at $5 per host/month
Network Device Monitoring: Starting at $7 per device/month
Datadog gives you total visibility across your network with inexpensive, targeted solutions that are built to match your needs. In addition to their network monitoring solutions, Datadog has a host of tools designed to help you observe and manage infrastructure, security, log data, end-to-end user experience, and more.
With regards to purely network monitoring software, Datadog lets you purchase plans per-host or per-device. You can build out a solution that perfectly fits your monitoring needs and easily scale as needed. Get a clear picture of traffic patterns, device performance, and the overall health of the network.
You can deploy Datadog network monitoring in minutes, and start using some of the best features, including:
Cross-AZ traffic analysis
External traffic tracking
Hardware and flow data side-by-side
Hybrid, on-premise, and cloud coverage
Meaningful traffic aggregation
Network traffic mapping
User-defined tagging
You will have complete visibility into your network, providing data on any object you tag: containers, hosts, services, or availability zones. You'll see the information aggregated into flows that contain all the important metrics: bandwidth, throughput, retransmit count and source/destination information.
Datadog is a great option for companies looking to access the best network monitoring software without having to purchase a perpetual license. Plans through Datadog can certainly balloon in cost, if you are not careful, but even then you will only be paying per month for services that have become essential.
2. PRTG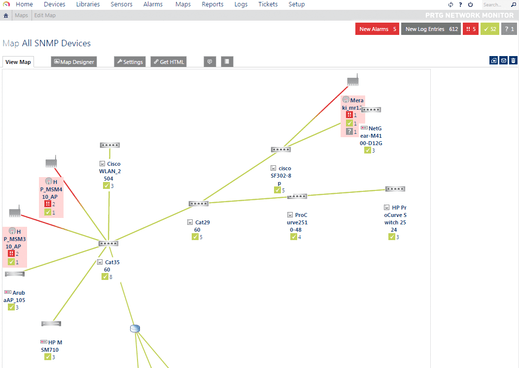 Pricing:
PRTG 100: Free forever
PRTG 500: $1,750 perpetual license, 500 sensors, 1 server
PRTG 1000: $3,200 perpetual license, 1,000 sensors, 1 server
PRTG 2500: $6,500 perpetual license, 2,500 sensors, 1 server
PRTG 5000: $11,500 perpetual license, 5,000 sensors, 1 server
PRTG XL1:$15,500 perpetual license, unlimited sensors, 1 server
PRTG Enterprise: Contact sales for subscription license, unlimited sensors, unlimited server installations
PRTG is an industry favorite because it is a true all-in-one, vendor-agnostic solution. Companies with large infrastructures spread between multiple locations use PRTG to visualize and manage their network needs across the entire IT environment.
With PRTG, there is no mix-and-match necessary. Each license includes the full feature set, and in the user-friendly interface, you can monitor:
IT infrastructure
Network traffic
Virtual, cloud, and hybrid environments
IoT
No matter how your system is set up, PRTG can help you detect bandwidth overloads and recognize potential disruptions. PRTG allows users to set up bandwidth monitoring with a host of different sensors, including:
Cisco ADSL
Cisco ASA VPN
IPFIX
jFlow
NetApp Storage
NetFlow V9
NetFlow V5
Packet Sniffer
sFlow
SNMP
Windows Network Card
PRTG licensing is based on the number of sensors, rather than the number of devices. According to PRTG, sensors are, "defined as one aspect that you can monitor on a device, such as the CPU load on a machine, a port of a switch, a specific URL or the traffic of a network connection." They say that most customers use roughly 10 sensors per device.
There is a free trial of PRTG available, which lets you pilot all of the features. After 30 days, it reverts to the free version of PRTG that comes with 100 sensors.
3. Nagios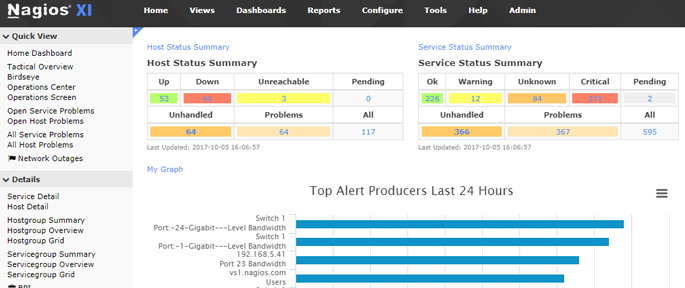 Pricing:
Nagios Core: Free
Nagios XI Standard: Perpetual license starting at $1,995
Nagios XI Enterprise: Perpetual license starting at $3,495
Nagios is one of the best network monitoring software that comes with a free forever option, Nagios Core. They also offer solutions for enterprise that include a much more robust feature set.
Nagios Core can handle:
alerting
check execution
check scheduling
check processing
event handling
It's a fairly basic feature set, but Nagios Core is extremely extensible. The large user community has generated scripts for tons of monitoring needs. If you have a small business, and your IT team is willing to work with Nagios Core, there is a lot you can get done with this free tool.
For larger companies who want more in terms of reporting and auditing capabilities, you can purchase a perpetual license of Nagios XI.
Nagios XI has multiple license levels based on the number of nodes, which are any device with an IP address. You can monitor an unlimited number of services on each node, whether you pick the Standard or Enterprise edition of Nagios XI.
Nagios XI Standard comes with:
Advanced Reporting
Custom Actions
Custom User Dashboards and Views
Dashboard Deployment
Enhanced Visualizations
Executive Summary Report
GUI Configuration
Notification Escalations
Nagios XI Enterprise Edition comes with everything in Standard, as well as:
Audit Logging
Automated Host Decommissioning
Bulk-Modification Tools
Capacity Planning Reports
Notification Deployment
Scheduled Pages
Scheduled Reports
SLA Reports
Web-Based Server Console Access
Each plan includes 12 months of maintenance and email support. In order to get the latest updates and continued support after a year, you can renew your Nagios XI support plan at a price based on the number of nodes in your system.
4. Spiceworks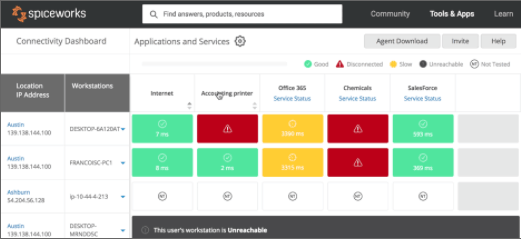 Pricing:
Spiceworks Network Monitor: Free forever
Spiceworks Network Monitor is a free and easy to use solution that gives you the basic rundown of how your network is performing. It's maybe the best free network management software for Windows environments, although performance can be slow on larger networks.
The Spiceworks connectivity dashboard is customizable and pulls in tons of information about what's happening in your infrastructure.
You can set up email alerts to let you know if end-users are having trouble reaching infrastructure devices or websites. From the dashboard, you can quickly troubleshoot basic network issues, figuring out where the problem is with the intuitive user interface.
If you are looking for a no-cost IT toolbox, Spiceworks has integrated solutions for helpdesk and inventory that can streamline your workflows. The helpdesk creates a User Portal that lets users generate tickets that IT can track as problems arise.
Scanning inventory with Spiceworks works seamlessly with Windows, though not quite as well with Linux and Mac OS. You can also track all software across all devices, ensuring everything stays up to date.
If you are looking for real-time device monitoring with comprehensive reporting, Spiceworks is harder to configure, but if you want basic information about disk space or device outages, this is a great option. It's a truly no-cost way to centralize the fundamental monitoring of your network and outfit your IT team with the tools they need to collaborate with other users.
One last note about Spiceworks: the in-app advertising that supports the freemium software may be annoying to some people.
5. SolarWinds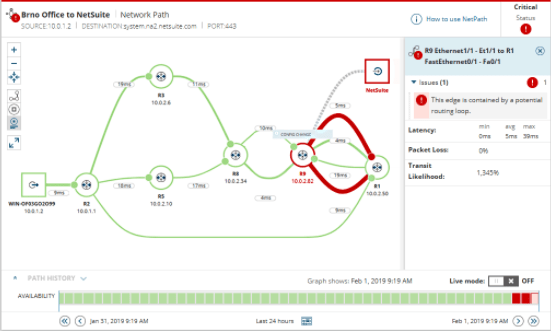 Pricing:
SolarWinds Network Performance Monitor: Starting at $1,583
If business is growing, SolarWinds has all of the tools you need to configure and monitor complex networks of any size. Like PRTG, you can build SolarWinds out to manage your complete IT environment, including security, helpdesk, and database management.
You can purchase SolarWinds Network Performance Monitor as a standalone product, or as part of a suite of tools like Network Traffic Analyzer, Network Automation Manager, depending on the specific set of services you need.
The key features included with Network Performance Monitor include advanced alerting, intelligent maps, and it supports hardware and software from all vendors you'd expect. The product is extremely feature-rich, coming with a range of specialized tools to help your IT teams gain visibility and control. Some of the marquee features include:
Cisco ASA Monitoring
Deep Packet Inspection
LAN Monitoring
Network Packet Capture Too
Network Device Scanner
Network Diagnostic Tool
Network Performance Testing
Network Packet Analyze
SNMP Monitoring and Scanner
SNMP Trap Receiver Monitoring
Visual Traceroute Tool
Wi-Fi Heat Maps
Wi-Fi Network Analyzer
All of these tools are phenomenal. They are easy to use, customize, and provide detailed information about the state of your network in real-time. Network path analysis with SolarWinds lets you see the flow hop-by-hop, allowing you to isolate problems quickly, even in the most complex environments.
The advanced alerting features help you weed out the important notifications from false alarms. Make sure the right type of alerts are sent to the appropriate personal, adjusting as schedules fluctuate or across time zones.
In short, every feature of the Network Performance Monitor is deep. The interface makes it easy to take advantage of the tools at your disposal.
Beyond the base price, you will have to get in touch with SolarWinds to find out how much Network Performance Monitor will cost to implement for your organization. SolarWinds lets you try a fully functional version of Network Performance Monitor for 30 days.
How to choose the best network monitoring software
If you don't have any solution in place currently, I strongly suggest getting one of the free versions of the products on this list to start your search. This will give you a taste of what these tools can do, and more importantly, it will clue you in on the features and functionality you really need.
The truth is that user demand is stretching the limits of IT everyday. Your IT team needs tools appropriate to the challenges they face. Testing a free product in the field will help you bring the aspects of network monitoring that matter most into focus.
Follow these steps to ensure that your network is safe and your IT team is supported.
Step 1: Establish network requirements and goals
What is the entire range of hardware you need to connect to the network? What will it be next year? The best network monitoring software has the connectivity and scalability to grow with you.
The scope of your current and projected network will influence every decision about how it needs to be monitored. Are you monitoring servers, remote sites, virtual environments, or other components in addition to network devices?
You want to make sure that any option you choose has the connectivity necessary to support your entire network.
You also need to decide whether you want agent or agentless monitoring, and what type of deployment you need. Many of the best network monitoring solutions offer cloud, on-premise and hybrid options, and some, like SolarWinds and PRTG have both agent and agentless monitoring solutions.
At this point, getting input from various members of your IT team is good. Even if you are working with an accurate network topology through your current network monitoring system, your IT will be better able to forecast potential needs and opportunities.
They can also provide a more nuanced report of the end-user experience, as well as improvements that might be made.
Step 2: Calculate the cost
Now that you know the full scope of your network, both now and moving forward, you should reach out to the sales teams of the products that can handle your needs.
But what about free network monitoring software?
A fully functional network is non-negotiable for businesses today. Price is secondary to finding a solution that works.
For small businesses and organizations, something like Spiceworks or Nagios Core may be all that you need. If a nightly scan is sufficient, for example, and you are not running into problems with the number of network components, free network monitoring software could be fine.
For administrators of complex networks with thousands of devices, the limits of free network monitoring software are going to be apparent. Premium plans come with greater functionality and advanced reporting features that allow you to visualize the network in detail.
This doesn't mean you want to over spend, but network outages and sluggish performance during work hours are going to cost even the smallest business hundreds of dollars a minute.
If you need the premium features that come with paid plans, the key is finding a product that matches your needs today, tomorrow, and next year. The pricing structures vary widely between vendors and will impact the costs of scaling your network.
Think of PRTG as a full-service productivity suite like Microsoft 365, but built specifically for IT. You get an integrated set of tools designed to help you accomplish specific tasks. All the tools share information in real time, and you aren't stuck looking for plugins or purchasing add-ons.
At the same time, you pay per sensor with PRTG, which may cause the price to rise without necessarily adding new devices. Nagios, on the other hand, lets you pay per device, regardless of how many aspects of the component you are measuring.
SolarWinds has everything you need for complete IT system management, but you have to purchase the tools separately. Network Performance Monitor is a powerful tool, but it is distinct from Netflow Traffic Analyzer, and you want to make sure that you are outfitting your IT team with everything they need.
Datadog has broken down their pricing with a low-cost per-user structure that is expanding the availability of advanced network monitoring tools to smaller companies. There is a lot of flexibility with this model, though you have to add a lot of separate pieces together to make a solution that's got the depth of PRTG or Nagios XI.
Step 3: Accommodate your IT team
The best network monitoring software is near-useless without an IT team in place and ready to respond to alerts.
If the number of devices on your network is growing, so are the responsibilities of those making sure they are operational. Monitoring tools automate many important processes, which saves time, but there is still a tremendous amount of legwork involved with maintaining and observing the system.
In order to make sure that you are taking advantage of all the features you pay for, be sure to support your IT team. If they are stretched thin, or require training to get up to speed with the new network monitoring software, it's going to have a negative effect on the IT environment.