Keeping teams organized and in regular communication is a key aspect of product management software. Asana and ClickUp are two software platforms in the project management space known for reliable team organization and support, but they each approach those goals in different ways.
Asana looks great and focuses on project management above all else, along with offering some communications features. ClickUp also provides project management features, but it doesn't stop there. It tries to be an all-in-one app that includes everything a team needs to communicate and stay on top of projects.
Our Recommendation = Get Asana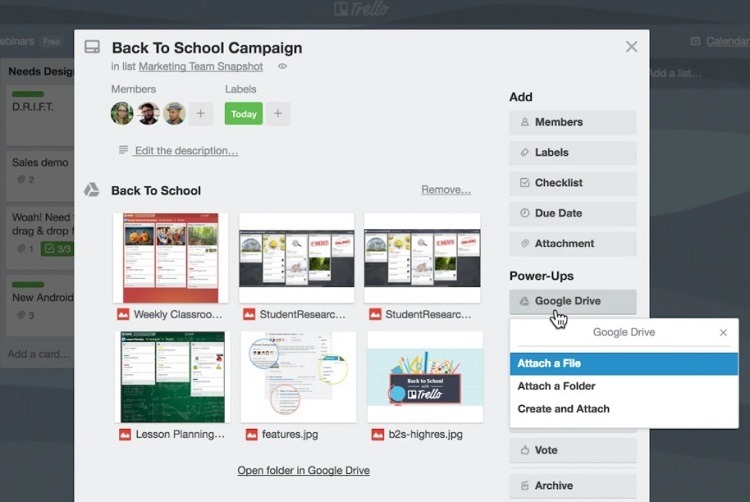 For teams seeking help with project management primarily, Asana is going to provide better results than ClickUp. It has a greater level of focus on project management features and tools, giving it the edge.
Asana works equally well for teams seeking a quick and easy means of tracking the progression of a project's tasks and for teams with complex tracking needs. Beginners can step in and make use of Asana immediately. Teams setting up detailed projects can take advantage of Asana's advanced features after spending a bit of time with the software.
With Asana, teams can set up large projects consisting of individual tasks that appear on digital cards. By completing the individual tasks, team members will see their progress toward the overall goal of completing the project.
Through the task cards, team members can leave messages for each other, assign tasks to team members with due dates, and add files, videos, and images. Asana even allows teams to set up certain task cards to have a relation to other cards. This means a team member cannot start on the task on card B until another team member finishes the task on card A, for example.
Asana also delivers a high level of versatility among project management software solutions. It offers several different views, so the team can see the information in the format that makes the most sense for the project. It also allows for customization options.
When to Get ClickUp Instead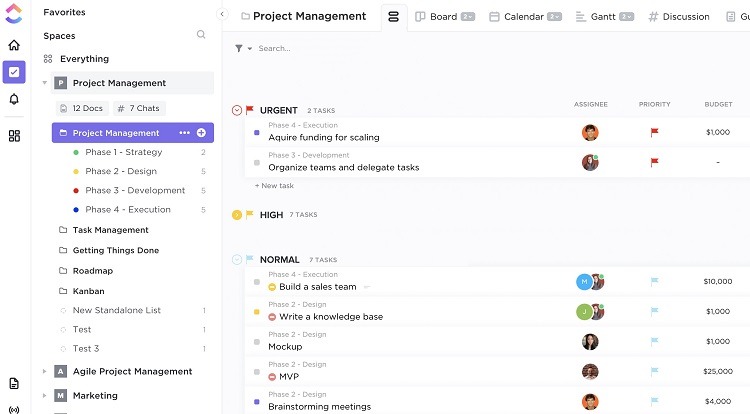 ClickUp has only been around for a few years, but it is well worth considering. It offers several tools aimed at project management. For those teams or individual contractors who have the need for an app that goes beyond project management, however, ClickUp also has these extra features.
Those who want all of their work management features in one app will appreciate ClickUp. Rather than switching among multiple apps, ClickUp can try to do it all. (To achieve nearly the same results, some companies will opt to use integrations between apps, such as the Asana-Jira integration, to share data and work together.)
Although ClickUp has a wide-ranging set of features, it cannot deliver the advanced features for project management that Asana has. Think of ClickUp as offering a broad range of features across many categories, while Asana delivers a deep dive into project management.
Some of ClickUp's various features include:
Process management
Task management
Time management
Reporting
Goal setting
Document creation
ClickUp is ideal for an organization that needs a wide range of features at a lower price than Asana and other project management solutions, and/or that's looking for an all-in-one platform that has decent (but not amazing) project management capabilities.
Pricing – Is Asana or ClickUp the Better Deal?
Winner = ClickUp
The bottom line here is that ClickUp has a significantly lower price point than Asana. But its feature set doesn't fully match up with Asana's which complicates the process of looking at the pricing in the Asana vs. ClickUp comparison.
We'll give ClickUp the slight nod in terms of overall price, but it's important to look beyond the simple numbers to make this determination.
Those who have complex needs in their project management software may not be able to find the features they need in ClickUp. Consequently, its lower price won't help teams who can't find the features they need.
However, we will give ClickUp a significant advantage in two areas of pricing. First, in the Free tier, it has no user limit, while Asana has a 15-person user limit. Second, for those organizations with hundreds of users, the price difference becomes substantial in a hurry, giving ClickUp an edge.
For an organization that plans to pay annually, ClickUp's pricing advantage becomes a bit less pronounced, but it's still significant. ClickUp offers an approximate 45% discount for paying annually, while Asana offers a roughly 23% discount.
Asana Pricing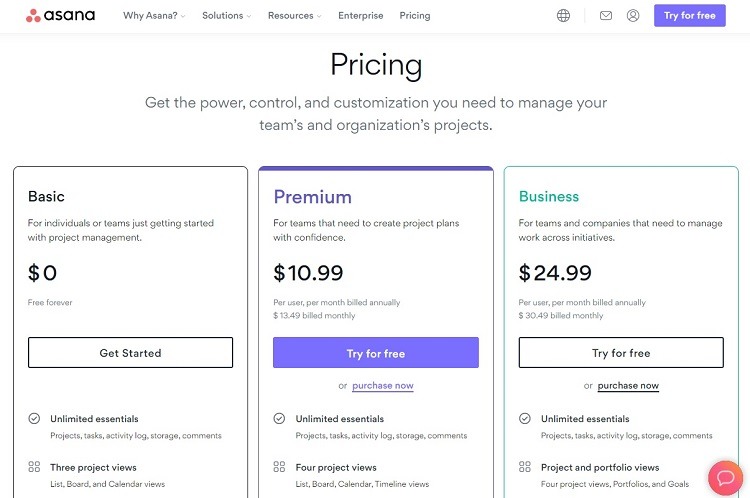 Subscribers can select among three different pricing tiers with Asana. The product also has a Free tier available.
Basic: The Basic, or Free, tier does not have a free trial period. Users can continue to use the Basic tier as long as they want. Those using the Basic tier do have a 15-person limit, but they can create as many tasks and project boards as they want.
Premium: Those subscribing to the Premium tier will have a starting price of $10.99 per month per user. This tier has no limit on the number of users. It offers a greater level of security and reporting functions when compared to the Basic tier. A free trial period is available to test this version.
Business: Asana's Business tier starts at $24.99 per month per user. It has the same features as the Premium tier, along with additional project views and extra reporting functions. Asana offers a free trial period with this version too.
Enterprise: Asana offers an Enterprise tier for those who need specialized features. The Enterprise tier delivers a higher level of security and a few extra customer support options versus the Business tier. Potential subscribers must contact Asana for a custom price quote.
ClickUp Pricing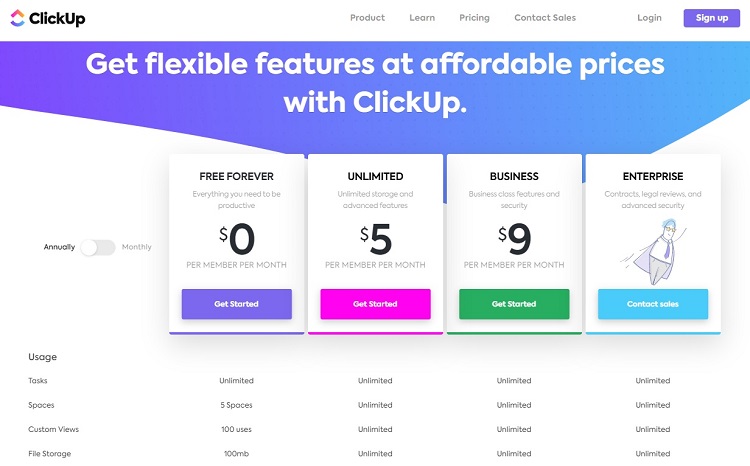 ClickUp has a much lower price point than Asana for its two pay tiers. It also has a Free tier and a customized upper tier. ClickUp offers a free trial period with both the Unlimited and Business tiers.
Free: ClickUp's Free tier allows for an unlimited number of users and tasks. It offers two-factor authentication for extra security. The Free tier has no expiration, as this is a full-fledged version (not a free trial period).
Unlimited: The Unlimited tier has a starting price of $5 per month per user when paid annually. As may be obvious from the name of this tier, subscribers will have an unlimited number of users and unlimited file storage. The Unlimited tier includes the ability to set up teams, set up reminders, and integrate with cloud storage solutions. (These features aren't available in the Free tier.)
Business: Business tier users will pay $9 per month per user when paying annually. It has the same features as the Unlimited view, along with a historical activity view, support for timesheets, support for Google single sign-on, and advanced branding opportunities.
Enterprise: Those subscribing to the ClickUp Enterprise tier will have the ability to select extra features to add to the account. It offers the same features as the Business tier, along with highly advanced security features and multiple customer support options. Those looking to subscribe to the Enterprise tier will have to contact ClickUp for a custom price quote.
Project Management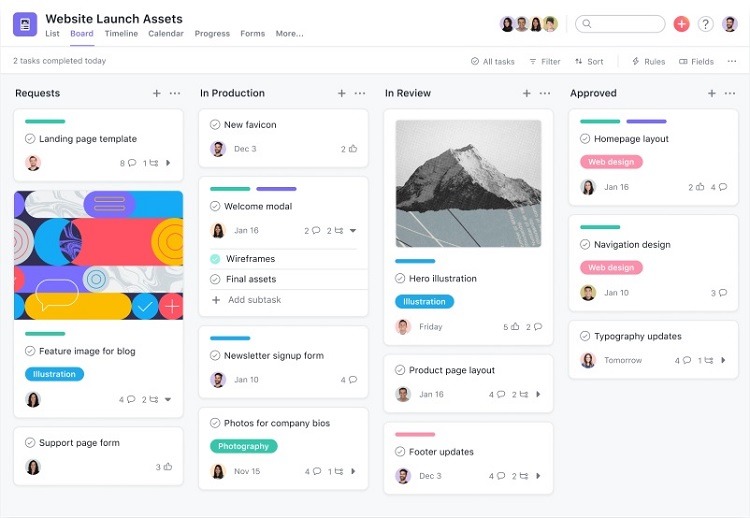 Winner = Asana
With Asana's primary focus on project management features, it's no surprise that it receives the nod in this category. ClickUp has basic project management features, but it can't match up to Asana for more complex projects.
Asana handles projects that have many different steps involved. Team members can create relationships between task cards, ensuring the project moves along smoothly. With multiple views available, such as Kanban, calendar, and list, the team can view the project's steps in the way that makes the most sense.
Additionally, those new to Asana can keep things simple, if desired. Making use of templates can speed up the process of building a board and tracking a project. Teams can be up and running in a few minutes when they keep things simple in Asana.
ClickUp will work well for an organization looking to handle the most basic aspects of organizing workflow. It allows for the creation of tasks and the assigning of tasks to team members. It includes templates to simplify creating project boards and to-do lists.
As part of its project management features, ClickUp simplifies the process of tracking time spent on each task. Creating schedules and due dates that help to keep the project on track is an easy process with ClickUp too.
Integrations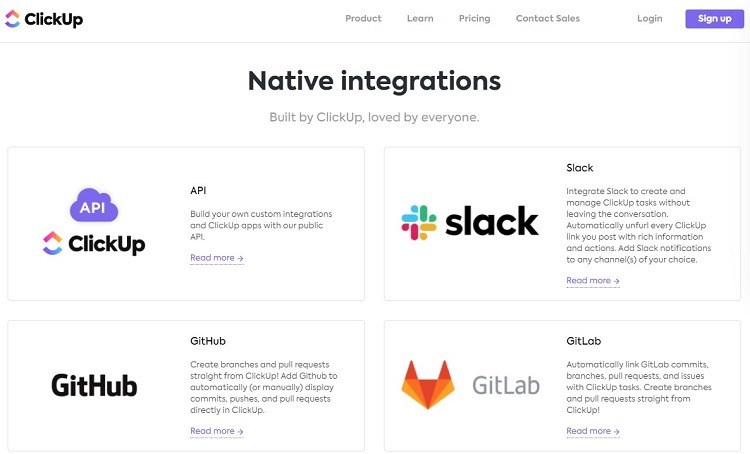 Winner = Asana
Asana offers dozens of different integrations, allowing it to work closely with a variety of other software packages and apps. The integrations automate the process of sharing data and passing messages back and forth, making both packages easier to use.
Users can visit the Asana integrations page to begin searching for integrations that fit a particular category. Teams can add as many integrations to their Asana installations as they like.
ClickUp has dozens of integrations available that are similar to those in Asana. Team members can visit the ClickUp integrations page to search through the possibilities. ClickUp offers the ability to make additional integrations when using Zapier as an intermediary.
However, ClickUp's integrations are a bit limited compared to what's available in Asana. When making an integration using ClickUp, teams will only have access to a few of the features they'd have with the Asana integration.
Asana also offers more integrations with its free version than ClickUp offers. To integrate with cloud storage apps like Google Drive and Dropbox, ClickUp members would have to upgrade to a paid tier of the software.
Ultimately, because ClickUp tries to serve as an all-in-one type of software package, integrations may not be quite as important for its subscribers. The idea behind ClickUp is that teams would replace their other apps with ClickUp. When team members use ClickUp as an all-in-one tool, they may not need other apps. A standalone project management package like Asana may need to rely more heavily on integrations.
Templates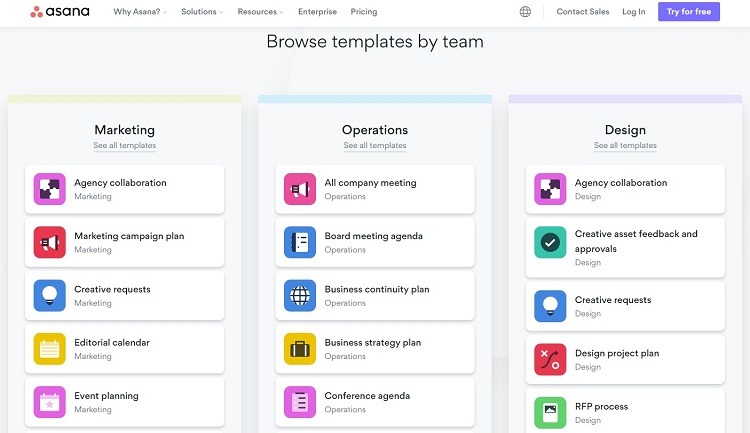 Winner = Draw
Templates are helpful for beginners looking to use a project management software package. The template provides a framework for starting a project management board, giving team members a leg up.
Both Asana and ClickUp have dozens of templates available. Asana's templates focus on project management, offering help in several different categories, such as marketing, sales, and human resources.
Asana and ClickUp both offer the ability to create a custom template for projects the team handles on a regular basis. The team can create the basic framework for the board from scratch, and it then can save that framework as its own custom board template.
Because of its focus on project management templates, Asana has a larger set of templates that fit this particular use case.
ClickUp also has a variety of templates available, including many that focus on project management. Ultimately, though, ClickUp's set of templates mirrors the design of the entire software package. It has a lot of shallow features in a wide range of areas, but it doesn't offer much in the way of complexity.
Asana is able to offer more templates in each project management area versus ClickUp's number of templates devoted to project management. But ClickUp is able to provide templates in far more categories, which helps to even the playing field.
Collaboration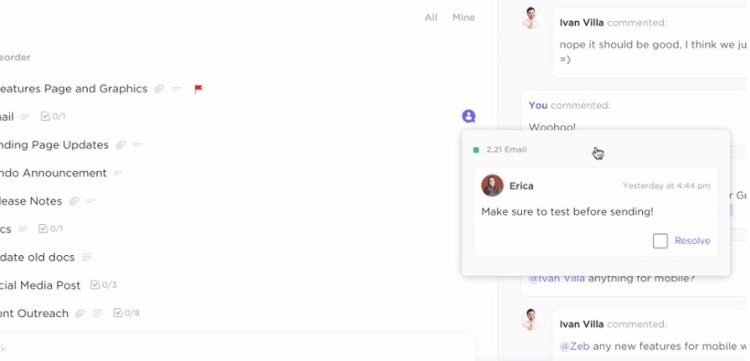 Winner = Draw
ClickUp and Asana have a similar set of collaboration features. Team members can easily leave messages for each other in both software packages.
One advantage ClickUp offers is the ability to take any comment in the software and convert it to a task for the project. Users can also mark comments as resolved to let all team members know the process is finished.
ClickUp team members can direct comments to other team members, or they can leave general comments for everyone as part of a task.
Asana's collaboration features allow for directing comments at a particular team member or for leaving the comment for anyone, similar to ClickUp.
By maintaining a list of messages on each task card on the Asana board for the project, team members can always access the messages. The messages remain easy to find when needed to help with a task. They don't become lost in a long email chain.
Mobile Features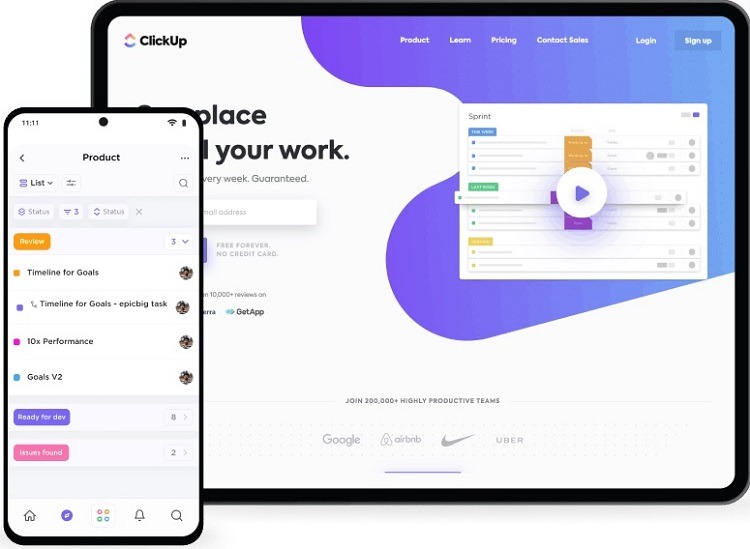 Winner = Draw
Both ClickUp and Asana offer a mobile app, allowing users to be productive away from the office.
Users can download mobile apps for either iOS or Android devices for both pieces of software.
Many of the mobile features in both ClickUp and Asana closely mimic what's available in the cloud-based software. Teams won't miss a beat when using a laptop or desktop computer in the office or a tablet or smartphone while on the road.
Ease of Use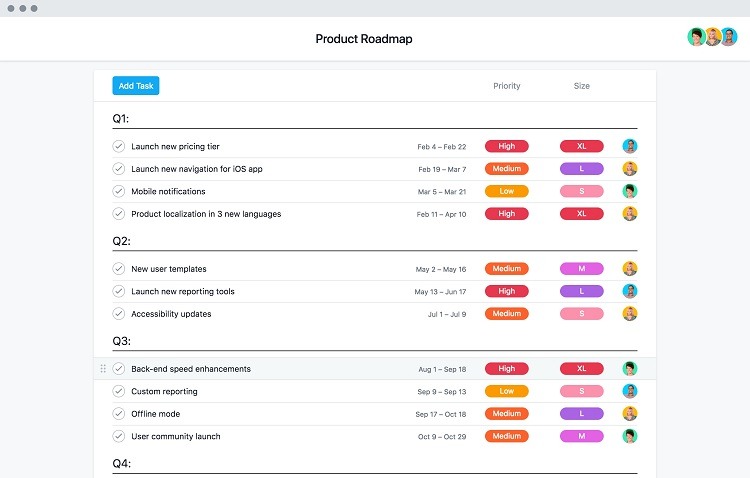 Winner = Draw
Both ClickUp and Asana are easy to use for beginners. There will be some challenges as users dig into some of the more advanced features of these packages, but the basics are clear.
Asana has a great interface that makes using the software extremely easy. Beginners will pick up the basics in almost no time, especially in the Kanban board view.
When it's time to dig more deeply into the advanced features of Asana, team members will need to spend a bit of time learning about them. However, it's still relatively easy to use versus some other advanced project management software packages.
ClickUp also is easy to use. Because its features don't have a lot of complexity, team members can pick up the basics of ClickUp in very little time. The ClickUp software fully takes advantage of its graphical interface, making it easy to drag and drop items.
Like Asana, there are a few aspects of ClickUp that will be a little tricky to learn to use. Taking full advantage of the multiple tools in ClickUp and learning how they all interact takes a bit of time and practice.