Zoom Vs Webex – Side-By-Side Comparison
Quality video conferencing has become a top priority for businesses across every industry. It's a key part of internal communication, collaboration, and productivity in the workplace.
This is especially true for remote teams and companies with a distributed workforce.
But choosing the right tool for virtual meetings and presentations is an important first step. Not all of these solutions are created equally, and some video conferencing software is undoubtedly better than others.
Zoom and Webex are two of the most popular and reputable solutions on the market. Each has its benefits and drawbacks. So which one is right for your business?
This guide will provide some clarity and make it easier for you to choose.
Our Recommendation = Get Zoom
The vast majority of businesses will benefit from Zoom.
It's affordable, easy to use, and has virtually no learning curve. From the initial signup and onboarding experience through the day-to-day use for video conferencing, meetings, presentations, and team collaboration, Zoom has pretty much everything you could ask for.
Some businesses are hesitant to sign up for Zoom because of its security reputation. There were several security incidents a while back that made national headlines. But since then, Zoom has really cracked down on its security. So this really isn't a concern anymore, and it shouldn't stop you from going with Zoom.
Zoom's interface and overall user experience are perfect for non-technical technical users. So if your team isn't super tech-savvy, you won't have to worry about extensive training, problems connecting to meetings, or anything like that.
The platform makes it really easy for external users to join a meeting as well. So if you need to connect with a client, prospect, partner, prospective employee, or anyone else outside of the organization, all you need to do is send them a link to join the call. They won't have to create an account or download any software to participate.
When to Get Webex Instead
Webex is a better option in terms of quality and equipment for physical meeting rooms.
If you're regularly holding conference calls, meetings, and presentations where several people will be in the same room, Webex has the edge. This is perfect for traditional office settings, conference rooms, and even auditoriums.
In addition to cameras, phones, microphones, and headsets, Webex has an all-in-one whiteboard and presentation screen that will take your presentations to the next level. They can also customize complete solutions for your conference rooms, depending on the size and your company's specific needs.
Webex also has separate solutions for webinars called Webex Events. The platform can accommodate up to 100,000 attendees worldwide. This is double the attendee limit offered through Zoom Video Webinars.
For those of you looking for a highly customized Enterprise solution, you'll likely be happier with Webex.
Pricing – Is Zoom or Webex the Better Deal?
Cost is obviously a top-of-mind concern whenever you're purchasing business software. Each platform offers a variety of plans with different features, benefits, and restrictions. Let's take a closer look at these packages to see which one is the better deal.
Both Zoom and Webex have a free entry-level plan.
Zoom's free plan lets you host meetings with up to 100 participants for up to 40 minutes per call. You'll also get unlimited one-on-one meetings with a 30-hour time limit per meeting, which I'm sure nobody will ever reach. Zoom's free package also supports private and group chat.
Webex's free plan also lets you host meetings with up to 100 participants, and those calls can be slightly longer—maxing out at 50 minutes. The plan comes with features like chat, meeting notes, breakout rooms, the option to save recordings to your computer, screen sharing, unlimited messaging, unlimited file sharing, and the ability to call anyone with a Webex account. The free plan also supports HIPAA and BAA compliance.
When you compare the free plans side-by-side, Webex has a slight edge.
Now let's take a closer look at the paid packages from each provider. Zoom Pro starts at $14.99 per month per license. It's a good option for small teams, as it supports up to nine licenses. You can use it to host group meetings with unlimited participants for up to 30 hours per meeting–much more than the 40 minutes offered by the free plan. For larger organizations, Zoom Business starts at $19.99 per license, with support for ten to 99 licenses. This plan lets you host meetings with up to 300 participants.
Webex has a Meet plan and a Call plan—starting at $15 and $17 per user per month, respectively. But Webex's true value is found in the Business Suite. For $25 per user per month, you get Meet and Call bundled into a single package. This allows you to host meetings with up to 200 users that last for 24 hours. The Webex Business Suite is packed with features and benefits, which we'll discuss in greater detail shortly.
Overall, Zoom's business plans come in at a lower cost than Webex. But the Webex Business Suite is still a great value.
Video Conferencing
Winner = Zoom
This is a tough call, and lots of it has to do with personal preference. But overall, it just feels like Zoom has the edge over Webex for this feature. We'll take a closer look at how they stack up side-by-side below:
Zoom Video Conferencing
Zoom offers HD video and clear audio quality that includes advanced background noise suppression. The platform supports up to 1,000 video participants, including 49 videos on screen.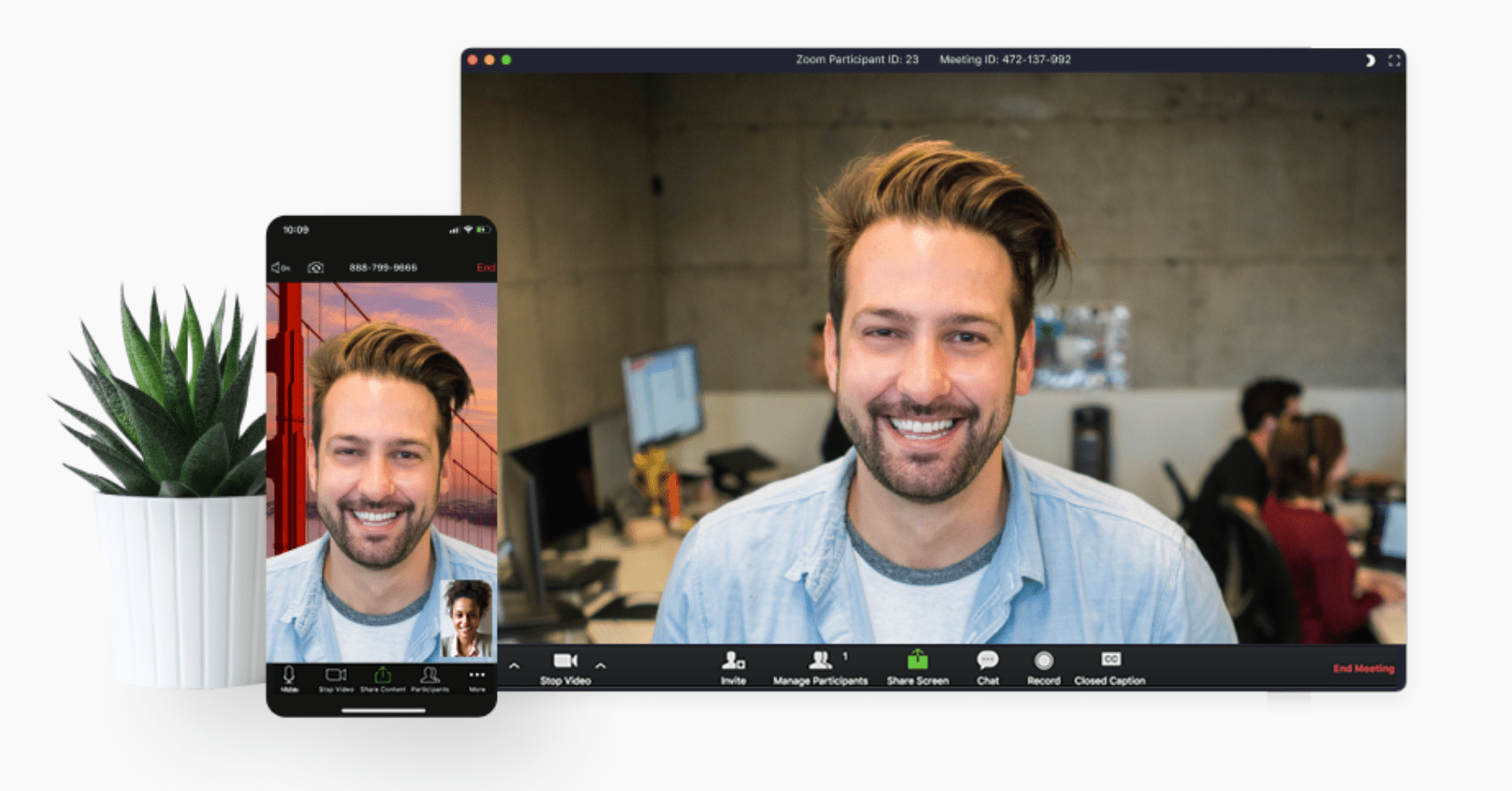 The feature works seamlessly on both desktop and mobile devices. You can also take advantage of features like auto-generated note-taking, call recordings, and searchable transcripts.
Zoom stands out compared to other video conferencing solutions with its ability to easily touch up your appearance on a call. You'll have full control over things like lighting, video settings, and virtual backgrounds.
The software has additional features for things like polls, hand raising, filters, user reactions, music, and video sharing—all of these can help drive engagement during a meeting.
Webex Video Conferencing
Webex offers high-quality video and audio as well. Similar to Zoom, the platform also offers noise removal settings and automatic transcription capabilities.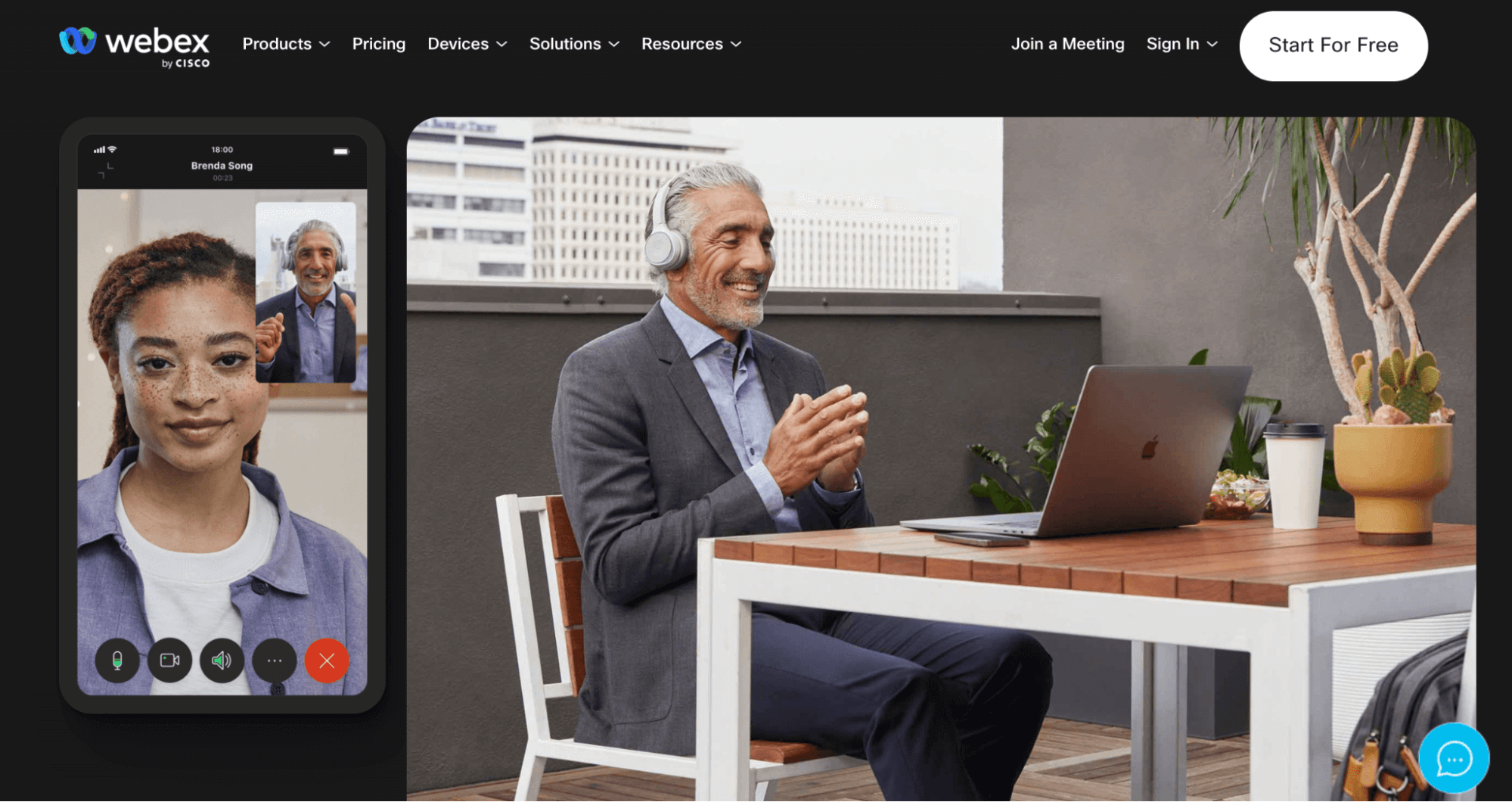 Webex stands out with its calendar integrations, advanced meeting controls, simple screen sharing, gesture recognition, and custom layouts.
But it falls short compared to Zoom, with meetings of up to 200 attendees and 16 simultaneous screen displays.
Webex video conferences can last up to 24 hours, whereas Zoom has a 30-hour limit. While Zoom has the edge here, I doubt most of you will come anywhere near those time restrictions.
Team Collaboration
Winner = Zoom
Both Zoom and Webex understand the importance of collaboration. But this is another aspect where Zoom has a slight edge.
I like the fact that Zoom lets multiple participants share their screens simultaneously. The platform also supports co-annotations, making it easier to hold interactive meetings. Everyone on the call can follow along, and it's very clear what's happening on the screen.
All of the plans support one-on-one and group chat as well, which is perfect for quick messaging without the need to hop on a call.

Zoom also lets you create public, private, and group channels within the chat. Users have full control over their notifications.
Lots of organizations can benefit from Zoom Breakout Rooms, which allows you to split up large meetings into smaller teams or departments for more specific and intimate discussions. Webex has a similar feature called Breakout Sessions. With Webex, you can create 100 smaller sessions, whereas Zoom limits you to just 50.
With that said, both of these are fairly high limits, and most companies don't need more than 50 breakout sessions. If they do, you could always just start new calls to accommodate those needs.
Webex has tons of other exceptional collaboration features as well. But many of these are advanced and can be a bit confusing or overwhelming for the average user.
Setup and Ease of Use
Winner = Zoom
Piggybacking off of our last point, simplicity goes a long way when it comes to business software. Zoom is definitely the clear winner in this category.
Webex just feels a bit rigid at times. It can be difficult for users to find features, and some companies will need dedicated training after the initial setup phase. It's worth noting that Webex has definitely made some big leaps in recent years to improve the user interface. But it's still lagging a bit behind when you compare it side-by-side with Zoom.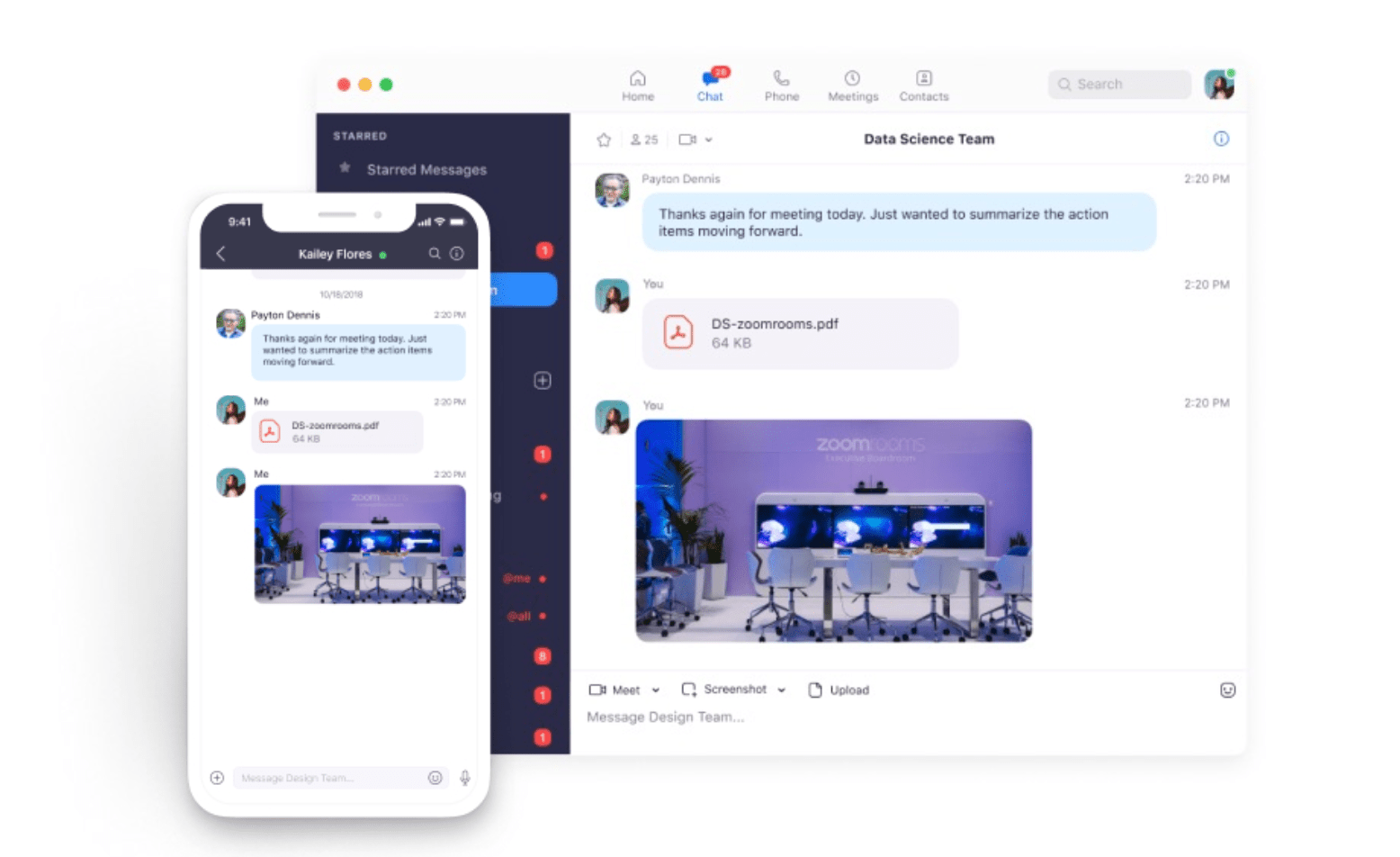 User interface and features aside, Zoom also makes it much easier for people to join a call.
If you want to invite others to a meeting, they'll just need the unique meeting URL to join. These users don't even need a Zoom account to join, which is perfect if you need to connect with people outside of your company. Forcing them to create an account or download software definitely isn't ideal.
Webex also allows guests to join meetings. But the process just doesn't feel quite as seamless.
I think the biggest difference between these platforms is the intended use case. Webex was initially built with enterprise needs in mind. Zoom was built for the everyday business user. While Webex has definitely pivoted a bit in recent years, it doesn't quite match Zoom's simplicity.
Conference Rooms
Winner = Webex
In terms of physical meeting spaces in a traditional office setting, Webex has the edge over Zoom.
Webex has solutions for personal offices, huddle spaces, co-creation, meeting rooms, and more. They can even accommodate large spaces, like auditoriums over 3,200+ square feet.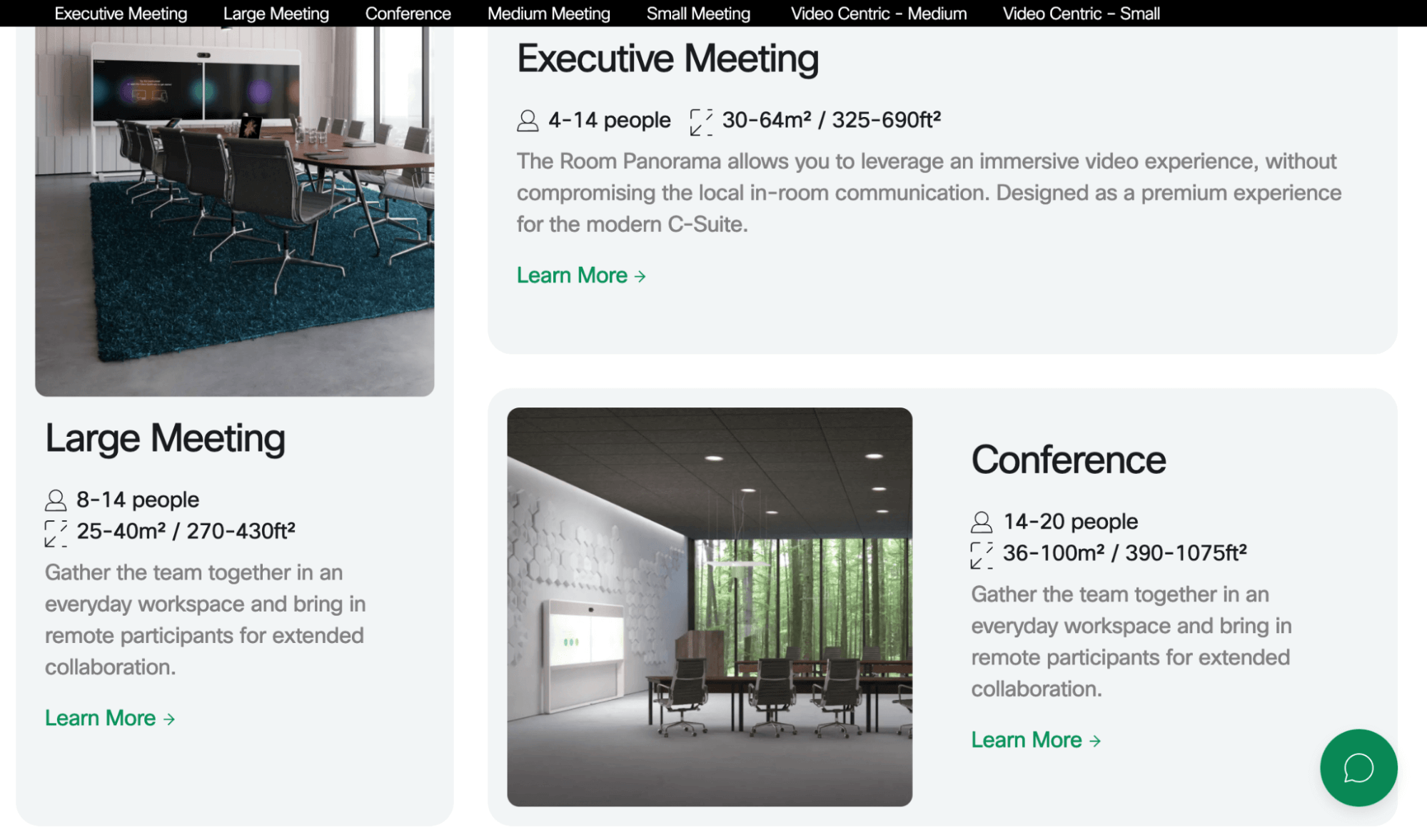 Webex also has a whiteboard that acts as an all-in-one tool for wireless presentations and conference calls. They offer cameras, phones, ceiling microphones, headsets, and everything else you and your team could possibly need in terms of hardware.
Zoom does have relationships with hardware providers that can accommodate the needs of your office, classroom, or hybrid work environments. But this just doesn't compare to what Cisco accomplishes in-house.
That's why Webex has been an industry leader in this category for so many years. It's going to be tough for anyone to take the throne over Webex when it comes to conference room hardware.
Security
Winner = Draw
Webex has a long history of robust security. They offer end-to-end encryption, HIPAA compliance, BAA compliance, meeting passwords, the ability to lock personal rooms, TLS 1.2 signaling, AES-256-GCM, and more.
A year or two ago, Webex definitely had the edge in this category over Zoom. But Zoom has made lots of changes after some of its security vulnerabilities made big news.
They've made some adjustments and now offer password-protected meetings, waiting rooms, and the ability for hosts to remove, mute, or ban attendees from a meeting. Similar to Webex, Zoom also offers robust security features like HIPAA compliance, end-to-end data encryption, and two-factor authentication.
Neither platform is perfect. No matter which one you choose, there will always be the chance of a security breach or hack.
But as of late, neither one seems to have a significant edge over the other.
Enterprise Features
Winner = Webex
As mentioned earlier, Webex was always made with enterprise use-cases in mind. If you have a large organization, you can use Webex for customized additional features, extra storage, and enterprise-class support.
The Webex enterprise solutions come with beefed-up security, including FedRAMP authorization. Webex has industry-specific solutions in categories like education, healthcare, sports and entertainment, financial institutions, and government organizations.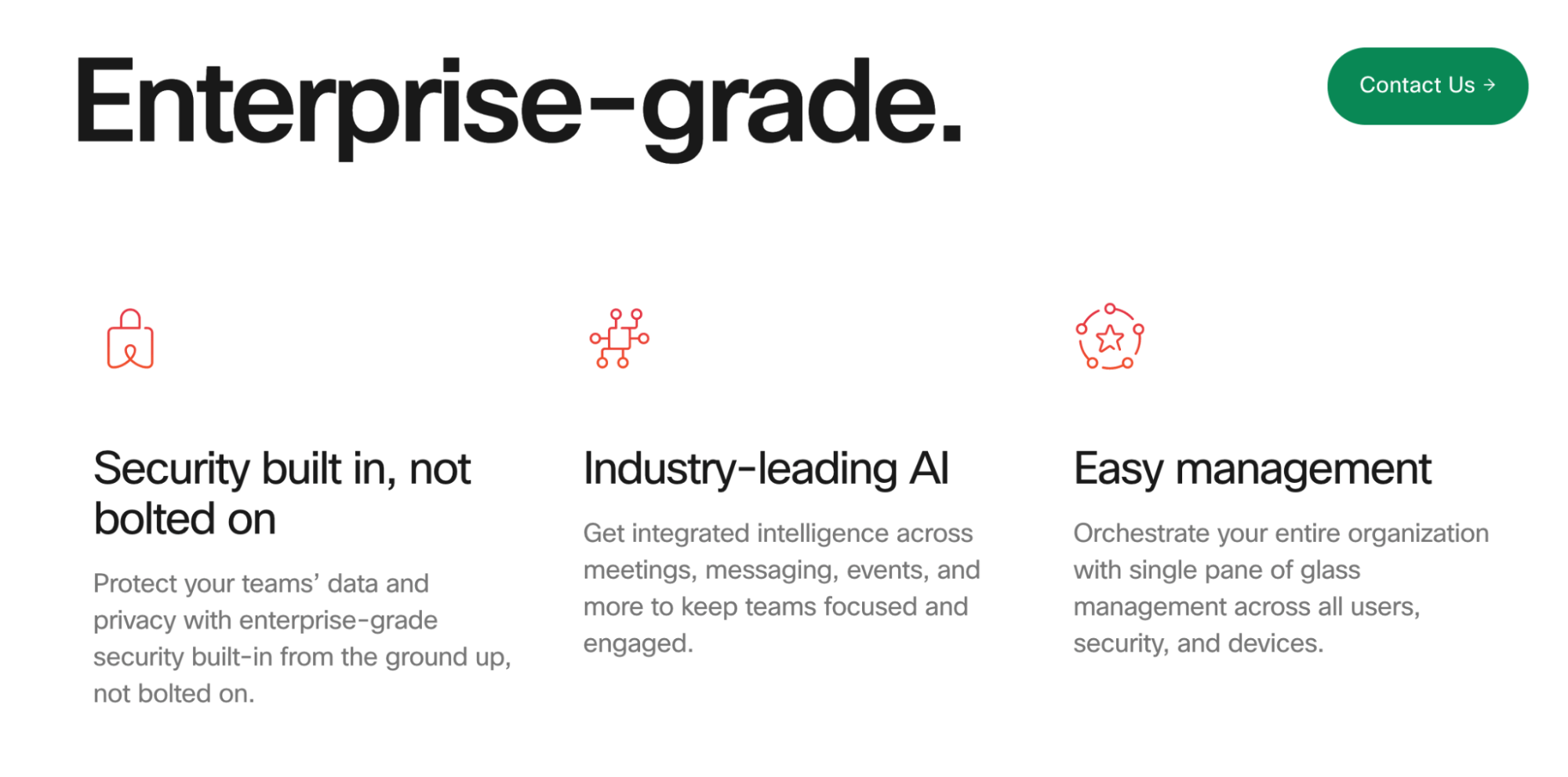 It's worth noting that Zoom also has an enterprise plan. But aside from unlimited cloud storage and the ability to host meetings with additional participants, it just feels like a higher-tier prepackaged plan.
Zoom just doesn't offer the same level of customization as Webex at the enterprise level.
Webex has been around for 25+ years and is considered to be one of the top enterprise communication systems on the planet. Zoom hasn't even been around for half of that time, so it will likely be a while before they can compete with Webex in the enterprise category.