Zoom Vs Skype – Side-By-Side Comparison
Remote work is fast becoming the norm in the post-pandemic world, and businesses need capable video calling software to stay in contact with their employees and clients. Both Zoom and Skype are great platforms that allow you to make video calls, share your screen, and record meetings easily.
There are some differences between the platforms that are worth knowing, though, and our guide will cover everything from additional features to prices.
Our Recommendation = Get Zoom
Zoom and Skype have a lot to offer, and it isn't a case of one leaping miles ahead of the other. That said, we believe Zoom is a better choice for companies overall as it offers advanced business features such as user management and admin control tools. With Zoom, you can also have a greater number of participants in calls at any one time, and the call quality is more stable with fewer reported issues.
For growing companies that need a scalable, future-proof solution, Zoom is the best choice for them.
When to Get Skype Instead
While Zoom has more advanced features and a higher number of participants, Skype takes the lead regarding ease of use. It's a user-friendly tool through and through, helped by its consumer-first nature. Most new employees in a company will be aware of how to use Skype with little training, making it ideal for smaller companies that need to get up and running as quickly as possible.
It's also worth noting that Skype for Business Online is now part of Microsoft Teams, allowing it to integrate with popular tools that your business may already be using, saving time when resources are limited. It's an excellent stand-alone communication tool for smaller companies and a logical first step.
Pricing – Is Zoom or Skype the Better Deal?
Winner = Skype
Let's start by looking at each platform's price. Zoom is available in four main tiers, as shown below: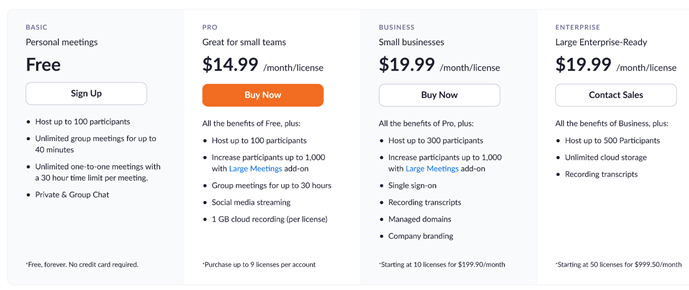 On the first free tier, you can host up to 100 participants and hold unlimited group meetings for up to 40 minutes. Unlimited one-to-one meetings are also available. It's a solid offering, especially as it's free, but some companies will find the group meeting time limit restrictive. That's where the Pro tier comes in and offers all of that plus group meetings for up to 30 hours. You'll also get social media streaming and 1 GB of cloud recording for $14.99 per month per license.
From there, Zoom has two more tiers: Business and Enterprise. Business has everything on the Pro tier in addition to company branding, and you can host up to 300 participants, record transcripts, and more for $19.99 per month, per license. The Enterprise tier naturally features everything in Business but with unlimited cloud storage and the ability to host up to 500 participants for $19.99 per month, per license.
Only on the last two Zoom tiers do you have access to the ticket, live chat, and phone support, with more basic technical assistance on the first two plans. That said, the Pro tier offers excellent value for money all around with the vast majority of features available.
What about Skype? Well, Skype for Business Online is now part of Microsoft Teams—Microsoft 365 Business—and comes in three distinct tiers: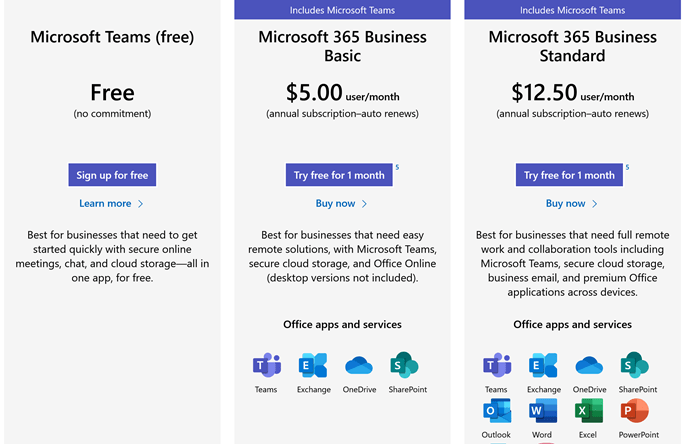 The first free tier offers full online meetings, cloud storage, and chat features but misses out on several useful apps—the maximum meeting duration is 60 minutes for up to 100 participants as well. With that said, this is a great offer, and it's hard to argue with free.
The second tier is where the value really starts to appear, and you get access to Teams, Exchange, OneDrive, and SharePoint, as well as cloud storage for $5 per user per month. There's single sign-on available for all Microsoft 365 apps and services, as well as multi-factor authentication and advanced auditing and reporting.
The final tier comes in at $12.50 per user per month, and for that, you get everything in the second tier plus essential business apps, including Word, Outlook, Excel, and PowerPoint. These last two plans have meeting durations of up to 24 hours, with 300 participants, and come with a free one-month trial.
The free version of Skype itself is also another option for companies, but it's intended for consumers first and foremost, and as a result, doesn't offer as much control or features.
That aside, it's clear Skype's Business plans offer more value for money than Zoom. The number of participants, for example, quickly goes up to 300 with Skype, which is something you'll only find on Zoom's higher Business tier for $19.99 per month, per license—unless you purchase the Large Meetings add-on on the Pro tier, which still comes to more overall.
If you already pay for Microsoft Office 365, then there's even better news: you have Skype for Business Online already. Zoom's higher prices unlock more features and higher quality calls, yes, but for the lowest prices, Skype wins.
Video Quality
Winner = Zoom
Call video quality is one of the most important areas for Skype and Zoom to get right. Few people can afford to deal with pixelated images or choppy video during presentations. Luckily both Skype and Zoom offer up to 1080p video, which provides a high-quality and stable image.
With that said, you'll need to have a reliable internet connection for both platforms. Skype recommends around a 1.5Mbps connection up and down for HD calls, with Zoom coming in at 3.8Mbps up and 3Mbps down for the highest settings. Most internet speeds today will easily surpass this, but they need to be consistent and fast.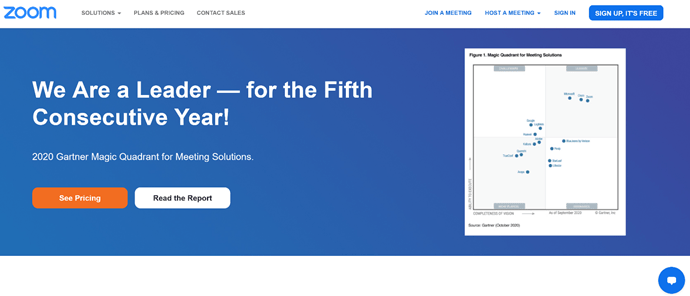 Zoom doesn't offer 1080p resolutions automatically, and you'll need to tweak the settings to initiate it—your team will need to activate it as well, or you'll be stuck with 720p, which in most cases, is good enough. Despite the little bit of work users have to do to get more out of the video quality, we still think Zoom wins overall.
That's because Skype can, and does, suffer from call choppiness and technical problems more often than Zoom, with most users reporting they're more comfortable relying on the latter. While Skype will work fine a good deal of the time, few will want to take that chance during key presentations and interviews where they may suffer from technical issues.
Security
Winner = Skype
When it comes to security, again, we see a close match between the two platforms as both offer industry-leading security with end-to-end encryption—in other words, top-notch security. In the vast majority of cases, both are safe and effective tools. Zoom comes with TLS encryption and AES-256 encryption for real-time content, which sounds great on paper.
However, Zoom has encountered a long line of security problems in the past, including remote hacking, problems with screen sharing, and the ease with which "Zoom-bombing" is carried out. Zoom-bombing is where uninvited guests share their screens to bombard attendees with upsetting content. Over 500,000 accounts were also stolen and sold online, which only added to Zoom's woes.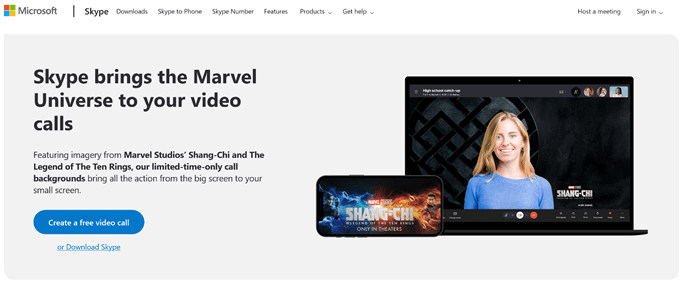 Companies who worry more about security will find Skype a better option then, with far fewer reported issues—no doubt helped by Skype's experience and age. However, it's worth keeping in mind that Zoom has addressed its problems quickly and efficiently. Most companies will never be victims of cyberattacks using the platform.
Security is a critical area for all businesses to consider to keep their data and employees safe, so it's worth taking a reasonable amount of time to think about which platform is right for you.
Customer Support
Winner = Zoom
Technical problems happen, and when they do, good customer support is necessary to ensure they don't outstay their welcome or lead to further avoidable issues.
Skype offers the bulk of its customer support through the Skype Help Center for when things aren't working as they should. Here you'll find help in the form of user guides and FAQs, and you can contact members of the community and post questions, follow ongoing discussions, and share knowledge. There's the option of asking a virtual agent for help, or you can contact the support team too.



Even with all of that, though, it's a shame that one-on-one support is not available for Skype Meetings. You'll find it difficult to reach a member of the team who can help out directly. A virtual agent, while helpful, isn't as valuable as a human who can work with and reassure you while solving the problem at hand.
This minimal customer support is quite different from Zoom, which on its higher-cost plans, provides ticket, live chat, and full phone support whenever you need it. On the lower-cost Pro plan, you'll still have access to ticket and live chat support, and it's only the free plan that solely offers the Zoom Help Center.
How much support your company needs will, of course, vary, but Zoom leads in this area, and for some, that will be a significant bonus.
Special Features
Winner = Zoom
Zoom users will instantly have access to a more extensive set of features, even on the free starting plan. For instance, on Zoom, you get custom or preloaded backgrounds, waiting rooms, breakout rooms, whiteboard collaboration, and 30 hours for individual meetings, along with social media streaming options as well.
That's not to mention the admin control tools, online webinar hosting, and personalized company branding on Zoom's meeting pages. The Zoom App Marketplace is also available for almost unlimited integrations—something we'll look at further in the next section.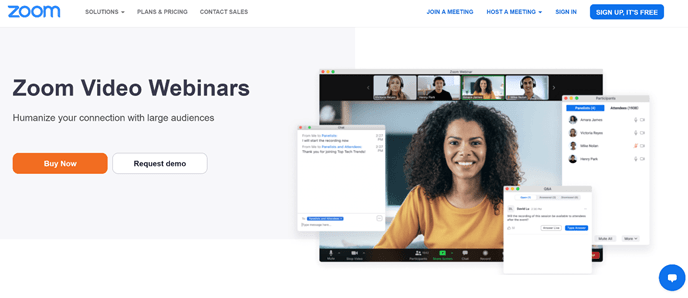 Skype doesn't offer many of these features, but it includes live video call translation and a handy captioning feature, so it's not entirely devoid of unique features. Zoom only offers translation and captioning on the higher plans and through the use of third-party integrations—so there's more money and skill involved to use them.
Despite that, Zoom's extra features, like the preloading backgrounds, admin controls, and breakout rooms, are still excellent features essentially missing from Skype. It's fair to say that some of these features are designed for larger teams and large-scale video conferencing and webinars, but companies of all sizes will benefit from them. This area is another where Zoom gets ahead of Skype.
App Integrations
Winner = Zoom
App integrations are great because they expand the existing feature set of video communication platforms and give users more flexibility and power. Both Skype and Zoom have much to offer in this area, although Zoom has quite a bit more.
With Zoom, you get access to a comprehensive app marketplace offering over 1000 apps and integrations for Zoom Meetings, Zoom Video Webinars, Zoom Rooms, and Zoom Phone. Whether it's implementing Slack to let employees manage their workflow better or using Coursera, which allows Zoom users to teach live and embed recordings via the Coursera learning experience, there are few limits on what you can do.
You can even enhance the audio of your calls on Zoom through powerful third-party apps like Krisp, which help eliminate background noise and prevent everyone in your meeting from hitting the mute button over and over.



Other app integrations with Google, Office 365, and Exchange help save time and energy, along with valuable document-sharing functionality via Word or Google Docs, or whatever else you need—it's likely the Zoom App Marketplace will have it.
Skype has plenty to offer, too, as Microsoft 365 applications like Access, Excel, OneNote, Outlook, PowerPoint, Publisher, Teams, and Word are all included and ready to go. Skype can also integrate with Slack and offers personal file storage and sharing with OneDrive. Additional Microsoft 365 services like SharePoint Online, Yammer, Planner, and Stream come at no extra cost, adding excellent value to the package.
While businesses will find many of the apps Skype offers essential, certainly as they are familiar and widely used, Zoom has more to offer overall, with new apps added every day. Neither are weak in this area then, but Zoom has greater flexibility, and you can do more with it, making it a future-proof solution for businesses small and large.