Zoom Vs GotoMeeting – Side-By-Side Comparison
Video conferencing is on the rise, and businesses need video calling software that can handle a growing number of meeting participants. While tools like Skype and Google Hangouts are viable, neither are the best options for larger companies due to their participant limitations.
Both Zoom and GoToMeeting are solutions to this problem, with each offering platforms that can host hundreds of meeting attendees at once. Read on for more about these top tools.
Our Recommendation = Get GoToMeeting
Zoom and GoToMeeting have plenty to offer users, and both are great tools. However, we believe GoToMeeting just about "wins" against Zoom.
GoToMeeting has larger meeting capacities: up to 3000 attendees at a time compared to 1000 with Zoom Enterprise Plus. It's also HIPAA-compliant, meaning patient data stays protected—you have to pay more for this on Zoom. We also like GoToMeeting's advanced visual settings that help those with poor lighting through easy-to-use controls, rounding off an excellent package.
When to Get Zoom Instead
GoToMeeting might have the edge with meeting capacities and visual settings, but Zoom is no slouch. In fact, Zoom's meeting flows are helpful to companies of all sizes, even smaller ones, and it features advanced reporting for more significant insights and better drawing tools.
Zoom also exclusively allows its users to use mobile screen sharing on iOS and Android, essential for the growing mobile workforce. Users can choose a portion of their screen to share, too—a perk for those that need increased control and privacy.
Pricing
Winner = GoToMeeting
Zoom is available in four main tiers—Free, Pro, Business, and Enterprise—as shown below: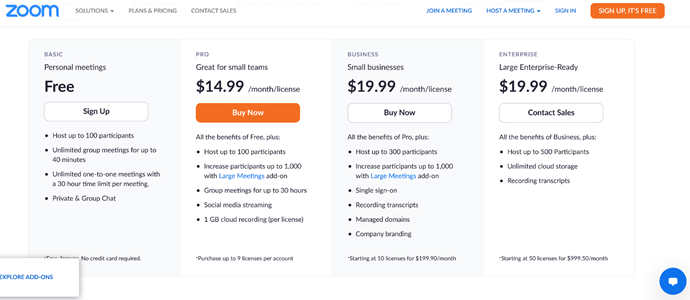 The free tier allows users to host up to 100 participants and features unlimited group meetings for up to 40 minutes. You'll also be able to engage in private and group chat and unlimited one-to-one sessions with a 30-hour time limit per meeting. Technical support is available, but this is only through the Help Centre. No cloud storage is available on the free plan either.
The Pro plan allows you to increase the number of participants up to 1000 with the large meetings add-on, and provides social media streaming capability and 1GB of cloud recording per license. Group meetings can also be held for up to 30 hours—a dramatic improvement from the free plan. You'll also get ticket and live chat support on top of that. This tier costs $14.99 per month per license.
The next paid plan is the Business plan which allows you to host up to 300 participants by default, and offers single sign-on and company branding. You'll also get managed domains and the ability to record transcripts. In terms of customer support, you get the lot with ticket and live chat support, plus dedicated phone support. It costs $19.99 per month per license.
The Enterprise tier of Zoom, as you might expect, is for companies that need everything. You receive all the benefits of the Business plan but can also host up to 500 participants. There's unlimited cloud storage, executive business reviews, a customer success manager, and complete technical support whenever you need it. It costs $19.99 per month per license, and you'll need to contact sales to get started.
How does GoToMeeting compare? It comes in three tiers—Professional, Business, and Enterprise—like so: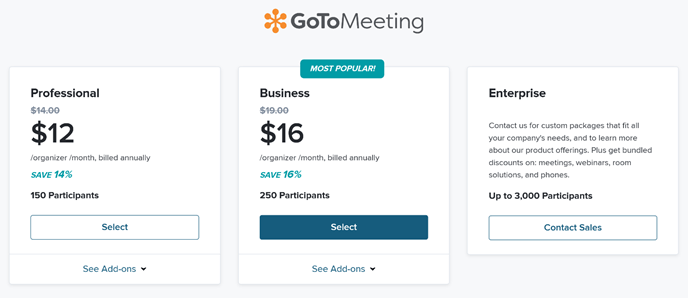 The first tier, Professional, allows you to host a meeting of up to 150 participants, and offers Breakout Rooms, unlimited meetings, and the hand-raising feature, so individuals don't talk over each other. It usually costs $14 a month, but right now, it's available for $12.
The second tier, Business, give users the ability to hold meetings with up to 250 participants, offers unlimited cloud recording, note-taking, drawing tools, meeting locks, and a transcription service. It costs $19 a month, but again, right now, it's available for $16.
The final tier of GoToMeeting is Enterprise, and it allows you to host an impressive 3000 participants at once. You get a dedicated customer success manager, on-boarding, and training, and it's InRoom-Link compatible. Prices are not available on this tier, and you'll need to contact sales for a custom quote.
While both services have a lot to offer through these paid plans, GoToMeeting just about gets ahead. It doesn't provide a completely free plan like Zoom, a notable absence, but it makes up for this because the Professional plan is cheaper than Zoom's Pro plan equivalent, and yet it allows you to host 150 participants compared with 100 on Zoom.
If that wasn't enough, there are no time limits on meetings and unlimited cloud recording on the two higher GoToMeeting plans—with Zoom, you have to pay for additional capacity limits. That said, Zoom's free plan is a great starting point if you're a small business and is well worth trying out.
HD Video Conferencing
Winner = GoToMeeting
Having high-quality video conferencing is essential, and both Zoom and GoToMeeting lead in this area. Both tools offer 1080p video, and the quality is only affected by the speed and consistency of your internet. You'll be able to alter the video performance and quality, too, including whether to present meetings with participants in a gallery, grid-like view.
Zoom allows you to present up to 49 concurrent webcams, while GoToMeeting can only do 25. Zoom also offers additional controls where you can tweak the aspect ratio, "Touch up your appearance" by playing with the lighting, and select the webcam of your choosing—you won't find these on GoToMeeting.

With that said, we think GoToMeeting still offers that little bit more here, certainly concerning its fine-tuning settings. With easy-to-use slider controls, you can adjust everything from the hue, saturation, sharpness, and gamma. With GoToMeeting, there's even an option to help reduce the flicker on monitors with lower refresh rates.
Zoom may offer more concurrent webcams and practical image-softening tools, but GoToMeeting's range of fine-tuning settings will typically be more useful in practice. GoToMeeting slightly edges ahead in general video conferencing then, although Zoom has plenty to offer.
Call Recording
Winner = GoToMeeting
The ability to record calls and save them for later is important because it allows you to go back and check details you may have missed. You'll also be able to use the calls as reference points, and in turn, make better business decisions. The good news is that Zoom and GoToMeeting allow you to record your calls locally and via the cloud, which couldn't be easier.
Locally saving calls involves saving them to your computer rather than storing them on a server. Across all plans for both tools, local call recording is available and without capacity limits. However, it's worth noting you can't record calls locally on either platform if you're using the iOS or Android app due to storage issues—but you can with cloud recording.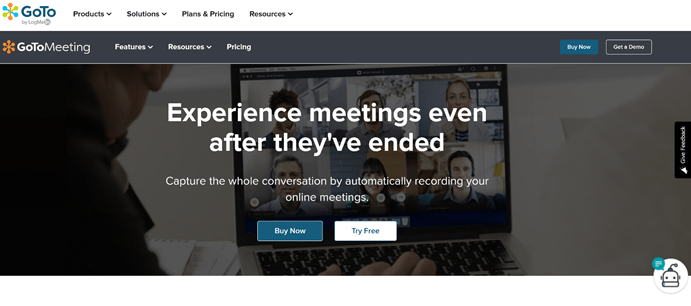 Cloud recording offers flexibility and more accessible access, and you can directly send your colleagues a link to the call. Both tools provide this, but there's a critical difference in how they manage it. With GoToMeeting, there's unlimited cloud recording on the Business and Enterprise Plans, but Zoom asks you to pay to extend your capacity limits, which only start at a tiny 1GB per user. For that reason alone, GoToMeeting is the better option for recording your calls.
Security
Winner = GoToMeeting
Ensuring your video calling software has robust security is a must to protect your staff and company data. Thankfully, GoToMeeting offers risk-based authentication and default AES-128-bit encrypted audio and video data for peace of mind—in other words, excellent security that's extremely difficult to overwhelm. GoToMeeting also features HIPAA-compliant security features, including SOC2-certified data centers.
Zoom, alternatively, has found it challenging to stay out of the headlines for numerous security woes, including data sharing problems. It's fair to say that Zoom has responded professionally to its troubles, and there have been plenty of security-focused updates since, meaning the video calling tool is in a much better place than it was just months ago. It offers TLS encryption with AES-256 encryption for real-time content, which is market-leading.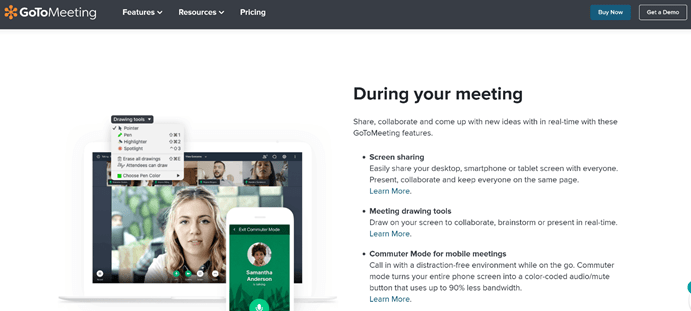 That said, even with ongoing improvements, if you're a company that values security above all else, we still think GoToMeeting is a smarter choice right now. Zoom is improving every day, but GoToMeeting has yet to have a significant security breach, which will mean a lot for most users. It's worth mentioning that Zoom uses around 50% more bandwidth than GoToMeeting in general, which can lead to more difficulties, including those concerning data.
Screen Sharing
Winner = Zoom
Having the ability to present your screen to others is not a luxury; it's essential. You can show others your progress with tasks, run through new processes, and boost overall collaboration by sharing your screen. Both Zoom and GoToMeeting allow you to share your screen with others, and as market leaders, you would expect that without question. That said, the experience is different with each tool.
Let's start with what they can both do. You'll be able to pass your screen to selected participants, there's application-level sharing, not just full-screen sharing, and screen sharing is available for Mac and Windows desktops, as well as on the mobile apps. That's a promising start, but both go further: there's an option for participants to control the shared screen themselves and even share their screens sequentially.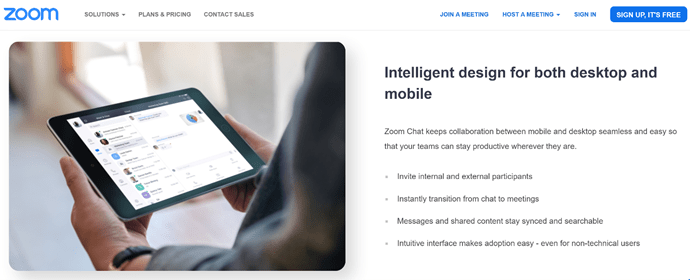 Considering how closely matched they are then, you may think the result would be a draw. However, Zoom pulls ahead in this area. For instance, with Zoom, dual monitor users can share their screens with other participants—you won't find this readily available elsewhere. That's not all: Zoom also allows you to share a portion of your screen rather than all of it. You can decide the exact amount of the screen you want to share, giving you greater control over things.
Zoom also allows mobile screen sharing on iOS and Android, vital for companies with a mobile workforce. You'll be able to share your mobile screen's audio, too, within a few simple taps. For the best screen sharing options then, Zoom is the one for you.
Drawing Tools
Winner = Zoom
Drawing tools may sound like a secondary area for these tools to compete over. Still, with the rise of homeworking, users more than ever need to present to others in a variety of different ways. Better collaboration results in more intelligent business decisions, after all. The drawing tools available across both of these tools vary, but it's fair to say that GoToMeeting is more limited in what it provides.
With GoToMeeting, users can annotate video meetings, but only if they host the conference itself. You can use several helpful drawing tools as the host, though, including the pen for marking up a document, the highlighter tool to underscore information, and a spotlight laser pointer to show participants where to focus their attention along with customizable colors. All of these tools are simple enough to use, but there's not much beyond that.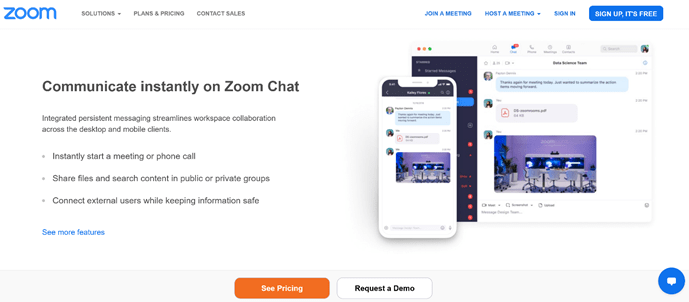 Zoom goes further when it comes to drawing tools. You can bold or italicize onscreen text, add different shapes and other graphics, and remove annotations partly without getting rid of all of them at once. Other participants have the ability to share a whiteboard during any meeting too. If simultaneous screen sharing is turned on, multiple participants will be able to share a whiteboard at once, but you will need to have dual monitors enabled for this.
Changing the formatting options of your drawing tools, such as the color, line width, and font, couldn't be easier, and you can undo your latest annotation or redo it depending on what you need. The drawing tools are fully available on both iOS and Android devices too, although you can't annotate when sharing your entire screen in a meeting via iOS, it has to be on a portion of it. Finally, Zoom allows you to save a whiteboard and its annotations as a PNG or PDF—these files get saved locally.
While GoToMeeting has decent drawing tools then, it's clear this is a particularly strong area for Zoom.